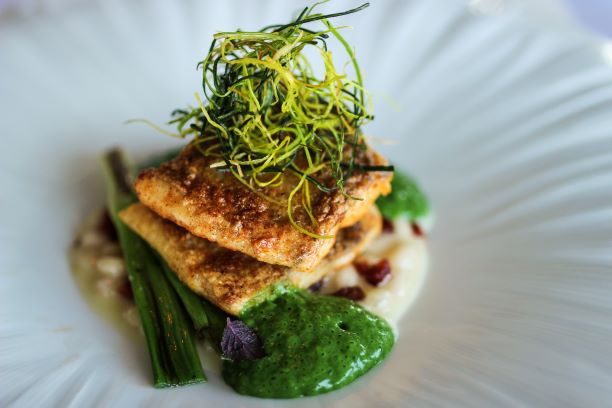 The UFO watch.taste.groove. restaurant does not need special introduction. We already published our thoughts about the place in the past. If you need an update, all you need to know is that by coming here you will taste the world gastronomy while enjoying a beautiful view on Bratislava. The restaurant changes its menu seasonally and always offers specials to its customers. Currently, the main chef Jozef Masarovič prepared local specialties so that the visitors can enjoy traditional meals made of the best quality ingredients from Slovakia and neighboring countries. And you can have this "creme de la creme" when choosing the 7 course DÉGUSTATION de la MAISON menu which we tried during our recent visit. What can you be looking forward to and what did we like the most? Check out below!
A SURPRISE BEFORE THE ACTUAL SURPRISE
We did not eat much before coming here as we knew there were seven courses coming to fill our bellies. Shortly after being seated we however found out that this was not it. Two extras, "amouse-bouche" kind of mouth amusers, had to be enjoyed before we could start our "degustation."
Surprise No. 1: Pike-perch gently smoked over birch wood, with sheep's cheese ice cream, beetroot jelly and rye crumble
A small delicacy that was surely a good start!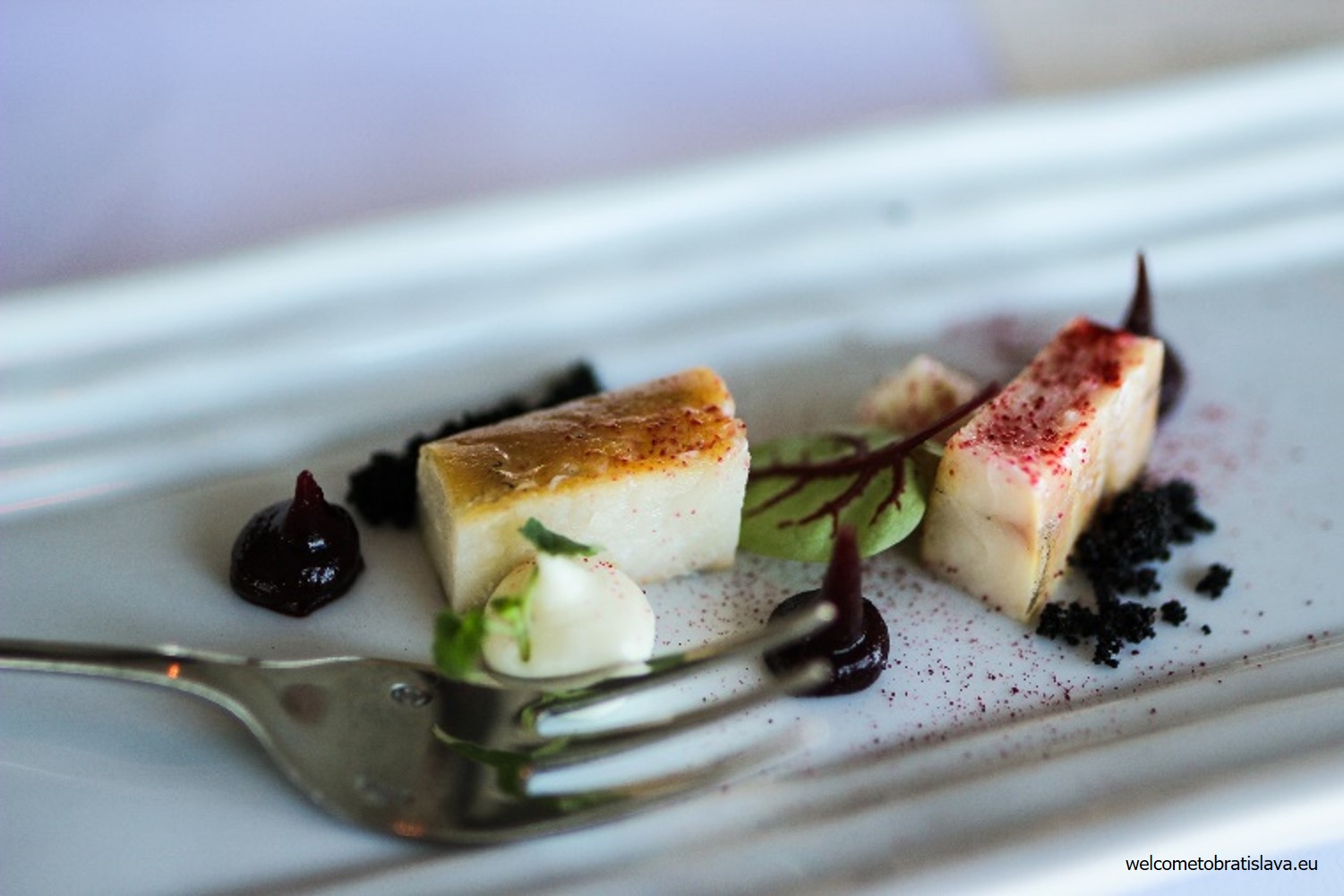 Surprise No. 2: Pumpking frappe with foam
As we love thick soups in Slovakia, and we are also very fond of coffee, the combination of two was something we enjoyed much – not just visually (pumpkin soup is one our favorite ones).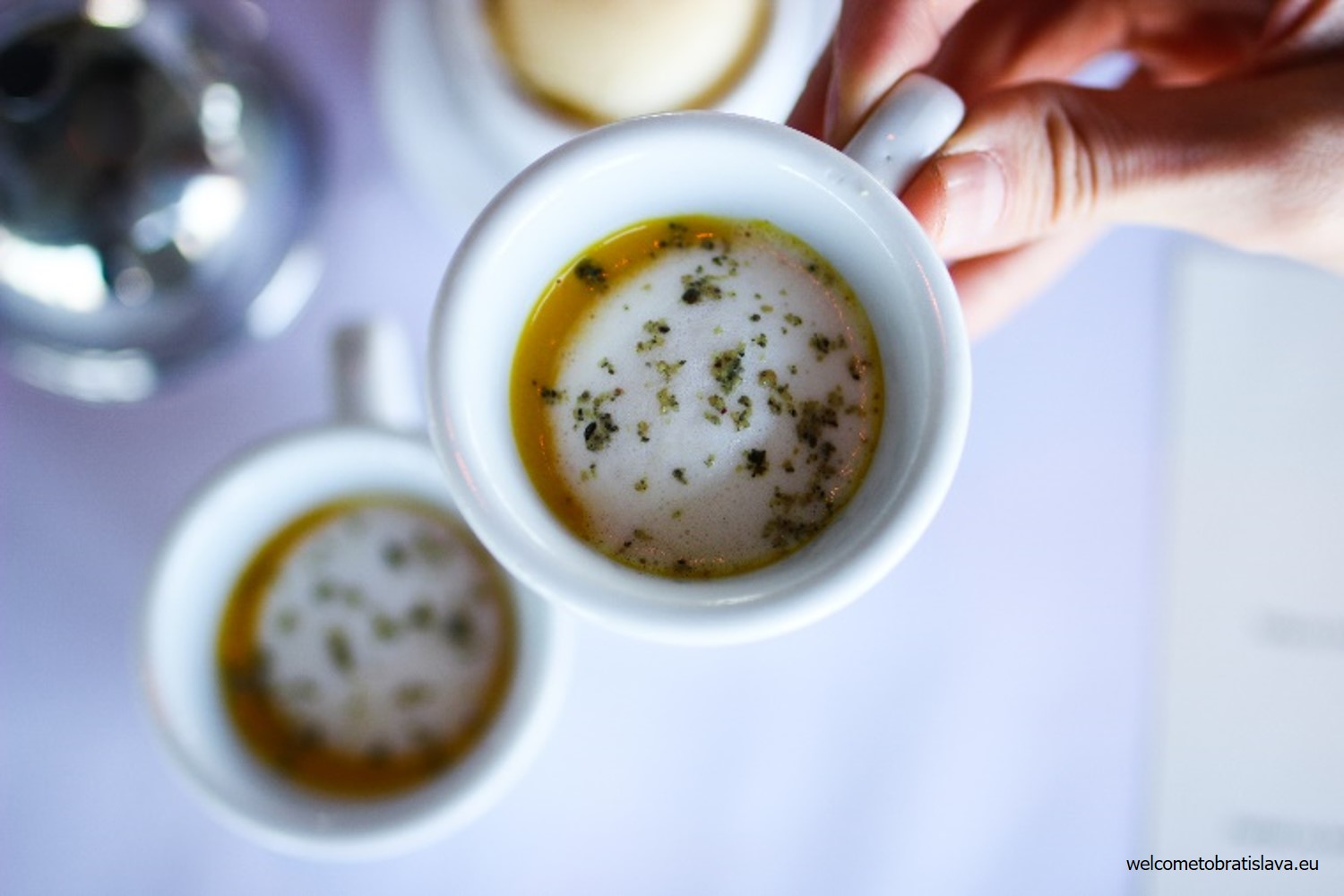 DEGUSTATION DE LA MAISON
First course: Veal trilogy / paté, prosciutto, grilled marrow, homemade butter brioche, onion jam
This one will be great for those who like pates and can appreciate jelly and fat, probably our male readers more likely :) We, girls, are not so much into this kind of food in general, however we must say it looked very photogenic and when having a bite, it was rather interesting. We left some more space for the next courses to surprise us.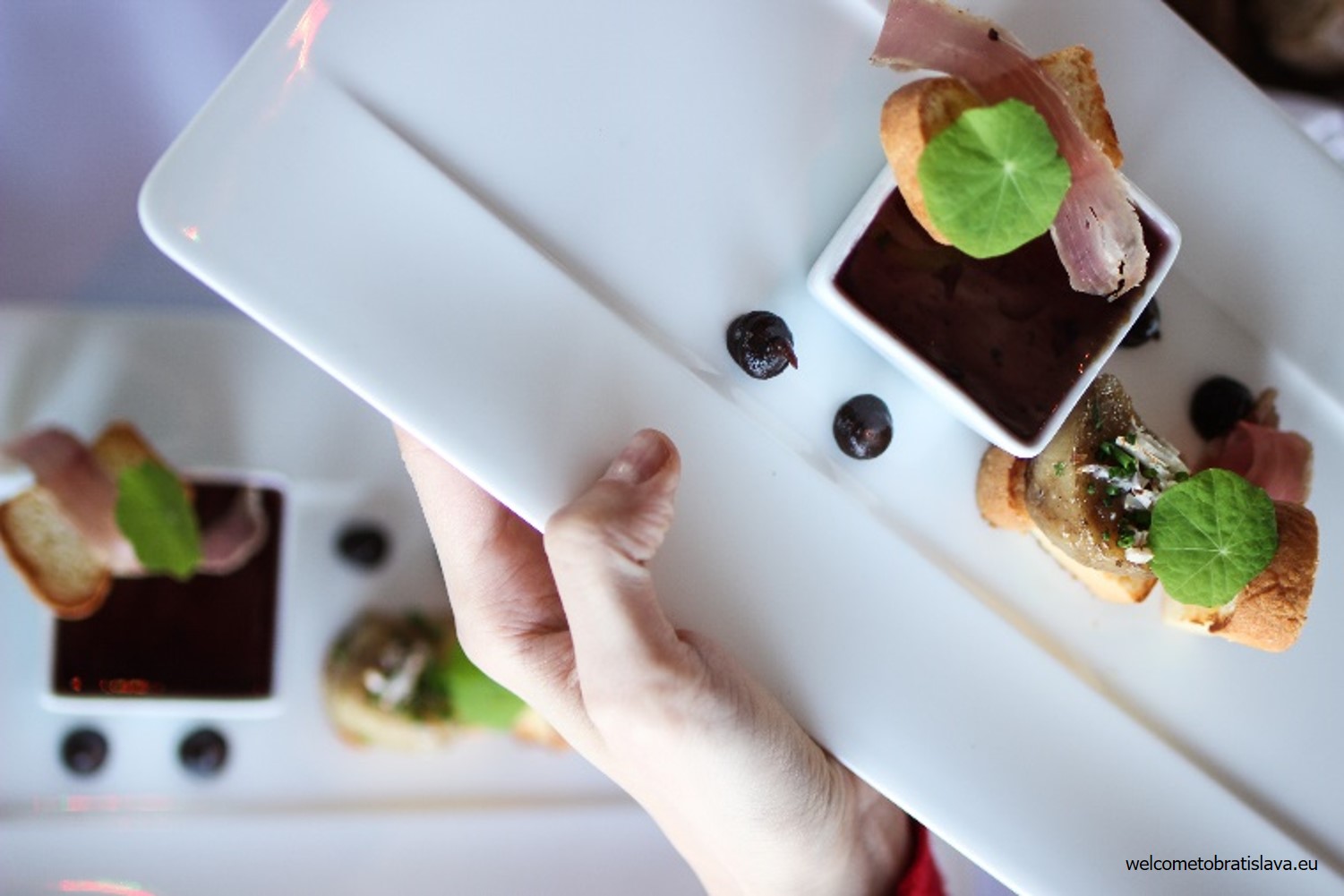 Second course: Porcini consommé with quark dumplings
This soup was super tasty. Looking simple but with rich flavor. And it warmed us up. Definitely something we would have again.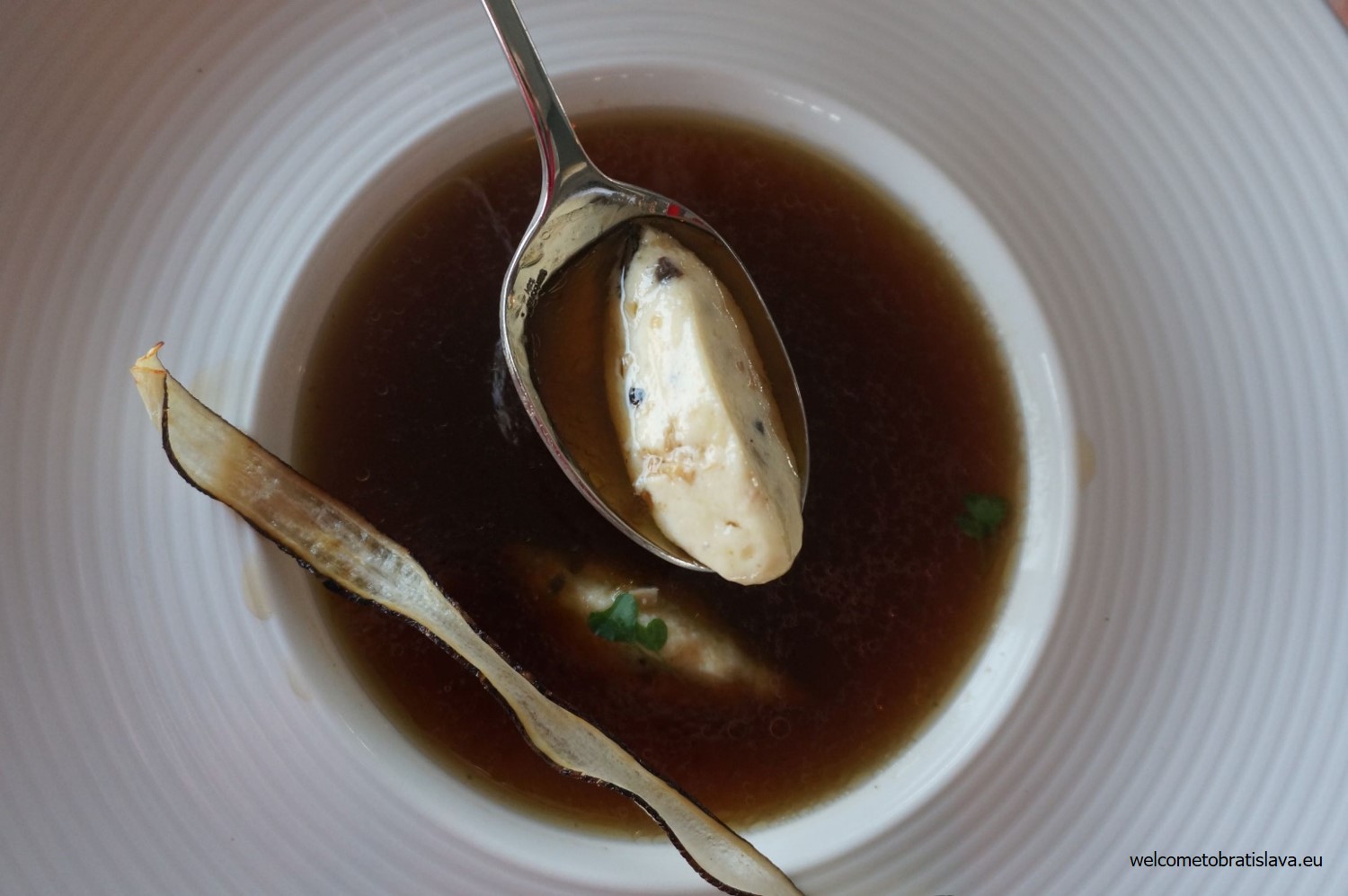 Third course: Trout parfait, sour potatoes, bryndza (sheep cheese), trout caviar, milk foam
This was pure love! A kind of a cake, with a soft texture and mild taste – it looked like each next course was going to top the previous one!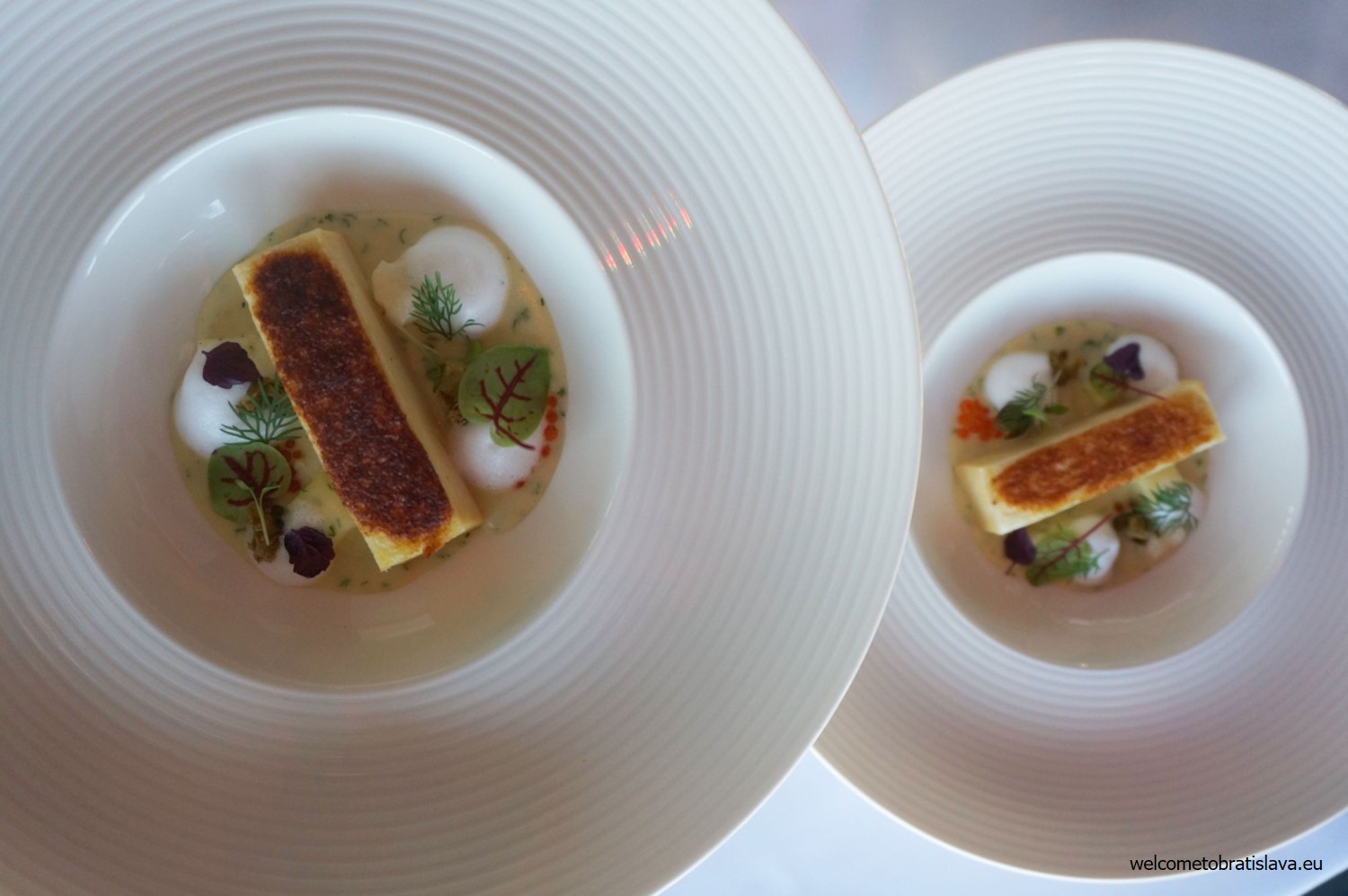 Fourth course: Grilled pike, bean ragout, Mangalica sausage, leek – spinach mousse
This piece of fish was the winner of the menu for us. Even though we were already getting full, we finished the pike off to the last bite. Yes, yes, yes!
Fifth course: Ibérico fillet, crispy truffle pierogi, creamed cabbage, calvados reduction
Another delicious plate brought to our table. We felt almost guilty to eat this piece of art, just look at it! The meat lovers will for sure please their taste buds at this point :)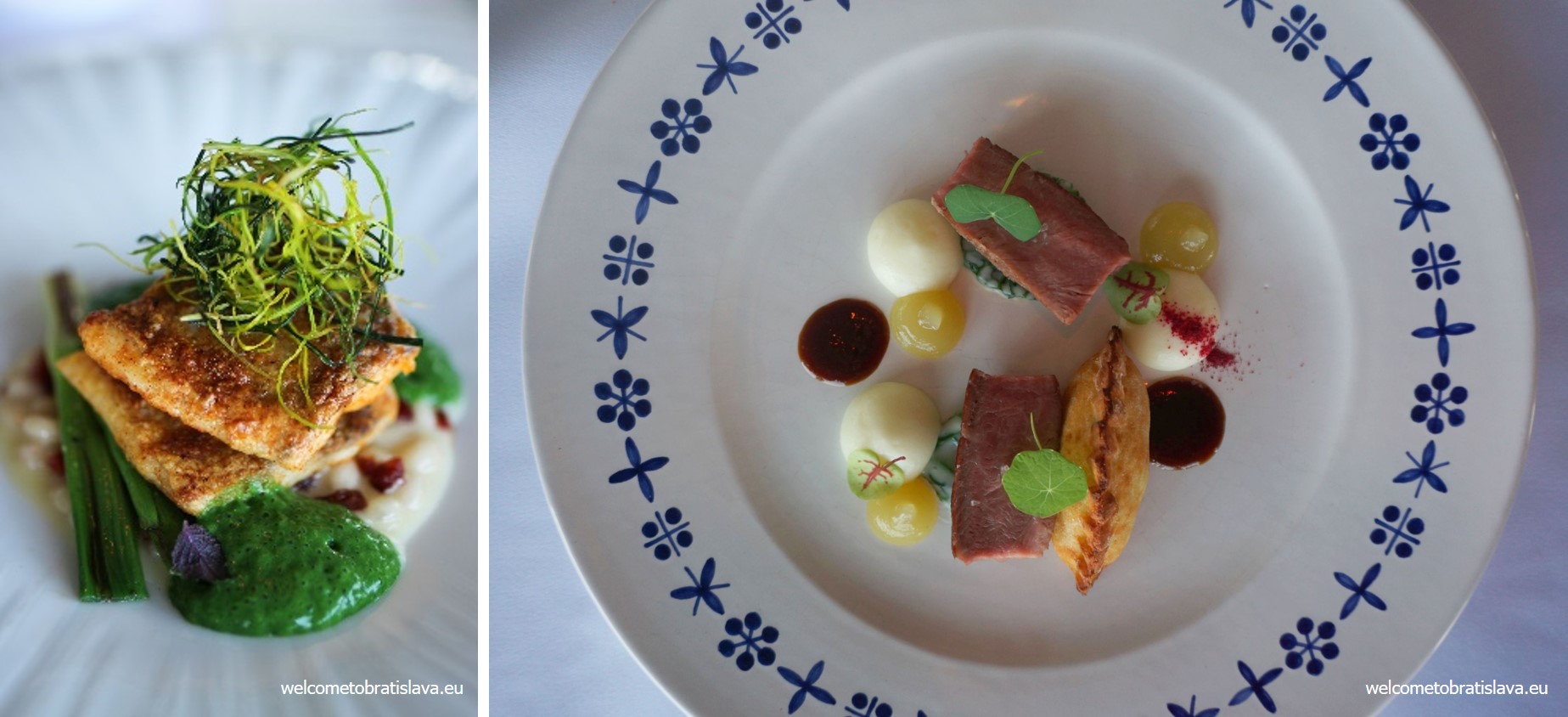 Sixth course: Assortment of local cheeses, marinated sultanas, flax cracker
A must-have after the main courses. Looking pretty, tasting good!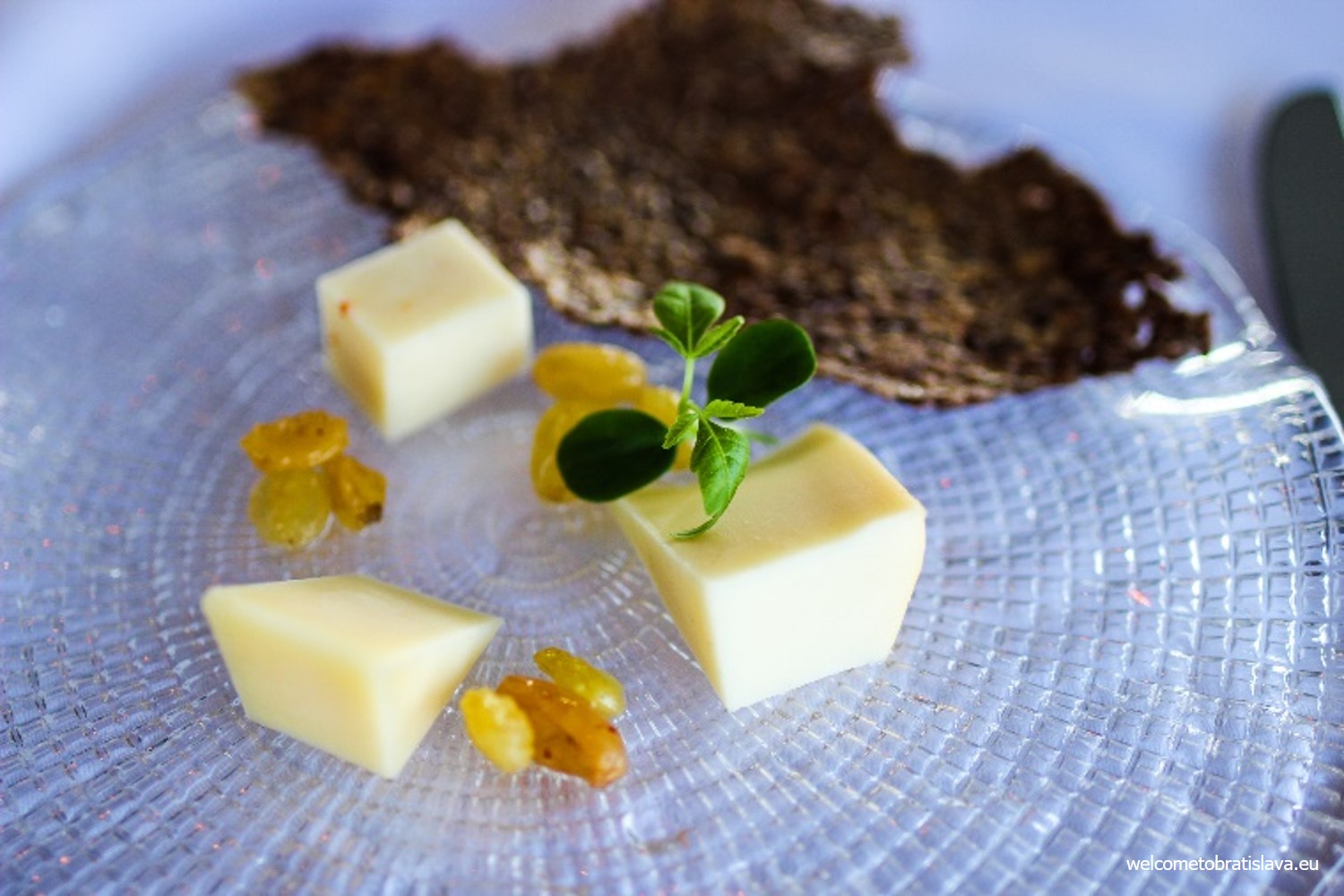 Seventh course: Poppy seed cake, marzipan ice cream, cherry gel
We are into sweets. Big time. So we couldn't wait for the last course, naturally. And despite being literally loaded already, we cleared almost the whole plate. Yes, the dessert was so good that we did not even feel guilty! :D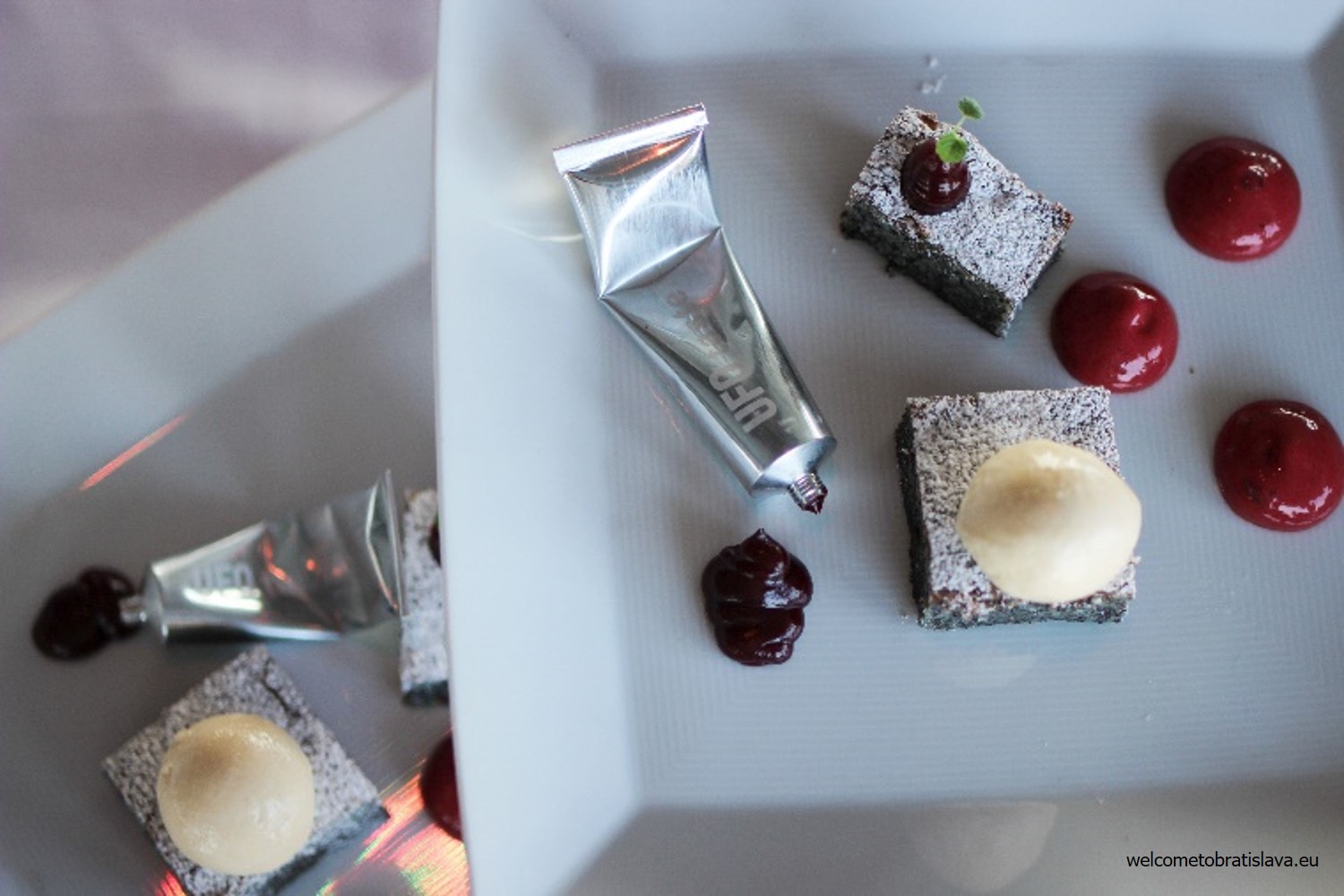 SPECIAL BONUS AND MEETING THE MR. CHEF
Are you into tartares? They are quite popular in Slovakia and you can get them in most restaurants offering Slovak cuisine. We've seen and tried quite some already and did not think something could surprise us. We were wrong. We had never tried a kangaroo tartare until we came to UFO and met their chef Jozef. He was so glad we liked his meals that he offered us to try his latest specialty – kangaroo tartare with buckwheat popcorn, oyster cream and fresh horseradish. At that point we wished we did not clear the plate with our cakes (!) – because this was a real delicacy – and just felt really sorry not being able to finish it all. Next time we'll know for sure what to order!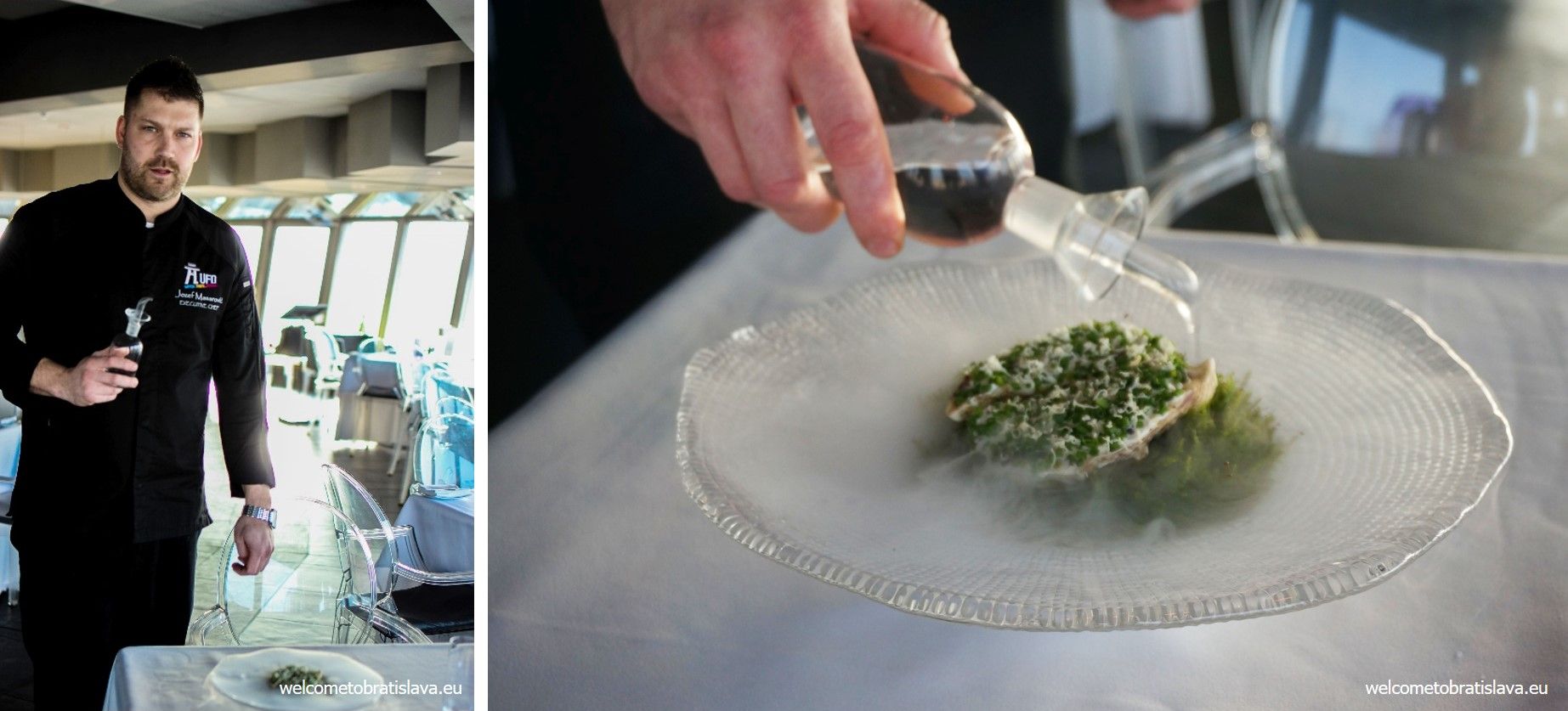 the restaurant's chef Jozef Masarovič creating magic on the plate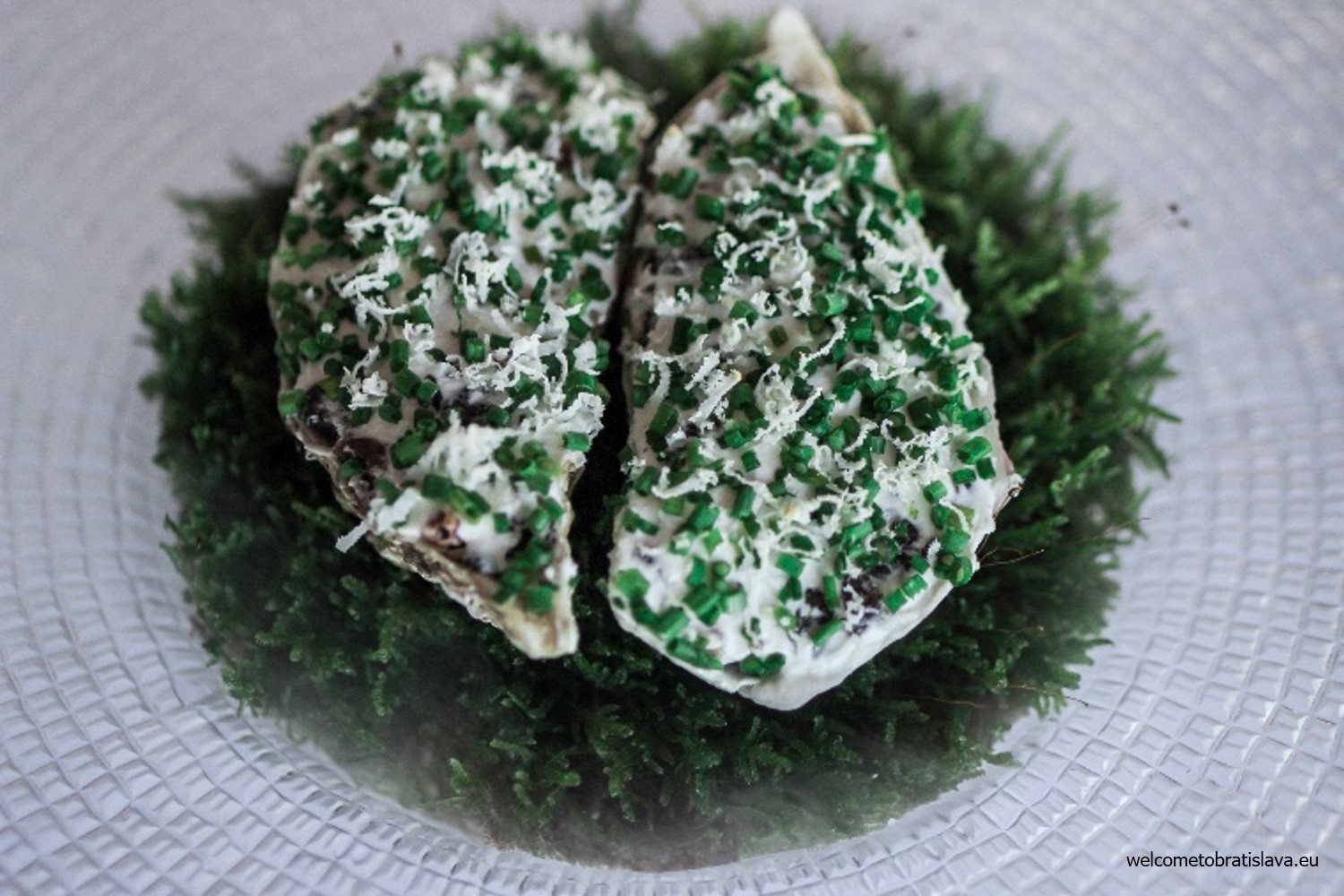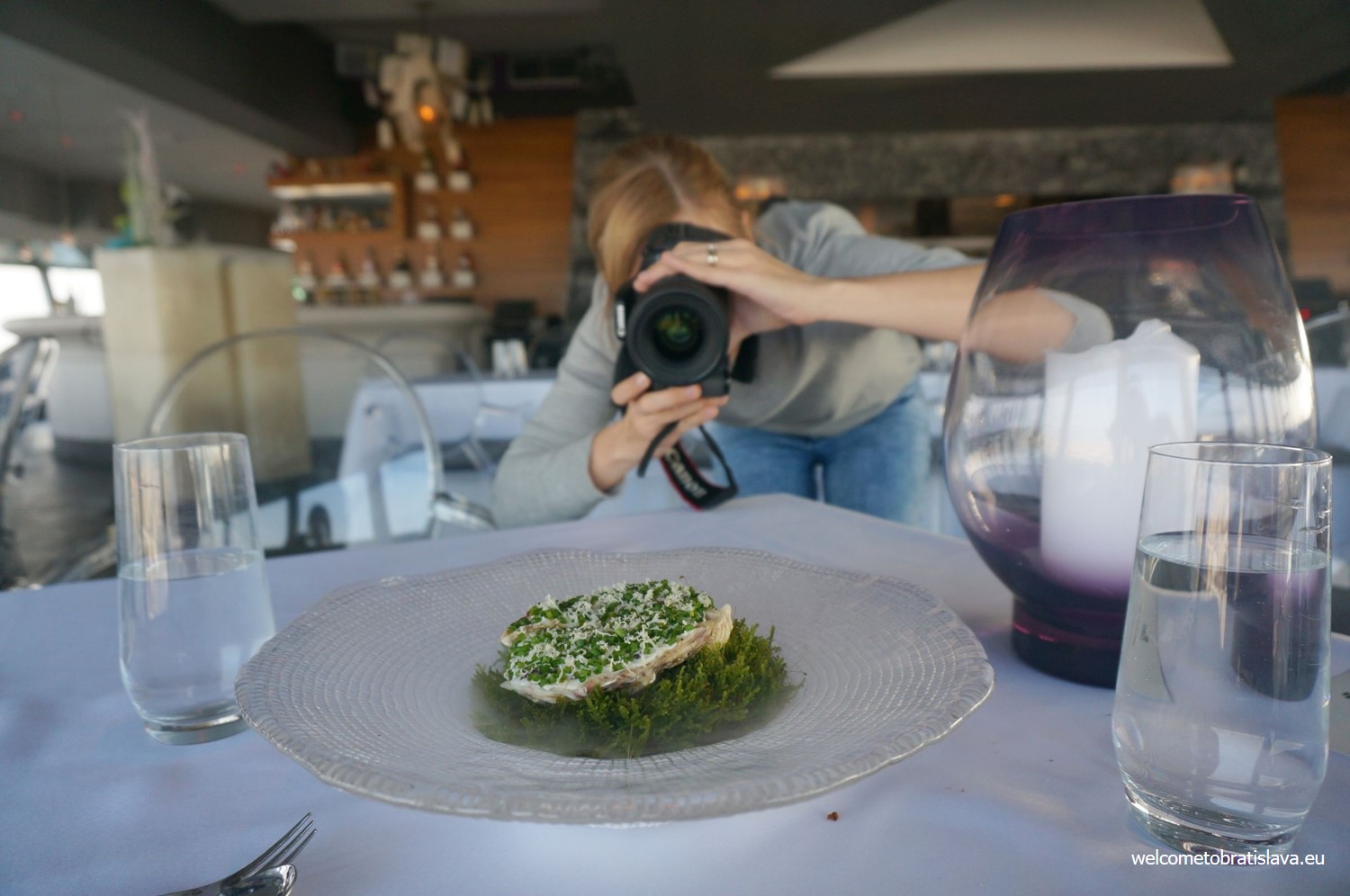 Zuzana trying to capture the foam coming out from the kangaroo tartare :)
This was our VIP experience on the roof of Bratislava, and you can have the same one! If you wish to go for the same menu that we tried, it will cost you 85 € per person. You can however go for less items if you think that seven courses are too many– the courses have individual prices as well.
Each of the seven courses can be complemented by a specially selected domestic or foreign wine, beer, destilate or unique cocktails. Enjoy!
Author: Maria Kecsoova