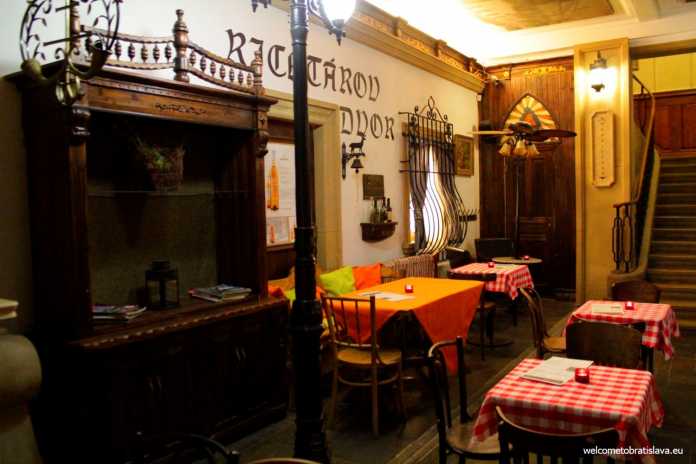 The biggest pub in the town built in the premises of a former cinema which uses ingredients from its own bio farm. Slovak cuisine is a guarantee that you will be able to taste our traditional meals (for good prices)! Flagship has the same owner as the Slovak pub and the menu is very similar. Basically what you can have here you can most probably find there as well. What differs is the atmosphere. While the mentioned Slovak pub is more "pub-ish", this one really is something different.
LOCATION
Flagship restaurant has its seat in the city center at Námestie SNP. It is a 5 minute walk from the Presidential Palace or Obchodná Street. Next to it there is a big Terranova shop and from the other side it is surrounded by a church.
INTERIOR
When you get to the main entrance, you need to walk through a short but very cute passage with curtains.

That will take you to another passage with a small bar, tables and chairs. Here you can not dine yet but the bar offers a nice selection of wines and cheese specialties. You can also buy some products at the gift shop such as home made honey, marmalade, Slovak cheese and so on. Might come handy as a tasty souvenir :) The black currant wine is known to be very good.

At the end of this passage you will see stairs which lead to the main restaurant part.

When entering, you are most probably going to walk in a room full of people who are either waiting for their food or waiting for the waiters to take their order. By the way, all the waiters and waitresses wear a cool T-shirt which says BARtislava.

Inside the restaurant a lot of wood was used. Bar, tables, chairs and even walls are made ​​of wood. Ceiling in the main room, in which the suspended crystal chandelier hangs, is high around 15 m. We can't help it but always when we are there we feel like being on a deck of an old medieval ship :)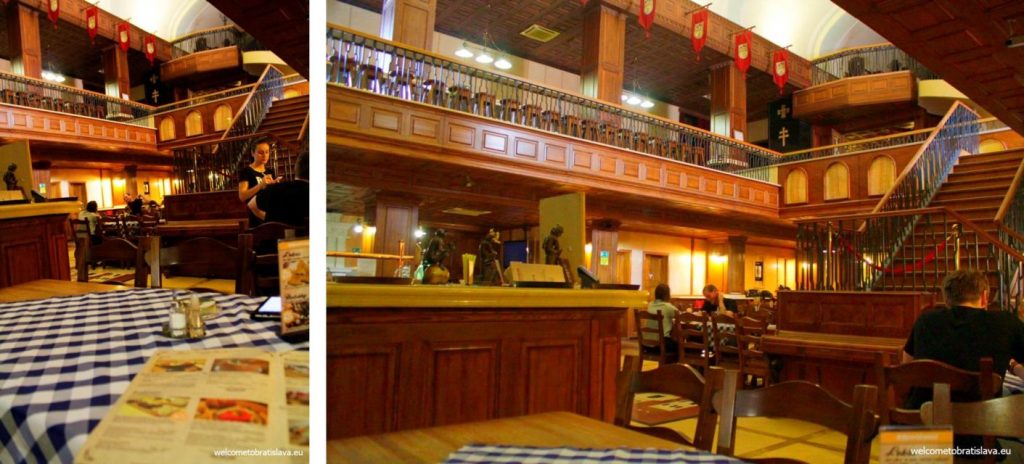 WHAT TO HAVE IN THE FLAGSHIP?
The menu is really wide and the good thing about it is that it has pictures of the majority of meals so you can actually see what you are ordering – even though the menu is also in English, you might not understand what some of the Slovak meals really mean. Our recommendation is to have bryndzove halusky – the most traditional meal of our nation which includes potato gnochi with special sheep cheese, topped with toasted bacon. The cabbage version of halusky is also very yummy – it is called kapustove halusky – and is also served with bacon.

If you can't choose between the two because both sound great, have a big plate for two – this is what the meal is called, because it is a 900 g plate with which even 2 people have difficulties to finish :)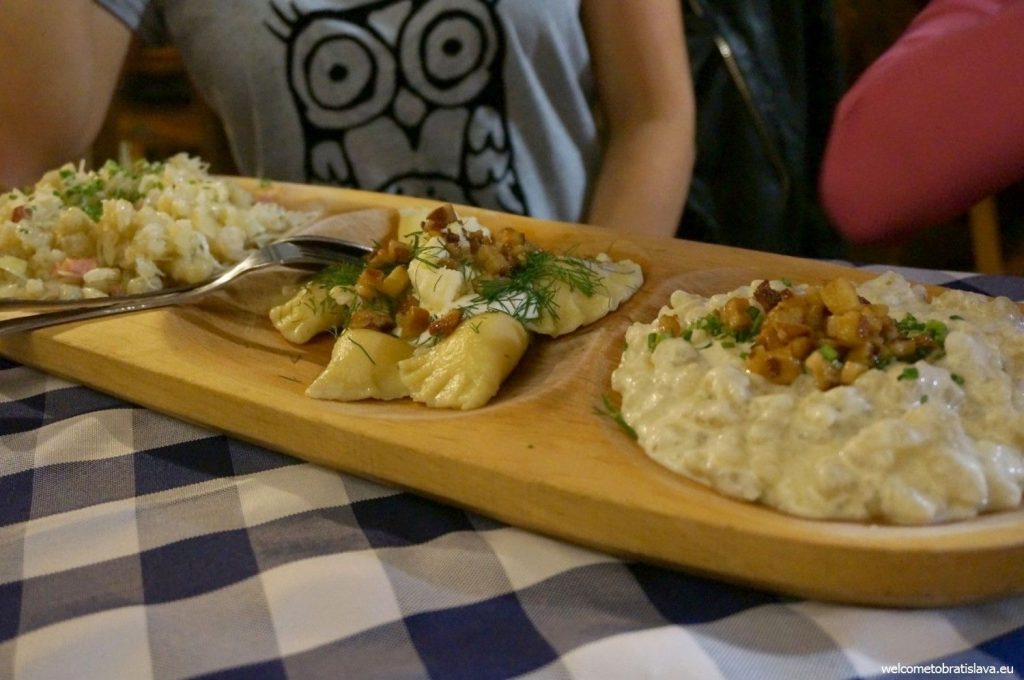 If you like sweet meals, you need to try the dumplings (domace sulance) with poppy seed and butter or the version with crashed nuts and butter. That comes as a main dish so if you only want to try it and you are at least two people, you can take it as a dessert after the main meal and split it. Or order the bratislavske rozky – which is the very traditional Bratislava cake and it comes in the same variations – with poppy seed or crashed nuts. They are small so you can have even more as your dessert :) Another very good and traditional thing is a flat cake (looks like a pancake) filled with marmelade and topped with poppy seed.

To drink everything down, you can have one of our beers (Zlaty bazant is the Slovak brand).
Remember the cool T-shirt we mentioned before? Well you can also buy one or two here if you wish! They are hung on the walls like this and you can ask for them before leaving. One piece costs around 10 €.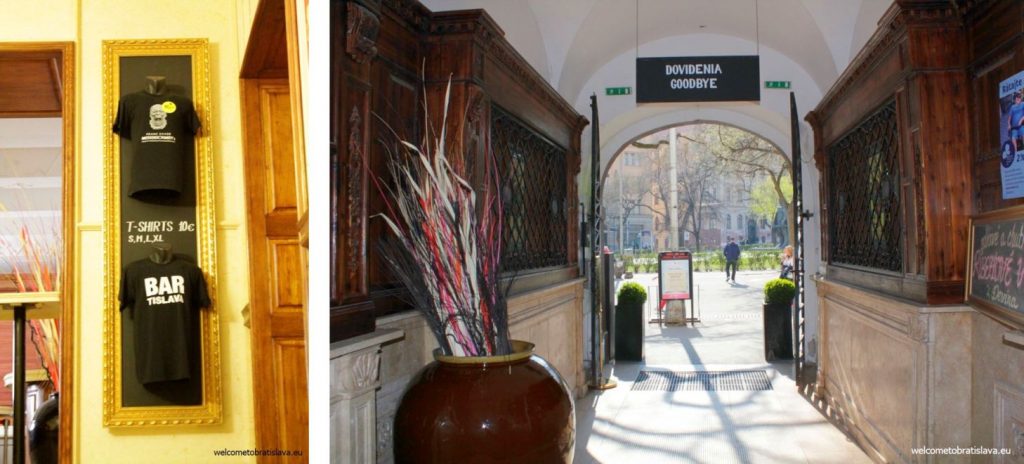 Last but not least, we must say that the service here is good some days but there are people who complain about rude staff and unpleasant personnel. So just do not try to take it too personally when you visit, or just be prepared for that.
Author: Maria Kecsoova

OPEN HOURS: Check their website


ADDRESS: Námestie SNP č. 8


CONNECT: Website, Facebook


MAP LOCATION: