Trying to find a great flea market, food market or bazaar? Bratislava's indoor & outdoor markets and bazaars offer great opportunities for vintage finds, antiques and designer items, delicious food or craft goods. So flea-goers, go no further, have a look at our city's bazaar scene and get inspired below. From vintage clothing to antiquarian books and collectible cameras, we have prepared a list of the best places to pick up a bargain buy:
THE GOOD MARKET – DOBRY TRH
Once upon a time a clever girl from north came to settle in our country and to help us rediscover the beauty of our urban public spaces. It was Illah van Oijen from Netherlands and the first happening under the name "The Good market" took place in Bratislava's streets in 2011. Since that time this urban market regularly shows our city to its humans in a different angle by revitalizing various places, visible but also hidden streets, squares and corners, while asking forgotten questions about the importance of using the public urban spaces.
The market supports local producers, farmers, creative folks and initiatives. By cooperating with the neighborhood community, the event is offering an alternative to spending free time in the shopping malls – as it is more and more common here. You can find healthy, high quality food and beverages, buy old books, antiques or secondhand clothing and design goods, join some sport or educational activities for the whole family, or just slow down, meet and greet with friends and listen to unplugged concerts.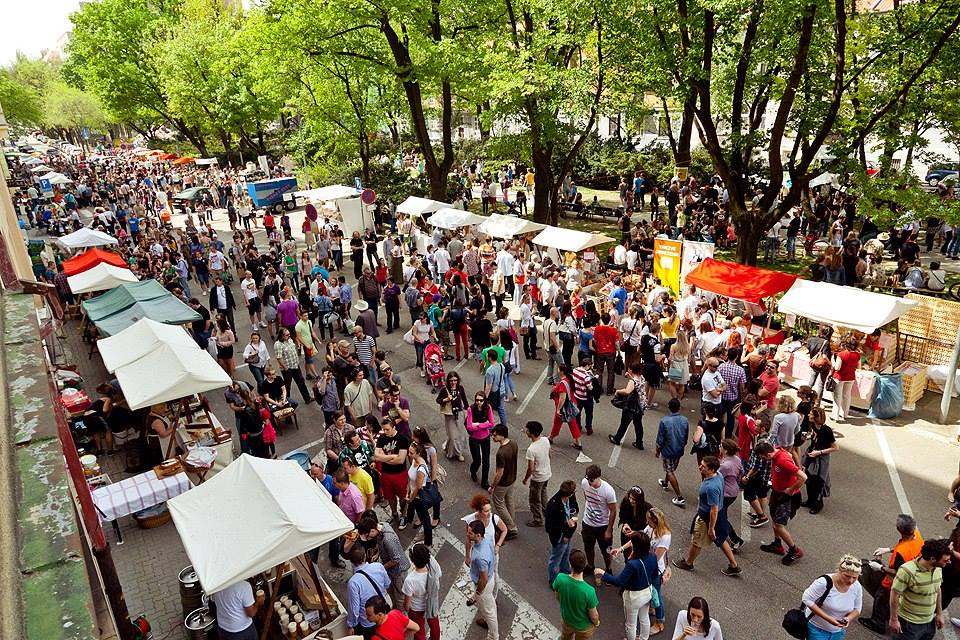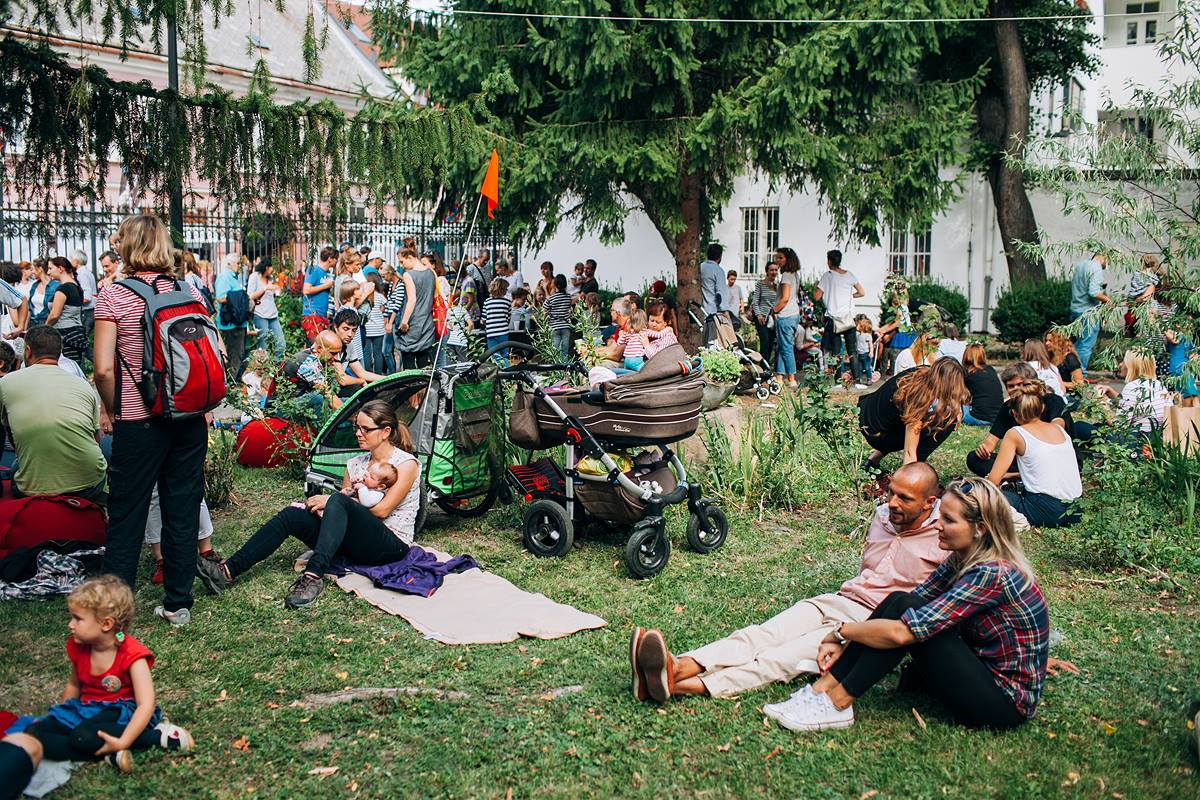 (source)
Nowadays the market occurs at least three times a year in different places which specify its character:
Dobrý trh – Panenská: A community project of Panenska Street was created in cooperation of neighbors, based on opening courtyards and gardens for the public and engaging almost everything that is there – from cafes to bookstores (the best one for intellectuals: Artforum), even an evangelic church… The charming Panenska street is closed and occupied with this market for the whole day, offering products from local producers, neighbors and importers of some exceptional products.
Dobrý trh – Jakubák: This edition organized in cooperation with the Slow Food Pressburg organization takes place on Jakubovo square. It focuses on honest, slow and traditional production processes and carefully chosen best local marketers. Also a place to relax under the trees in the square park, maybe to join some drummer sessions, or some other lectures, maybe applied arts…? Just slow down, grab your coffee and cake and enjoy the moment.
Stará tržnica / The Old Market Hall – For this winter indoor edition the same applies, just give away the open space and add some mulled wine and the possibility to buy some unconventional Christmas presents.
OCCURANCE: please check their Facebook page for the details 
CONNECT: Website, Facebook
THE FARMERS MARKET/FRESH MARKET – FARMARSKA TRZNICA
Re-opened in the new premises just recently (February 2016) after half a year of waiting, this modern urban market focuses on real, high quality cuisine and thus finally brought us the concept that is working very well in almost every Western country. This gastronomy model is based on specialties – somehow answering the recent boom of various bistros in the city center.
The space consists of two floors: the ground floor is dedicated to sellers and the first floor to services. So what could you be looking for if you came here hungry? Currently you can choose out of 25 offerings of many, many different cuisines. Just count with us: Slovakian, Hungarian, Croatian, Italian, Thai, Vietnamese, Japanese, Turkish cuisines, pizzas, kebab, sushi, ramen, pancakes, fish, burgers, hummus, kuskus, raw, vegetarian, gluten-free, macrobiotic food… also some finger food, fresh juices and salads.  We recommend you to try all you find interesting, and to come back until you tried them all.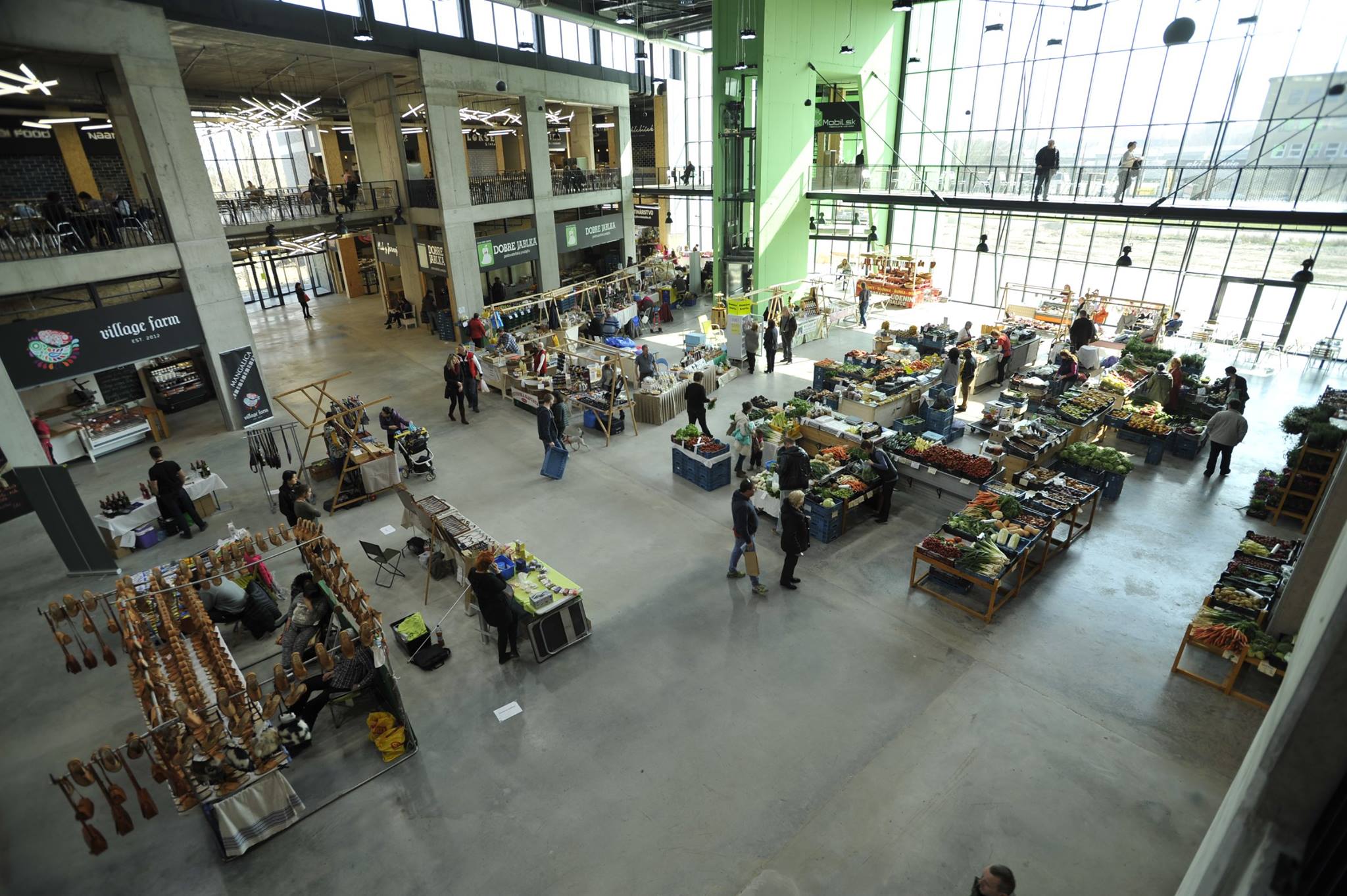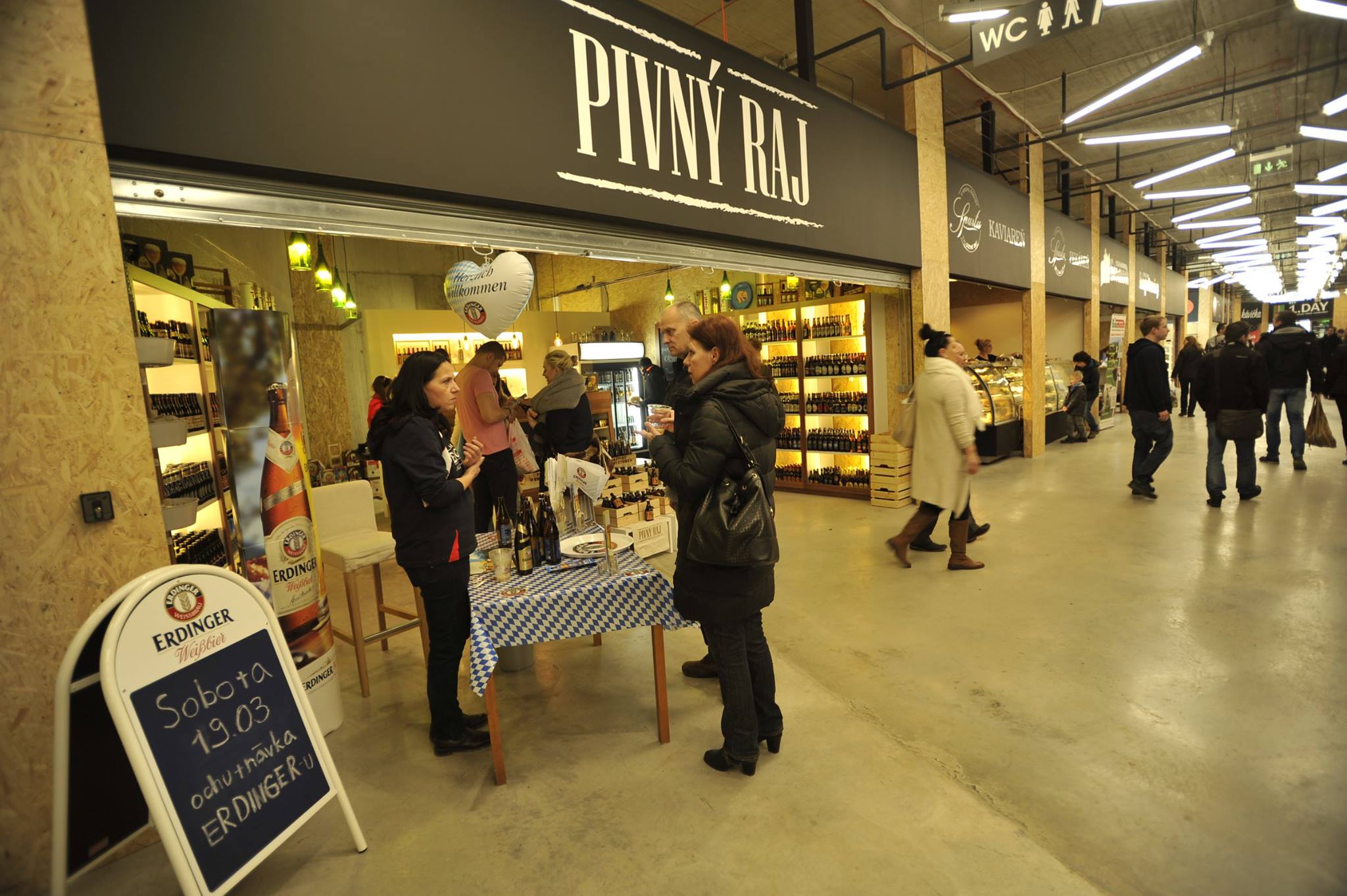 (source)
If you come for shopping, you can choose from 50 sellers on the ground floor who are offering fruit, vegetables, milk dairy products, meat, pastries, pies, honey, wine, beer, bio, exotic and alternative products. Beside food and beverages you can find few non-gastro services like a drugstore, bio cosmetics, flowers, breeding products, handicraft goods, stationery, key service, medicine, pastry shop, a coffee shop and tobacconist's, even a children's playground is here… Well, we bet you find something good for you. If you by any chance still don't have enough, go just a few meters further and check the supermarket Yeme offering fresh Slovak groceries in the neighboring building.
This market is mostly visited and pretty crowded during working days´ lunchtime, so you might have problems to find a parking spot.
ADDRESS: Rožňavská 1A
OPEN HOURS: Check the official FB site
CONNECT: Website, Facebook
FARMERS MARKETS IN BRATISLAVA STREETS – FARMARSKE TRHY
A street in the Bratislava Old Town, Petržalka, Podunajské Biskupice as well as Karlova Ves neighborhoods have a day of the week when a regular farmers market takes place there, weekly, bi-weekly or monthly, depending on the location. Bratislava is, however, not the only city where these markets are held – there are tens of other cities in Slovakia, too. The goal of these events is to organize farmers' markets giving opportunities to local farmers and manufacturers to sell their products directly to the customers and to create a place full of unique flavors, aromas and colors, where people can meet butchers, bakers or milkmen and be able to talk to them and ask for advice or taste their products.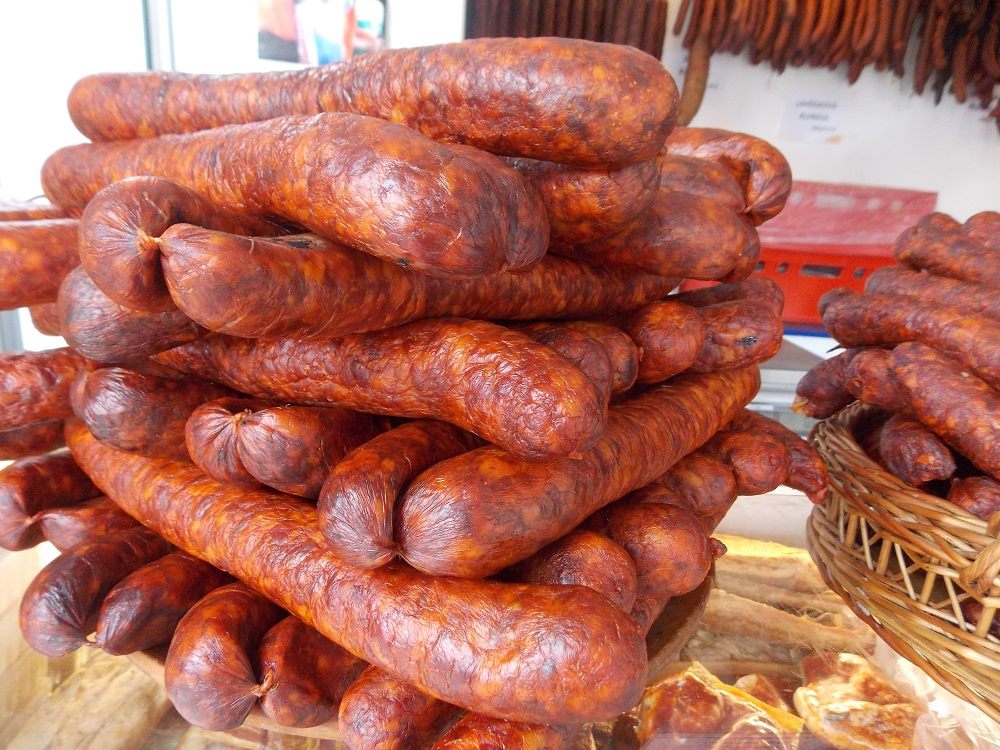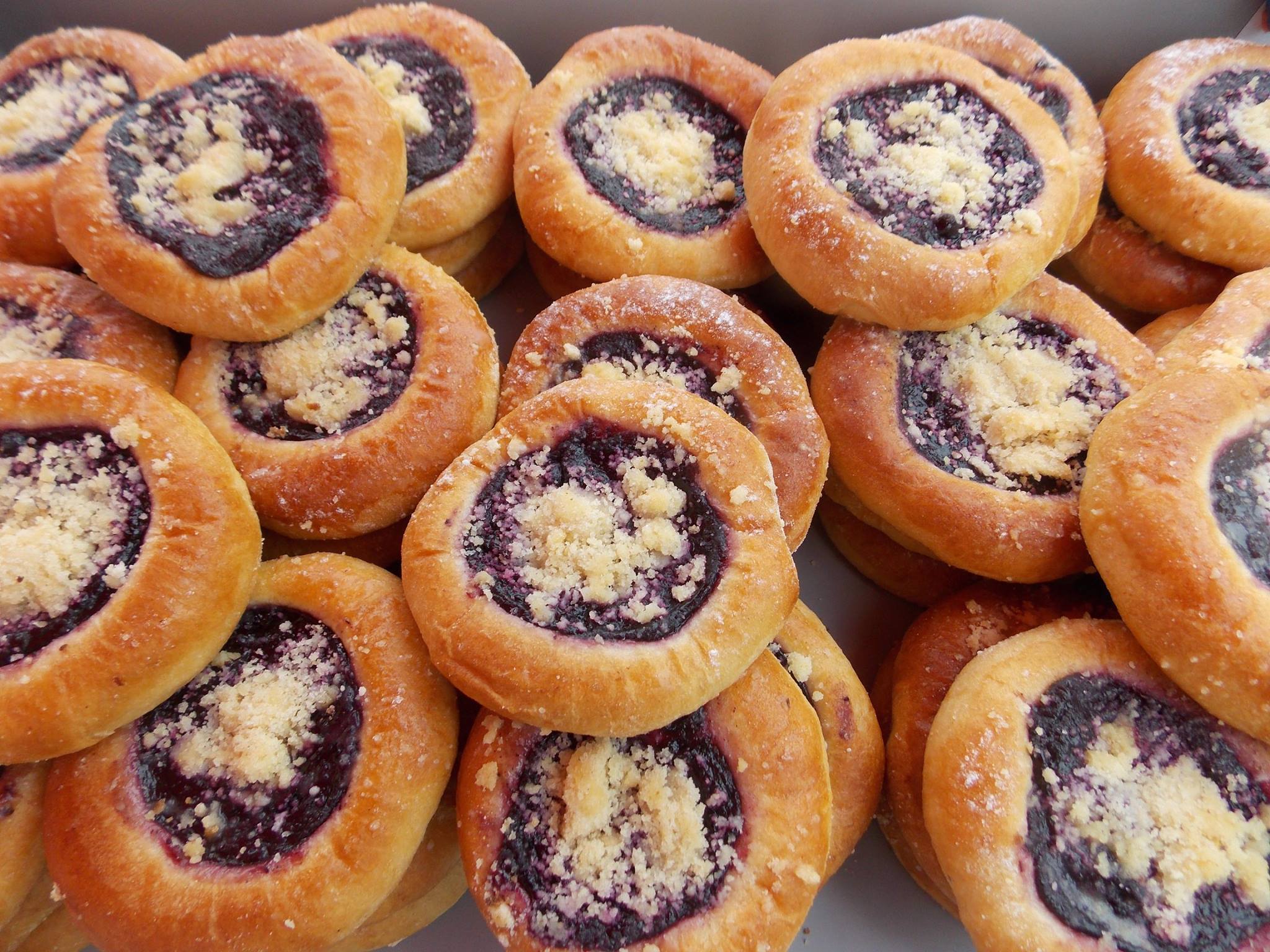 (source)
ADDRESS: Saratovská (Dúbravka) on Thursdays – biweekly;  OC TPD Euronics (Petržalka) on Fridays – weekly
OPEN HOURS: Check the details here
CONNECT: Website, Facebook
PETRŽALKA MARKET HALL 
This is the newest addition to the Bratislava markets scene, as it opened its gates only in April 2018. It is a modern city market hall that creates a great opportunity for regular family shopping. It offers farmers' products, high quality gastronomy options and fresh groceries. A great place to shop at if you are in the Petržalka area!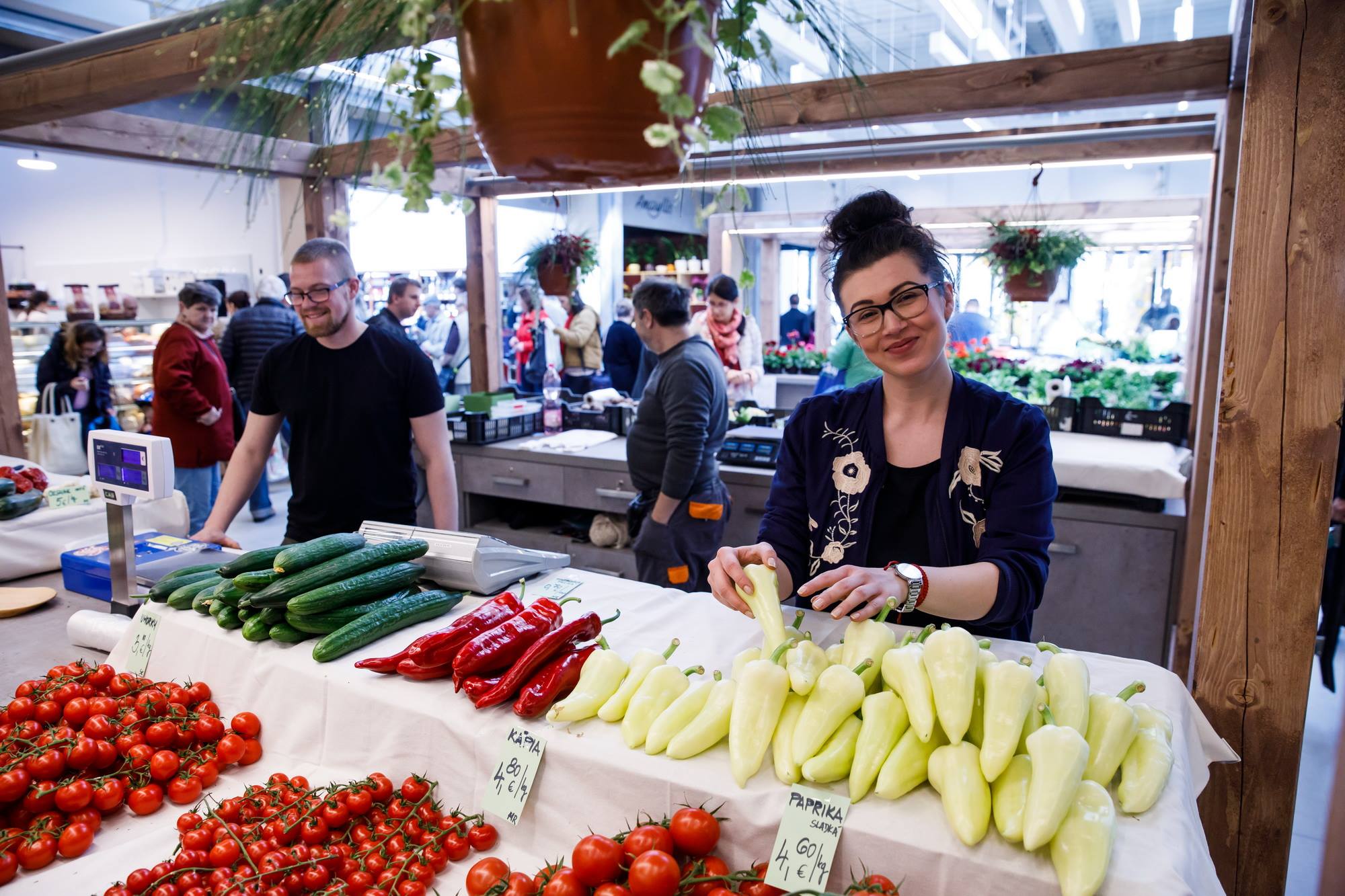 (source)
ADDRESS: Bratská 3
OPEN HOURS: Check the official FB site
CONNECT: Website, Facebook
REGULAR MARKET IN THE OLD MARKET HALL – STARA TRZNICA
This regular food market held on Saturdays takes place in the historical eclectic building situated in the city center, where the tradition of Bratislava's indoor markets was founded hundred years ago. And the last two years it was being rebuilt, after the times when this venue served also as a TV studio.
The main focus of this market is on offering seasonal products grown and produced by farmers and small producers mostly from the Bratislava region, but also a few specialties from foreign countries can be found here. Colorful offerings of fruits and vegetables, meat, dairy products, bakery, sweets and other delicacies are usually accompanied by some workshops or fun programs for attendees of all ages with simultaneous markets on the first floor. One week is usually dedicated to books, another one to antiques, and then also to flea markets/bazaars. Once you are there, you definitely shouldn't leave without trying the current wine from Devín (Devínsky ríbezlák), fairtrade syrups Herbert and traditional Bratislava rolls – filled with walnut or poppy seed from FantastiCo (we call them "Bratislavské rožky").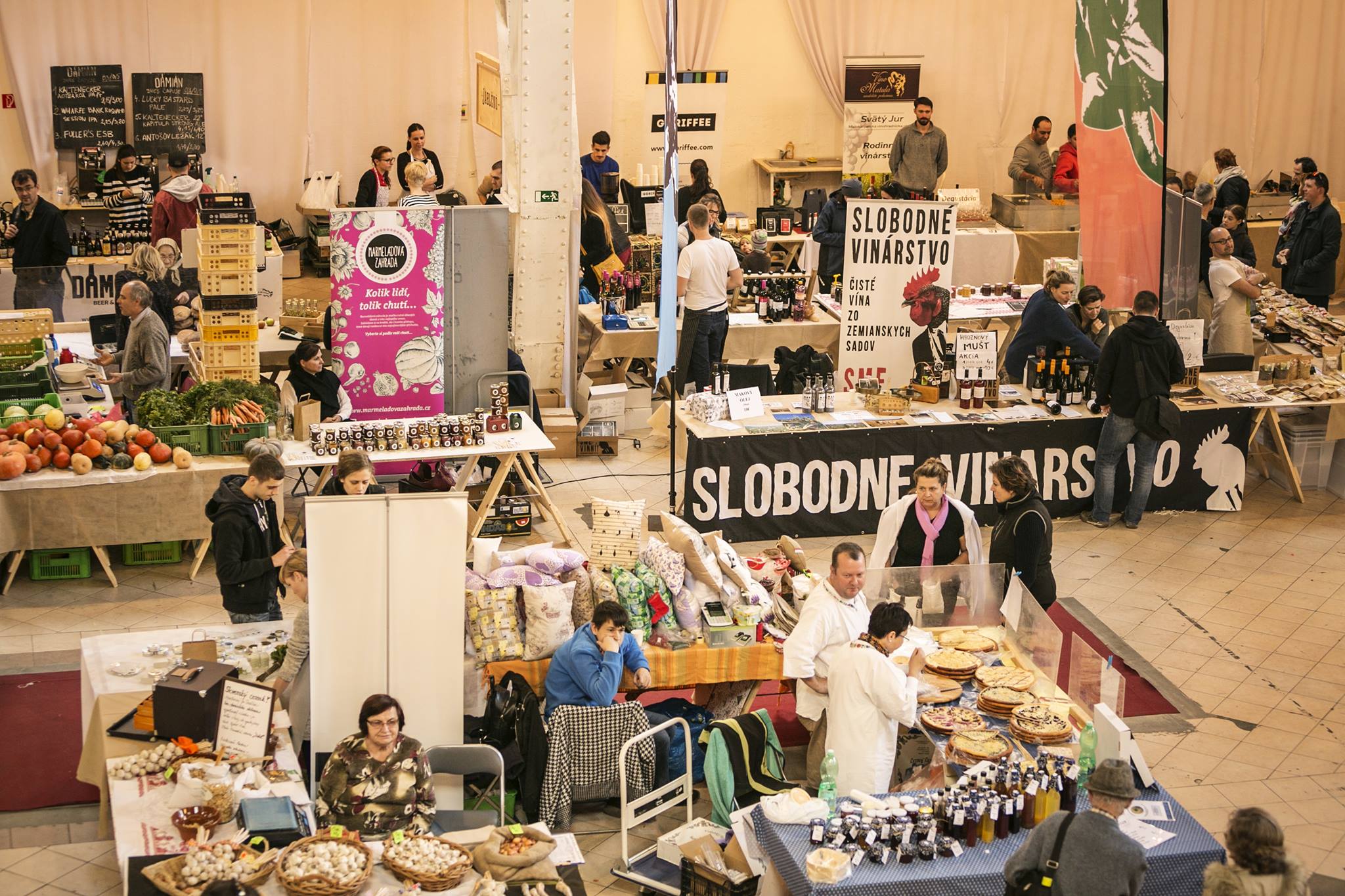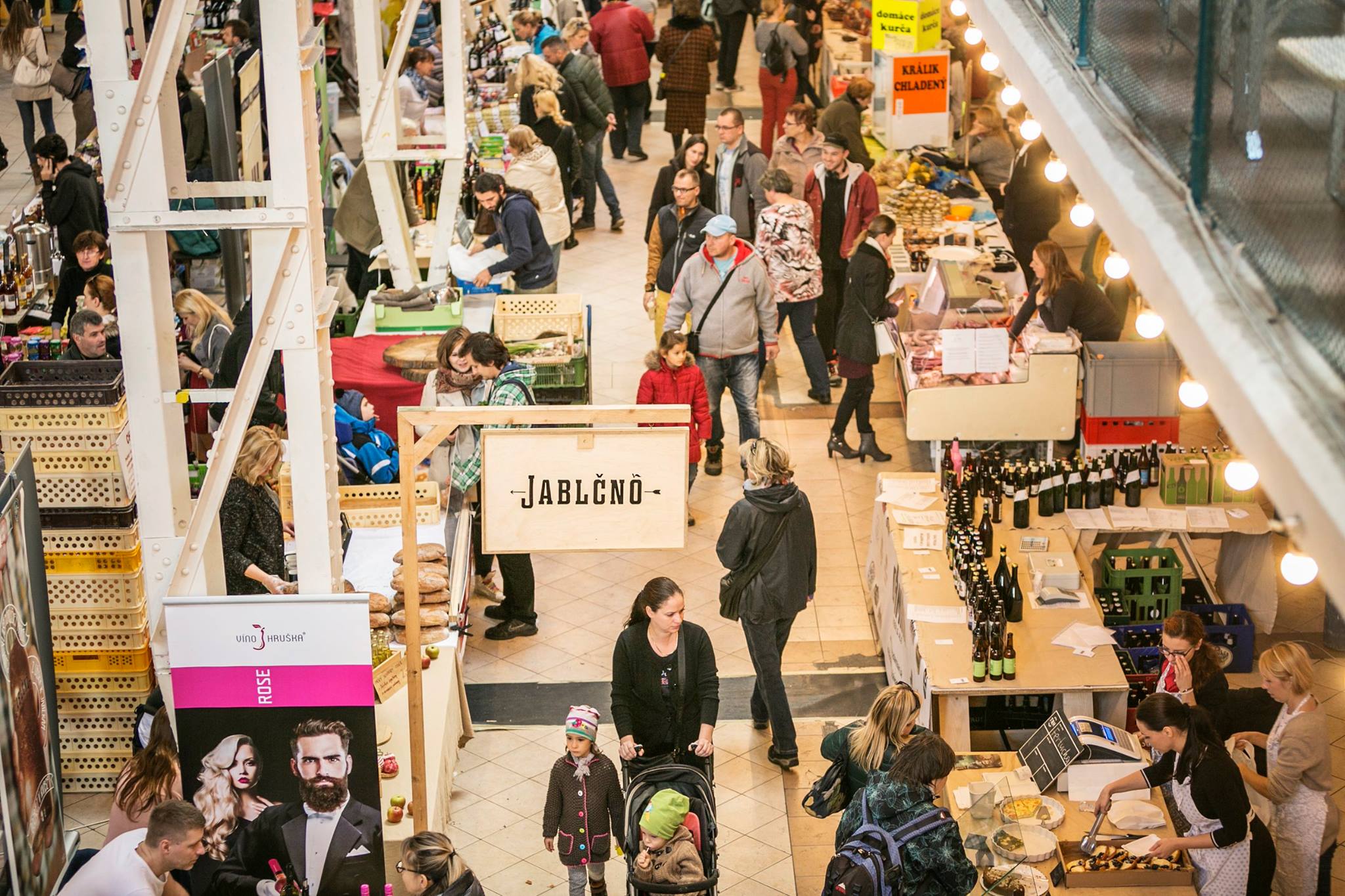 (source)
The capacity of this multi-functional building is up to 1500 attendees and "outside the markets hours" it serves also as a cultural venue for various performances, concerts, festivals and even conferences. Sundays are usually dedicated to various social and cultural events like design and flea markets introducing artists and designers or craftsmen.
This place also conceals a cafe, a grocery shop, a cooking school and a soda water manufacturer. For example, the culinary school of civic association Jem iné, (expressing the approach "I eat different things") offers cooking courses with focus on healthy food. It is a part of the worldwide Food Revolution Foundation of Jamie Olivier.
ADDRESS: Námestie SNP 25
OPEN HOURS: Saturdays 09:00 – 15:00
CONNECT: Website, Facebook
STREET FOOD PARK
Come and join other food fans at the square in front of our Old Market Hall (Stara Trznica) for yummy street food and great outdoor atmosphere! Street Food Park is a regular event held each month and hosts street food vendors who offer delicious burgers, hot-dogs, gyoza, pull pork, bear soup, fish & chips, sandwich, tempura, burrito, "párance", coffee and more.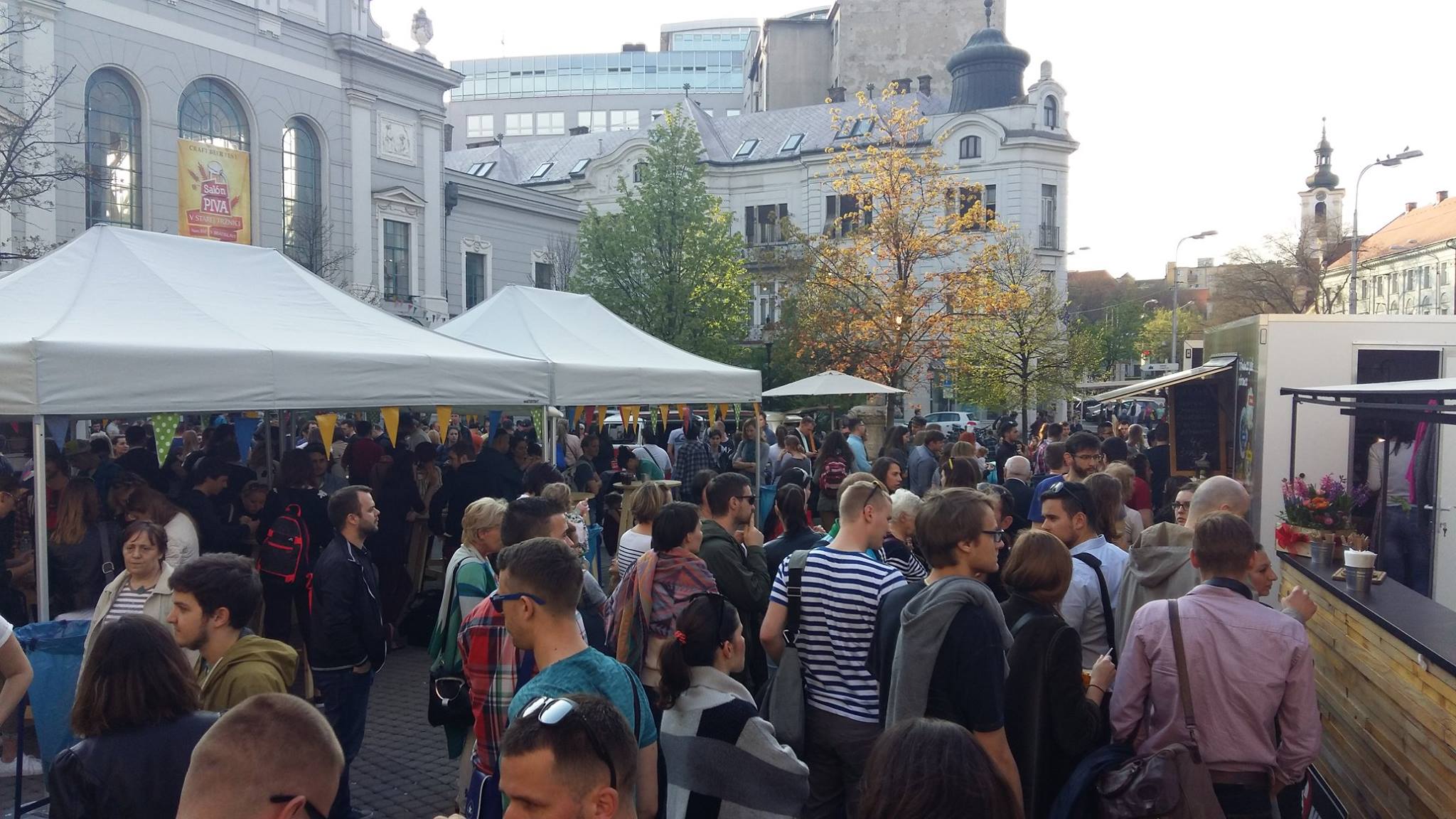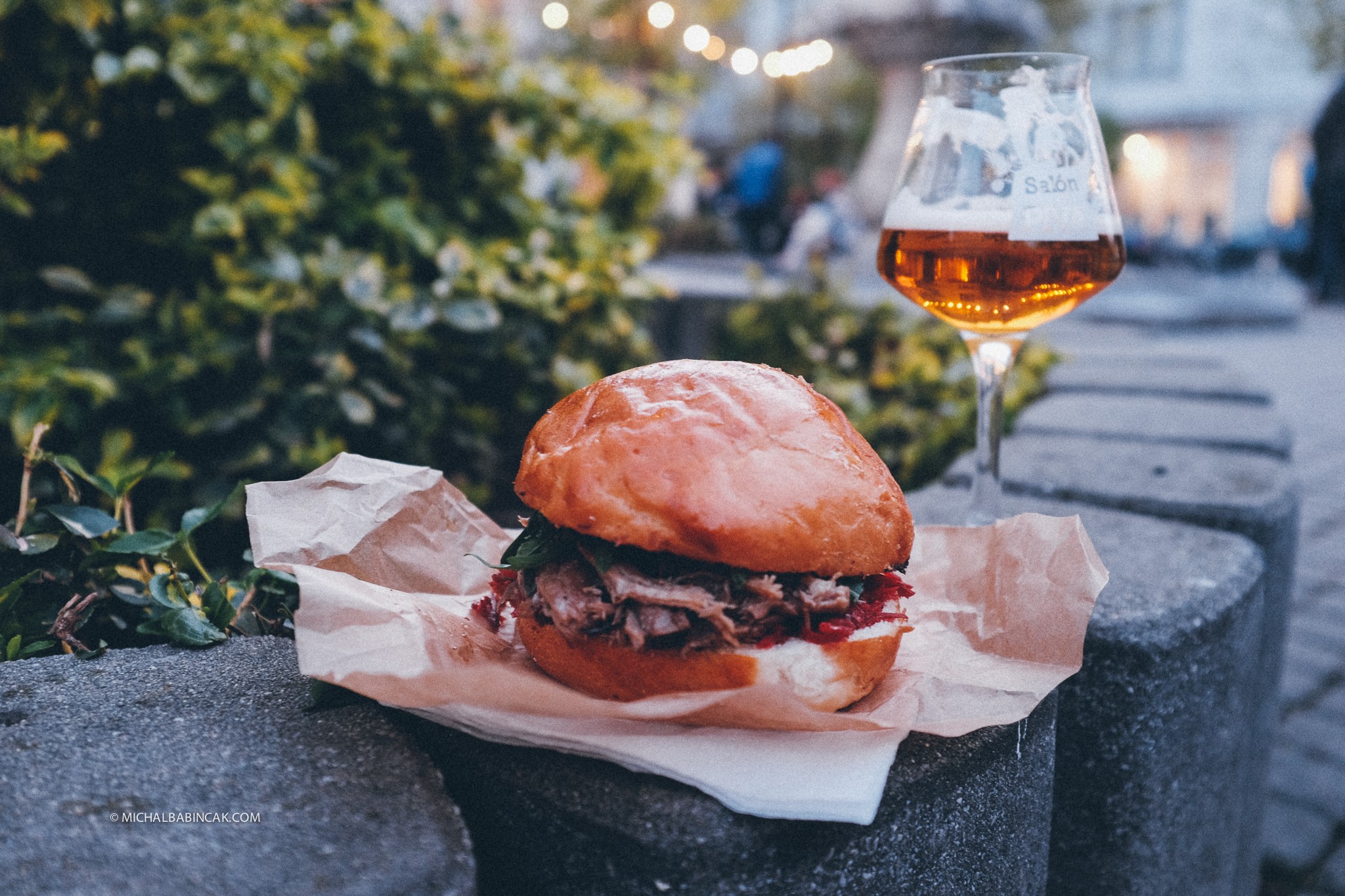 (source)
ADDRESS: Nám. SNP, entrance of the Old Market Hall
OCCURANCE: monthly, please check their Facebook page for the details
CONNECT: Facebook
MARKET PLACE ON ZILINSKA STREET
Here we have the "mother" of outdoor markets in Bratislava – the authentic Žilinská Market Place which is an integral part of the district under the Main Railway Station since its origins in fifties. This place is very popular thanks to its unique atmosphere. And unfortunately the last fifteen years it is gaining a high public interest due to its unclear future. Every year might be its last one as there are plans to build a parking house, shops and some flats in this lucrative location. This brings a strong feeling of uncertainty to all marketers, which reflects in their decreasing number and negligence of this place in general.
Nevertheless, for now it is still open and worth of visiting! This place offers goods that taste and smell a bit different than those you find in supermarkets, a bit more authentic. It is not just fruit and vegetables from local producers but also eggs, sausages, butter, yogurts and other dairy products, pastries, nuts and flowers… you can get here even a home bred duck – if you order it in advance.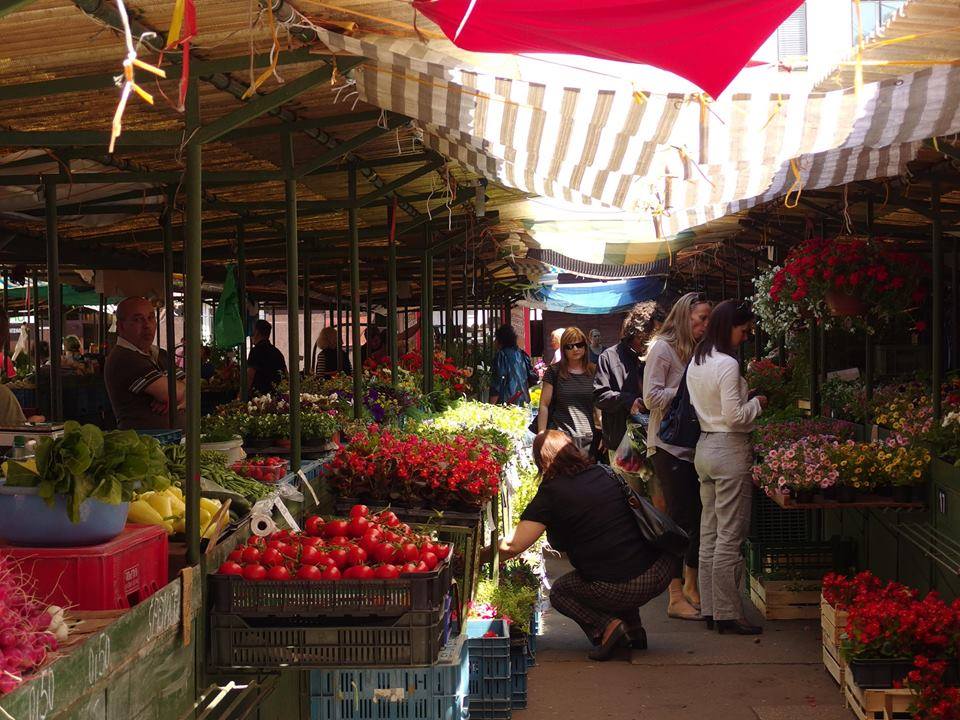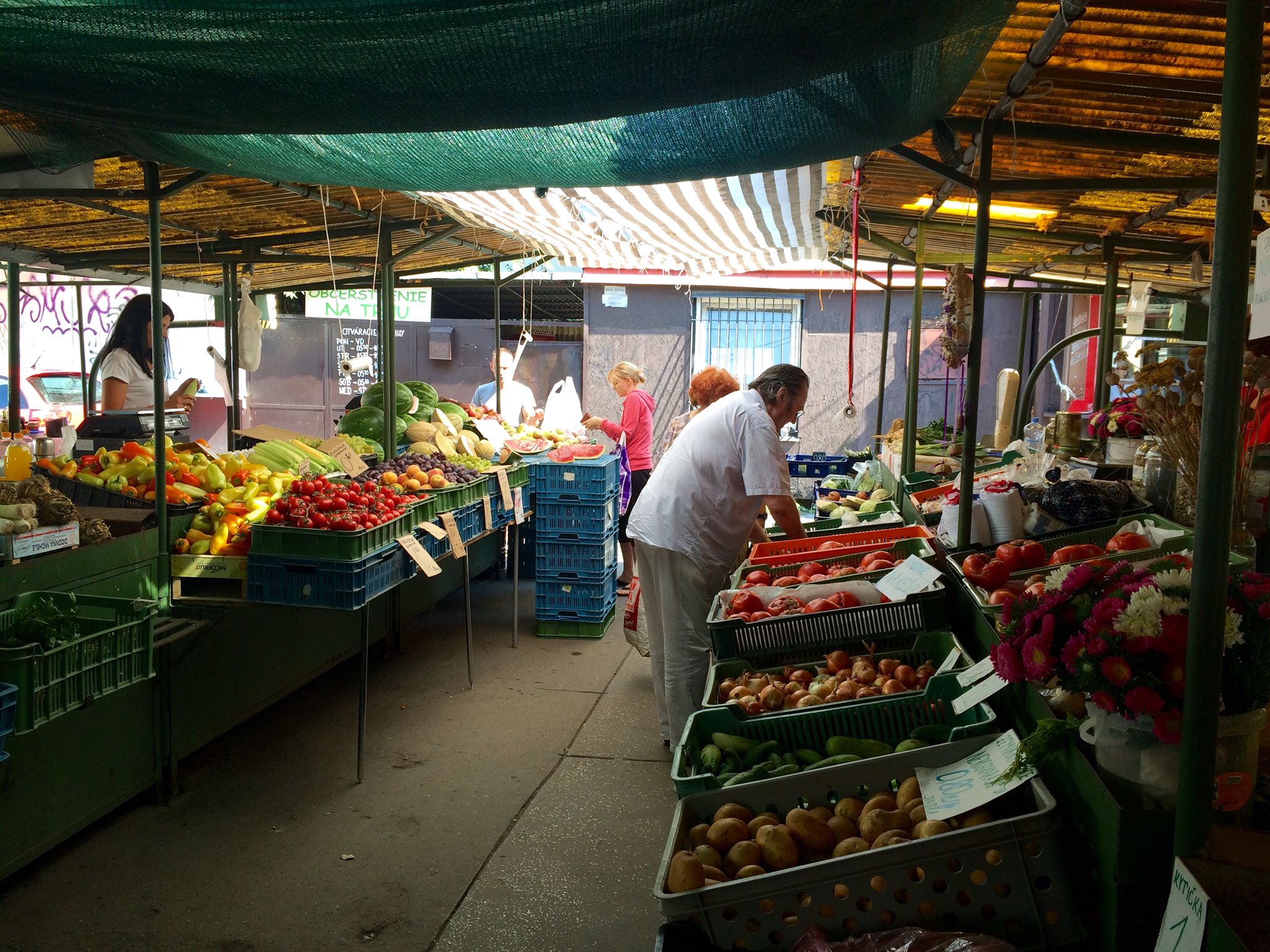 (source)
The assortment of goods varies almost every week. It depends on the season of the year. Logically, the best offer is during the spring and summer time, with autumn the offering is changing a little but you can come for a good shopping even in December. And the daytime also plays its role here – the richest selection is on Saturday mornings. Recommended is to visit the market very early, during the day the best products might be sold out. And probably the most important influencer is the quality of the harvest. If there is nothing to reap, there is nothing to sell. Other than that you can buy fresh groceries here, and you can enjoy a very human atmosphere.
ADDRESS: Žilinská Street
OPEN HOURS: Daily, mornings
CONNECT: Facebook
MARKET PLACE ON MILETICOVA STREET
Everybody in Bratislava knows this iconic outdoor market and people don't call it other name than "Miletička." The atmosphere of this farming market is still the same for decades. However, what makes this place special is its visitors. It is a great spot for social studies as you can meet almost every representative of a modern city: from hipsters through homeless people, local celebrities and common people of all ages and economical status, mingling and interacting together. No surprise that this is the favorite source of inspiration for screenwriters as it offers an endless repository of unbelievable stories.
So why should you visit Miletička except of the cultural experience from this great mixture of humans? This place accommodates almost 150 seller stands and you can find a great selection of fruit and vegetables and some other groceries here. But also the biggest selection of cheap China goods, almost everything you can image, but mostly clothing and footwear can be found here.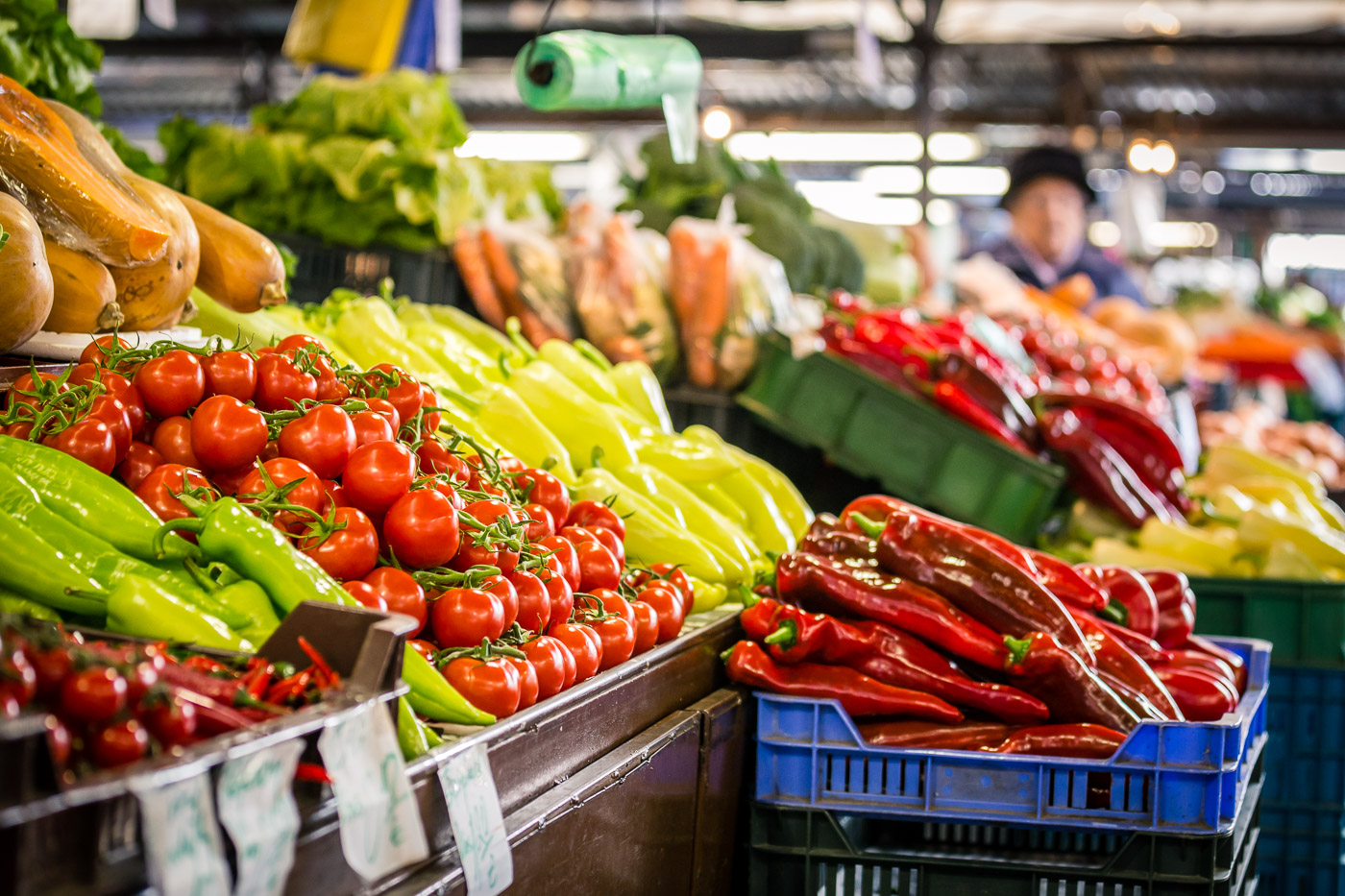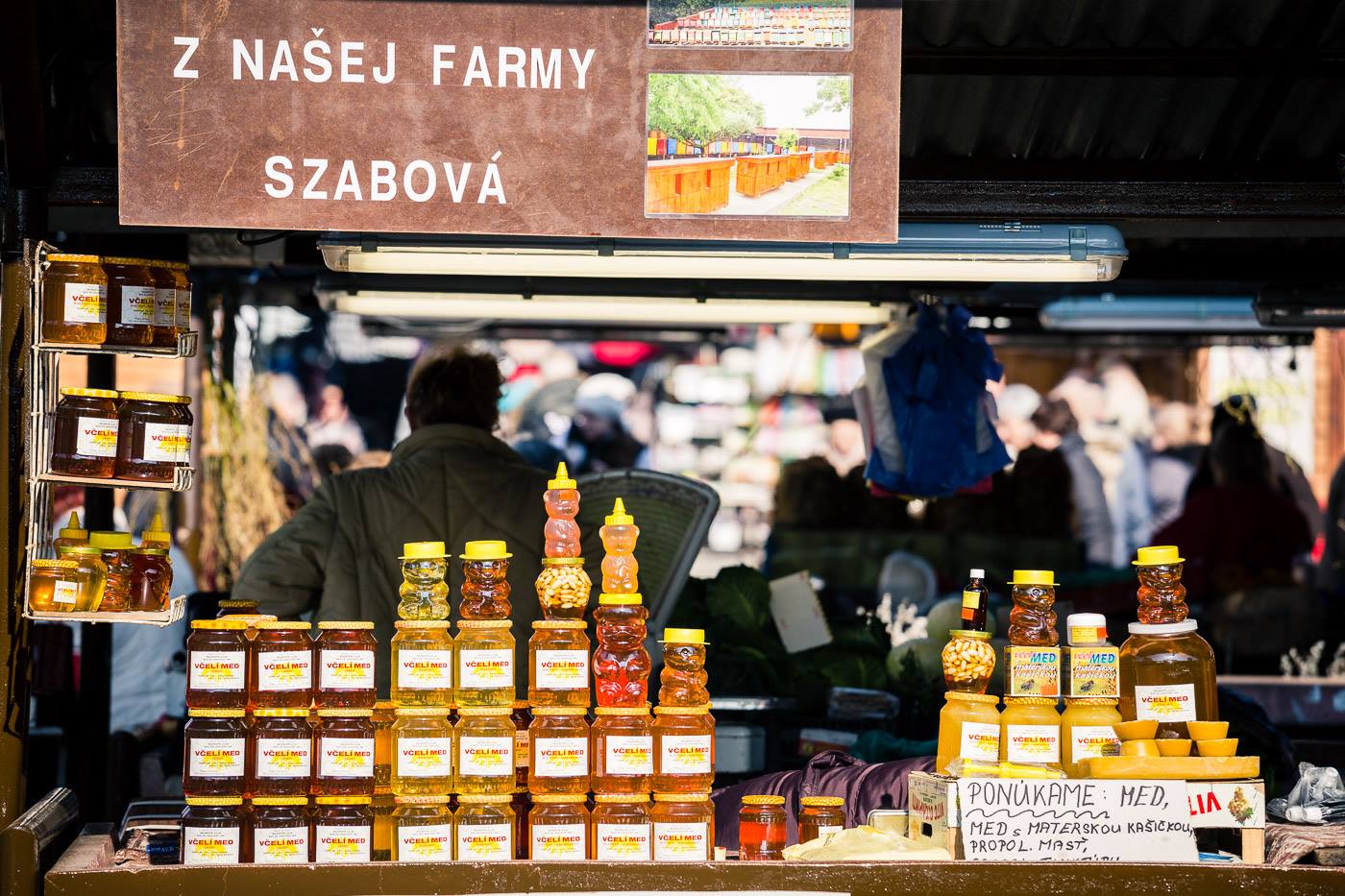 (source)
Miletička is the worst places you would ever go for eating and in the same time the greatest place for gourmets. Let us explain. The food is really tasty and the quality is good, but the place is quite dirty and smelly. Therefore you need to accept a lower comfort. Or take a food away with you. So, if you find enough courage, try the local legend. It is the Vietnamese bistro Phong Nam – where you get great noodles Bun bo Nam Bo or soup Pho. Or try "langoš", a Hungarian specialty.  It is is a deep fried flat bread with cheese and ketchup, very fat but very yummy!
One more thing to mention – you might face some language barriers here. But don't worry, just point with finger what you like and don't forget to smile.
ADDRESS: Miletičova Street
OPEN HOURS: Check the official FB site  (Flowers available even during Sunday and public holidays)
CONNECT: Facebook
URBAN MARKET
Urban Market is the most prominent and the biggest alternative event in Slovakia. Its focus is the presentation of contemporary fashion and both amateur and professional creative art, design, street art and young art. Since 2010, the Urban Market hosted many Slovak and foreign fashion designers and handmade manufacturers. This number still grows and the range expands. Since 2010. Urban Market has hosted tens to hundreds of Slovak and foreign fashion designers and handmade art and design products designers.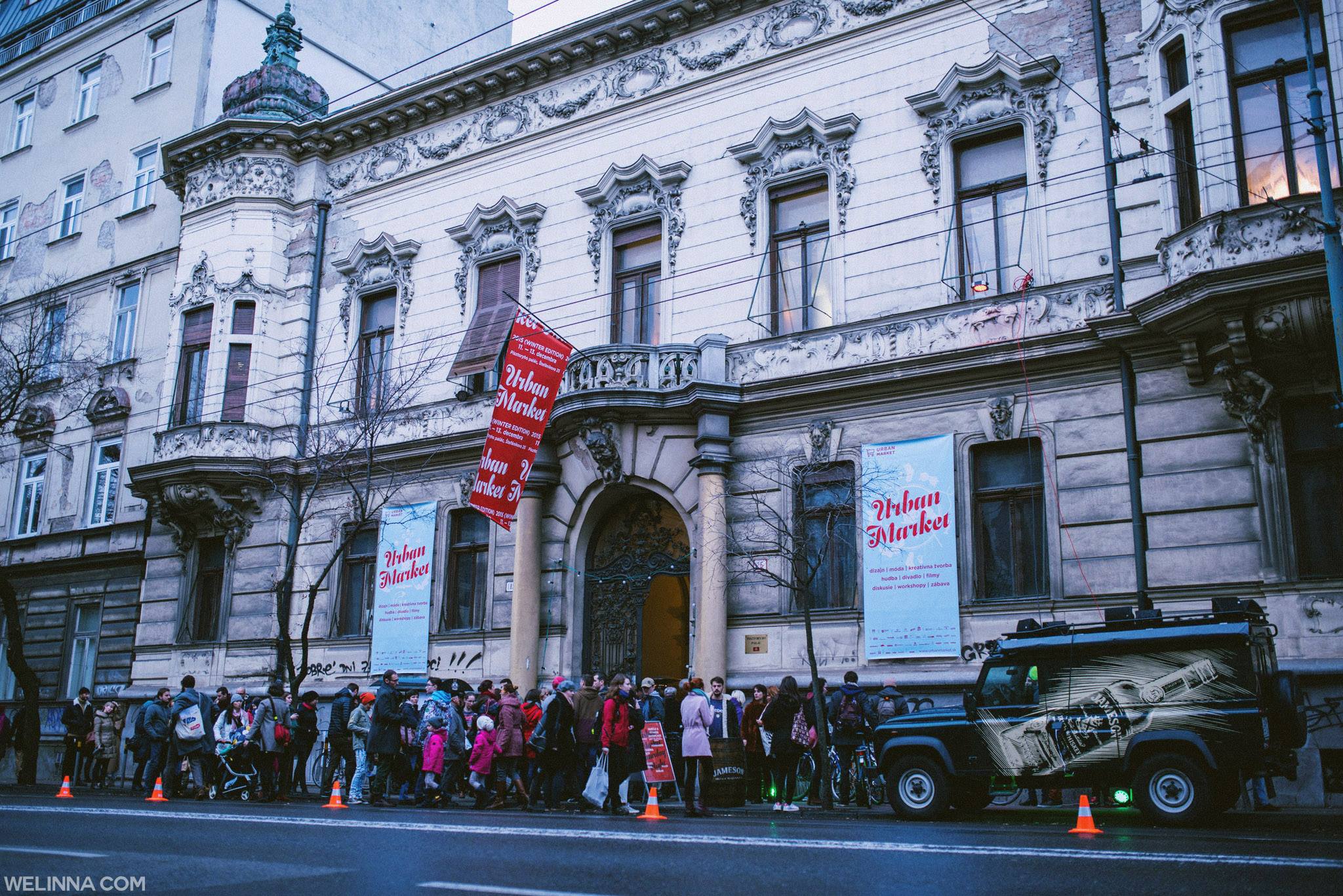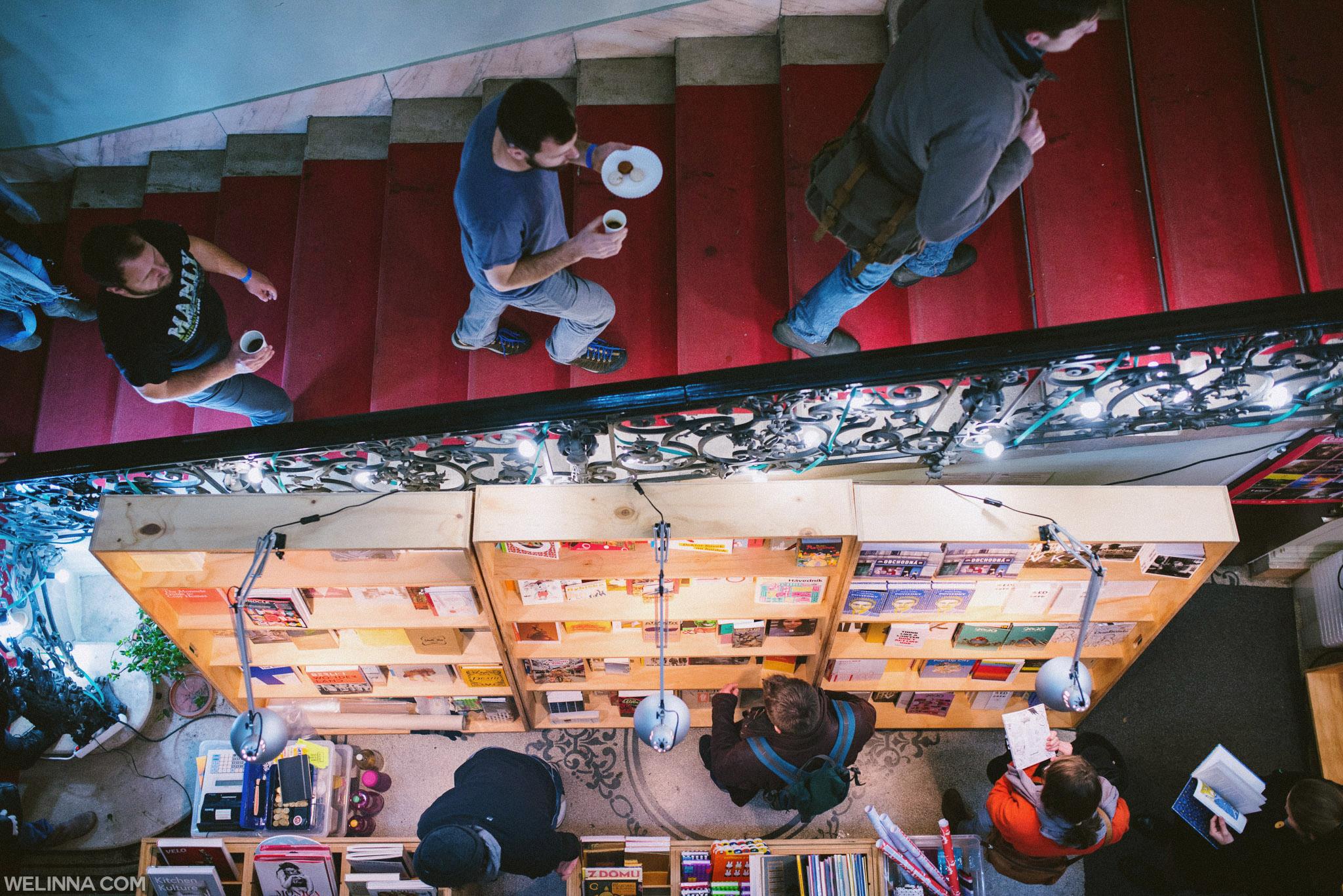 (source)
Another part of this event is a rich accompanying program. It consists of concerts and DJ gigs, fashion shows and discussions on current issues. Art presentations, exhibitions, street art and graffiti, canvas painting or workshops are also not missing. There are 3 Urban markets held yearly, one in spring, one in summer and one in winter, with changing locations.
ADDRESS: various
OCCURANCE: spring, summer, winter
CONNECT: Website, Facebook
BAZAAR AT THE DEVIN CASTLE
This is a bazaar of antiques, vintage and handmade production. It is held always on the last Sunday of the month, from April till September, at the Devin castle. Its location is very popular due to two things: Firstly, the castle stands on a high cliff over the Morava and Danube rivers. Secondly, it is its location on the frontier between Slovakia and Austria. Because of this, it offers beautiful panoramic views. The program includes theater performances for children. The entrance fee (4 € regular, 2 € for kids and seniors) includes access to the Devin castle and its surroundings as well. Please notice that you are not allowed to bring your dogs here. In case of bad weather conditions the bazaar can get cancelled.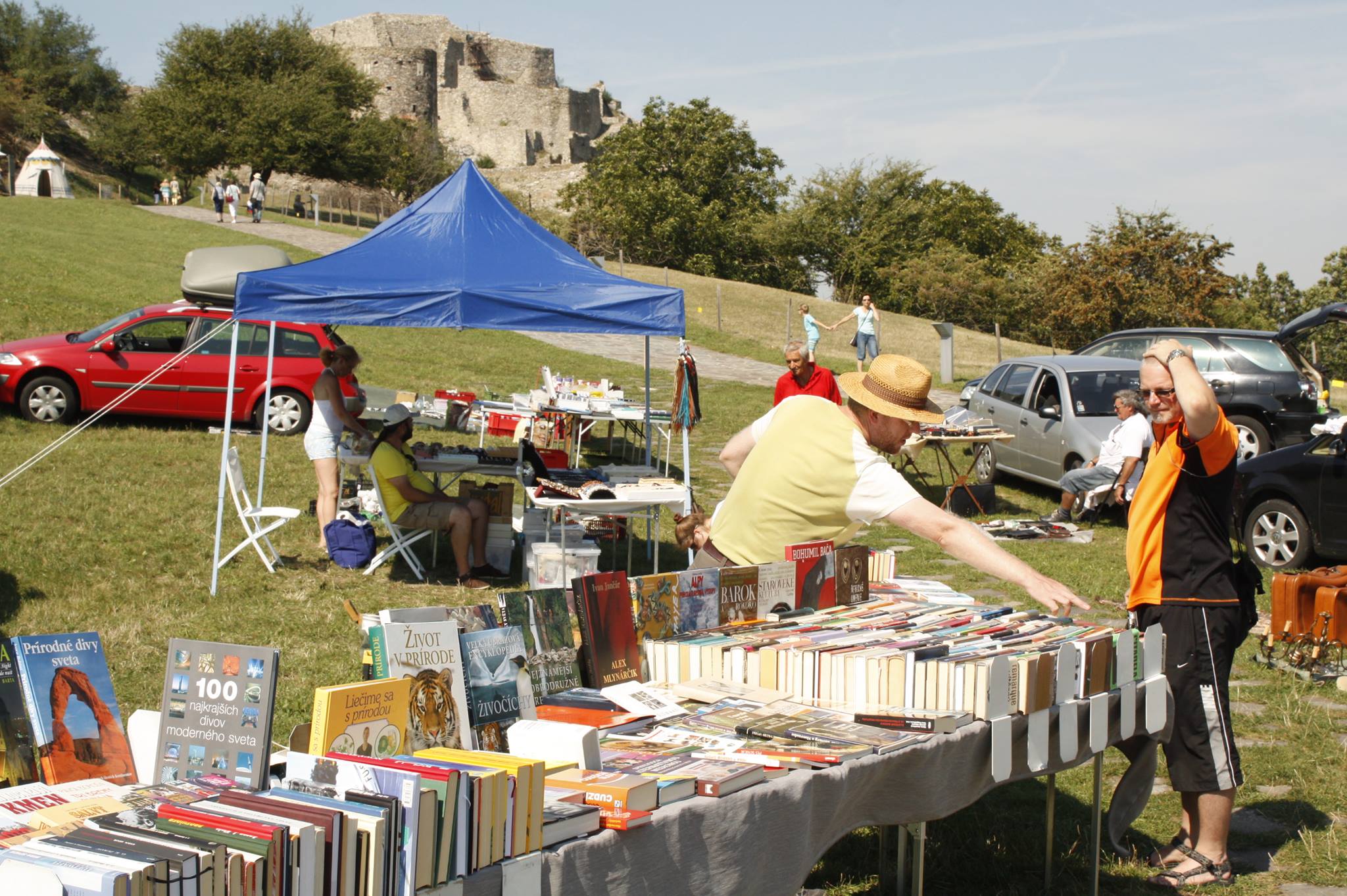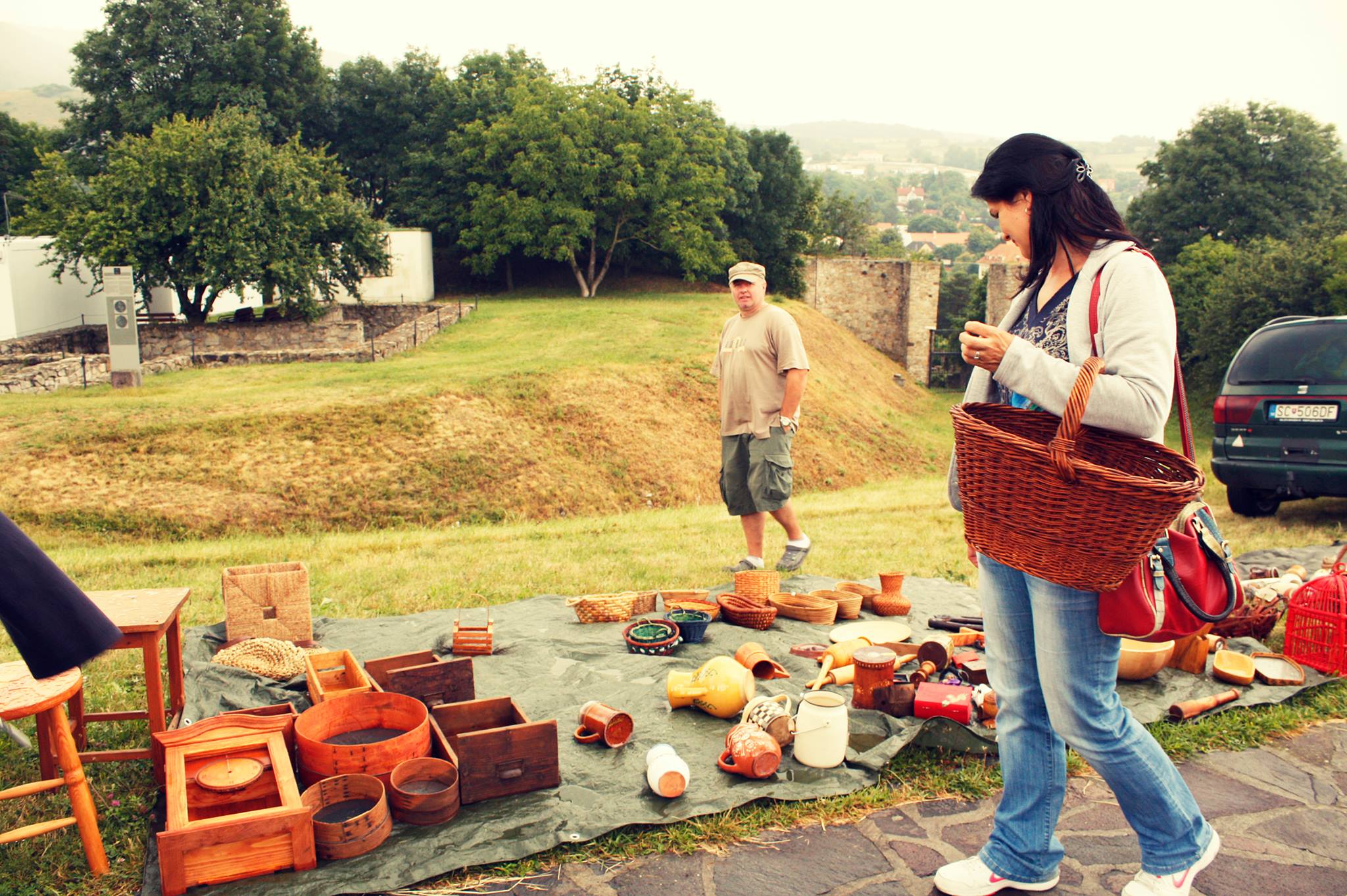 (source)
ADDRESS: Devin Castle, Muranska cesta 1
OCCURANCE: For details follow the official FB site
CONNECT: Facebook
BURZOBLSAK – BAZAAR ON DRIENOVA STREET
This flea market, which carries name "Burzoblsak", is dedicated for the community. Its main aims are recyclation and re-usage of old clothes. There is also an option for sellers to donate clothes for one of orphanages in Bratislava. It takes place each first Saturday of the month, starting from 8 am and lasting till 2 pm. Its location is lately on Drienova street (used to be on Bajkalska street 20). No entrance fee. Get your special piece directly from the sellers' trunks or suitcases and enjoy the atmosphere of a real flea market!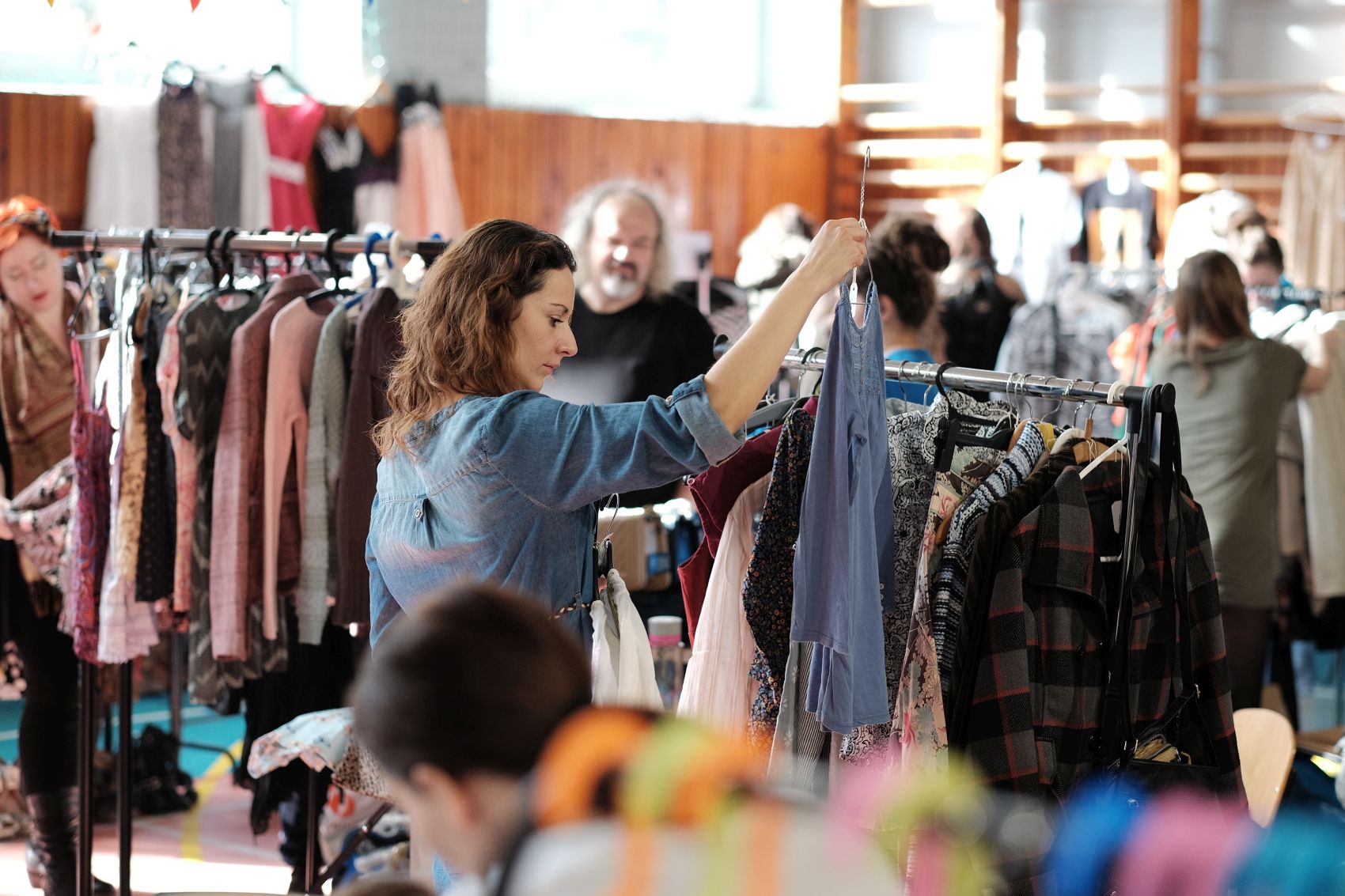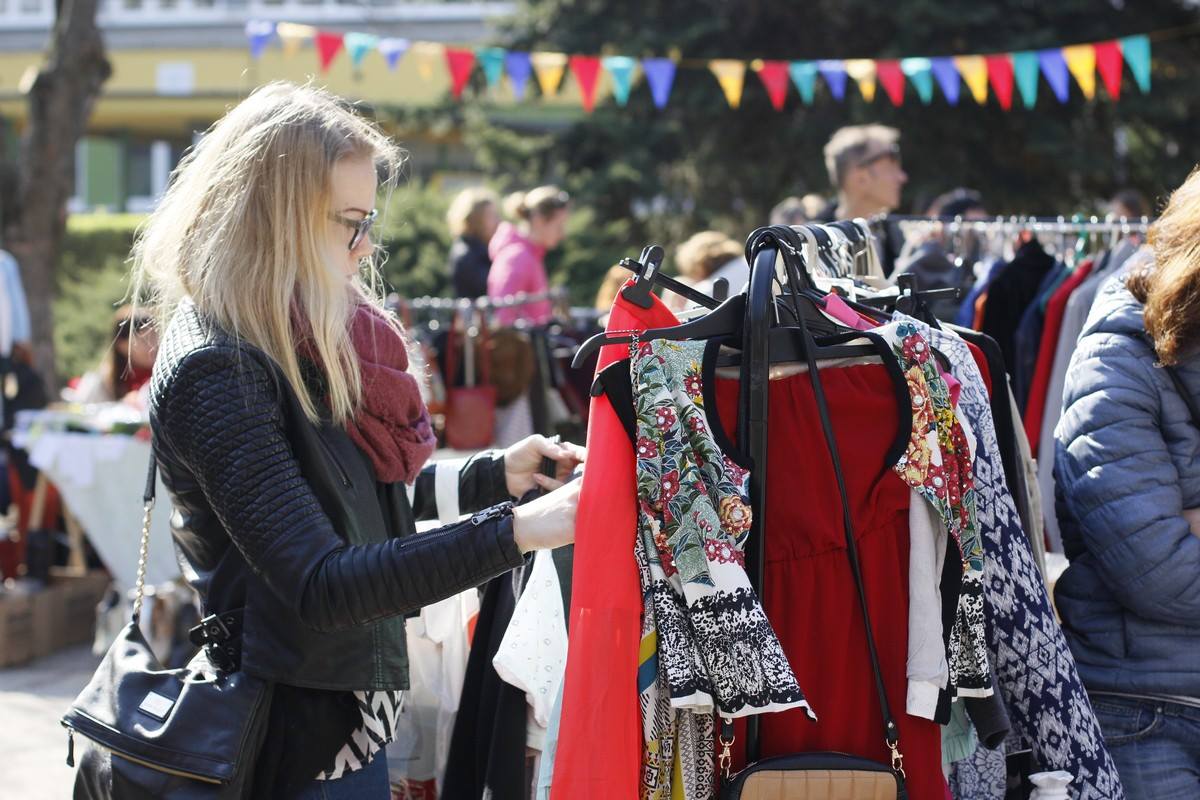 (source)
ADDRESS: Drienova 16
OCCURANCE: each first Saturday of the month, 8:00 – 14:00
CONNECT: Website, Facebook
REGULAR FLEA MARKET ON OBCHODNA STREET
Come to purchase clothes and other treasures from "the attic" and rare antiques. If you have similar items which you want to sell, sign up as a seller for just 10 €! The market takes place in the city center, in the court yard of a popular Lavender shop.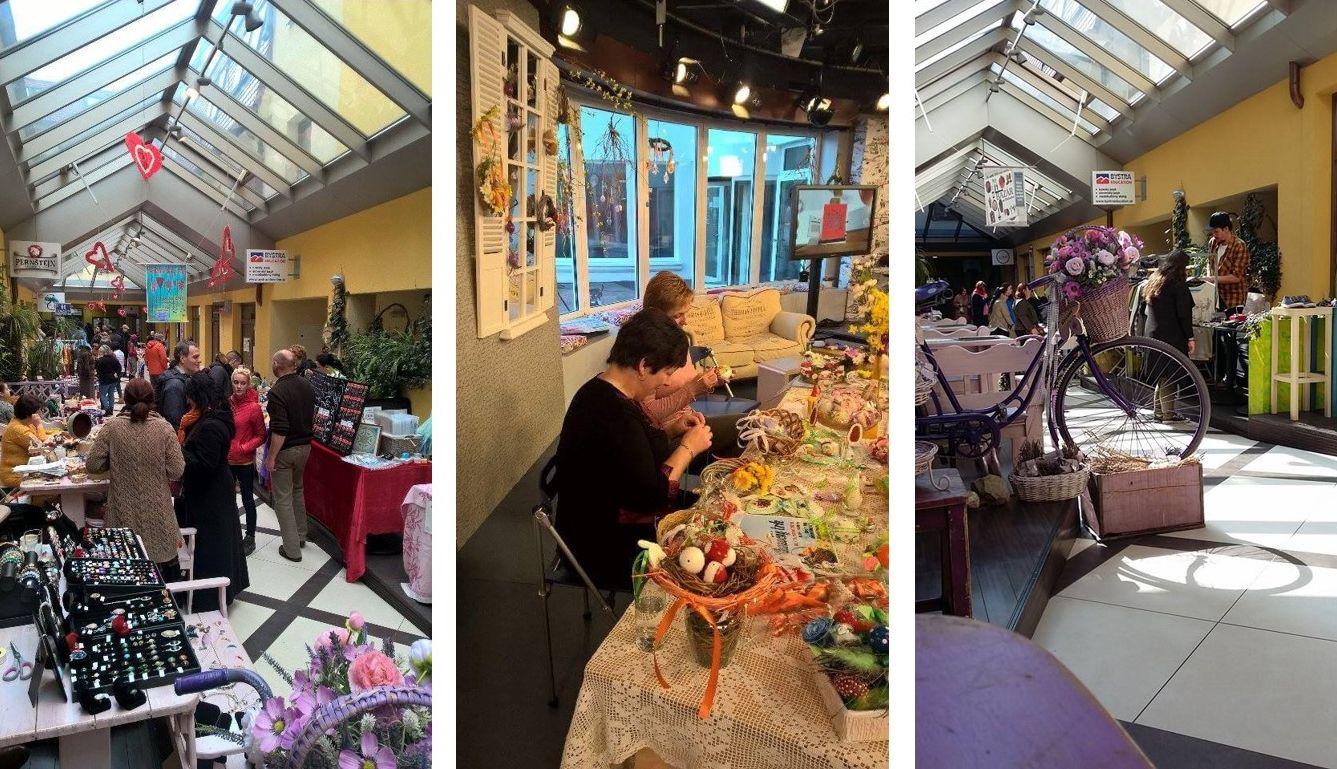 (source)
ADDRESS: Obchodna 66
OCCURANCE: monthly
CONNECT: Website, Facebook
RETRO BAZAAR IN KC DUNAJ
They offer clothing, earrings, accessories, plates and other antiques as well as natural cosmetics or toys at the retro bazaar in KC Dunaj. It is a venue which serves as a bar, a club as well as a place for various social events. There is also a design shop where you can find cute accessories, and a gallery for art lovers. Regular thematic parties, live shows, bazaars, literature, theater events – everybody can find their own thing here 🙂 The retro bazaars usually take place from 10 am till 5 pm on chosen Saturdays with free entrance. Please check the venue's Facebook page or website for the upcoming bazaar details.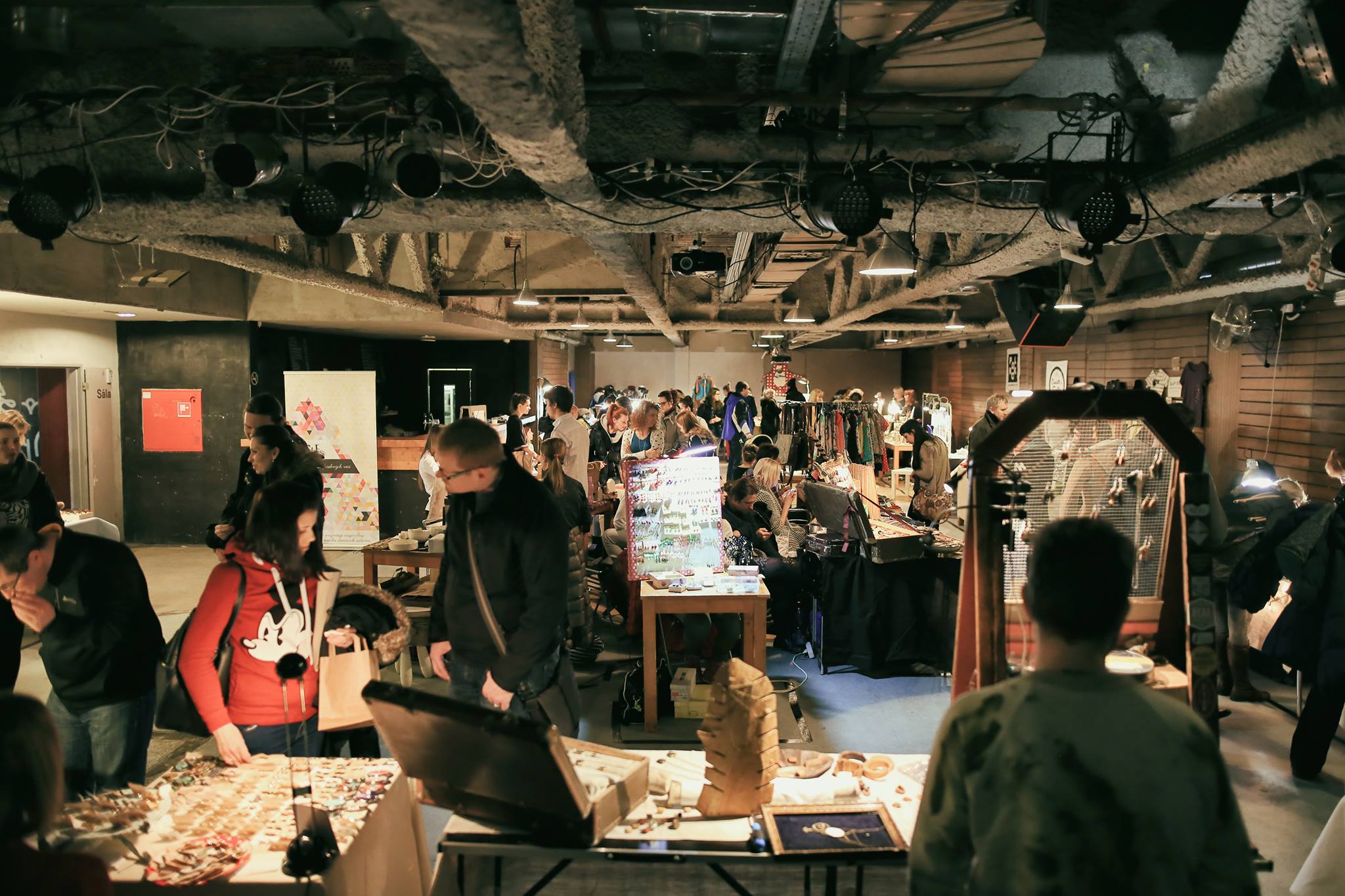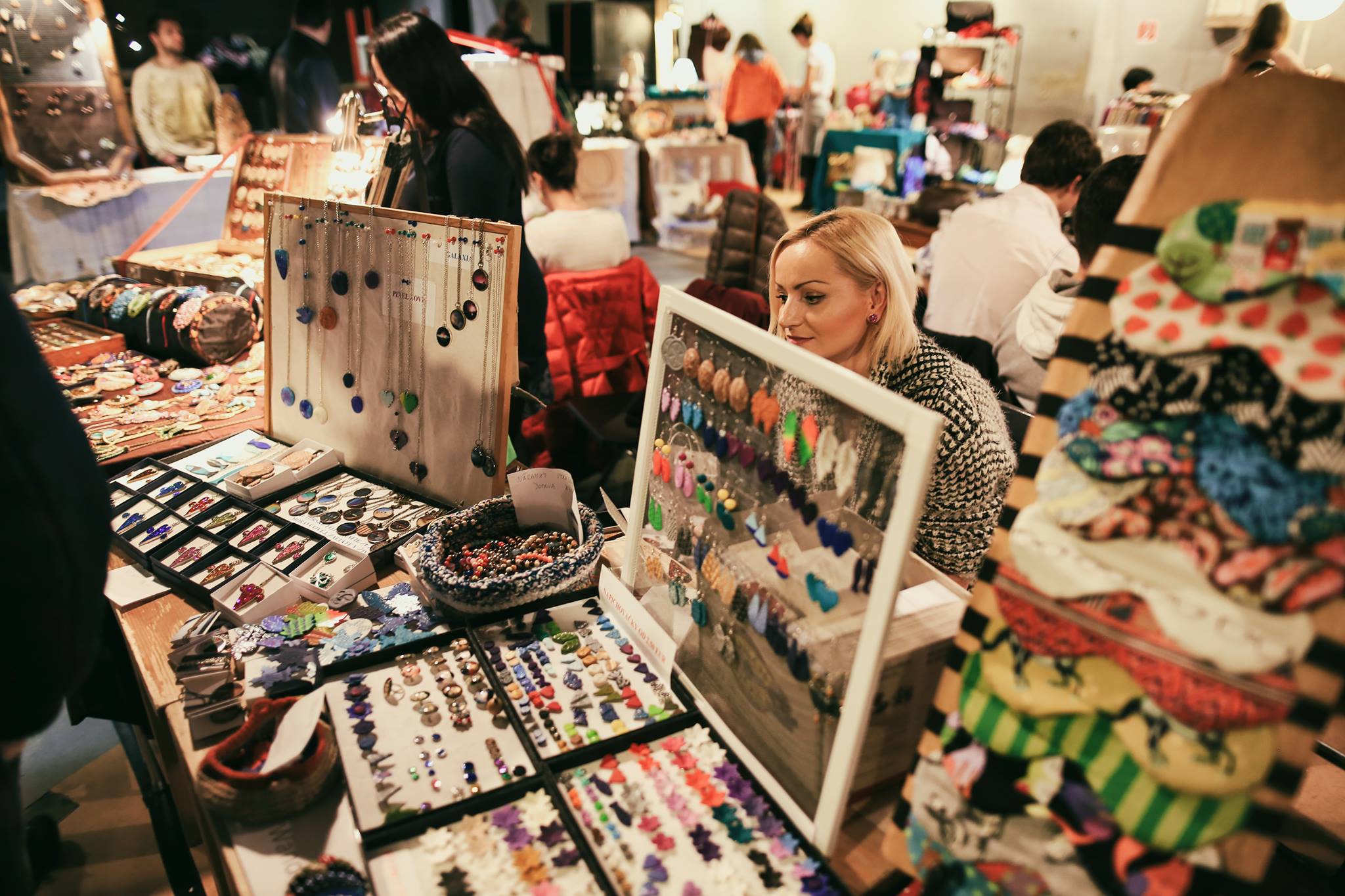 (source)
ADDRESS: Nedbalova 3
CONNECT: Website, Facebook
FLEA MARKET AT THE INTER STADIUM
Each Bratislava local knows what the flea market at football Inter stadium is – you could probably describe it as the place with the highest concentration of unwanted old things. The saying "one man's trash, another man's treasure" is 100% true here. You have to pay a small fee (around 1 EUR) to get in the stadium's premises and then just start going through the piles of the old things, be it clothes, paintings, home decor pieces, books, magazines, shoes, bicycles or porcelain. We were told it is expected here to negotiate the price but we have not tried it yet ourselves.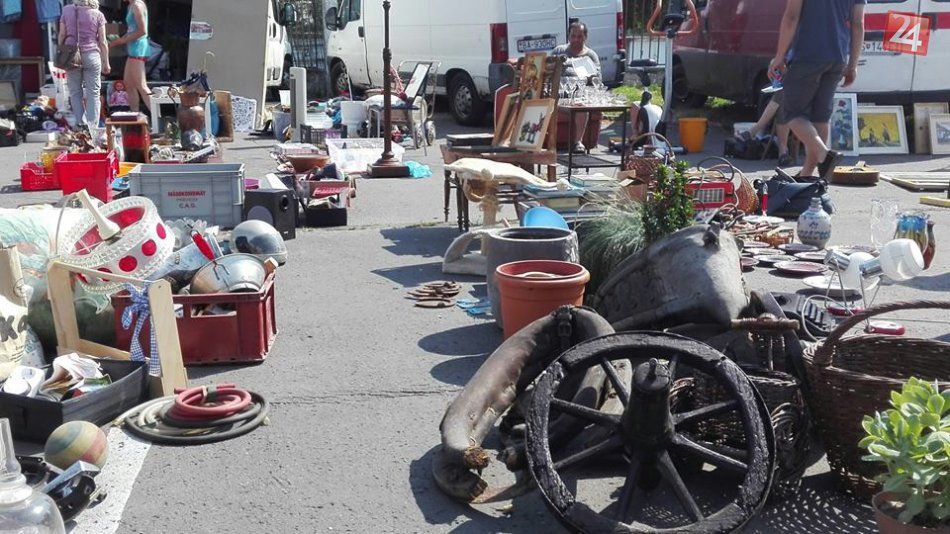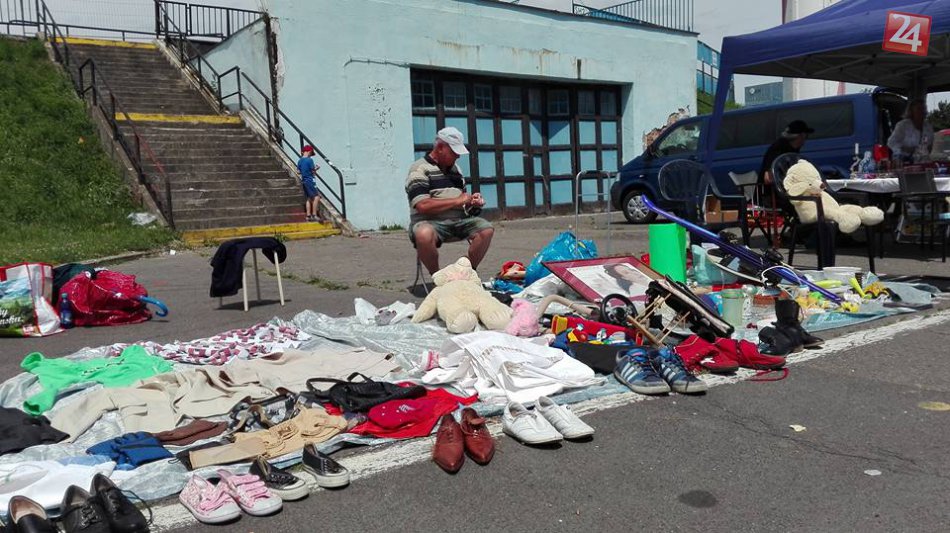 (source)
ADDRESS: Junácka 10
OCCURANCE: every Friday and Sunday (in case there is no football match) from 7.00 (Sundays) / 9.00 (Fridays) until lunch hours
Author: Maria Kecsoova