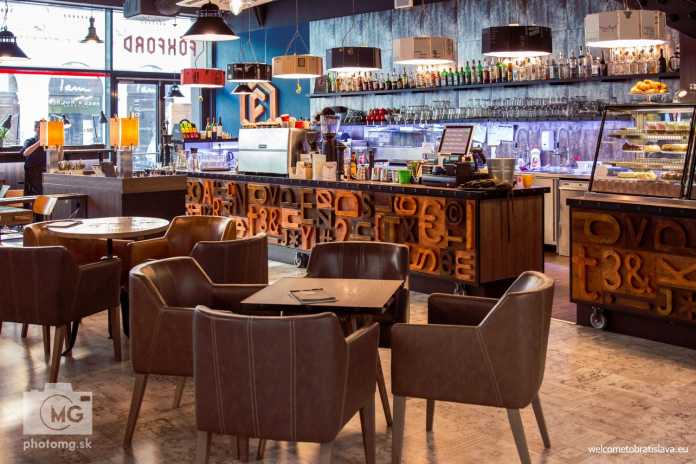 This coffee place has a great brand design with beautiful premises to work at. It is part of a bookstore and while the downstairs area has quite a busy atmosphere, the upstairs seating offers a great ambiance for working. We like to come here not only for the books but also because their cuisine offers healthy and untraditional dishes and delicious cakes!
LOCATION
Foxford Martinus cafe and bookstore is seated in the heart of the Old Town, on Obchodna Street, near the tram stop called "Poštová-Martinus."
THE INTERIOR
This place glows with colors, has a very friendly vibe and you just feel like home immediately! It is probably because it is decorated in the spirit of its coexistence with the bookshop and you can enjoy your coffee under the book pages hanging from the ceiling or pinned to the lamps.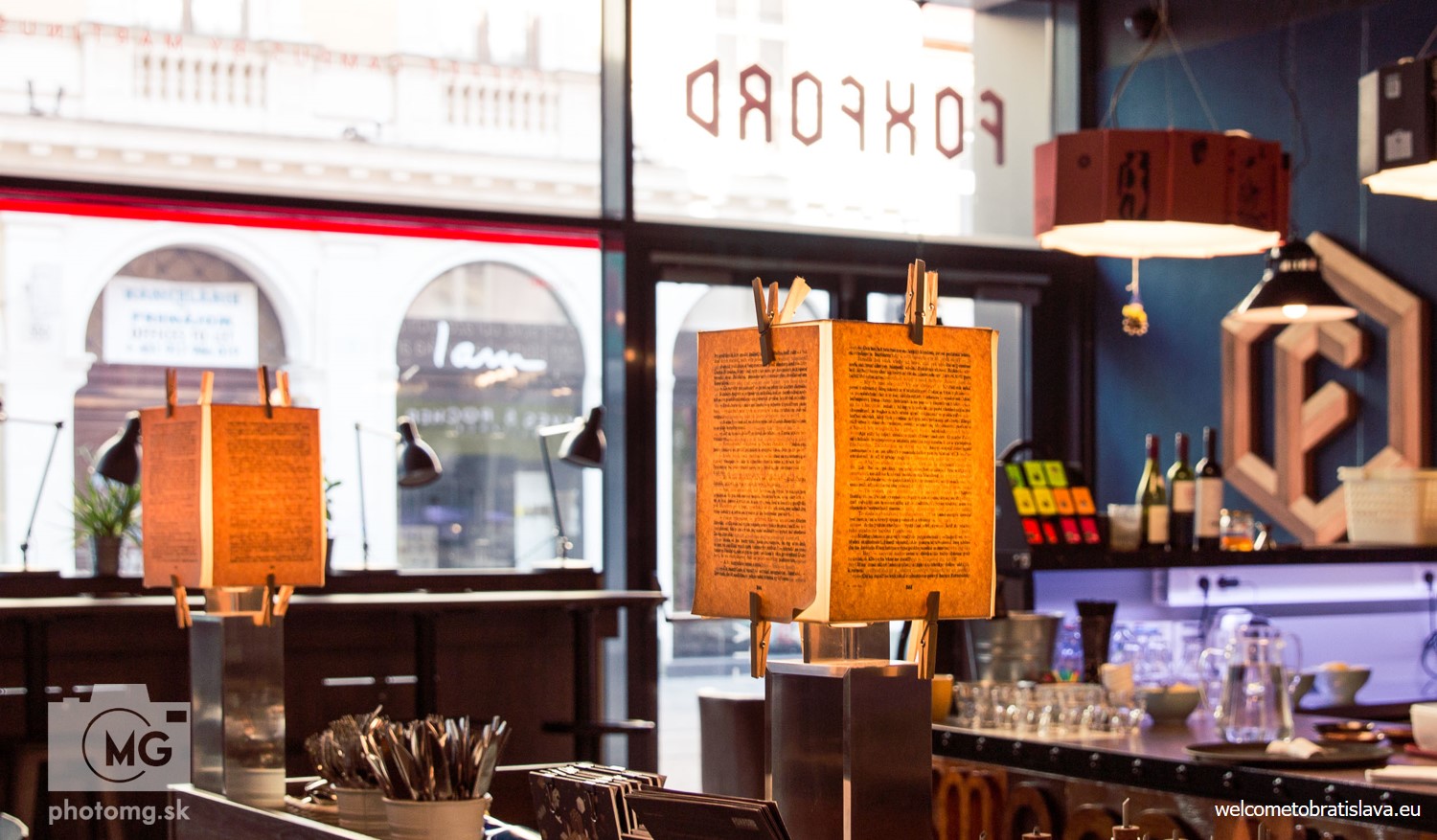 If you like to watch people walking by when eating, sit by the window at the room downstairs.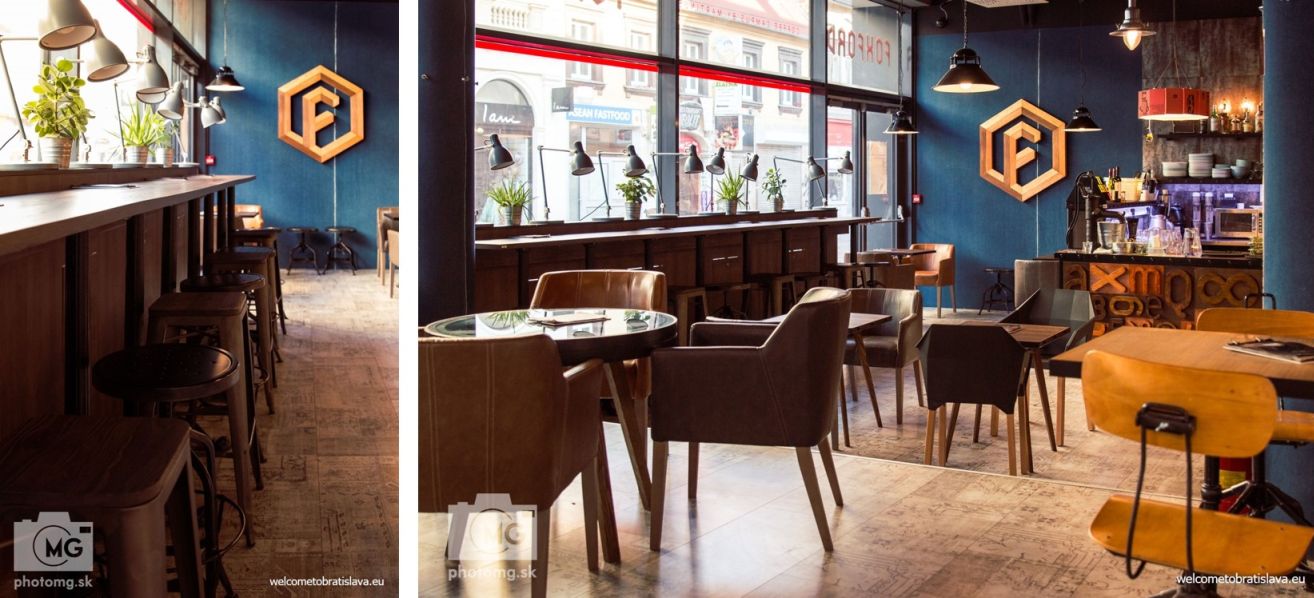 This is also where the main bar is placed and where all the tasty cakes and pies they offer will tease your eyes and buds.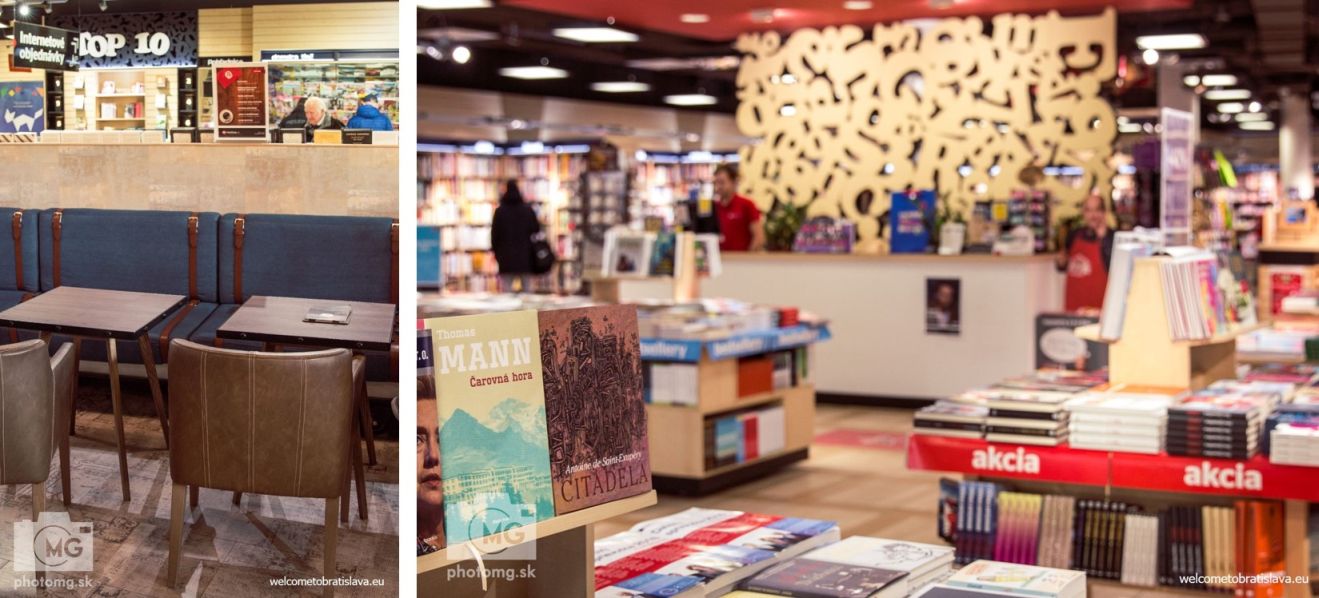 The upstairs area is ideal for those who like to do some work on their laptops outside of their homes. There are many tables and plugs available to connect your electrical devices to. You can seat yourself at the small tables or bigger sofas (really comfy!). Make sure you notice the ceiling, lamps and decorations! :)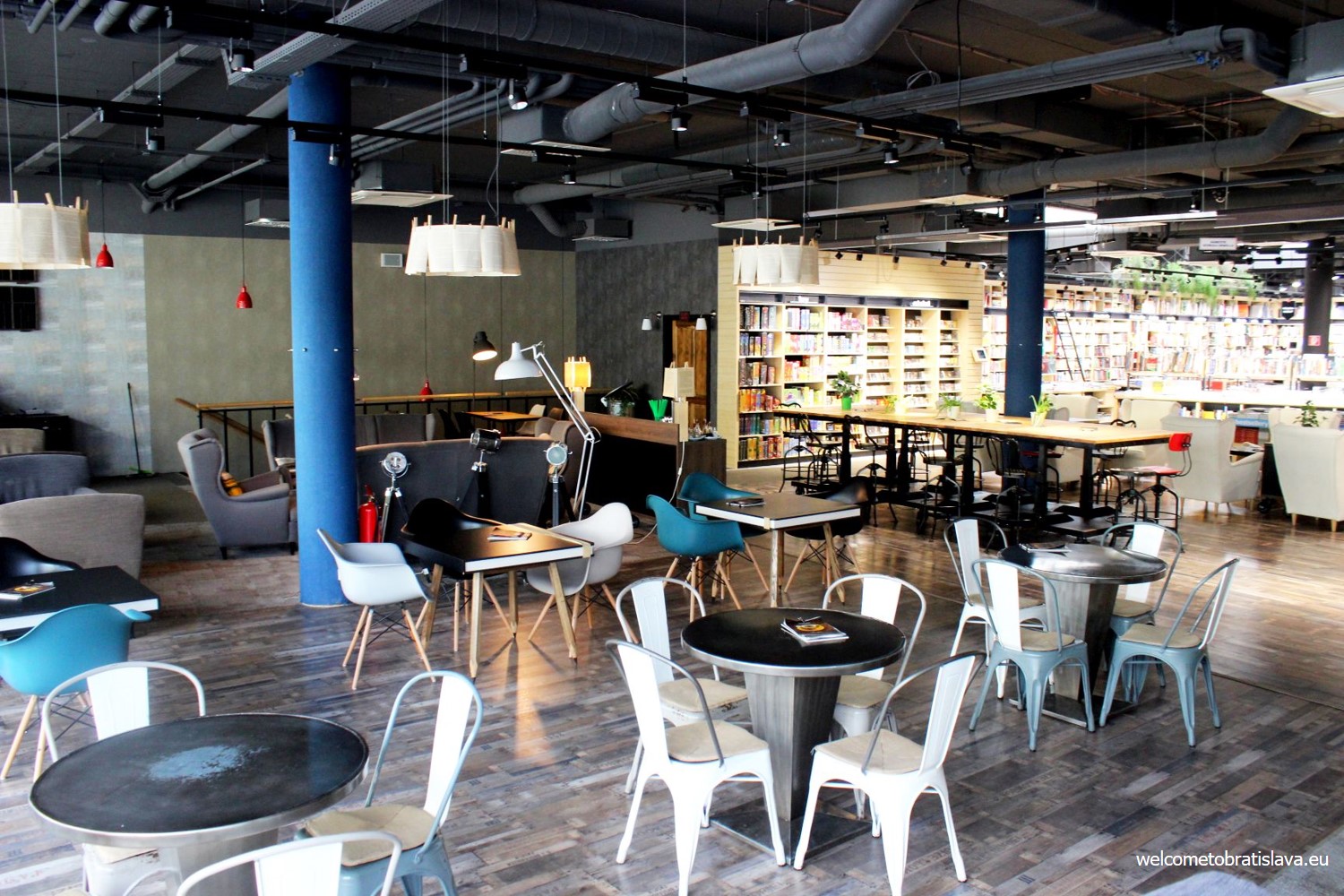 WHAT TO HAVE IN FOXFORD MARTINUS?
Whether you come for breakfast, lunch, dessert or dinner, you will definitely have some choices. If you have weakness for sweet breaky, definitely try the home-made puddings or some of their cakes (they create their own recipes)!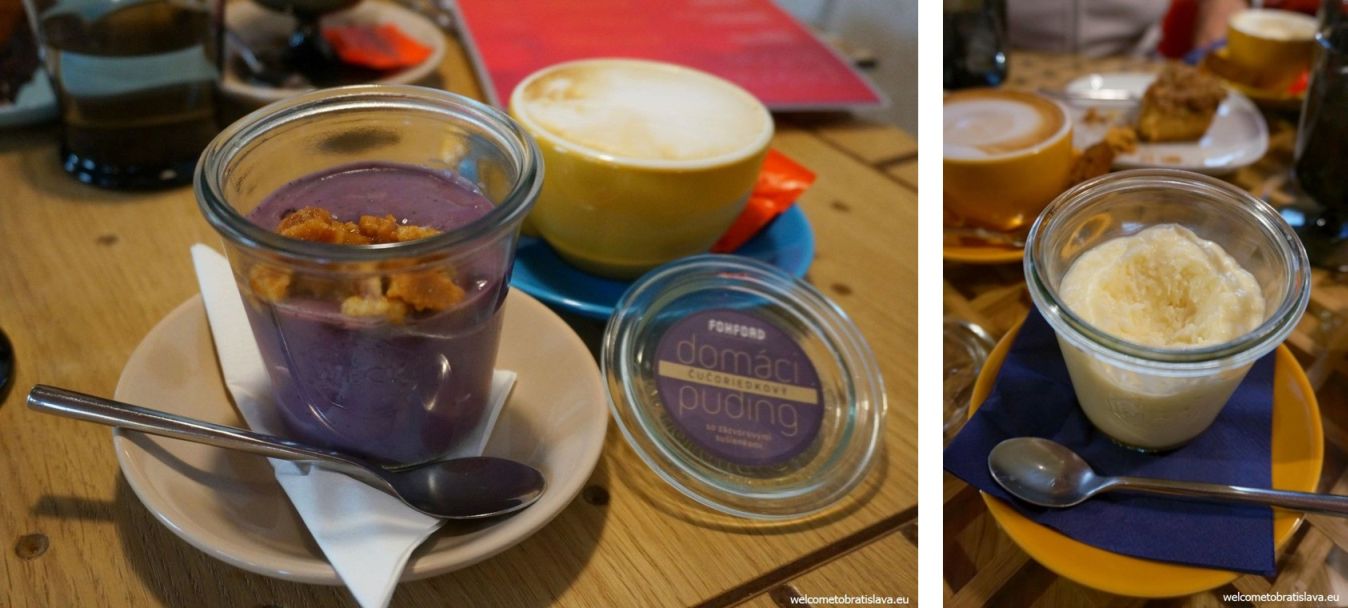 Their fantastic chocolate brownie with prunes is best with a hot cappuccino, and one of the most delicate cakes we have tried at Foxford was the creamy raspberry & chocolate brownie – a great mixture of sweet and savour taste, just delicious! It makes you want to order another one after you finish it :) Their cakes menu varies from time to time, usually according to the season.
Feeling like having a French styled breakfast? No problem! You can have a plain butter croissant or mix it with jam or home-made chocolate-orange spread (replacing famous Nutella which contains palm oil as initiative to fight against deforestation in Indonesia). Those who prefer lighter meals can pick some of their flavored Greek yogurts.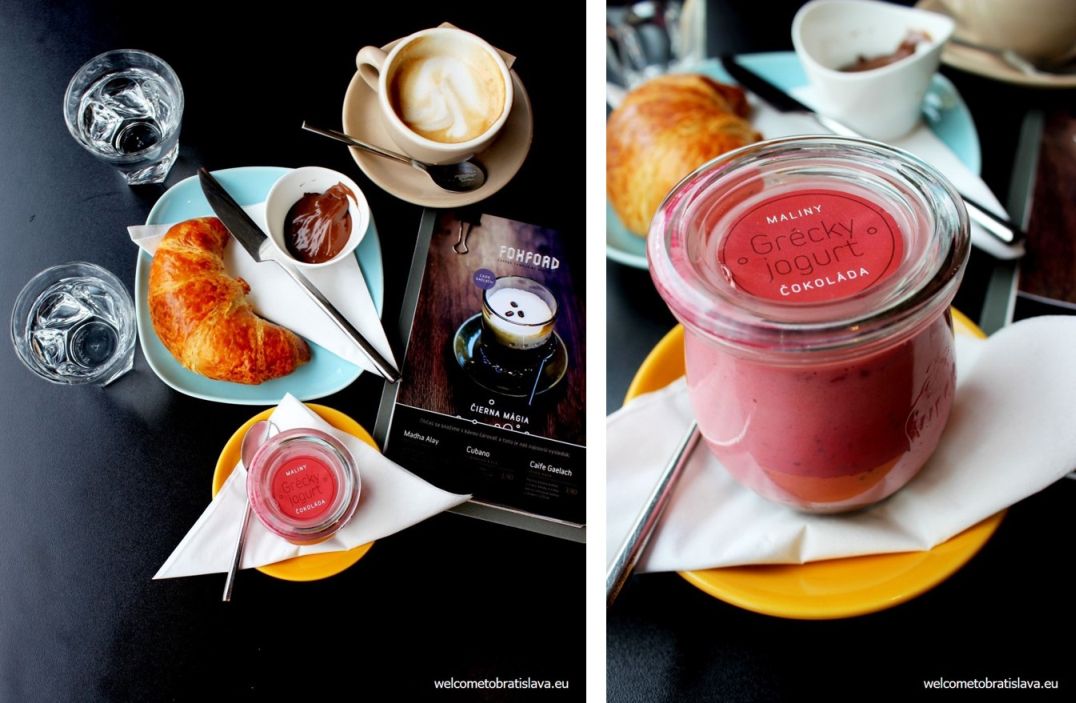 They have many kinds of small sandwiches which you can combine depending on how hungry you are. The menu is quite long, full of tasty vegetarian as well as non-vegetarian dishes. One of the most delicious spreads or jams is their bacon jam which can be served with vegetables or bread.
A salty alternative and also our suggestion for lunch is the sweet potato pie with blue cheese, caramelized onion and salad. It was one of the most delicious pies we have eaten! And their Carbonara pie with bacon, thyme and Parmesan is to die for as well.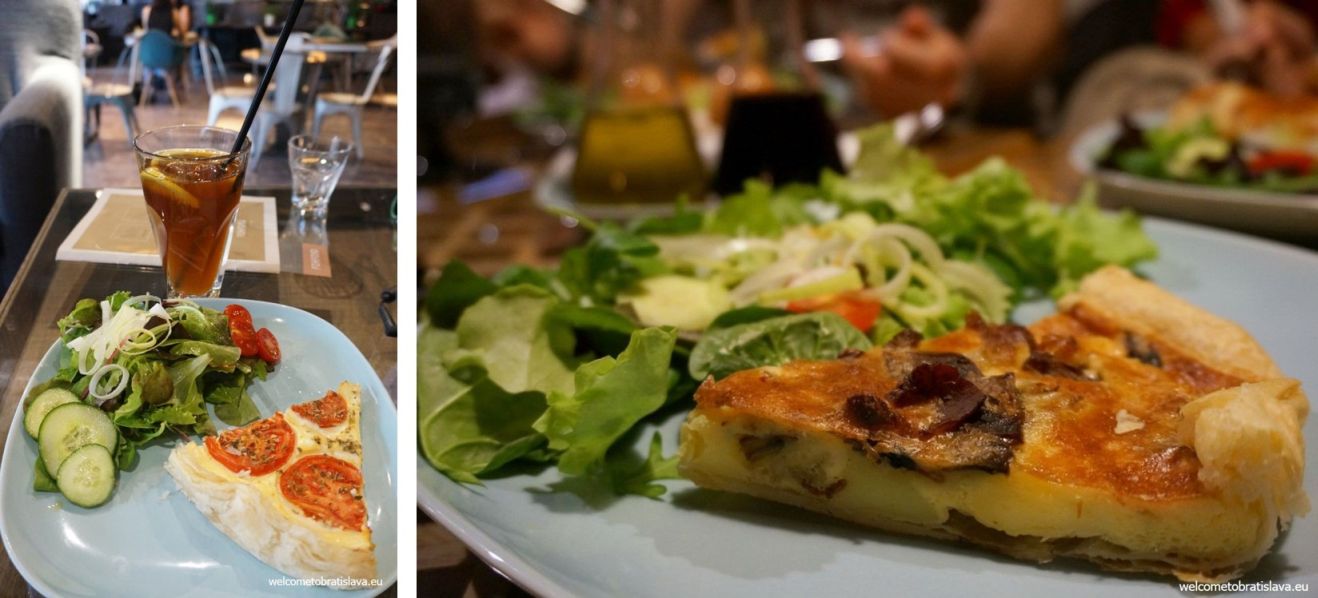 Their warm lentil salad with beetroot and cheese is phenomenal, and they prepare a few kinds of good pasta, too.
We were always happy with our warm dishes here. For example, Beets and Tofu Patties & Pea Mash is a good choice:)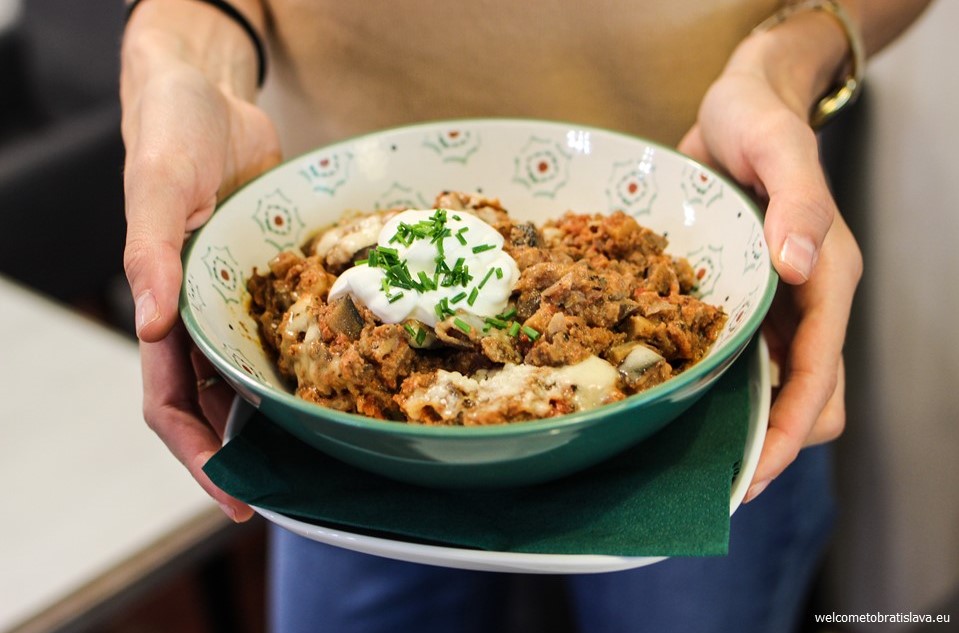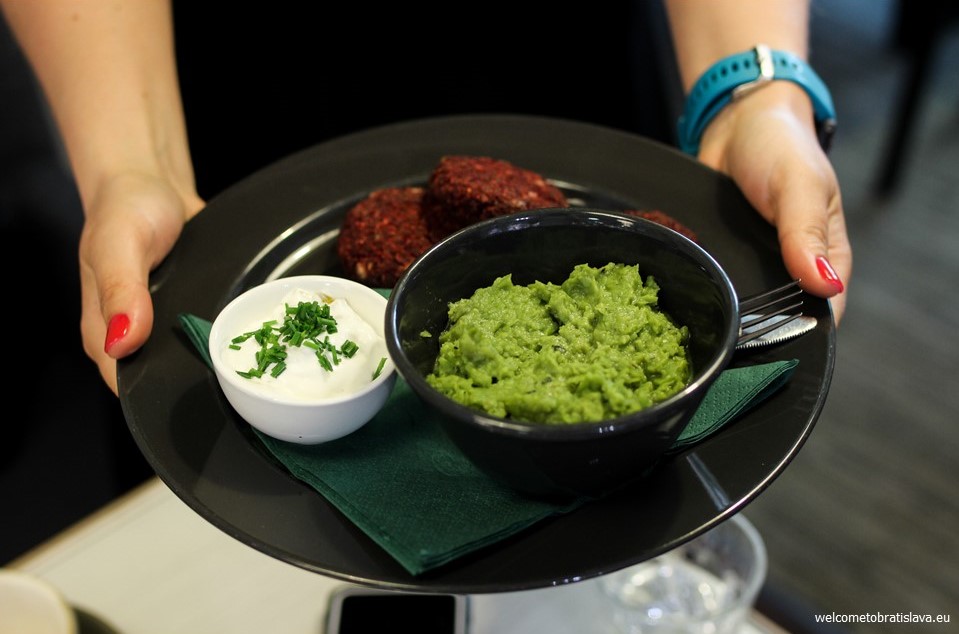 Foxford Martinus is perfect for any occasion. We come here with friends to have a drink in the evening, when we feel like having a treat, and we like to walk in for breakfast when we manage to wake up :) The personnel gives the whole place a very comfortable touch – all staff is very friendly and helpful and you are served quite quickly. They have another branch in Bratislava – in the Cubicon shopping mall.
Author: Maria Kecsoova
Photo credits: Martina Gallovicova

 ADDRESS: Obchodná 26 and Cubicon, Stare Grunty 24


 OPEN HOURS: Check their FB page


CONNECT: Facebook


 MAP LOCATION: