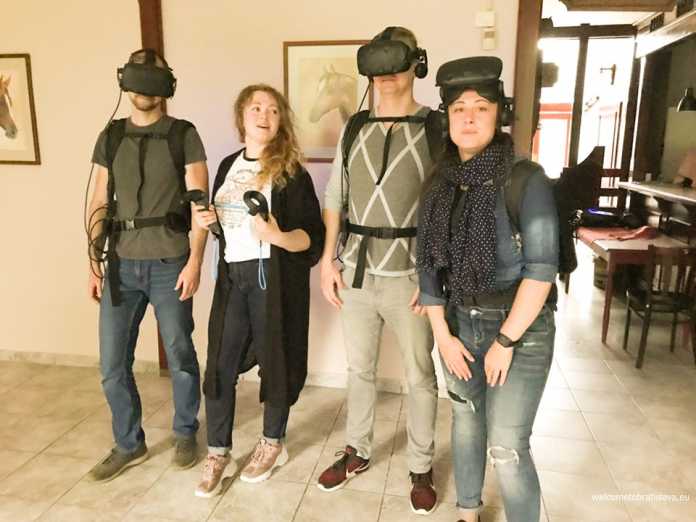 "Watch out! Asteroid on your left! Catch my shield!" A cluster of sentences we would never normally use. In reality, that is. But this ain't reality. This is GoEscape.sk, a virtual reality escape room.
Our brain can get tricked by many things. And technology is going to play one on you as soon as the goggles conceal your eyes. Be prepared to get teleported into a different world, to remote places you'd never visit. Have a peek at the future of entertainment.
LOCATION
Easy to arrive, a tad harder to find. You need to get to Jungmannova stop in Petrzalka. It is where the trams 1 and 3 terminate and plenty of buses have a stop there – 83, 84, 88, 92, 99, 192. As you get off the trams, walk right towards the block of flats with a terrace, just where the buildings form an angle. From the bus stop you need to walk a bit back and it is the block of flats behind the post office.
Should you arrive by car, it is very likely for you to find a spot on Jungmannova, next to the terrace. Walk up the terrace and find number 7. The door may be locked, like in our case. Remain calm and call them – they may be calibrating the machine, in which case they prefer locking the door.
INTERIOR
Very humble. Why would it be different, right? You aren't going to look at it anyway. Nevertheless, we ought to mention the western style bar. The plan is to finish it soon, so that you can grab a drink while discussing each other's contributions to the mission. Other than that, the biggest area is empty, for obvious reasons :)
HOW IT WORKS
You get 60 minutes. In the introductory part of the experience, the owner explains the basics. He also kindly answers all the questions you may have. What we need to point out is that you should be careful – no hijinks like jumping or running. You wouldn't run in a blindfold in an unknown environment, would you? Afterwards, he helps you put the "jetpack" and the goggles on.
They help you get to your spot since you cannot see a thing at the beginning. As you approach it, you get to see a virtual room and a set of hands on the floor. They're your hands! You will receive a controller to each hand, kind of like a joystick, to grab things in the VR. Now your hands correspond with the VR hands. Rad!
To a random observer, the whole picture may seem ridiculous – a bunch of people wearing futuristic gear move around an empty room being seemingly fascinated by a wall. Hilarious:)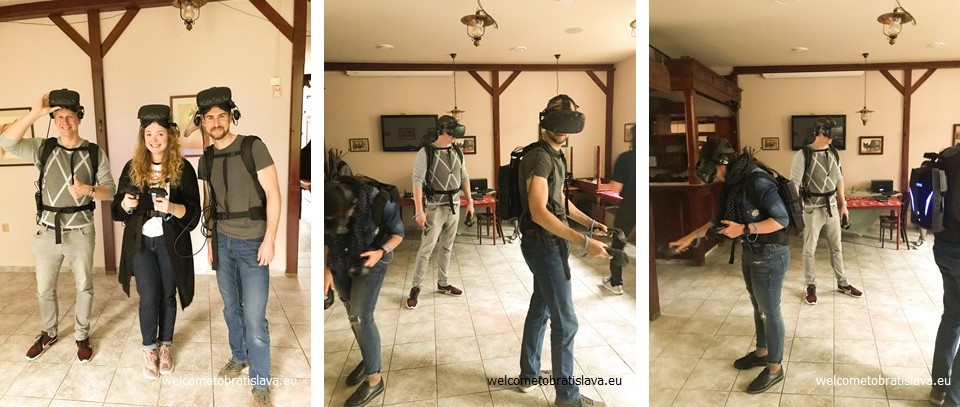 Subsequently, you get the official, more detailed set of instructions, available in 5 languages.
Then the fun starts. We chose the space mission. Not to give away too much, the view we got from standing on the outside platform of a space station was breathtaking. It didn't matter that our avatar only had a head and two hands. We were determined to solve the riddles and save the world!
There are currently 2 escape rooms offered, however, GoEscape plans to add more.
If there are only two of you, no problem. However, we'd recommend you to summon a group of four. It does not get crowded and you know what they say – the more, the merrier.
WHY IS GoEscape.sk SPECIAL
Regular escape rooms are amazing and a great team building activity. Having experienced them prior to GoEscape.sk, we must say that this experience is totally out of this world. It's simply something out of the ordinary. The staff is super friendly. Everything was well prepared, cleaned, arranged and ready to wear. After entering the Matrix we lost track of time and space, we totally forgot where we were, the only focus was on the mission and the stunning view.
It may sound like we are overselling it, but the fact of the matter is that due to the novelty we had a blast. For some of us, it took a few minutes for the brain to recalibrate and get used to the feel of having real hands :)

OPEN HOURS: Check their online booking system or call +421 915 307 307


 ADDRESS: Vlastenecké námestie 7


 CONNECT: Website, Facebook


 MAP LOCATION:

Author: Tomáš Mýtny