What is more heavenly than the moist seductiveness of a creamy carrot cake? Some call it the king of all baking creations and we fully agree with that name. We are big fans of carrot cakes. That's why we've done some research and tried quite a few to make this top list. Task completed! And now we are going to tell you where you can enjoy those carrot cakes which not only look pretty darn gorgeous but taste pretty delicious, too. Hope your stomach is not going to growl while reading these lines 🙂
ŠTÚR
On the Štúr's menu there is a fantastic almond & carrot cake with cream cheese frosting (which is gluten-free). Soft texture, perfect flavour, you'll only need a few seconds to finish it. And you can enjoy it the best with a cup of warm cappuccino (which is fantastic in Štúr as well).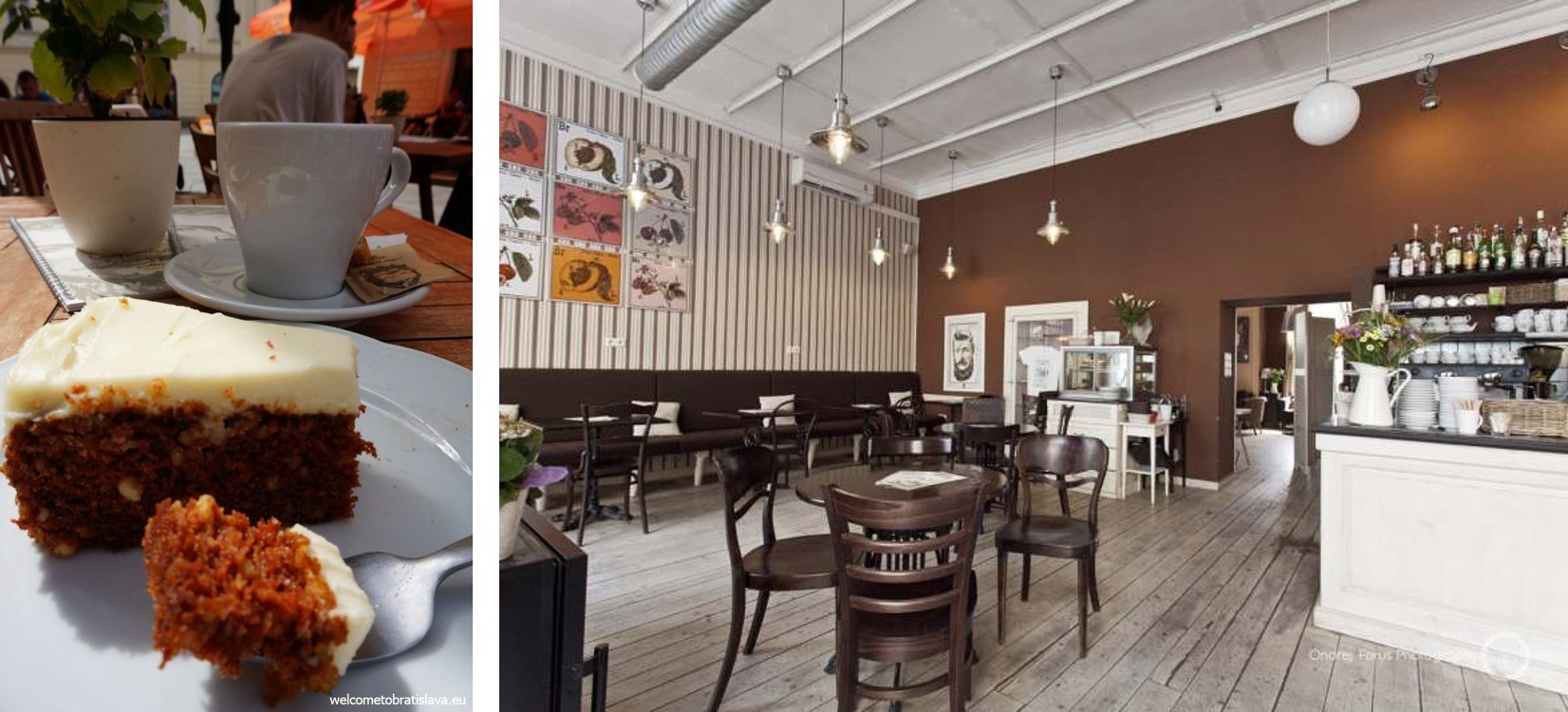 (source: Sturcafe.sk)
Additionally, Štúr belongs to the hipster hang outs which are very popular in Bratislava. Dobrú chuť!
ADDRESS: Štúrova 8 and Štefanovičova 6 – here under the name Ranno Ptaca
OPEN: Check their Facebook
MAP LOCATION:
KORZO CAFE & RESTAURANT
If you want to eat your cake in a nice atmosphere reminding you of the old Pressburg times, you might want to visit the Korzo restaurant. It is located in the very heart of the city, next to the Slovak National Theater, on the busy promenade of the Hviezdoslav's Square. It has a wide menu including fantastic options of desserts. We have tried almost all of them and thus can say they all are worth of feeling remorse 🙂 We enjoyed their gluten-free carrot cake with almonds and lavender mousse to the last bite!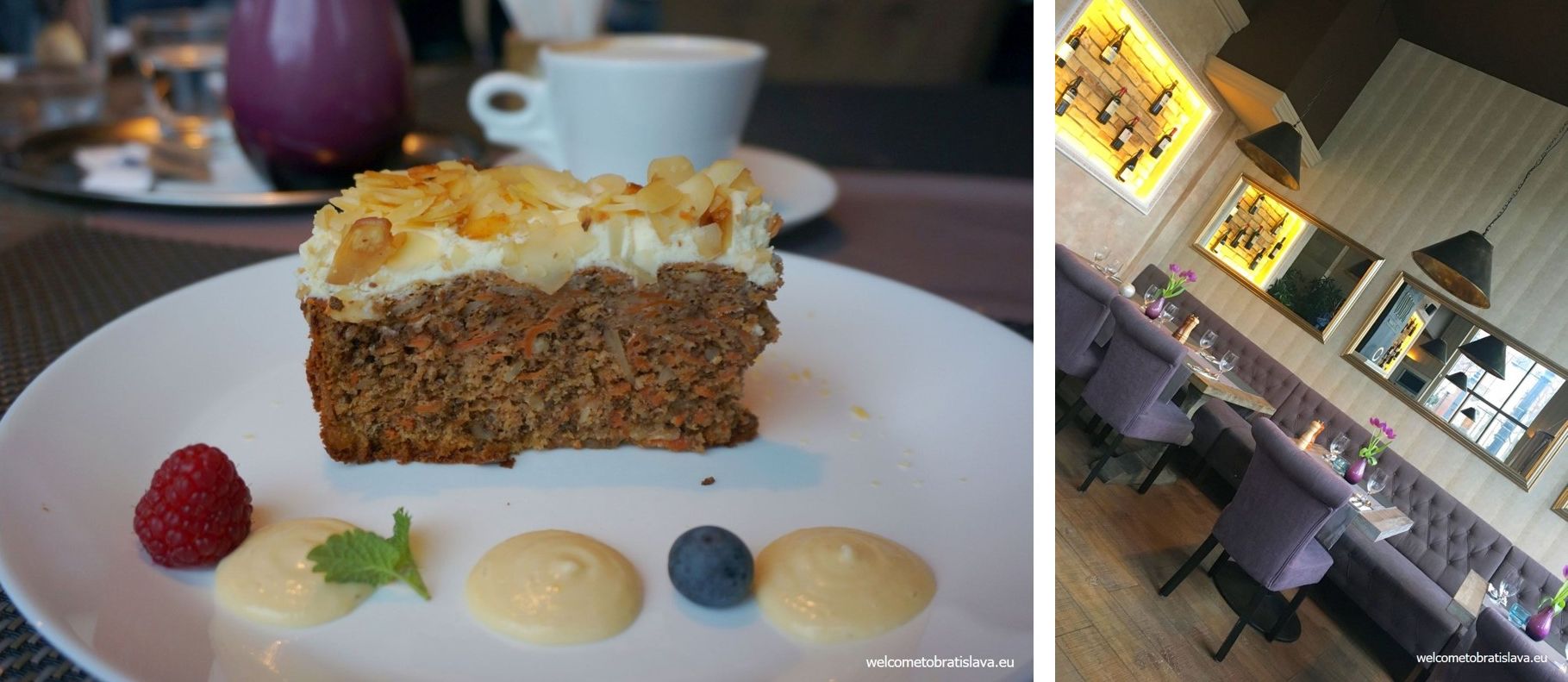 ADDRESS: Hviezdoslav's Square 3
OPEN: Check their Facebook
MAP LOCATION:

KONDITEREI KORMUTH
A place where history, culture and traditions interconnect with delicious taste of home-made cakes which are made with love. Konditerei Kormuth is a recent newcomer to the Bratislava's cafe scene. The place has a very interesting ambiance thanks to the painted walls and all the decor which took 10 years to finalize! You will not meet many locals here though, as it is very popular among tourists who come in to admire the unique interior. Thus no wonder the prices in general are higher compared to the competition, especially for special types of coffee and snacks. Everything that we have tried so far has been tasty though so it is not a waste of money if you combine all the experience you get here 🙂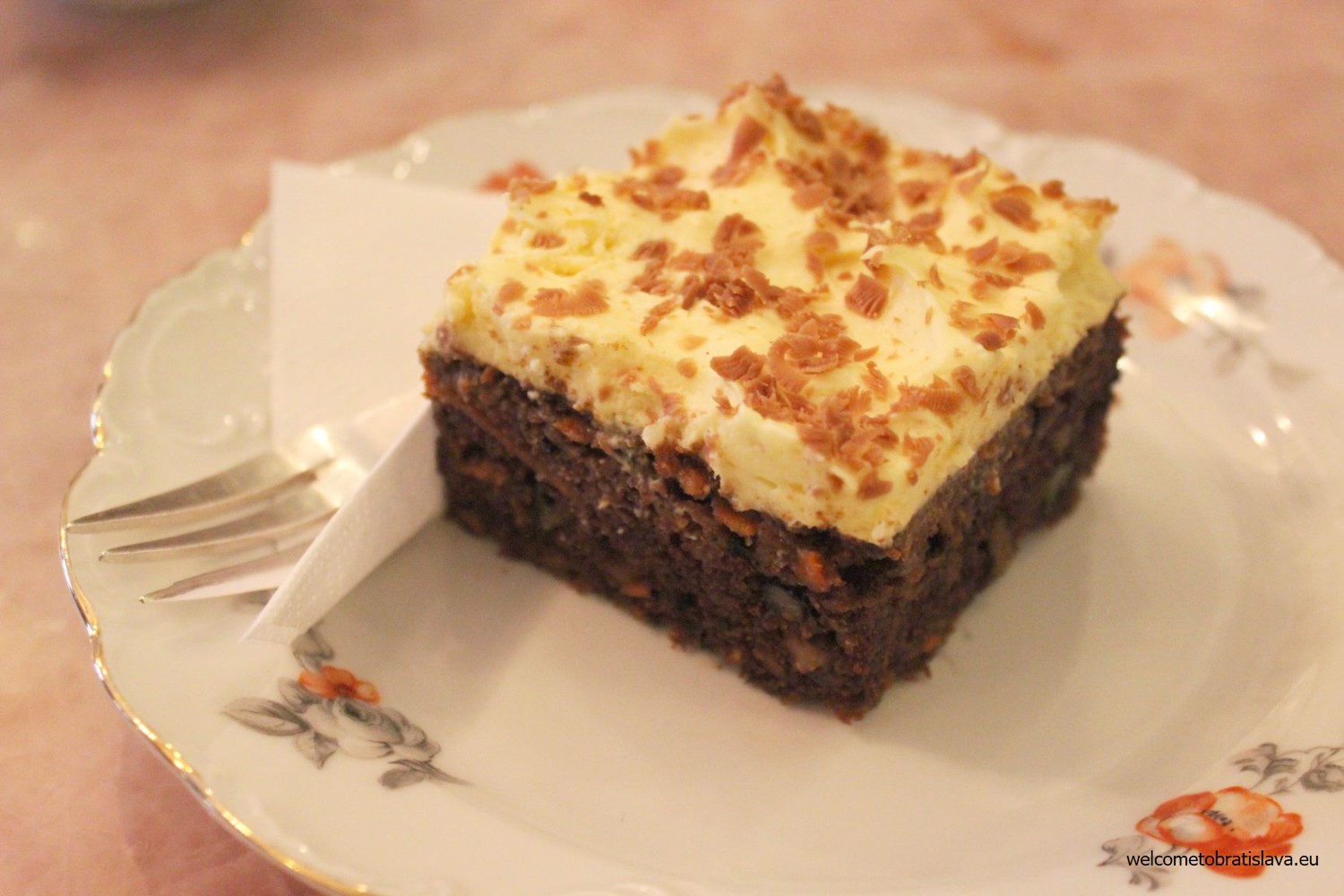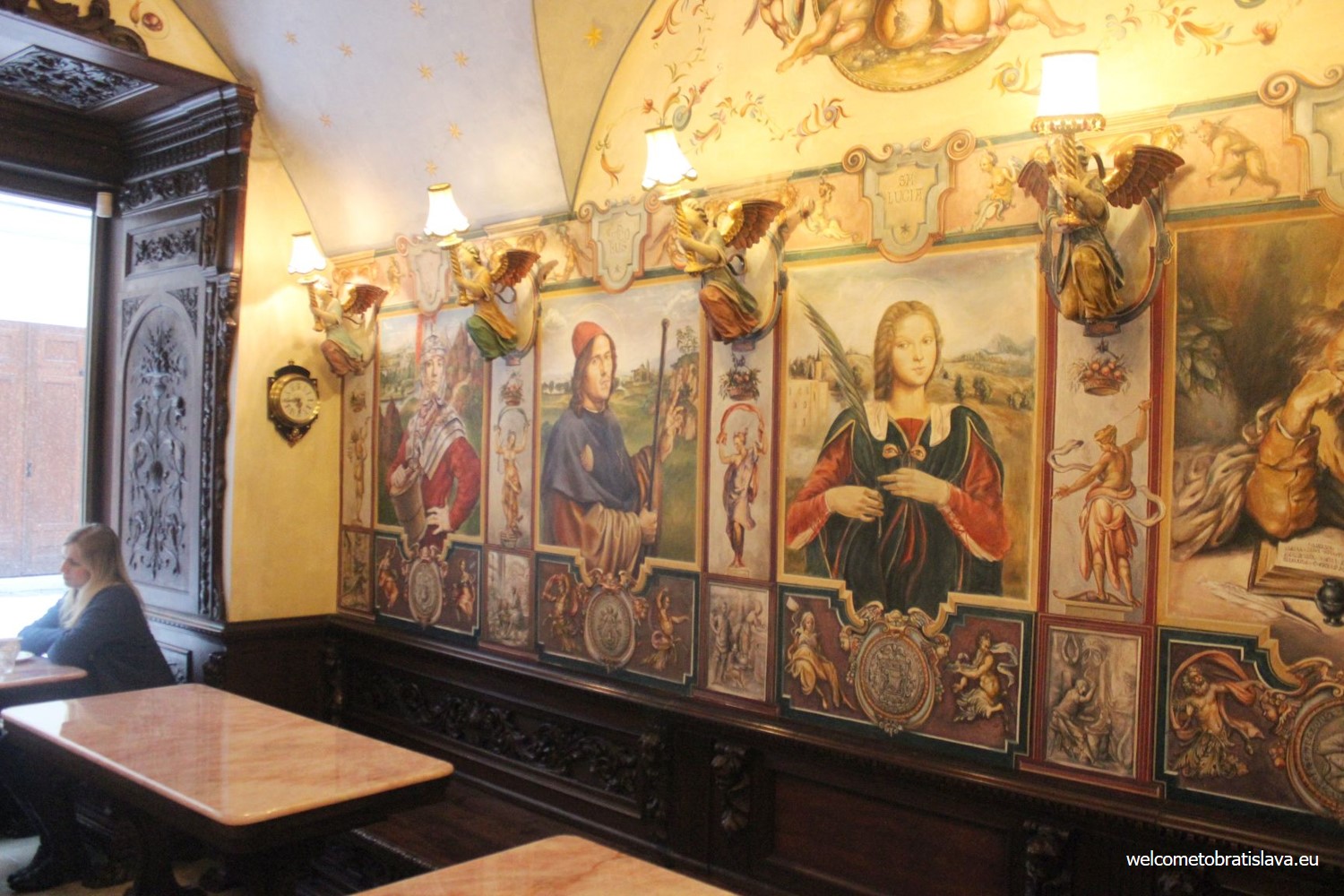 ADDRESS: Sedlárska 8 (next to the Main Square)
OPEN: Check their Facebook
MAP LOCATION:
ZEPPELIN CAFE
This place, besides being a cute spot with many adorable souvenirs, is also one of the the best places to get creamy cakes and baked treats in Bratislava. That's why it should not surprise you that their carrot cake is also yummy – plus not heavy at all so you won't feel full after finishing it. We really love the carrot sprinkles they decorate it with. Too cute to eat! 🙂 Zeppelin cafe will definitely have you drooling at its window display when you walk around the Main Square. So once you spot it, make sure you go in – you will be treated with some tempting delicacies 🙂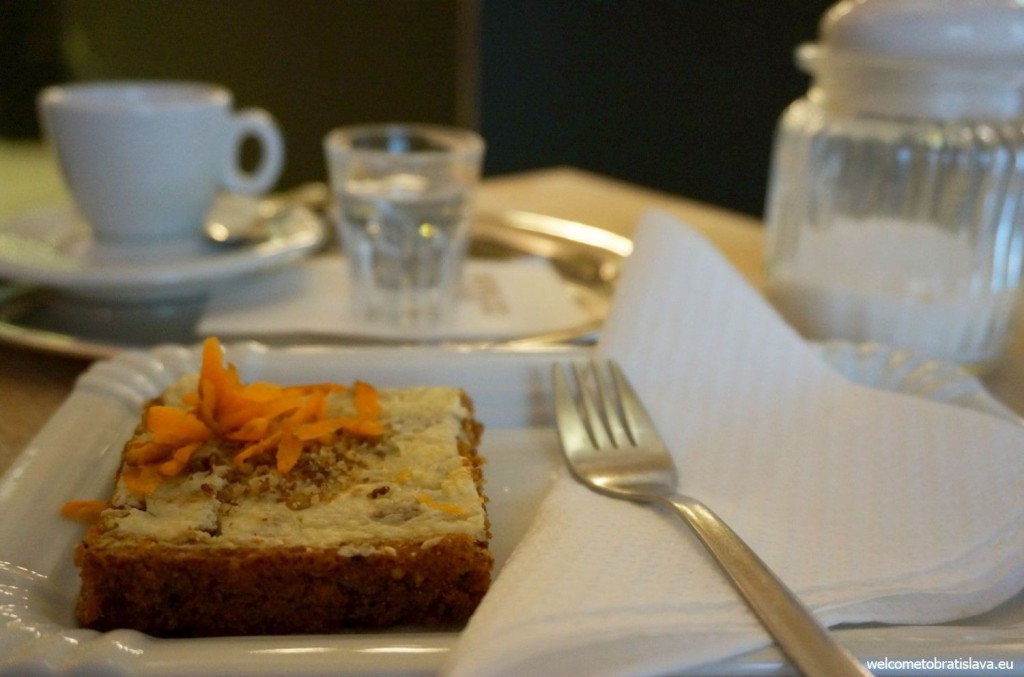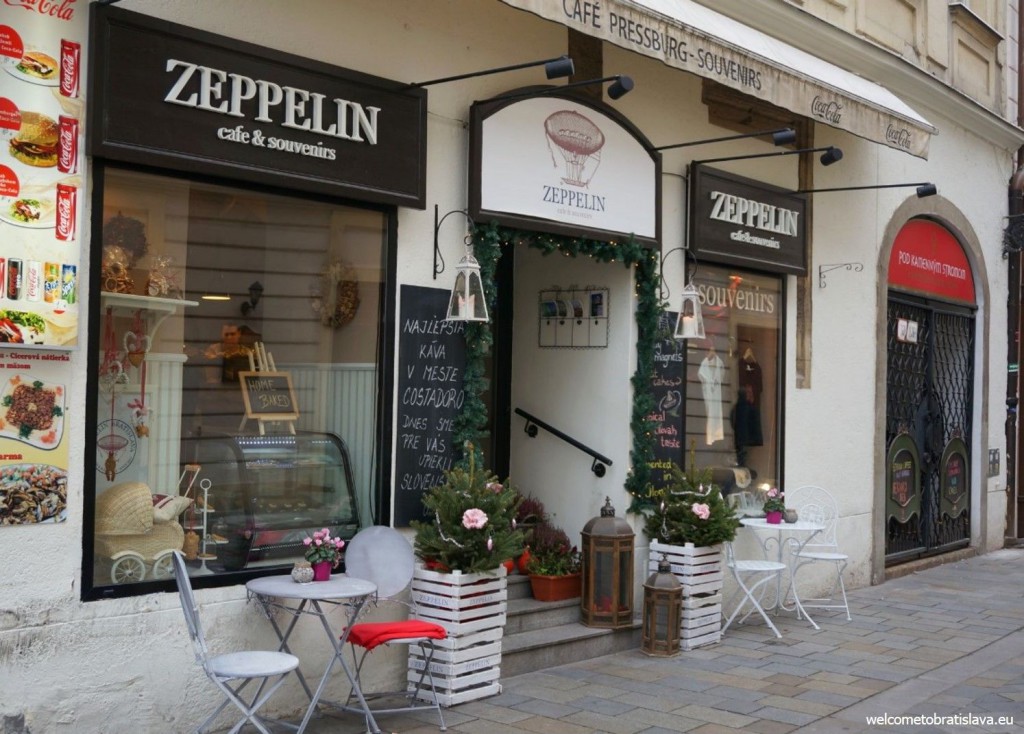 ADDRESS: Sedlárska 10 (next to the Main Square)
OPEN: Check their Facebook
MAP LOCATION:

MONSTERS CAFE AND BAR
This place at the beginning of Petržalka, a few minutes ride from the UFO bridge, is mostly for children – with its huge indoor children's corner and outdoor terrace with lots of attractions. So remember that when you visit, young parents and their kids will be all around you. However you can still enjoy your cup of tea or coffee and the delicious carrot & almond cake – and it will not take you long to finish this one, we guarantee that! This gluten-free treat has a very soft texture with a lemon & cinnamon topping and does not taste very sweet, rather light and tender. Good thing is that it is on their regular menu so unless you are unlucky and they run out of it, you should get your delicious piece for sure here.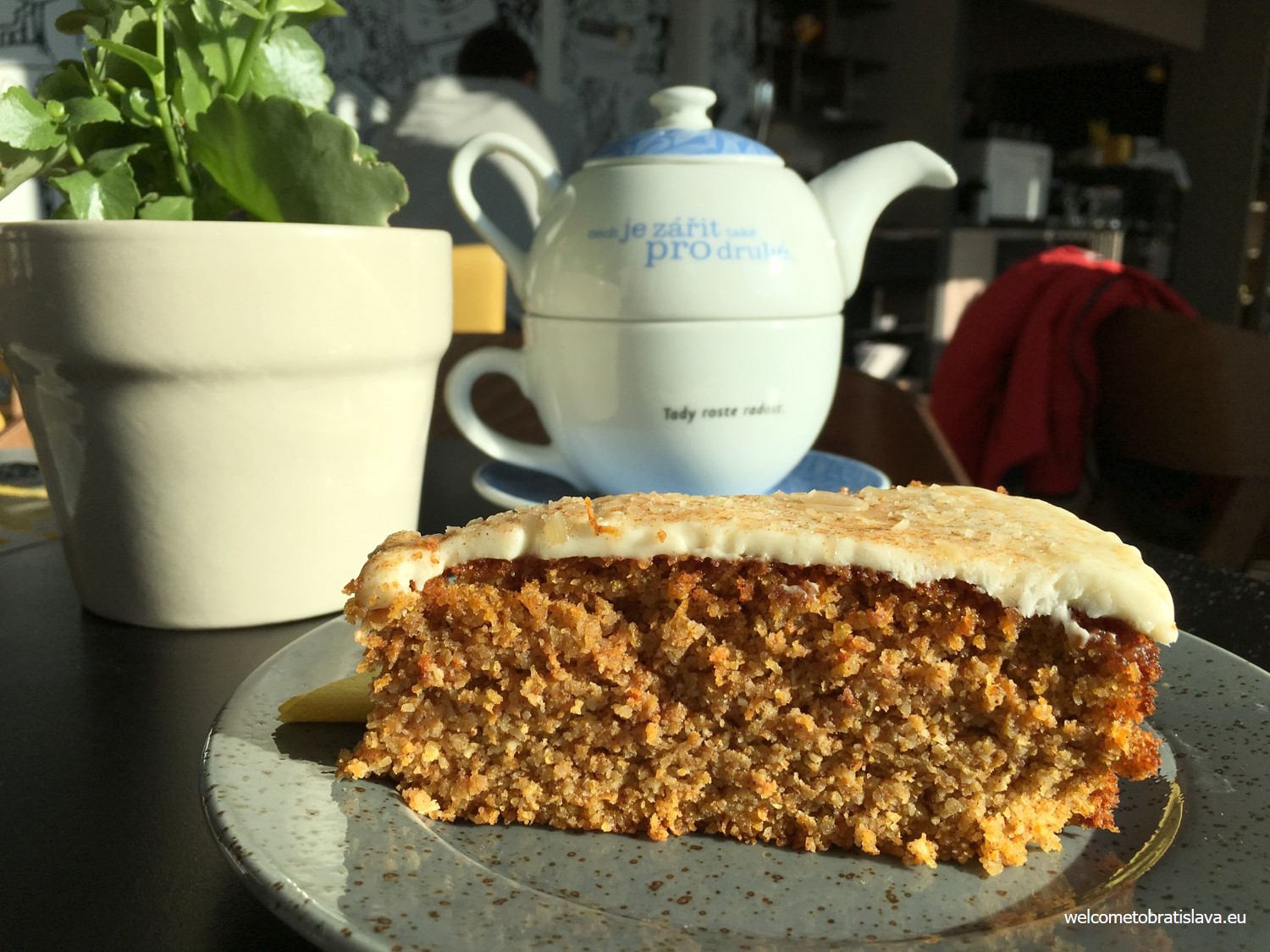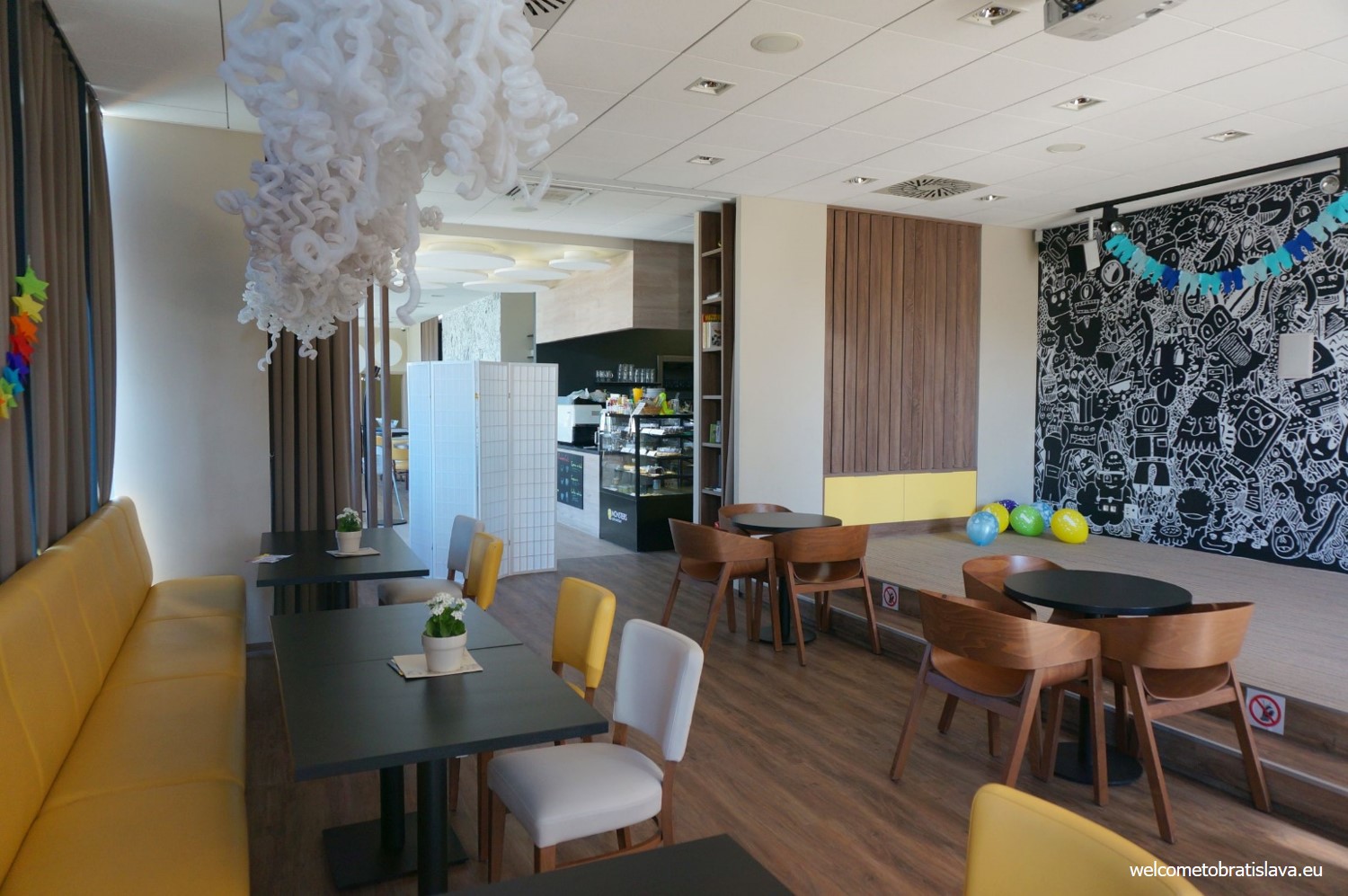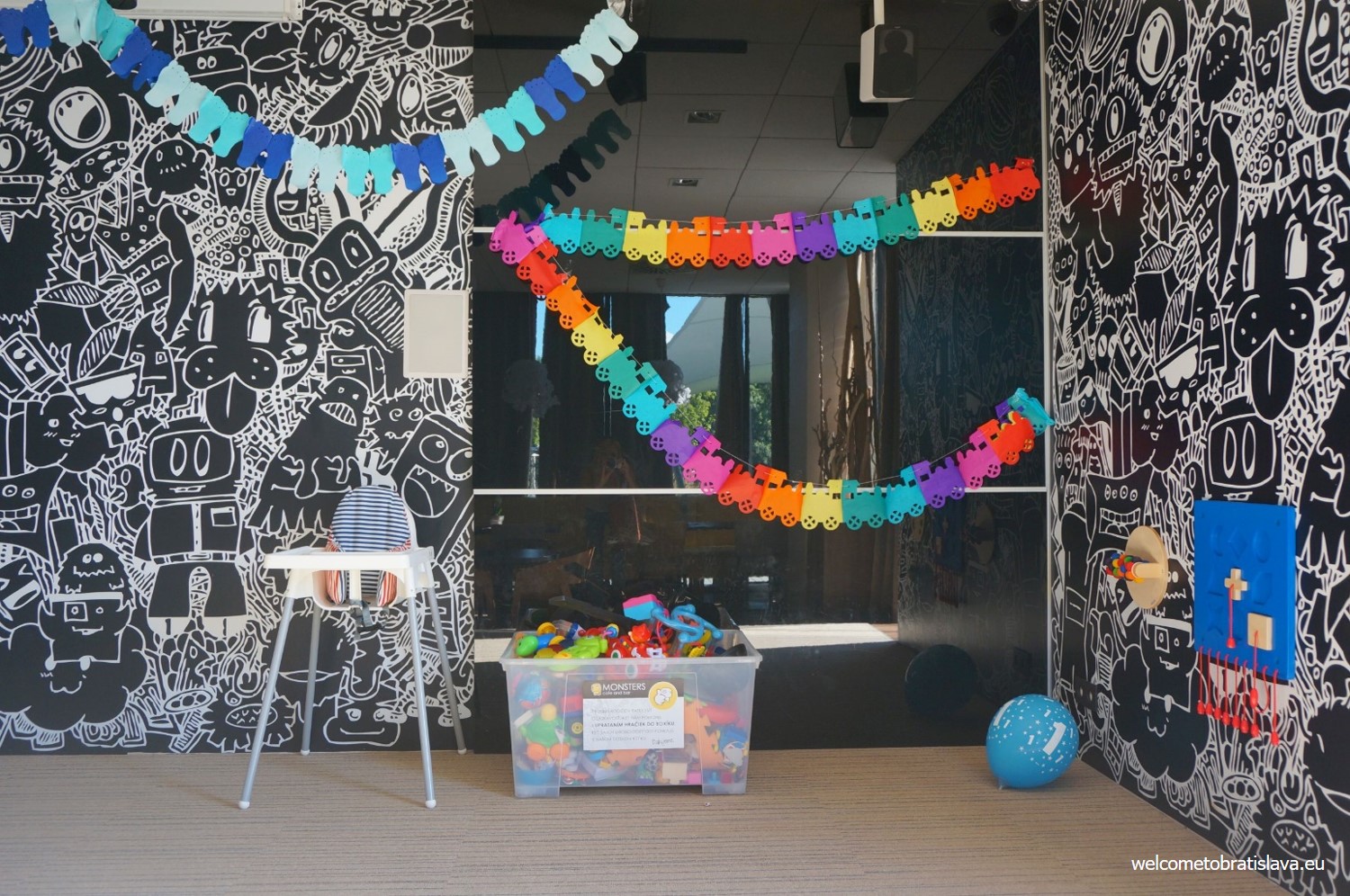 ADDRESS: Rusovská cesta 50-56
OPEN: Check their Facebook
MAP LOCATION:
FERTUCHA IN FRESH MARKET
Fertucha is a small family bakery focusing on high quality homemade cakes. You will be able to savor sweet and salty pastries, cakes and tarts of all kinds here. They claim to be using only the best local ingredients and all the cakes are prepared in the bakery directly. Their offer changes each season and you can get gluten-free or high nutrition cakes made of wholemeal spelled flour or buckwheat flour as well. Go for the gluten-free and lactose-free carrot pie with walnuts (the flat one on the picture) which has a transparent lemon icing and tastes quite light, not too sweet; or the "proper" carrot cake made of spelled wholemeal flour, with a cream cheese filling, tasting after orange peel and ground walnuts. We enjoyed both with a nice cup of coffee.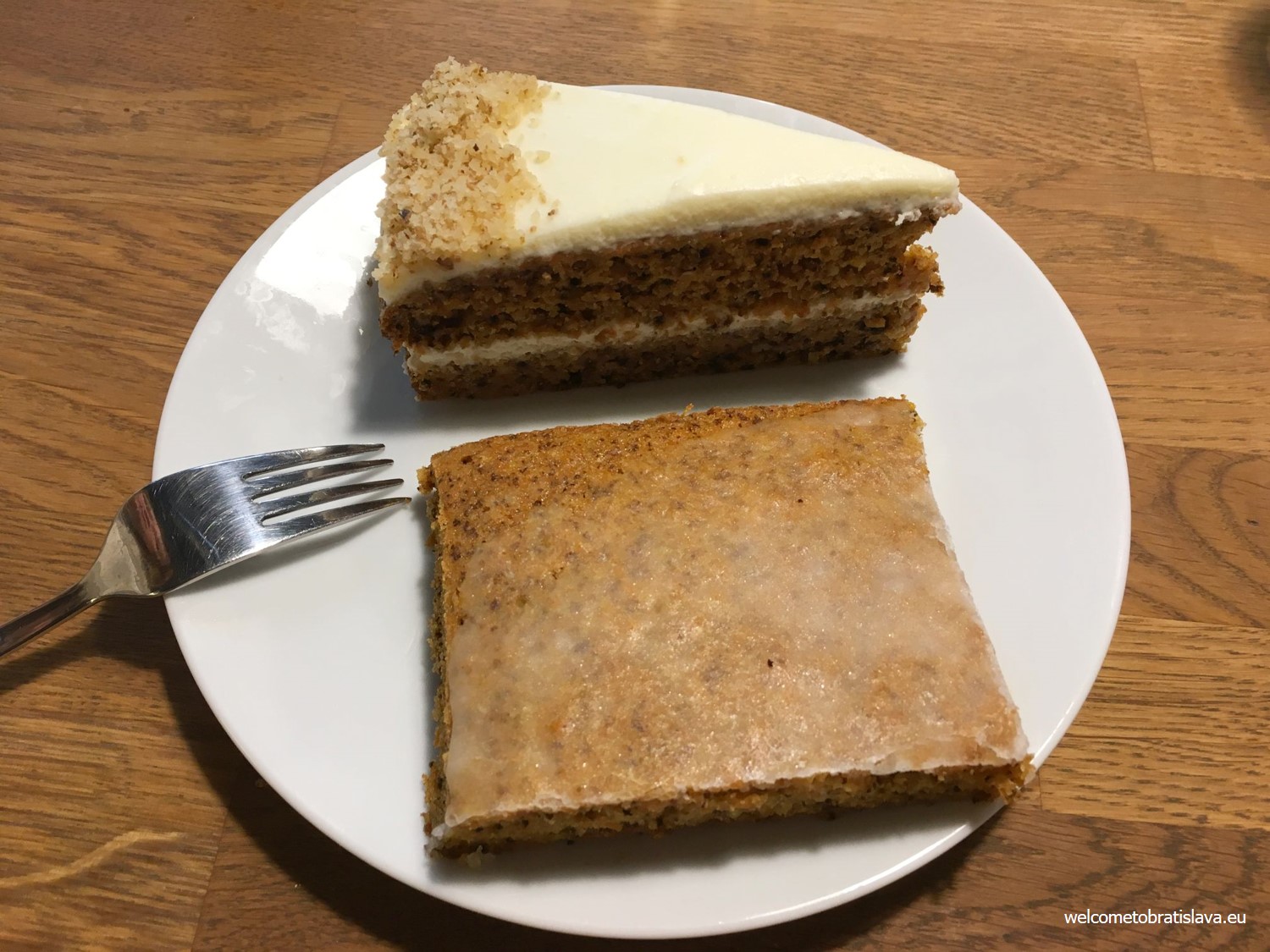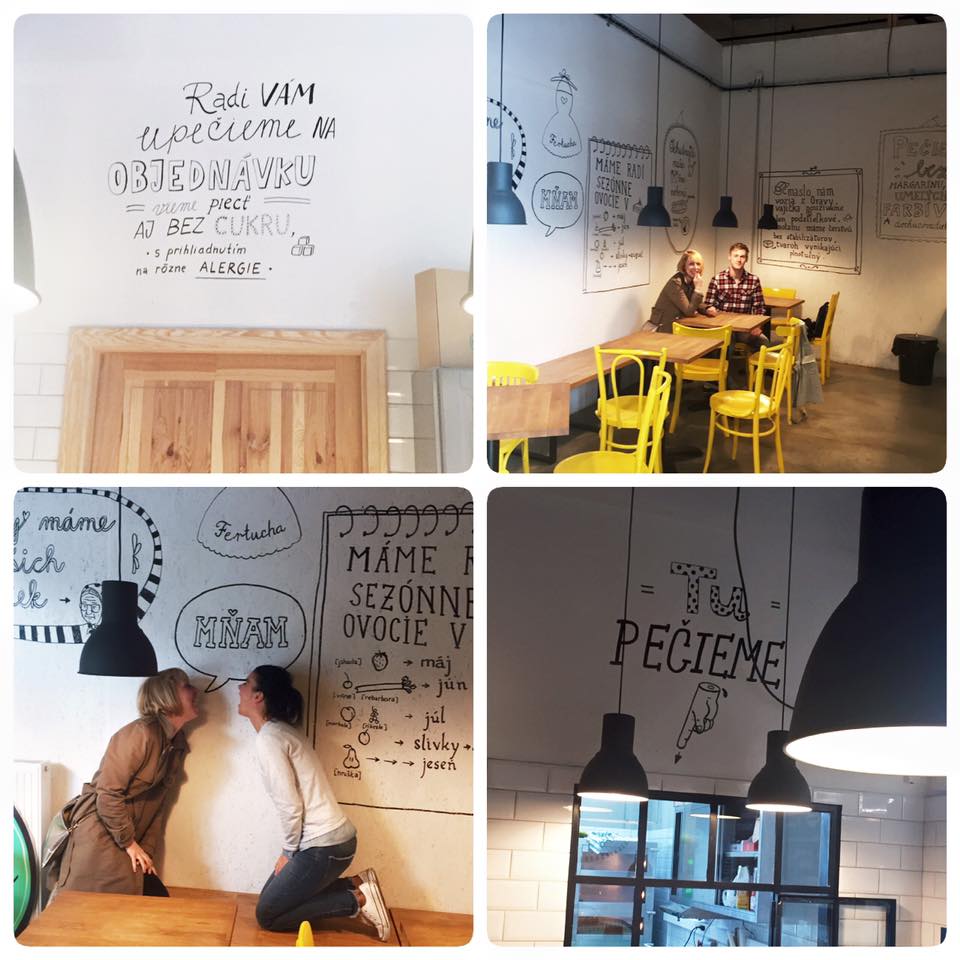 (source: Fertucha)
ADDRESS: Rožňavská 1/A (Fresh Market)
OPEN: Check their Facebook page
MAP LOCATION:

To be honest, we have not given up on our belief that there need to be more places with a really good carrot cake. That's why we continue to do our research and we will update this list each time we find a cake which is good enough to be called a "good carrot cake in Bratislava" 🙂
Author: Maria Kecsoova