When autumn starts, Slovakia wakes up to live through the tradition of famous duck and goose festivities. This over 100 years old tradition is famous especially in small villages like Slovensky Grob or Chorvatsky Grob or other places around the Little Carpathians wine path. What food should you not miss? How was the tradition created? What is the proper way to prepare the best meals? Which places can you visit? Read on to find out all the basic facts about goose & duck eating in Slovakia.
BEST DISHES TO TRY
If you decide to try out real Slovak autumn festivities, get ready for rich meals! Rather come starving, so you have enough space in your tummy. Do not to miss any of these specialties:
crunchy duck meat or goose meat,
salty goose liver with salty lard pancakes (lokše) served with apples, sour cabbage or chilli peppers
sweet cottage cheese, apple or poppy seed strudels
salty desserts such as oškvarkové and zemiakové pagáče (round cake made from potatoes or fried kind of fat. Sounds weird but we promise it tastes delicious!)
young wine (burčiak) or wines from local producers.
WHEN IS THE SEASON?
The main gourmet season traditionally starts during the last August weekend and continues through September to December.
HISTORY OF GOOSE FESTIVITIES
During the economic crisis, farmer housewives needed a new strategy to attract bigger number of customers, so they started to sell these delicious birds also already roasted and not only as raw meat. At first, they traveled to local markets around the village to offer their goods. However, customers wanted to have the meat fresh and warm and were willing to travel to the village itself to get it. The enterprising housewives were waiting at the edge of the village and taking the customers to their homes to serve them festive specialties. Nowadays, customers are no longer served at homes but the local restaurants still keep unique homy and charming atmosphere.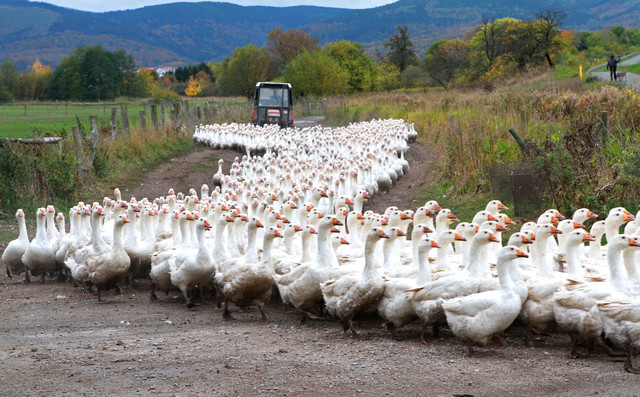 (source)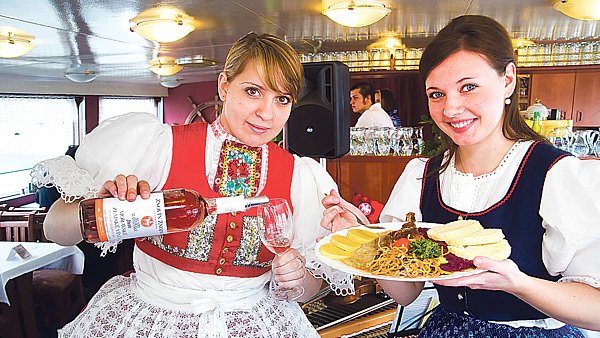 (source)
SECRET OF THE BEST ROASTED GOOSE
The right goose shall be bred for the period of three to four months and at the end, in order to gain the proper weight and correct proportion of fat and meat, it shall be fed for four weeks with corn. The best way how to roast a goose is to do so in a clay baking pan designed specifically for bread baking, in which it turns golden-brown, gains high-pitched aroma and irresistible crispiness.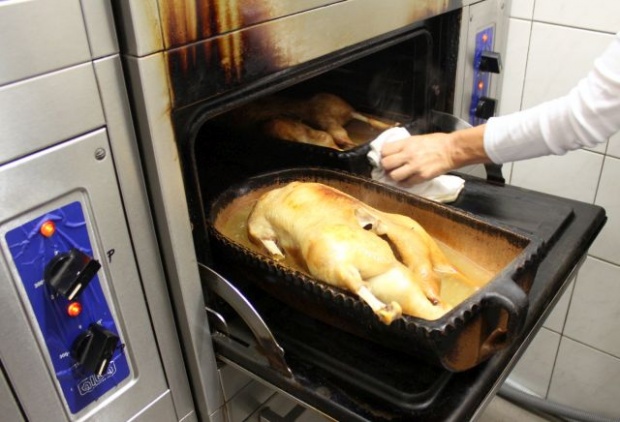 (source)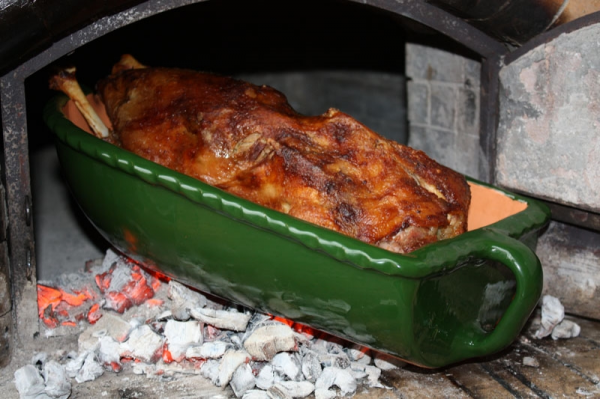 (source)
The secret of the recipe for crispy but tender goose meat is supposed to be straightforward – the goose shall not have less then seven kilograms, so that the meat is of good quality and it should be properly salted the day before roasting. When roasting in the clay baking pan, it is necessary to baste it with milk.
RESTAURANTS OFFERING GOOSE & DUCK MEALS
The main setting of goose festivities is a village Slovensky Grob which lies about 30 minutes from Bratislava by car. It has very good natural conditions for duck and goose breeding. It is literally known for the "the best goose feast in Slovakia." We are specifically talking about the restaurant Stolcek prestri sa. They will prepare you a real feast in their beautiful fairytale-like premises. The menu is available in English too.  Eating here was a real dining experience. Just make sure to make a reservation as they are fully booked during the season.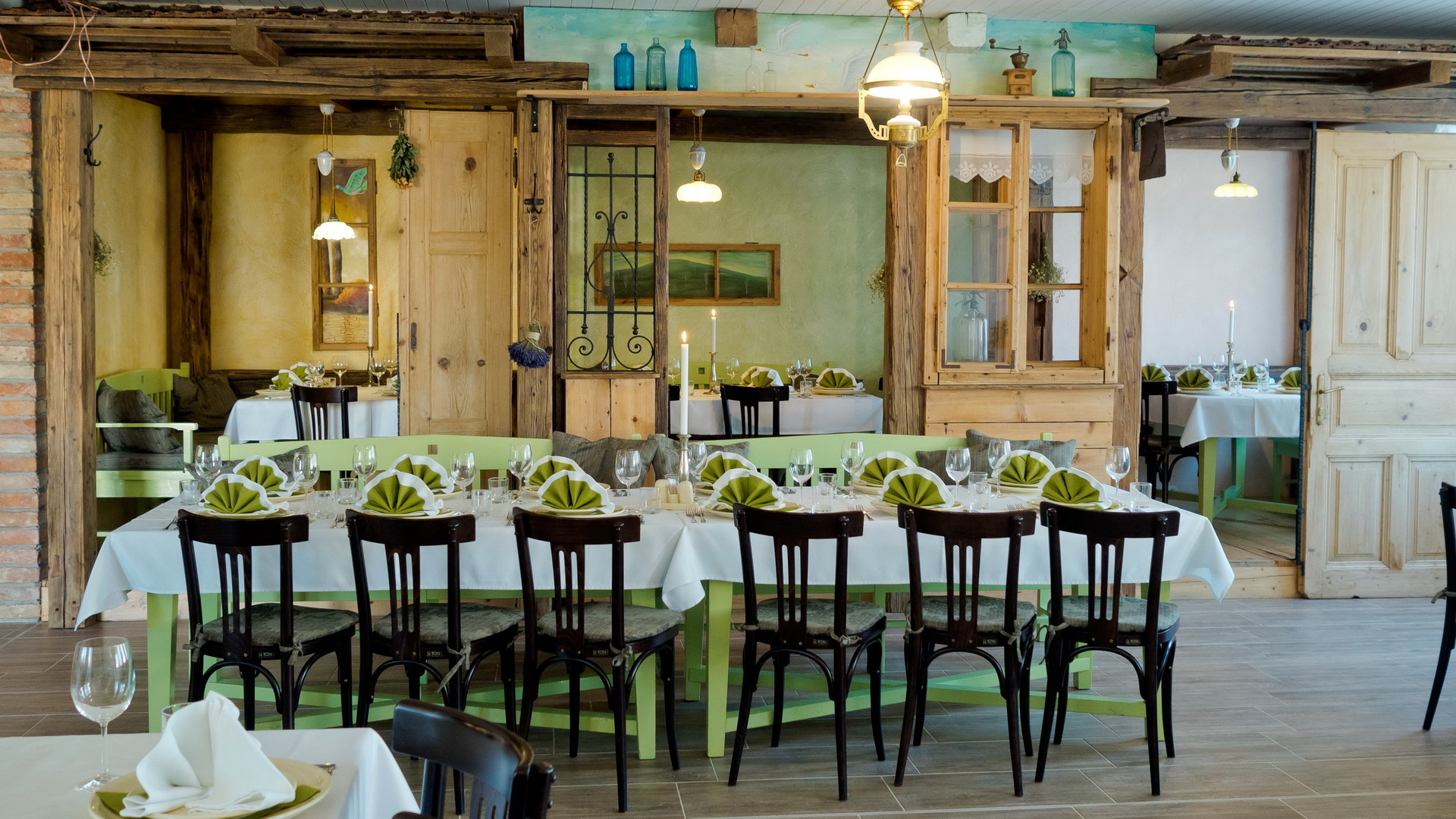 (source)
Our favourite place is  definitely Husacina pri Mlyne, a family business run by mother and daughter. You will experience professional and cordial approach and taste a properly roasted goose based on a recipe passed on from generation to generation. The restaurant itself has been open only for a few years, compared to other places in Slovensky Grob, but is built on a long lasting family tradition. The owners' great-grandmother was the last miller in the village and a well-known cook. As they want to make sure that you are served everything fresh, the goose dinner here requires an advance booking.
(source)
Another restaurant in Slovensky Grob is Grobsky dvor. It is a family business running since 1993. In their menu you will also find carefully selected Slovak wines which go perfectly with the goose meals. Link to the menu (in Slovak only). Once again, we recommend to book a concrete time for your dining.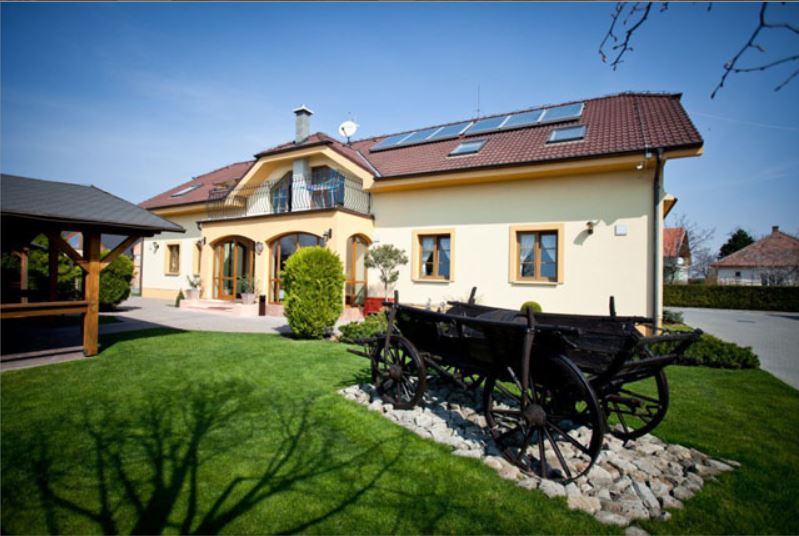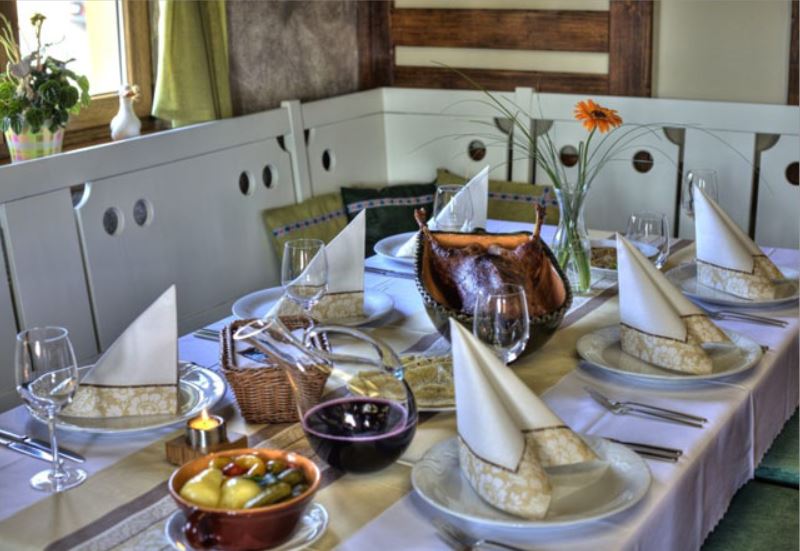 (source)
Coming back to Bratislava, Leberfinger restaurant located near the UFO bridge, on the Petrzalka side of the Danube river, offers goose and duck meals till December. It has a Pressburg cuisine and its seasonal menu, besides the traditional pancakes and meat, includes specialties such as forest Foie gras with blueberries & red onions or roasted goose liver with blueberries and thyme. Sounds good? Check their seasonal menu (in Slovak only). Stefanka restaurant has a seasonal menu till the end of December.
One of our favorite places – not only food-wise but also for its beautiful view – is Parlamentka restaurant situated on the castle hill. They have a special deal on duck/goose meals each season and you can buy a voucher which gives you a great deal on dining there, through this website (in Slovak only).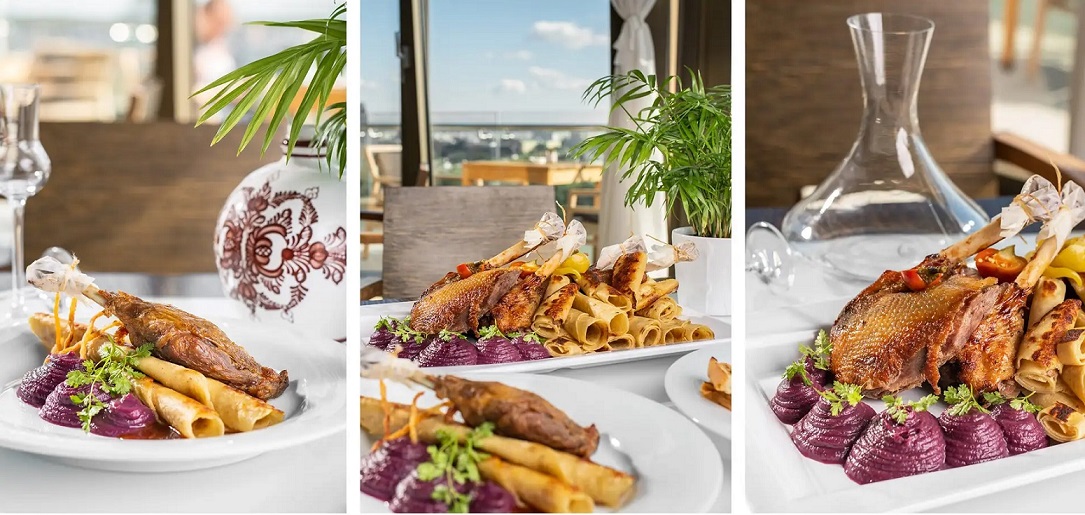 (source: zlavadna.sk)
Authors: Zuzana Mytna, Maria Kiska