If you feel like touching the sky and tasting first class gastronomy, come to the UFO Watch.taste.groove. restaurant. It will offer you a VIP experience on the roof of Bratislava. You can expect nothing less than pompousness of perfect white-glove service and magnificent minimalistic jacket-deserving setting. The main area is an epitome of fine dining and the bar offers fantastic cocktails with lively ambience. We guarantee you a life-changing culinary adventure.
We like returning to the UFO restaurant for several reasons. This time, our mission was to taste the special menu for the upcoming Goût de France/Good France event that annually celebrates French gastronomy in various locations worldwide and will be held on 21st March 2016. Over 1500 chefs on all five continents are expected to join the event on the day of Spring and UFO restaurant is one of those in Bratislava that are included among the participants, too. That means there will be a special tasting menu prepared for those who decide to have dinner on that date in the restaurant. We had a pre-tasting and cannot praise more the feast we experienced! Have a look with us :)
The cuisine's focus is on captivating the symbiosis of Mediterranean and Asian culinary techniques. The unique concept for Good France event has been created with passion by Chef Peter Kiss, in cooperation with the Belgian restaurant Lemonnier's Chef Eric Martin. It promises a feast for all senses, with emphasis on bold, progressive "new French" food at the top of its game.
And the view? Now we are talking! Perched in the altitude of 85 metres of the UFO Tower, you have the Castle, Danube, St. Martin's Cathedral or blocks of Petrzalka flats at your fingertips. You can even feel the bridge shaking, as heavier vehicles pass below you.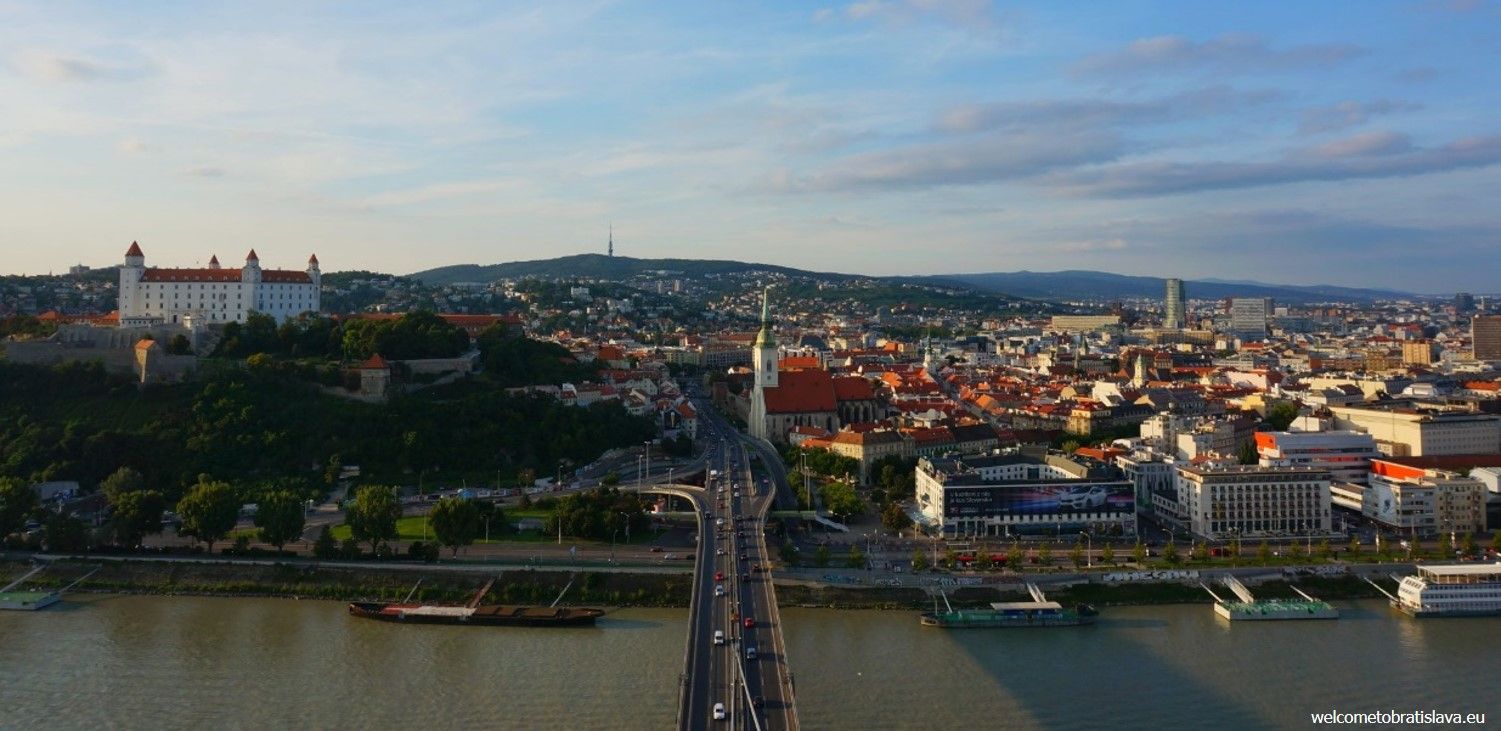 Your dining will start with a magic trick, when you will be brought something looking like a pill which after contact with water turns into a wet tissue for hand-washing.
For the starter you will be able to taste luxurious Brioche slices with foie gras mousse, baby pear and Châteauneuf-du-Pape wine reduction.
As the first main meal, you will be served a Glasseyed-pike in a form of parfais made out of cream and eggs, topped with frog legs roasted on herbs with classic Buerre Blanc sauce made from white wine, shallots and butter, with a surprising twist of sausage. We loved the tender flavor enhanced by an unusual and superb combination of exotic frogs coming from Thailand and the taste of local sausages. This is definitely something you do not have every day.
The second main dish of the tasting is a Trilogy of guinea fowl in demi glace sauce, potato in salt crust with crème fraiche with forest mushrooms, baby spinach and mushroom foam. The name trilogy relates to three different forms of guinea fowl – breast, thigh and parfais inviting an egg to the party. We were looking to be wooed and you can bet we were! The meat with French flair was surprisingly light and mushroom foam was a revelation.
Next, you will be served a Selection of French cheeses, including brie, soignon and roquefort. Soignon is made out of goat milk while the other ones belong to the cow milk cheese family. Their stronger taste has been softened by honey-comb and quince jelly, to achieve a delicate and flavour-packed experience with appealing textures.
During the whole time, you can relish a basket of fresh bread and raisin rolls with salty butter available at your table.
As the last step of this enigmatic journey of unexpected combinations, get ready for a futuristic dessert. You will savour a Raspberry bavarois with yuzu cream and a raspberry sorbet and will be simply blown away by the fresh and not too sweet adventure. Raspberry bavarois is kind of a jelly filled with sweet cream and topped with grated lime zest. Yuzu cream, topped with fresh raspberries, was made out of tangerines and limes. Expect a flashback to a garden of your grandparents – that's how fresh all the ingredients taste.
As a goodbye, we were served pralines made out of white and milk Belgian chocolate.
This place has reached a wow effect by all standards. We enjoyed each single dish, perfect service and attention of waiters, as well as amazing surroundings. We definitely recommend you to break the habit and have a special French day up in the sky.
Still hesitant? Maybe this blueberry muffin given to all the visitors will be the final decision-making factor. We loved ours and have finished it in a second.
If you feel like spending the evening of 21st March up in the sky, advance booking is necessary at reception@u-f-o.sk or 00421262520300.

 ADDRESS: Most SNP


PRICE OF THE TASTING MENU: 60 €/person


CONNECT: Webpage, Facebook


 MAP LOCATION: