The combination of top service, high quality Asian traditional food and stylish premises inspired by exotic charms are a promise of an unforgettable experience – in fact nothing else can be expected from the Green Buddha restaurant. Anyone with a taste for the exotic will be enchanted by this uniquely themed place which offers a feast not only for the eyes but also for your belly :)
LOCATION
Green Buddha is located in Bratislava's very heart, a hidden street called Zelena, near the famous Town Hall. Look for the building with light green walls :)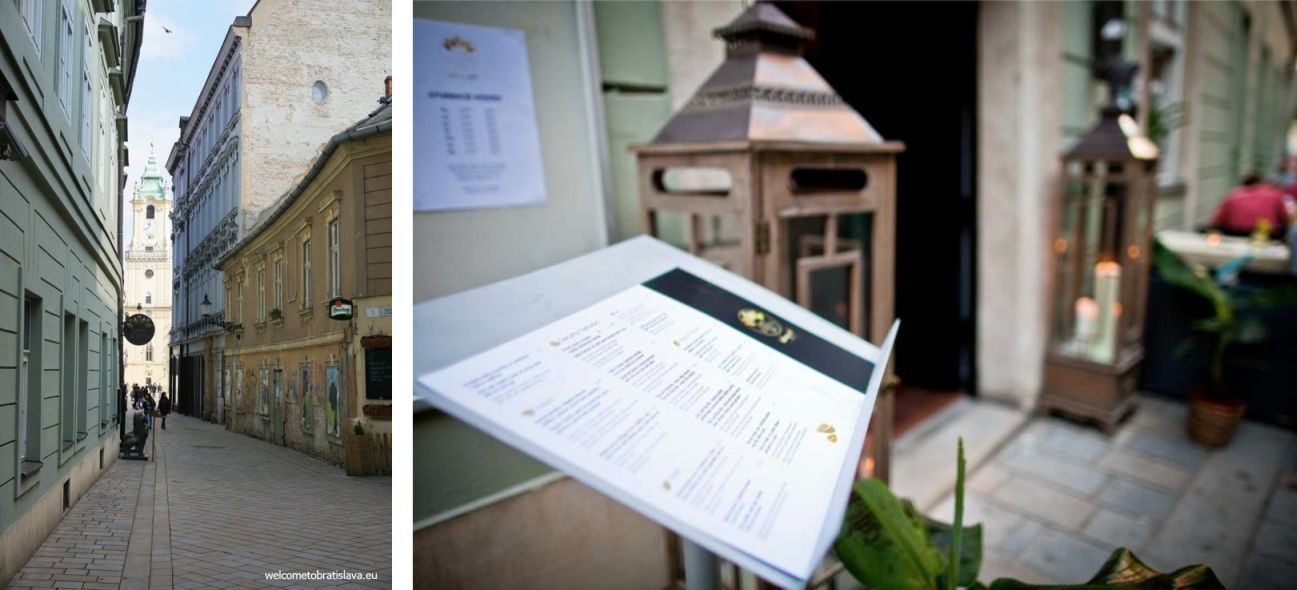 (source)
INTERIOR
As you enter the restaurant, a Buddha statue will welcome you with a "high five" gesture, and you will notice another golden one on the back wall of the room. This is the area where the main bar is built, too. These statues are placed in all the rooms of the restaurant – no wonder as they are are the symbols of the place.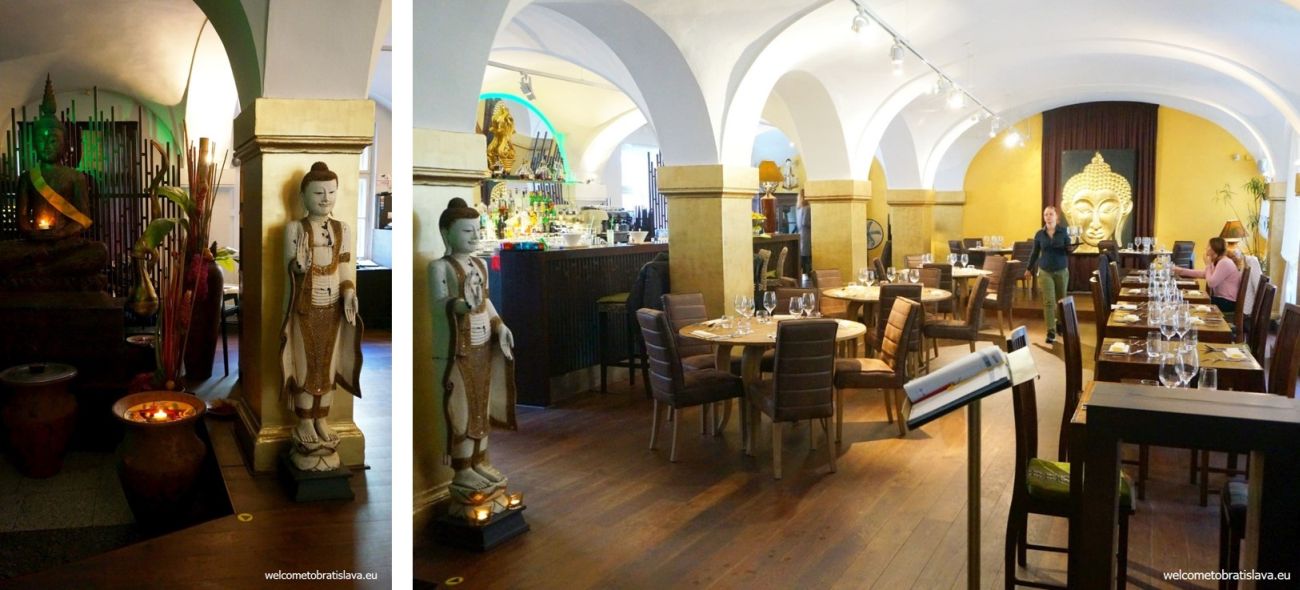 The major color in which the interior is designed is dark brown and the dominant material is wood. Combined with white and golden tones, white canopies replacing curtains, stylish lighting and mild lounge music, Green Buddha offers a very comfortable environment to dine at.
Two smaller rooms which are on the left from the entry door are a bit more cozy thanks to their size and slightly more colorful accessories. Ideal for a date if you want to have more privacy :)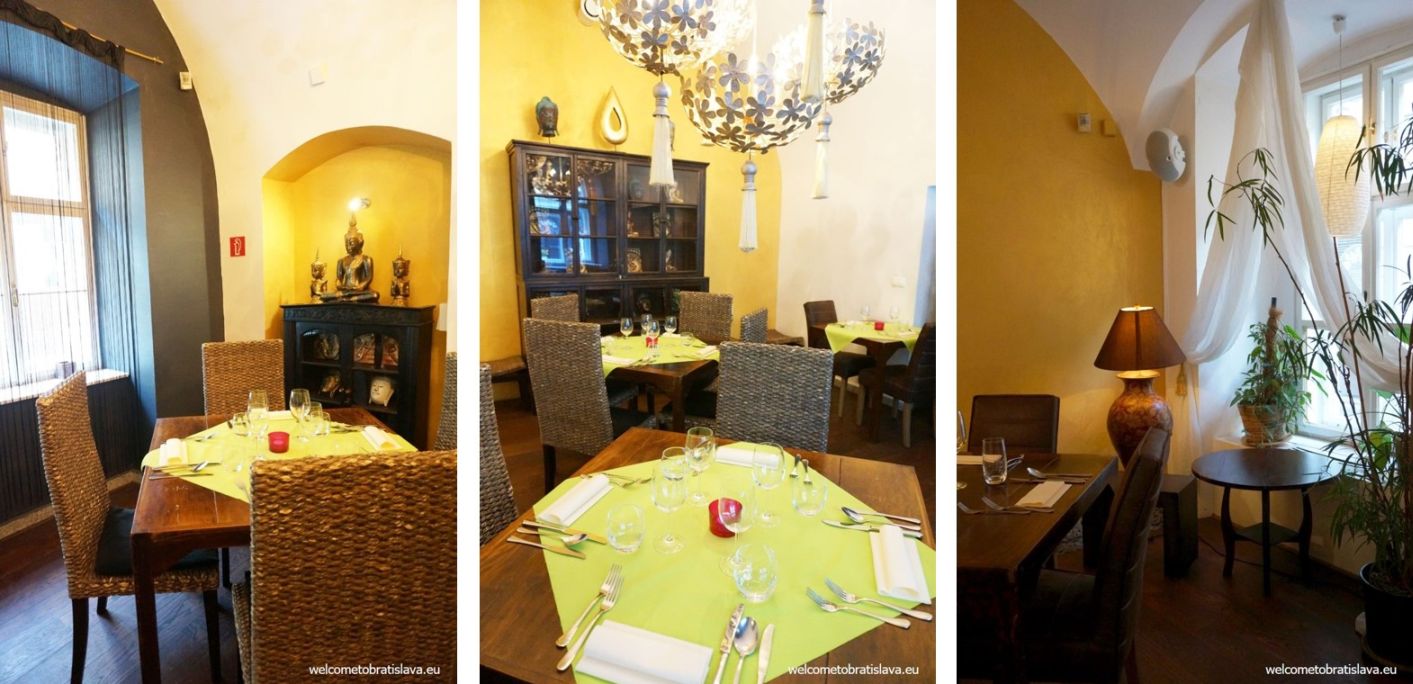 WHAT TO HAVE IN GREEN BUDDHA?
Let's start with the chef – Miroslav Stycinskij or "Miron" comes from Vilnius, capital of Lithuania. His career as a top chef started right there, but a life full of love for food and music led him to travel the world – and he ended up in Thailand, Koh Samui for five years. He has received numerous awards and is a winner of quantity of culinary competitions and prizes. Since his hobbies besides cooking include graphic design and hip-hop music, all his works are artistic – be it visually or in taste :)
There are two separate menus in Green Buddha – a daily one (11 am – 6 pm) and one for evening dining. Plus, there is always a menu of specialties which changes weekly. From the daily one we tried and can recommend the Tom Kha Gai soup (traditional coconut milk soup with chicken and mushrooms) – it was very light and just slightly spicy. We also had a piece from our friend's meal – the green curry with chicken and vegetables, served with rice. That was quite a spicy one, have it only if you like hot dishes.
Other culinary highlights include the Phad Namahoi (stir-fried beef with oyster sauce and rice) and we can praise their Phad Thai as well.
From their evening menu we totally loved their salmon in chili sauce which goes well as an appetizer. It was scrumptious and not too spicy which we appreciated. What we fell in love with though were the smoked salmon rolls served with herbs, strawberries and tom yam honey. A perfect combination of ingredients and a perfect taste. You will find this dish in the "Green & Fresh" category of the menu.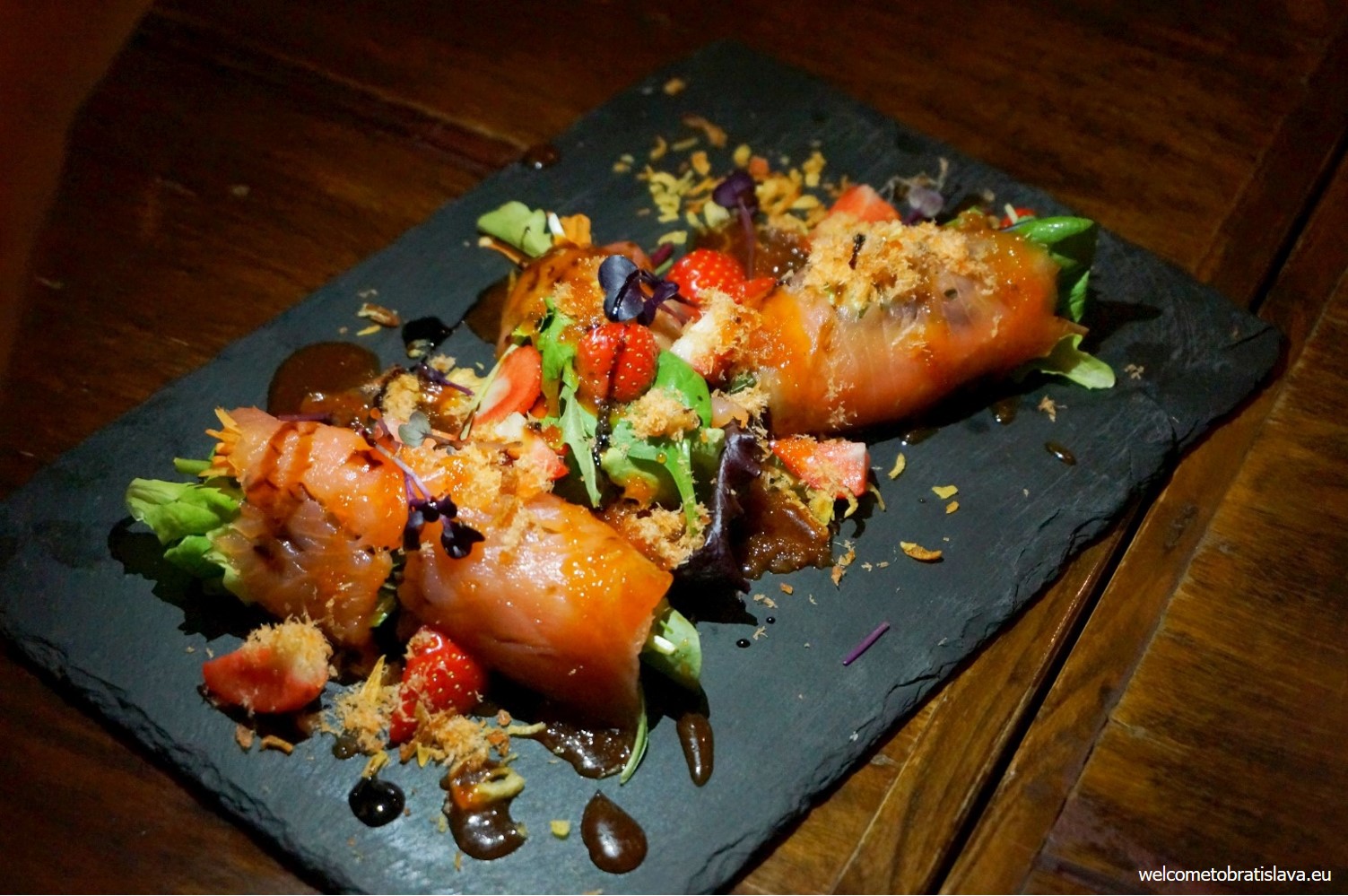 Again, those who prefer hot dishes might want to try the Talay Pat Bai Grapao (stir-fried sea food with chillies and holy basil, served with rice, fried egg and fresh veggies). Remember you're going to need something to drink after you are done with this one – our advice is to ask for a glass of milk :)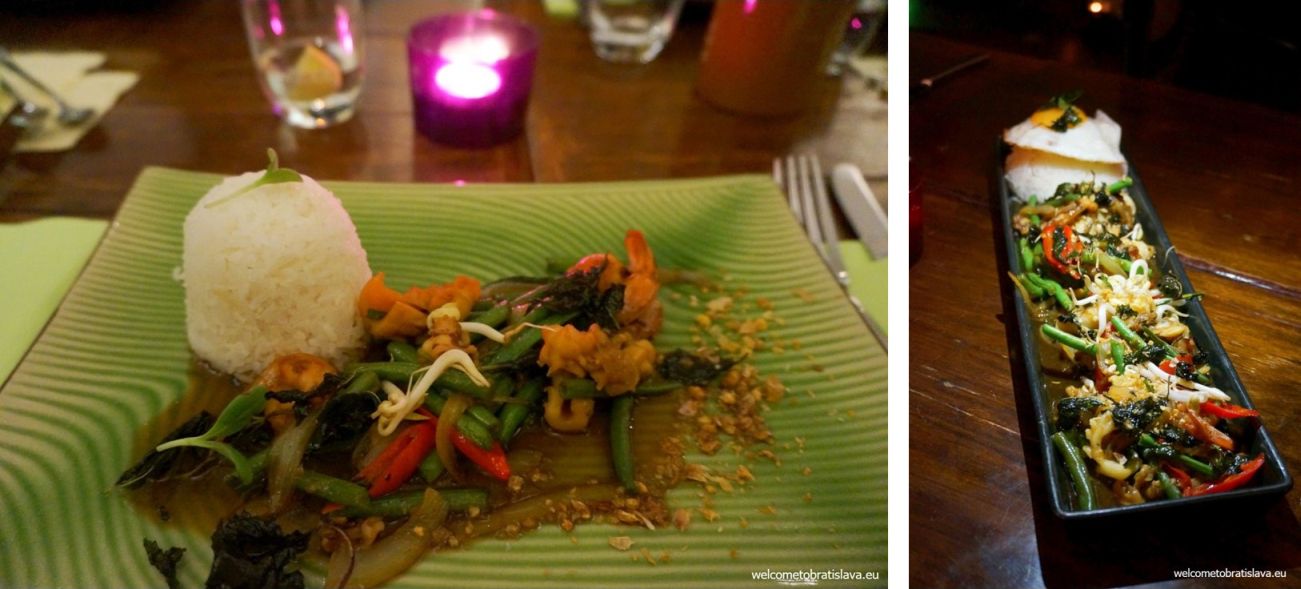 Their evening dessert menu is a little longer than the daily one (6 items instead of 4). Our so far favorite is the Kao Niaw Mamiuang – white sticky rice with mango, coconut and blueberries. One of the best desserts we have had recently! Seriously, you can't dislike that thing. If you want to have something lighter, go for the ice cream with fresh fruit served in coconut halves :) Both come from the daily menu.
If you like wines, you might find interesting that Green Buddha in cooperation with local winemakers compiled a wine list of special selection. A nice glass of wine can be enjoyed at lunch time or in the evening when the atmosphere with the dim lights is even more spectacular.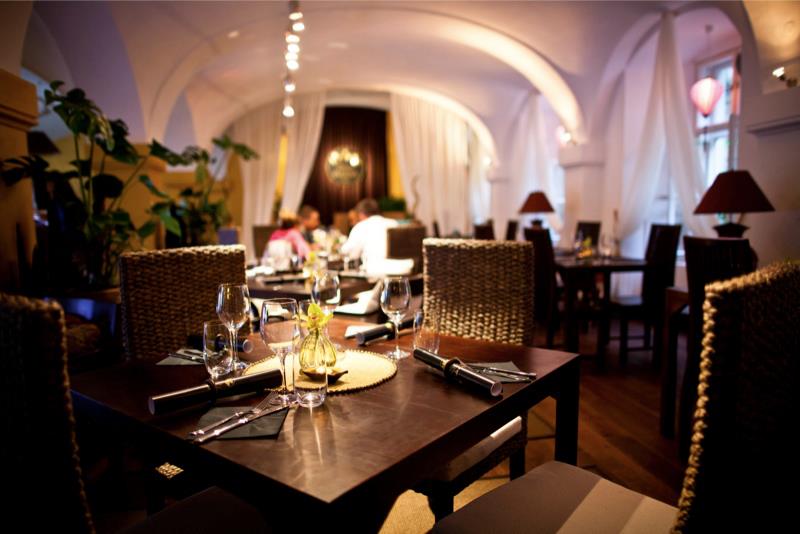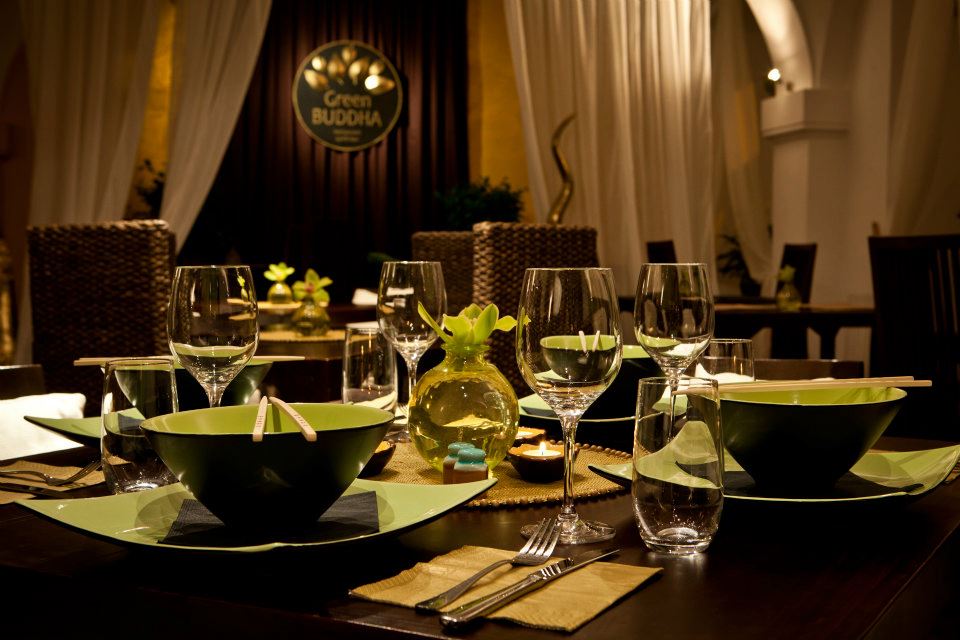 (source)
Author: Maria Kecsoova

ADDRESS: Zelena 4


 OPEN HOURS: Check their FB


CONNECT: Webpage, Facebook


MAP LOCATION: