Halusky, our traditional meal, are either a "love or hate" thing for people. The dish has a very specific taste because of the sheep cheese which has quite a strong flavor and smell. We don't know many Slovaks who wouldn't like halusky, it's more likely you'll be hesitant if you were not born in Slovakia. We can understand this as it is quite difficult to find a place in our capital where they would prepare the dish really properly – you want to go to the suburbs to genuinely enjoy the meal. But what if you feel like having it and you don't want to travel anywhere? We have been going to places doing research on the "best halusky" for quite some months – as you really can't eat this dish very often, it's just too heavy (and suits more for the winter season than summer). Here's what we thought of halusky in these 10 + places in Bratislava:
(Note: We were giving 1-10 points, 10 being very good, 0 being very bad)
VIECHA U SEDLIAKA: 9 Points
Despite the fact that this pub is right opposite to the more popular Slovak pub, we had never been here until one of our friends told us they have really good halusky there. So we went to try. And we were glad we did. Because their halusky were really tasty, from the texture of the dough through the cheese to bacon. We really like that they don't mix the cheese with gnocchi so you can make your own ratio. And the overall experience was indeed pleasant. It's not the same as if we made the dish at home (hence not 10 points) but let's be realistic, it usually never is. So far the best halusky we have had in Bratislava.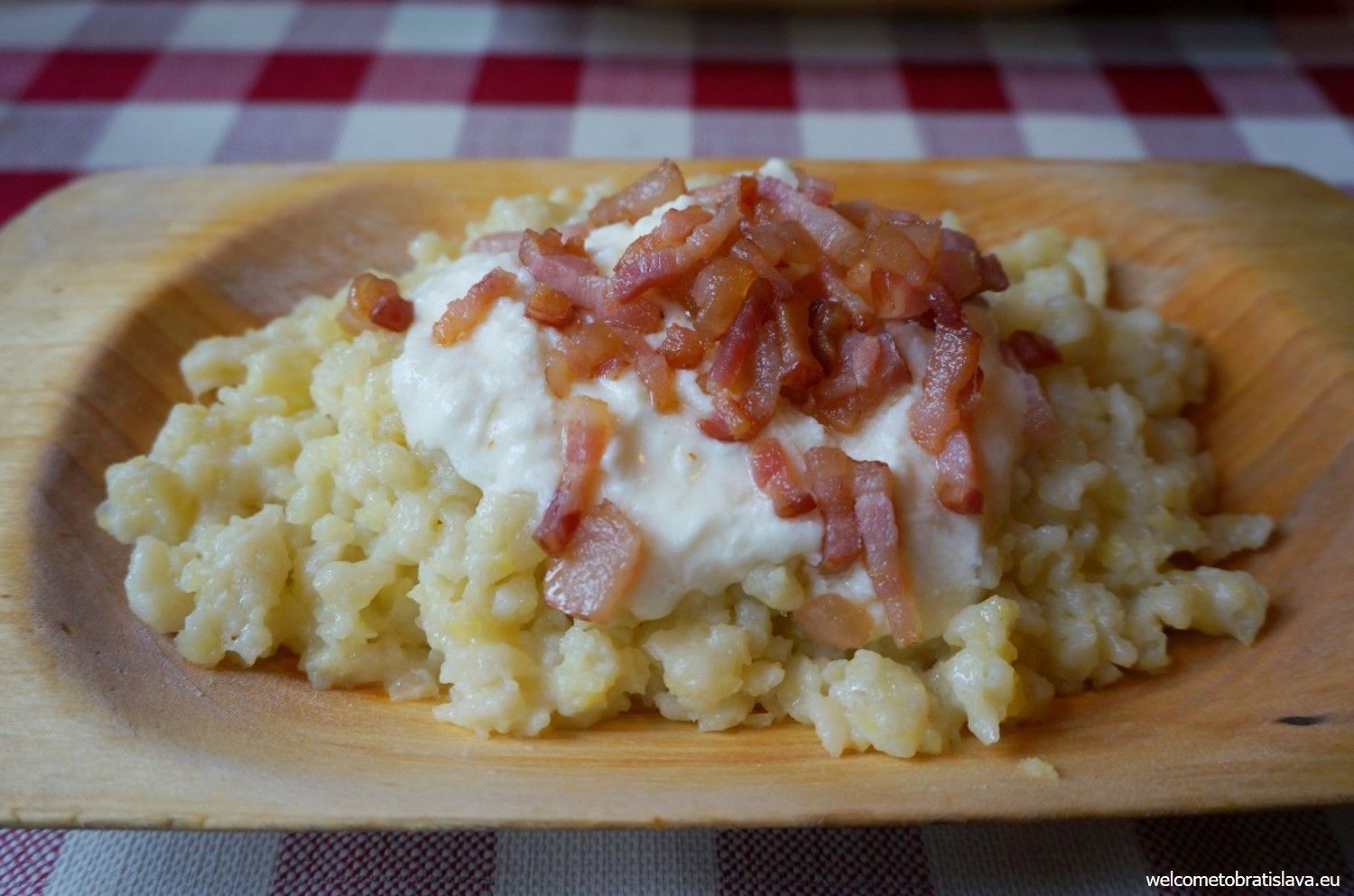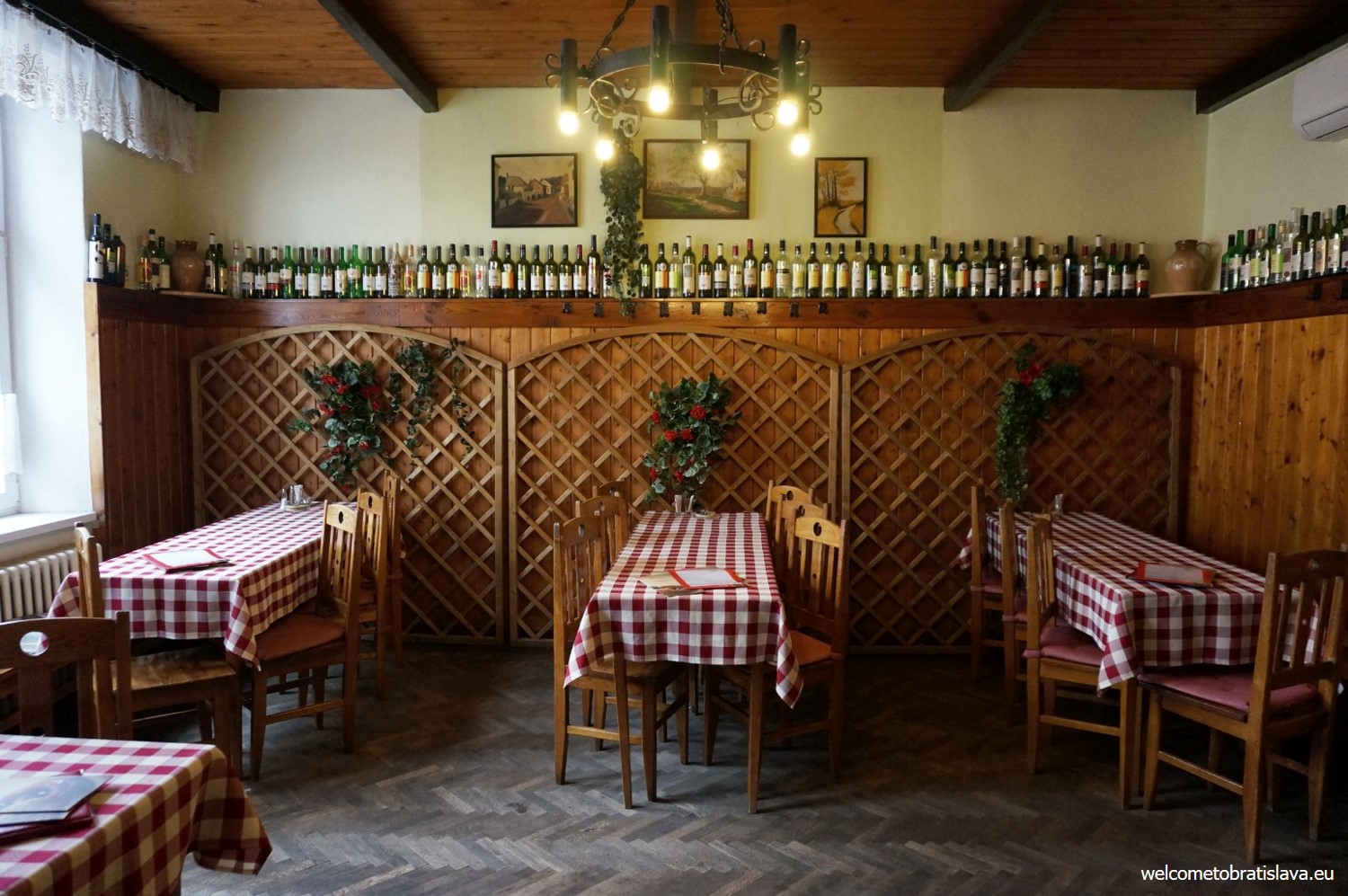 PRICE: 4,70 – 5,50 €
ADDRESS: Obchodna 55
Facebook
AUSPIC: 9 Points
After hearing positive feedback about Auspic, we decided to give it a try. And we must say we are glad we did. Not only it is situated at the Danube embankment with a beautiful view on the castle and the St. Martin's Cathedral, it also has good halusky! We really liked the cheese they used – the ratio between the cheese itself and the cream. Sometimes you get a lot of cream and little cheese – it is not the case here. The bacon was crunchy and tasty as well. If we only were able to finish the plate! It was a too big portion for one person (400 g). Recommended to visit and try.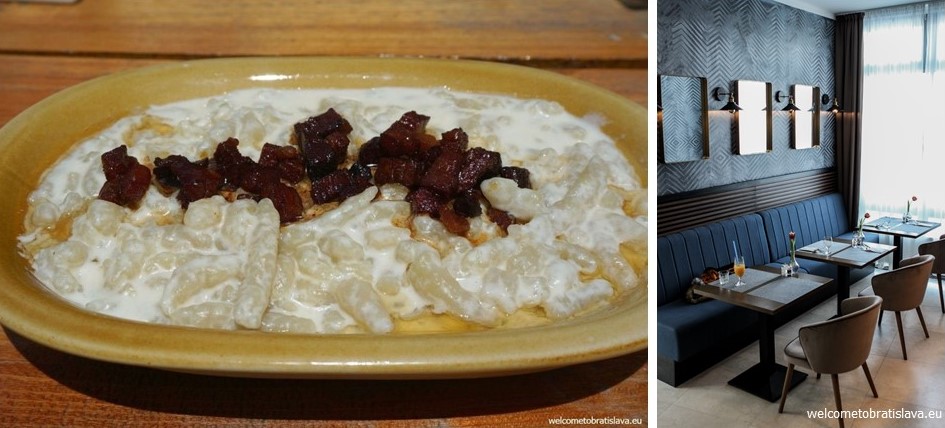 PRICE: 7,80 €
ADDRESS: Viedenská cesta 24
Facebook
SLOVAK PUB: 8 Points
There are people who say Slovak pub has the worst halusky, and then there are those who like them. We guess you will need to go and try yourself to judge. What we can say that we have known this place for almost 10 years and each time we had this meal, it tasted OK. If you are here for a weekend, we would recommend to go there – also because of the traditional interior. And the meals are quite cheap.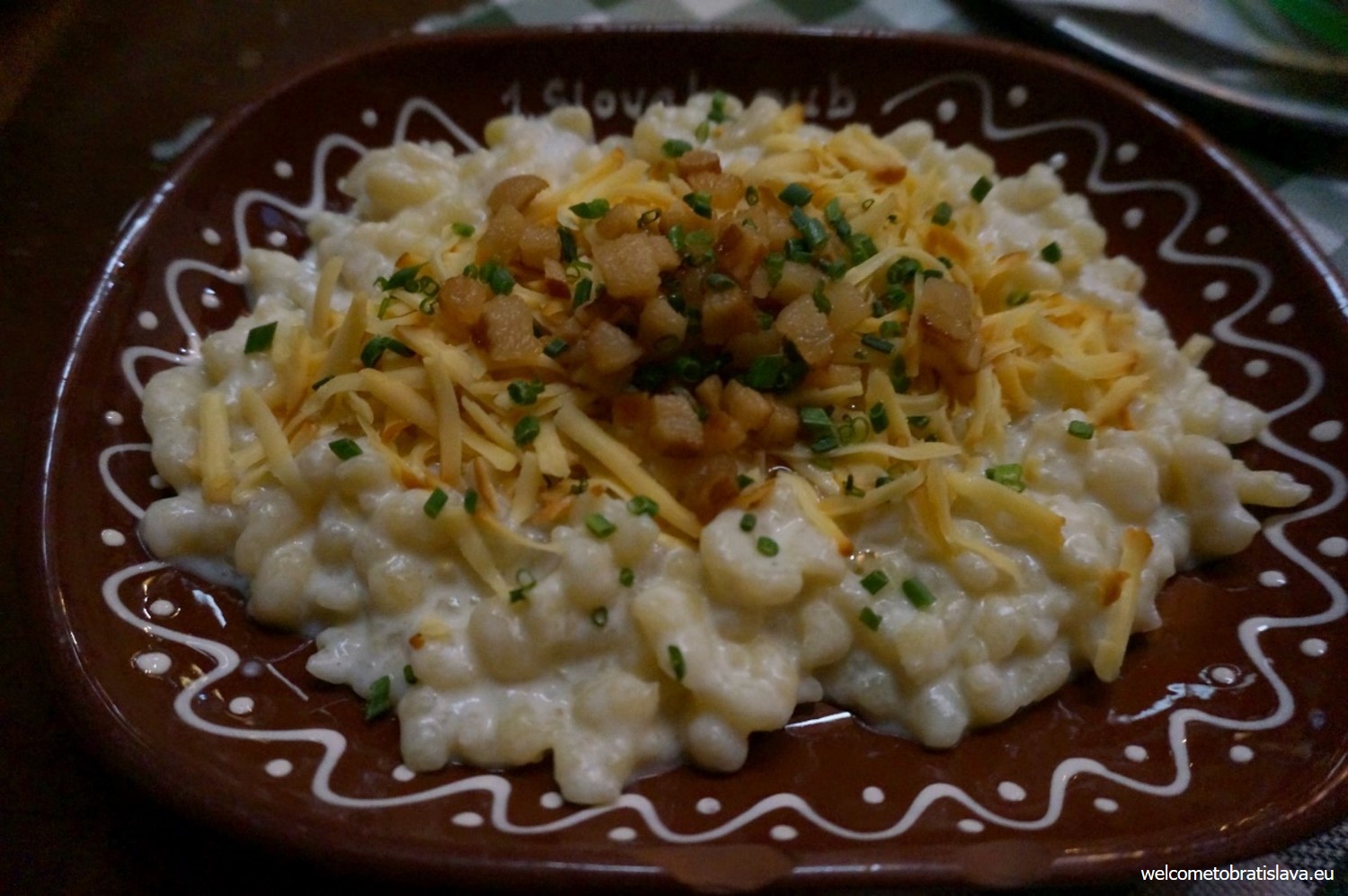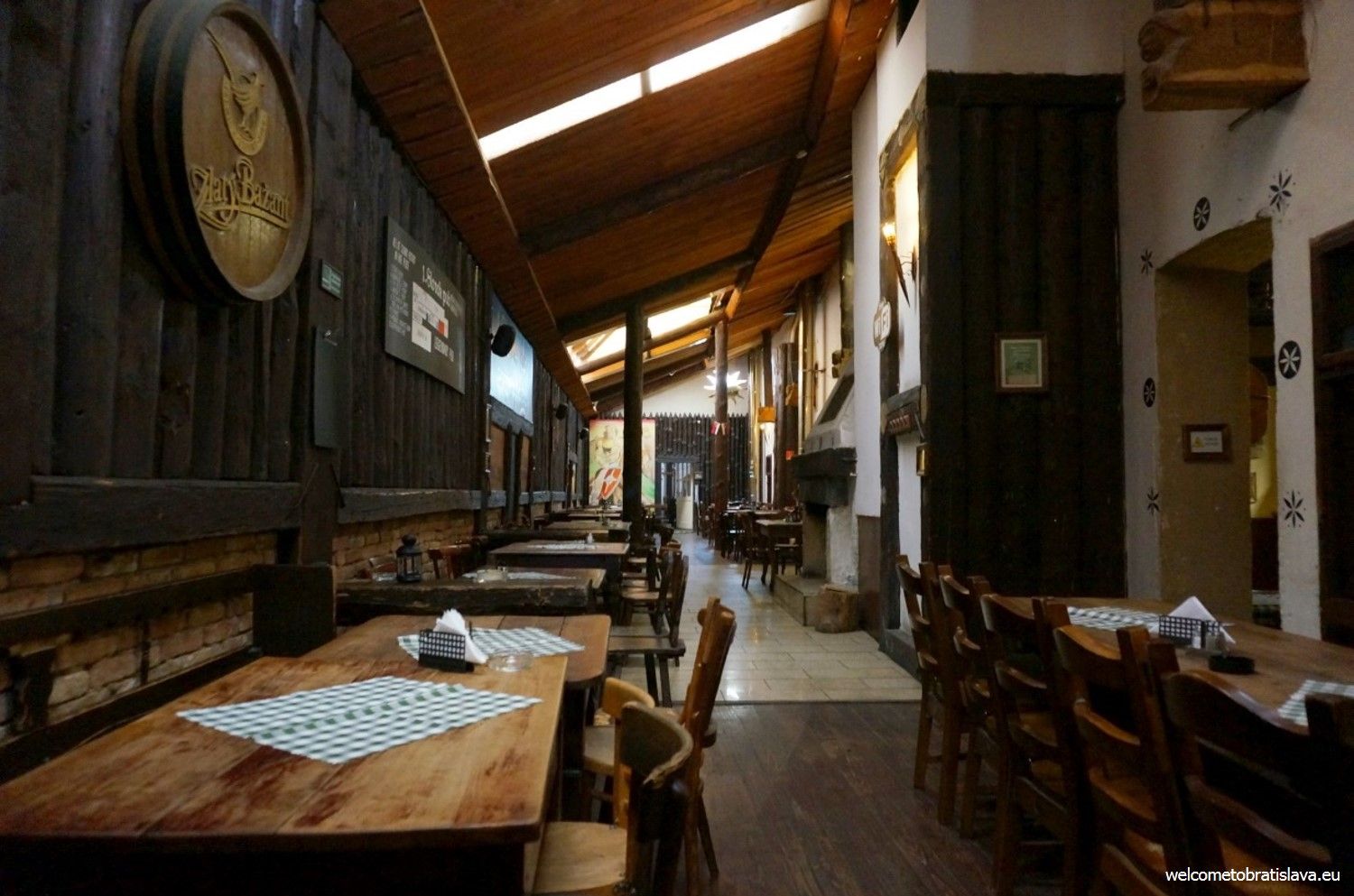 PRICE: 5,50 € – 6,20 €
ADDRESS: Obchodna 62
More info
FLAG SHIP: 8 Points
The same story like with the Slovak pub – they have the same owner. You either like it or hate it. According to the points we gave this place, you can guess what is our case 🙂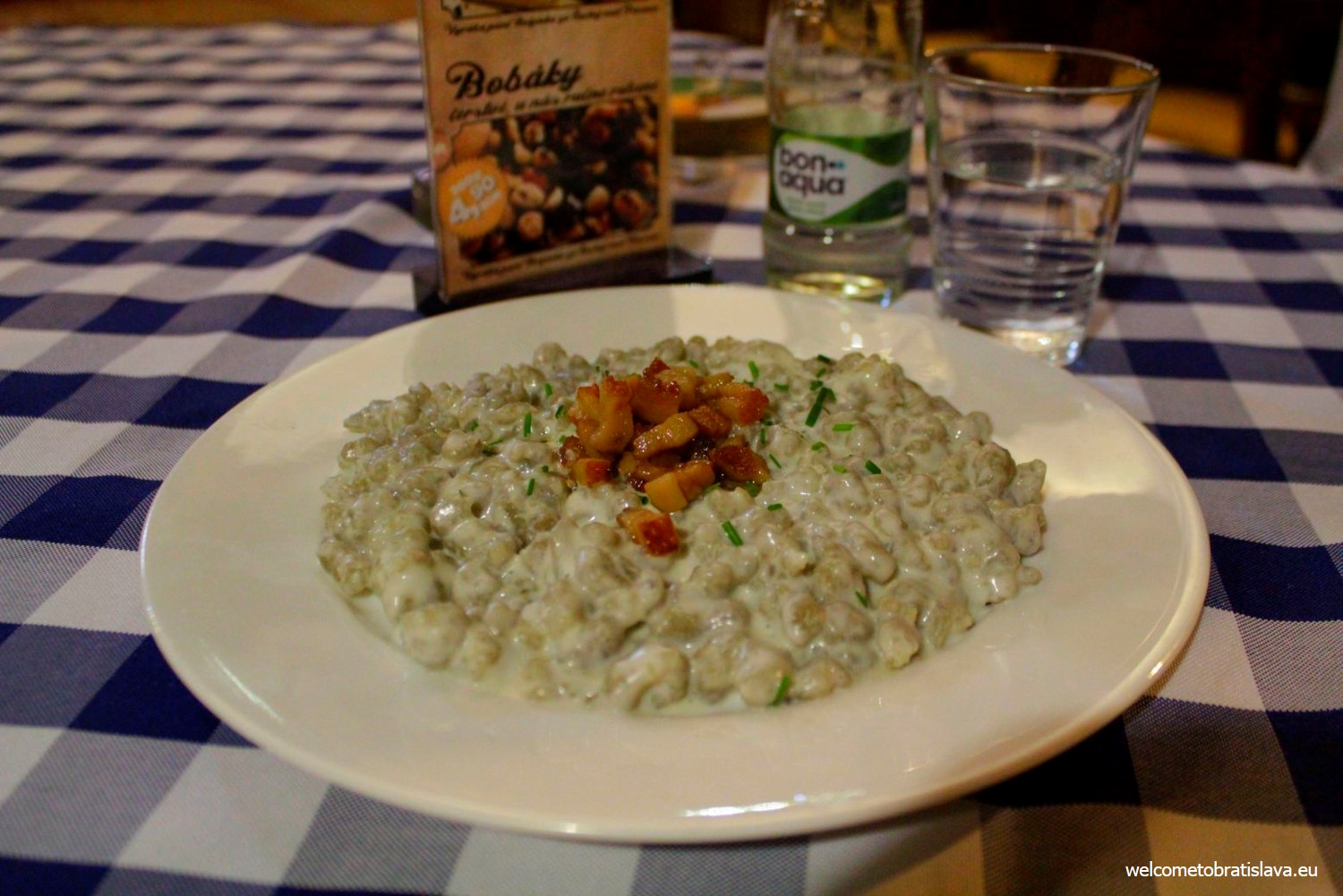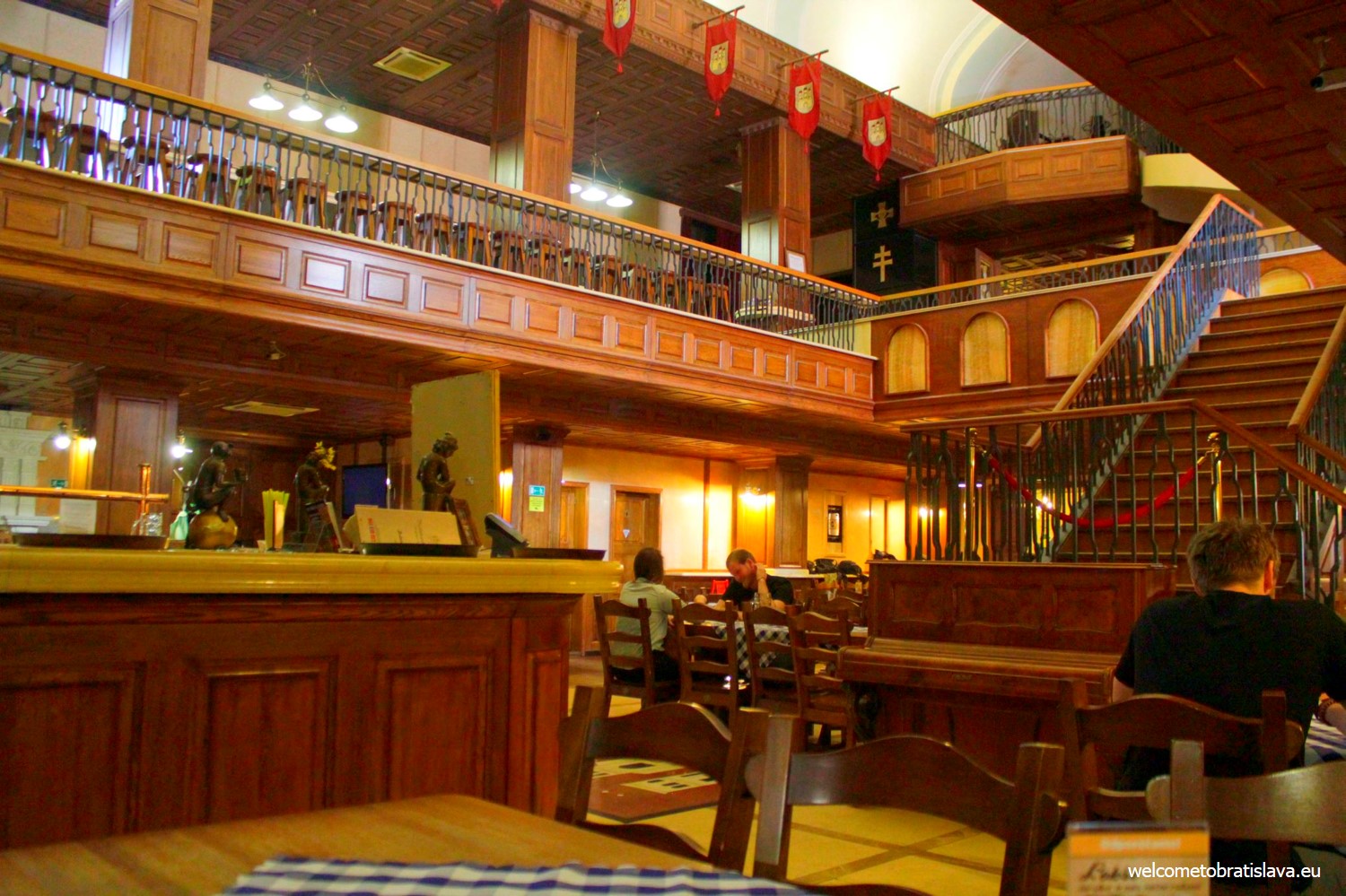 PRICE: 5,90 € – 6,50 €
ADDRESS: Namestie SNP c. 8
More info
KOLIBA KAMZIK: 8 Points
We were quite curious about this fairly new restaurant offering traditional Slovak cuisine in the Old Town. Luckily we were not dissapointed! The main question remains – did we enjoy halusky here? Definitely! Would we come back and have them again? The answer is yes. The only criticism we have is that there was not enough bacon. The extra bonus with yummy halusky is a nice ambiance and combination of traditional Slovak and mountain cottage style of the interior.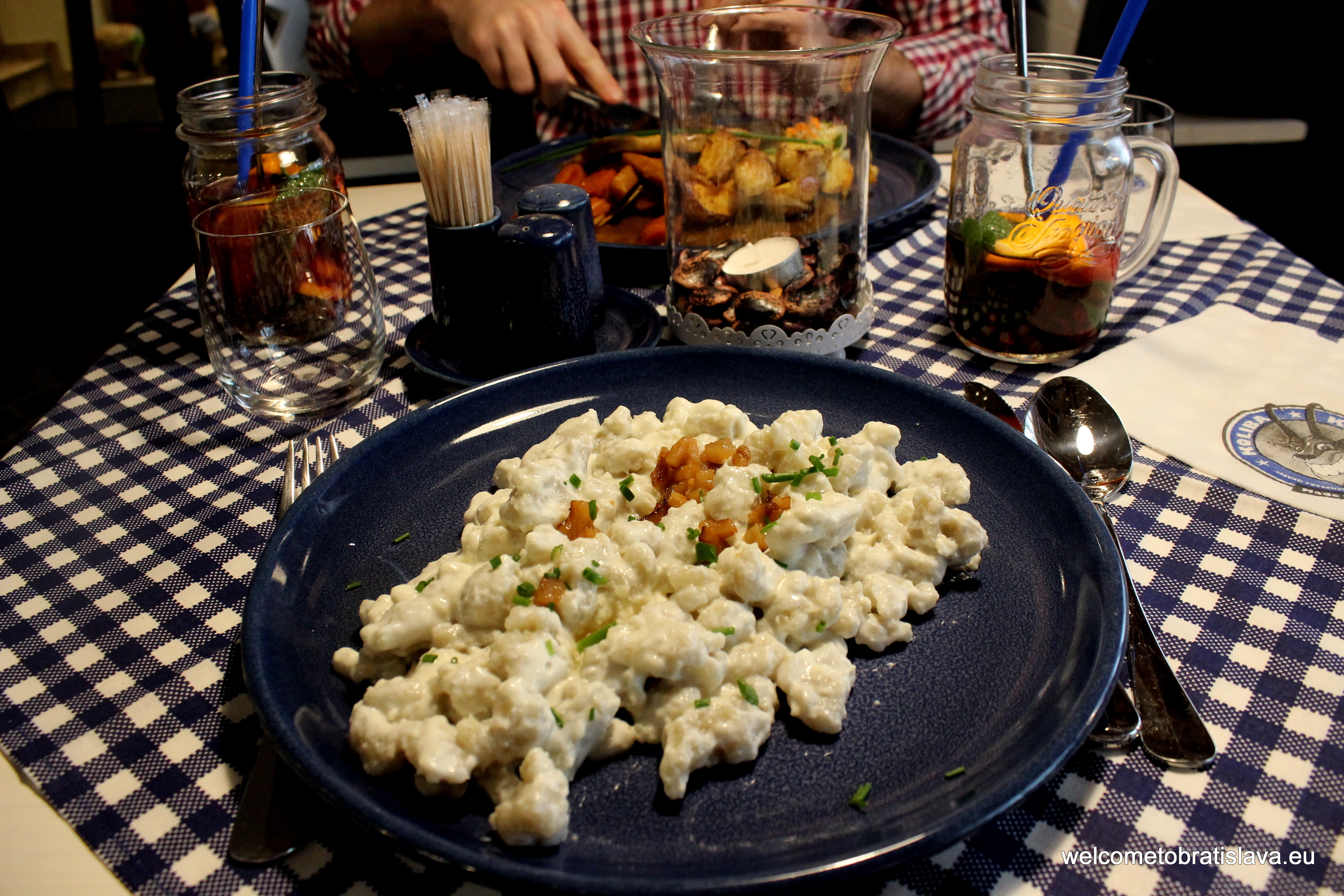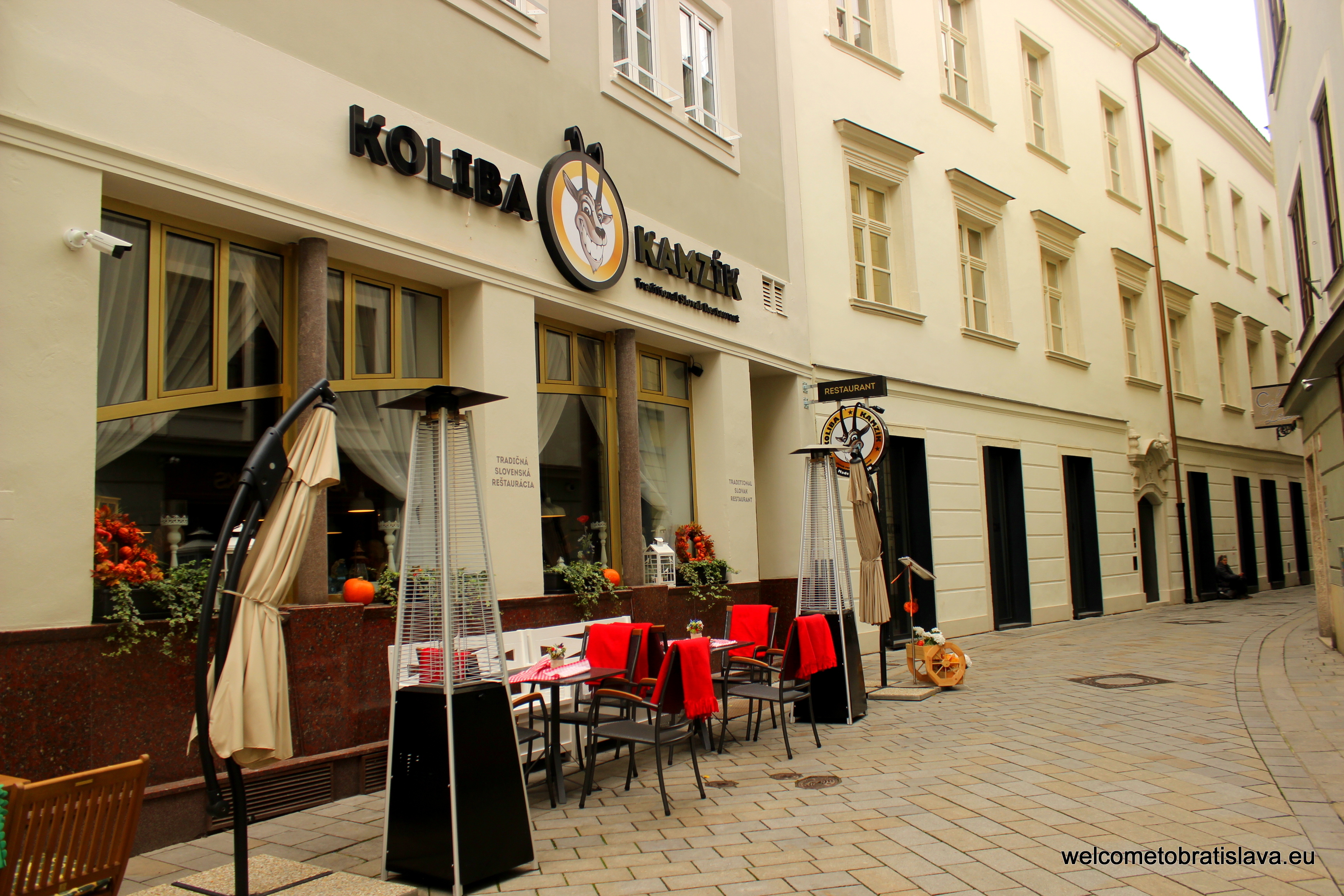 PRICE: 7,90 €
ADDRESS: Zelena 5
Facebook
BOKOVKA: 8 points
We like to think of this home-style restaurant in the heart of Ružinov as an ideal moniker for a place that offers familiar pub-vibes and homespun cuisine in a glamped-up setting with plenty to offer everyone. It's menu can be described as comely platings of comforting beige cuisine that – on the surface – register as slightly more presented versions of favorite Slovak childhood meals. We really enjoyed the halušky here – they had so much bacon that it covered up for all the minuses:D But honestly, the dough and bryndza were also quite good!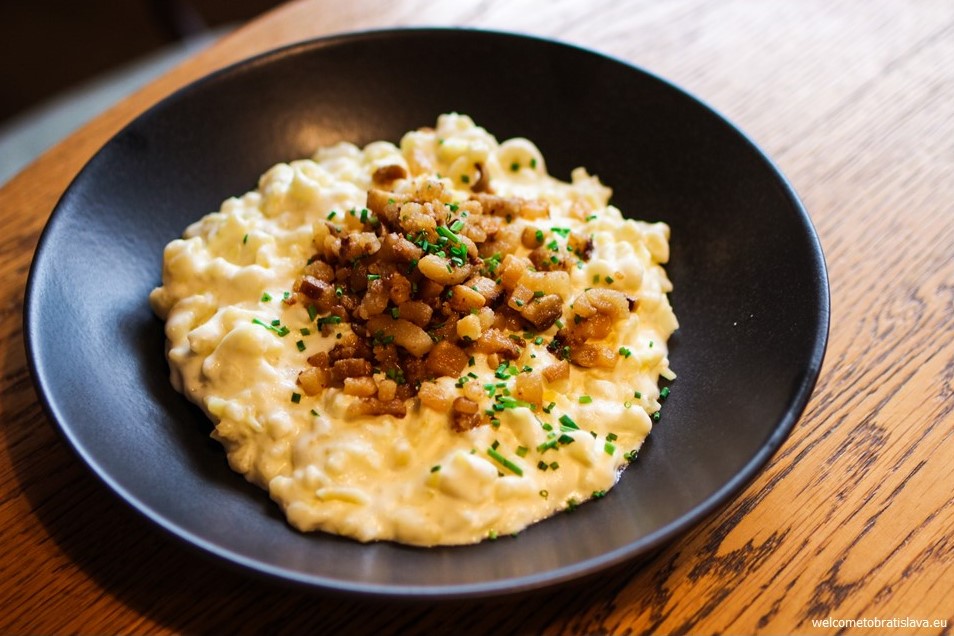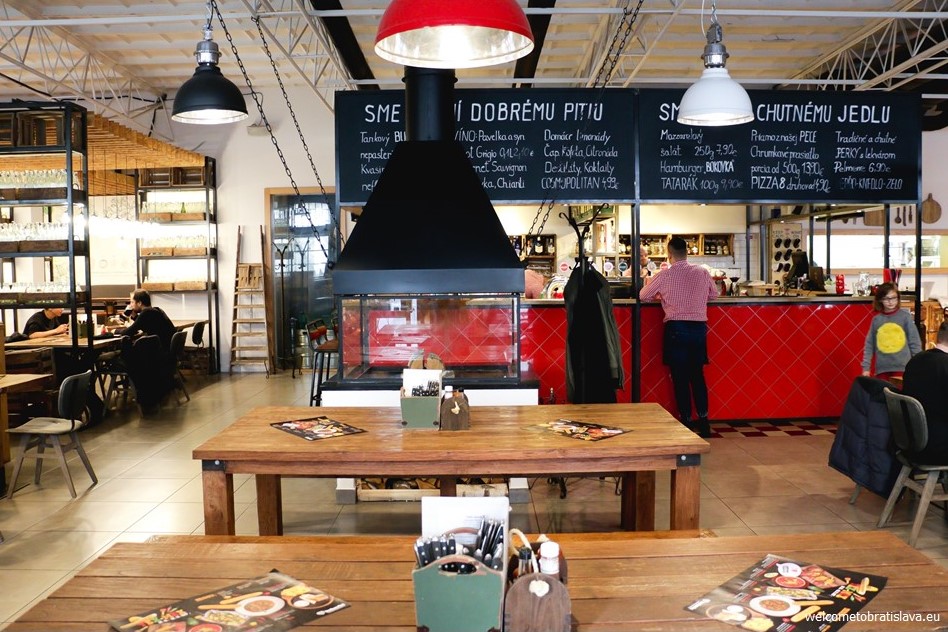 PRICE: 5.90 €
ADDRESS: Sabinovska 7
More info
VENTURSKA KLUBOVNA: 7 Points
Venturska Klubovna is a place you want to visit if you like beer – they have something like sixteen kinds of beer here and the list of accompanying meals is endless! Despite they did not convince us with some of their meals, we enjoyed their halusky pretty much. A good balance between the cheese and dough, not too much of anything, good seasoning. We would have the meal there again.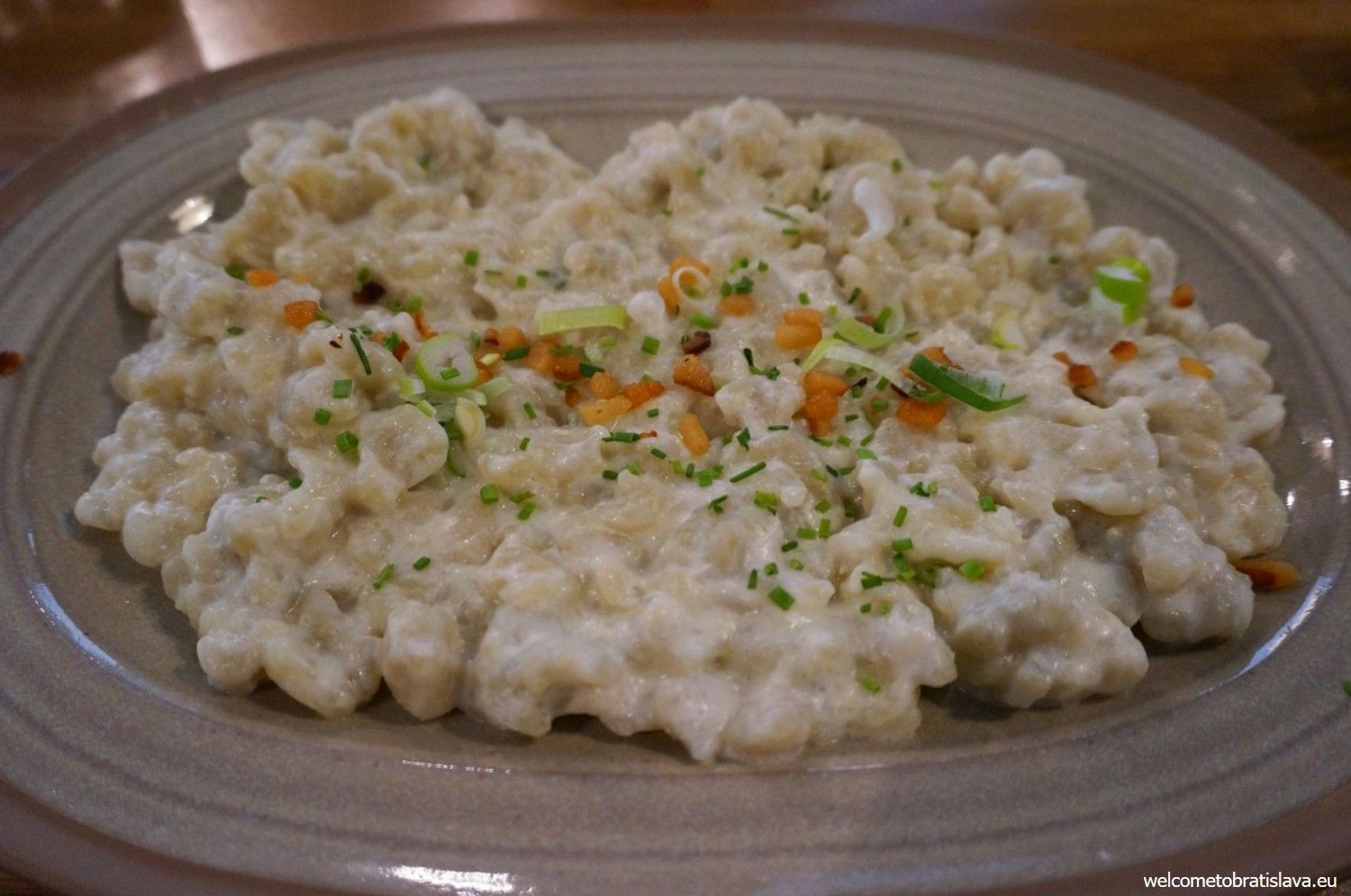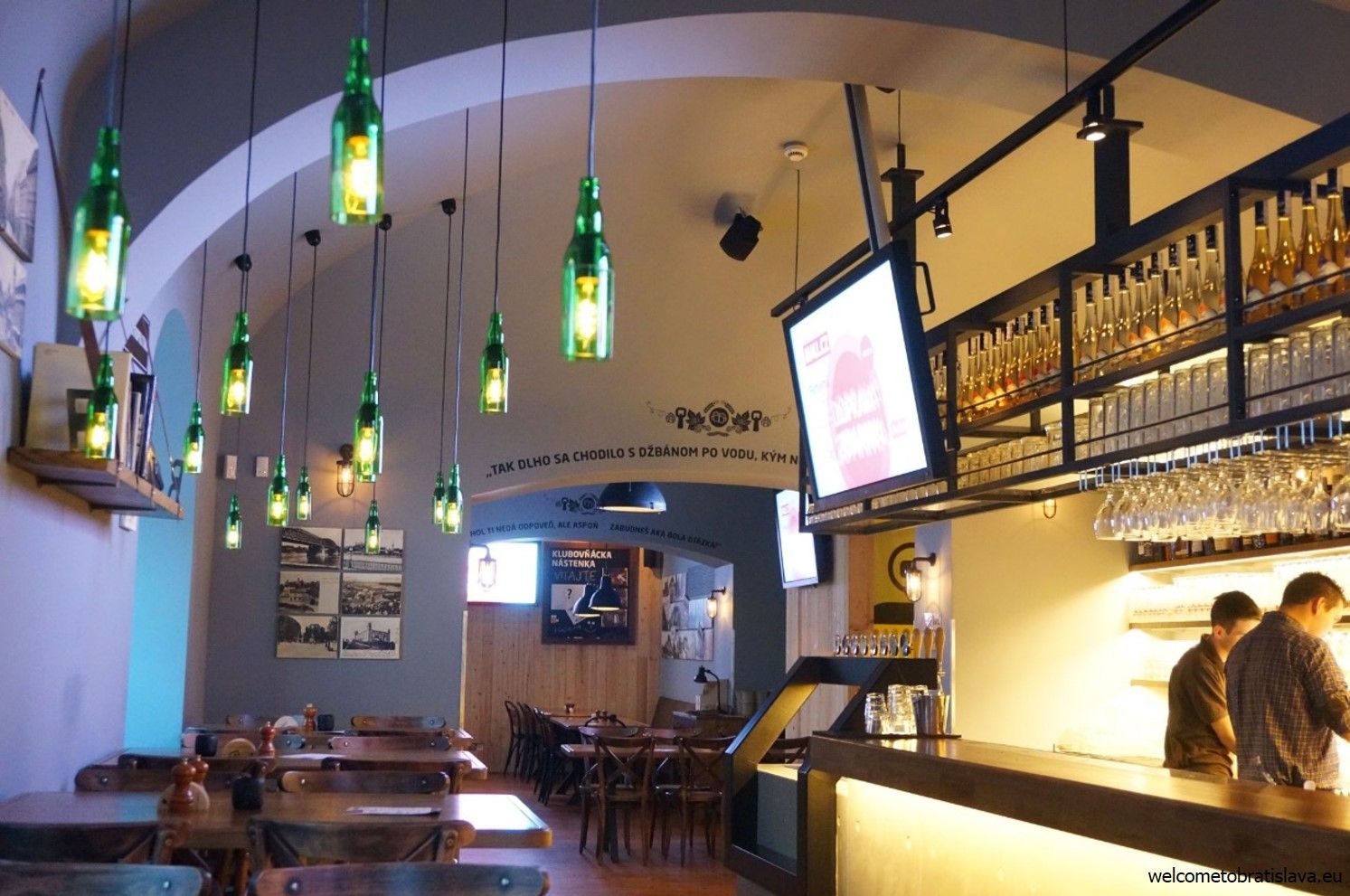 PRICE: 7,29 € – 8,39 €
ADDRESS: Venturska 1
More info
PRASNA BASTA: 7 Points
One type of "bryndzove halusky" here only – with bacon. Pretty enough, you would expect it must be something, given this place is known by locals as well as expats living in Bratislava. We would say they would be almost perfect if there was a little bit more of "bryndza" – the sheep cheese, the main ingredient. The texture of the "gnocchi" is very good and the bacon tastes heavenly, and you will enjoy your meal – we just wish they put some more cheese in it.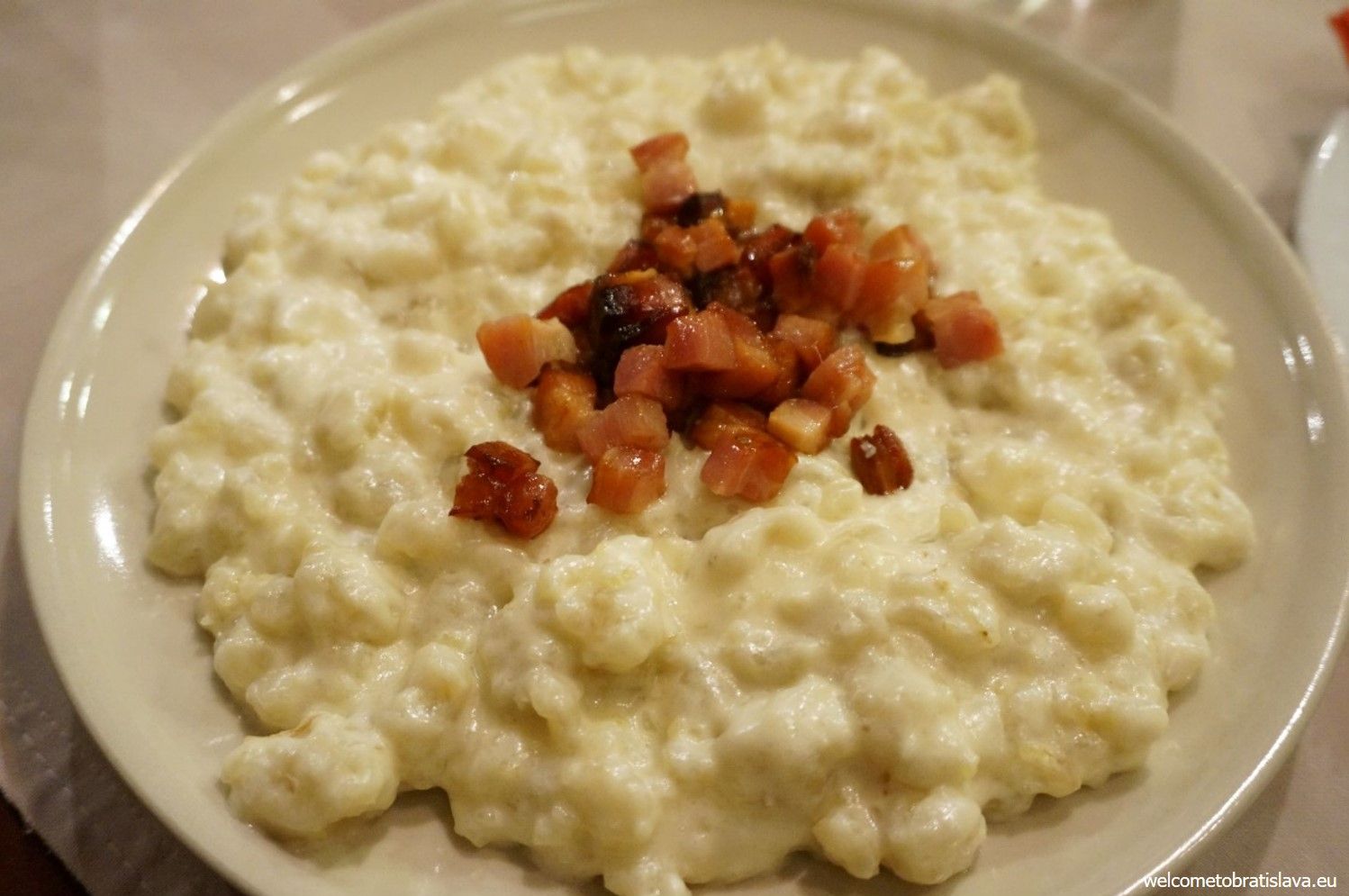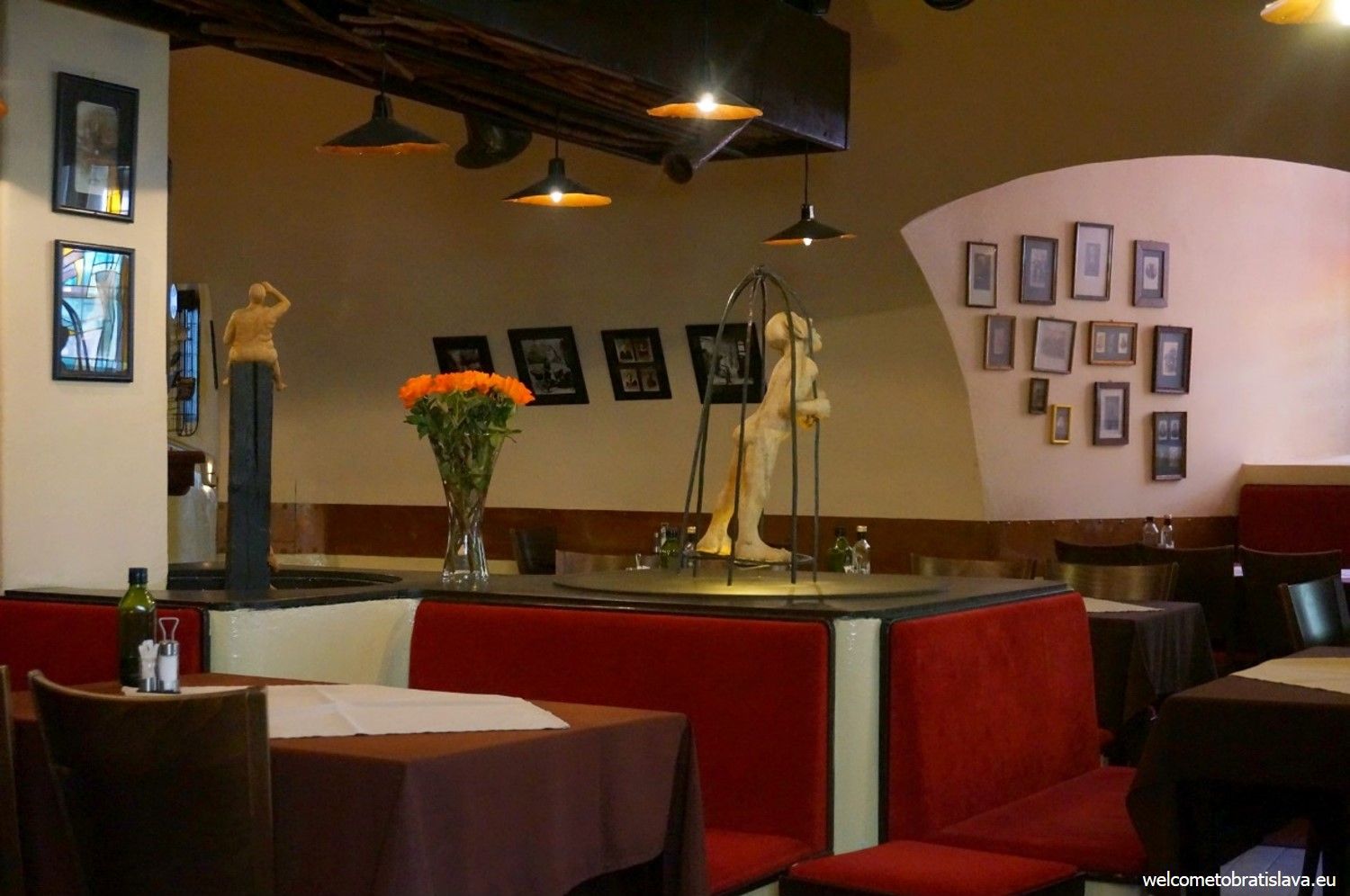 PRICE: 8,50 €
ADDRESS: Zamocnicka 11
Facebook
SCHOPPA: 7 points
A very similar case to the previous one. The texture of gnocchi was good, the bacon crispy just well and the sausage was tasty, too. But we lacked cheese in the dish.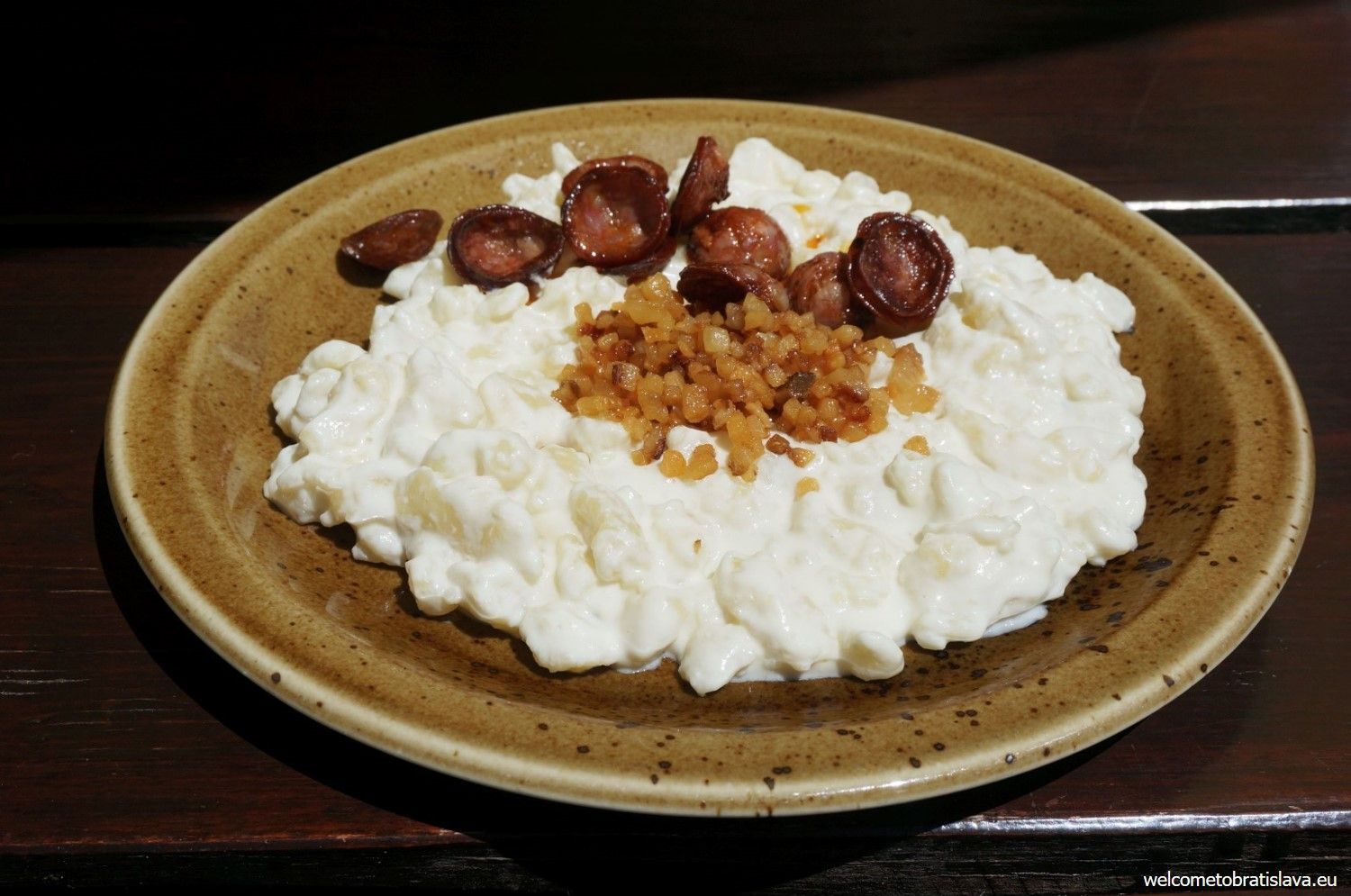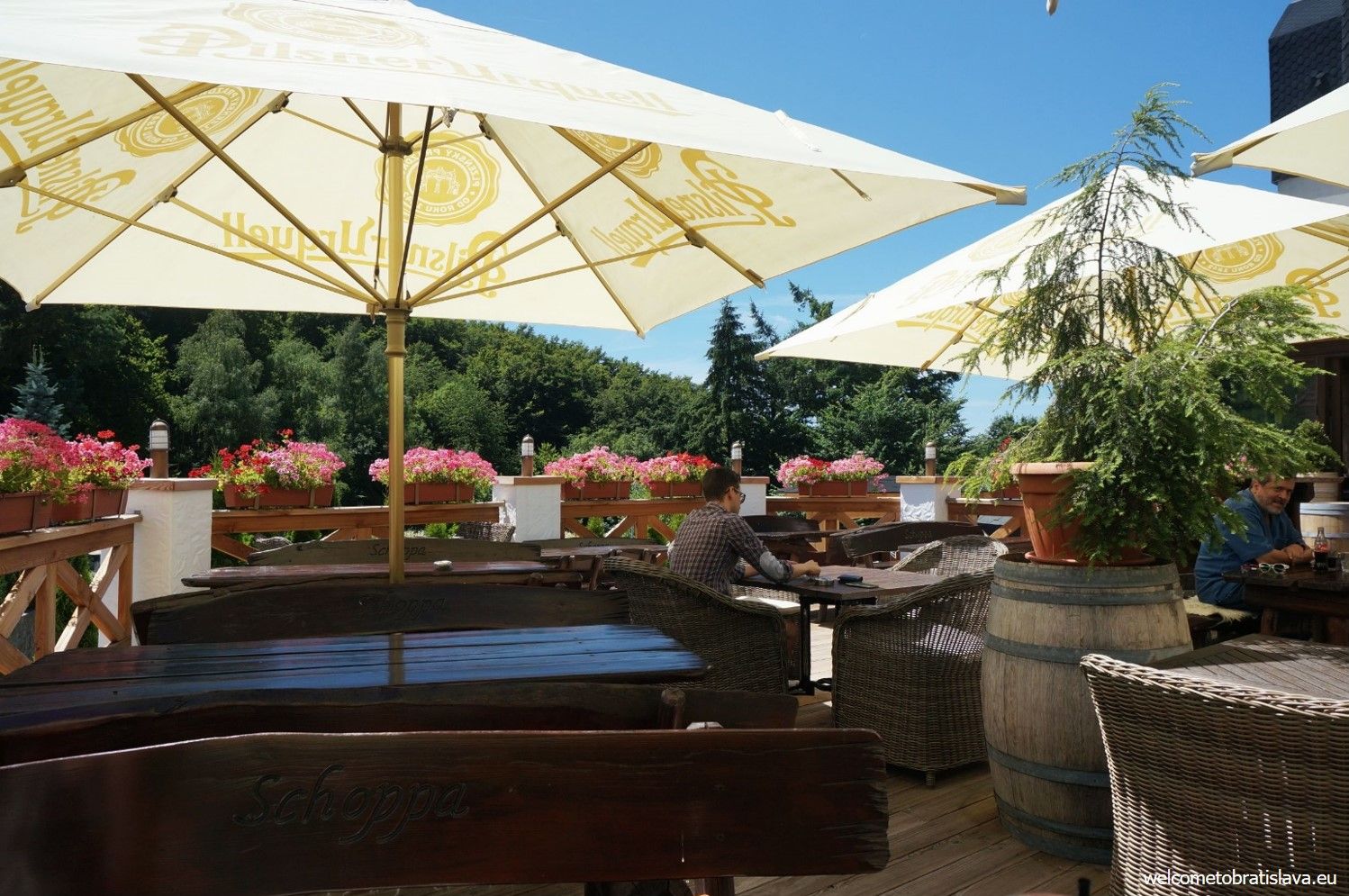 PRICE: 7,50 €
ADDRESS: Brectanova 4/B
Website
ZYLINDER: 6 Points
One of our favorite restaurants where we have always loved what we tasted – until we got to try their version of halusky. You can like it but can't love it. We mean there won't be that "this is it" thing. It just will be OK. And that is not what we are used to in Zylinder. Probably will give it a few more tries because we really like that place and just want to believe their cook had a bad day when we ate in.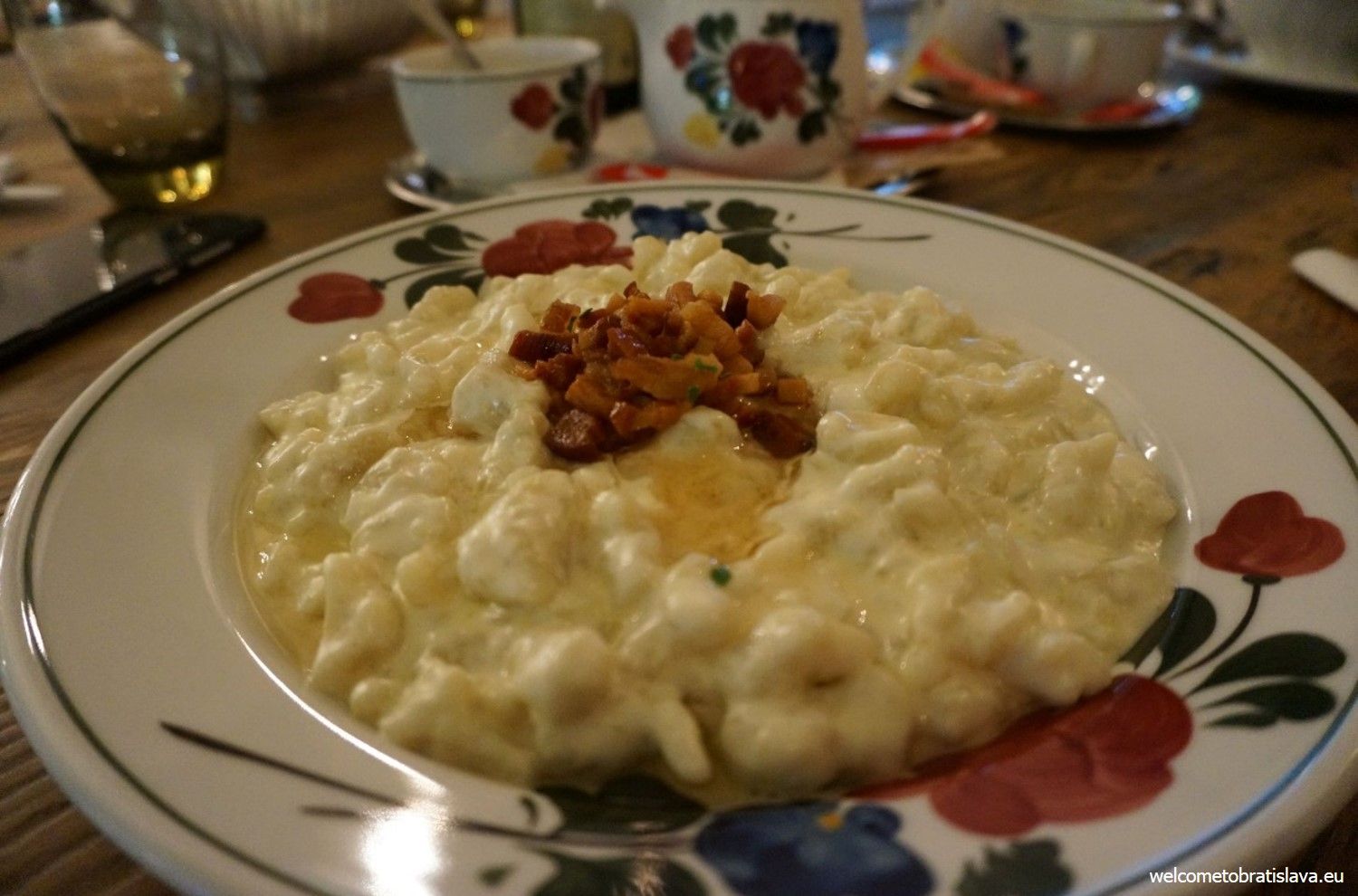 PRICE: 7,90 €
ADDRESS: Hviezdoslavovo námestie 19
More info
SLADOVNA: 6 points
If you want to try our traditional meal in Sladovna, we would say OK but don't expect it is going to be the best version. What we liked the most about it was the bacon 🙂 The dough – gnocchi – was well done, but the sauce was lacking bryndza – the main ingredient. Tasted too watery to us.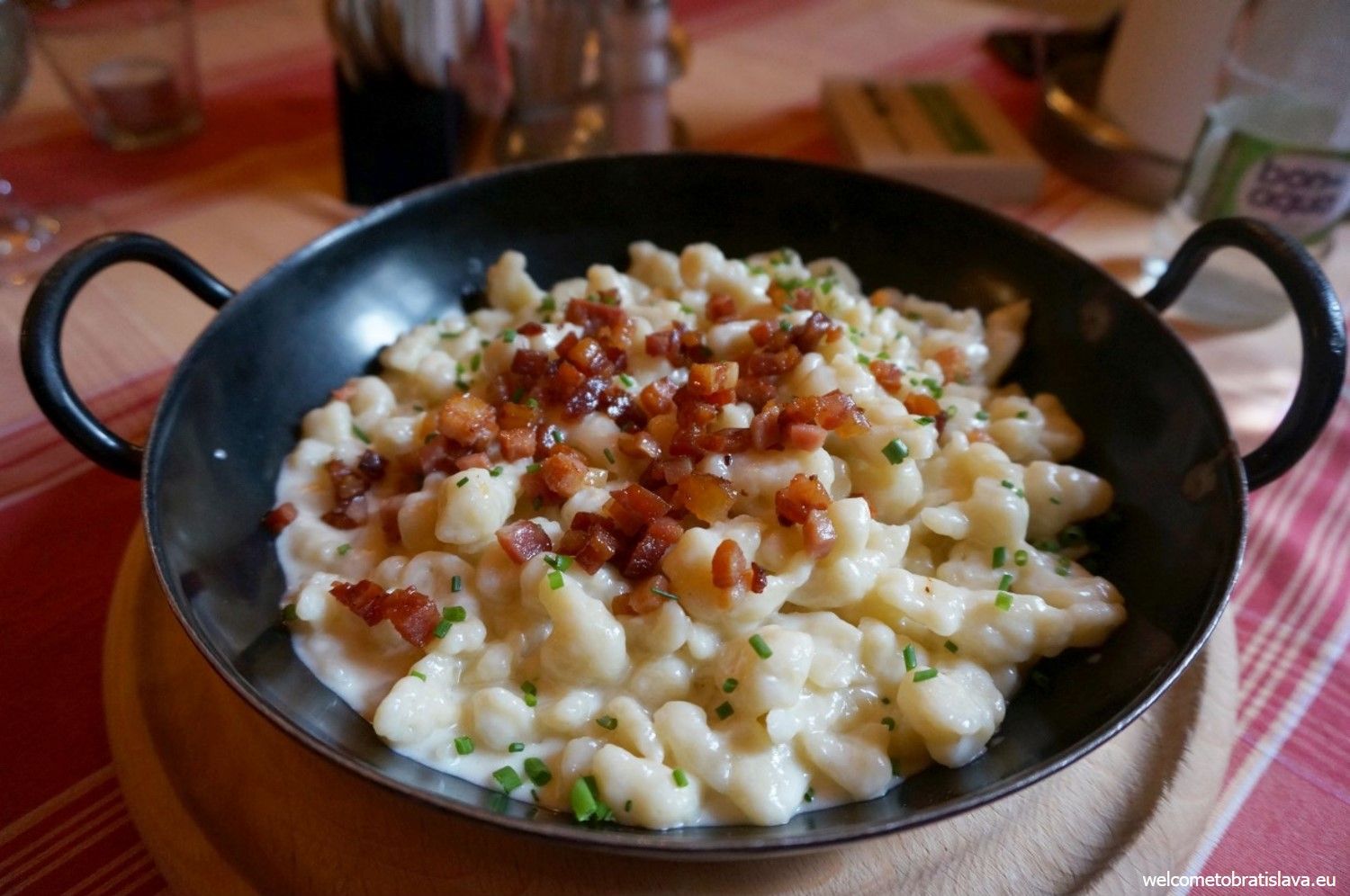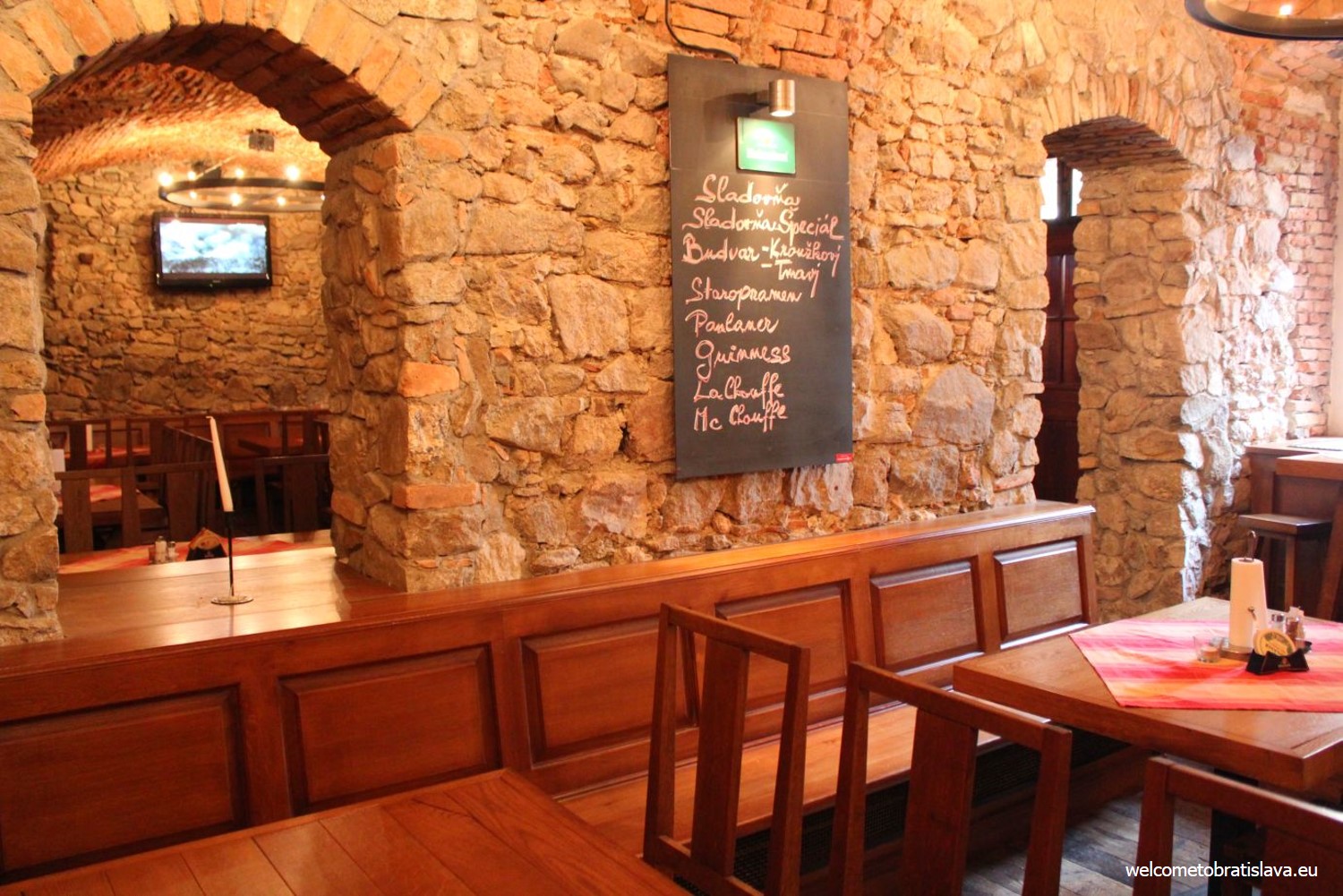 PRICE: 7,70 €
ADDRESS: Venturska 5
More info
MESTIANSKY PIVOVAR: 5 Points
One of our disappointments as we truly like this place and so far have never had a bad experience with their food. Everything in Mestiansky pivovar on Dunajska street is really tasty – except halusky. Even though we finished the dish, we can't say we enjoyed it. Would not have it here anymore.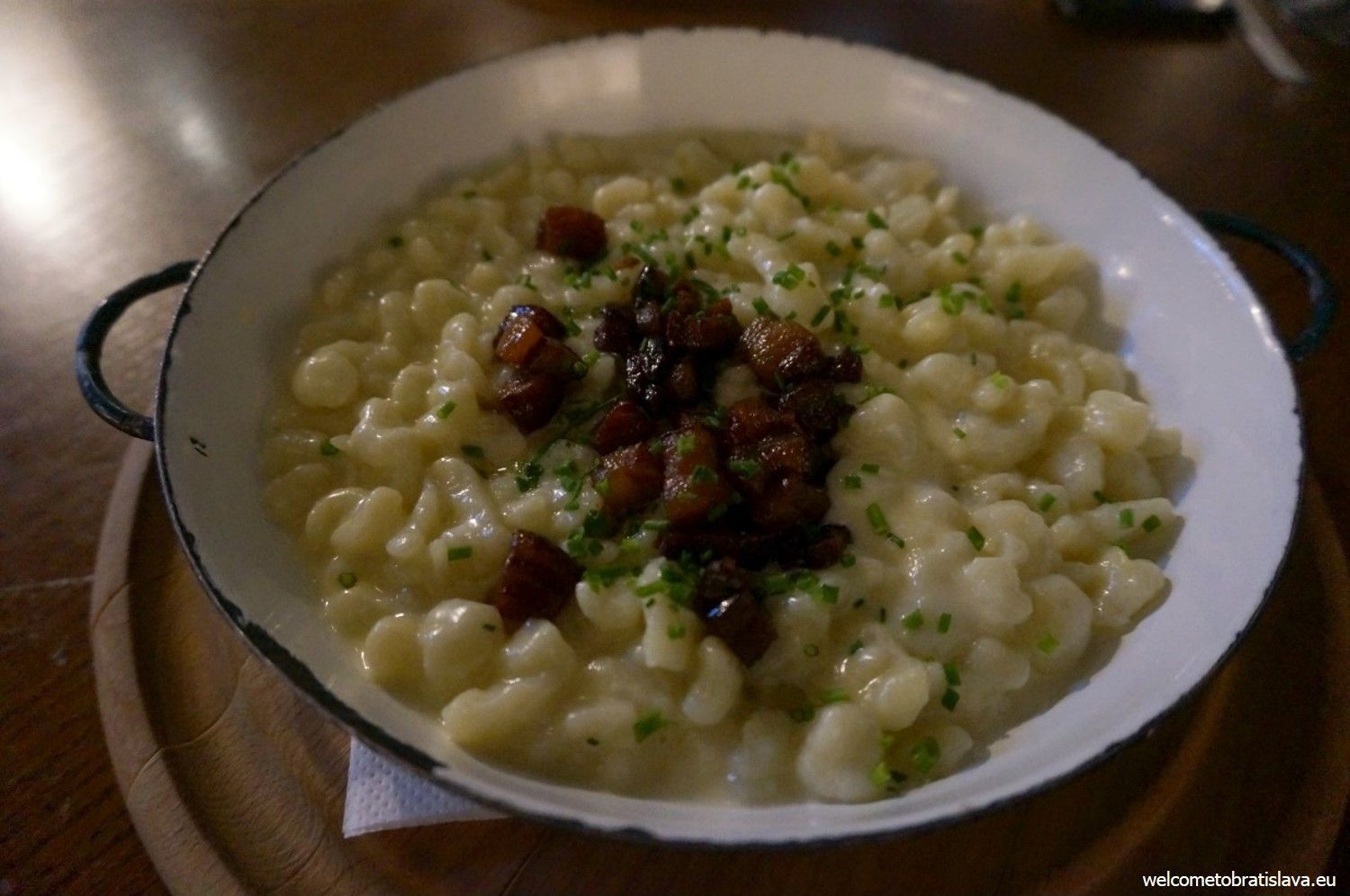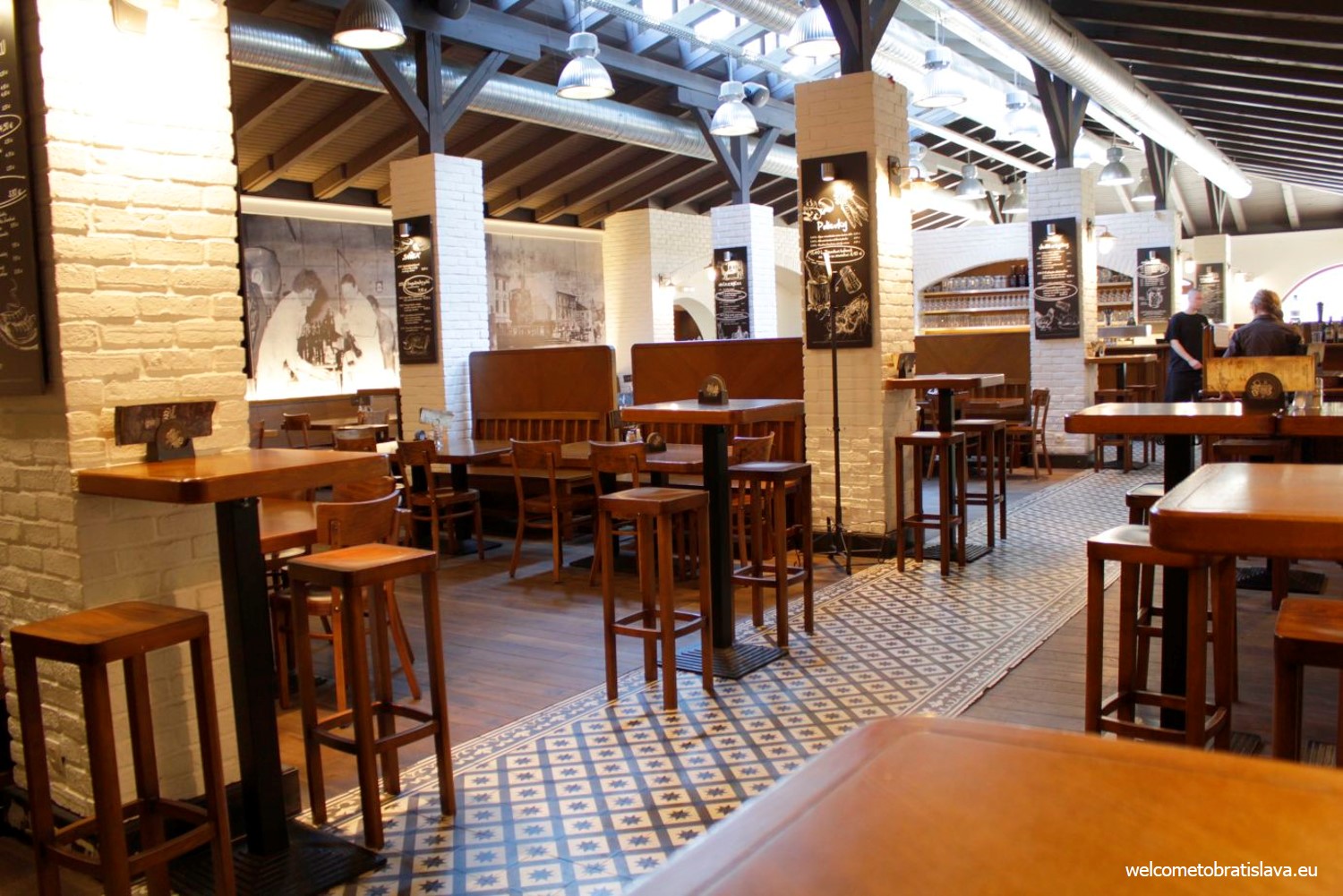 PRICE: 7,50 €
ADDRESS: Dunajska 21
More info
U PRIEVOZNIKA: 3 Points
After hearing about this place and receiving some recommendations specifically for halusky here, we decided not to mind the travelling to the area it is located at (not easy to find and out of center). Just for the sake of having THE best halusky we were hoping to finally taste in Bratislava. It did not happen. At all. The only good impression was when the waitress brought the plate – a big portion of halusky and a lot of bacon on the top. It looked yummy. After having the first try, however, we thought we were eating potato dough mixed with "karicka" – which is a Slovak spreadable cheese – nothing like bryndza. No, thank you. Not coming back to this place. Like ever. Period.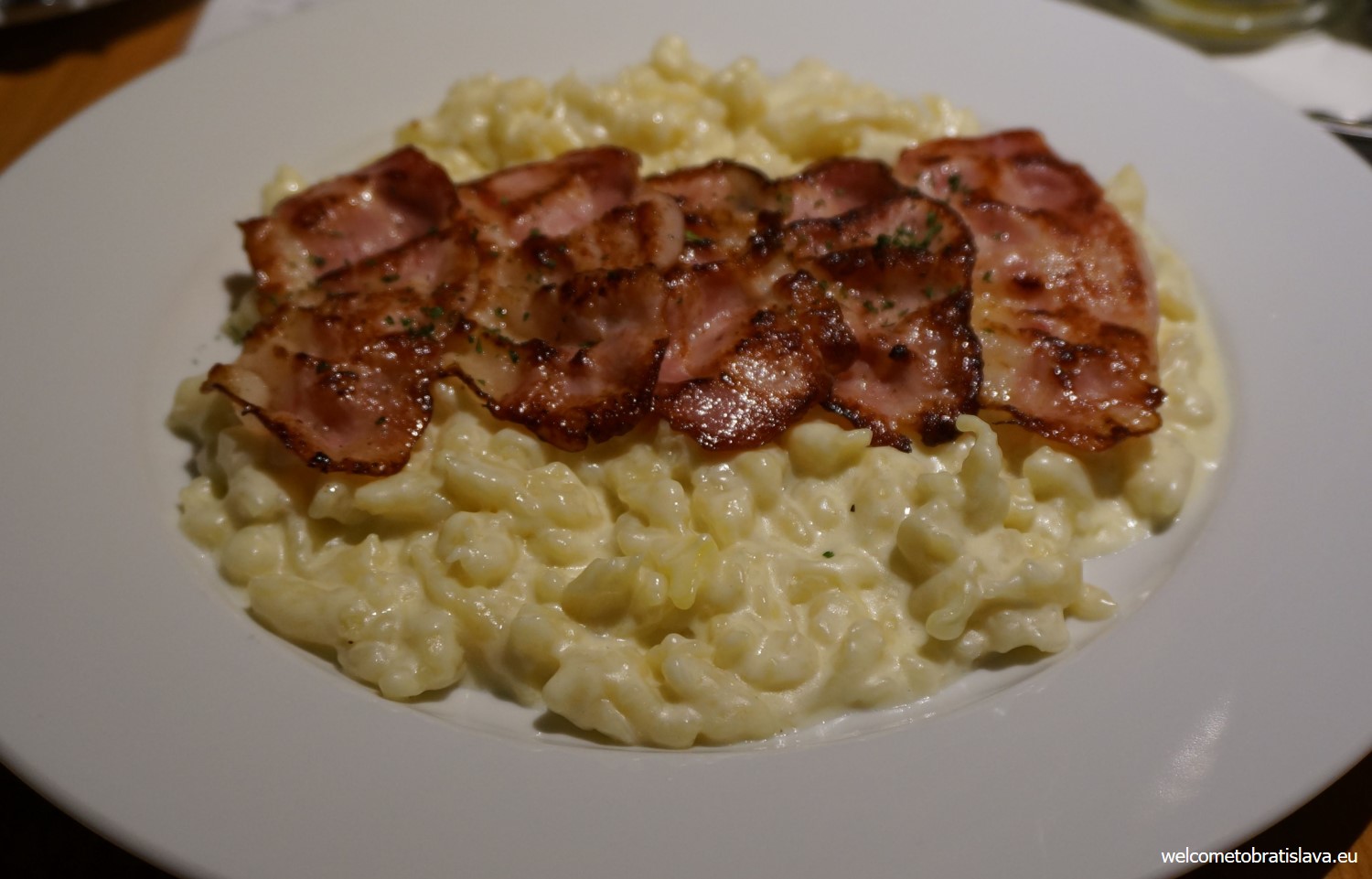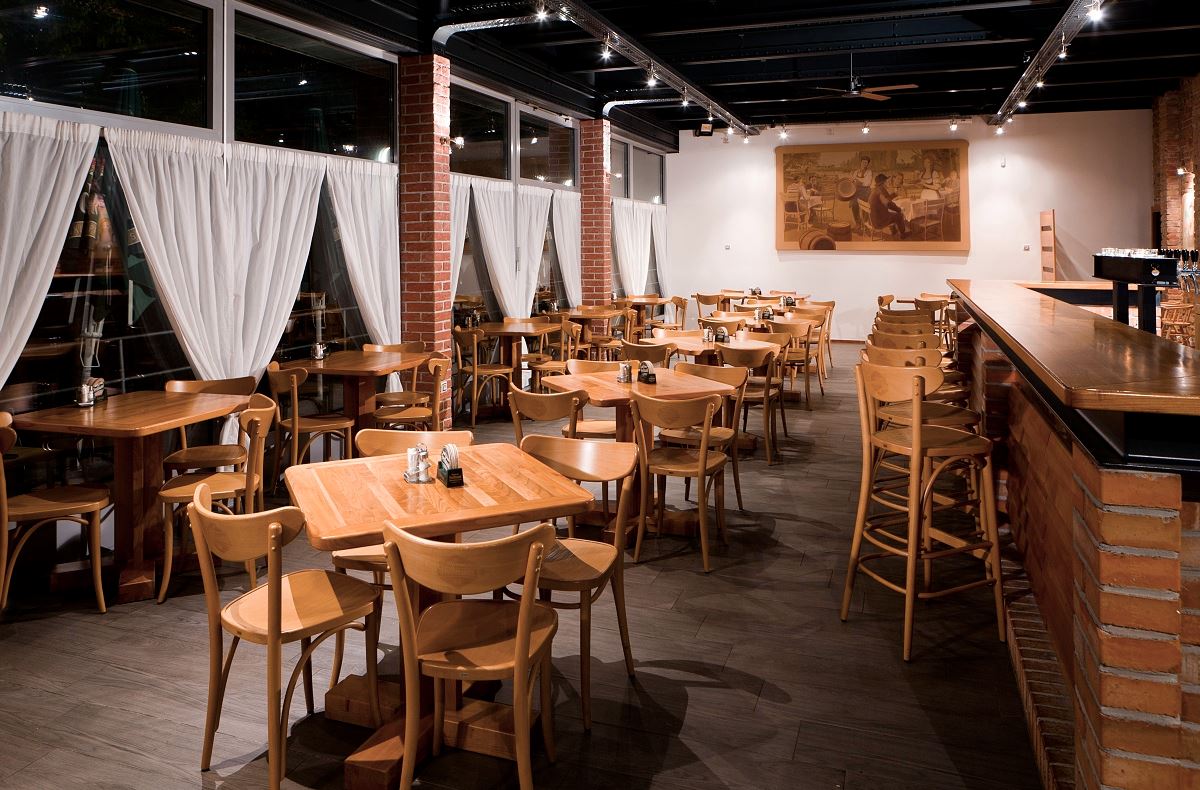 (source)
PRICE: 5,75 €
ADDRESS: Mierova 85
Facebook
VERNE: 0 – 4 Points
In the worst dreams could we not imagine that somebody could do THIS to our national meal. Especially not in a restaurant we really really really like to dine at and had not had a bad experience until that one evening. Our biggest disappointment of all. Just look at the first picture. It took us one try of the meal which looked unattractive already to come to one conclusion: we promised ourselves to never in our lives order halusky in Verne again.
We actually broke our promise after some time, in order to give them a second chance. And we were happy to see they had improved! The halušky still tasted powdery and not salty enough and they lacked enough bryndza to have the distinctive taste they should, but at least it was not a plate full of a watery sauce. Check out the second picture. That's why we gave them the score 0-4: what if the cook had only a better day?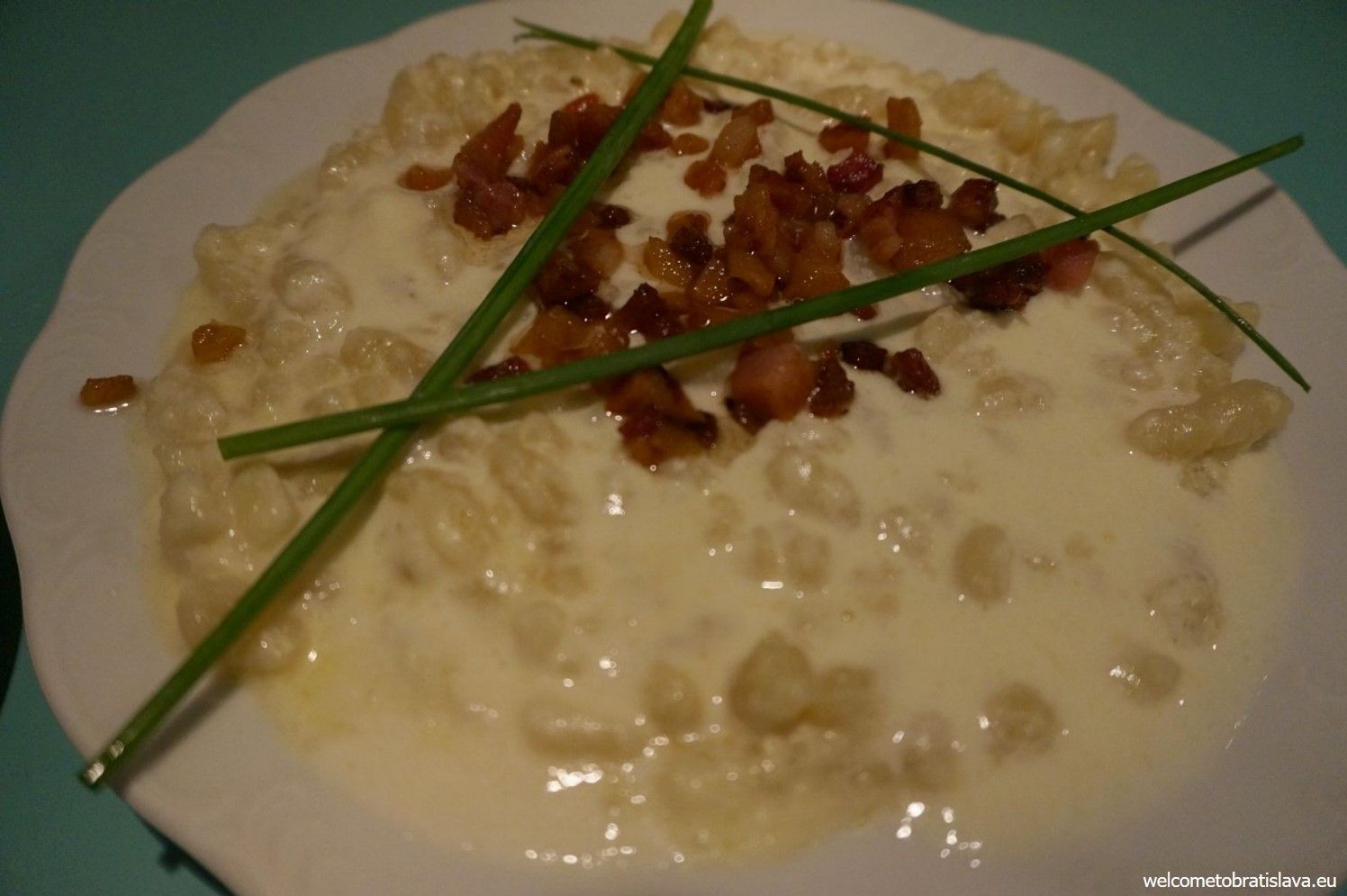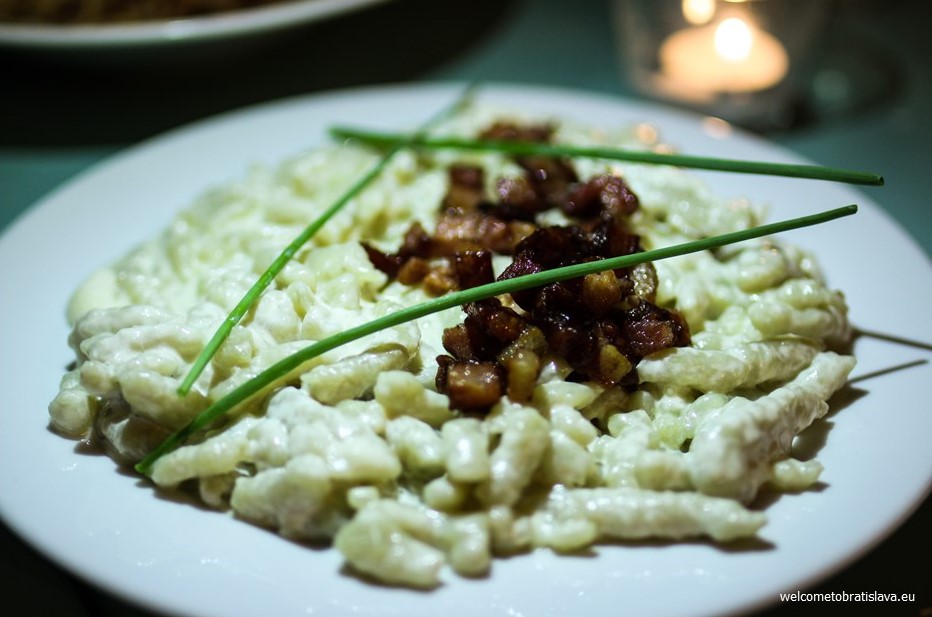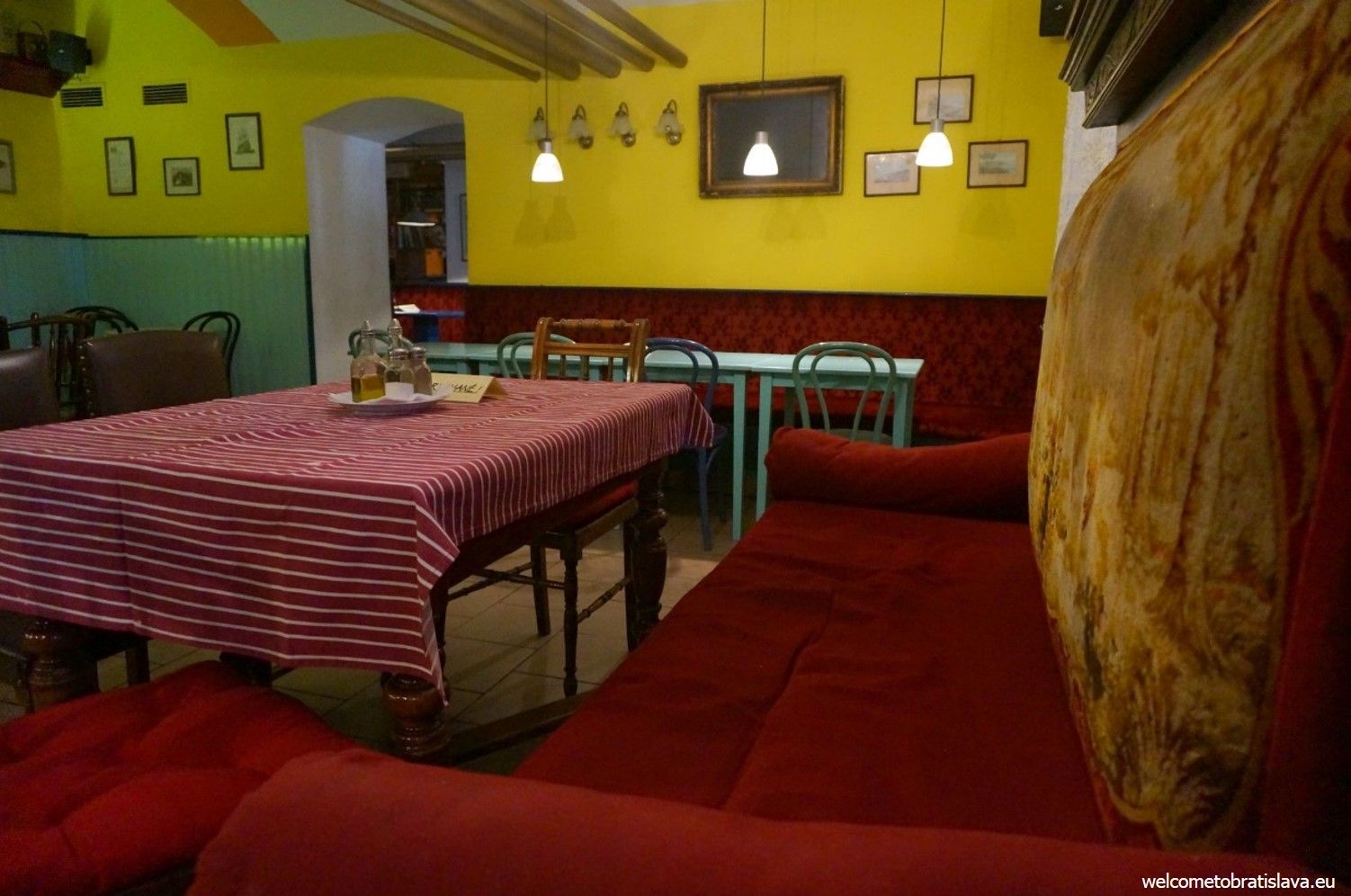 PRICE: 5,29 €
ADDRESS: Hviezdoslavovo námestie 18
More info
What is your experience with this dish? Where did you try halusky and how did you like it? Let us know in the comments 🙂
Author: Maria Kecsoova