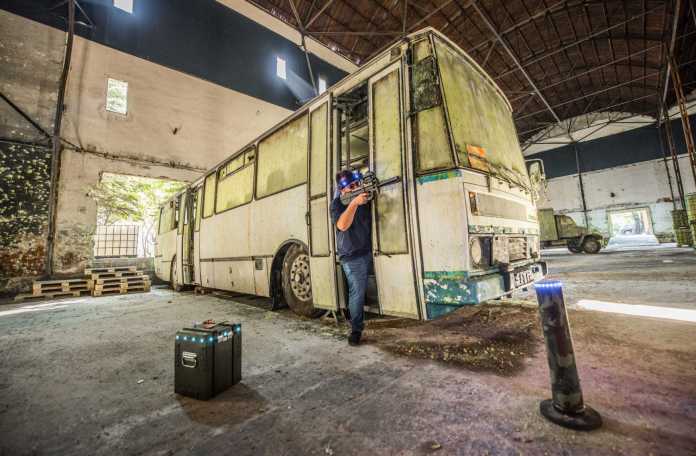 Your heart is racing, pupils dilated, trying to catch your breath. You are crawling along a dilapidated wall, skulking, about to jump behind some barrels for cover. Everything's still, you hear footsteps in the distance. You're trying to focus, squinting, recognizing motion in the mist.
You hesitate whether to stay there and wait or to hunt somebody down. Then, suddenly "MAN DOWN, MAN DOWN" resonates in your ears as you realize that you have been attacked from behind, not anticipating that at all. Your inattentiveness has just cost you a life. That bloodthirsty scoundrel got you, shake it off. Run to your base, reload and off you go again, seeking revenge.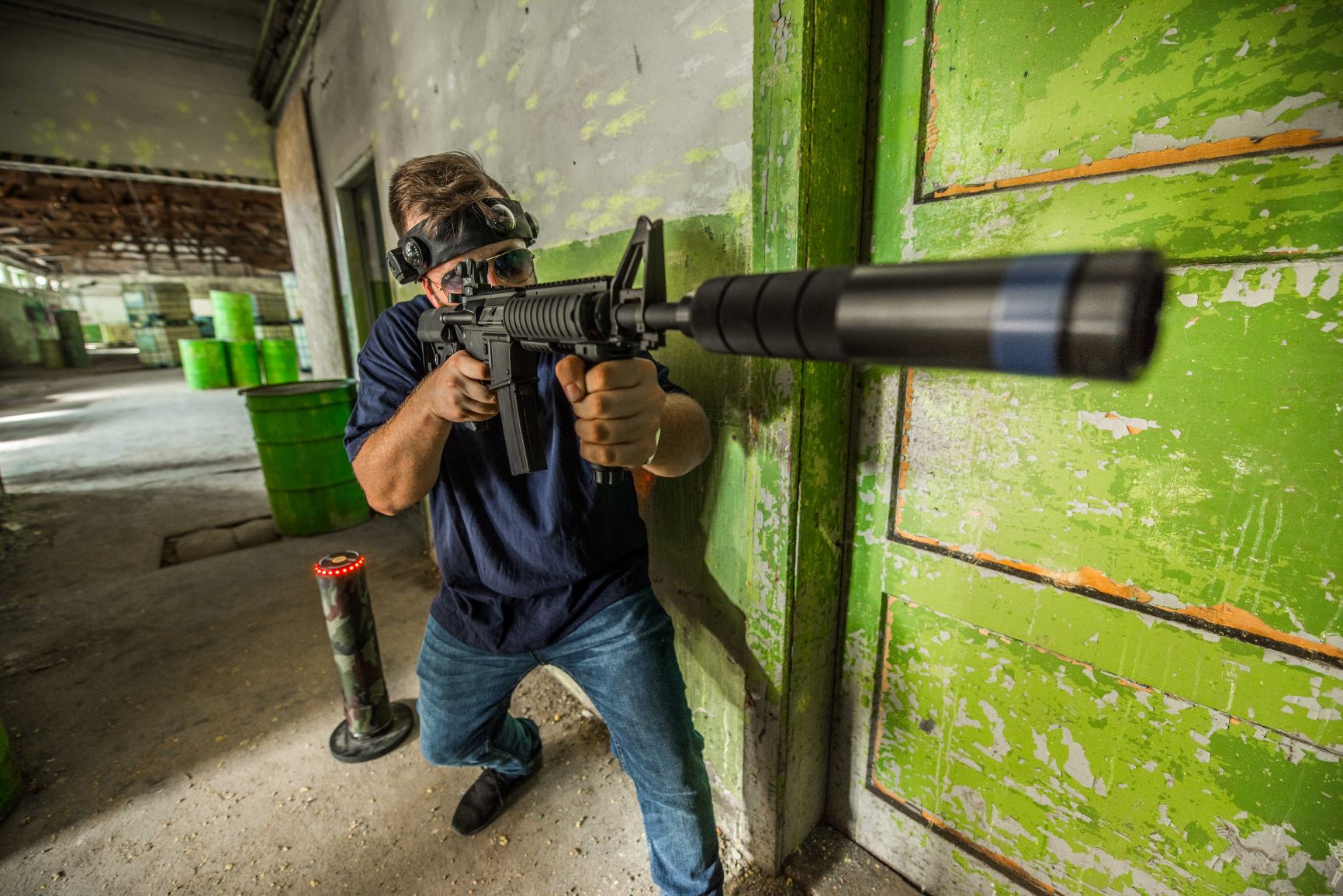 In a nutshell, this is what the laser tag section of the menu here at the Hero Factory tastes like. Should you want to find out more, duck and stay vigilant as you scroll down.
LOCATION
You can get to the Hero Factory by car as well as by public transport. The not-so-frequent lines 51 and 58 have their stops here, as well as tram nr. 4. The desired stop is Odborárska. It is not even a 10-minute walk from shopping mall Polus City Center. Look for the boom gate with a sign "ISTROCHEM". This is where you can park your car – on the parking lot in front of the gate. Enter and walk straight for around 200 m, past the first building, until you see two large yellow shipping containers (toilets and changing rooms – nice touch!) and military vehicles. Can't miss it. Call the guys you had previously arranged the reservation with.

(source: Hero Factory Facebook)
WHY IS HERO FACTORY SPECIAL 
The games take place on an area of  impressive 15 500 m2 altogether (indoor and outdoor playgrounds) and are played in military looking combat zones. You can choose from a variety of action scenarios from the game ranking system.
The offer is quite generous. Do you prefer guns and want your opponents to really feel the pain? Try paintball and airsoft. Are you a traditionalist? There's archery. Do your kids want to upgrade their party to the next level? Hero Factory offers splashball, a painless version of paintball for kids over 6. A very unique driving experience – in a real tank is  part of the offer and available to be booked for groups of foreigners. 
One activity ought to join the gang in the foreseeable future – an escape room. 
We craved for action but wanted to leave without bruises, so laser tag was our game of choice. There is an indoor and outdoor arena, adapted for Laser Tag and Laser Game. You can choose from different types of weapons and game scenarios, including military technology. The advantage is that it is painless and with no colored stains (which cannot be said about paintball.)
Interested in throwing a B day party or organizing an unforgettable team building? Get in touch with these guys!
INTERIOR
Authentic and cold. Even the hallway leading into the arena immediately teleports you into an ominous bomb shelter. You know you're in for a treat when there are two dozen boxes of explosives at the entrance next to a minitank :)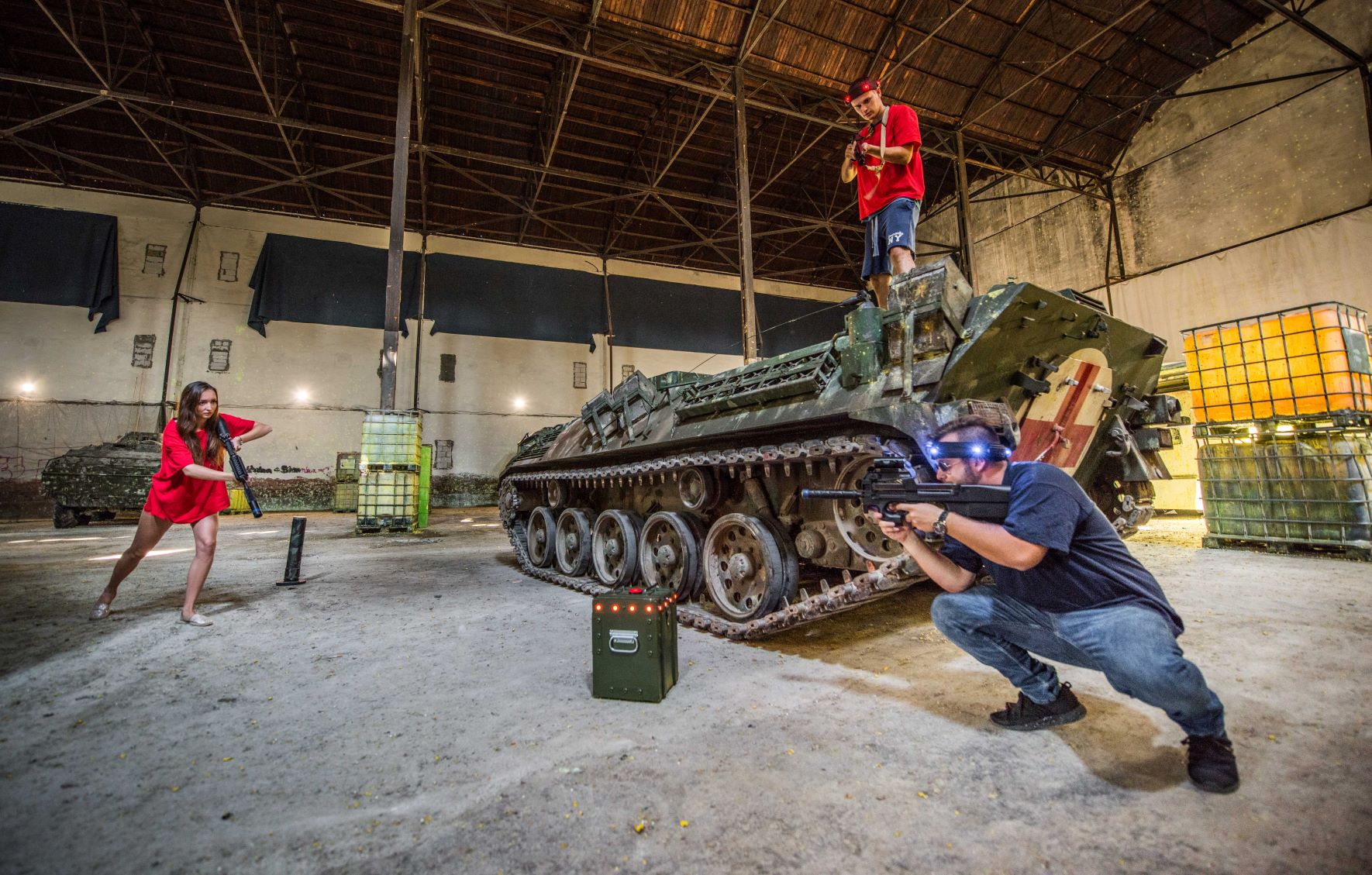 The premises are breath-taking and very detailed, from the aforementioned restrooms to the army tent where you get your briefing and leave your things. The guys have been gradually adding the bits and pieces together into one gigantic military collage. We can only bow to their persistence and the final result.
(source: Hero Factory Facebook)
Despite the low temperature, rest assured that as your heart rate goes up, you'll get warmer.
HOW IT WORKS
Before you become Rambo, you need to make a phone reservation. They claim to be open 24/7, so if you're not afraid of the dark, you can be emptying the magazines at 2 in the morning. Based on our experience, we recommend you put on clothes you don't mind being a bit dirty. Some of us were rolling on the floor. Take something black so you can blend in with the murky interior. Germophobes, if you have your own ski mask, bring it. Not only will you appear more formidable, but it will also isolate your sweaty forehead from the LED headband. This is really an insider tip from us since two of our team members who snagged the top 2 places were in black and wearing a ninja ski mask :)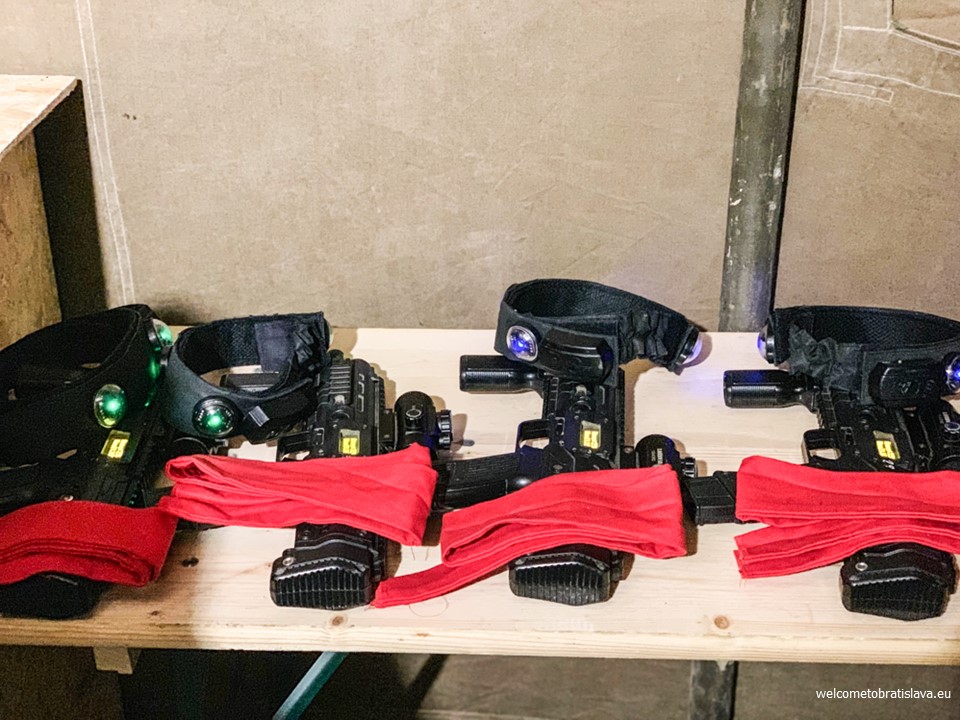 Needless to say, you need to come a few minutes before your arranged gunfight, for two simple reasons. First, it takes a while to get inside and to suck in the gloomy atmosphere. Second, you need to get the instructions. The personnel will then explain how the game works, how to manipulate with the guns, the dos and don'ts of local warfare. They do it in English also. One of the rules is "Do not sprint". We want to underline that one here as well to avoid injuries since in the heat of the moment you will easily forget about it. Who wouldn't run when armed people in ski masks are after you?! Well, please, be careful.
Every player gets a weapon and a LED headband, the latter distinguishes the teams (different color of LED lights). Each weapon is connected to its own headband, make sure you don't mix them up. After the game, you'll obtain performance statistics. Keep in mind that your head emits light and is, therefore, easily spotted..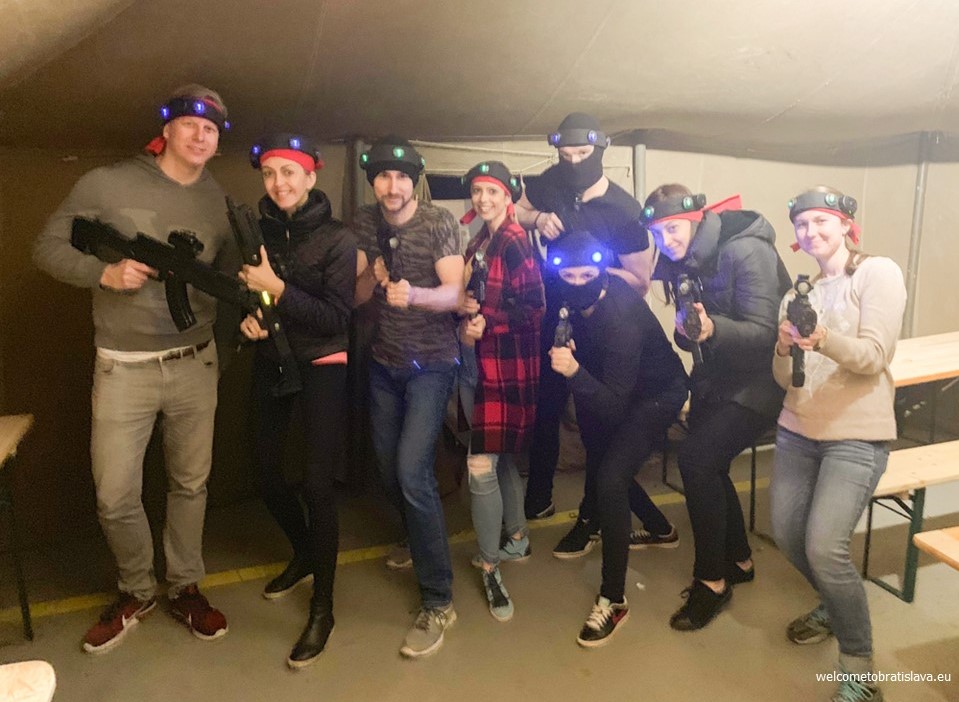 Now it's just about splitting into teams, devising a feasible strategy and preparing to die multiple times! You can only hope to get reincarnated as Deadshot from Suicide Squad.
15 minutes may not seem like much, but 2×15 can count as a workout, providing you don't hide in the corner the entire time.
When the game is over you will also get a summary of your endeavors. You get evaluated as a team, but primarily as individuals. There are also badges rewarding your efforts, like most kills or the highest accuracy. What made us laugh were the sort of anti-badges, e.g. "kamikaze" for the person who got killed the most.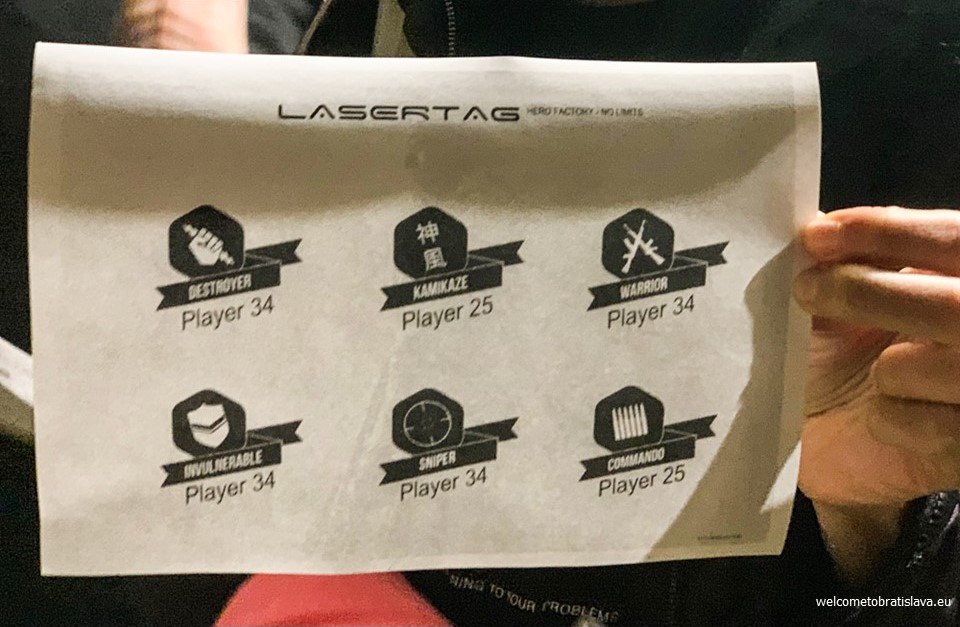 If you wanna know what the soldiers in movies actually see and have to do when you comment on them in front of the TV, this experience will give you an idea.
No gender separation here, the girls felt exhilarated after the final buzzer. They were brimming with joy after spending time with a different type of magazine, not the one they've got at home.
You should definitely go for a drink afterwards and discuss the impressions and highlights and laugh about the stats.
Author: Tomas Mytny

OPEN HOURS: 24/7 – booking necessary


 ADDRESS: Vajnorská 108


 CONNECT: Website, Facebook


 MAP LOCATION: