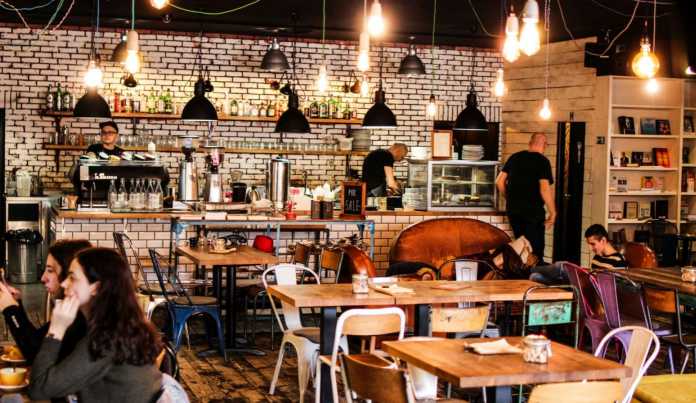 This is a city guide to all the people who don't need to eat at the traditional pubs when traveling abroad, who like to visit the cool cafes and little shops instead, and only have one day to spend in Bratislava. We have made a chronological list of places to visit – in a way that you can walk it all on foot and won't need to walk for more than 10 minutes to get to your next stop. Of course, including all the major sights that are not to be missed :) Enjoy!
07:30 Wake up.
08:30 Have some breakfast at Mondieu.

09:15 Walk to the Main square (Hlavné námestie), check the outdoor markets and take photos with our symbolic statues.
09:45 Walk up to the Old Town Hall for an amazing view on the Main square, Castle and the St. Martin's Cathedral.
10:15 Walk to the St. Martin's Cathedral, take some nice pictures in its beautiful exterior, go in and definitely check the catacombs which are in the underground – they are breathtaking!

11:00 Take the oldest street of Bratislava, Kapitulská str., leading to our narrowest street, Baštova str., and stop at the Flat Gallery.

11:30 Walk to the end of the Baštova str. to get to the Michael's gate. Walk up to the Michael's tower for a fascinating view.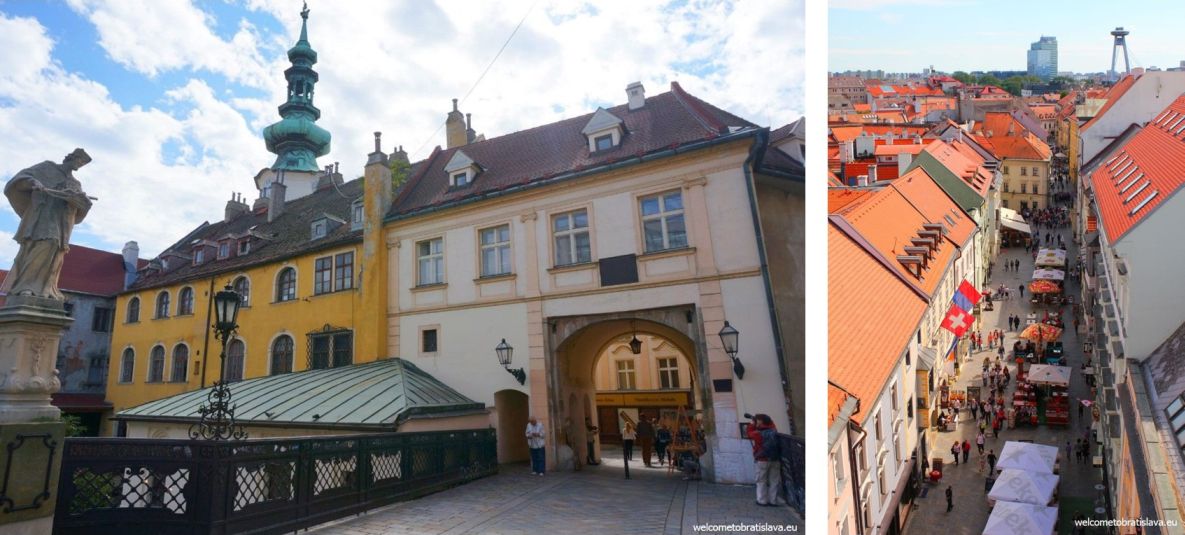 12:00 Walk to the Laurinská street and have lunch at the Urban House. After lunch, we have two options for you: continue in the regular itinerary exploring beautiful city center slowly or try an adventurous city game where you interact with the city, uncover its stories and learn about its urban legends while solving riddles. Read on for both of these options.
13:15 Stop by at these three hipster designer shops that are located on the same address, just next to the Urban House: Slowatch, Slavica and Kompot.
13:45 Visit our Primate's Palace which is one the most beautiful buildings in Bratislava.
14:30 Walk to the Hviezdoslav's Square and spend some time here. Enjoy the view at our Slovak National Theater and soak in the atmosphere of the square's lively promenade.
15:00 Walk to the Danube embankment – the best part is around the UFO bridge – and take some nice photos.
16:00 Walk to the Skalna street passing the Zidovska street and have a coffee (and a cake) at the Kava.Bar.
16:30 Take a 10 minute walk along the Zámocká Street to get to the Castle. We recommend to also visit the castle museum – specifically the part with the Crown's Tower – for this view:
(PS: the museum is open until 6 pm so make sure you go inside first if you want to make it before closing)
18:30 Walk to the Hodžovo námestie (square) to see the Presidential Palace (Grassalkovich Palace). It is a 10 minute fast walk from the Castle. As an alternative, you can take a tram number 203 or 207 (you need to buy a single journey ticket for 0,70 €) and get off at the fourth stop (called Hodžovo námestie).

19:00 Walk to the Rajská Street 7 and have dinner at St. Germain we recommend to make a booking, it is very popular).
21:00 Walk to the Nedbalova Street (10 minutes away) and enjoy a drink at KC Dunaj. If you are lucky, there might be a live band playing or other cultural event held.
If you're a night owl, consider getting Nightcards. It offers exclusive discounts in bars, clubs and restaurants in Bratislava. This will make your experience of finding a new bar more fun and save you money!
EXPLORE THE CITY THROUGH AN ADVENTUROUS CITY DISCOVERY GAME
The above itinerary is amazing but if you prefer something more adventurous, we have a special tip worth trying! If you like cracking riddles, exploring new places on your own (without a guide) and discovering the best hidden gems recommended by locals and unlocking cities' stories, this is the right activity for you. Don't worry about missing out on sightseeing – the game happens in the city center and you have to interact with its streets, monuments and buildings to win it. Through the secret city trails game, you will solve a trail of riddles on your phone and learn interesting facts and urban legends about Bratislava. Trust us, it's FUN! Moreover, it was us, local bloggers, who designed the game Bratislava: History and mystery, through which we are showing you iconic sights as well as secret places and give you the best tips on where to go in our city. Now available with a 10% discount:) A great view is just a bonus. Unleash your inner Indiana Jones and start exploring now!
Finally, have a great end of your trip and make sure to come back soon! :)
Author: Maria Kecsoova