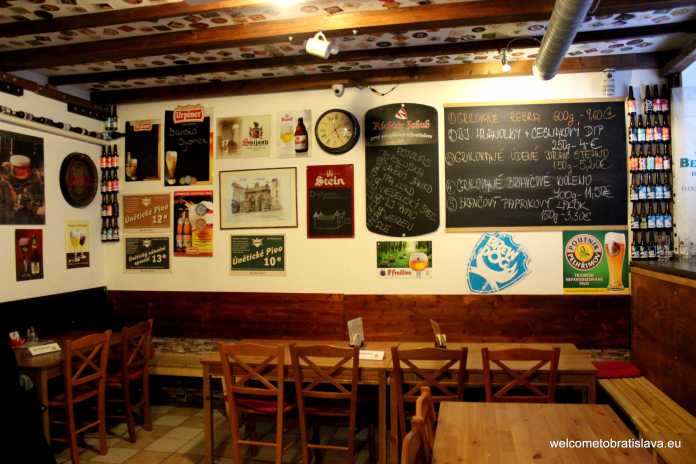 This mini-brewery will win your heart with its excellent beers and cosy atmosphere. Another winsome pub with walls and ceiling covered with beer decorations that we would definitely recommend among best beer places.  Enjoy the long brewing tradition dated since the 13th century!
LOCATION
Hostinec Richtár Jakub lies between residential buildings behind the Medicka Garden in the wider area of the city center, just next to another great beer place Omama. Only a fence separates these two hidden beer gems. Rather than climbing over it (which is strictly prohibited), take a short walk around the buildings (and the nearby police station) and you will reach Richtár Jakub.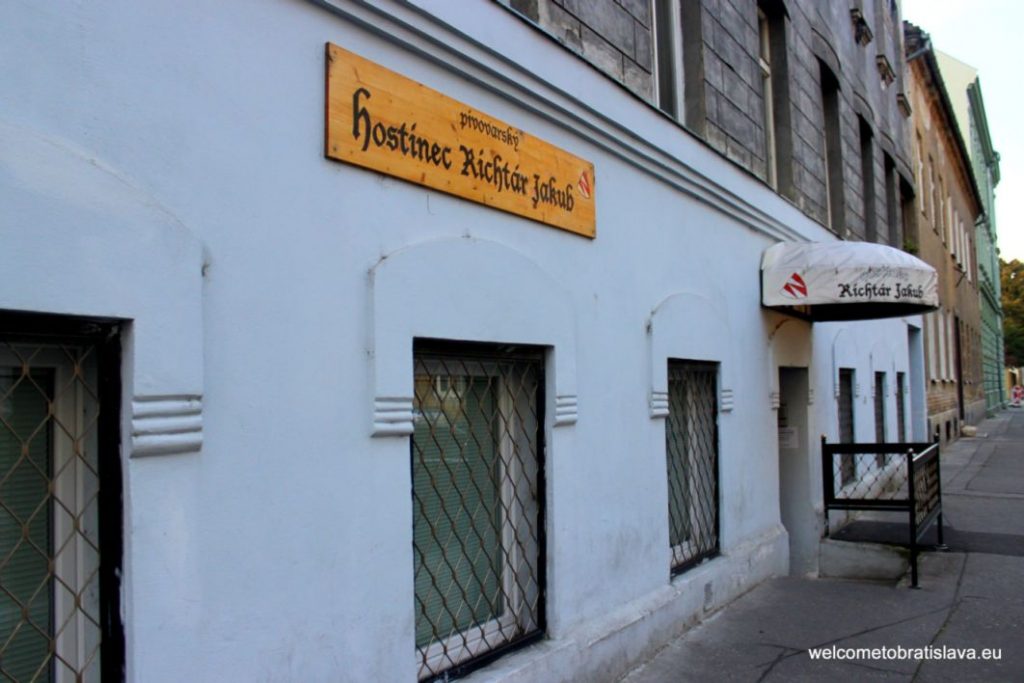 INTERIOR
The pub is half a floor below the ground level and its capacity is rather modest (around 70 seats). Therefore we definitely recommend booking your table in advance. During summer, the capacity is leveraged by a beer terrace. Unfortunately, not only the terrace, but also the whole pub shuts down at 22:00 every day, so better come earlier to have enough time for all the tasting.
WHY IS HOSTINEC RICHTÁR JAKUB SPECIAL AND WHAT TO TRY?
Let's start with a short historic detour – the place is named after a notable family of Bratislava's mayors from the 13th century. In that time it was very common to brew beer in almost every mansion. So here you can see how the tradition continues even now.
The beer offering from Hostinec Richtár Jakub is really wide, appealing and constantly updated. Just check the big chalk board near the bar where you can find the great selection of mostly Slovak and Czech craft beers on tap, and also their own lager – non-filtered and unpasteurized beer called Jakub. Apart from Jakub this first mini brewery in Bratislava produces light lager Anna, dark Katarína and some occasional specials. You can check their full offer on their website (link below).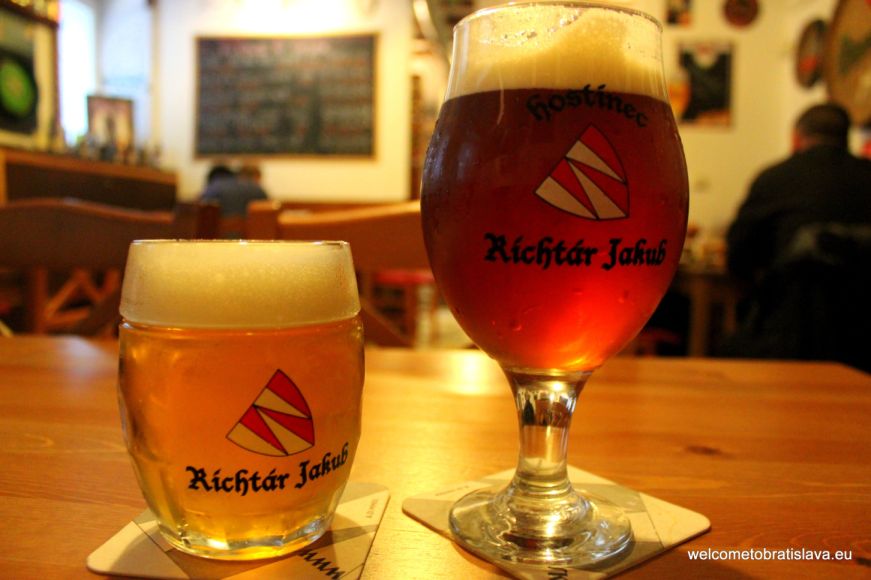 The great thing is that their beer gets out to the tap directly from the keg, so there are no risks concerning transportation or thermal shocks which could do harm to the taste of the beer. Since the place closes quite early, you can get a beer "take-away" in 1,5-liter PET bottle.
The meal offer is somewhat limited and as such, we recommend this place mostly for its beer. However, they won't let you die of starvation – utopenec, hermelín, grilled wings, sausages and more are on the menu. Feeling a bit more adventurous? Then try a smoked beef tongue (yes, tongue, no mistake) or grundle – small fried Greek anchovies.
Special tip: enjoy popular food and beer pairings at a well-loved local brewery!
Author: Eva Latakova

 ADDRESS: Moskovská 16


 OPEN HOURS: Check the Facebook site


CONNECT: Webpage, Facebook


 MAP LOCATION: