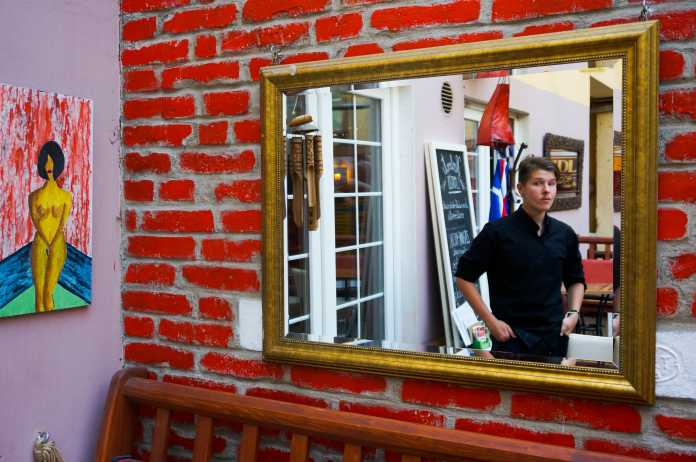 Meet Brano, a young Bratislava native who found himself in event organization and travelling. He will introduce you to the couchsurfing concept, recommend where to hang out as a local or why to see the abandoned buildings in Petržalka!
WHAT IS YOUR BRATISLAVA STORY?
I was born in Bratislava, grew up and spent all my childhood here. I am 20 years old and apart from 3 months that I lived in Italy volunteering for a film festival, I lived all those years here, in Bratislava.
WE HEARD THAT YOU ARE PART OF MANY INTERNATIONAL COMMUNITIES. HOW COME?
That's true, I am currently the only organizer of the regular couchsurfing meetups in Bratislava. At the beginning, I wanted to meet new people and practice English. So I went to a couchsurfing meeting. You should understand that I had only few close friends at that time  but thanks to couchsurfing, I opened up, came out of my cocoon. Nowadays, some people tell me: "Brano, you are everywhere." And I start laughing, because they are pretty close to reality. I have volunteered for almost all international communities active in Bratislava. At some point I was helping out InterNations and Internationals communities. I was also assisting Erasmus network with some of their events for couple of months. For my job, I work as a receptionist in a hostel, so I am meeting international guests even during my working time :)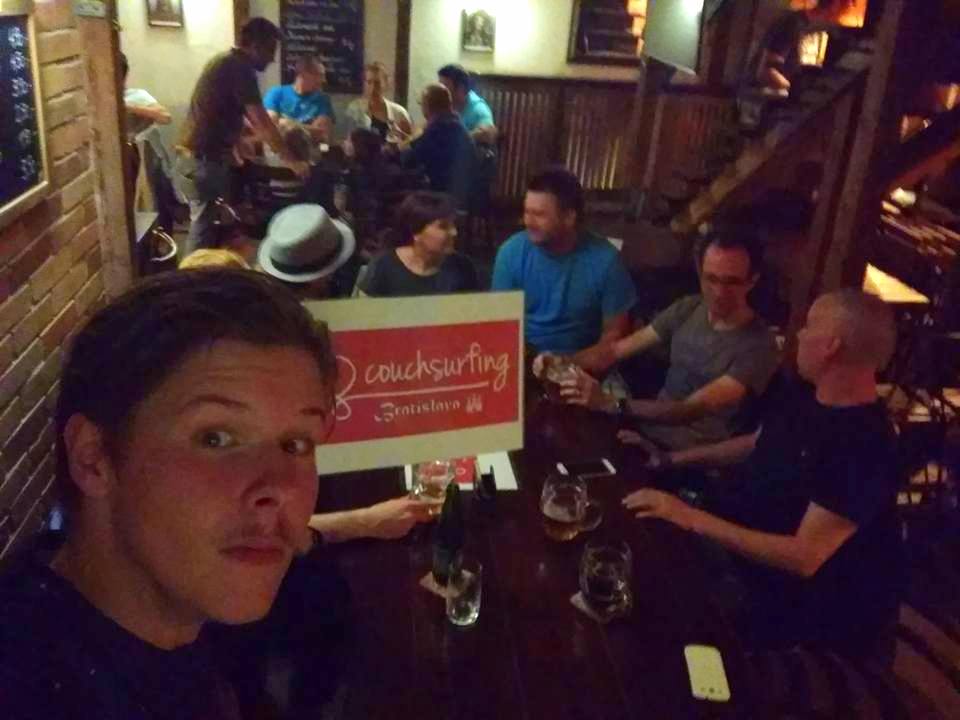 I really enjoy organizing the couchsurfing meetings in Bratislava, which I am doing for already 2,5 years. Sometimes I wish we were more volunteers, as it can be quite time consuming! We have at least one meeting per week, sometimes even more. There are usually 10 – 30 participants and quite many of them are regulars. The rest are new faces or travelers visiting our city. These meetings used to be more about eating out and drinking in the past. Then I took over the Language Exchange meetings, which now has transformed into casual Friday meetups. If you are new in town, passing by, or a Slovak native who wants to become part of the international community, don't hesitate to join us!
WHAT ARE YOUR HOBBIES?
Apart from event organizing which takes a lot of my time, I also like to take pictures. I take photos mostly during my travels or if my friends need help and ask me. I am trying to capture interesting things going on: what's going on in the city, emotions, street art, landscapes. I am also your person if you need recommendations of some good beer places!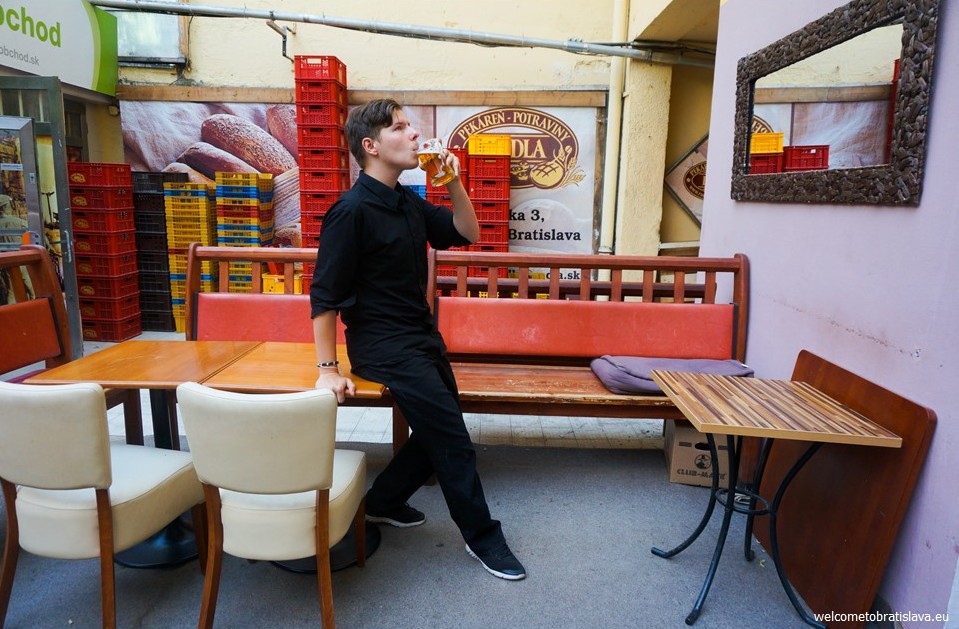 WHAT ABOUT TRAVELLING? YOUR TOP DESTINATIONS?
Travelling is my passion and lifestyle at the same time. I prefer travelling alone and meeting new people at the destination. I would have to find a person who has the same travelling interests as me, so I prefer to do my own things and in a true backpacker's style which does not suit everyone.
I always like to return to Budapest where I experience something new each time visiting. My favourites are also Berlin, Brussels and Glasgow and Edinburgh in Scotland. If I could choose, I would go to Kenya or Ethiopia in the future!
ARE YOU ALSO HOSTING TRAVELLERS THROUGH COUCHSURFING?
Indeed, very regularly. I hosted more than 60 people for the past year. I use it also when travelling myself. I like to pick my destination in countries where I know people through couchsurfing. I often have a sense of the travelling companionship and host people whom I met spontaneously. For example, I met a guy who was robbed  and lost half of his travelling money, so I offered him to surf my couch to save some money for his further travels. I know I would appreciate such help if I were in his shoes.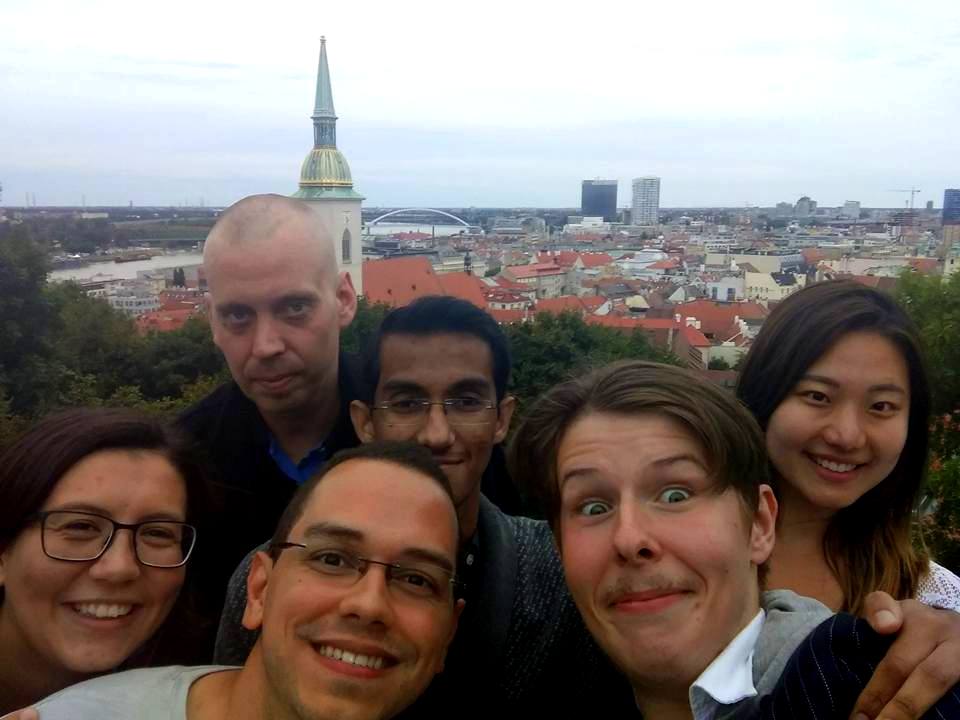 WHERE DO YOU USUALLY HANG OUT IN BRATISLAVA?
For the past months, I started to spend my free time in the community center Bystro. There are many concerts, workshops and various events going on, offering an alternative culture. It is kind of a social and cultural center that goes against mainstream and consumerism. I am happy to support this project. If you are a member, you can even use this space for your own events. Another reason why I like it here is that they offer local products like wines or cheeses. Bratislava really needed something like this!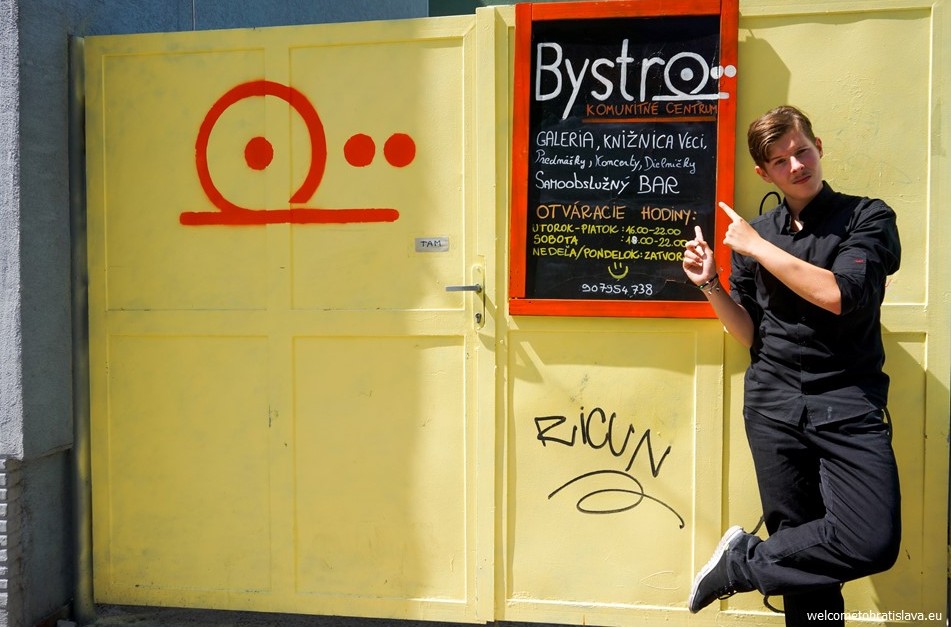 I also like Bratislava's green areas – Sad Janka Krala for chillout, Magio beach to sit down with friends, Horsky park or Zelezna studnicka if I want to enjoy the nature. For going out, I can vouch for the Bukowski bar.
HOW DO YOU FIND SLOVAKS?
To be honest, I don't understand the majority of Slovaks and I don't feel to be Slovak that much as I probably should. I have better connection with international people or internationally minded Slovaks than those Slovaks who just sit at home and travel once a year to Croatia :)
HOW WOULD YOUR FRIENDS CHARACTERIZE YOU?
This is a hard question but I would say as eccentric, alcohol-oriented, friendly and open.
WHAT RECOMMENDATIONS WOULD YOU GIVE TO THE TOURISTS VISITING BRATISLAVA?
Go to see Kamzik TV Tower, have a nice meal up in the restaurant and enjoy the perfect view! For those who don't want to spend all their time in the city center only, have a walk in the Petržalka neighborhood, ideally with someone who knows it there. I love its abandoned buildings (including an abandoned supermarket!), retro socialism statues, unfinished metro or many more quirks it offers. I lived all my life in Petržalka, so it is very interesting to see it changing.
Source of some of the pictures: Brano's personal FB profile.
Authors: Maria Kecsoova, Zuzana Mytna