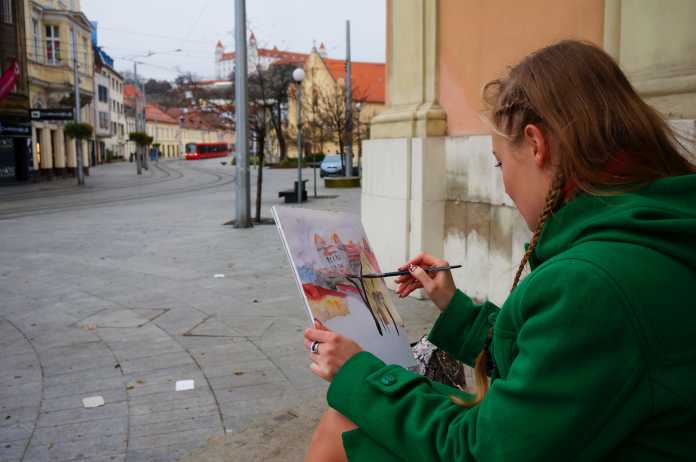 Meet Kate Grishakova, a young Russian painter and poet who creates vivid and bright paintings in an impressionistic manner, who writes about her love for people and life, and wants to stay in Slovakia forever – in our next Humans of Bratislava story:

WHAT IS YOUR BRATISLAVA STORY?
In 2015 I came to Bratislava as an Erasmus student and found the greatest inspiration here! During 5 months I painted more than 80 pictures. Later, I travelled the whole Slovakia from Bratislava to Kosice and painted 14 castles. However, I fell in love with Bratislava, so I decided to continue my studies here. In September 2016 I returned to study the Master program for 2 years, but I don't want to go back to Russia, I hope to stay in Bratislava forever.
WHAT DID YOU LIKE ABOUT YOUR SLOVAKIA TRIP THE MOST?
I liked the Slovak people. They are quite reserved and they never disturb me when I paint, even if I sit in the middle of the street. This polite mentality inspires me and makes me feel free and work more. And, of course, I love the Tatras mountains! It is a paradise for me. I get great pleasure and inspiration from walking and painting there, I get energy from mountains and waterfalls.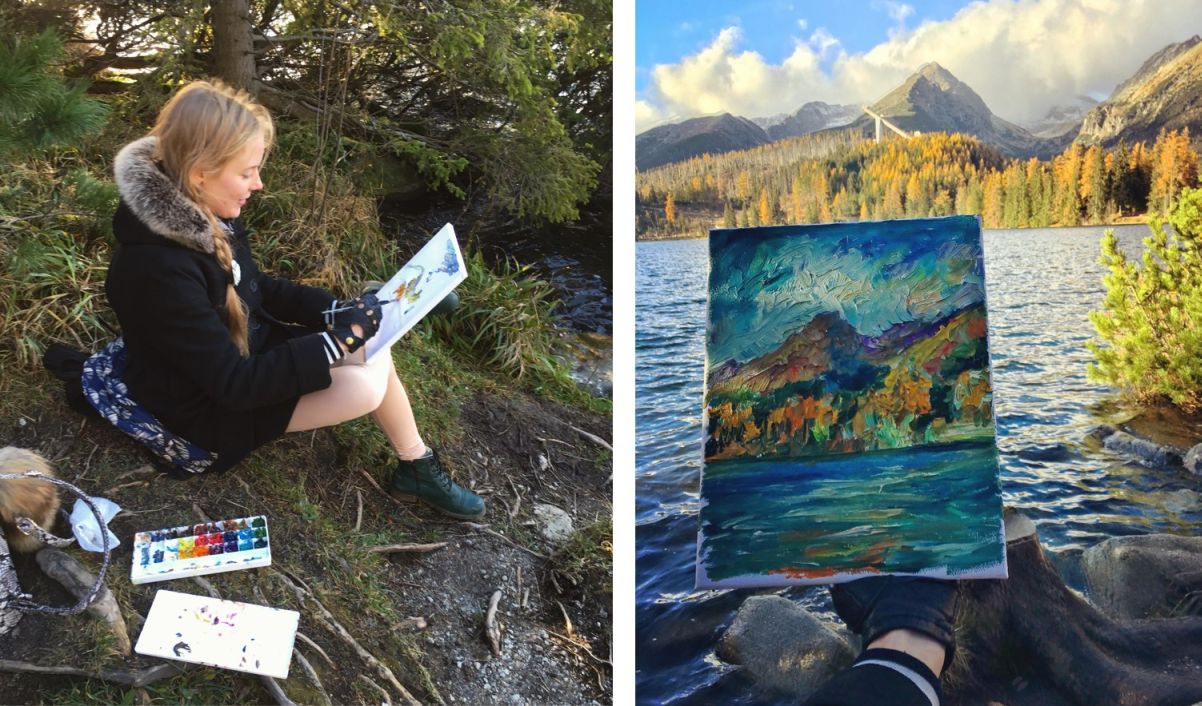 (source: Kate Grishakova)
YOUR FAVORITE PART OF BRATISLAVA IS…? WHY?
I am used to create on the streets. In my opinion, it is the only way to feel the place, its atmosphere, its soul! My favorite place is the Bratislava castle. I painted it more than 10 times and I still love it. I know many good places to see the castle from: The UFO bridge, Sad Janka Krala, from the narrow streets in the down town and from the Zupne namestie/sq. The last one is really beautiful, especially in sunny weather, when you sit on the stairs of The Trinity Church and look at the tram lines, having the castle behind.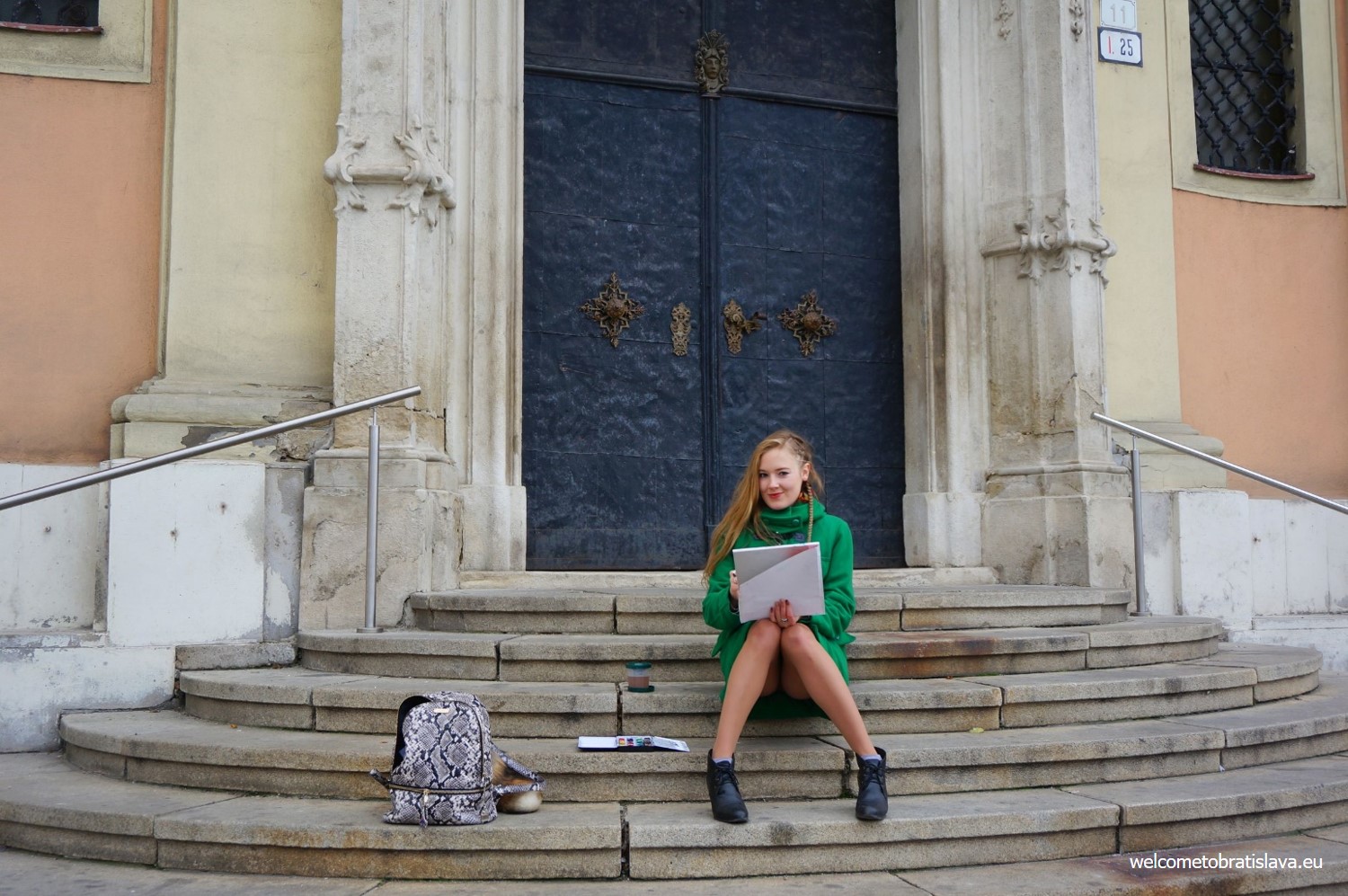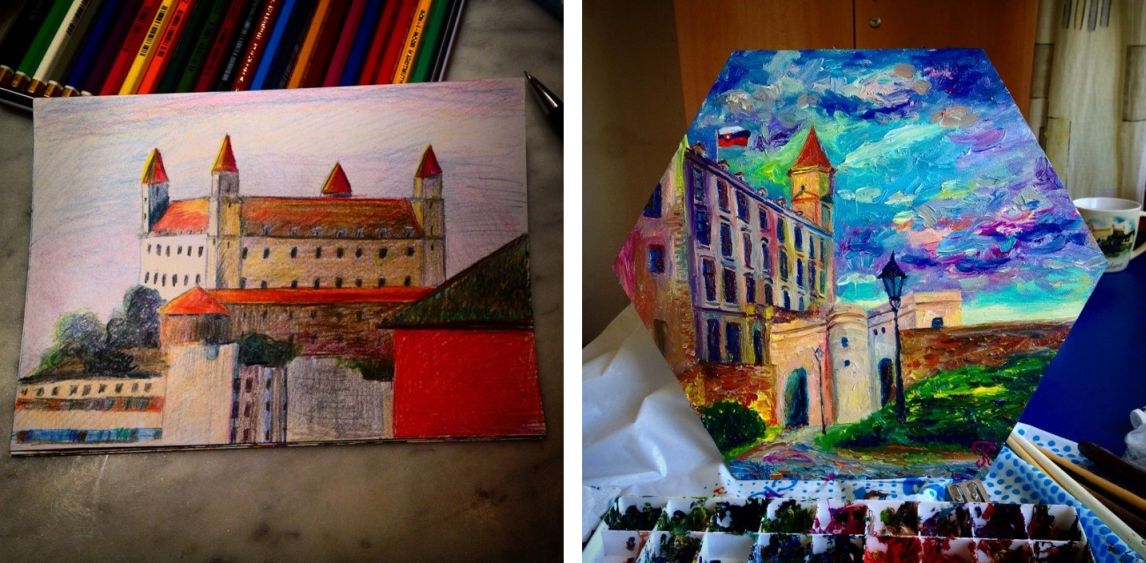 (source: Kate Grishakova)
DO YOU HAVE OTHER PASSIONS BESIDES PAINTING?
I have an artistic soul. When I don't paint, I love writing poems. I compose poems which are contrasting and emotional too, reflecting my boundless love for people and life. I've already issued four poem books and some of my poems have been included in other books as well. I started to write poems and to paint as a child. And throughout my whole life, I cannot separate these two talents. For me the meaning of life is life itself, in its uniqueness and unpredictability. When inspiration comes, pictures are created and poems are written. I studied painting in an Art studio in Russia for 8 years till I came to Bratislava. I already have experience holding personal exhibitions of my paintings in Moscow, and hope to achieve something similar in Slovakia as well.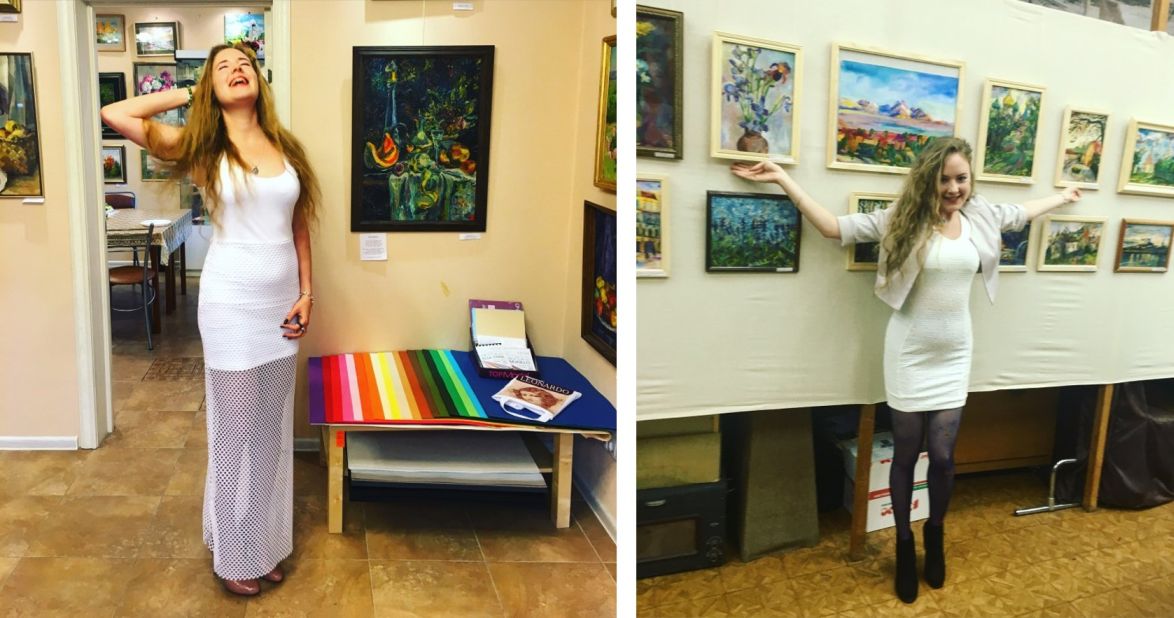 (source: Kate Grishakova)
Actually, the CT Gallery in Bratislava is currently exhibiting one of my paintings in its Christmas exhibition, along with works of other 22 international artists.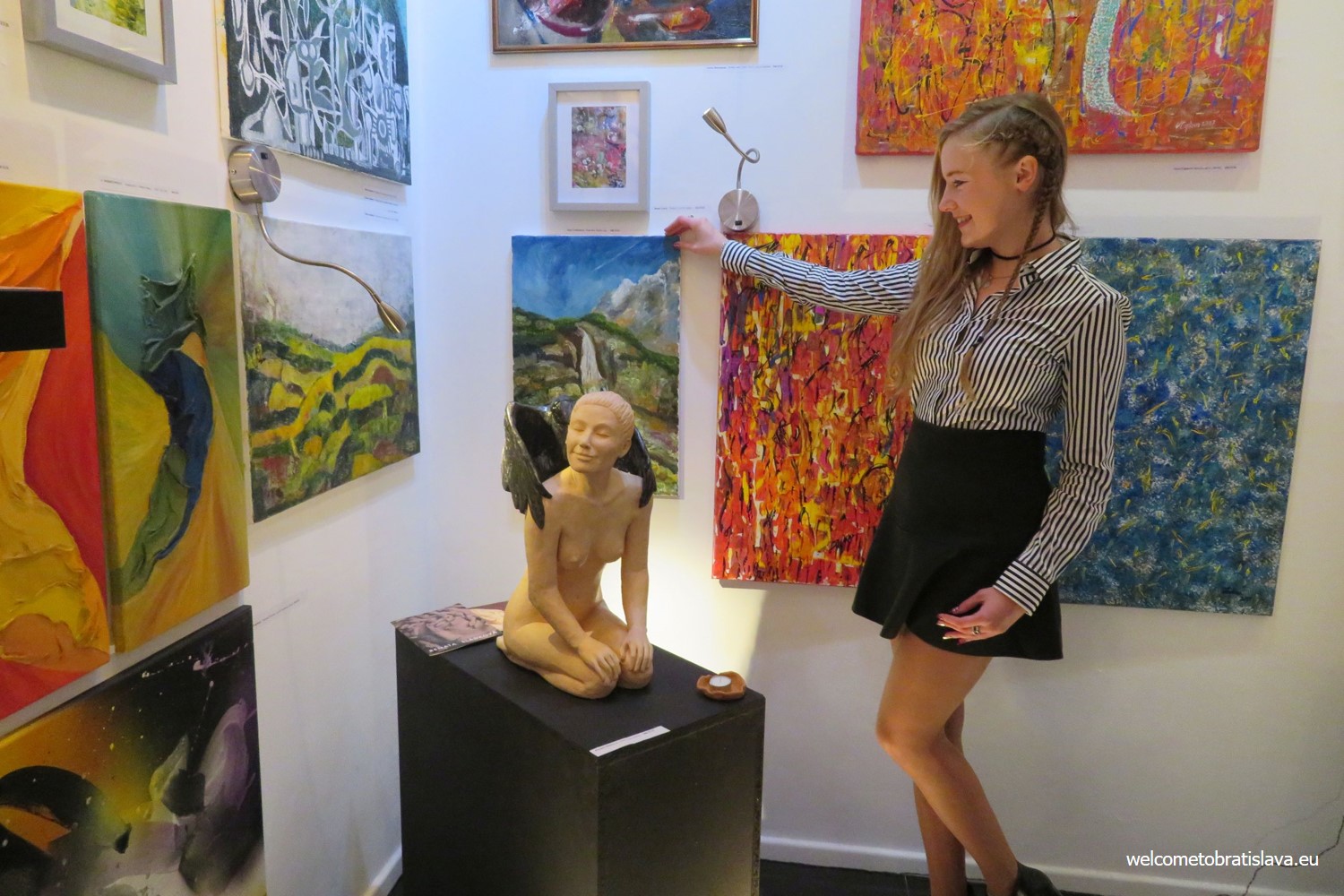 WE GUESS YOU MUST BE INTO VISITING GALLERIES A LOT THEN..
When I came to Bratislava, at first I visited many galleries and museums. However, to me personally, they are old, empty and dark, there are no people and no life. I prefer lively, modern, technological galleries where people of different ages get pleasure from art. This fact inspired me to my bachelor thesis «Project of art school gallery as innovative sample in Bratislava». I hope to realize this project in future.

WHAT KIND OF PLACES DOES AN ARTIST LIKE YOU LIKE TO GO TO?
I like Slovak cuisine, especially desserts, for example the nut or poppy seed gnocchi, or the Bratislava rolls. My favorite place is Foxford Martinus. It is an atmospheric, comfortable and inspiring café on Obchodna street. I painted several times there.

(source: Kate Grishakova)
I also like the Café L'Aura because of its cosy interior – it is a tiny place with many paintings hanging on the walls, and it is a perfect spot to hide at when I need some time off. But you can also come with friends here and play some of their board games which they offer to their visitors.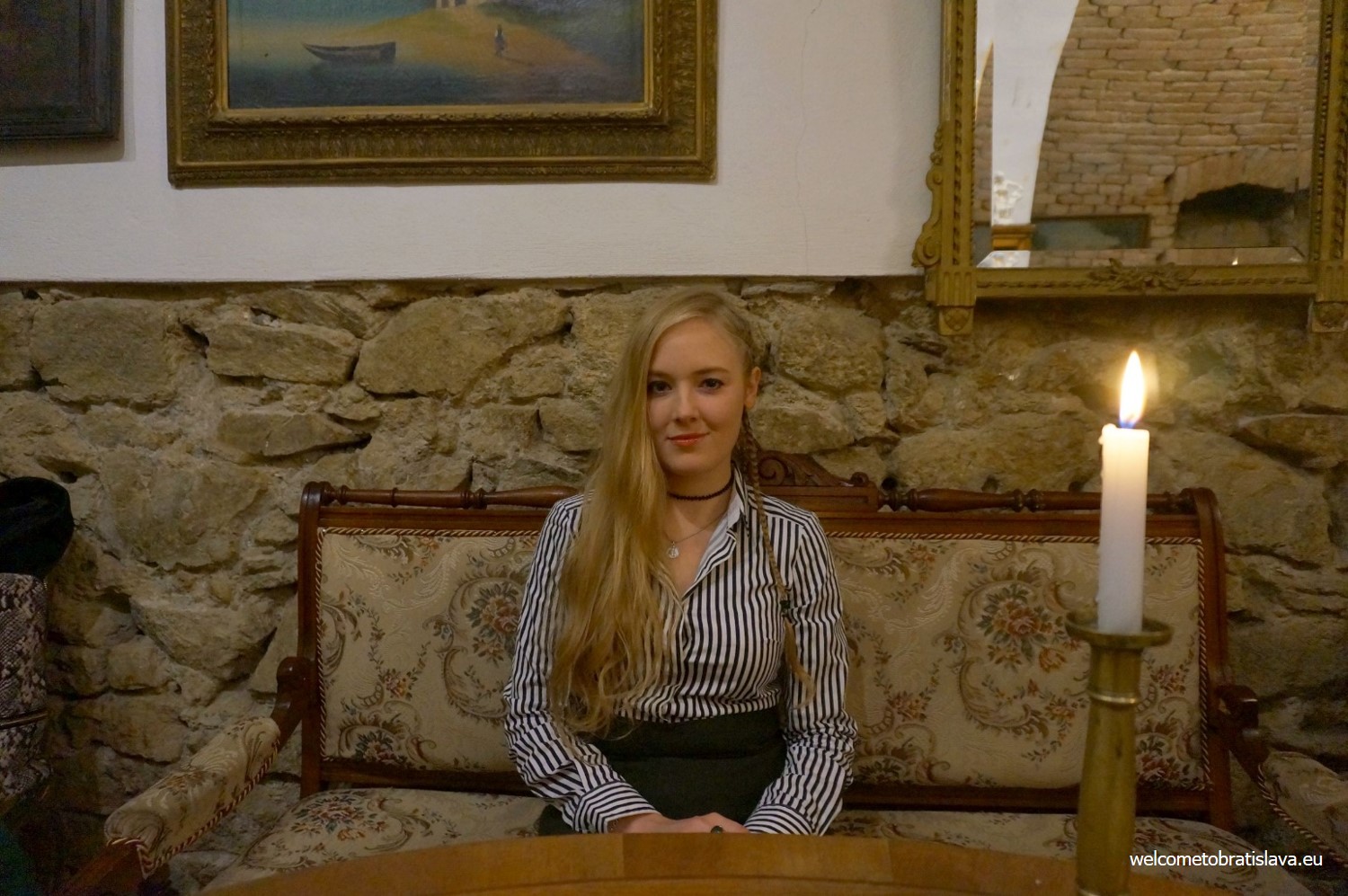 WHAT RECOMMENDATION WOULD YOU GIVE TO TOURISTS VISITING BRATISLAVA?
Open your heart for this city! Walk slowly on the streets, eat desserts in cosy cafes, take a deep breath on the embankment of Danube river and feel the freedom from the castle hill. I believe in fairy-tales here, so wish you the same!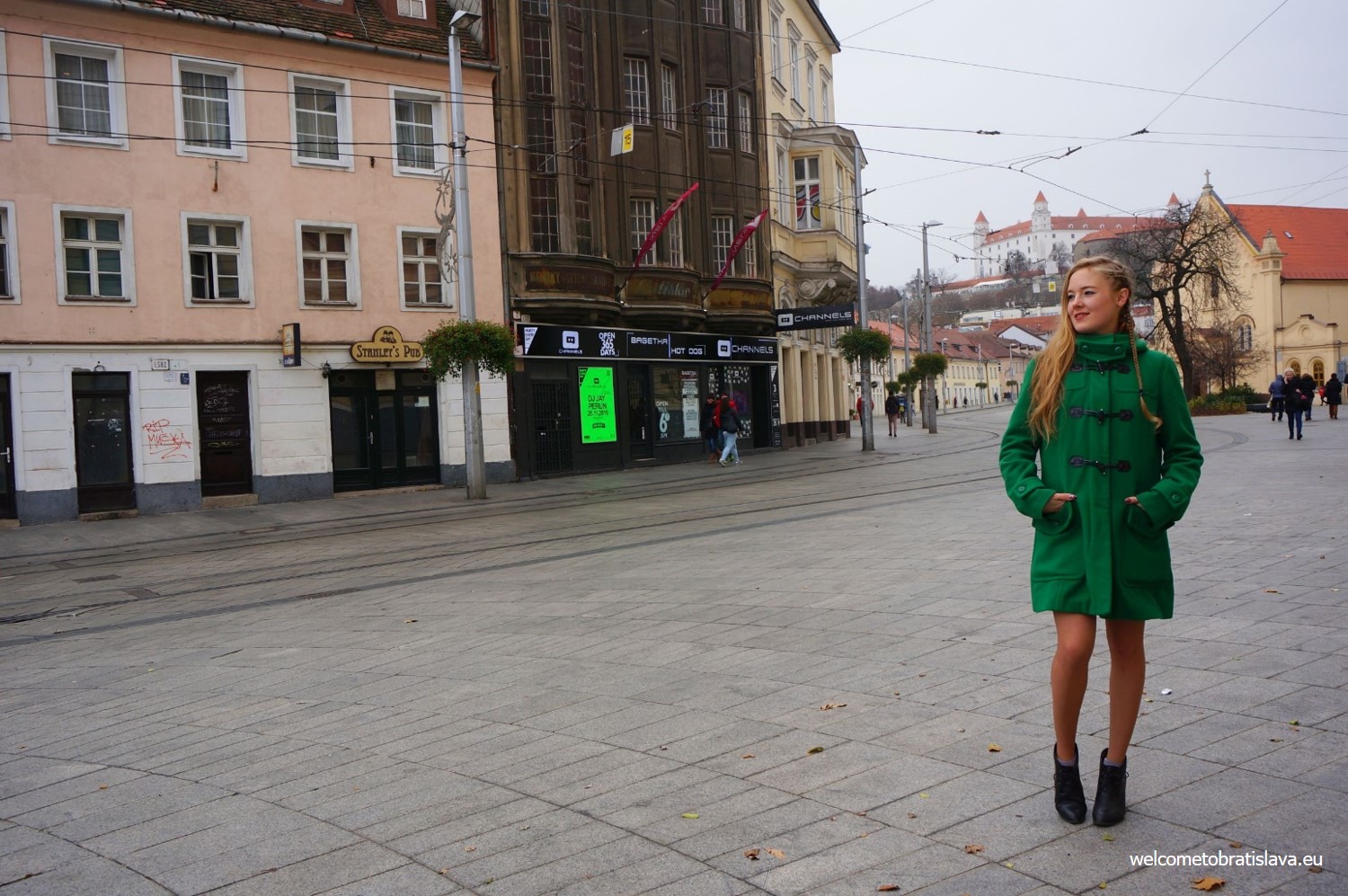 Check Kate's webpage or Facebook for more information about her works or in case you want to buy some of her beautiful paintings. Have a look at her painting classes (in English and Russian language) to which you can sign up and have a creative moment along some fun!