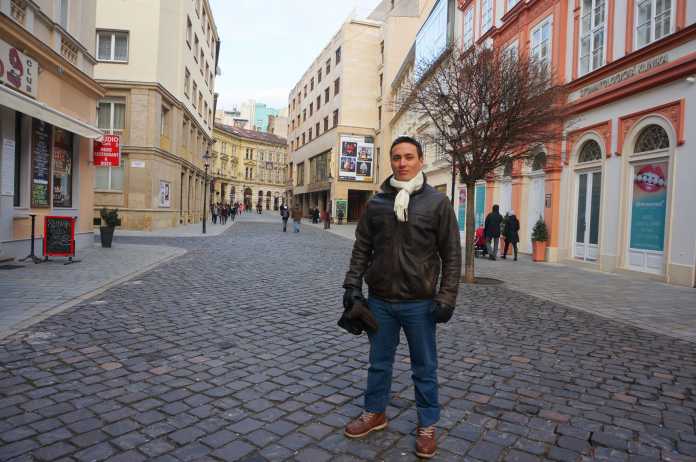 Meet Charles Cimeterie, a passionate rugby player and photographer who works as an accountant and likes the direct attitude of Slovaks who "either love you or hate you."
WHAT IS YOUR BRATISLAVA STORY?
I came to Bratislava as an Erasmus student in 2009 to study at the University of Economics. At that time, I was playing rugby also with the Rugby Club Slovan Bratislava, involved in the Czech league. After my Erasmus finished in 2010, I moved back to France but in 2013 I decided to come back to Slovakia, as I was missing it – and all the beautiful people I knew!
WHAT DO YOU DO HERE?
I am an accountant in an international company, working mainly for the French market. Additionally, I also do some photo shooting in night clubs or portrait photography for my friends.

WHAT DO YOU LIKE TO DO IN YOUR FREE TIME?
My main hobby is rugby. An exotic sport for Slovakia, but the second team sport in France and quite popular on TV. With both expat and local friends we started a new rugby club called Rugby Klub Bratislava. I wanted to develop my rugby coaching skills, and at the same time to play with my friends. Also, month after month, we were welcoming more Slovak people, total beginners, hungry for this new kind of discipline into a friendly atmosphere.
Despite this commitment for rugby, I like to practice different sport like boxing, crossfit, windsurfing, wake boarding and cycling. For me, doing sport is the easiest way to meet people sharing the same passion, and it keeps me fit and in a good shape.

HOW WOULD YOUR FRIENDS CHARACTERIZE YOU?
My friends appreciate my motivation and my energy. For sure I have a strong character which helps me overcome more difficult challenges like the creation of our rugby club. Furthermore, I am quite sharing in the way I share my passions with anyone willing to learn – be it rugby, boxing or photography.
WHAT IS YOUR FAVORITE PART OF BRATISLAVA? WHY?
Bratislava is a charming city, not too big, not too small. I appreciate the Nove Mesto neighborhood where we have settled our rugby club, but also simply the Stare Mesto (Old Town) where everything happens.

WHERE DO YOU LIKE TO HANG OUT?
As a foreigner who is not mastering perfectly the Slovak language and culture, I enjoy going out to the Irish pubs located in Stare Mesto. These are the places where everyone could meet from different countries, in a nice atmosphere with sometimes a rock concert on the stage. My favorite restaurant is the Slovak Pub, with very typical Slovak food for a fair price, located on the famous Obchodná Street – plus they allow you to come with dogs which makes the difference to me with my Malinois – a German shepherd dog.
HOW DO YOU FIND SLOVAKS?
You will mostly meet Slovaks from the West and the East in Bratislava (a bit of a cliché, I know). So far, I know more people from the western Slovakia; they are cold at the first meeting comparing to the Latin people. On the other hand, once we reach their trust, it becomes a real friendship, more real than for example with Americans and their unlimited enthusiasm.
WHAT WOULD YOU MISS ABOUT BRATISLAVA IF YOU LEFT THE CITY?
After living in Bratislava for a year of Erasmus time in 2010, I missed the cosmopolitan community, and somehow, the direct attitude of Slovaks. With Slovaks, they love you or hate you, no compromise, this is how it is and after getting used to it, I started to adore them.
WHAT RECOMMENDATION WOULD YOU GIVE TO TOURISTS VISITING BRATISLAVA?
When friends and family come to Bratislava, I introduce always the same main places in Stare Mesto (the historical center, the castle, Devin, the Presidential Palace), and in addition places with nature as Koliba and Sad Janka Krala. The best advantage for this capital city is for sure the prices which are very fair.
Author: Maria Kecsoova