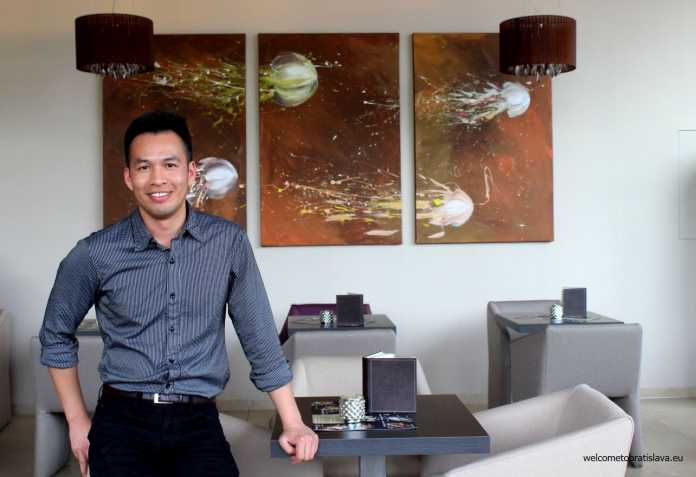 Hon Chong is a young guy living here for more than 10 years. He came to Central Europe to make a change in his life and has been through various jobs until he founded his own business. His passions include theater, teaching or improvising, and he loves Bratislava for its little things.

WHAT IS YOUR BRATISLAVA STORY?
Well, long story short, I came to Slovakia over 11 years ago seeking adventure, love and a place where I can escape from my parents. LOL.  I call that period of my life the "exploration" period. The year before I came to Slovakia, I was working as an English teacher in Brno, Czechia (I'm not loving this new name) despite the fact that I studied film and theater in university. I was offered a summer job in Nitra, Slovakia teaching Hungarian university students and I thought, "oh Slovakia, how exotic. And Hungarian students in Slovakia? That's double exotic"!  Before the summer was over, I was in a relationship and had moved to Bratislava.
YOU'VE FOUNDED MANY PROJECTS HERE. CAN YOU TELL US ABOUT THEM?
That's right, I've been spamming and annoying my friends and acquaintances with all my projects. Haha! :) When I graduated from university in Minnesota, USA, I quickly found an entry level job with a local TV production company. I was naive and needed money to pay bills. The job did pay my bills but didn't feed my soul. I decided I had to change my life before it was too late. Long story short, I went to Central Europe, changed my career and started a new life. At first I wasn't sure about teaching English. I never wanted to be a teacher. I decided to give it a try and I'm glad I did because I discovered that I do love teaching, especially adults. I've had some really amazing students, who in return, have taught me a lot things about their cultures and life in general.
As much as I love teaching, I really miss the arts lately. A few years ago, there were no English improvisation theaters, storytelling events and drama lessons in Bratislava. I would have to travel to cities like London and Vienna in order to attend improv shows and workshops.  So, a few years ago, I told myself, "f*#k it! I'm going to start my own improv theater and storytelling event in Bratislava". I could either sit around and bitch about how much I'm missing the art scene in Bratislava or I could make it happen.
Bratislava True Stories, which is one of the events I created and host regularly, attracts locals and foreigners from all over the world. People ask me, 'why true stories and why storytelling event?' "Because, that is the most natural thing humans do, we tell stories." Technology has changed the way we tell stories, i.e. Tinder, Instagram, Snapchat, Facebook, etc. A live storytelling event brings people together, face to face, to interact in a way no social media can.
Over the last 3 years, I've founded Imagine Center for Learning, a center for creative courses for all ages, Funnylicious Improv Theater, Slovakia's first and only English improv group and school and Story Nights, a series of live storytelling events in Bratislava, Vienna, Budapest and Chandigarh, India!
DO YOU HAVE ANY FREE TIME TO DO SOME OTHER ACTIVITIES, HOBBIES?
Yes, I have many hobbies.  In my free time I enjoy hanging out with friends. I used to go out with friends to clubs and discos in Bratislava years ago but these days, I prefer meeting friends in quiet, non-smoky cafes or bars. I love eating out! That's the Malaysian in me. I'm a foodie, like most Malaysians. I have yet to meet one Malaysian who doesn't like eating. I remember my family would drive 3 hours to the sea not for spending the day at the beach but to try out that well known seafood restaurant everyone talked about. These days, there are definitely more choices of good, high quality restaurants in Bratislava.
WHERE IN BRATISLAVA DO YOU LIKE TO HANG OUT?
My bedroom. LOL. Ok, I don't have one particular favourite place. As I mentioned earlier, I love trying out different restaurants and cafes in Bratislava.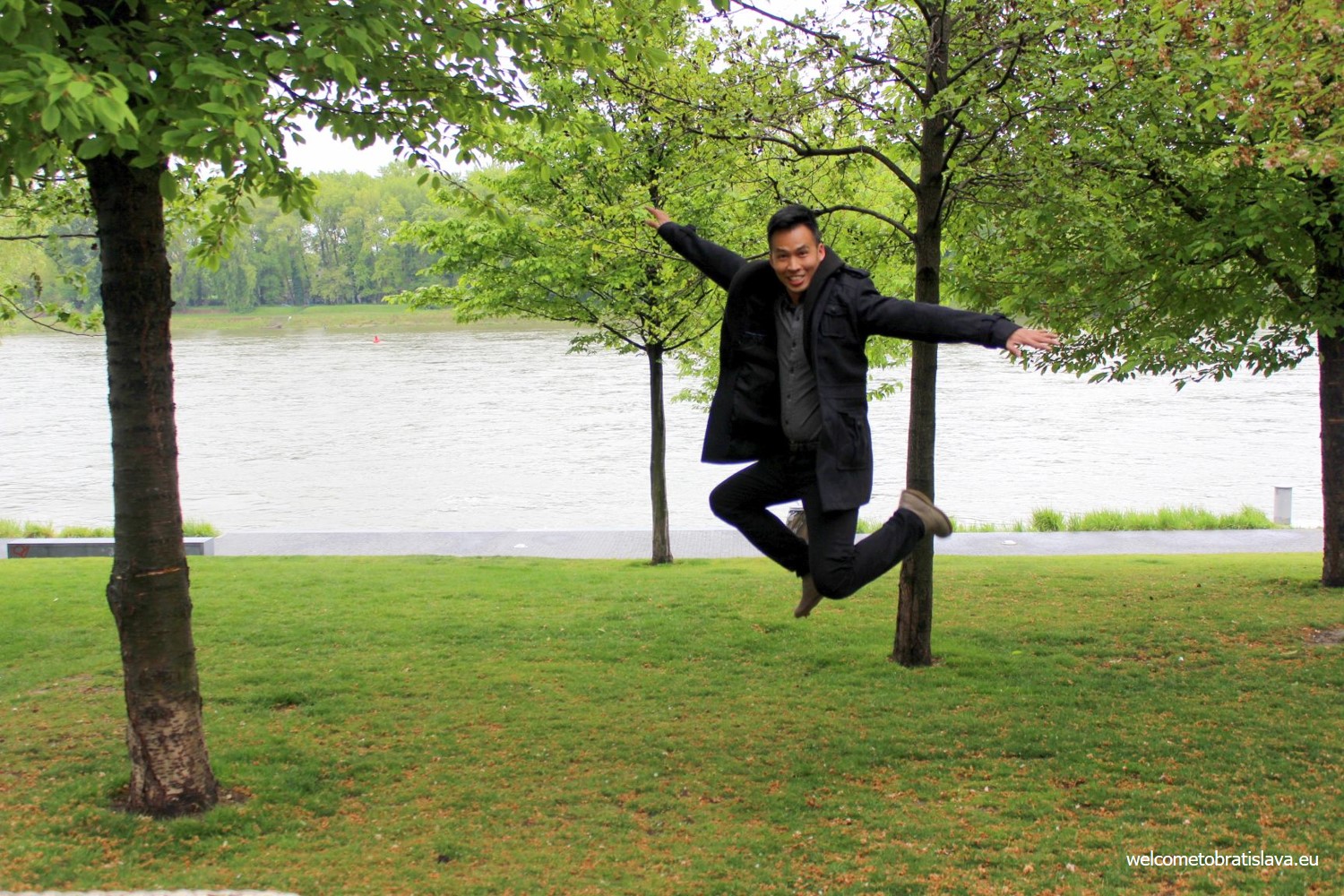 ANYTHING THAT HAS SURPRISED YOU DURING YOUR STAY IN BRATISLAVA?
A few things off the top of my head:
1. Petrzalka. When I first came to Bratislava, Petrazalka was the godforsaken suburb everyone loved to hate. The locals talked about the high crime rate, the ugly panel blocks, the bad zoning, etc. These days, Petrazalka is going through a transformation. From a grey, unattractive, undesirable place slowing turning into one of the most vibrant suburbs of Bratislava.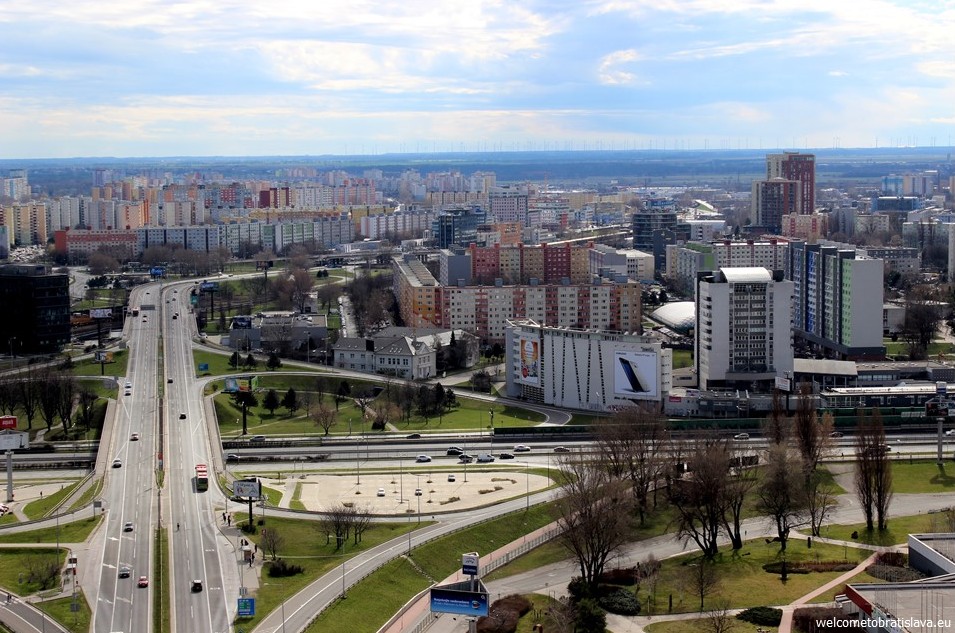 2. Calling a taxi by phone to get a lower rate. I'm not sure if this is only in Bratislava but this is one of the things that surprises and baffles me. If you hail a cab on the street, they charge you 2 or 3x more. So glad there are taxi applications. Much less hassle.
3. Sandokan (TV series). Many Slovaks who were born in the 80s and earlier mentioned about this TV show to me. I was told it was about an Indian prince and his tiger and it was shot in Malaysia. Like a version of soap opera tarzan. I had never heard of this TV show prior to coming here.  And many Slovaks are surprised that I had never heard or seen the TV series. Apparently it was a big hit in Slovakia, The Czech republic and even Hungary. Ok, that wasn't really about Bratislava. My bad.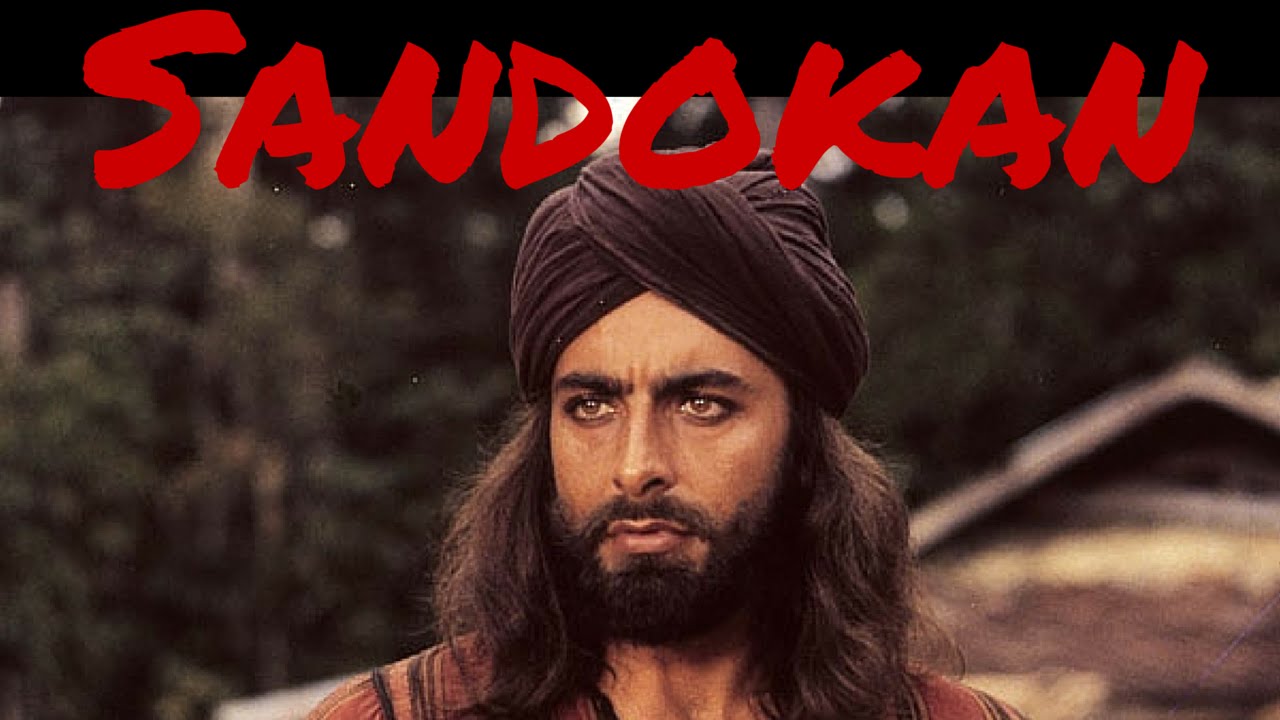 (source: YouTube)
HOW DO YOU FIND SLOVAKS AS A NATION? ARE THEY EASY TO DEAL WITH COMPARED TO FOREIGNERS LIVING HERE?
I personally do not like to generalize and make assumptions about a big group of people. It very often only leads to prejudice. In any nationality, you will find a wide spectrum of behavior and customs. I can, however, share some of my (biased) observations and first hand experiences. I've realized that a lot of my initial culture shock was the result of me holding on to my own beliefs and cultural norms. For example, when I asked my students a simple question, 'how are you?', they replied with a big sigh and a rather hesitant answer, i.e. '(big sigh) well…, it's Tuesday'. At the beginning, I thought they didn't like me as a person, but later I realized that it's a cultural norm for them to reply honestly to questions like 'how are you?'. Slovaks tend to accept honest display of feelings and emotions.
Since I spent my formative years in the USA, I was influenced by the whole optimistic, glass is half full way of mentality. In the USA, it is expected that you project a positive "public" attitude. You greet your colleagues/ neighbors/ acquaintances with a big cheerful smile. If you feel unhappy, you hide it away from people who are not your closest friends. It is considered rude to be sullen toward strangers. In Slovakia, many people consider the American 'optimism' as artificial and shallow. Many Slovaks do not see why they need to put on a big fake smile when they don't mean it.
My years of living in Slovakia have taught me to be patient and to see things from different perspectives. There is not one cultural norm that is 'correct' or the best. There is a saying in English, humans are creatures of habits. The more we learn about each other, the better we can get along. The thing is, I've learned more about myself while living away from my own culture. I'm sure a lot of foreigners in Slovakia can relate to this.
Oh, and If I had to choose between artificial cheerfulness and honest grumpiness when it comes to services in general, I'd still prefer artificial cheerfulness.
Of course, it is not fair to define a whole nation based on their service industry. From my experience, once you've gained the trust of Slovaks, they will help you, accept you and remain good friends for a long time. Many foreigners find it very hard to build friendship with Slovaks. In my opinion, it is partly due to language barrier and the fact that most Slovaks remain friends with the same group of people for life. They very rarely accept new people into their social clique. Interestingly, I find this very similar to English people who live in a big city like London.
WHAT DO YOU LIKE ABOUT THIS CITY THE MOST?
That it's quaint and quirky. Bratislava is the kind of city that you grow to love for its little things. It might not take your breath away at first sight but it may leave a mark in your heart forever.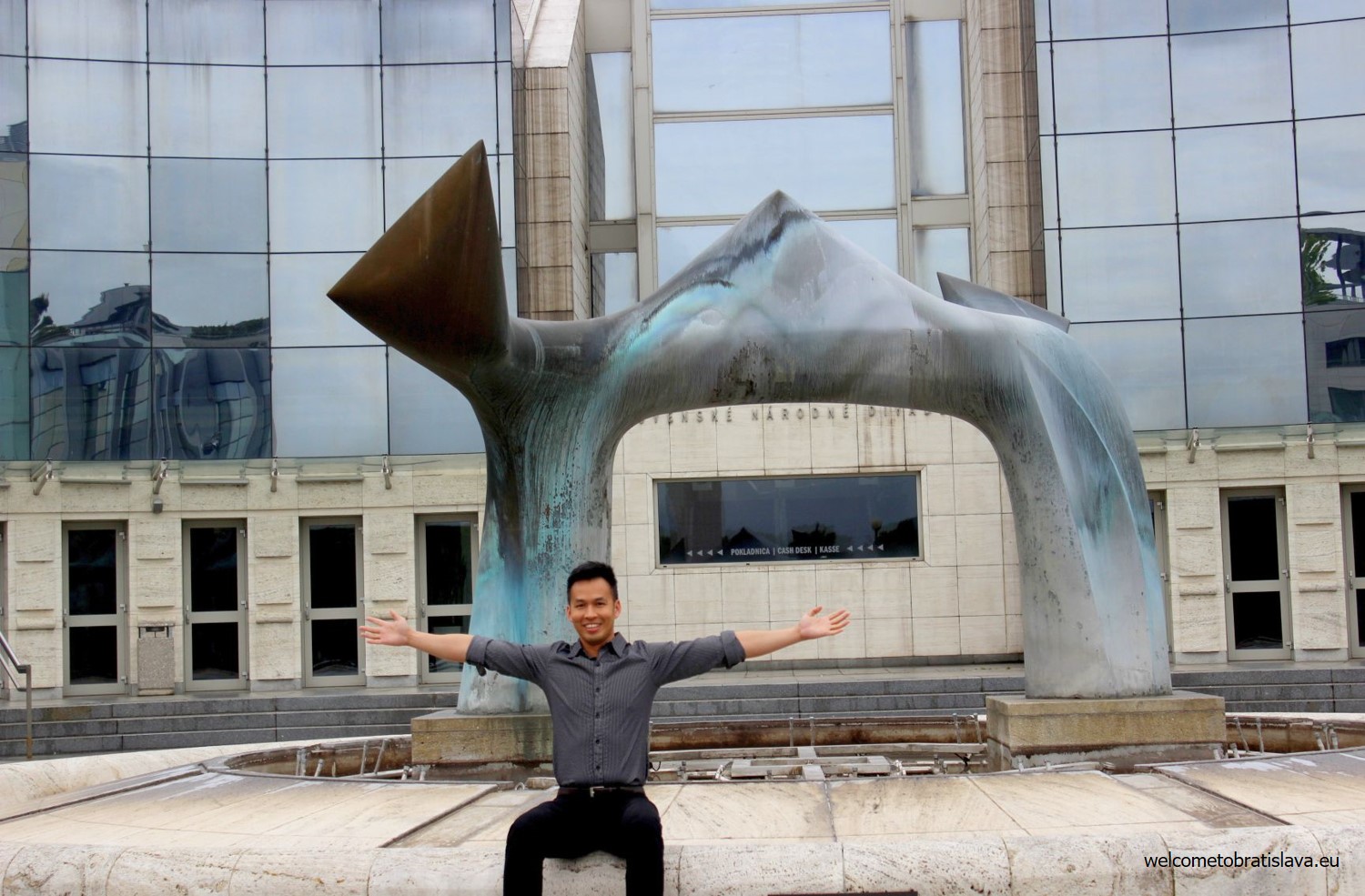 WHAT ARE YOUR 3 TIPS TO BRATISLAVA VISITORS, WHAT SHOULD THEY DEFINITELY NOT WANT TO MISS HERE?

There are tons of cool and interesting events in Bratislava year round.
Bratislava is all about experience, not monuments. Make new friends when you're here. Go to a party. It's called "Partyslava" for a reason.
If you're a foodie, you're in luck. There are some really good cafes, bars and restaurants here and alcohol is still cheaper here compared to Vienna. Let's hope this will not change anytime soon.
"Feel free to contact me for speaking engagements for your school, university, company, etc, via hon@imaginecourses.eu. Perhaps you want to know more about what I do, or would like to collaborate in a project. I love people who take actions and do something good for their local community.  I'm up for all creative projects in storytelling, theater or film!"
Author: Maria Kecsoova, Photo credits: Zuzana Mytna