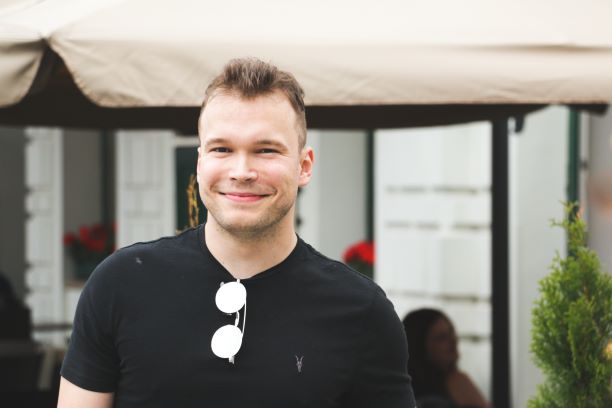 Meet Simon Tomas aka Simi – a young composer and music producer working under the name ELU MUSIC – who was born in Bratislava and who told us about his passions, favorite places in town as well as reasons why Bratislava is an ideal place to live.

WHAT IS YOUR BRATISLAVA STORY?
I was born here and have always been enjoying all the perks the city has to offer. Even though I travel a lot and since 2014 for three years I lived in Dublin where I studied, I've always liked to come back. The city has a positive vibe for me, I have my family and friends here so it is always good to return at least for some time.
WHAT DO YOU DO IN YOUR LIFE?
I currently work as a media composer, mostly focusing on advertising and film. I also spend a lot of time learning, gaining knowledge and creating new pieces for my portfolio. I like collaborations with interesting people and always look for new inspirations. Thus it is important for me that the place where I set myself to live at a certain time is very inspiring, has perspective young people around, is exciting so that I don't get bored there easily and gives me opportunities to improve my skills and work.
SO YOU ARE NOT A PERSON WHO CAN STAY AT ONE PLACE FOR LONG?
Definitely not :) I love discovering new places, although it's a great feeling to return somewhere where I was, after a longer period of time. Each place is connected to some memories and reminds you of people and past experiences, and becomes a new source of inspiration. Traveling is a big part of my work and I hope this won't change.
WHAT ARE YOUR TRAVELING PLANS?
I would like to see everything! In winter I like mountains, in summer I hang out by the sea and in between – it can be anywhere else. I usually choose my destination based on the project that I am working on. If it's an urban project, I prefer to stay in a city where I can feel its vibe and the atmosphere, people. On the other hand, if I need to have a calmer time, I disappear to nature. I am now in Bratislava till the end of summer and then leave again for a year to Valencia, Spain, to continue my Master studies – the program Scoring for Film, Television and Video Games at the Berklee College of Music. It's one of the most exciting moments of my life right now!
HOW DID YOU GET TO BE INVOLVED IN MUSIC IN THE FIRST PLACE?
Despite I don't come from a family with musicians, music has always been around me for some reason. I started to try playing musical instruments when I was 14 and have never stopped since. My majors are piano and drums, but I can manage guitar as well on a decent level and have just started with flute. One of my self-development goals, besides the composition itself, is to begin to understand every musical instrument at least on a basic level. I will be happy if I can continue to work in the area of film production as a composer and have the opportunities to work with the best orchestras possible. I am very excited about my Berklee studies because I will have the privilege to cooperate with the London Symphony Orchestra!
WHAT DO YOU THINK ABOUT BRATISLAVA AS A CITY WHERE YOU WERE BORN?
I have always had different feelings about Bratislava but in general I think it is a very good city to live in. Its potential is increasing year by year and it is slowly catching up the more developed cities, which is great to see. Especially in the last past years, in my eyes, the city has developed itself a lot, in regards of what to do, activities and so on, and is still changing. Each time I come back after some traveling, I am positively surprised about the new places opened and things being started. I think Bratislava is an ideal "little big city," as many would say. There's a lot of things to do, various restaurants and options for entertainment. And of course my whole family and many friends live here so for me it will always represent home.
ANY FAVORITE PLACES IN THE CITY?
I have always been a fan of Old Town. I like to hang out in the bars and restaurants here. Moreover, I love nature – so Koliba is a great option for a walk, taking my dog out or eating out in one of the local pubs.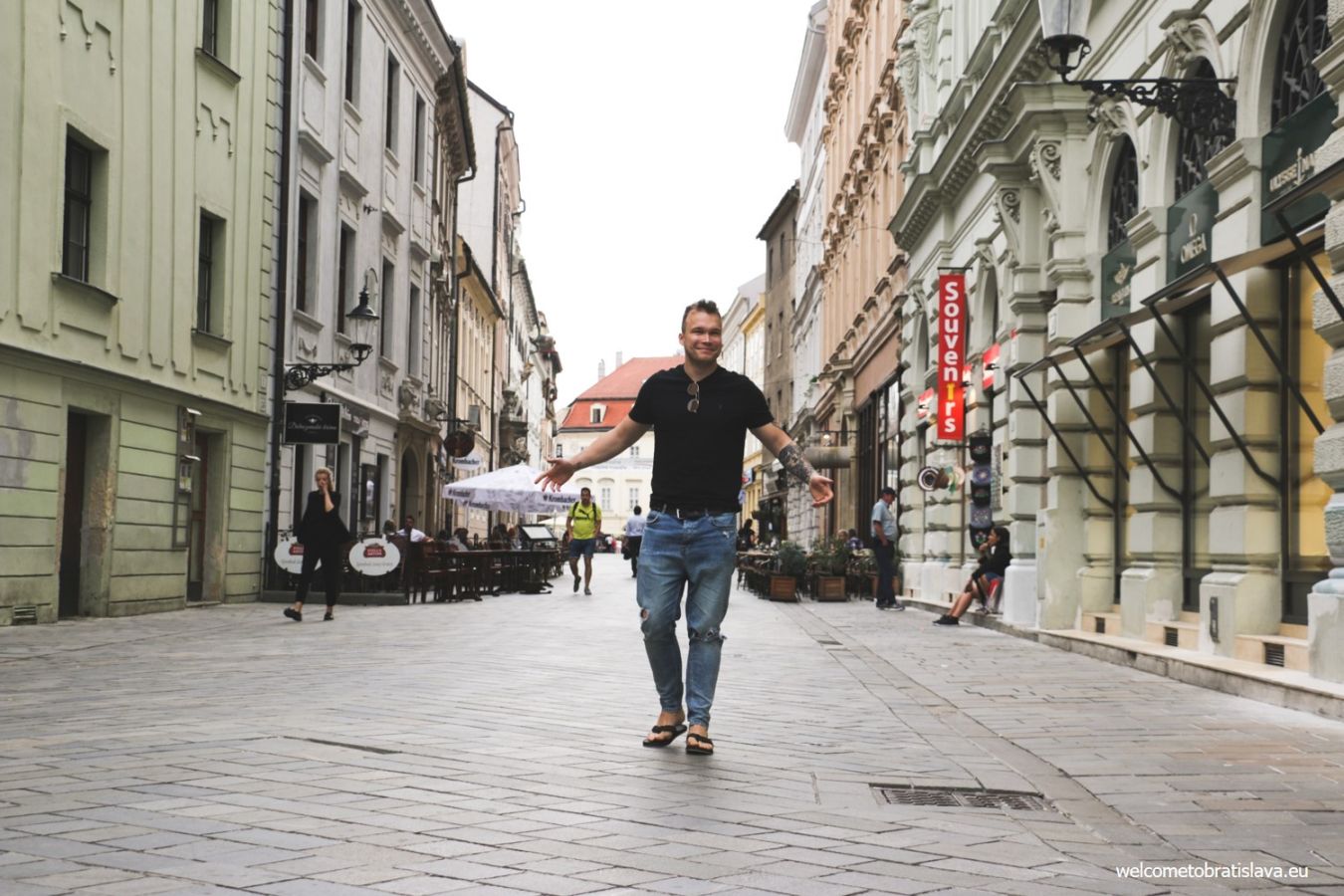 WHAT DO YOU LIKE TO DO IN YOUR FREE TIME?
Recently I have been into indoor wall climbing a lot so I have to mention K2 – space where you can practice this sport. I love this kind of active relax.
WHERE DO YOU LIKE TO HANG OUT?
It depends on my mood and what I am currently looking for. If I want something elegant or a good drink, I choose Sky Bar – for me one of the top places in town, not just for the fantastic drinks but also for the beautiful view. I also really like the creative SPIN Cocktail Bar and as I am fond of whisky, often you can find me in the Whisky Bar 44. If I just want to go for a beer with friends, the Krcma na Zelenej is one of my favorites. To enjoy a good meal, I'd pick KORZO restaurant, Carnevalle if I feel like having meat, or Foodstock when I want something vegetarian/vegan. I like to discover new places so next time you ask me, I will probably give you some new names :)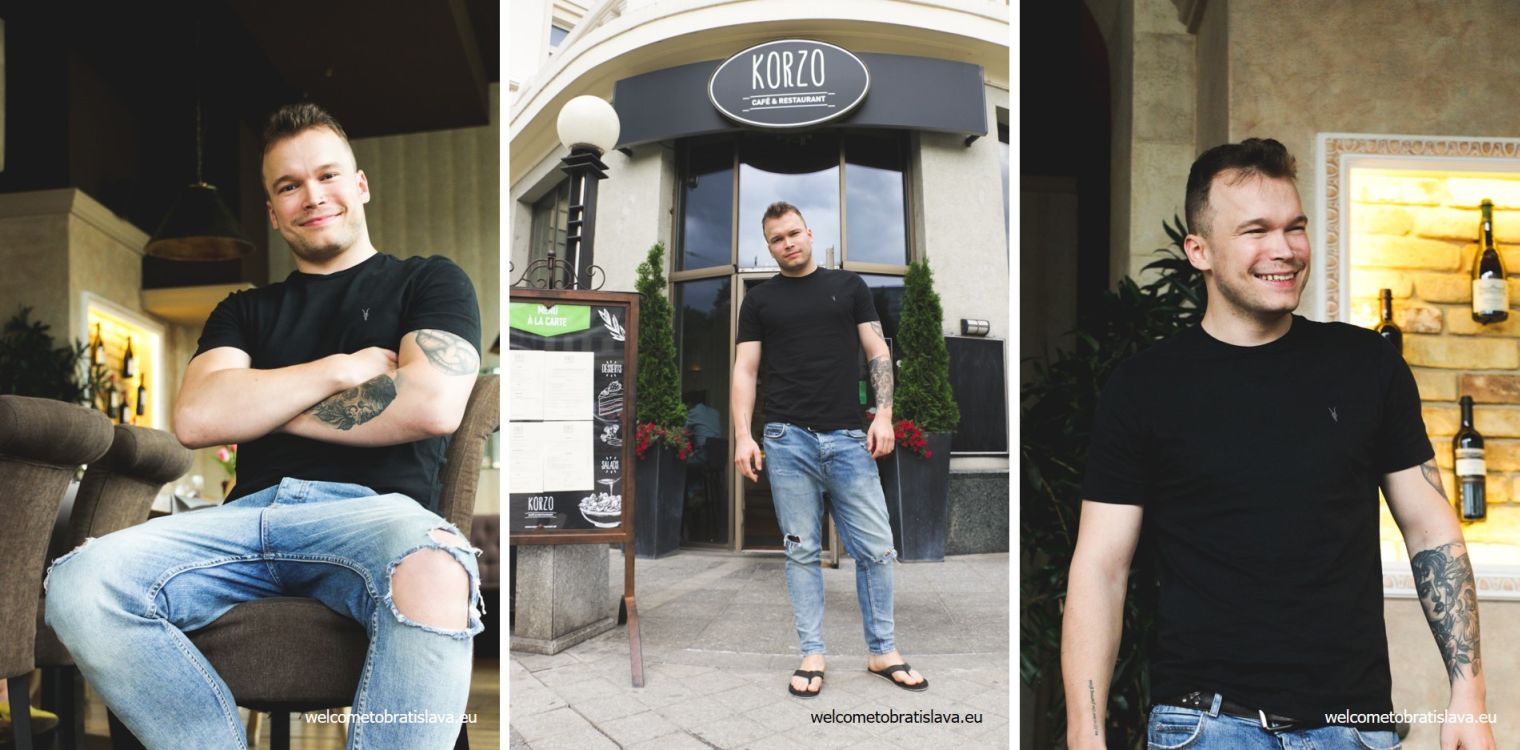 TOP 3 THINGS THAT YOU LIKE THE MOST ABOUT THIS CITY?
As I mentioned before, I am a fan of our Old Town. I like its art and architecture, just as I like the spirit of the city. The fact that you can walk anywhere without the need of driving in the center is very convenient and I can appreciate it now, after having lived in much bigger cities. It's also very easy to travel from Bratislava – the airport is just 20 minutes away from the center with reasonable options, and we are very close to other capitals of our neighbouring countries which is an advantage as you can do a simple get-away even last minute.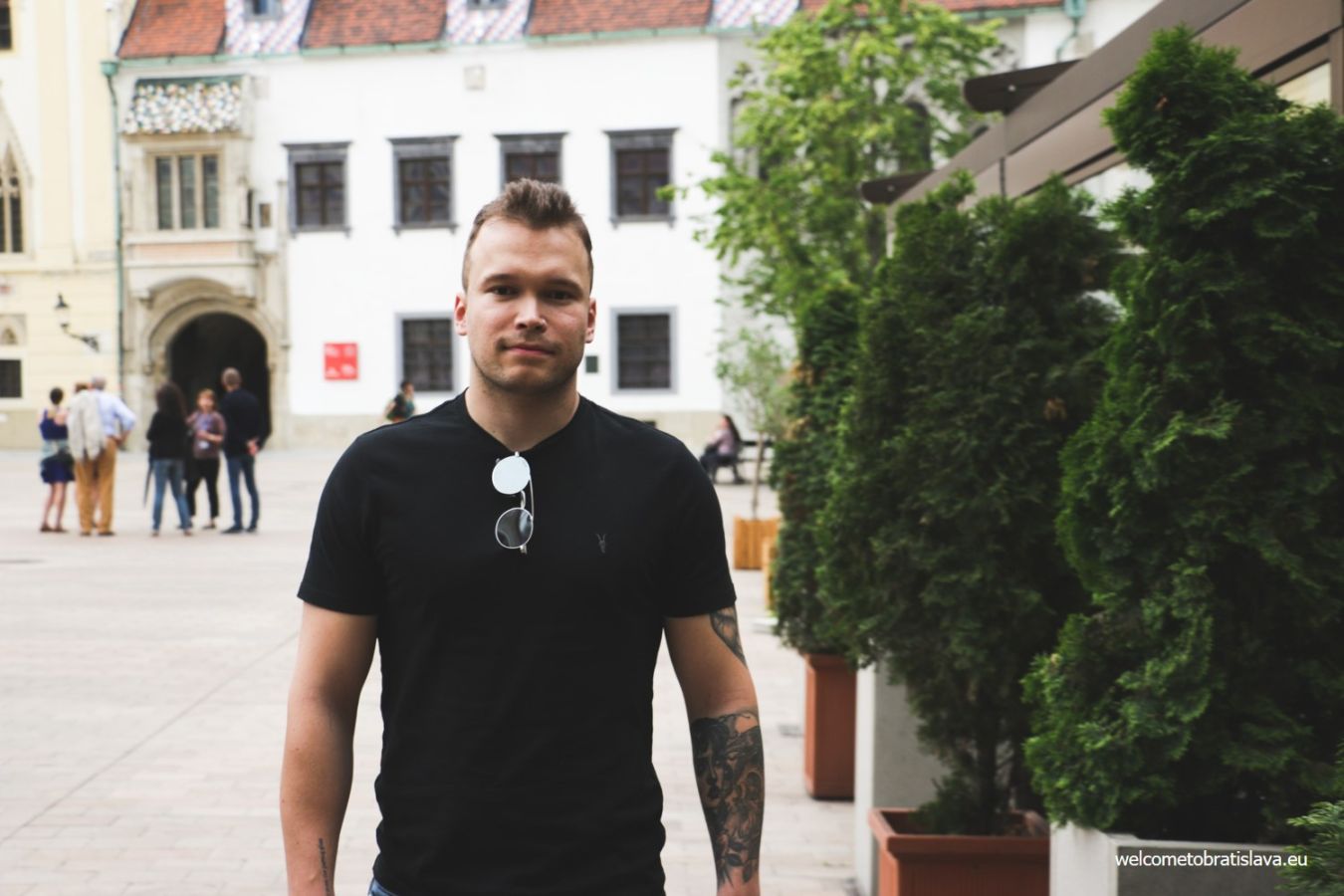 Check out Simi's official website for more information about his work.
Author: Maria Kecsoova
Photo Credits: Natalia Jankova