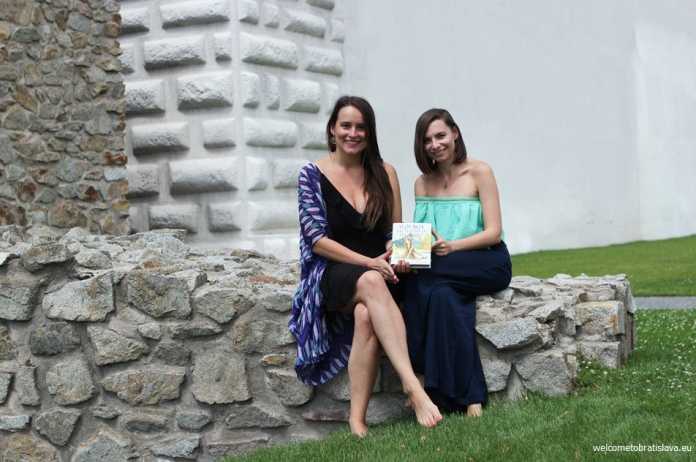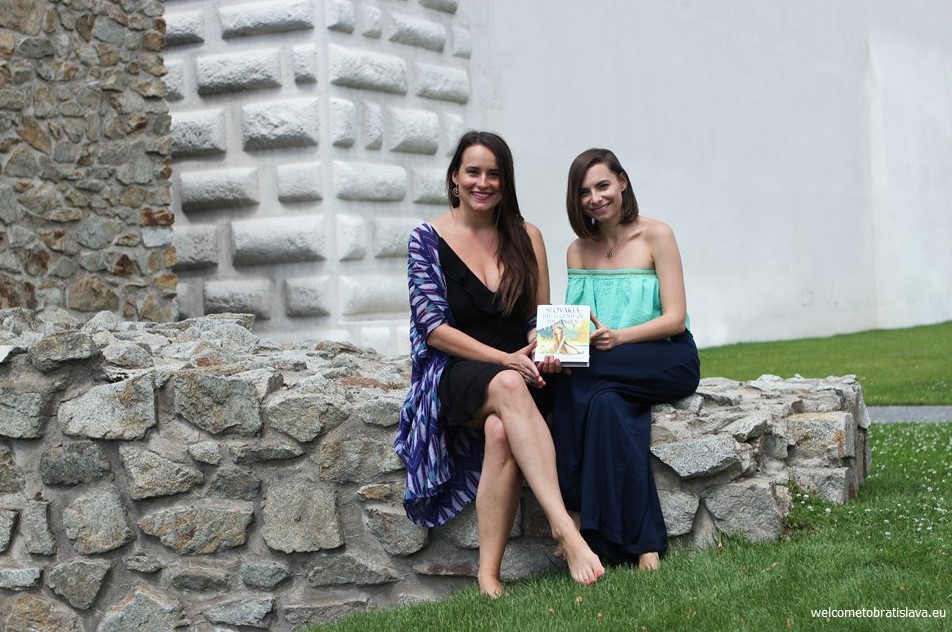 Meet Zuzana Palovic and Gabriela Bereghazyova – two young women with Slovak roots who have lived abroad for years but always felt heartily about their home country. After studying and deep-diving into Slovakia's past, they've written books that communicate its history in a fresh and visually appealing way. These publications honor the journey of the heart of Europe and its great leap forward.
WHAT'S YOUR BRATISLAVA STORY?
Zuzka: I was born in communist Czechoslovakia but my family defected when I was a small child, one year before the Iron Curtain collapsed. We escaped through the refugee camps in Austria and emigrated to Canada which is where I grew up. I lived in Amsterdam where I did my masters and then in London where I did my doctorate but even when I was traveling the world, I was always looking for opportunities to come back to Bratislava where my family's from, to re-connect with them as well as the stories of my ancestors. I've travelled all over the world but now I am back. To some locals, I may seem very different because I am a Slovak that grew up in foreign countries, but generations and generations of our family have Slovak roots and have lived on this land. My family and I were the first ones to kind of break from this chain, but it does not mean that I forgot where I came from. I really like this city, and have always loved coming back here while living abroad.
Gabi: I actually never lived in Bratislava permanently but I remember that when I was a child, Bratislava was that huge city we would occasionally visit with my parents. It was a special treat,  our thing. When I was little, Bratislava embodied the big world out there. It was the only place in Slovakia where you could hear different languages, and it used to fascinate me. When I was older, I left Slovakia to live abroad but Bratislava became a hub for me when I was coming back to visit my family. I'd always stay here for a while and observe how the city has changed.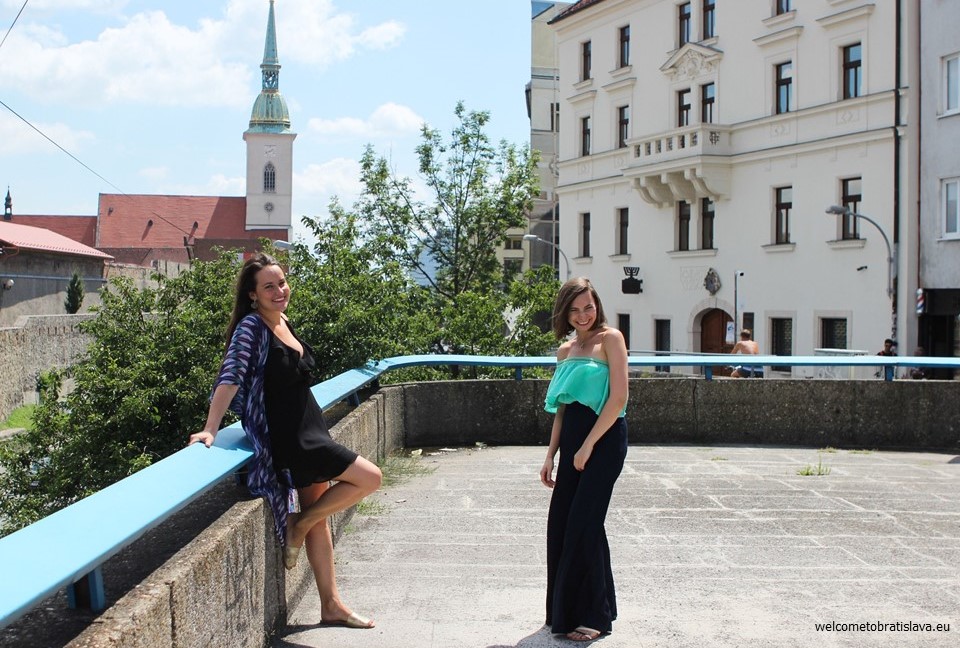 SO YOU BOTH HAVE A THING FOR SLOVAKIA…
Zuzka: Definitely! I was always interested in its past. I completed my doctoral study in Migration and Slovakia. Part of my doctoral research was to explore its history, so I went really very deep into it to understand how the past influenced the present day. To better explain how history shaped the values and habits of the people and so on. All the books I read and interviews I conducted, helped me to see the world through a different lens. When I walk around the city today, I don't just see what's happening now, but I see the various layers and stories of history behind it.
Gabi: I studied Slovak culture and history in Slovakia and then in my doctoral studies in London I similarly focused on how the past shapes the present. I consider this as the most fascinating part of my PhD! My knowledge comes to life every time I am in this city.
SO HOW DID YOU TWO GIRLS MEET?
Zuzka: We met in London in 2013 when we were studying there, thanks to a common friend. We arranged a lunch together and that's basically where our friendship started. Later on we lived together, too, and our apartment was the place where we decided to write our first book Slovakia: The Legend of the Linden – a book about Slovak history.
HOW DID THE IDEA ABOUT THIS BOOK COME TO YOUR MINDS?
Gabi: This happened when we were in Bratislava, helping to organize one big international summit. Once our lobbying efforts ended, we started to talk about it and kind of created the whole concept of the first national story of Slovakia, based around the linden tree. We used it as a foundation for a national brand for Slovakia. We were very passionate about the idea and took it very seriously. We wanted to partner with other organizations to enter a public tender with our concept. In the end, we really did! Zuzana and I created a beautiful logo and slogan for Slovakia, we put together the entire visual identity and design manual. Unfortunately we were kicked out of the government tender for some technical error in the application process. After this disappointment we decided to communicate what we had put into this nation brand, into something maybe more substantial, like a book. And this is how The Legend of the Linden was born.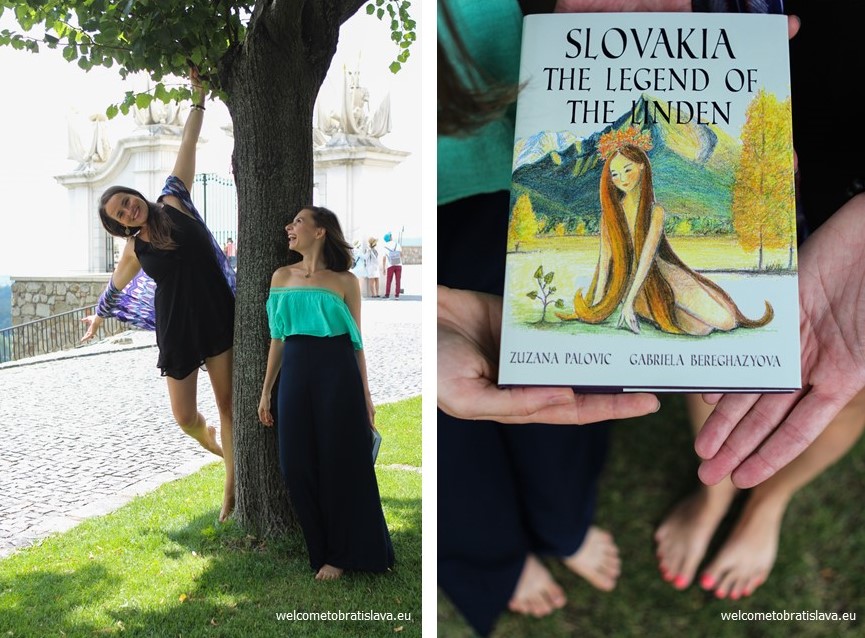 TELL US MORE ABOUT THE BOOK, WHY "SLOVAKIA: THE LEGEND OF THE LINDEN"?
Gabi: The linden is our national tree, it's the sacred tree of the Slavs and it's the icon and the emblem of Slovakia. You can find it on our passports, identity cards, the national stamp, the government ministries… When we went deeper and started  asking "why the linden," we could not find much information, any story or a substantial explanation – and so we decided to do it ourselves. We learned that Slovak ambassadors used to and still ceremoniously plant linden trees  abroad, our ancestors used to meet around them and pray to them – the tree was akin to the female face of God for the pagans. We discovered that the symbol was used as early as 500 years before Christ – that is when the Celts put it on their coins. Basically anyone who came through this region, really connected with the Linden. The book "Slovakia: The Legend of the Linden" not only communicates Slovakia's journey across history, it also explains the "why" of the Linden.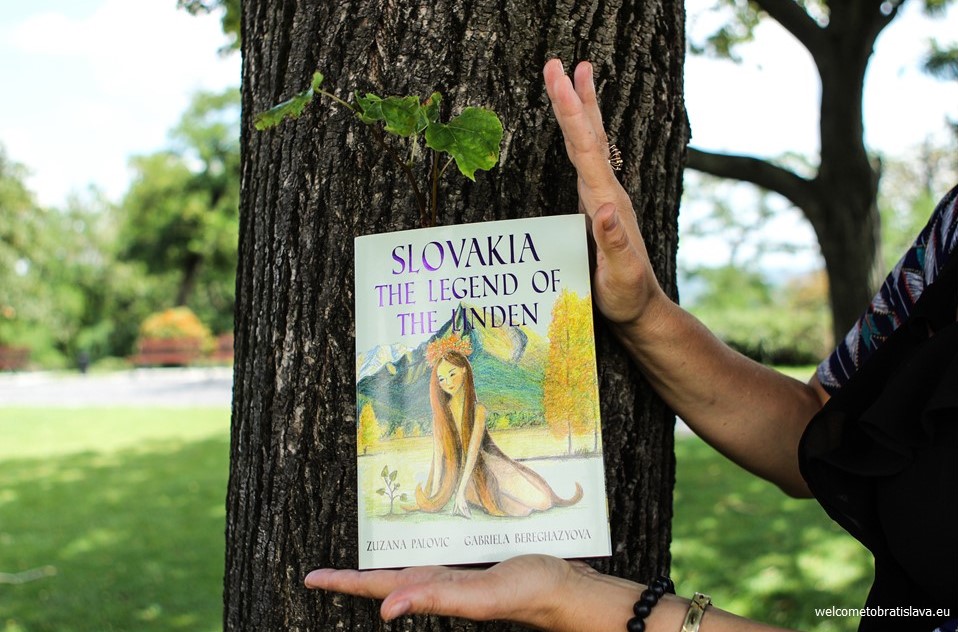 Zuzka: The book has multiple layers. On the one hand, it is a story, on the other, it is a work of visual poetry. It is intentionally not text-heavy, so it is accessible to people who don't like to necessarily read too many details. Slovakia's history is very rich and complex and it was quite a challenge to tell it in a non-detailed form. Less is definitely more! Sometimes and in this case, literally every word had to be carefully chosen. It was a very interesting artistic process. The book is available in Slovak as well as in English.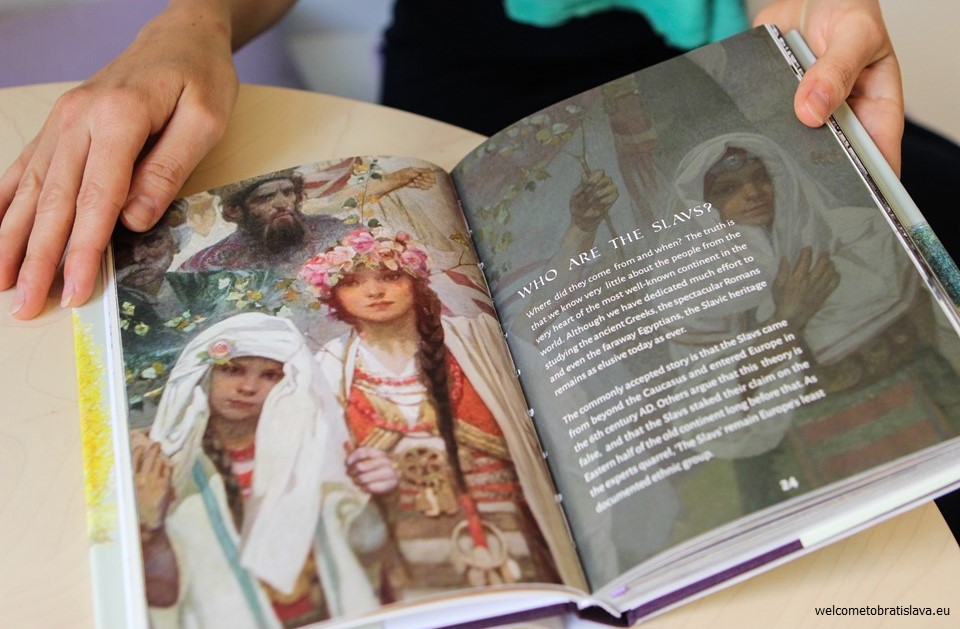 THIS IS NOT THE ONLY BOOK YOU WROTE THOUGH..
Zuzka: That's true. But our second book is very different! While the The Legend of the Linden focuses on Slovakia's past, the other book – The Great Return (Veľký návrat) – is about Slovakia's experience in the 21st century. It's a modern story of our country, also a visual book, and it tells the story of Slovakia through faces and successes of her people. It provides portraits of 25 returnees, alongside 33 others, including officals, money makers and influencers, that together comemorate how our country is changing thanks to her young people leaving, learning and returning.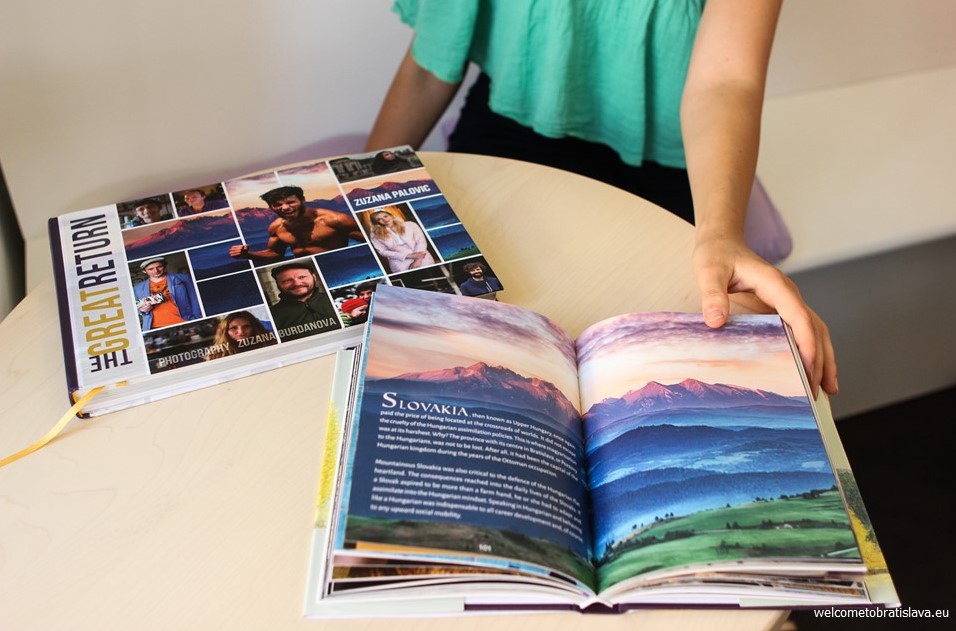 Gabi: We have a lot of young talents outside of our country. Since 2004 a great many people left. We have 300 000 Slovaks living abroad in Europe currently. One third of our university population lives abroad. This book looks at what happens when they return, how they help to shift the country's culture whether it's in art, science, business or government. The returnees come back with more ideas, diverse mindsets, they have a different way of thinking and communicating. The Great Return honors their experience.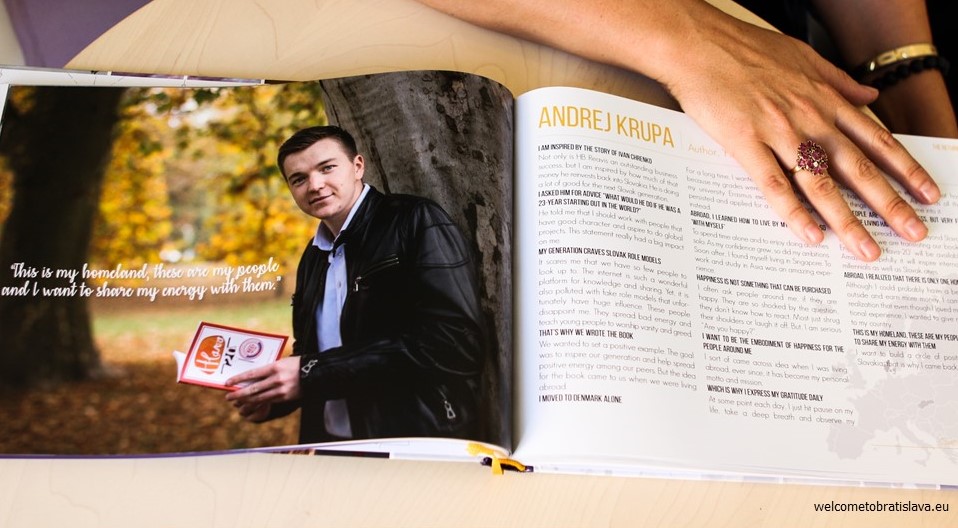 THIS SOUNDS LIKE YOU DEFINITELY LOVE BRATISLAVA AND SLOVAKIA. CAN YOU TELL US SOME OF YOUR FAVORITE PARTS THAT YOU ENJOY BEING AT THE MOST?
Zuzka: I love the nature at Koliba or Devin, and Slavin for its history. The Bratislava castle for me is this kind of an energetic node and for many reasons. I particularly like the spot where the three linden trees were planted in 1968 – which is the year when Slovakia became a federation. I have always loved to sit in the middle of those trees, inside that triangle, because when you look at the castle, you see the Austro-Hungarian empire. Then when you look across the river, you see Petržalka – and the scar of communism. When you touch the soil and take in the trees above you, you connect with the pagan past. Then you look to your right and see the Celtic fortification. For me this intersection of eras is fascinating and you can experience this convergence almost anywhere you are in Bratislava, but particularly on the castle. Where you really have a window view into different worlds and the influenes that came through here. That's why Bratislava has this special energy. It's such a mixture of different histories and memories across tribes, empires, regimes and ideologies. These imprints all coexist in a very narrow space. That's very unique and that's why Slovakia, and particularly our capital, is truly a crossroad city.
Gabi: For me this has always been the Devin castle. I used to be fascinated by it as a child. Every time you enter the castle ruins, you are taken to a very different time, one of medieval knights and princeses, an era that holds a special place in my heart. This is where the first Slavic university was based and that made it an important hub not only for us but the whole of Europe. This is also where I realized how painful it was to be separated from the world by the Iron Curtain. How close we were to the West, yet separated from it for decades, with the doors closed right in front of our noses. Plus, just seeing three countries from one spot, is also pretty incredible.
WHAT ARE YOUR NEXT PLANS, ARE YOU PLANNING ON STAYING IN BRATISLAVA?
Zuzka: It is quite a common case for Slovak people to travel, study or work abroad. Slovakia is very much a part of Europe and I think we don't have to be scared of that. I think it's a positive thing because sometimes there are limited opportunities here, so it's only natural that people go outside into the bigger world and acquire new knowledge, experiences, contacts… And it's really beautiful when we come back and share what we've learned – which is what Gabi and I are trying to do with our books. We plan on staying for now. Of course you never know what's gonna happen, but now we are back, very happy to be here and starting to kind of settle down in Slovakia for the first time. Let's see what the future holds for us :)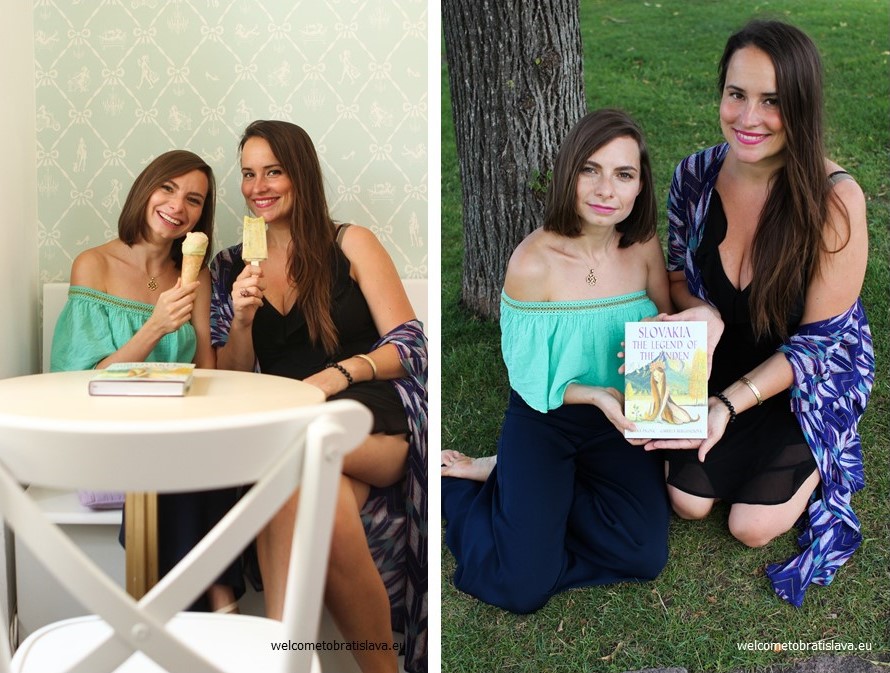 Buy the books:
Slovakia, the Legend of the Linden
The Great Return
Author: Maria Kecsoova