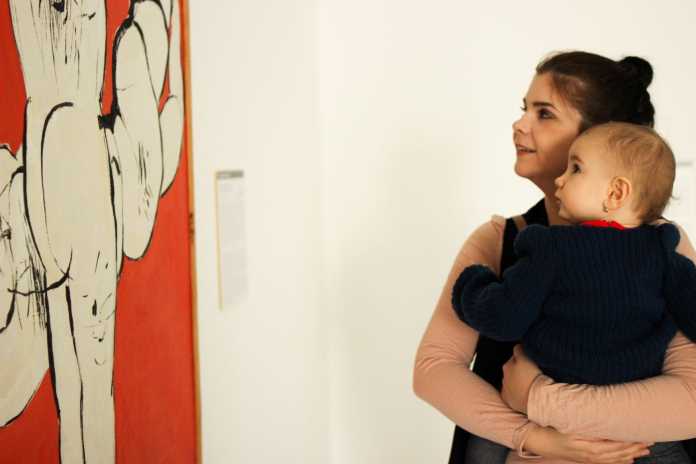 Where to spend your free time with kids when the weather is horrible? Get inspired by our list of indoor places for kids! If they like museums, theater shows, action or want to learn something new, we are sure you will find an interesting activity or a place for them.
VISIT A MUSEUM OR A GALLERY
BIBIANA, AN INTERNATIONAL HOUSE OF ART FOR CHILDREN
Bibiana is a creative centre for kids located in a historical building where they can play, see original, modern but tasteful interactive exhibitions, or can try how it is to be an artist. They also have a rich library and interesting accompanying programme. More info.
MULTIUM – SPACE AND MIRROR GALLERY
What can be done with mirrors in a simple room? The basic element which creates an illusion of infinity is two mirrors positioned opposite each other on opposing walls. When we add more mirrors, for example on the ceiling or the floor, the impressions created expand into another dimension. This way we can play with mirrors in a three-dimensional space and create various effects and illusions of infinity. And this is exactly what this gallery is doing! More info.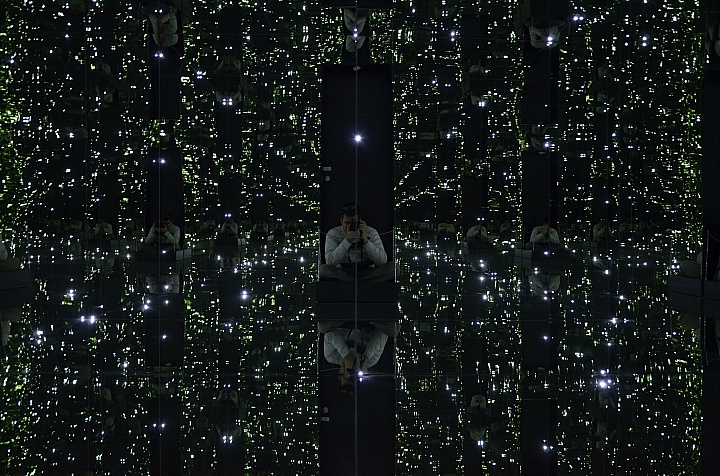 (source: Multium)
SLOVAK NATIONAL GALLERY
Slovak National Gallery offers great exhibitions levelling with western standards for which we are very proud of! Majority has descriptions in English language too. Good time to visit it is on Thursdays, when the Gallery is open until 20.00. SNG offers also different educational and cultural programs and workshops bringing art closer to an average adult visitor and kids. There are quite many family events organized in Slovak language.
BRATISLAVA CITY GALLERY
Spend your free time at a creative family programmes in the Bratislava City Gallery time in the premises of the beautiful historical palaces. The current events for families can be found here. Advance booking for each event is needed.
THE AURELIUM SCIENCE CENTER
The Aurelium Science Center is designed for kids from the age of 12, as the exhibitions require basic knowledge of physics in order to help the visitors develop further knowledge. The purpose of the science center is to educate its visitors in an interactive way and to increase the general interest in science through the interactive exposures. It wants to convince the youth that science can also be entertaining and to motivate young people to scientific careers and studies. More info.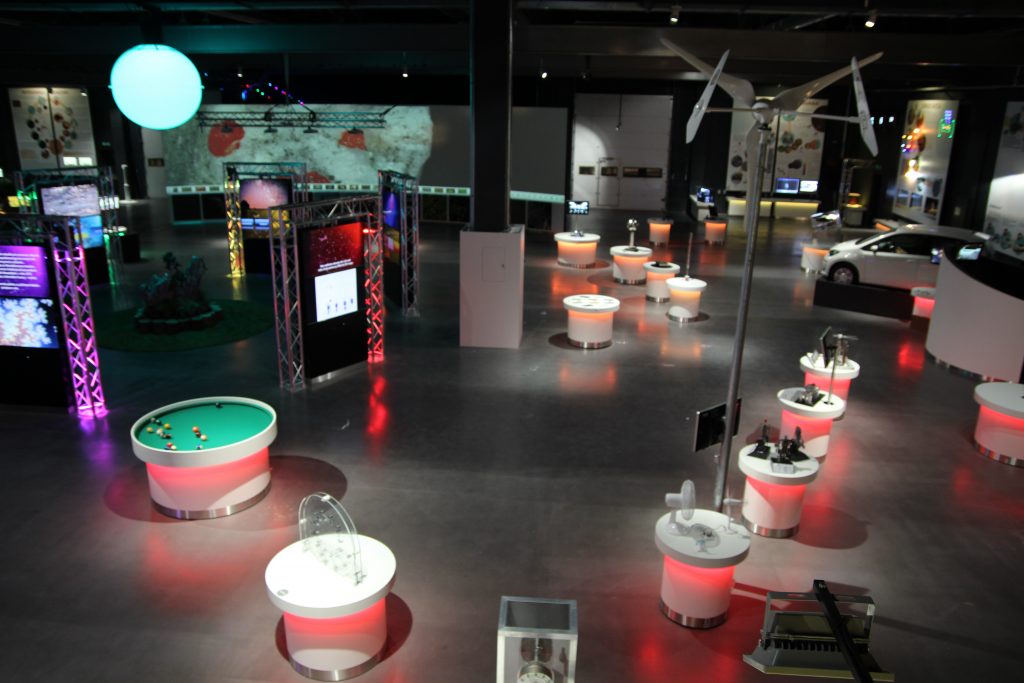 (source: Aurelium)
MUSEUM OF TRANSPORT
This museum documents the development of railway and road transport of Slovakia. You can see here cars with or without engine produced before the World War II, bicycles, personal vehicles and lorries from the interwar period, vehicles from the 60s and 70s of the 20th century. All this plus some temporary exhibitions will bring you closer to understand how Slovak transportation has changed in time. More info.
OLDEST SOUVENIR SHOP & MUSEUM OF TRADE
This place with its interior reminds a shop from an early 20th century. Authentic furniture, decoration and the music played in the background add up to the retro atmosphere. The back part is a small museum with old silver cash machines and other shop equipment such as historical advertising signs. You can purchase a variety of good quality local food products and some special souvenirs, too. More info.
MUSEUM OF ARMS AT MICHAEL'S TOWER
A small museum but a wonderful view which you can enjoy from the top of the Michael's Tower where this Museum of Arms is located. This building together with its gate represent the best preserved fortification in Bratislava, originally built in the 14th century. More info.
MUSEUM OF EDUCATION AND PEDAGOGY
This museum was founded in 1970 and it collects material related to the history of the schooling system from the 16th to the 20th century. In its depositories it stores more than 30,000 pieces of school artefacts. The collections consist mainly of textbooks and books on pedagogical topics, school furniture represented by inventories of classrooms or cabinets, teaching equipment, photographs, films and other picture material. More info.
KIDS' TOWN OF PROFESSIONS IN BORY MALL
In this town, children can try out various professions in a playful way. The exhibition is organised in several separate houses where children perform various jobs. The exhibition is aimed for children aged 5 – 15 years. More info.
SEE A THEATER PERFORMANCE
GAŠPARKOVO
Your kids can see  some of the famous fairy tales or engage themselves in the interactive puppet shows. Some performances are played authentically with classical marionettes and the other ones are modern, with the interactive engagement of children with the fairytale story. As a rule, performances are usually on Saturday afternoons and on Sundays before lunch. Puppet shows are intended for the children from 3 years. Each performance usually lasts 45 minutes. Children sit on pillows in the front area and parents all around their children on chairs. The shows are in Slovak language. More info.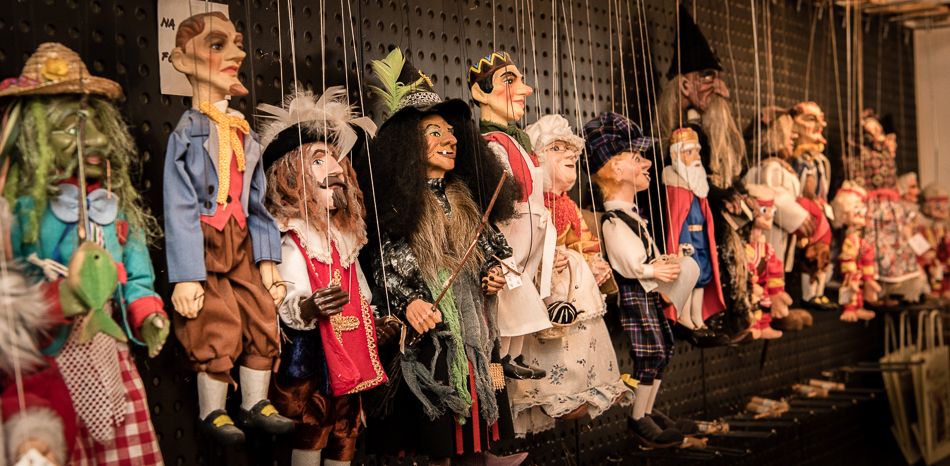 (source: Gasparkovo)
BRATISLAVA PUPPET THEATER
The theater was founded in r. 1957 and it has over 180 premieres and more than 13,000 performances at home and abroad on its account. It has received a number of significant awards from international festivals. The puppet shows are in Slovak language. More info.
SLOVAK NATIONAL THEATER
Apart from the numerous classical performances of our theater pearl SND, there are few productions for the children as well. You can find the overview here.
CULTURAL CENTRES
Each municipality has a "cultural house" that organizes various performances and shows for its inhabitants. The majority is however in Slovak language. For example, Ružinov has many cool things going on, which you can check here. They also offer many courses for kids and adults in the area of art or mobility. Another example is Dubravka.
EXPERIENCE ACTION
JUMPARENA
Let your kids experience freedom thanks to the 27 trampolines, a slam dunk contest attraction, an ultimate dodgeball activity, a foam jam, jumping from the tower into the airbag and many more. You have at least an hour to discover your abilities and limits using all the attractions. You can also rent it out for a party or for the team building activities. More info.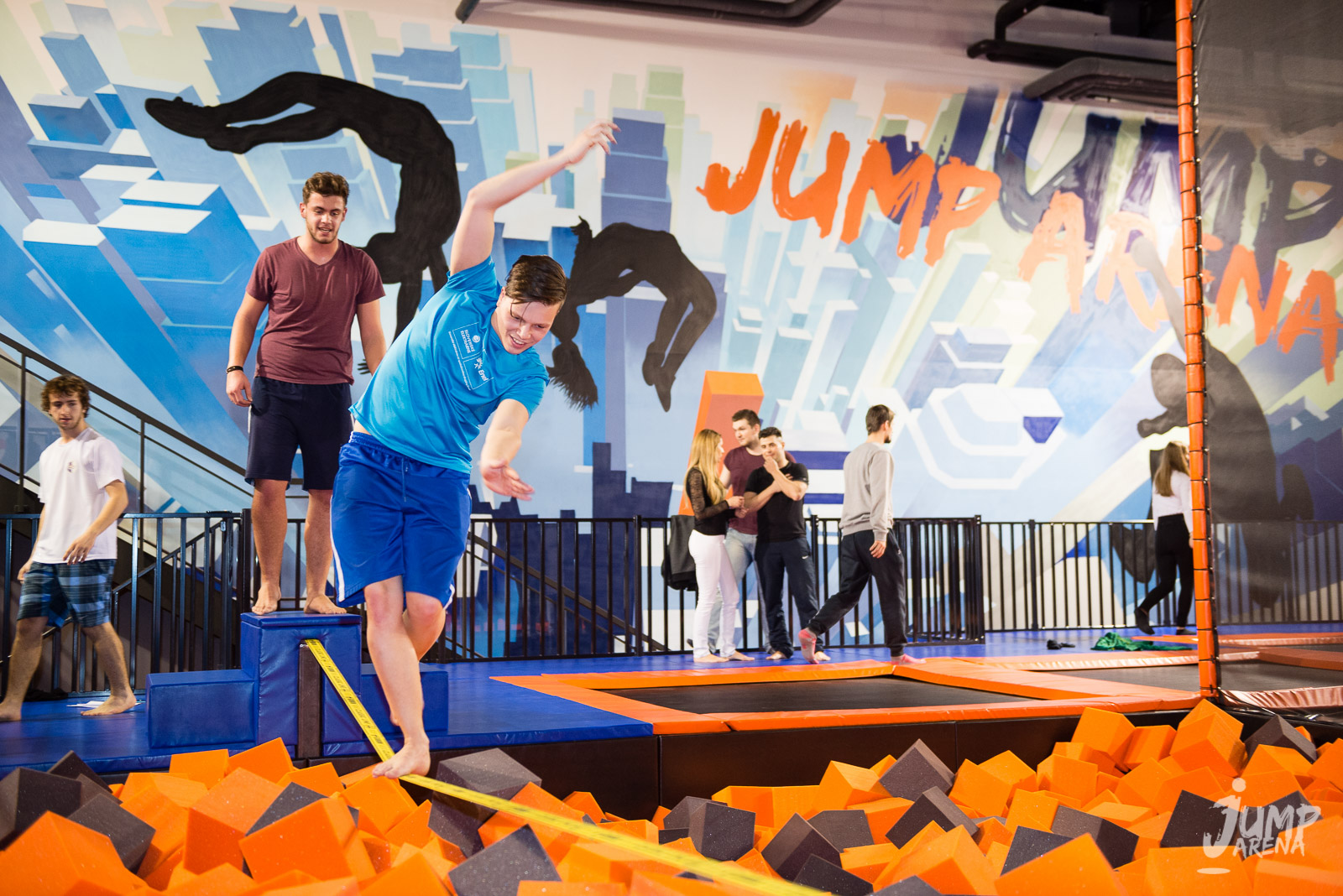 (source: Jumparena)
SPACE WORLD
Entertainment center SPACE WORLD, with the area of 750m2,  brings a lot of unusual entertaining motion activities that bring friends, families or even employees – basically everyone from 8 – 99 years of age – together. You can look forward to the activities such as laser tag, Xbox zones, a table tennis and a billiard here. More info.
FUN WITH VIRTUAL REALITY
Virtual Reality games are some of the coolest things to try for a child – they represent a whole new world of entertainment for all ages! Fun competitions, virtual sightseeing, trying out adrenaline activities children might be afraid of in a real world, or saving the Earth from aliens or zombies – all this can be experienced with Virtual Reality as it allows you to have the full experience of the game. Your kids will be in the best care with a dedicated person who caters for them and their program all the time. More info.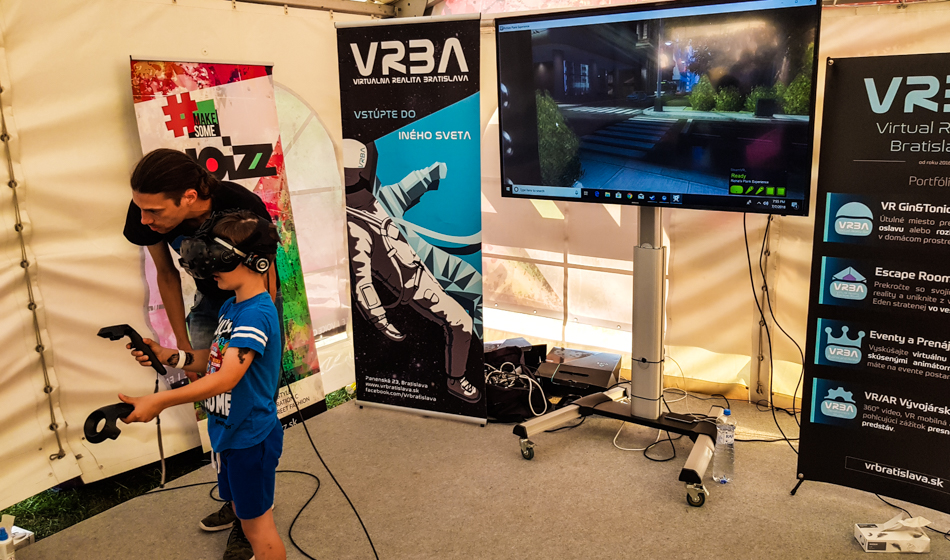 (source: VRBA archive)
KART ONE ARENA
If you want to enjoy some more adrenaline, high-powered racing machines might be something to consider. Visit the Kart 1 Arena on Kopčianska Street in Petržalka neighborhood. More info.
K2 INDOOR WALL CLIMBING
A rental service, climbing instructors to book, a shop, a cafe and children's playground. Whether you prefer rope climbing or bouldering, you will satisfy your needs for sure. One entrance or seasonal tickets available. More info.
VERTIGO INDOOR WALL CLIMBING
Vertigo offers a wide range of courses for preschoolers. Children are divided into age groups, which enables better group harmonisation (age groups: 2 – 3; 3 – 6). If you want to climb as a parent,there is an option to leave your children in the designed "kids corner" with climbing walls for children, a trampoline, a slide and other attractions. More info.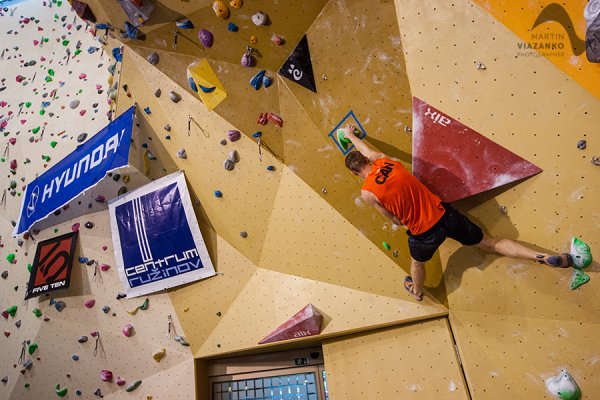 (source: Vertigo)
ESCAPE ROOMS
Imagine you get locked in a room and have limited time to get out. There are clues and coded messages left around that you have to find and decode, using only your logic and observation skills. You can find numerous escape or panic rooms (sometimes even flats or houses) in Bratislava. Read our article for more info. Just check with the game provider if the one you are considering is suitable for the kids, as some of them can be quite scary.  
PLAY AT THE INDOOR PLAYGROUNDS
FUNCITY IN OC CUBICON
Funcity is located in the OC Cubicon shopping center. You can find here (area of 1200 m2) many attractions including inflatable attractions, a big slide with inflatable wheels, 7 trampolines, track for the pedal cars, a huge jungle gym, playgrounds for toddlers, a table football and an air hockey. More info.
KIDSHOUSE
With more than 1,800 m², the Kidshouse offers many unique attractions for kids that you will probably not find anywhere else in Slovakia. The concept of this fun center is divided into two main parts: 1. Winter games (for older children) where every visitor can represent their country including activities like cannon fight in the Fun Shooting Ring, gliding from the top of a frozen glacier, or sledging on the artificial grass 2.  Summer Games (for the smallest children) including activities like climbing and chasing at the playground, slides and jungle gym, Lego corner, a corner with colorful balls, a track with electric cars or a bouncing sports track. More info.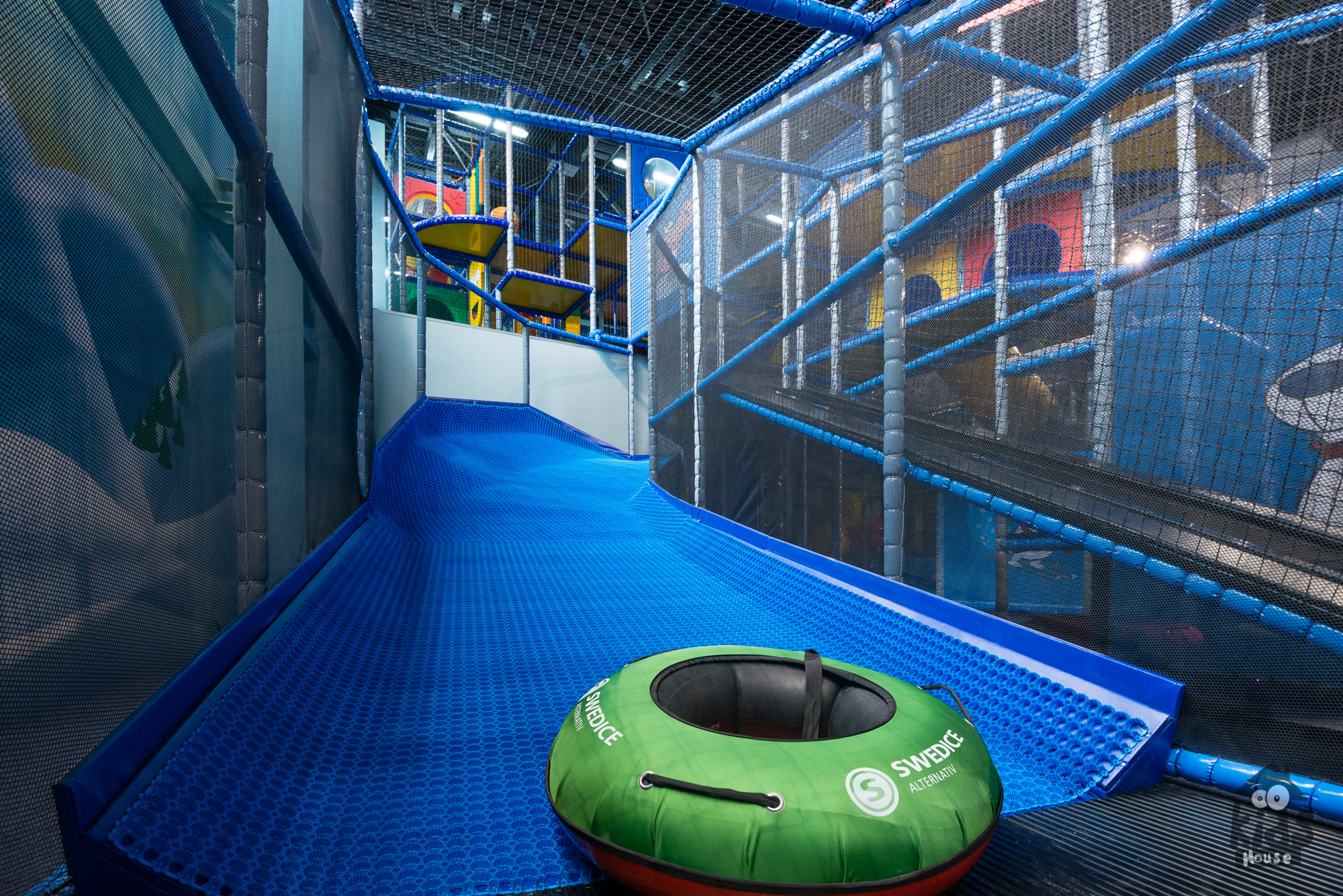 (source: Kidshouse)
BUPPI KIDSWORLD IN SHOPPING PALACE AND BORY MALL
There are two branches of Buppi – one in the Shopping Palace and second one in the Bory mall (attractions on the area of 4200 m2). You can also book the place for a Bday party. More info.
RETRO KIDS CENTER IN OC RETRO
RETRO Kids is a children's center with the area of more than 500m2, with attractions such as a trampoline, car racing, a pool with colorful balls, a wooden historic castle, a corner with dolls, a lego corner, slides, jungle gyms, teepees and many others. RETRO Kids also offers educational and creative activities in the form of creative workshops, children's theaters and performances, or the musical or dance education (there is also a ballroom dancing school). More info.
IKEA KIDS CORNER
If you need to do some household stuff shopping, bring your kids with you and let them play in the kids' corner there. More info.
KIDS CORNER AVINO IN AVION
Avino includes space for active movement with slides and swings, relaxing zone for drawing, lego building or moulding and TV mini cinema with children's programs, fairy tales and cartoons. More info.
TIME OUT KIDS CORNER IN BORY, AUPARK OR CENTRAL
Choose from three branches, all located in some of the best shopping malls in Bratislava. More info for Bory, Aupark or Central.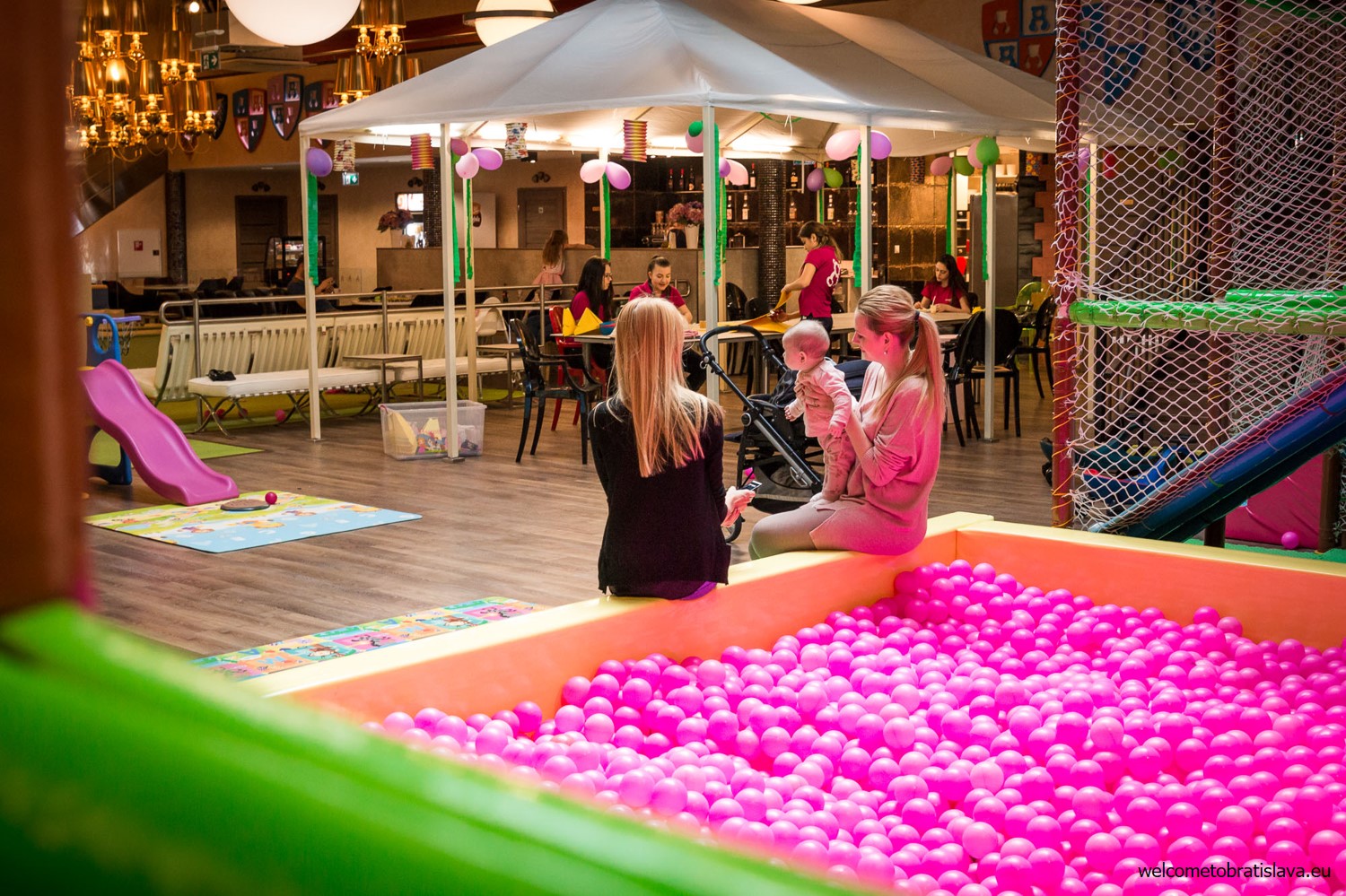 KIDS CORNER IN FRESHMARKET
The foodcourt on the 2nd floor in the popular farmers' market Freshmarket has a simple self-service kids corner. You can comfortably eat your lunch while your kids play. FREE ENTRY. More info.
KIDS CORNER MIRACOLO
Miracolo is an entertainment center for children covering an area of 310m². There is basically everything that kids need to play and discover in all age groups. More info.
PLAY AT FAMILY CENTERS AND CAFÉS
MONSTERS CAFÉ
Monsters cafe is more a children's corner with the option to get coffee and other refreshments than a coffee place with a children's corner. Why? Because nowadays it is the hottest place for moms and dads to go to with their small kids. While children play, you can enjoy the adult company and a cup of coffee! More info.
BUBBLES CAFÉ
This café with a nice kids corner is located at the beginning of Petržalka and organizes regularly various shows for kids. More info.
FAMILY CENTER KOMINÁRKA
A family center that offers a children's playroom, a healthy cafeteria, many courses and exercise  activities for children and adults, as well as the fitness exercises for moms. More info.
FAMILY CENTER IN POLUS
A fully equipped kids corner with open creative workshops, events for children and mothers and many other activities. More info.
FAMILY CENTER KRAMÁRIK
If you are looking for a place where you could spend time with your children and where you can participate at interesting workshops and activities with your children and also educate yourself as a parent, this is the right place for you. It was established by mothers who wanted to create a space where each mother would feel as on holidays:) More info.
FAMILY CENTER RAFAEL
This center offers a number of courses including ballet, yoga, science workshops, gymnastics, montessori and many others. There is also a lovely café with a kids corner. A must-visit place! More info.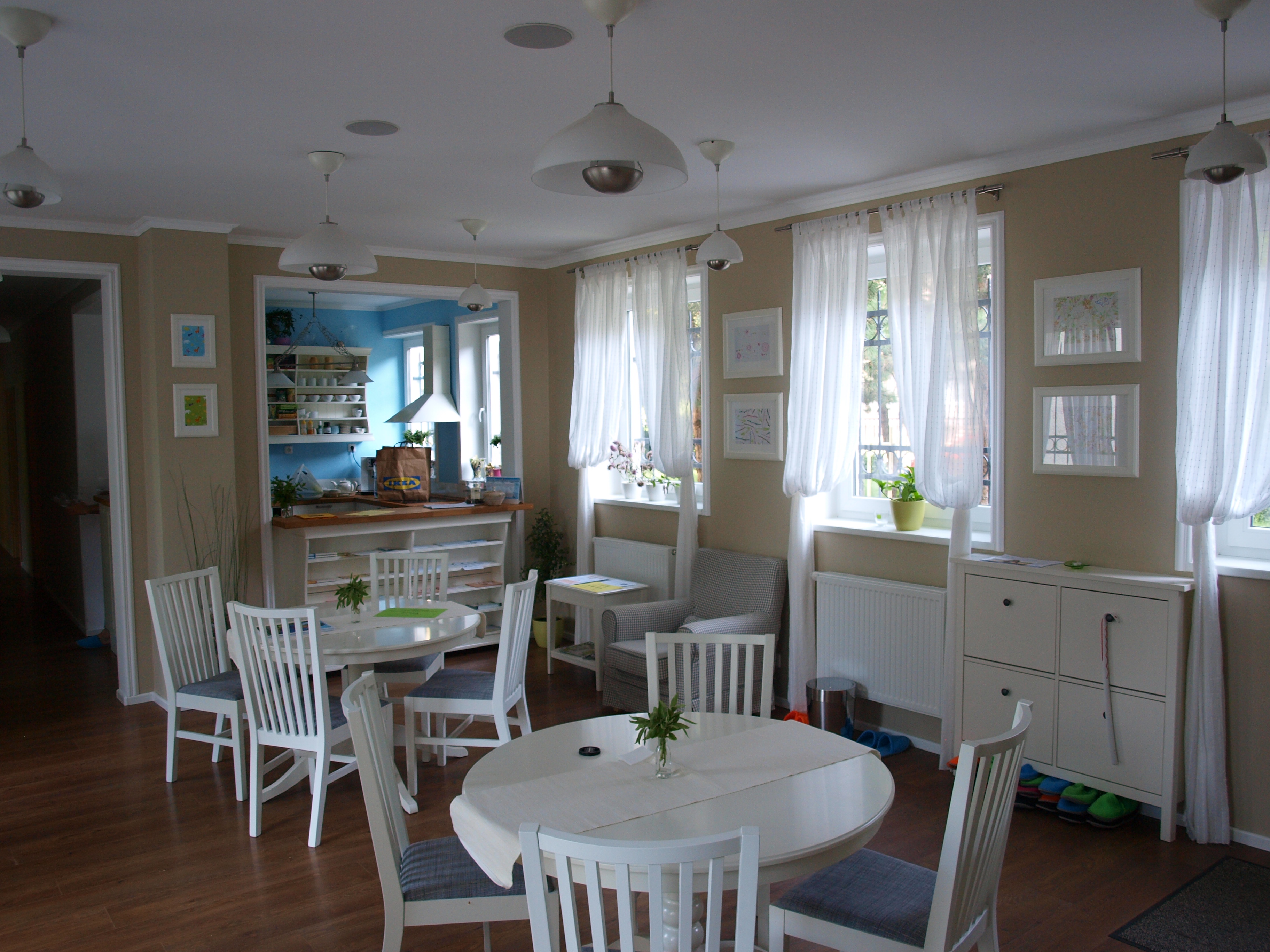 (source: Centrum Rafael)
FAMILY CENTER HOJDANA
This lovely maternity center that functions as an NGO and offers beautiful kids corner on two floors with a family atmosphere. You can easily feed your little ones in the dining area and order a cup of coffee for yourself, too. They also organize a number of creative workshops, baby massaging courses or kids related lectures. More info.
FAMILY CENTER PREŠPORKOVO
An NGO established by moms on maternity leave that organizes program for families with kids. They have various courses for kids including Slovak folk dance classes, circus classes or baby massages. More info.
LEARN SOMETHING NEW
CENTRE OF CREATIVE EDUCATION BRICK BY BRICK
In this centre, the boundaries between playing and learning disappear. It is the first centre in Bratislava that focuses on "edutainment" – or simply connecting education and entertainment. All of fun happens by building with LEGO® cubes that kids love! You can enroll your kids in the courses,  camps or book the place for kids parties. More info.

PLAY WISELY
Play Wisely® is a unique program for children between 4 months and 4 years of age supporting the development of the brain and mobility capacity, based on the NASA scientific research and Montessori Principles. Lessons also in English language. More info.
BABYFIT
Babyfit offers baby gym classes for kids from 3 months up to 3 years.They have multiple locations within Bratislava. More info.
BABY BALANCE
This NGO promotes a natural, healthy development of children. It offers a social space for active parents and their children, where they can meet and talk. It offers courses at  several locations in Bratislava for the children from 3 months up to 3 years. More info.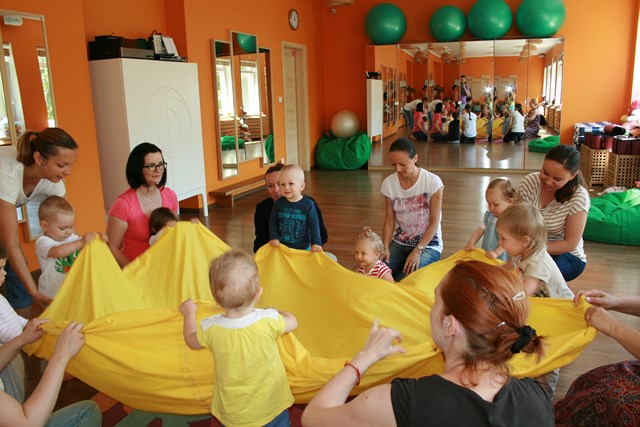 (source: Baby Balance)
TAKE A SWIMMING CLASS
WATER BABY CLUB
The water baby club in Trnávka (Ružinov) has a 20-year tradition of swimming classes for babies and children. Its swimming pool is exclusively designed for children and their parents with a view into garden.Free trial lesson possible. More info.
WEST HROŠÍK
This fairly newly-built resort offers comprehensive services for an active family. Your kids (from 3 months to 4 years) can swim here in the unique saltwater swimming pool. It is located in the beautiful park of Koliba in the West Hotel. It also offers baby gym classes and weekend activities for families. More info.
ŽABIATKO
This place offers swimming courses for children from 3 months to 3 years and bathing lessons in the comfort of your home for kids from 6 weeks old. More info.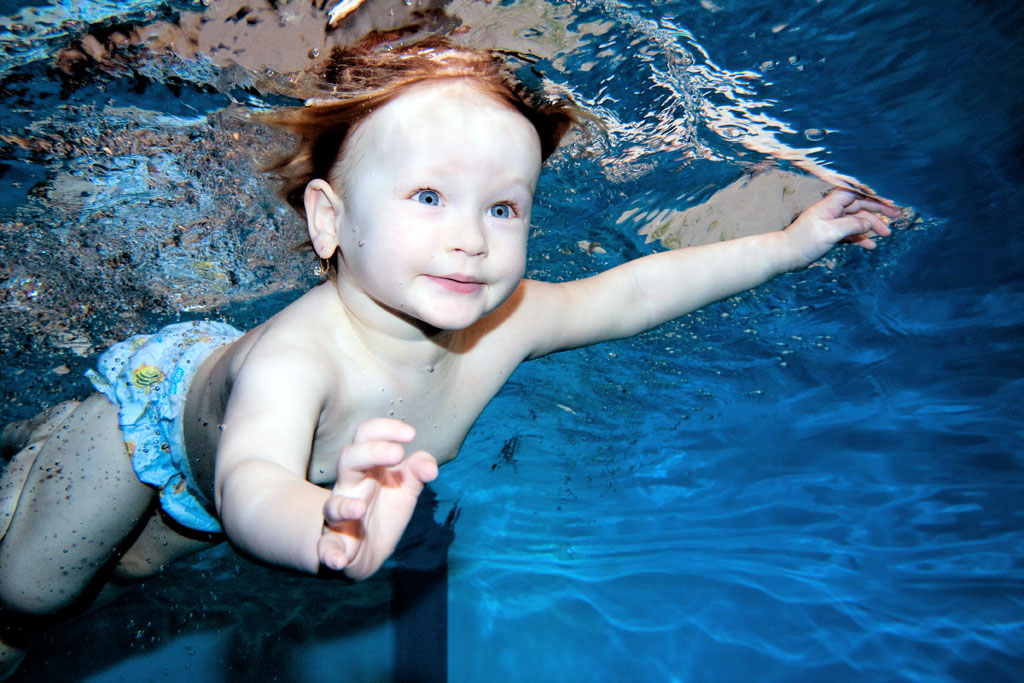 (source: Zabiatko)
SASANKA
Swimming in a salty water in a playful way with the view on the city park. It also offers gym classes for the kids and gravid yoga courses for the future moms. More info.
PLAVECKÁ AKADÉMIA
Swimming classes for the smallest children from six months, school children and adults (courses for moms and pregnant women). Those who are really  good at swimming can try the professional swimming in the sports club KSP ŽRALOK. More info.
HAPPY KIDS
Swimming courses at multiple locations within Bratislava. Suitable for kids from 3 – 15 years old (may slightly differ for each location). More info.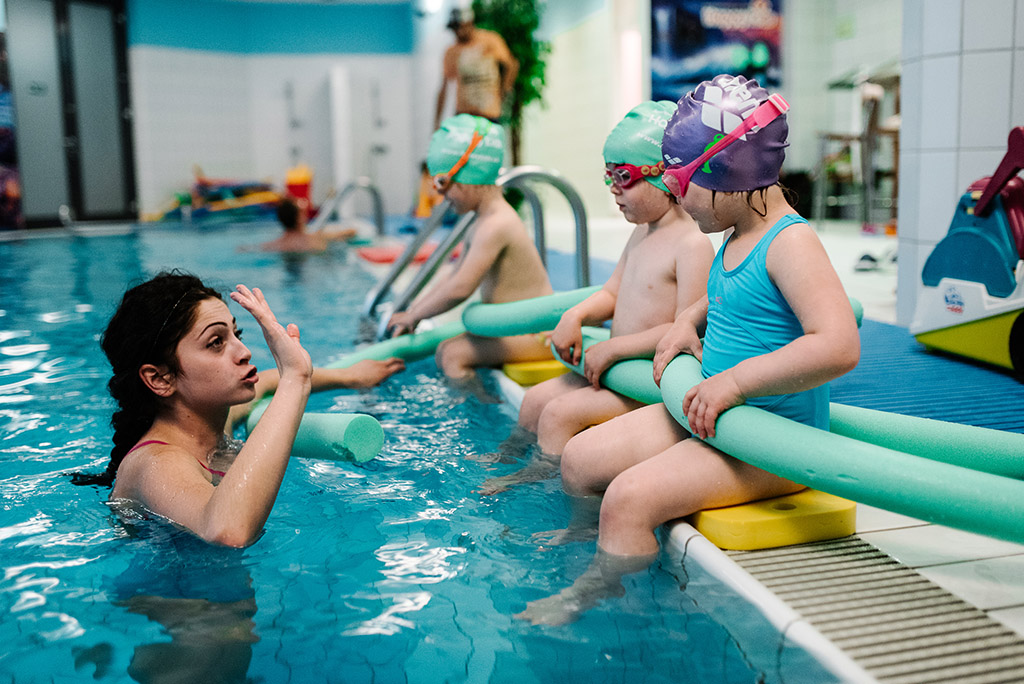 (source: HappyKids)
FLIPER
This swimming pool is suitable for kids from 4 years. They offer courses for non-swimmers, preschoolers, beginners and advanced swimmers. They have several locations for the courses. More info. 
NEMO
This NGO offers 3 months swimming classes for kids from 4 years and also adults. It has several locations within Bratislava. More info.  
PK DELFÍN
Courses aimed at children in the preschool and school age. Swimming classes also for adults. Special swimming classes for children of school age and youth who can handle more challenging training sessions with the intensity min. 4x a week and regularly participating in the swimming races. More info.
PLUTVIČKA
This is a specialized aquababy club offering swimming classes for babies from 4 months to 6 years with qualified instructors. Its headquarters is in the Montessori maternity center Humelka on Hummelova Street. More info.
MOBIK
This is an aquababy club in Ružinov (second branch in Šamorín) that offers swimming classes for babies as well as bigger kids. They are following a special approach of not submerging babies underwater with force but motivating them to do so by themselves. More info.
GO TO THE CINEMA
CINEMA CITY
Multiplex cinema centres with three branches in Bratislava – Aupark, Eurovea and Polus shopping centres. Each of them offers several modern screening rooms. Check the programme here. Just be careful – when reading the programme, note "SUB" means original sound with the subtitles and "DUB" means Slovak dubbing which is quite popular especially for cartoons here!
Moreover, Aupark Cinema City also offers movies in a 4DX experience – with 4D effects, enhancing the stimulation of the human senses further to draw you into the movie. These are equipped with high-technology motion seats that move in perfect sync with on-screen action. You will be able to experience special effects such as wind, fog, lightning, and scents that enhance what you see on the screen! Find more info here.
CINEMAX
This multiplex cinema in the Bory shopping mall has 12 screening rooms. Apart from casual screening, it also uses IMAX technology for the best sound and picture and with the biggest screen in Slovakia! You can also watch here movies with 4D effects (search for 4D-Box in the programme).
LUMIERE
Lumiere has four screening rooms and its priorities are a Slovak movie, European cinematography and an archive cinema. It features regular cycles and also various movie festivals. Many screened movies are English friendly! Check the programme here.
More cinemas in Bratislava:
Artkino za zrkadlom
Kino Mladost
Kino Nostalgia
MORE ACTIVITIES
Outdoor places for kids
Lakes and swimming pools
Picnic spots
Ice skating rinks
Author: Zuzana Mytna