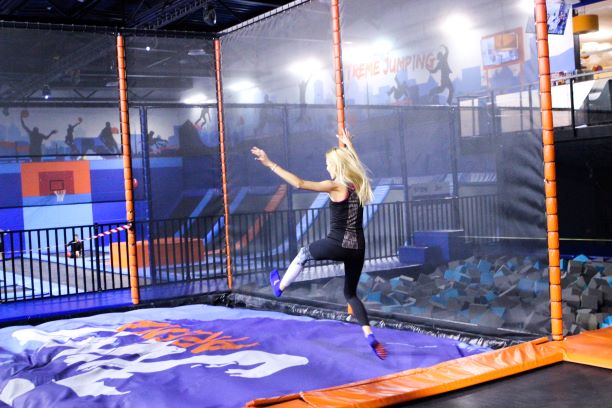 Ground is overrated. Your feet are touching it at home, on the way to work, at work and even at the movies! Are you going to let such an ancient force like gravity stop you? "Up in the air" is the local mantra in Jump Arena because that's where you are going to be spending most of your time. Ready for take-off?
Location
Jump arena is situated a little farther from the city center (close to the airport), yet it is not very inconvenient. Bus lines nr. 69 and 96 have their stop, Fafruny, nearby. As you get off the bus (assuming you are coming from the city center), you should see a grayish glass building across the street with a big "AIRCRAFT" sign on the roof. Head that direction and go past that building. There is a parking lot behind it, followed by a lower, white building. That's where all the jumping takes place.
Should you choose to go by car, there is an underground garage directly in that building and your car can take a nap up to 4 hours free of charge there. That is more than enough. Jump Arena as well as Kidshouse are located on the second floor. 
Interior
Trampolines!! Everywhere!! It seems very unlikely that you have ever seen 27 trampolines under one roof. That's not all. There's also a giant airbag, slackline and two basketball backboards for Jordan-like dunking.
All the jumping takes place at the lower floor of the arena, and the bar with the tables is on the upper floor. That gives parents a great viewpoint to watch their kids from as they enjoy their coffee. We are talking about kids older than 7 years of age. Kids between 3-7 are allowed into the arena, but with adult supervision.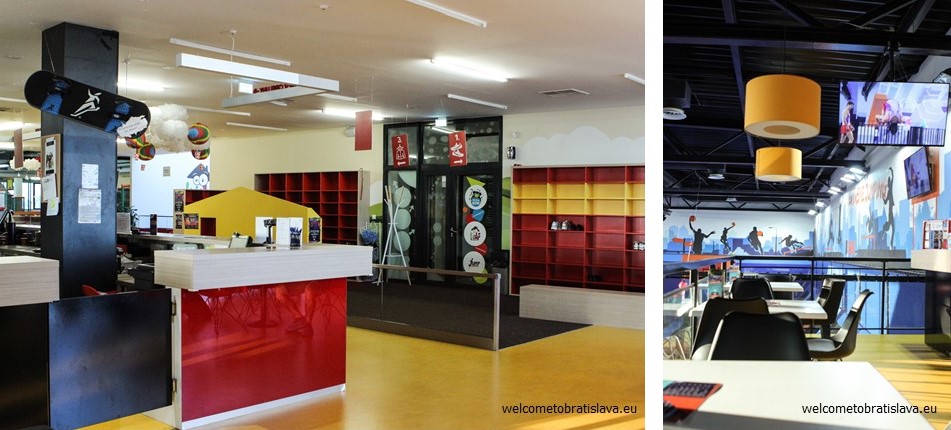 There's no need to worry if you happen to come with a little child. Since there is also a huge children's corner, called KidsHouse, it is possible to also entertain the ones not yet fit for Jump Arena.

They've got trampolines as well, so kids won't miss out on the jumping. It offers a safer, more controlled environment. Apart from that, there are slides, giant LEGO blocks, electric cars, older kids can even ride a sledge on artificial grass or participate in a cannon fight!

How does it work?
Before becoming airborne, we recommend making a phone reservation, just to be safe. Once you get here, settle down, take your shoes off and perhaps order something to drink. Jumping is more exhausting than you think!
Apart from the entry fee, assuming it is your first visit, you will also need to buy anti-skid socks. If you decide to come again, which we think you will, just bring them along with you.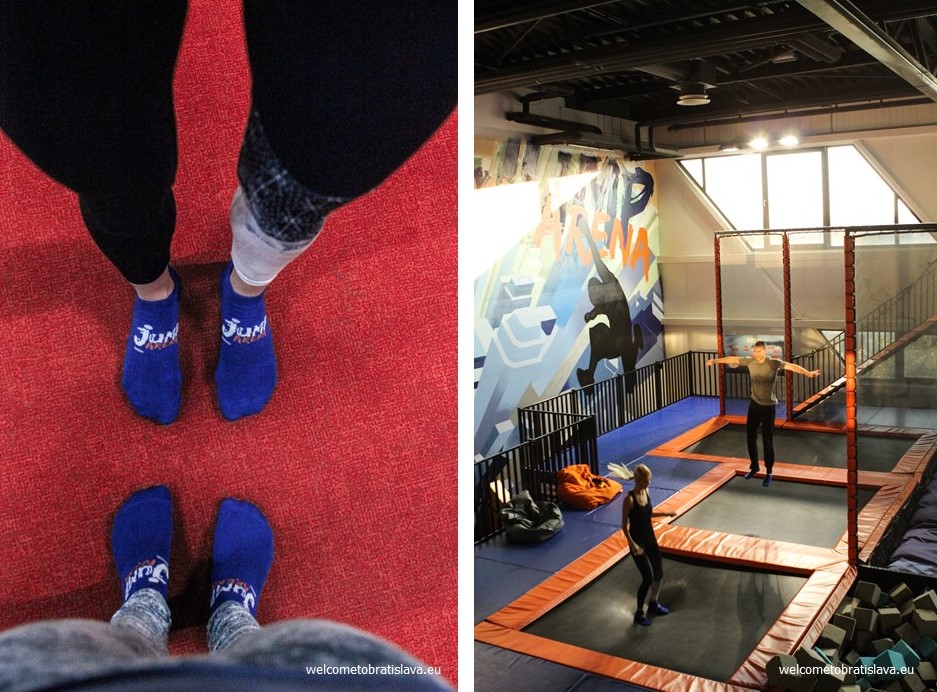 Prior to hitting the trampolines, you need to sign a document, stating your age and that you have read all the warnings and risks involved. Once you get downstairs, one of the coaches will provide you with instructions and point out the key things you should not do. These include jumping on one leg (seriously, be careful) or the presence of more than one person on one trampoline at the same time. Apparently, they had found some teeth on the trampolines before. So, remember, safety first!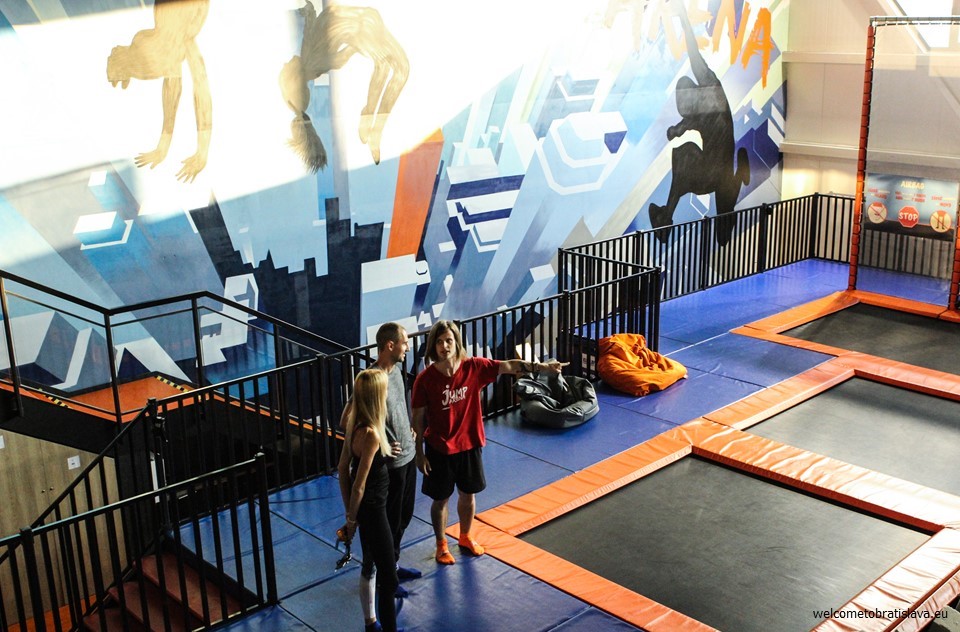 As we've already mentioned, the number of trampolines is close to 30, just go to the one that's free and start jumping. Higher. Higher! It's fun! Your inner kid will exult in the state of weightlessness. Up and down, up and down – that's all there is to it.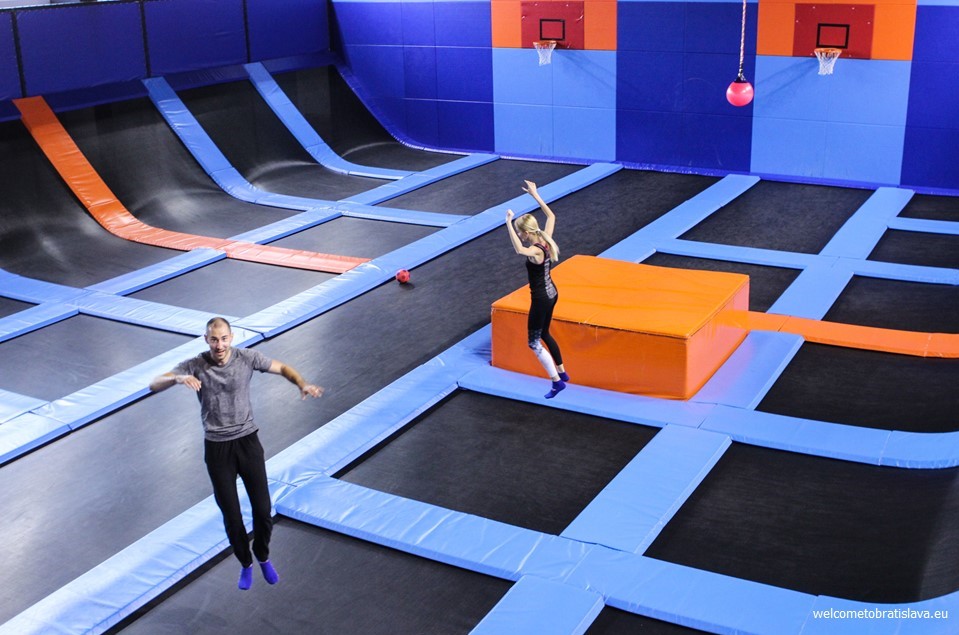 But there's more. You have probably seen one of those giant airbags stuntmen use as they jump out of a building or from a helicopter. They've got that right here! You are free to jump onto it either from a trampoline, or, should you gather the courage, from a platform 3 meters high. Add your height and you'll feel like one of those cliff divers.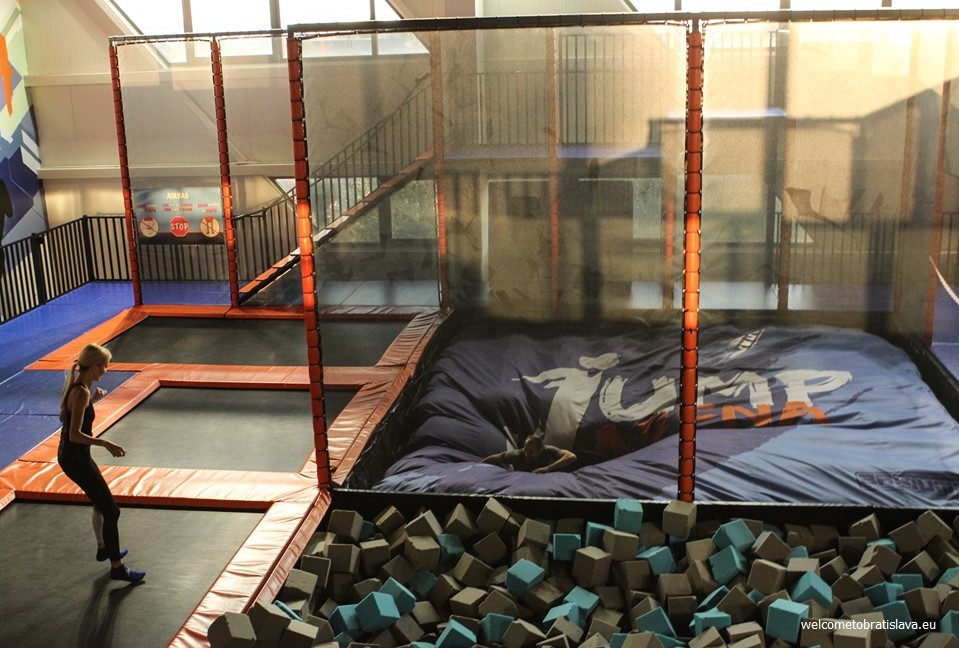 They also have a slackline hovering over foam blocks. Kudos to those who manage to do more than 4 steps. The coach warned us to fall to the side, avoiding the crotch-slackline collision. As for the foam blocks, it is not easy to get out of them. Make sure your rings are not loose, otherwise you may be unpleasantly surprised.


(source: Jump Arena FB page)
Two backboards are waiting for those of you who've always wanted to make a proper dunk a la Michael Jordan but are too short for this feat. A trampoline runway leads straight towards both of the backboards. Just do it!
Another game you may wanna give a shot is dodgeball. Try avoiding your friend's shot Neo-style, possibly throw a rocket yourself, 3 meters off the ground :)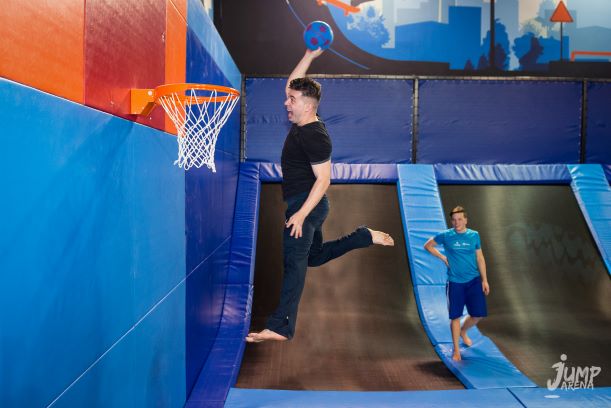 (source: jumparena.sk)
Why is Jump Arena special
It is a great combo for a family trip as well as a getaway with friends. It is a much more exciting experience than just jumping on one of those round, enclosed trampolines. The bar and the kitchen also solve your problems regarding where to grab a bite afterwards. Well organized, professional, with great facilities. To paraphrase one well-known snack manufacturer: "Once you HOP, you can't STOP." :)
You can also rent the Jump Arena for the teambuilding activities and Bday parties.
Author: Tomas Mytny, Photos: Zuzana Mytna, Video editing: Natalia Jankova

 ADDRESS:  Ivánska cesta 30/D


 OPEN HOURS: Check the official website


 TICKETS: Check the official pricelist


 CONNECT: Website, Facebook


 MAP LOCATION: