A lot of music, a lot of gastronomy, a lot of fashion and a lot of different festivals! The month of June is going to be packed with the most various events from music days and activities for kids through events for design, culture or movie lovers, to open air festivals and parties. Enjoy the reading :)
FRESH MARKET
each Saturday
The food market in the Old Market Hall (Stara Trznica) is held every Saturday from 10 am to 3 pm. Seasonal foods grown and produced by farmers and small producers from around Bratislava can be found here, as well as quality specialties from more distant countries. The market is regularly accompanied by various bazaars – antiques, books, clothes or vinyl – that are periodically rotated and can be found on the first floor. More info.
ITALIAN APERITIVO
each Friday
If you are looking for a perfect start of your weekend, here's a great tip: each Friday evening, an aperitivo is held in Pane & Olio Bistro, a showroom with Italian food and tasting of traditional dishes mainly from the Tuscany region. Delicious food, yummy drinks and Italian wine are surely a great option, whether you want to get yourself in a party mood or just want to have a great dinner time :) More info.
OLD BRIDGE IN NEW CLOTHES – EXHIBITION
8.4. – 30.6.
A photo exhibition showcasing the construction of the new Old Bridge that was finished on 1st December 2015, captured by Miroslav Pokorný at the Museum of Transport. You can enjoy the most interesting moments of this construction until 30th June. Details.
DAYS OF EARLY MUSIC
15.5. – 7.6.
The 21st edition of this festival focuses on the music of the Baroque period and has a program full of works of composers of the mid 17th to mid 18th century. Fantastic works of the greatest composers of that period will be played by reputable local and foreign bands and soloists. If you are a fan of classical music, check the whole program and tickets.
SOLSTICE ON THE DANUBE RIVER
1.6. – 2.7.
You can look forward to more than 40 events taking place from Devin to Štúrovo along the Danube river. Events like rafting, environmental activities, puppet theater and cinema in the water, exhibitions, screenings of documents, boat cruises, self-guided hikes, children's programs within the Children's Day, presentation of students' visions on development of the waterfront, commemorative events, courses rowing, organized swim through the Danube, sports competitions, events for families, observing wildlife, horseback riding and many others. Details here.
UFO BEACH OPENING
1.6.
Can't wait for the real summer? Come to the opening of one of the most popular beaches in the city, right under the UFO bridge, from where you can enjoy the impressive scenery of the Danube river, a romantic view on the castle and the vibrant city. Beach parties, cocktails, a kitchen offering meals also through the day and a lot of fun – that is what you can enjoy at the UFO beach this summer. Free parking and free wifi! More details.
PSYCHO-POP JAM SESSION
1.6.
The multi-genre project Horehigh kicks out its first psycho-pop jam session in the popular Rustique bar. A mixture of keys, vocals, drums, cajon, guitar and trumpet will result in a spontaneous act of musical enjoyment. Start at 9 pm, entry 2 €. Facebook event.

BRATISLAVA BOOK FESTIVAL
2.-5.6.
An international festival of authors, illustrators, graphic designers, publishers and all of you that love nice books. The theme of the third annual festival devoted to small and medium bookish creators will be "land." The festival will consist of various events such as an exhibition of books, reading, meetings with authors and concerts, and will take place at the Zichy palace on the city's pedestrian zone. Facebook event.
ENGLISH THEATRE: JUST ANOTHER CUP OF TEA
2.6.
The English-speaking theatre Bridgin' Drama – which plays adaptations of Slovak theatre classics – has been preparing a new play – a parody on narrow-mindedness and political morality called Just Another Cup of Tea. This play is a political comedy based on Ivan Stodola's play Tea at Mr. Senator's. Its main protagonist is Mr. Peach, a funeral director, who is pushed by his wife to enter into politics, becomes a puppet in the hands of some mighty people. What follows is a series of machinations and dirty tricks. In the end of the day, it's the masses who are left holding the bill. Tickets: 3-7 €. Check the details here.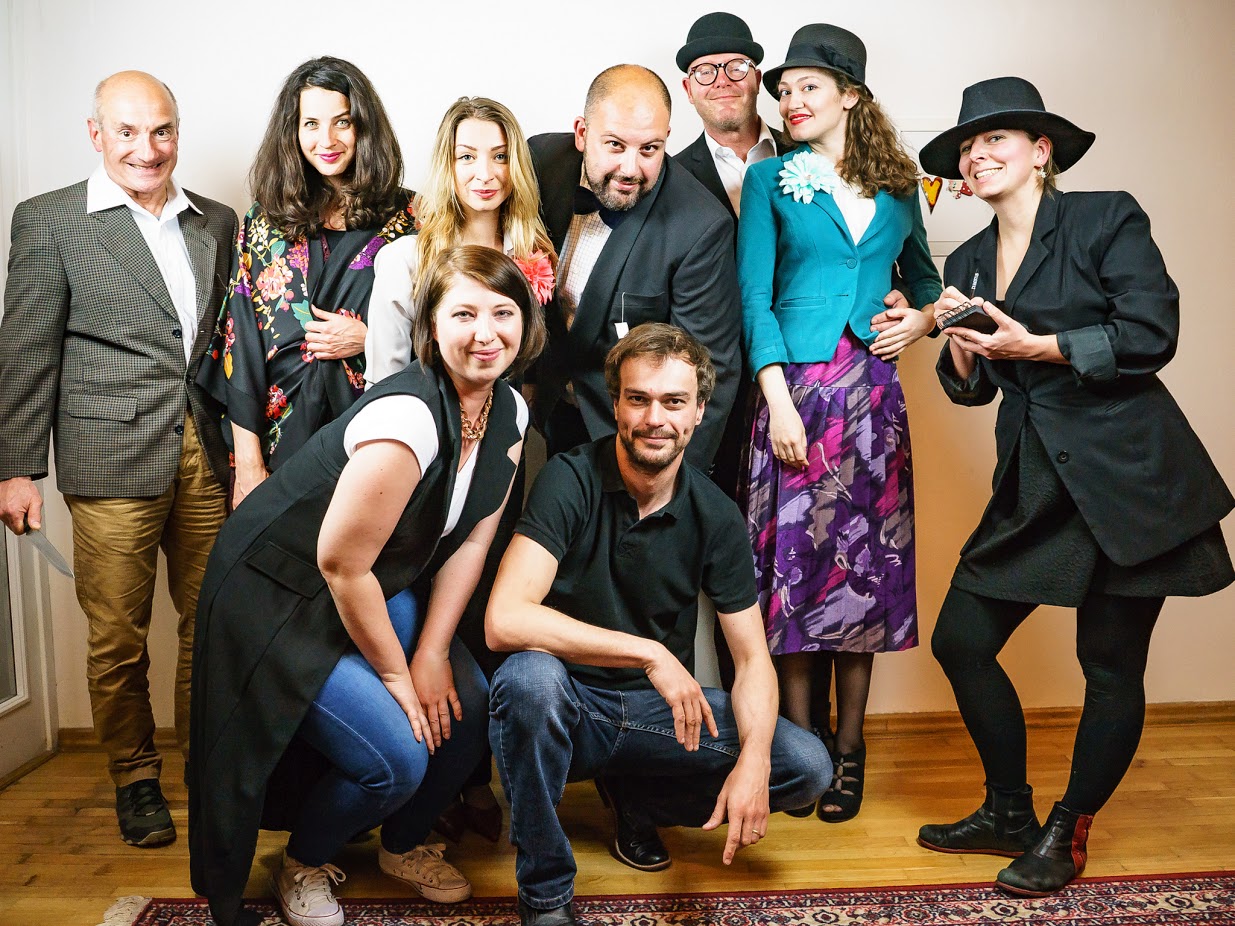 BRATISLAVA COLLECTORS DAYS
3.–4.6.
Bratislava Collectors Days have always been a meeting place for all passionate collectors from the area of philately, philocarty, numismatics, faleristics, minerals or small antiques. Visitors are offered many unique collectors pieces including real European and world rarities of huge value. If this is something for you, you can purchase a 1-day (4 €) or a 2-day ticket (5 €). More info.
DESIGN MARKETS
3.-4.6.
Our Hviezdoslav's square will host a design market and you will be able to admire, try and buy beautiful hand-made items from more than 30 different stalls during two days! To check the list of all the producers that will be present at the market, check their official page.

STREET PARTY
3.6.
Open-air chill at the amphitheater in Dubravka, Bratislava's neighborhood, with live music and free entry. Details here.
FOLK EXPO SLOVAKIA 2016
3.-4.6.
International Colloquium about the folk industry, scenic multimedia programs, exhibitions, film screenings of traditional folk culture, dance workshops for children and adults, concerts, presentations of traditional and contemporary artists whose work is inspired by folklore. Free entry! Official Facebook event.

ITALIAN DESIGN FOR EVERY DAY
3.-17.6.
Italian design is influenced by culture, art and philosophy. Thanks to the support from the society, especially in the traditional art of craftsmanship, the designers could express their own creativity through experimentation with different styles, opening up the space of modernity. This exhibition will include works of famous Italian designers – design objects like chairs, armchairs, stools as well as children's toys and other items to which the designers gave shape, function, materiality and aesthetic value. It will be open daily except Mondays, from 10:00 to 18:00, at the vestibule of the Ministry of Culture. Free entry. Facebook event.

CHILDREN'S DAY WITH MEDIEVAL KNIGHTS
4.6.
The children's day at Hviezdoslavovo square will include showcases of activities like medieval crafts and weapons, fencing matches, painting workshops, face painting, an interactive puppet theatre or a performance of children from a children's ballet studio. Start at 2 pm. Details.
CHILDREN'S DAY AT ZLATE PIESKY
4.6.
Palace Zlate Piesky is preparing a special event for the occasion of children's day – you will be able to fly on a balloon, meet superheroes, watch theatre and music performances, join creative workshops and take pictures with funny mascots. Start at 11 am! Facebook event.
FLEA MARKET WITH A PICNIC
4.6.
"Burzoblsák," as this flea market is called, is an event dedicated for the community and its main aims are recyclation and re-usage of old clothes. There is also an option for sellers to donate clothes for one of orphanages in Bratislava. It is held each first Saturday of the month, starting from 8 am and lasting till 1 pm on Drienova street. No entrance fee. Get your special piece directly from the sellers' trunks or suitcases and enjoy the atmosphere of a real flea market! This time, from 8 am till 2 pm, there will also be a special picnic with various outdoor games! More info.
MEDIEVAL KNIGHTS SHOW AT THE DEVIN CASTLE
5.6.
There will be an all day event held at the Devin castle that will take you back to the Middle Ages – the times of knights, ladies and troubadours. A great show (not only) for kids will include children's medieval games, swordplay performances, historical dance or dueling knights on horsebacks! The opening ceremony will kick off at 10 am. No dogs allowed. Check their Facebook page for more info and a nice video teaser! The event be held until 7 pm. Basic fee 8 €, discounted fee 4 €, family ticket 13 €.
VEGAN DINNER
5.6.
The idea of these regular vegan dinners is that each participant brings their own vegan food, plates and cutlery and shares their meal on a big table with other attendees. No entrance fee is required, all you need to do is bring your food, share it with others and taste from the meals other will bring to the table. No matter whether you self-prepare or buy the meal, whether it is cooked or raw. And for the rest of the night you can enjoy networking and getting to know interesting people :) Official Facebook page
WEEK OF HUNGARIAN CULTURE
6.-10.6.
"More than a neighbor" is the title of this festival that is being organized in our capital for the third time already. It will bring a week full of cultural events and Hungarian culinary experiences to Bratislava. Hviezdoslav's square will be the main point of the fest, with a big stage, but various activities will be spread to different places across the city. The whole program can be found here.
GRAND LATIN DANCE SHOW FREE EVENING

8.6.
Don't miss this unique chance to enjoy a unique Latino dance show by Mario Lopez dance company, whose dancers will delight everyone in attendance. The party will continue thanks to Dj Zoli and his great tunes to keep us dancing the entire evening! Prior to the show you will also get to enjoy a presentation of "De Alaska a la Patagonia" by the people who endured this amazing trip. FREE entrance! More info.

BRATISLAVA DESIGN WEEK
8.-10.6.
This event is Slovakia's most intense international design event covering contemporary design. The organizers will present the best from our home scene: producers, vendors, designers, independent brands, design students, experimental design, fashion, chosen products and designers from abroad. The main topic of this year's design week is "journey." More info (also in English) can be found here.
SPEED DATING IN ENGLISH
9.6.
With these truly international Speed Dating nights you can relax and enjoy meeting friendly and interesting people who like to have fun and meet someone like you. Come along to this special night of socializing and even if love is not in the air, you are at least guaranteed to make new friends and have a great time. No pressure, just fun. Entry 9 € includes a welcome drink and small snacks. More info.
MAGIO BEACH – OPENING OF THE SEASON
10.6.
One of the best summer chill out spots in Bratislava. Imagine hot sand under your feet while listening to live concerts, attending a dancing course or just enjoying some chill out music. Add some great cocktails, lively atmosphere and a view on the Castle and UFO bridge. That's all here. No wonder the Magio beach is a popular place not only for tourists but also locals. And it will open on 10th June for the summer! :) More info.
WEEKEND OF OPEN PARKS AND GARDENS
10.–12.6.
International festival of garden culture in Slovakia of which the main aim is to celebrate and present the values of the unique natural and cultural heritage, parks and gardens. Facebook event.
GOURMET FESTIVAL BRATISLAVA
10.-12.6.
The oldest and largest festival of gastronomy for the 8th time in Bratislava, featuring the best cooks, according to the guidebook Gourmet in Slovakia! 3 days full of delicacies, degustations, competitions, and lectures on healthy lifestyle. The tables have already been set also for you! Among gastronomic branches taking part in the event are restaurants, wine producers, and farmers. Welcome to the Gourmet Festival. More info.
BRATISLAVA TANGO PARTY
10.–12.6.
Join the tango marathon in the capital of party Partyslava. More than 150 tango dancers will be in the town in mid June, dancing tango! There will be also a tango orchestra with live music from Buenos Aires. Some of the events will be open to public, some are only to dancers :) More details are coming soon, stay tuned here.
THE EVENT NETWORKING
10.6.
A business networking event accompanied by a non-formal atmosphere. A great opportunity to make new connections and meet interesting people. You can participate only based on a personal invitation by the host. More info.
BENEFIT VEGAN GRILL PARTY
11.6.
An evening full of Caribbean rhytms, live music and traditional beet burgers straight off the grill where you will have a chance to contribute with a donation that will help to organize the popular Vegan Festival – by buying delicious food or special thematic T-shirts. Start at 3 pm, free entry! Facebook event.
THE DAY OF CROOKED MIRRORS
12.6.
The day of crooked mirrors is a nationwide event which is held annually on June 12th. It aims to set a positive example to influence public attitudes towards people with intellectual disabilities. Come and support it in the Sad Janka Krala (near Aupark shopping mall) where a rich program will be prepared starting at 2pm. Enjoy a drum show, a march through the Old Town or various music and dancing performances.
WILSONIC FESTIVAL
12.6.
Wilsonic is an urban music festival which presents the current music trends and brings together the world of concerts with the atmosphere of clubs and dance parties. Musicians from different countries will perform in Bratislava's Atelier Babylon, and Wilsonic will also be the official after party place of the Bratislava Design Week. Check their website for more details.
STREET FOOD PARK VOL. 6
15.-18.6.
The sixth edition of the Street Food Park Bratislava will kick-off in mid June! Come and join other food fans at the square in front of our Old Market Hall for yummy street food and great outdoor atmosphere! There will be a nice variety of street food vendors who will offer you burgers, hot-dogs, gyoza, pull pork, bear soup, fish & chips, sandwich, tempura, burrito, "párance", coffee and more. Facebook event.
WELCOME TO SLOVAKIA WORKSHOP
15.6.
Are you a newcomer in Slovakia? Are you here for less than 6 months? Then you must know how difficult and time consuming it is to find all the information on one place sometimes. That's why Internationals Bratislava – a community established by expats – organize this workshop where they share their experience as foreigners having lived and experienced local culture, and will guide you through the night life, nature and activities where you can get to know local and international people. No entrance fee! You only need to make your reservation at info@internationals.sk. More info.
BOBBY MCFERRIN
15.6.
American jazz acapella singer, composer and conductor. He is a holder of many awards and is mostly known for his song "Don't worry, be happy" – and he is coming to Bratislava! You can get a ticket from 79 € here.
VINO VITAJ
16.6.
The streets of Bratislava Old Town will celebrate the Italian wine in June. If you are in the downtown during that day of 16th, you will have a chance to taste Italian wines at various cafes and restaurants for a special discounted prices. This event aims to highlight the quality and diversity of Italian wines offered in the pleasant environment of our capital city. Ah and not to forget, there will be some good live music accompanying the pleasant drinking :) More info.
ONE DAY JAZZ FESTIVAL
16.-17.6.
If you like jazz, you might want to get a ticket to this festival that will take place at the Bratislava Castle. So far it was always held only during 1 day (hence its title), but the organizers prepared 2 days of rich program for you this time. Tickets from 29 € for the 16th or 17th June.
BRATISLAVA CHOIR FESTIVAL
16.-19.6.
An international choral festival and a competition for children, youth, male, female and mixed choirs. More more information please visit their official webpage.
INTERNATIONAL SUMMER PARTY
16.6.
Come and have fun, meet new people and dance the night away at this international summer party. Hot looks, lots of laughter, cocktails and of course excellent people from all over the world – all of these flavors guarantee a party you must not miss. As always you will get flags according to the country you are from, a welcome drink, the best music from the favorite DJ Maghi, and be able to enjoy special gogo dancers from Russia. Facebook event.
LAVENDER FESTIVAL
17.-19.6.
Come to purchase clothes and other treasures from the "attic" and rare antiques. If you have similar items at home and you like the idea of selling them on a flea market, sign up as a seller for just 10 €! The market will be held at Obchodna 66, in the court yard of the Lavender shop. Facebook event.
NIGHT OF MUSIC WITH BRATISLAVA HOT SERENADERS
17.6.
Come to the Hlavne Namestie (Main square) to enjoy a free and beautiful concert performed by Bratislava Hot Serenaders. Start at 9 pm.
IBIZA PARTY
17.6.
The 10th edition of the biggest dance party coming to Slovakia in Bratislava at Zlate Piesky ("Golden Sands") to open this summer season 2016! Look forward to 200 tons of sand, 2,5 m palm trees, cane bars, gogo dancers and great music on large stages! Tickets from 6,60 €.
AVON MARCH AGAINST BREAST CANCER
18.6.
Millions of people in more than 50 countries are helping women who suffer from breast cancer and support programs and projects aimed at combating breast cancer. Join the AVON march in Bratislava by buying a special T-shirt which also serves as your ticket to the event. With this contribution you will support projects fighting against breast cancer. The march will start at the Eurovea square at 12:00. You can also buy the T-shirt online.
DEVIN BELONGS TO CHILDREN
18.6.
A traditional event for children held at the Devin Castle, with rich program including shows of ancient martial art and crafts and interactive games. The event is organized in cooperation with the Bratislava City Museum. Details.
MIDDLE AGES AT THE DANUBE RIVER
18.6.
What were the Middle Ages like? Experience it near Danube, in the Garden of Janko Kral, with historical camps and crafts, field battle, various tournaments and lectures on history! More info here.
FESTIVAL OF CROATIAN CULTURE
18.–19.6.
The largest parade of Croatian songs and dances, tasting of traditional Croatian meals and drinks will be organized in Devinska Nova Ves, a neighborhood of Bratislava, in mid June. Croatian culinary, children folklore performances, a photo exhibition and party in a Croatian style! More info here.
ROCK 'N' SWING TIME
19.6.
A special Sunday night for those who don't feel like the weekend is over yet. Join this dancing hall if you are a fan of the energetic boogie woogie! You can look forward to a great dance party, a short dance workshop, friendly atmosphere and a lot of fun. Start at 19:00 in the Metropol bar. Facebook event.
ITALIAN MARKET
20.6.
The historical center of Bratislava will host an Italian market – Mercato italiano – at the end of June. Come to taste typical dishes and products characteristic for Italy, spread on the area of 400 m2, at the Hviezdoslav's square. Honey, sausages, vegetables and fruits, cheeses, olive oil, wine, herbs and other Italian products will be presented to public during this festival.
BRATISLAVA FASHION DAYS
20.6.
This unusual open-air fashion show of Slovak fashion designers will be held at the Main square at the end of June. Come to enjoy the fashion among many beautiful people and feel fab! More info soon here.
LORD OF THE RINGS – MUSIC CONCERT
20.6.
The music from the Lord of the Rings movie is ranked among the most complex and comprehensive works in the field of film music. The legend of the famous ring will come to life again, this time in a special film performance on a gigantic movie screen, accompanied by a 250-member symphony orchestra, a 100-member choir and international soloists, in the original language with Slovak subtitles. Tickets from 69 €.
GUITAR FESTIVAL
22.–26.6.
This world-renowned guitar festival with a 40-year tradition will offer concerts, master classes and seminars to its visitors. All the activities are concentrated in representative premises of Bratislava's historic city center. More info and the detailed program can be found on this official page.
INTERNATIONS JUNE NETWORKING EVENT – ARABIAN NIGHTS
23.6.
Meet your old friends from InterNations and get to know some new interesting people at this networking fun event. You will enjoy a great dancing show courtesy of Grupo Caliente! Belly Dancing, one of the most beautiful dances in the world, for which there will be 3 performances throughout the night, to enjoy with your friends while having a nice welcome drink and playing always popular ice breaker games. Entrance: FREE. Note: You must be 18+ to enter, your ID will be required as a proof of age. More info.
CORONATION CEREMONIES
24.-24.6.
275 years passed since the coronation of the most known Austrian Empress – Maria Theresia, on July 25, 1741. The ceremony commemorates this historically significant event. In addition to paying tribute to the leader of the Enlightened Absolutism in the Central Europe, the ceremony brings you closer to the coronation of 18 emperors and empresses, taking place in Pressburg, as Bratislava used to be named in the past. Details here.
NEON FESTIVAL
24.-26.6.
An electronic music festival that will bring world-class stars to Bratislava. A show full of emotions, audio-visual arts, dance performances, accompanied by a dynamic sound, light and breathtaking effects. More info and tickets.
CIRKUL'ART
24.-29.6.
Circul'art is an international event of contemporary theater and circus. It combines theater, acrobatics, circus and street arts in a modern family event.This festival will take place in the Medical garden and Old Market Hall and offer different shows. Check the detailed performances and tickets here.
A DAY IN NATURE WITH A COOKING WORKSHOP
25.6.
Would you like to spend one day in nature, cook, eat, exercise and find out more about the freshest, cheapest and lowest in fat food, which you actually already know, but probably do not use? In this course the lecturer Bibiana will teach you how to cook from the most fresh ingredients – from wild plants from meadows, woods and gardens. The event will be held in English and you will also be able to practice yoga. Check the details here.
RIVER SHOW EUROVEA
26.6.
An exhibition of luxury boats, water sports, fashion shows of top brands, educationally lectures, a presentation of Slovak world champions and a charitable collection. This year's River Show will start at 12:00 in Eurovea! Facebook event. Check what the 2015 show looked like:
BRATISLAVA HALF MARATHON – RUNFEST
26.6.
A full day running festival for people of all ages, including a program for families which will take place on Partizanska Luka. Official website.
NOTE: Some of the featured pictures come from the Facebook pages of the mentioned events.