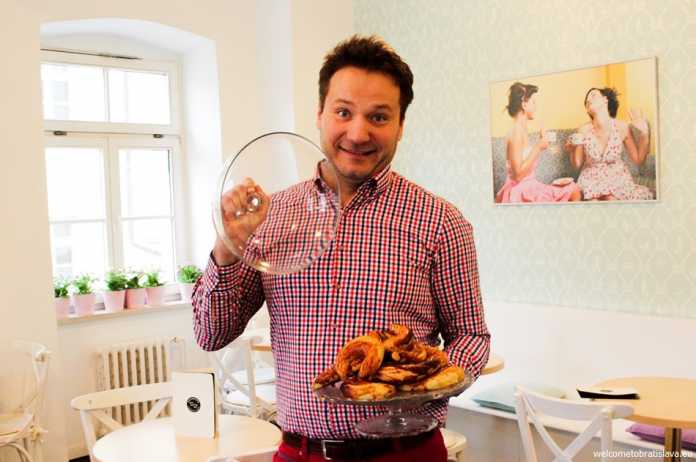 Kapucino is a cute café with wonderful, locally handmade macarons (biggest in the city!), great Italian coffee and one of the best Italian gelato we have had in Bratislava. Your romantic soul will be on cloud nine from the beauty of this place set up in pastel colors and feminine decor. Don't miss a chance to enjoy genuine atmosphere and one of the most outstanding services we experienced in our city!
LOCATION
This coffee place stands on top of the historical stairs connecting Kapucinska Street and Klariska Street. The location inspired also the name of this place – name Kapucino combines the street Kapucínska and the Slovak phrase for a cappuccino. Quite smart! The building that hosts it is soaked with history and used to be a store with smoked meat in the 30's.
INTERIOR
Kapucino will enchant you with its colors – pastel, slightly feminine and romantic. Such a nice change compared to all the hipster places furnished in the industrial style. You won't find pipes and cables hanging around here but elegant chandeliers, pop art styled posters and gentle flowers. A distinctly clean aesthetic infuses this somewhat Parisian spot, to winning effect.
There are two floors in Kapucino that serve both as a coffee place where you can have cakes and coffee and a gelateria at the same time.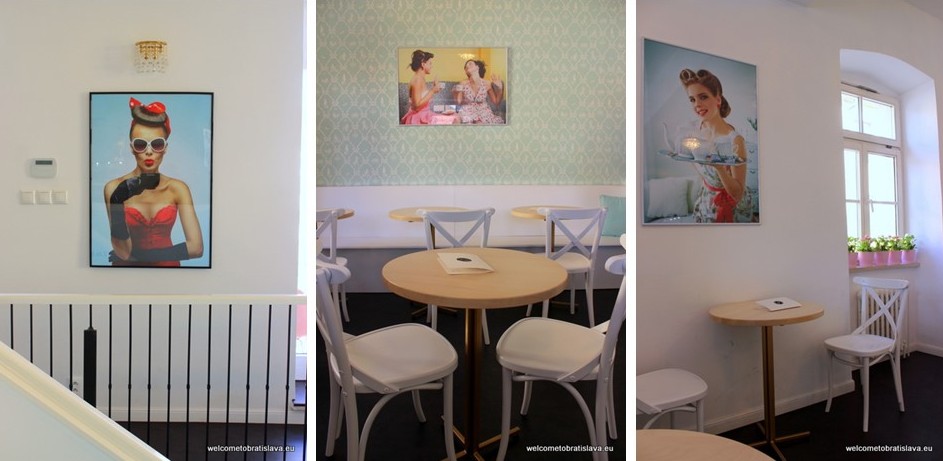 During summer, they have a few candy pink chairs and tables in front of the café and also at the platform in the middle of the stairs – the motto "stairs come to life" has a serious meaning here :)
WHY IS KAPUCINO SPECIAL?
First of all, we have to mention that the service and the atmosphere are outstanding here. There's joy evident in every element of the place, from excellent cakes, authentic Italian gelato to the optimistic decor.
The place is owned by a married couple who studied opera singing and fell in love with Italy and therefore decided to run business with Italian coffee and gelato. And we promise you won't be disappointed by their cake and gelato menu!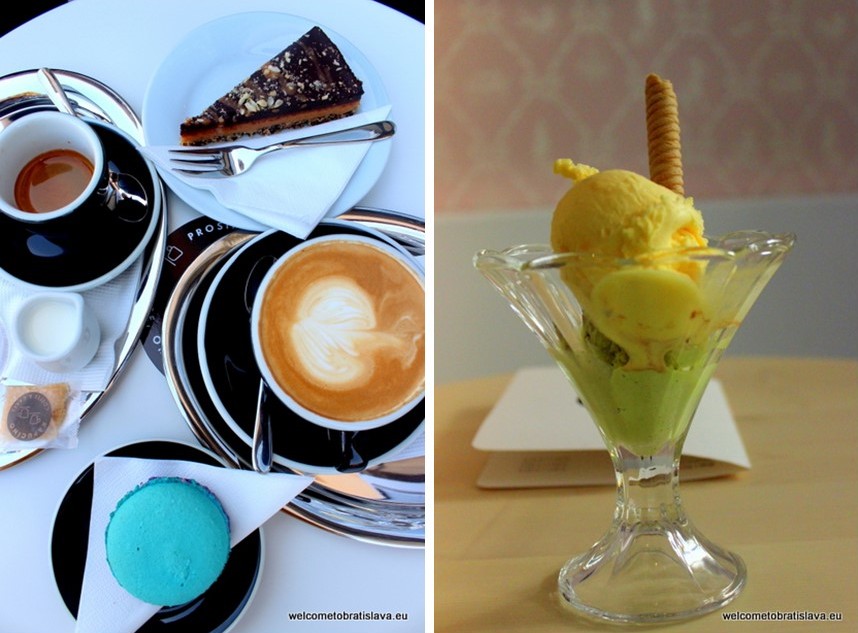 But it's not just great cakes and ice-cream that make this coffeeshop special: it's great service. And Kapucino appears to have hired the nicest bunch of people in town. Ultra-efficient, warm and welcoming.
WHAT TO HAVE AT KAPUCINO?
There are several specialties that Kapucino offers. One of them is its coffee. They serve Italian coffee brand popular for its dark roasting when the coffee is supposed to be less acid. Nowadays, it is trendy to use light roasting, so it is one of the few places where you can have authentic Italian coffee in Bratislava.
Our favourite home-made product produced in their bakery is their macarons. They are amazingly colorful and perfectly match the Parisienne spirit and the premises. These are seriously the biggest macarons we have seen – almost gigantic and very tasty. They have a secret recipe to make them and you can choose from various flavours. One is really enough for us to go with a coffee.
Another cool home-made baked treat, available all year long but ideal especially for cold winters, is waffles served with home-made whipped cream, chocolate and forest berries. It smells amazingly and the taste is heavenly. We loved the dough and the toppings were amazing, too. Fully recommended! And they started to serve it also with their amazing gelato!!!
Winter also brings seasonal hot chocolate which is semi-dark and truly rich and creamy.
Of course, there is also plenty of cakes to choose from, including raw cakes or cheesecakes. Our favourite ones are however the Bratislava rolls with nuts or poppy seed filling.
ITALIAN GELATO AT KAPUCINO
Separate topic is the authentic Italian gelato they used make here during the summer season and which is now available all year long! The owners graduated from the renowned Gelato University in Bologne. Thus you can expect nothing less than rich and creamy gelato intense in its flavours. They have usually 8 regular flavours and 4 specials that are seasonal and changing. The offer also includes several vegan sorbets. On top of that, they are probably the only place in Bratislava that offers "exclusive" – combo of an ice-cream that has something extra on top  such as white or dark chocolate or lemon layer. Another specialty in the ice-cream department are their popsicles covered in caramel, pistachios, chocolate or nut cream.
Our newest discovery in Kapucino is their spaghetti ice-cream – a fun concept of vanilla ice-cream with strawberry sauce that mostly kids will appreciate:)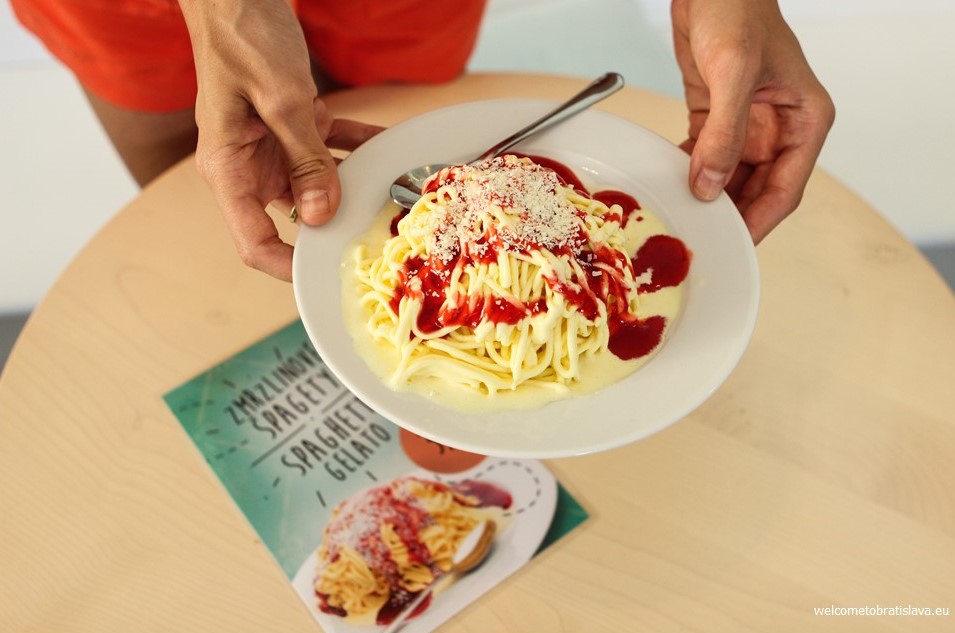 During the winter season, they offer an option of an ice-cream catering for parties or events. And between us, we were so happy with their gelato that it made it to our list of top ice-cream places in Bratislava.
Have you been to Kapucino already? What are your impressions?
Author: Zuzana Mytna

 OPEN HOURS: Check the official FB site


 ADDRESS: Kapucínska 5


 CONNECT: Website, Facebook


 MAP LOCATION: