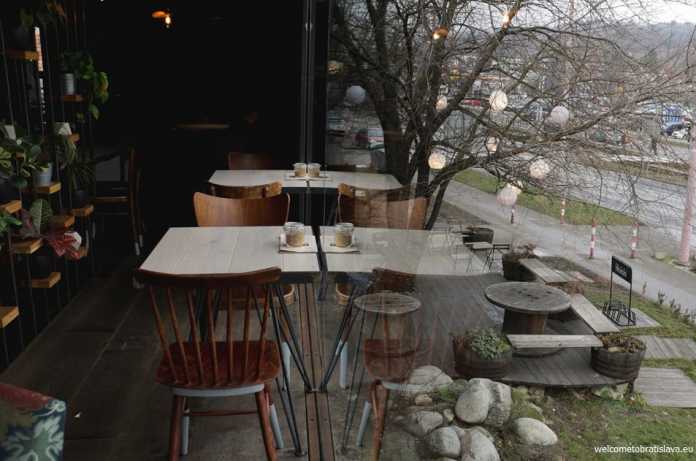 Wondering what logistics and gastronomy have in common? The answer is "a lot", if you open your restaurant in a shipping container! And yes, you can have an amazing meal, coffee and dessert in a shipping container in Bratislava. Kontajner Riviera's concept is based on a creative and on-trend design of a pop-up restaurant. They certainly know how to make their business stand out from competition. Nevertheless, it is the food you should come to this place for.
LOCATION
Kontajner Riviera is located at the beginning of Karlova Ves municipality. It stands on a busy road, close to the Molecova stop and the Waterworks museum. If you use public transport to get here, you have many options: trams 4, 5, 6 and 9 all go here. If you travel by car, there are a few parking slots nearby but be ready that they might be all taken.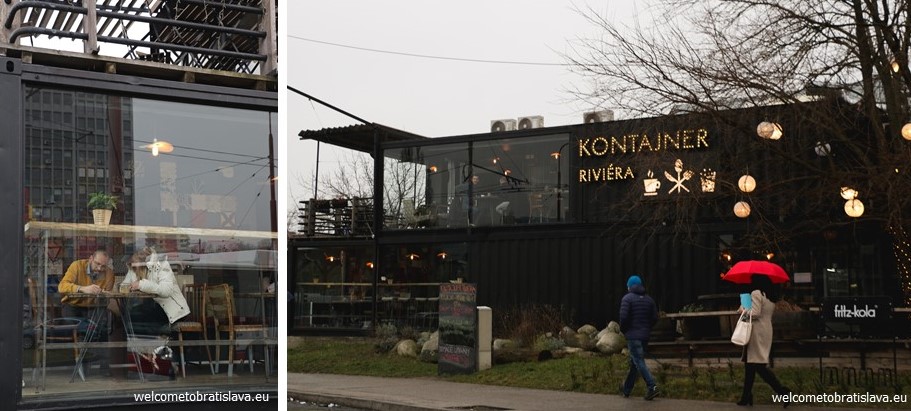 You will for sure not miss a several-container-big construction with a lovely terrace with a real tree in its center! Even if it stands on a busy crossroad, you won't mind it, especially if sitting inside. On the contrary, you can watch the busy surroundings from behind the glass.
We heard that there is a plan to open a new branch in Petrzalka soon.
INTERIOR
Kontajner Riviera started as a small business with a humble space of a single  shipping container and a tiny kitchen. Because of its popularity, more containers had to be added up and to the sides, so now it offers around 150 seats including outside seating options.
Riviera has 2 floors, several smoking rooms and terraces. It has plenty of windows replacing regular walls, is beautifully bright and has pleasant decorations and greenery.  
The glass walls are an excellent idea and provide a great view on the surroundings… which are rather soviet-styled.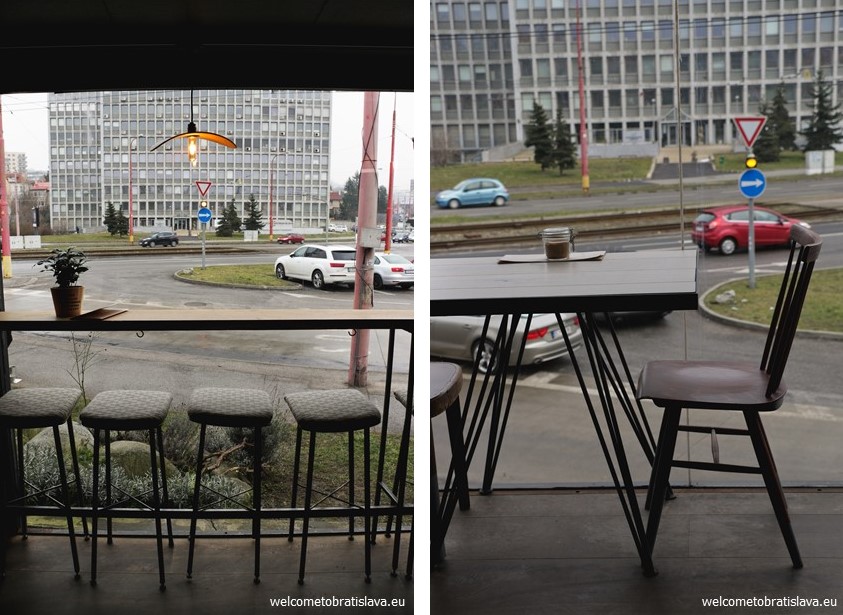 Old fashioned mismatched sofas and armchairs make you feel cozy from the first moment. Even if relaxed, the place looks trendy. And we do not need to mention that the container itself gives the place the popular industrial look. This is the hotspot for all the local hipsters avoiding the city center!
The place is kids-friendly with a small children's corner. Good wifi connection is a great plus, too!
WHY IS KONTAJNER RIVIERA SPECIAL?
The concept of Riviera's cuisine is based on healthy eating, meaning high quality ingredients and freshness. This place is popular because of the following reasons: 1. Fresh healthy lunch meals changing every day 2. Own homemade cakes 3. Exclusive 9 grams coffee roasted in Slovakia 4. A gallery supporting local culture.
Almost everything is cooked here from scratch – this means you will not see any half-ready bought food here. Riviera's Chef, Mr Martin Kolnik, is an expert in his industry and we just love his creations. Read on to see what we liked here.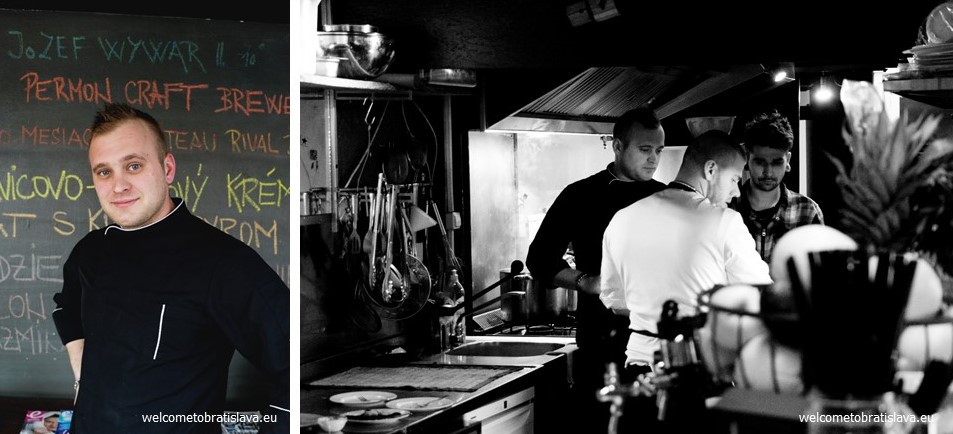 This place is super popular, so if you want to make sure to get a spot (especially on Fridays or during the summer season), make a booking in advance.
WHAT TO HAVE AT KONTAJNER RIVIERA?
The menu changes every season and each time it is based on the seasonal ingredients and seasonal dishes – warm and nourishing for winter and light and veggie-based for summer. For inspiration look at our photos showing how tasty and beautiful the food served here is.
We loved everything we ever had here. The chicken noodles were amazing. The same goes for their ribs.
The seasonal specialty we tried was salmon with grilled vegetables and orange sauce. Quite a simple dish but so deliciously seasoned and fresh that we were blown away.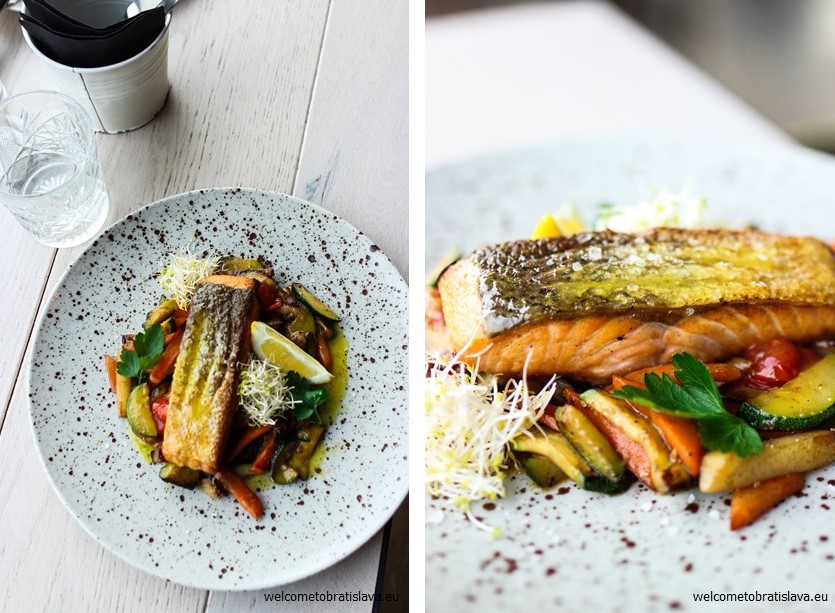 Another seasonal specialty was sous-vide duck breast with potato dumplings, wine sauce and orange caviar. The meat was cooked spot on and tender. This was definitely our top choice here so far!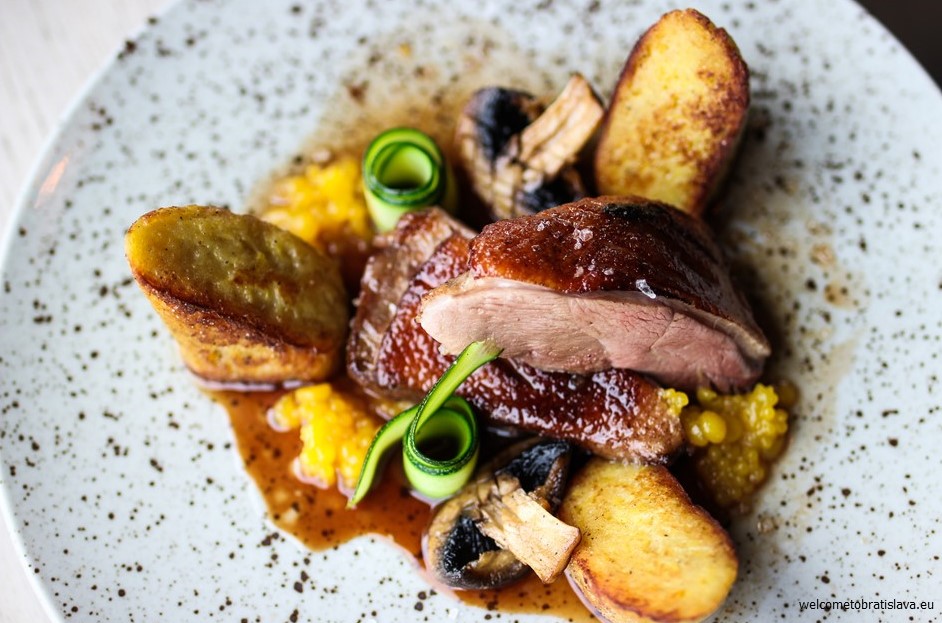 We cannot praise their homemade desserts enough – each time we visit, we cannot resist having some. They mostly have cheesecakes and we completely fell for their coffee cheesecake.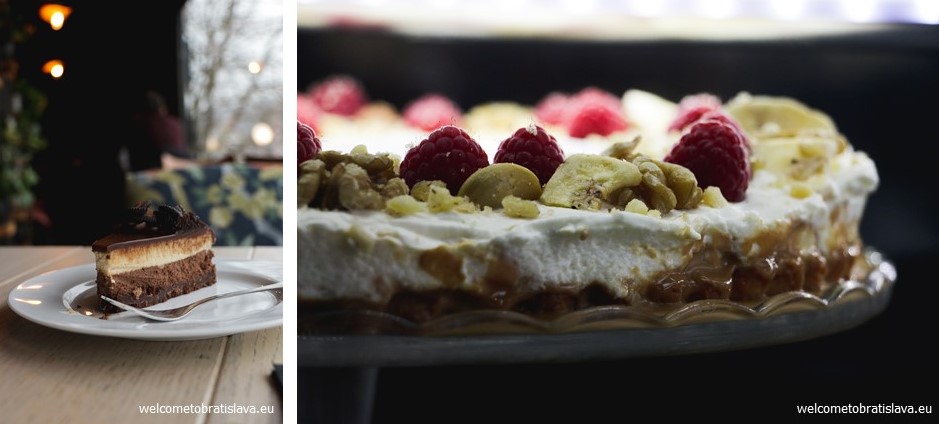 Another great thing about this place is that they have a wide breakfast menu. Moreover, in most cases, you can order breakfast even in the late afternoon hours. Riviera's breakfast meals were so amazing that we had to add this place to our list of the best breakfast places in Bratislava.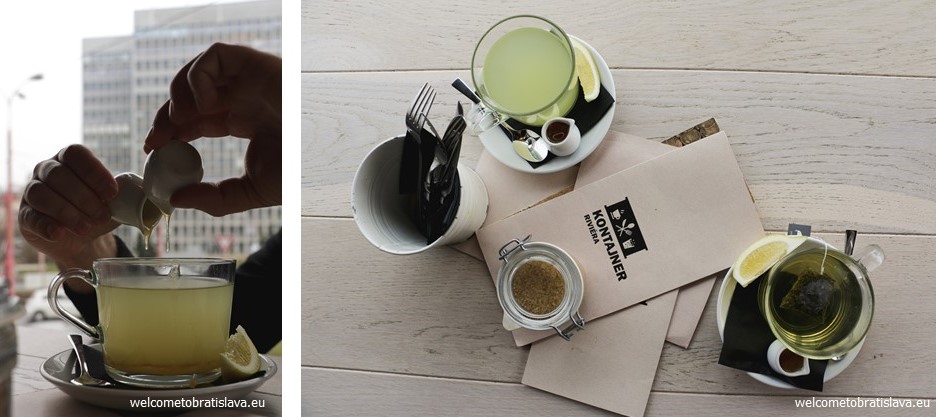 The scrambled eggs with ham and onions were amazing and the bread served with basically all the salty breakfast meals was great. The same goes for the avocado with bacon and eggs – we loved it!

We enjoyed the guacamole toasts with bacon, too, but the portion was a lady size (two breads and a salad), so we would not recommend this dish to the hungry men:D

The oškvarková spread was love at first sight, highly recommended! We also tried the sweet cocoa porridge with  the hazelnuts and strawberries – the hazelnuts had a pretty strong base in this dish and took control over the flavors of the other ingredients.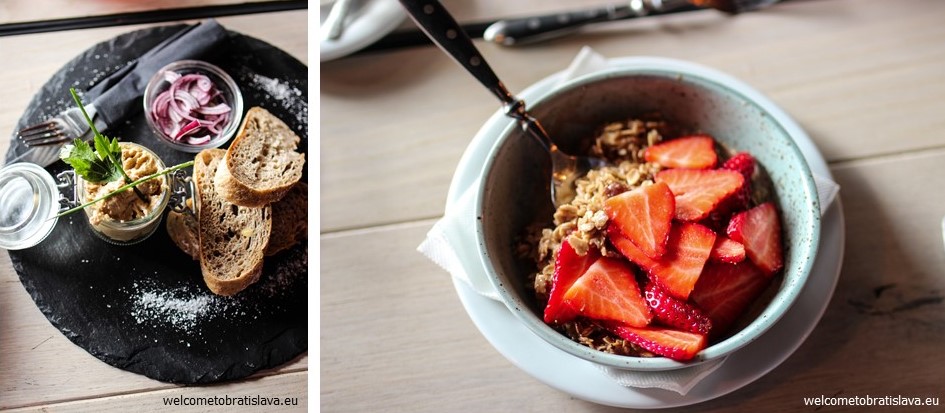 The daily lunch menu consisting of a soup and a main dish is another reason why people love this place.
Still not enough reasons to come here? We heard that they plan to start making their own ice-cream in summer and sell it from the terrace. We are so excited! What about you?
Author: Zuzana Mytna
Photo credits: Natalia Jankova

 OPEN HOURS: Check their Facebook


 ADDRESS: Na Riviere 2


 CONNECT: Website, Facebook


 MAP LOCATION: