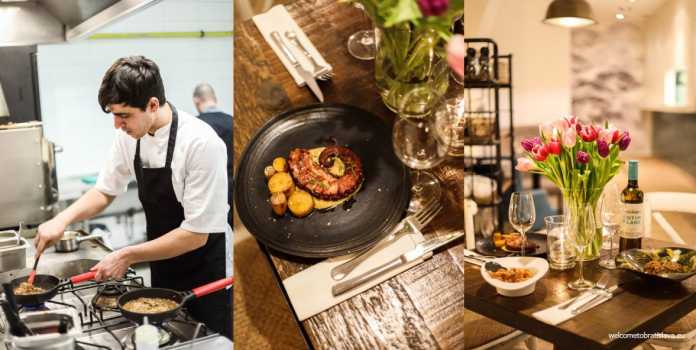 Spanish culture is not something very unusual in Bratislava. Just have a look around – Latin music is being played in the radio, fans are watching the clash of football titans – El Clasico match, people are attending Spanish courses and you are likely to meet an Erasmus student or corporate employee from Spain anywhere in the city. Moreover with today's deals from low-cost airlines you can have a trip to Iberian peninsula for less than 50 euro. Although for those who have not had a chance to visit Barcelona yet, we have a great tip for you: La Cava Barcelona – a traditional Spanish cuisine right in the Bratislava city center.
LOCATION
Thanks to its excellent location on Námestie SNP (right on the opposite side of the main post office), we are pretty sure that you have already passed by the restaurant and its blue logo on the wall. You can easily get there by tram and get off at the Námestie SNP or Poštová stop and then walk around 3 minutes to get there. The restaurant was open seven years ago but after two years on Panská Street they moved to a bigger space. In addition, the owners opened " a sister" of Cava de Barcelona in Costa Brava, Spain, and those two cooperate together.
INTERIOR
If you are looking for some eccentric bistro with loud music, Spanish flags and colors everywhere, this is not that kind of a place. You go for a romantic date, family dinner or a glass of Spanish wine and a snack with your friend to La Cava Barcelona. The entire interior was imported from Catalan region by owners and even though it's quite minimalistic, you would find similar style restaurants anywhere in Barcelona.
WHY IS LA CAVA BARCELONA SPECIAL?

When we asked the owners what the inspiration to bring the Catalan type restaurant to Bratislava was, the answer was "great food for a logical price". It is all based on your budget but even though you order something cheaper or more expensive, you'll always get fresh food from the best ingredients.  Thanks to the cooperation with their restaurant in Costa Brava, all fish and seafood are bought on a local fresh market, processed in Spain and delivered to Bratislava. If you are lucky and you come to the restaurant in the right time, you are likely to meet the owners who occasionally come to the table and chit-chatt with the customers. And who knows, maybe you will get to meet them and practise your Spanish or English? :) Hola!
WHAT TO HAVE IN LA CAVA BARCELONA?
What impressed us the most was the tight cooperation between their restaurants. Even though there are kilometres that separate them, they still can share so many things. Either you are in Bratislava or Costa Brava, you can choose from a similar menu since the executive chef is in Spain. You are offered various traditional Spanish meals, desserts or a variety of Spanish wines that are worth trying. All of that is prepared by Spanish cooks only so authenticity is guaranteed.
And what to order?
We asked for any suggestions and as we wanted to experience as many different tastes as possible, we were offered to have tapas. Spaniards go out a lot and they don't always want to have a full meal, they prefer to have a bit of everything. And this is what tapas is all about – sharing.
It is well known that the less dishes you have in the menu, the more time you can focus on details and create a unique taste. The owners prefer quality rather than quantity.
We tried four meals and each of them was special and had its own taste. Calamari fritti is always a good choice and especially the lime mayo makes that fried meal really fresh. Paella is a must in the Spanish restaurant, this one was with the "chuleton" which is type of a beef steak. The meat is also from Spain but not from Catalonia (as majority of the ingredients), but from the north part.
By the way, this meat is prepared in a special charcoal oven that can heat up to 300 degrees, very unusual in Slovakia, and it makes the meat quite red in the middle but not bloody.
Grilled octopus was super fresh and you could sense the well-prepared fibers that went perfectly with curry hummus, yummy! And – even though it is not traditionally Spanish – the risotto that we had to try as the chef brought the recipe from a Michelin restaurant in Rome where he used to work. Yes, it was special, a little bit strong but interesting in flavour. For sugar lovers they usually offer a typical dessert – La crema catalana.
Vamos a La Cava Barcelona!

OPEN HOURS: Check their Facebook


 ADDRESS: Námestie SNP 1


 CONNECT: Facebook


 MAP LOCATION:

Authors: Radka Horakova, Martin Komlos
Photo credits: Ksenia Zhukova