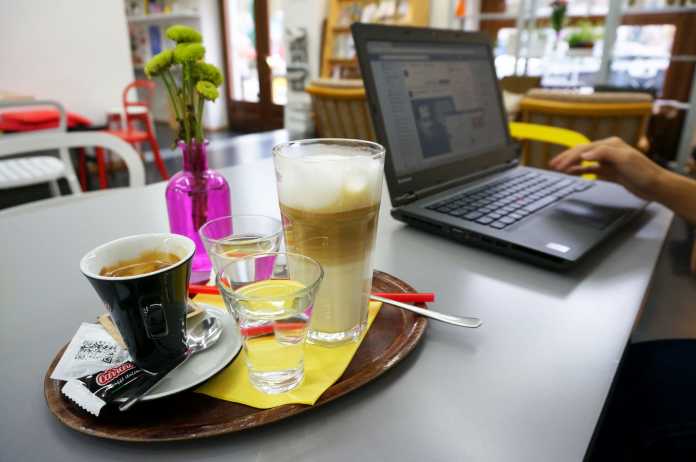 Currently there is almost no place in our capital where they would not have WiFi available for their visitors. That is all great. Yet, not each eatery is suitable for an extended stay with your laptop. Which cafes will welcome you with your needs for free power and WiFi to fuel whatever electronic task you may have in mind? If you need somewhere conducive and quiet to concentrate or study, here are the laptop friendly places in Bratislava that we've found and like to spend time at.
URBAN HOUSE
Urban house offers a big open space with wide tables. It's ideal for those who can focus in rather large premises with more people around. Wide choice of coffees, great desserts and small snacks to live on while working. This real hipster hangout will provide you with a feeling of a true start-uper.
Big Like for: great coffee and the "wall of used books" – you can bring your old books and exchange them for another used ones.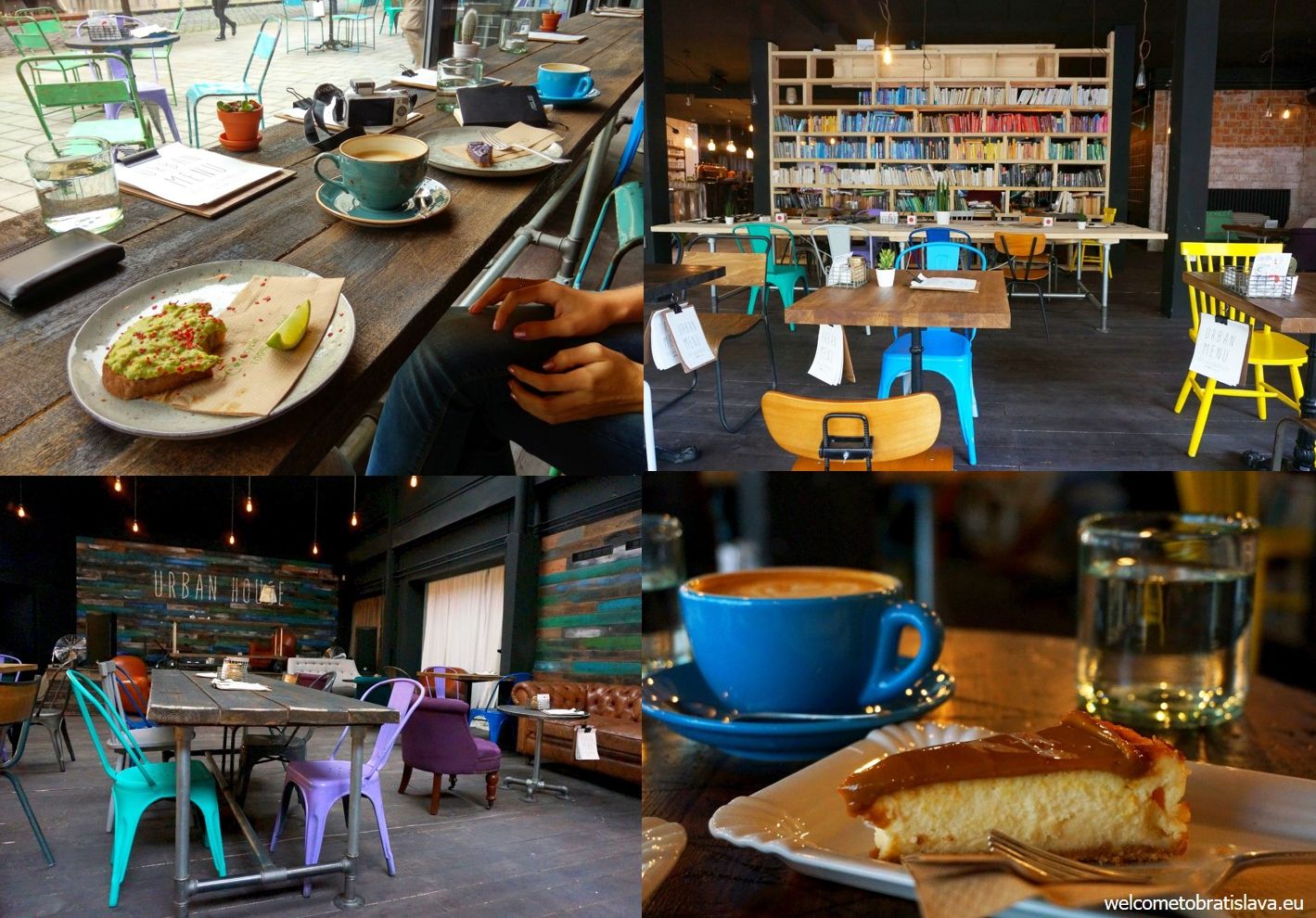 ADDRESS: Laurinská 14
FOXFORD
This coffee place has a great brand design with beautiful premises to work at. It is part of a bookstore and while downstairs area has quite a busy atmosphere, the upstairs seating offers a great ambiance for working. The place is decorated in the spirit of its coexistence with the bookshop and you can enjoy your coffee under the book pages hanging from the ceiling or pinned to the lamps. There are big windows from which you can see the busy vibe of Obchodna Street (translated as a Shopping Street).
Big Like for: the cuisine! Healthy and non traditional dishes. We especially like the bacon jam and beef strudel. Well placed electric sockets :) Original meals are nicely complemented by unconventional graphics of the menu.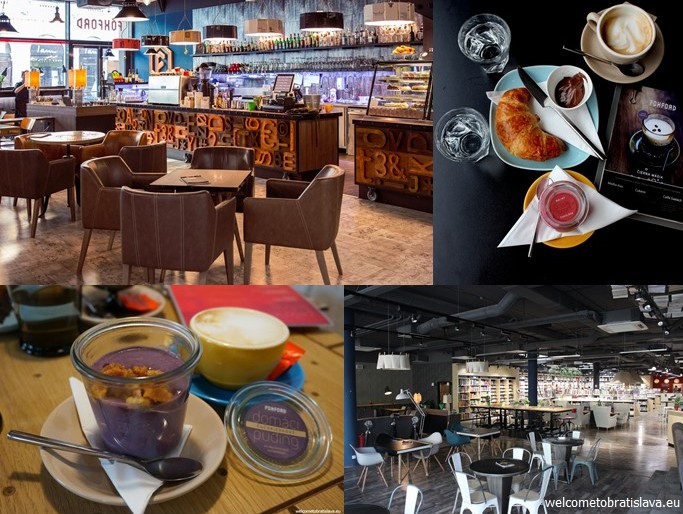 ADDRESS: Obchodná 26 + Staré grunty 24 (OC Cubicon)

U KUBISTU
A quite popular place nowadays with always flamboyant window decorations. If visited in the morning or weekends, it offers a peaceful atmosphere to focus. However, it gets packed at lunchtime and stays full until the evening hours. Their menu provides healthy and experimental dishes.
Big Like for: Seasonal menus change regularly, always with smart funny comments. Socca (a special pancake made of chickpeas) is served with almost every meal. Kubists make their meals from ingredients of high quality.
STUR
This place with its brand is named after a Slovak historic icon, Mr Ludovit Stur, the creator and establisher of the Slovak language. All the menus are written in the Slovak language from 19th century (Stur's era) which has dramatically evolved since then and spelling used in menus sounds very funny to all the Slovak speakers. It also offers cosy atmosphere, light but satisfying meals and healthy cakes using stevia.
Big Like for: Pioneering the vintage style, originality of the brand, yummy sandwiches and cakes.
RANNO PTACA
The breakfast sister of the Stur cafes chain. Wide selection of breakfast meals kicks you with energy necessary for your work. Cosy atmosphere, spacious premises and a cup of delicious coffee will make your day perfect. Always! We need to highlight that even that there is free WiFi available, it often does not work or is very slow (from our experience).
Big Like for: Main focus of the cuisine on breakfast dishes. International offer of breakfast egg based meals made in 7 different ways, from American through Hungarian to Russian style. Huge windows and interior full of wood, including a set of wings hanging from the ceiling (referring to the legend of Saint Cyprian). Breakfast served all day long!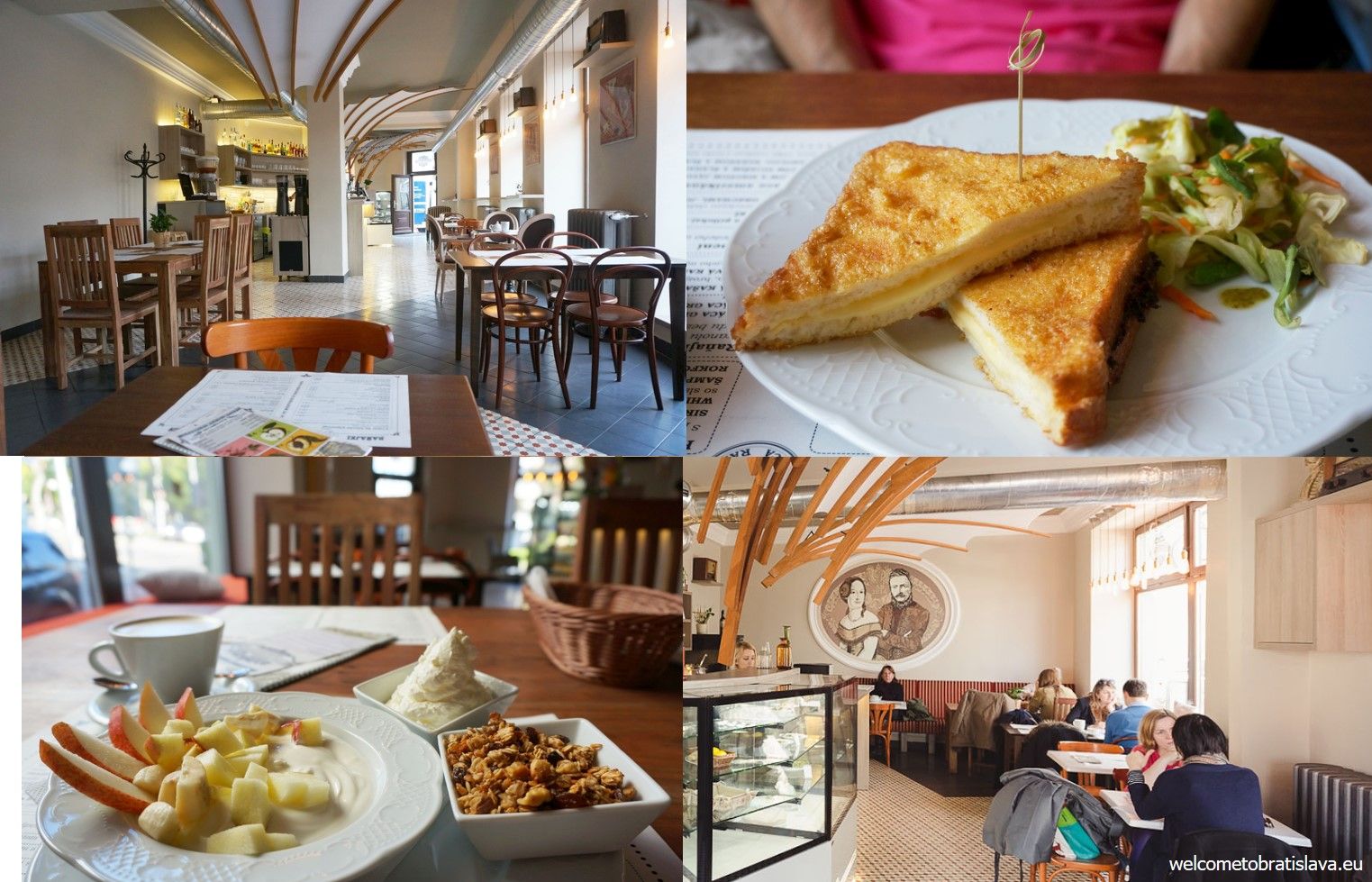 ADDRESS: Štefaničova 6

MONDIEU
This French styled coffee place has several branches to choose from. You will be enjoying it with more senses than just with taste buds, since the interior is designed to please its guests' eyes, too. Do not miss out on the millet porridge or the wide selection of exotic teas. Mondieu has three branches in the city center.
Big Like for: Best macarons in city center and healthy focus of the menu!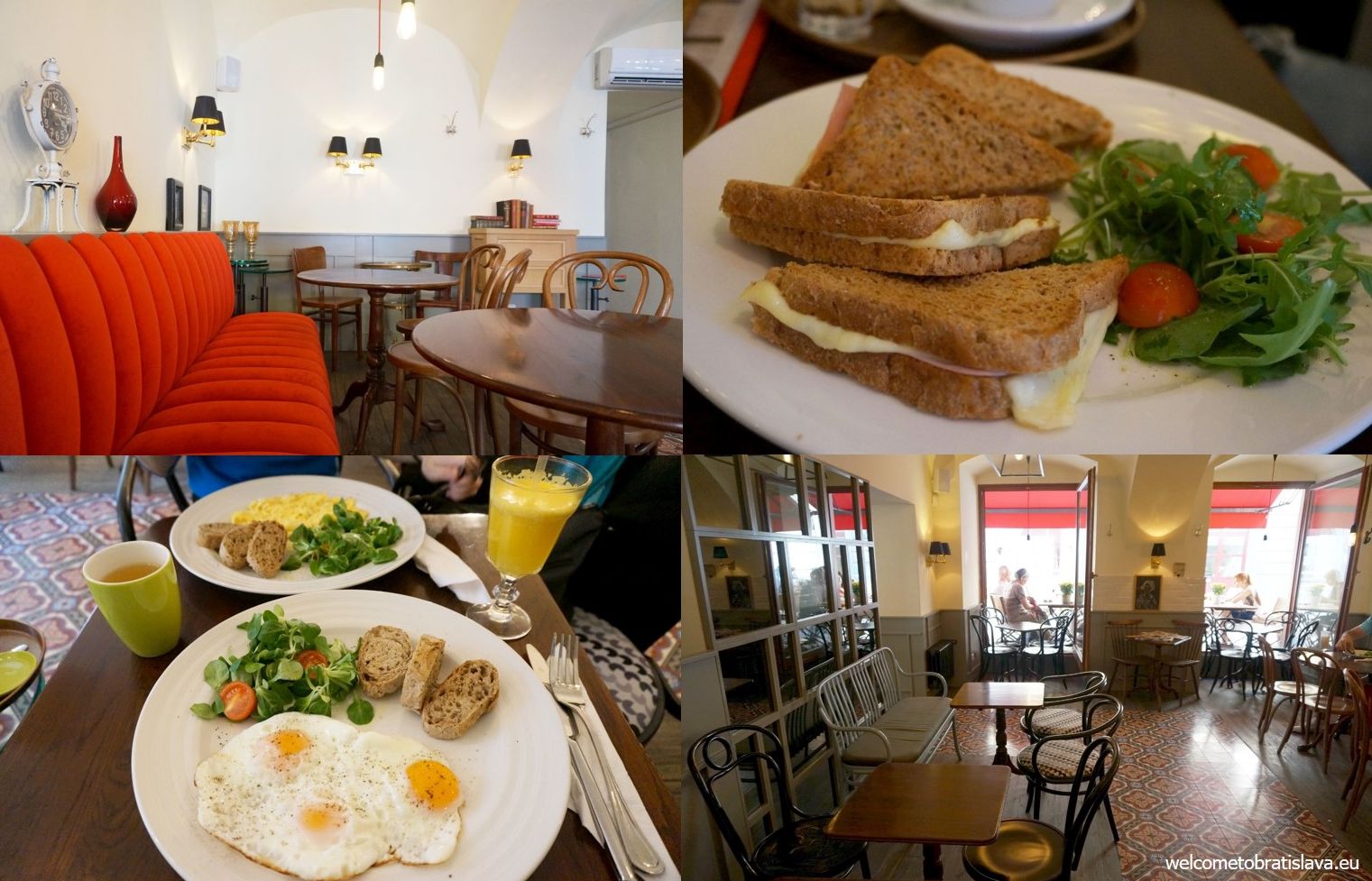 ADDRESS: Panská 27 + Laurinská 1 + Laurinská 3 + Laurinská 7 + Bory Mall + Žizková 17 (Mondieu Espress, Zuckermandel)

CAFE DIAS
This more classical coffee place is part of a bookstore. You can dive into the world of printed letters while smelling the best aromas of 16 world coffees it offers. To be fair, we have to mention we experienced a WiFi connection problems when blogging from there last time, but the place itself is very comfy and friendly.
Big Like for: Very nice service, tasty mini profiterols (sweet treats filled with ice-cream styled cream filling) served with your coffee and beautifully decorated cake plates.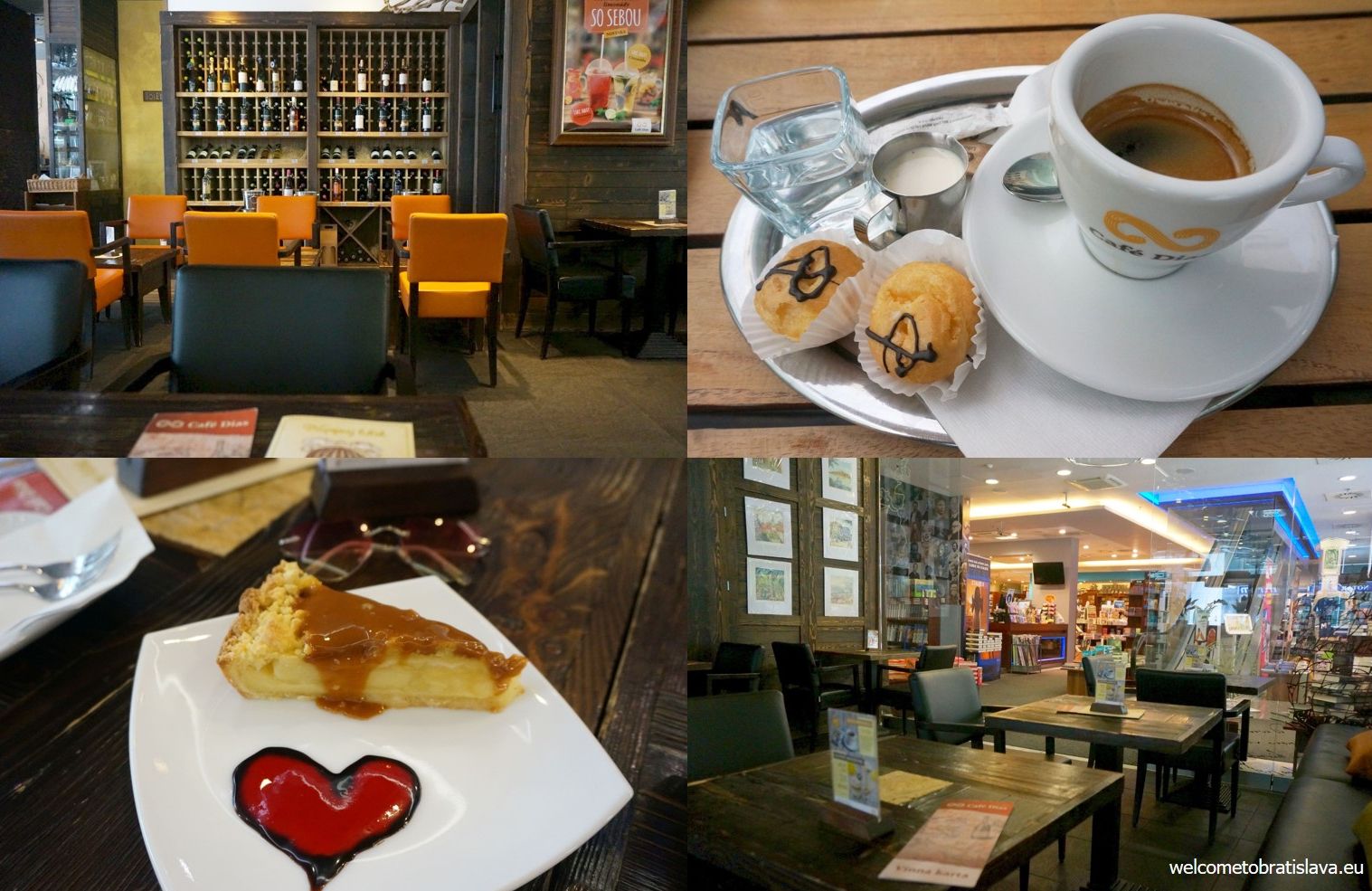 ADDRESS: Vysoká 2 + each bigger shopping mall in Bratislava

LITERARNA CAJOVNA
A tea house with high quality teas from around the world, great coffee, local wines, Belgian beers and delicious Arabic vegetarian specialties. Come here if you are looking for a charming small place that smells like herbs and home.
Big Like for: Teas which you will be served with a story. Try their hummus, it is not only served beautifully but it is delicious! We also loved the exhibition of beautiful paintings and photos hanging on the walls – which come from young Slovak artists.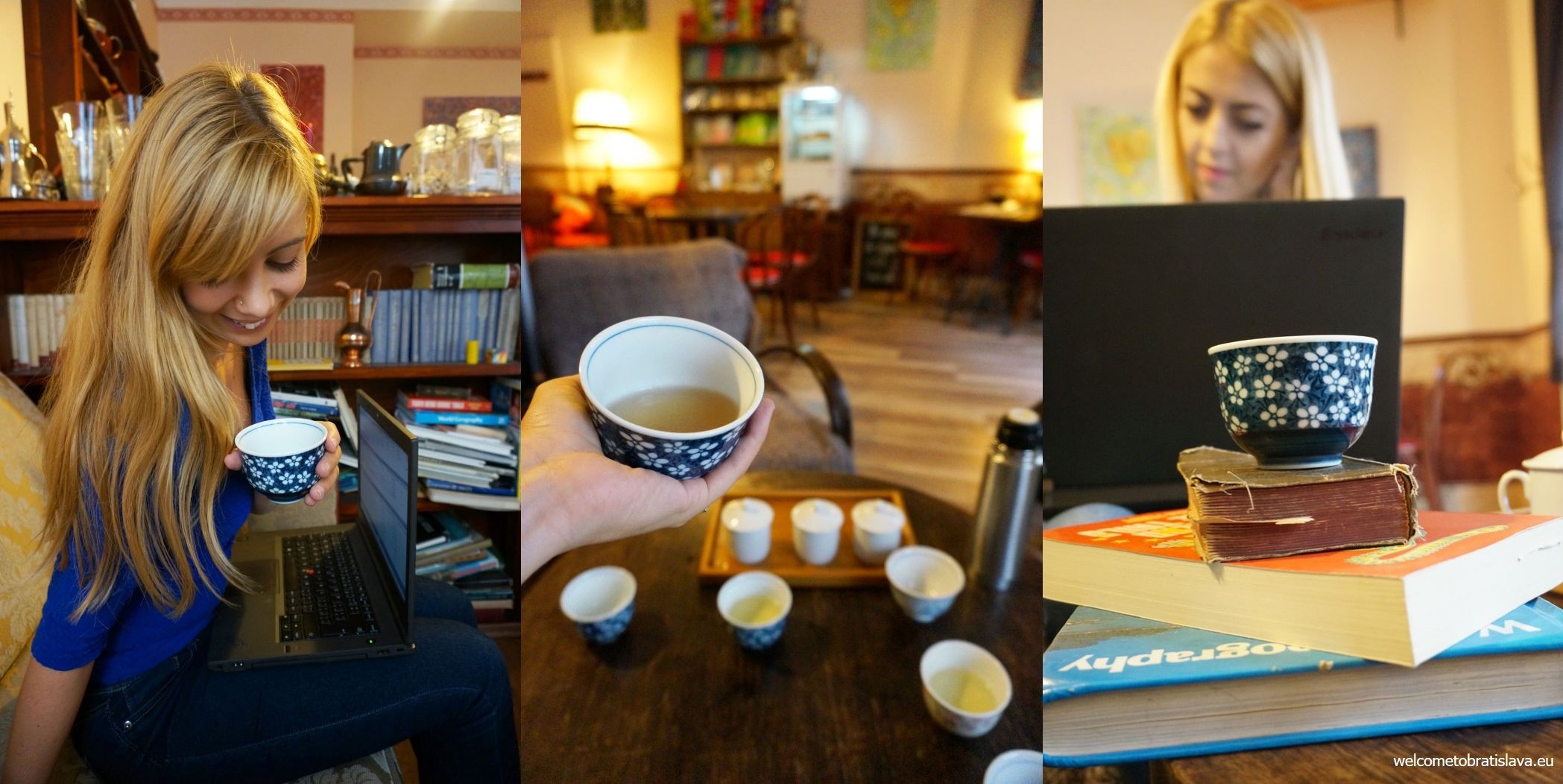 ADDRESS: Grosslingova 49

ENJOY BISTRO
Enjoy Bistro has a beautiful interior and a lot of seating available, yet it does not feel overcrowded even with more people in. You will feel comfy working here. Come in the morning or early afternoon if you don't want to be disturbed, in the evenings it easily gets busy so you might rather enjoy a drink with friends instead of working at that time.
Big Like for: good coffee, quick service, very nice ambiance, delicious meals
W CAFE
You can find this very stylish hip cafe with its own style  in a few minutes walk from the main bus station. W Cafe is the only place in Bratislava that serves coffee roasted right in San Francisco. Their menu includes fresh lemonades, Lov Organic teas, Slovak wines as well as excellent cakes and they offer a breakfast menu, too. The owners, who managed to furnish and set the whole place up in just one month, are 2 young guys currently studying architecture. There are power plugs everywhere so the environment is literally inviting you to spend your working time here :)
Big Life for: attentive service, the cool vibe and tasty food

ADDRESS: Grosslingova 62

Which is your favorite spot? Do you know a place that would fit in this list? Leave a comment with your suggestion!
Author: Maria Kecsoova, Zuzana Mytna