While European cafes traditionally thrive on the concept of languishing over a single coffee and pastry during the course of an hour, there is a growing trend here to enjoy a latte and a snack on the go. Bratislava has many coffee shops that offer either or. But the owners of Light Roast Specialty Coffee saw the potential for something slightly different. While living in Australia, they realized there was a way to offer both and brought this concept back to their home in Slovakia.
LOCATION
The shop stands in the purlieus of Nové Mesto and Starý Ružinov. This is an evolving area of the city where numerous half-finished construction sites tower over communist-era apartment tracks and picturesque Neo-Baroque buildings. There are gems here, such as Park Račianske mýto with its memorial rose garden and aerial fountain. The neighborhood has a diverse, welcoming vibe characterized by its motley residents: young tattooed couples, strolling nuns, bubbly children with balloons. This is not a tourist haunt – this is sample of real Bratislava.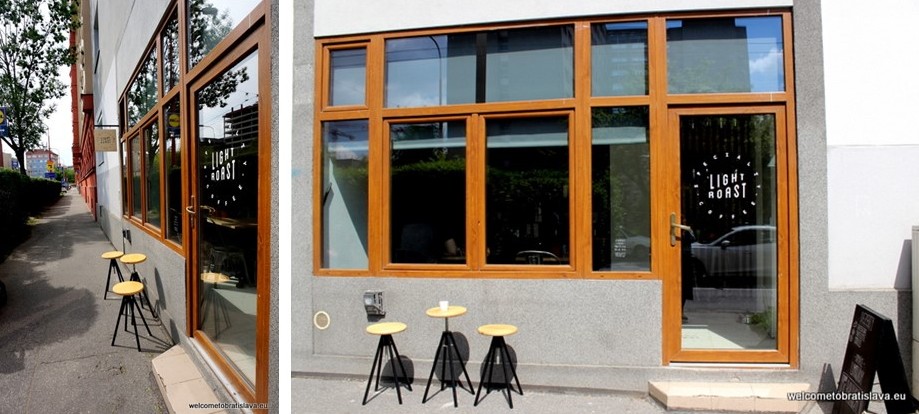 INTERIOR 
Light Roast is charmingly petite. But the high ceilings and minimalist decor prevent the space from feeling cramped. And while the seating is limited, they managed to transform each corner into a cozy nook. Moreover, the sunlit site is just ideal for savoring craft coffee and treats. Along the large storefront windows is a long, inviting communal table dotted with succulents. Rows of bright green pothos ivy in silver pots serve as artwork above a high table for two.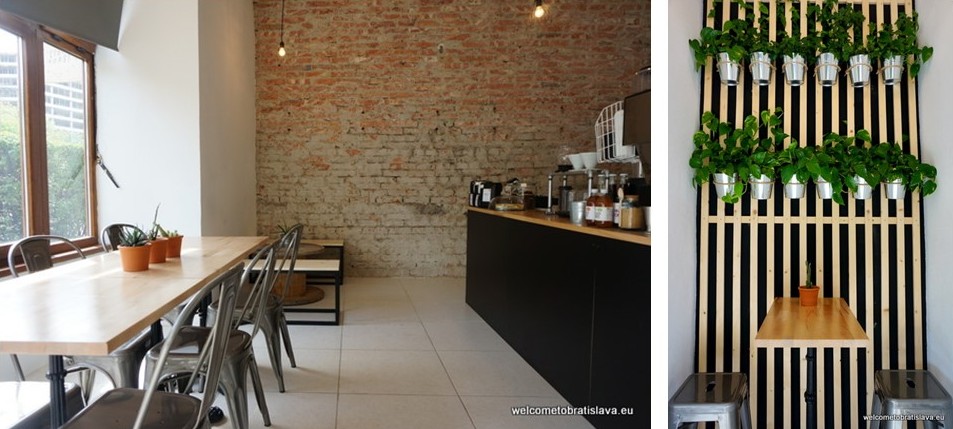 Perhaps the most striking feature of Light Roast's interior is the exposed brick wall that extends the length of the shop. Fading from rust tones to chalky eggshell hues, the brick is industrial in both a modern and antique sense. It is an amalgamative touch that blends the stark man-made elements of the space with its earthen details.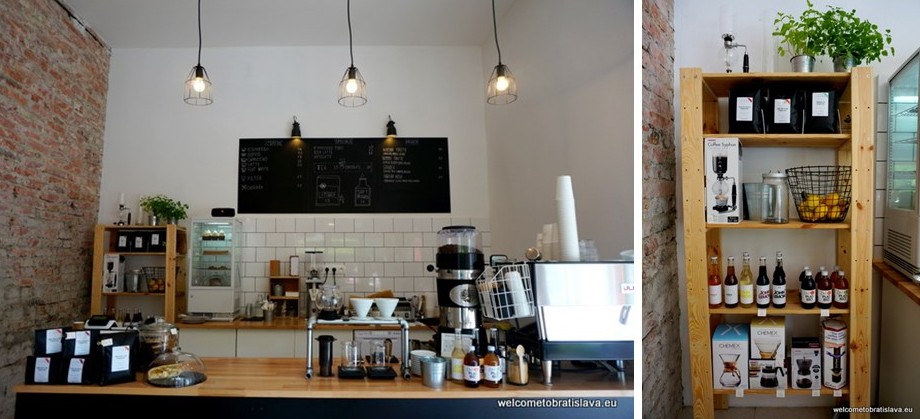 WHAT TO HAVE AT LIGHT ROAST SPECIALTY COFFEE?
Weekends are special here because weekends mean brunch is on. The moderately sized menu features on-trend items such as Avocado Toast with Rocket and Olive Oil and Hummus Toast with Roasted Peppers. As is the way with Light Roast, however, the simplicity of this menu provides an opportunity for the owners to ensure a thoughtful preparation of each dish.
The Avocado Toast, for example, is the illustration of basic eating: bread, fruit, greens. But the bread is flavorful and flecked with seeds; it has a crunchy exterior and chewy center that benefit by being lightly grilled before serving. Avocado can be tricky to source in Central Europe. This avocado is buttery with hints of grass and floral notes that agreeably contrast with the peppery rocket and round olive oil flavor.
It is a lovely, yet subtle dish. We recommend pairing it with the rich, eggy Quiche or Hummus Toast – if only for the amazingly bright, juicy roasted pepper topping. We could eat it on everything!
But let's talk about the sweets . . . we tried the cookie, the caramel cheesecake, the nougat cheesecake, and the carrot cake. (It's Brunch – live a little, right?) These desserts are amazing. The stream of regulars who popped in and out of Light Roast during our visit left with various treats on paper plates and giant smiles. This is for sure a testament to credibility of these offerings.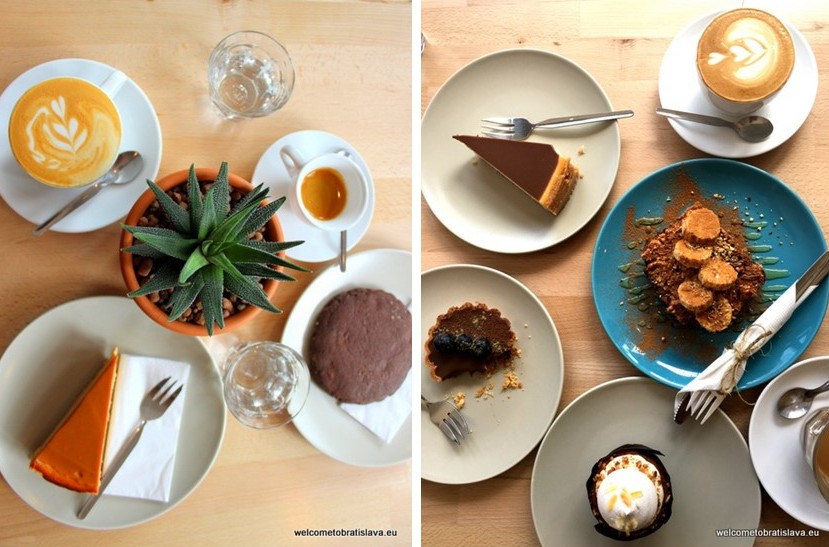 We have to highlight the Banana Bread, though. This thick slab of cake is served warm – a pleasant surprise! It is layered with peanut butter, fat chunks of bananas, drizzles of honey and a generous dusting of cinnamon. Simply glorious.
WHY IS LIGHT ROAST SPECIAL?
Of course the main reason to visit Light Roast is to enjoy the terrific specialty coffee. The coffee and espresso that they serve here is strong, with a sharp, pleasant acidity and well-balanced bitterness. Beyond the classic black coffee and cappuccino offerings, there is a refreshing Iced Latte and the unique, though increasingly trendy Espresso Tonic.
The Affogato is pure decadence. Robust espresso is poured over a milky, vanilla bean ice cream with hints of tropical nuts and sweet cream. As the ice cream melts, the Affogato becomes less a dessert and more a fantasy Espresso shot. Caffeinated ice-cream you can drink! It's awesome.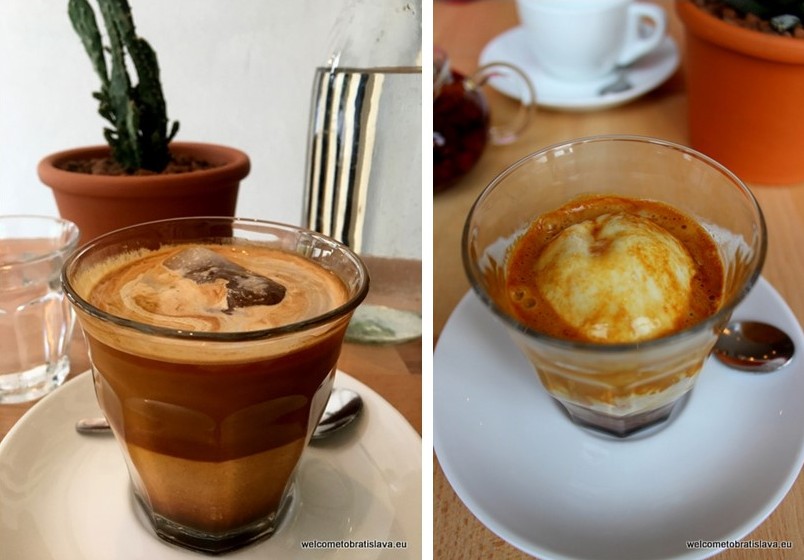 There is also Cascara here. While this beverage is relatively new to cafes, it is gaining popularity as a drink that blends the best of coffee and tea. Cascara is made from the dried skins of coffee "cherries" – the outsides of the fruit from which the seed, or as we know it the coffee bean, is harvested. The resulting drink is lower in caffeine than actual coffee and can replicate the light, sweet nature of tea.
Whether grabbing a coffee togo before work, stopping in as a regular to chat with your favorite barista, or treating yourself to a leisurely weekend brunch with ALL the sweets, we highly recommend Light Roast and welcome this delightful cafe to Bratislava.
Big thanks to Jen, our External Foodie Consultant!

 ADDRESS: Legionárska 9


 OPEN HOURS: Check the Facebook site


CONNECT: Facebook


 MAP LOCATION: