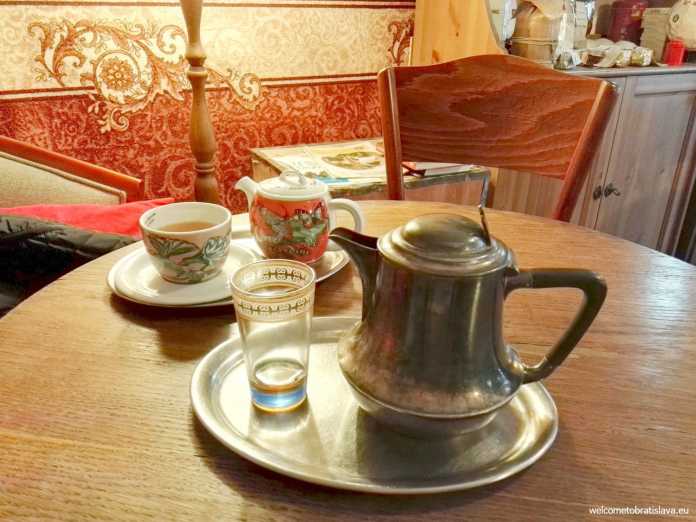 Imagine a cosy homey place with small tables, old books, dimmed lights and tea doses everywhere. If you prefer tea leaves to coffee beans and tea ceremony can bring you into ecstasy, you are at a right place. Add an interesting  story and you have a perfect picture of how it works in Literarna Cajovna.
LOCATION
Literarna cajovna has its home on Grosslingova Street, a few meters away from the popular hip bistro U Kubistu. You can look for this beautiful building on Klemensova Street which can be a good contact point because the tea house is just a few meters away.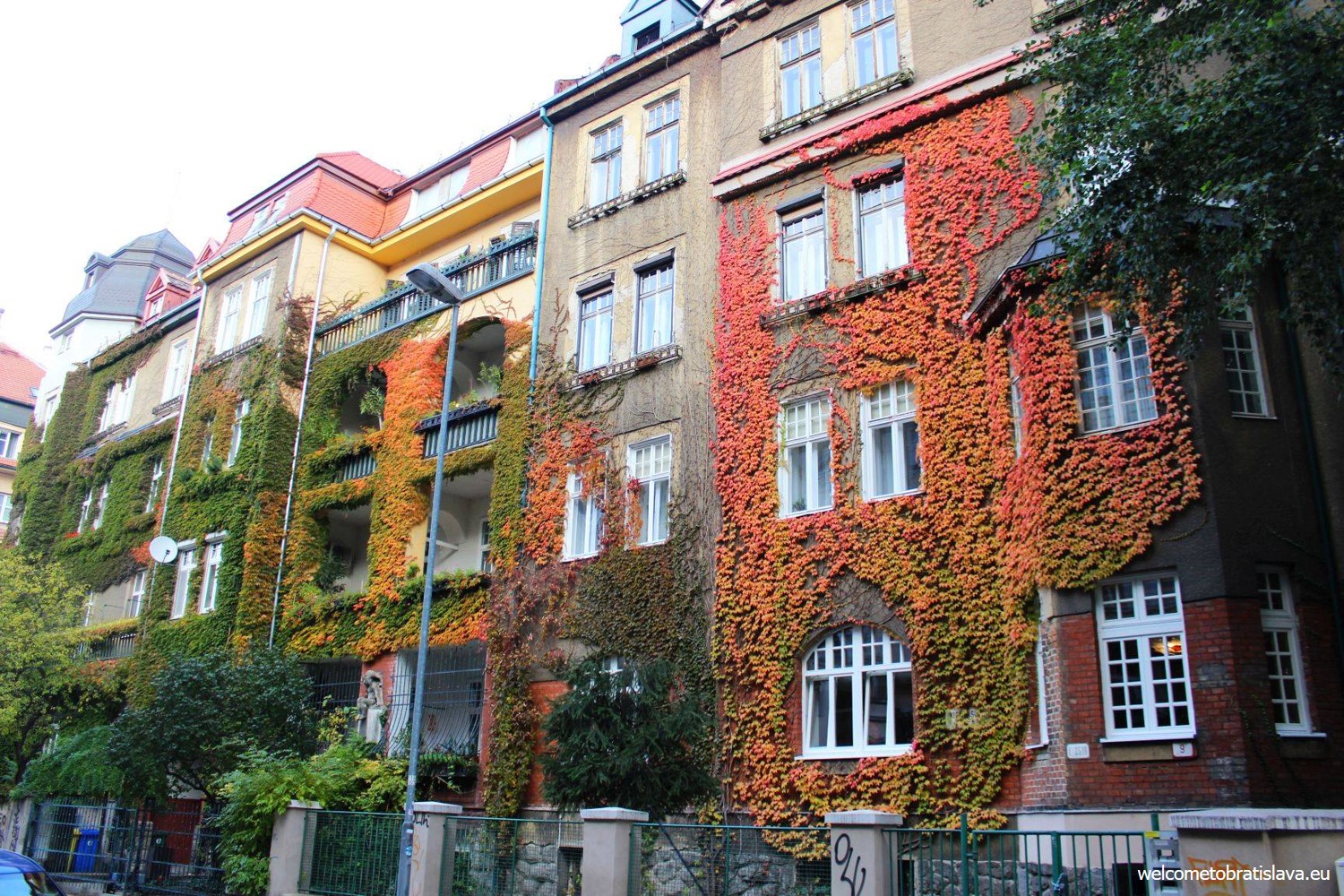 INTERIOR
There are two rooms in this tea house. The front room is the bigger one, with a few tables and sofas. It feels very cosy there from the moment you walk in – like sitting in a retro living room full of wooden furniture, books and smell of scented tea. On the walls you can admire an exhibition of paintings or photographs of young Slovak artists,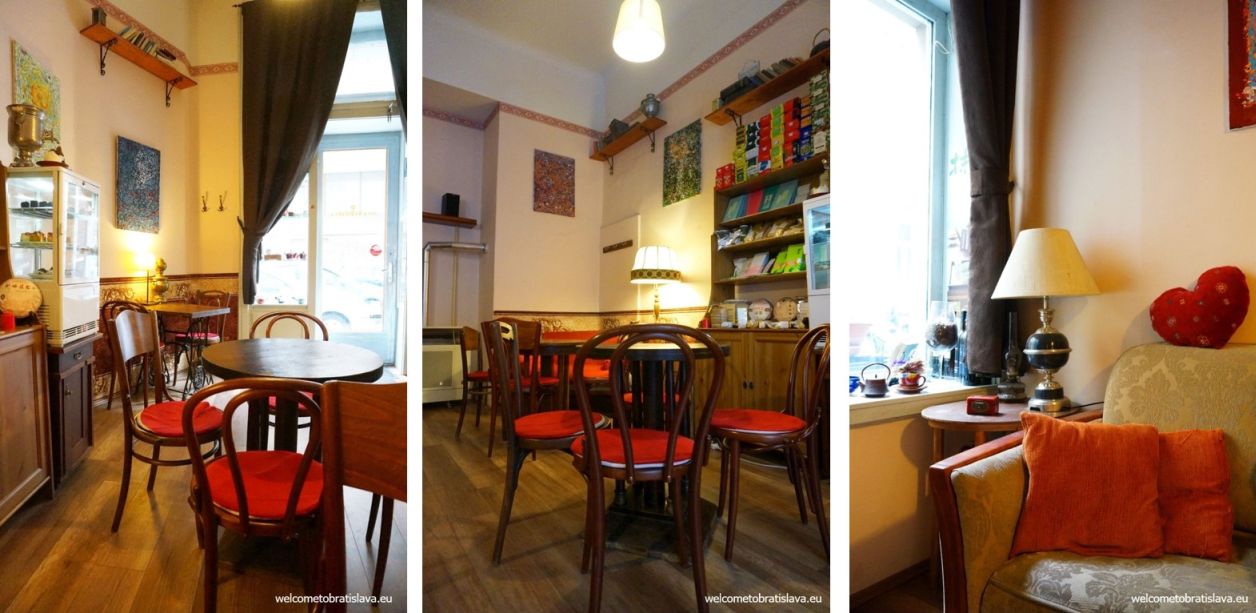 and if you look at the shelves, you will find many books and teas there – which are for sale but also function as decoration.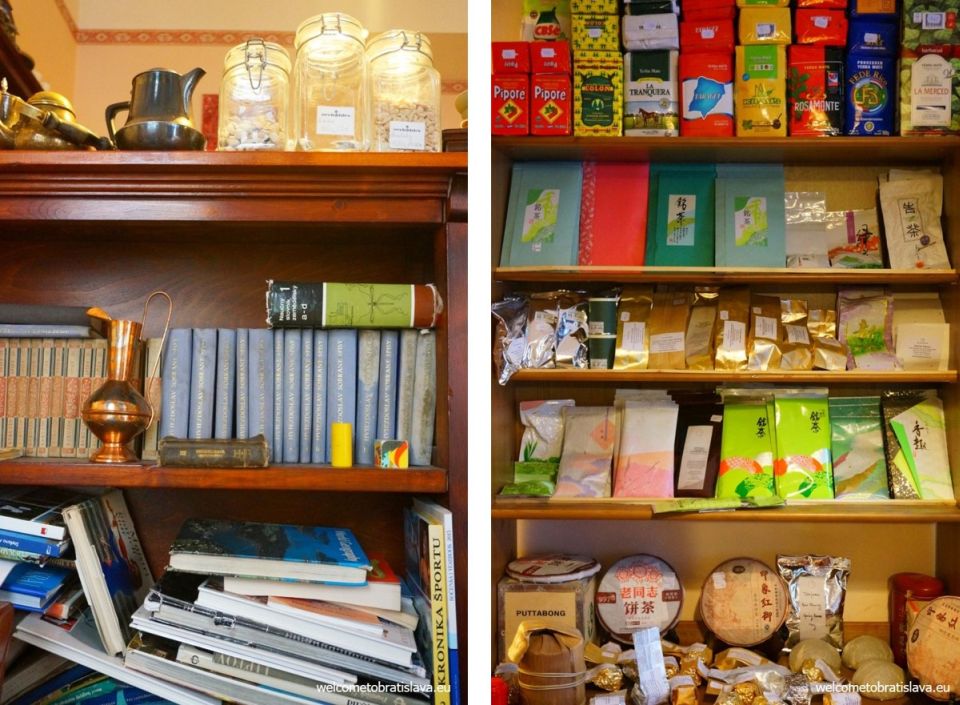 The back room is slightly smaller and is the space of the library. Great if you like to hide from the world :)

(source)
WHAT TO HAVE IN LITERARNA CAJOVNA?
This tea house has a wide scale of the world best teas of high quality. It chooses its suppliers very carefully, offering good quality for affordable prices. On its menu, all the teas are nicely sorted into different categories and you have three ways how to enjoy them:
Single Infusion Tea Ceremony (water volume of 0,4l)
Multiple Infusion Tea Ceremony (5g of tea for water volume of 0,5l)
Sample Tea Ceremony (tasting three tea varieties from the same tea family)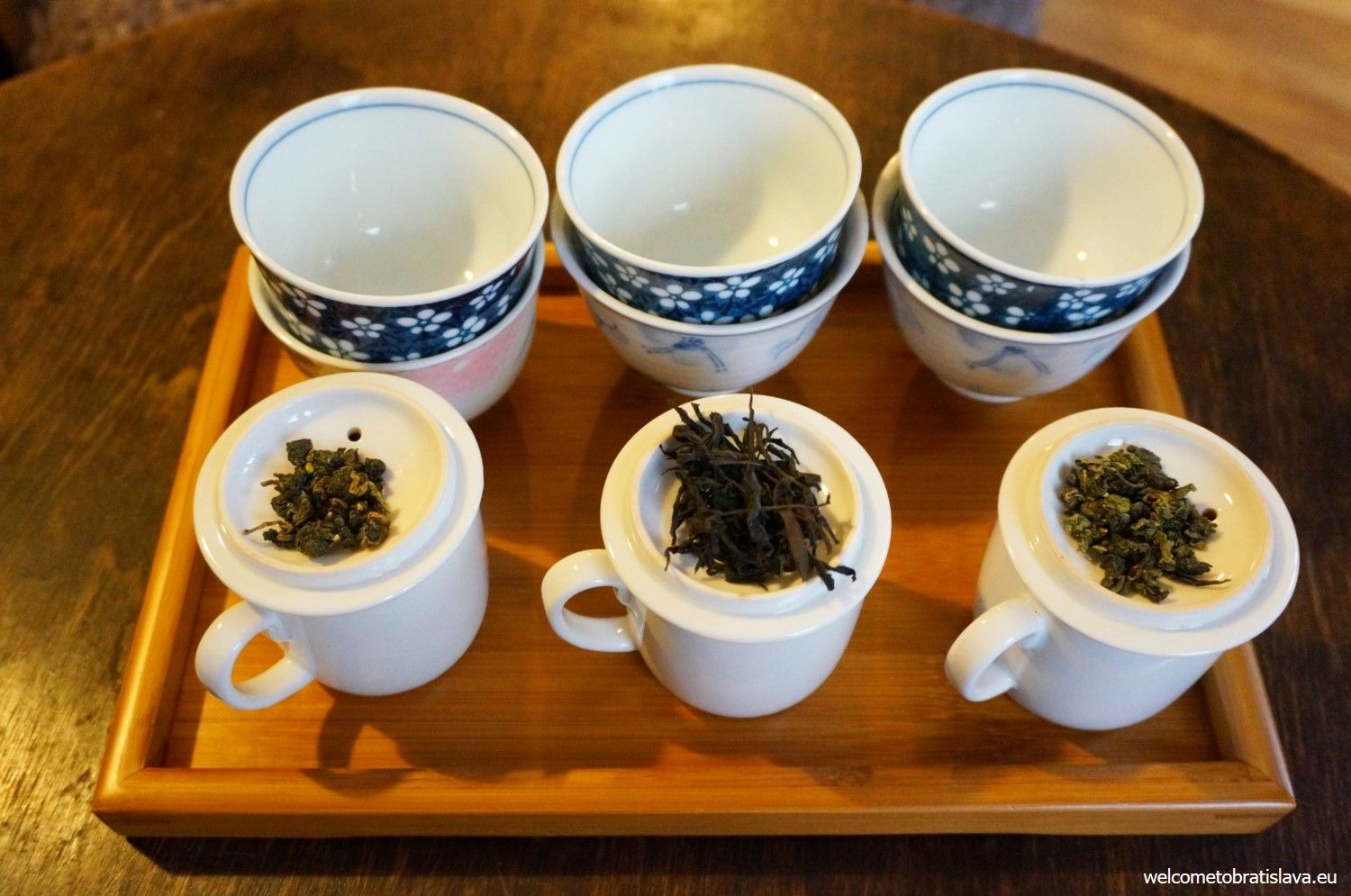 When visiting this tea house for the first time, we were lucky to meet the owner's mom who helps out there. She told us a lot about the owner himself. How it was always his dream to open his own tearoom, how he travels to different tea festivals, meets with his suppliers and tries out tea samplings to choose only the best for his customers. He also writes a blog dedicated to tea (in Slovak language). This gave our first experience a really nice personal touch and we were already planning our next visit.
At this one, we tried three tea samplings from the group of blue-green teas: an iron goddess of mercy, a legendary phoenix and a milk ooloong (the last mentioned being the winner for both of us). With having the teas served, we also got to know some interesting facts about how the teas should be drunk.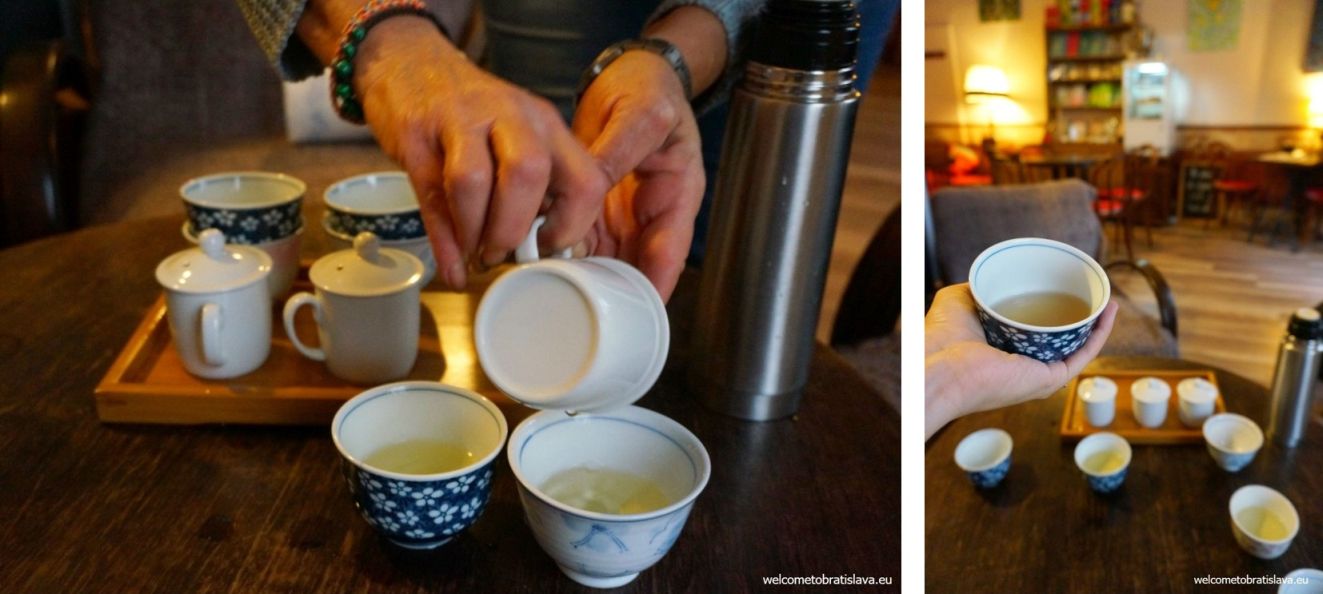 As we learned, tea drinking can become a very complex issue and its mastery requires knowledge and practice. It is possible to combine different amounts of water, length of infusion, water temperature or the number of infusions, resulting in totally different experience from the same tea brand. The sweeter the taste in your mouth after tea drinking is, the higher quality the tea has. In general, the same tea leaves can be used for 2-3 infusions. With the first one, tea is waking up and is subtle. The second infusion is the strongest. The third infusion is again more subtle. "Some of the customers love tea so much, they even eat out the tea leaves after drinking their tea," owner's mom laughs. However, you do not have to be a professional tea drinker to come and enjoy this place. If you are a general customer who just likes to have a nice cup of tea, you are more than welcome as well – and if you like, you will be explained the process of serving itself – and can try to eat the leaves, too :)
Even if tea is the king of this place, it is not the only thing on the menu. Literarna cajovna offers also plantation coffee, hot chocolate, local wines, Belgian ales and Arabic vegetarian specialties, with the best hummus in town, and other sweet treats.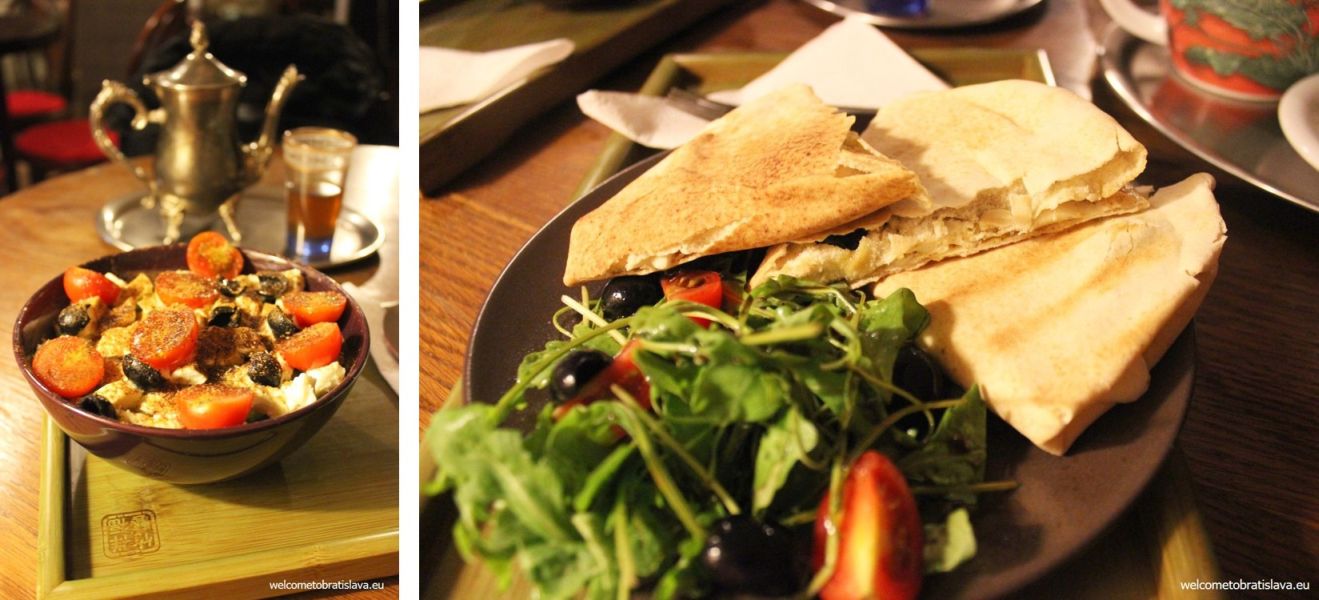 We could be killing for their rich chocolate cake and the nougat cheesecake… and they have more to offer!
Besides enjoying the atmosphere, you also have an option to buy tea leaves for own home consumption. There is also a small bookshop of used books, or tea ceramics and tea accessories for sale. If you get bored by books, you can enjoy different board games (you need to ask for them) or listen to concerts, usually open for public – for a voluntary contribution.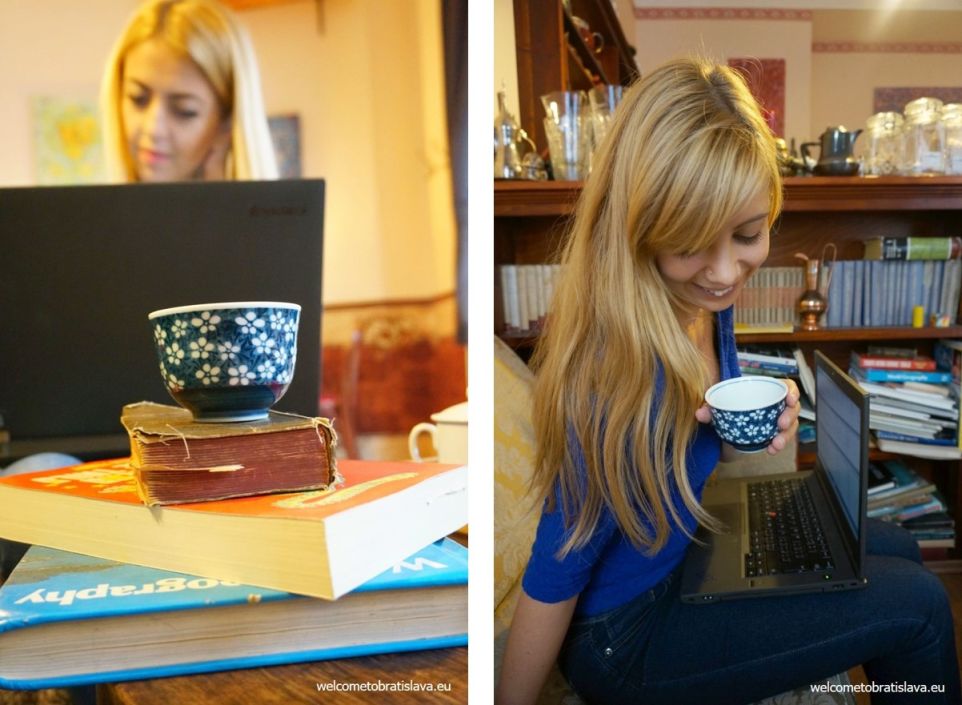 Important: payments possible in cash only, no credit cards are accepted.
Author: Maria Kecsoova

ADDRESS: Grosslingova 49


 OPEN HOURS: Check their FB page


CONNECT: Webpage, Facebook


MAP LOCATION: