If you like bars and live music, this guide is for you. We have put together an alphabetical list of places where you can savor live music in Bratislava. Enjoy your evenings in our capital to the fullest with our guide to the city's best music venues!
A4
A4 is a multifunctional non-commercial centre of contemporary culture in the city centre of Bratislava, oriented towards creation, presentation and education in current performances of contemporary theatre, dance, music, film, contemporary visual culture and the art of new media. A regular presentation of live music performances in the context of contemporary classical music, improvised, experimental and electronic music, jazz, and alternative rock. A4 also stands behind a successful cooperation with foreign embassies and cultural institutes.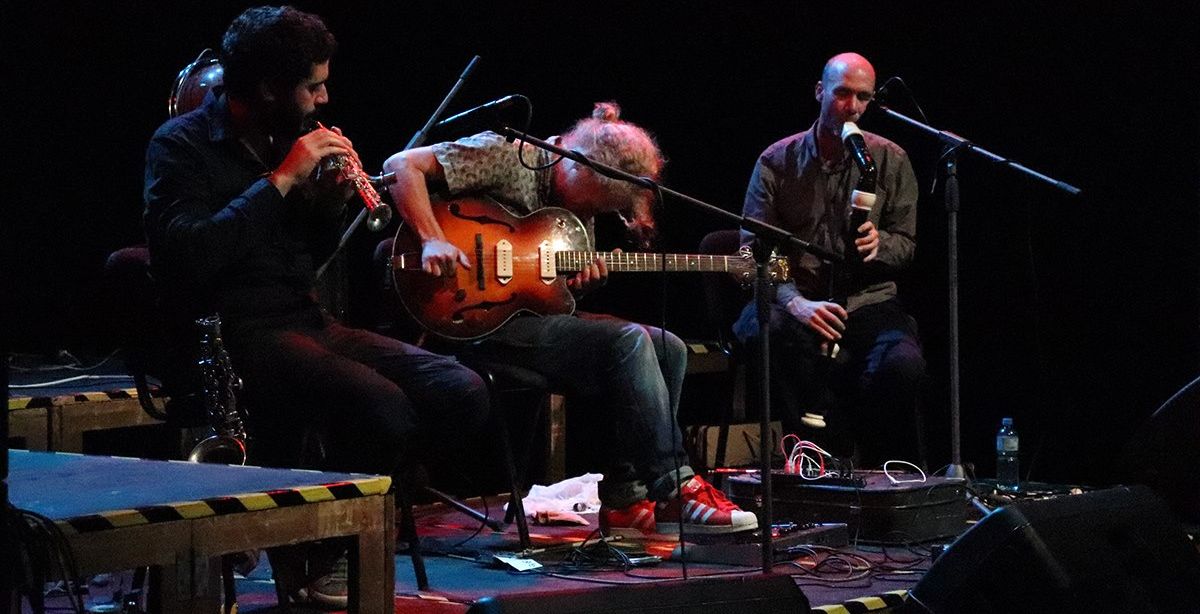 (source: A4 Facebook)
FLAME MUSIC BAR
FLAME is a live music venue where you can meet various Slovak and foreign bands. The venue aims to support starting artists and emerging stars and provides a multi-genre cultural and social space that opens the gate to a variety of events: concerts, jam sessions, workshops, stand-ups, quizzes and screenings. Bar with a capacity of up to 100 people is a guarantee of an excellent family atmosphere.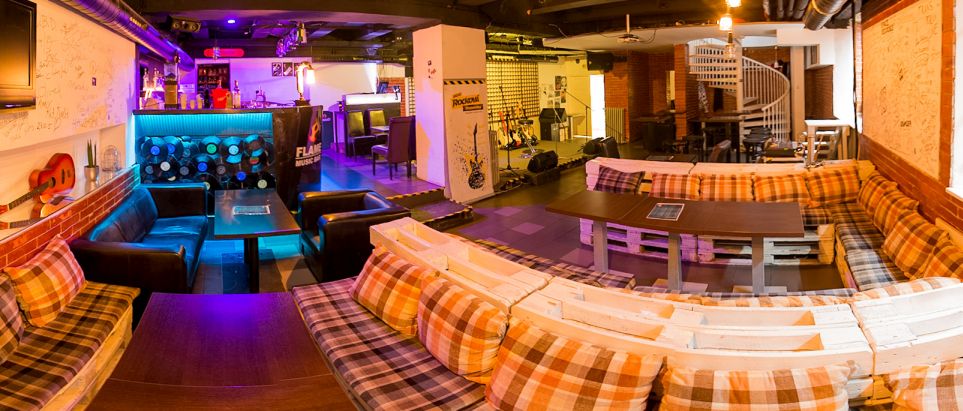 (source: flame.sk)
BARROCK
If you have a rock lifestyle, we recommend visiting Barrock. Regularly, almost every day, you can find live DJs with mixes of rock music here. A couple of times a month there is a live band concert, usually in unplugged versions. Barrock is located right in the center of Bratislava on Sedlárská Street. Thanks to rock "discos" and its club atmosphere, it may be a bar or a club, and it is a popular place for parties in a big style.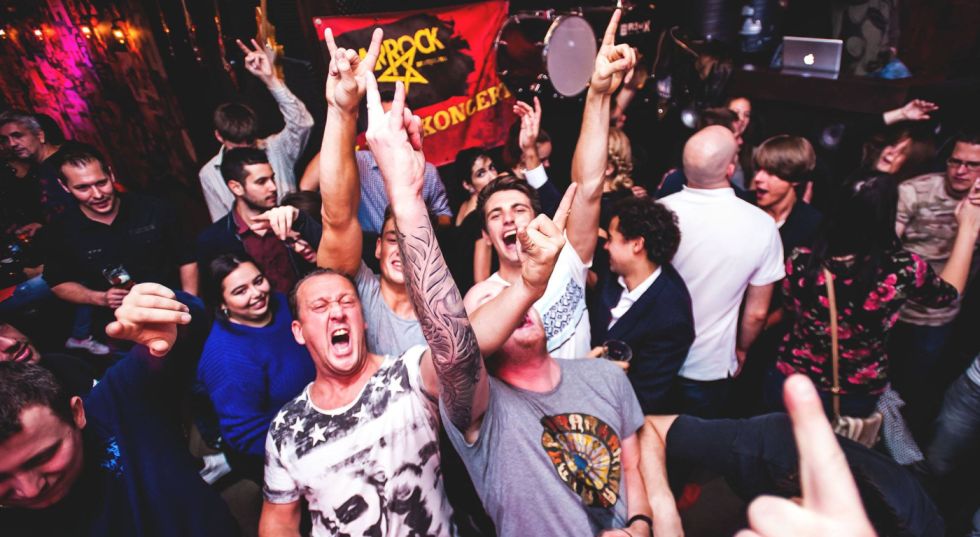 (source: Barrock Facebook)
BON BON JAZZ BAR
Bon Bon Jazz Bar has recently become THE jazz club for live music. Concerts are mostly held on Fridays but sometimes, if you are lucky, you can find an event happening on Wednesday, Thursday or Saturday as well. The pleasant atmosphere of the place could be negatively influenced by the fact that usually they do not mention the entry fee, you just see it charged on your bill at the end of the evening. But if you know about this "issue," you can prepare for the situation and avoid a spoiled experience from otherwise nice music concert.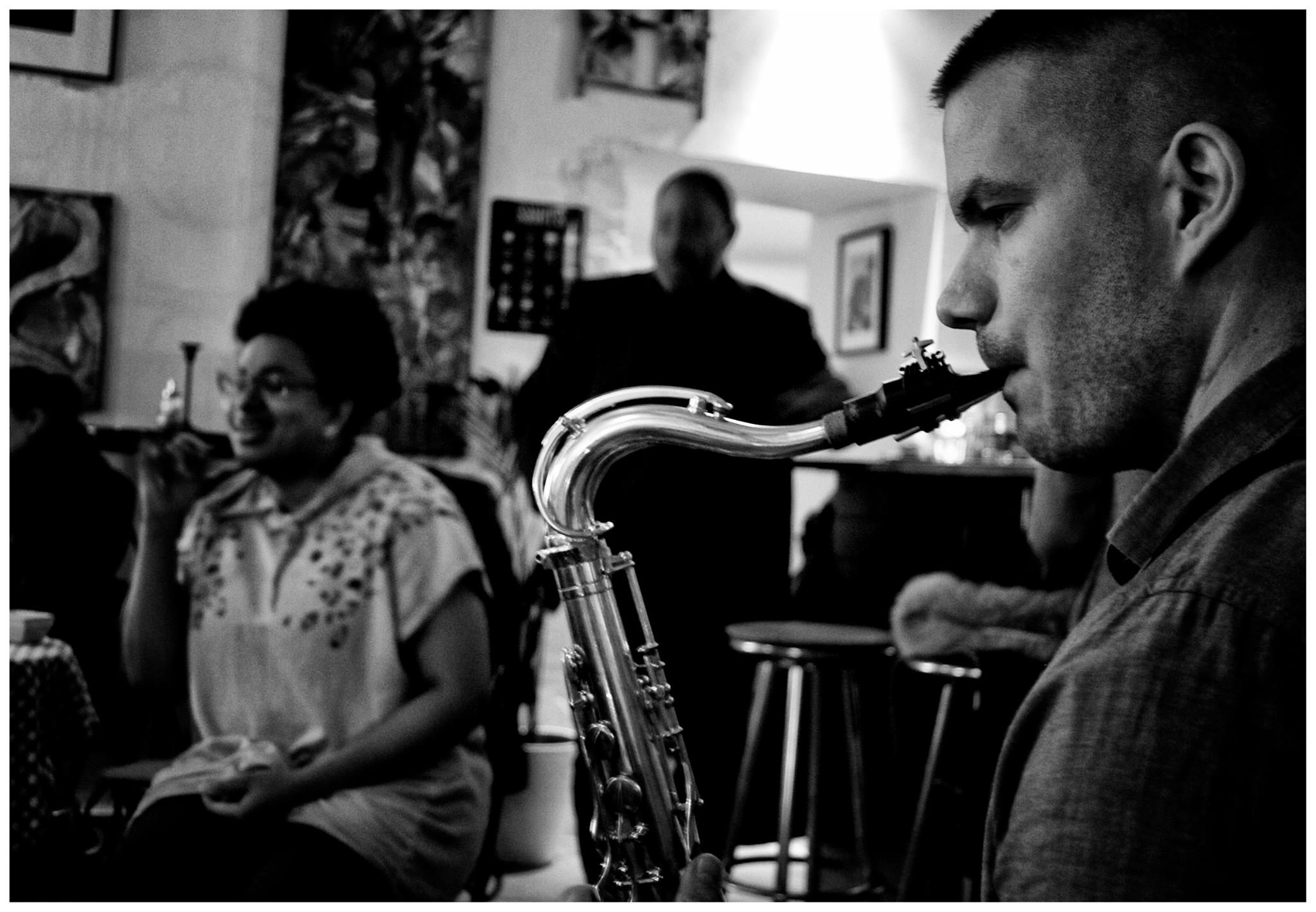 (source: Bon Bon Facebook)
BUKOWSKI
Bukowski is known as a late night drink bar where you can always meet interesting people. A place where you will forget about the world outside and where good music is played. Live concerts are usually on Thursdays where the music style varies. Jazz sessions, pop concerts, acoustic sessions and more. Its premises are very unique, especially the outdoor area which is located in the historical building. Besides the good music, you can also enjoy a broad selection of drinks.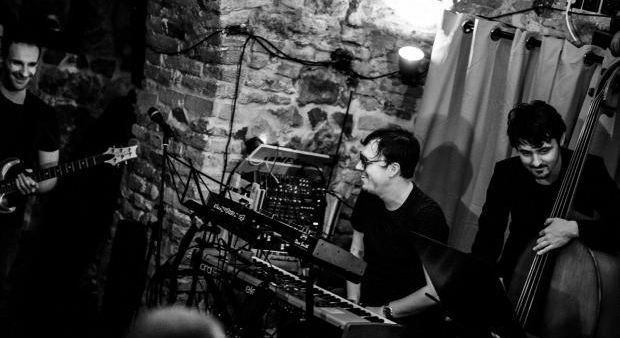 (source: jazz.sk)
CAFE STUDIO CLUB
The history of this place is very interesting. It was built in 1886 by the Laban family and was originally a textile shop. During the communist era in the 1960s and 1970s, the premises were turned into a "Theatre of Music", which later became Opus recording studio. Unforgettable melodies, which can still be heard on the radio today, used to be recorded here on vinyl discs. The Café Studio Club was established in 2001. The interior decorations consist mainly of old vinyl discs and photographs that recall the period when Slovak pop music legends just at the beginning of their careers. There is a stage and behind it a signboard with the signatures of the artists who have performed here. A small and cozy space completes a few places on the first floor and there is one more clubhouse in the basement. In the restaurant part, more relaxed musical than unplugged concerts are held, oldies, jazz or guitar music.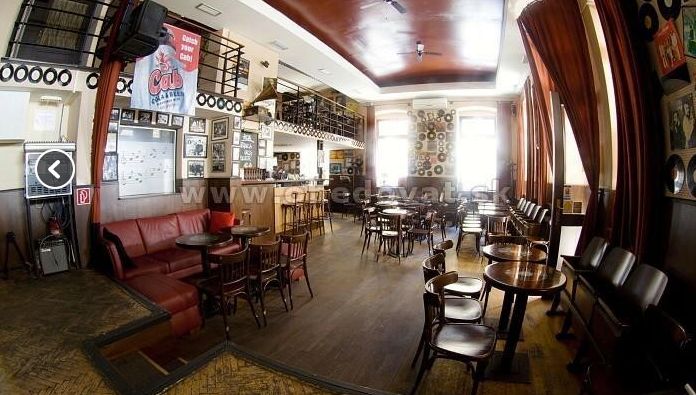 (source: obedovat.sk)
FUGA
Fuga Bar is a low-threshold cultural area in which the industrial atmosphere of the ruined Bratislava factory continues to exist. In addition to occasional theatre plays and exhibitions, concerts and parties are the main focus of Fuga which are out of the ordinary offer of Bratislava cultural stalls. The music style presented in Fuga is mostly less popular and experimental forms of electronic music, rock, metal and jazz.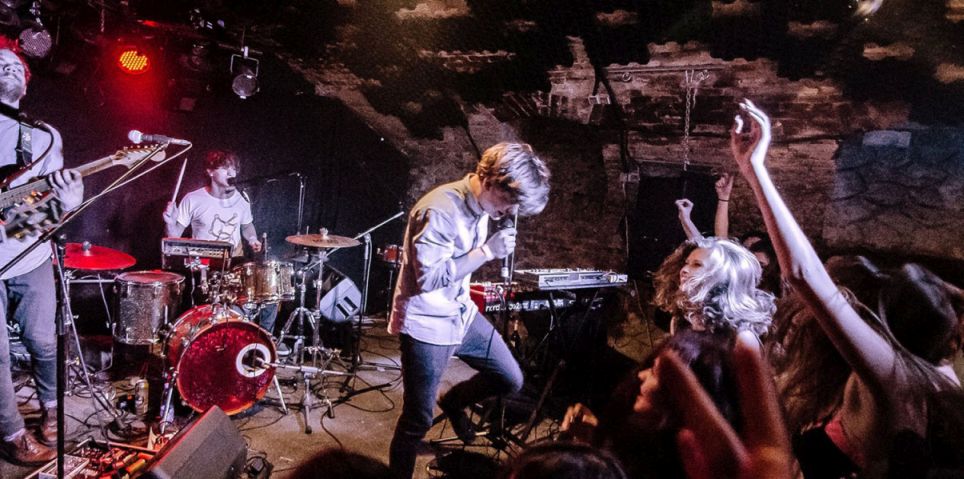 (source: musicexport.sk)
KAFE SCHERZ
Kafe Scherz with its perfect location in the Old Town was established in 2007. This place provides its current and future visitors a unique atmosphere of artistic vernissage, but mainly great concerts of jazz, blues, Balkan sounds. Besides concerts, stand up comedies in English are held here. It is open daily from 07:30 to 01:00. In the spring and summer months together with a pleasant terrace in the yard.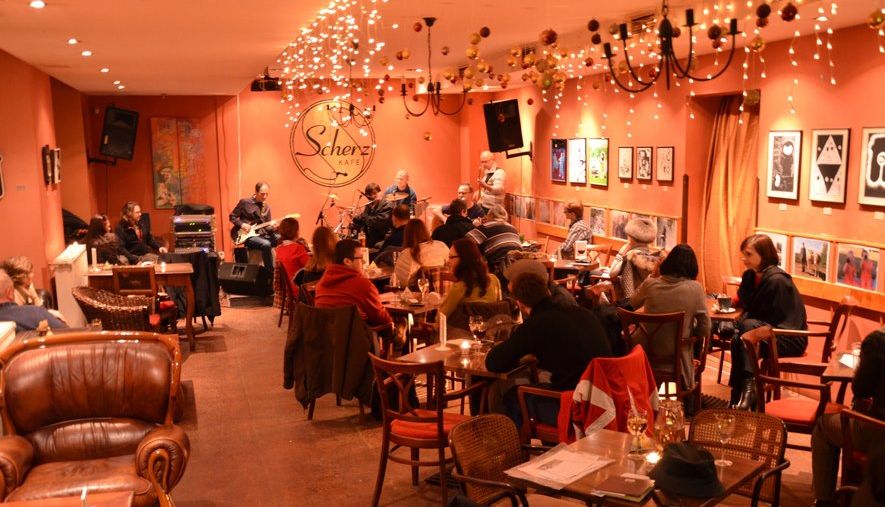 (source: citylife.sk)
KC DUNAJ
Dunaj˜ is a cultural centre located at the SNP Square in Bratislava. It is meant to be a multicultural place offering music, literature, art, theatre, cultural activities and social events of associations and associations. Its music style is also diverse. Indie, Balkan beats, jam sessions, Cuban music, retro oldies and much more. Every week a party or concert is held here, either with live musicians or great DJs coming from abroad, too. Visitors can also enjoy a wonderful view of the city centre from the rooftop. It is simply a place of culture and relaxation.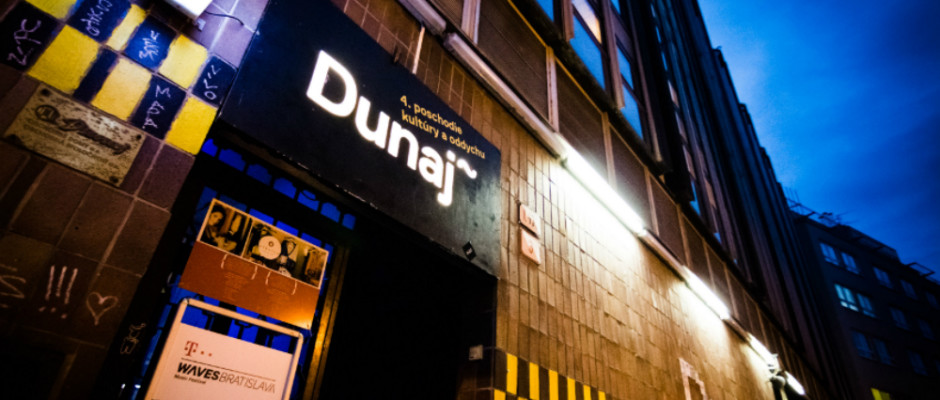 (source: wavescentraleurope.com)
KORZO
Another place where you can experience a nice friendly atmosphere of the old Pressburg! Korzo is actually a very elegantly furnished restaurant with a beautiful outdoor terrace facing the Slovak National Theater in the very city center. Jazz, blues, pop, acoustic guitar, rock but also electro, hip hop and nu jazz concerts can be enjoyed here, usually Wednesdays to Saturdays.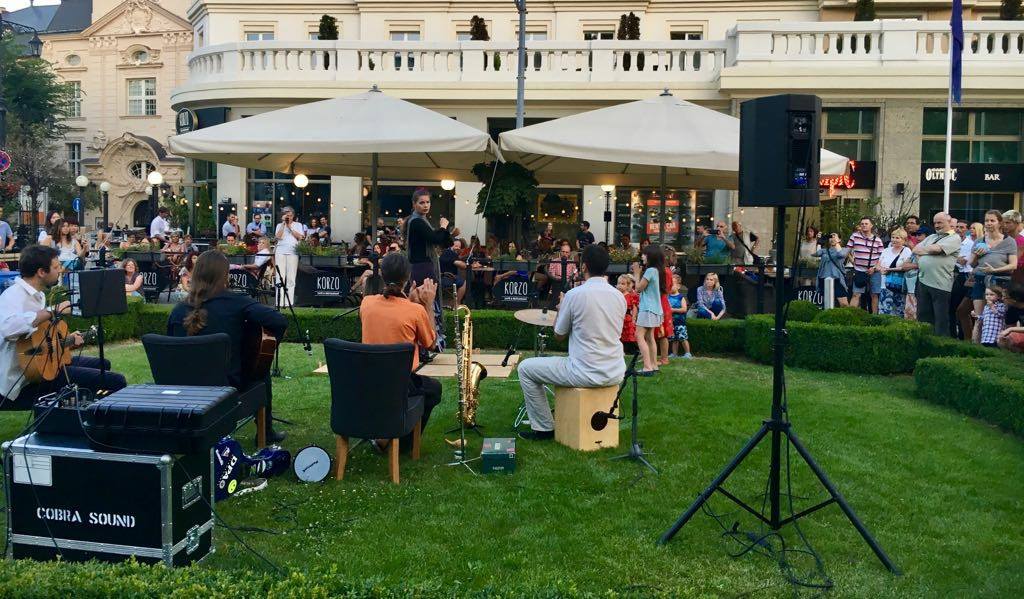 (source: Korzo Facebook)
LUNA BAR
Luna Bar is an underground bar and in the past used to be known as one of the most famous bars in Bratislava. With its unique atmosphere of 70ies and original furniture and equipment from this period, it makes this place special and nostalgic. The bar is open during the whole week and serves different kinds of cocktails, such as dry martini which is a typical drink of the 70ies. Live concerts are part of the program, mainly jazz concerts, oldies but also burlesque nights, which keep the place authentic to its concept of 70ies.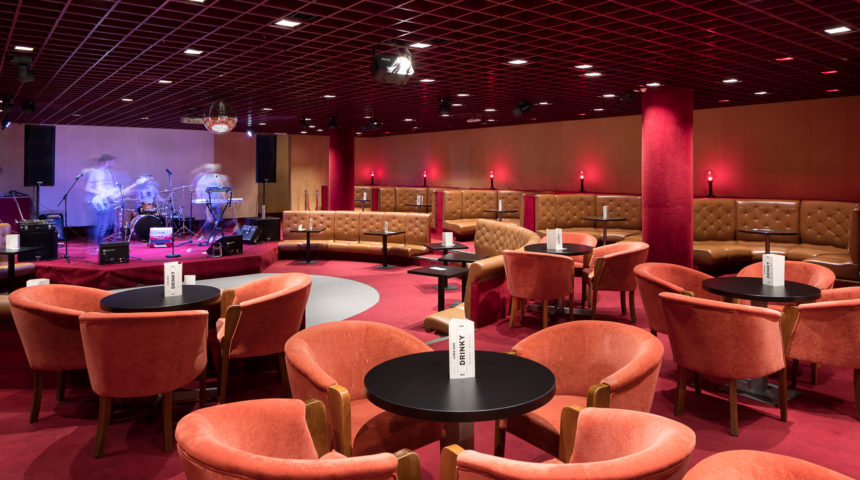 (source: lunabar.sk)
NU SPIRIT
The Nu Spirit brand has been a key element of the Bratislava underground music scene for more than a decade. If you want to avoid the ever more commercial atmosphere of night-time, this is the right place to be. Nu Spirit is simply for people who are not afraid to discover new musical genres. DJs and live bands appearing in Nu Spirit Bar and Nu Spirit Club play a variety of jazz genres, hip hop, house music or drum&bass. Nu spirit has already hosted Grammy winners such as Robert Glasper and David Sanborn, music innovators such as Jamie Woon and Jimmy Edgar as well as legendary DJs, producers and fathers of electronic music such as LTJ Buk, Kraft Kuts or Hardfloor.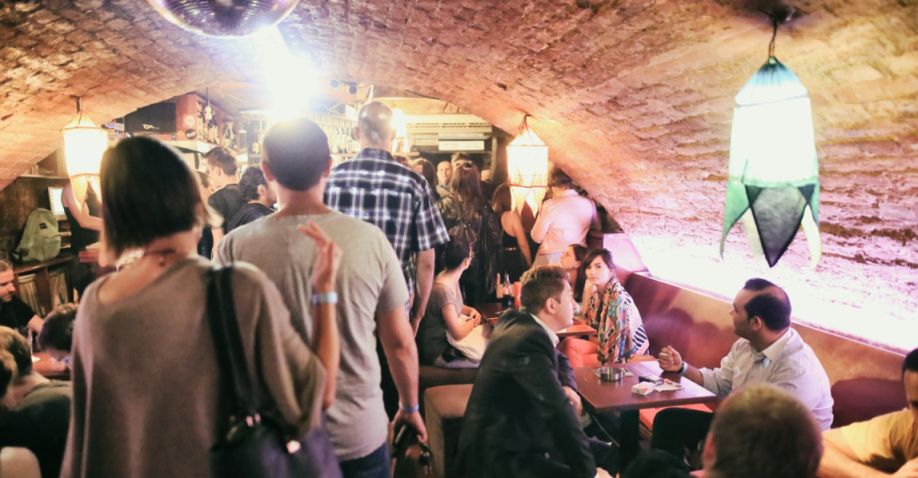 (source: Nu Spirit Bar Facebook)
RIVA BAR
RIVA Bratislava is a bar but also a bistro located right on the Danube river. With its great view of the city's main landmarks, it offers a pleasant atmosphere and a wide selection of original cocktails but also beverages. When enjoying your cocktail, you can listen to different music genres of great bands either local or foreign.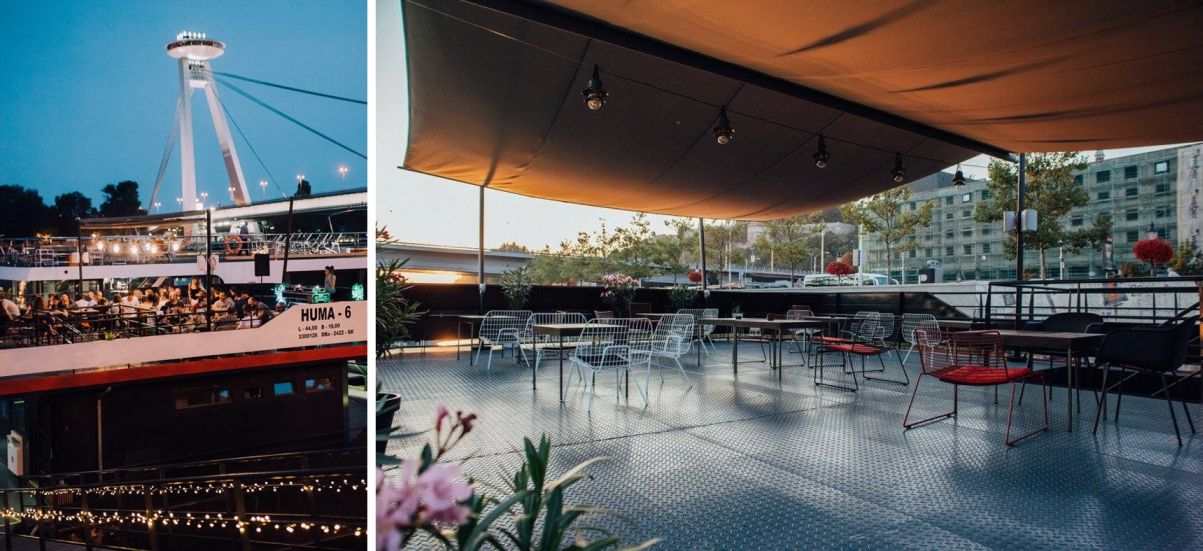 (source: Riva Bar Facebook)
ROCK OK
A rock club in the center of Bratislava directly on the famous Šafarikovo Square, open daily with entertainment till morning. Get ready for a rock production, shouting bands, live concerts and rocking DJs. Read more.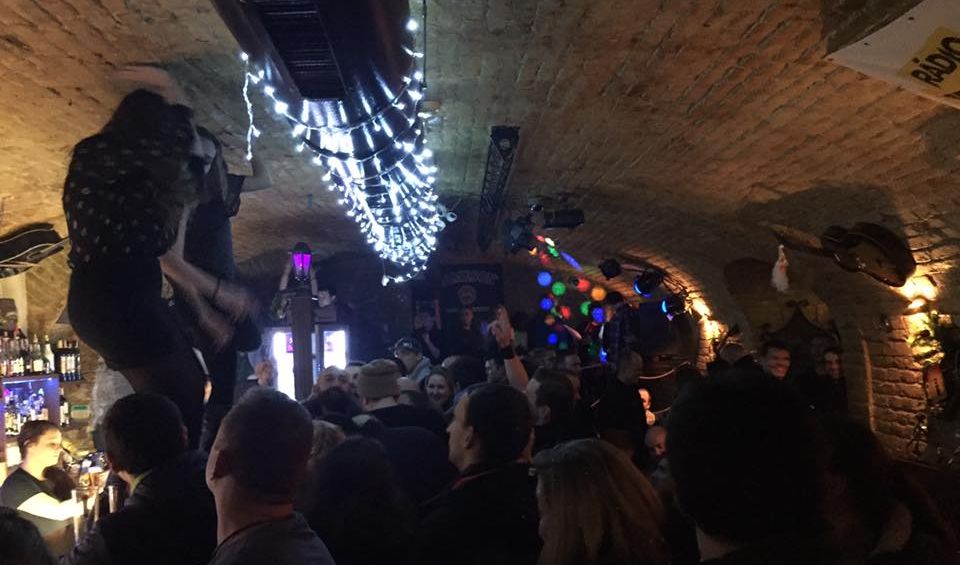 (source: Rock OK Facebook)
SUN DECK
A great spot with a view of Bratislava's Old Town which is situated on the river where you can also enjoy a stunning sunset or sunrise. Also perfect for an afternoon drink after walking around the city. Their most preferred drinks here are Aperol spritz, fresh lemonade as well as draft local beers. If you decide to eat, you can get burgers with homemade brioche buns and beef meat in bio quality. Music at Sun Deck varies from reggae, electronic, techno and late night Ibiza chill-out tunes.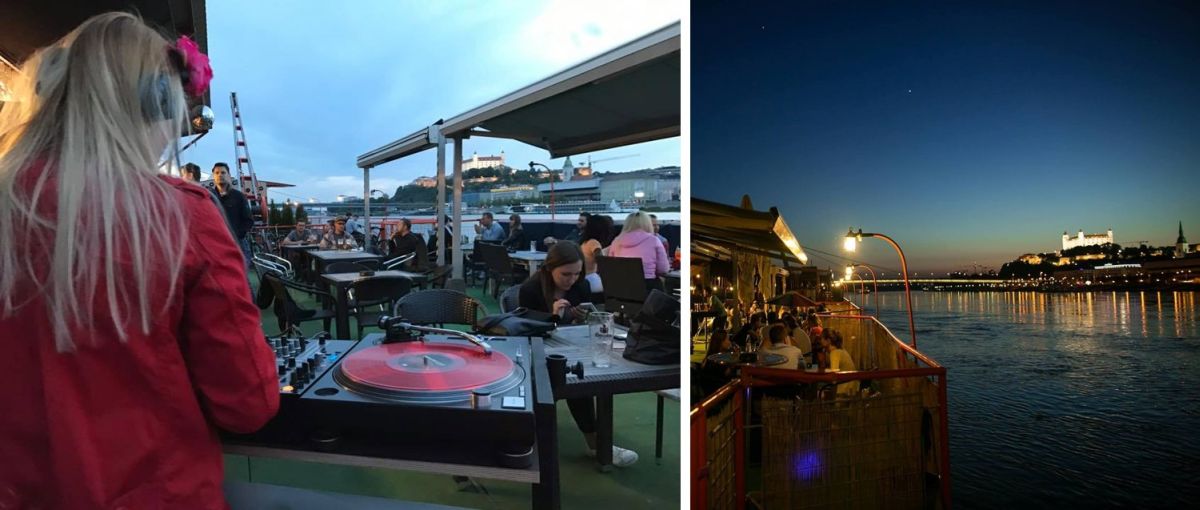 (source: Sun Deck Facebook)
THE PEACH
The Peach Bar is located in the city centre of Bratislava, on Mariánská Street. It is a venue for concerts, workshops and lectures. The place's motto says "Drink, eat and simply feel good." When enjoying a live concert mainly hosted by Slovak musicians with pop-soul and elements of electronic music, as well as guitar and jam sessions, visitors can choose from a wide range of drinks. Fresh lemonades, quality beer and good wine.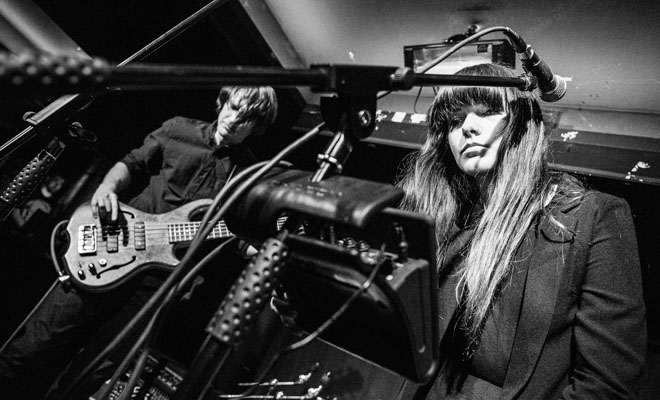 (source: 9em.sk)
BONUS TIP:
If you want to enjoy Bratislava nightlife to the fullest, try the Nightcards. It offers exclusive discounts in bars, clubs and restaurants in Bratislava. If you are tired of always ending up in the same 3 bars every time you go out,  this will make your experience of finding a new bar more fun! The card game includes 30 discounts, including 20 bars, 4 clubs and dancing bars, 4 restaurants and 1 repeat of your favorite discount. More info.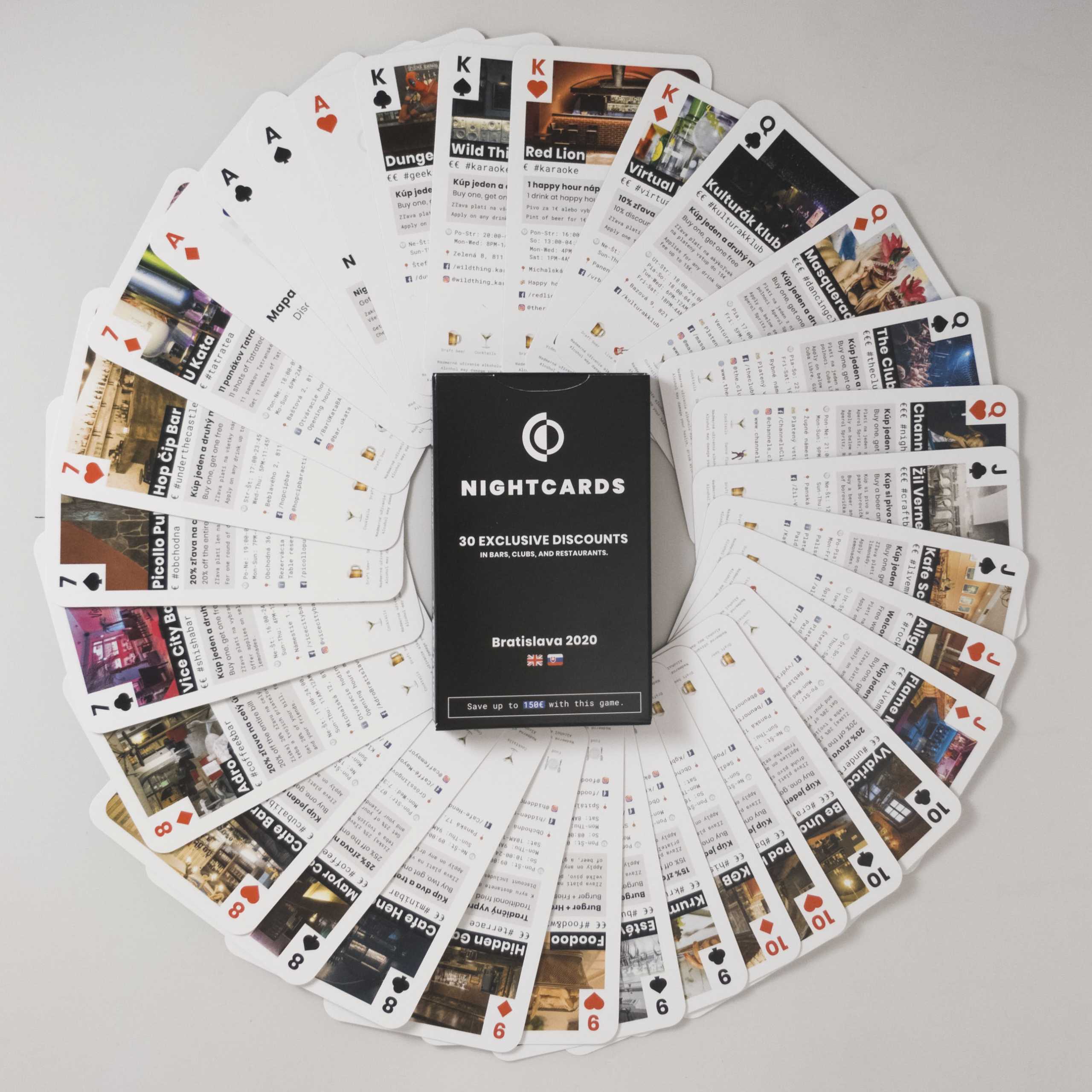 Author: Nikola Babjakova