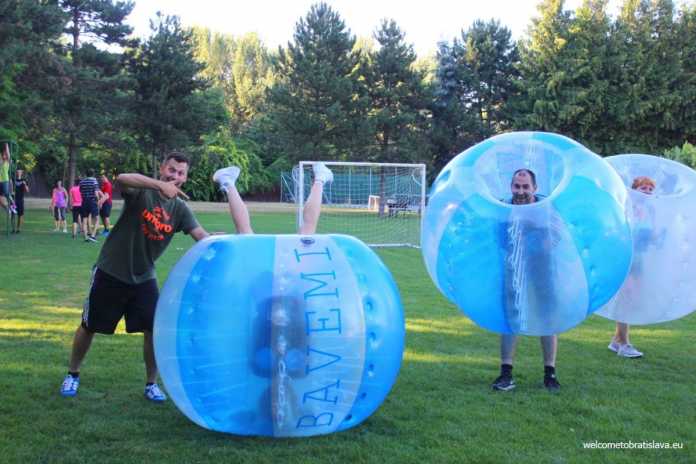 Strap yourself into a loopyball for a game of bubble soccer or just to crash about with your friends for an unforgettable time. This fun, innovative and adrenaline sport will guarantee you will leave with an increased level of adrenaline and an experience to remember.
WHAT IS LOOPYBALL?
Loopyball – or buble soccer – is a fun activity allowing the participants to bump, roll and flip over while trying to score a goal. It's an activity game that you can enjoy with your friends, family members or coworkers as a team-building. There are more variations of the game. You can for instance gain points by knocking your opponent over or running around bumping into others and trying to avoid getting hit :) Your call!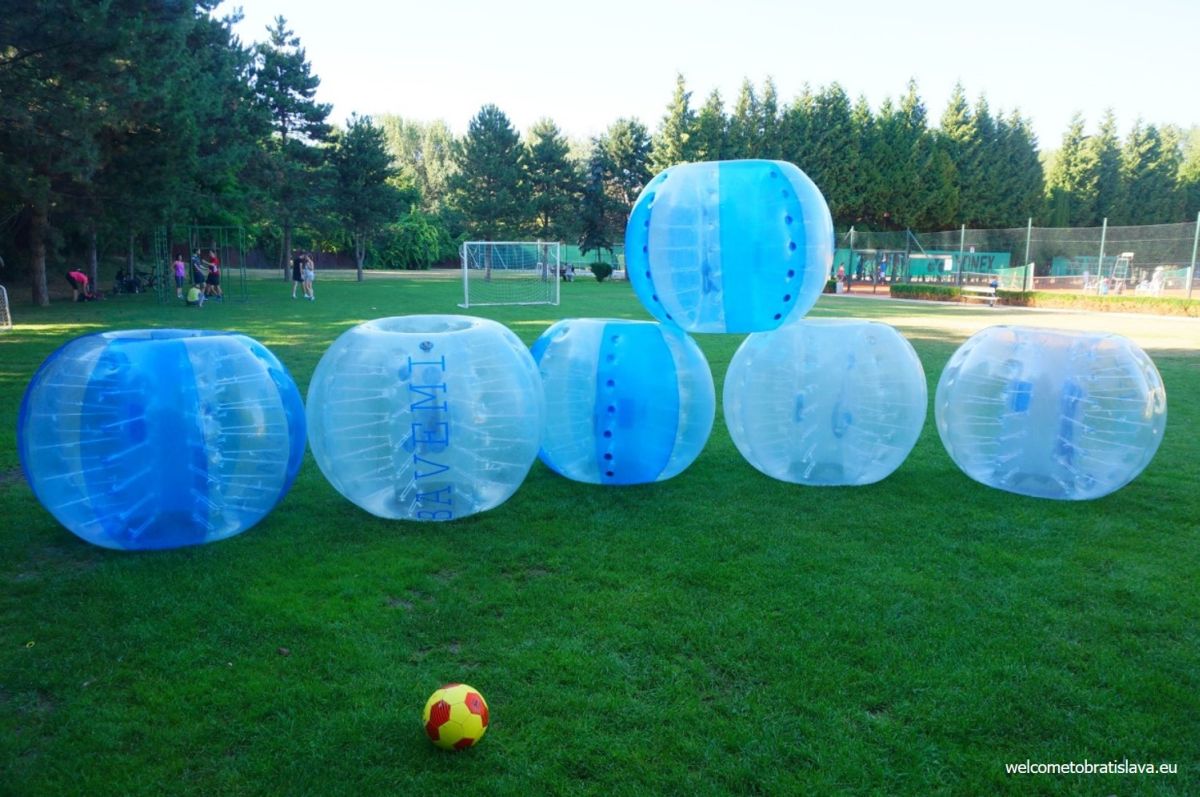 HOW DOES IT WORK?
Loopyball can be done indoors or outdoors, be it summer or winter. Natural or artificial grass, snow, sand, carpet or solid sports surfaces – they are all great for this game. The ideal scenario is when you are a bigger group of people – of at least 8 to 10. So that you can form two teams and change after a few minutes while one group takes a rest. You will need to rest after around each ten minutes. Trust us, it is quite demanding to run around with a few extra kilograms, especially when it's warm outside.
Even though the balls look huge, they can be used by children, too. By simply adjusting the shoulder straps inside of the ball everyone can have a turn — young and old. Once you are strapped, the tricky part is to get up :) Try to get on your knees and lift yourself up, or ask your friends to help you at the beginning.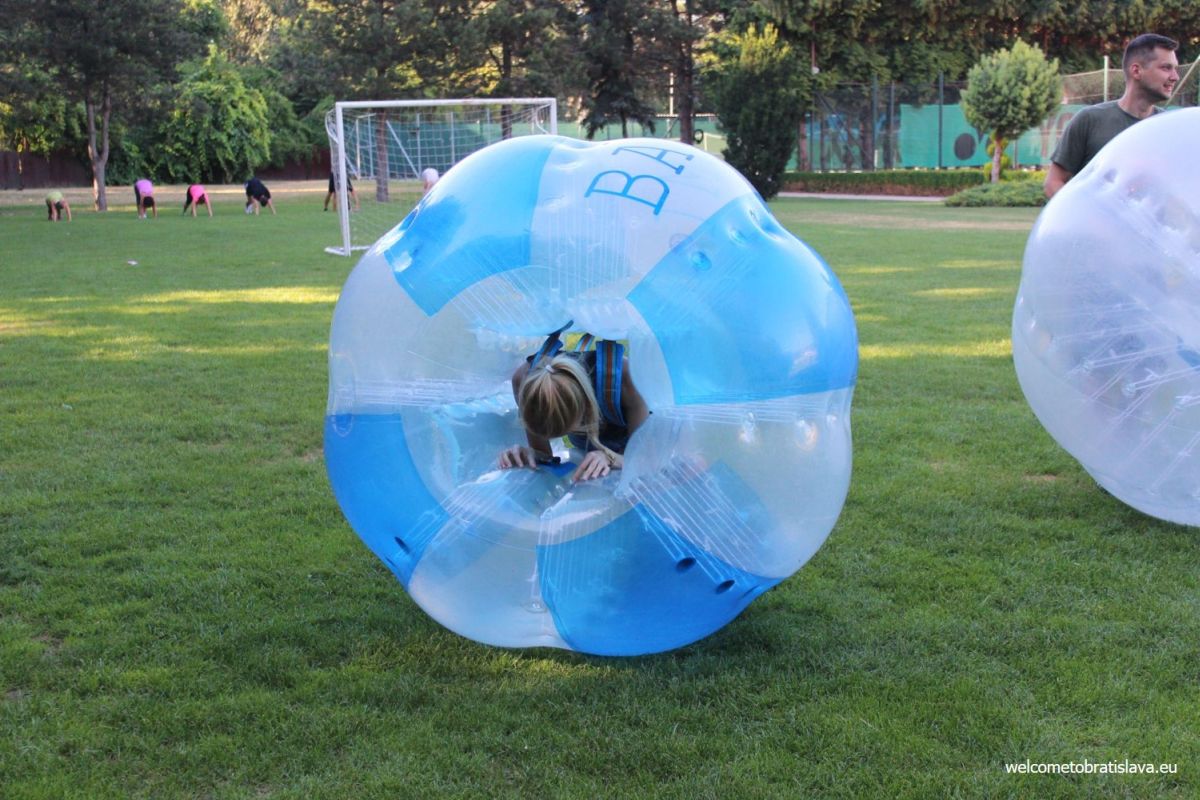 The basic rule is that there are no rules! The primary goal is to have fun and enjoy yourself. Remember that it is more important to participate than to win. And, that what is not prohibited, is allowed! :D
HOW DID WE LIKE IT?
We were quite excited to try this thing, as it was the first time for all of us. We were a smaller group and were lucky to have a beautiful warm afternoon. The game took place on a big playfield in Slavia Agrofert, Petržalka, with a lot of trees providing shadows. This we appreciated due to the heat.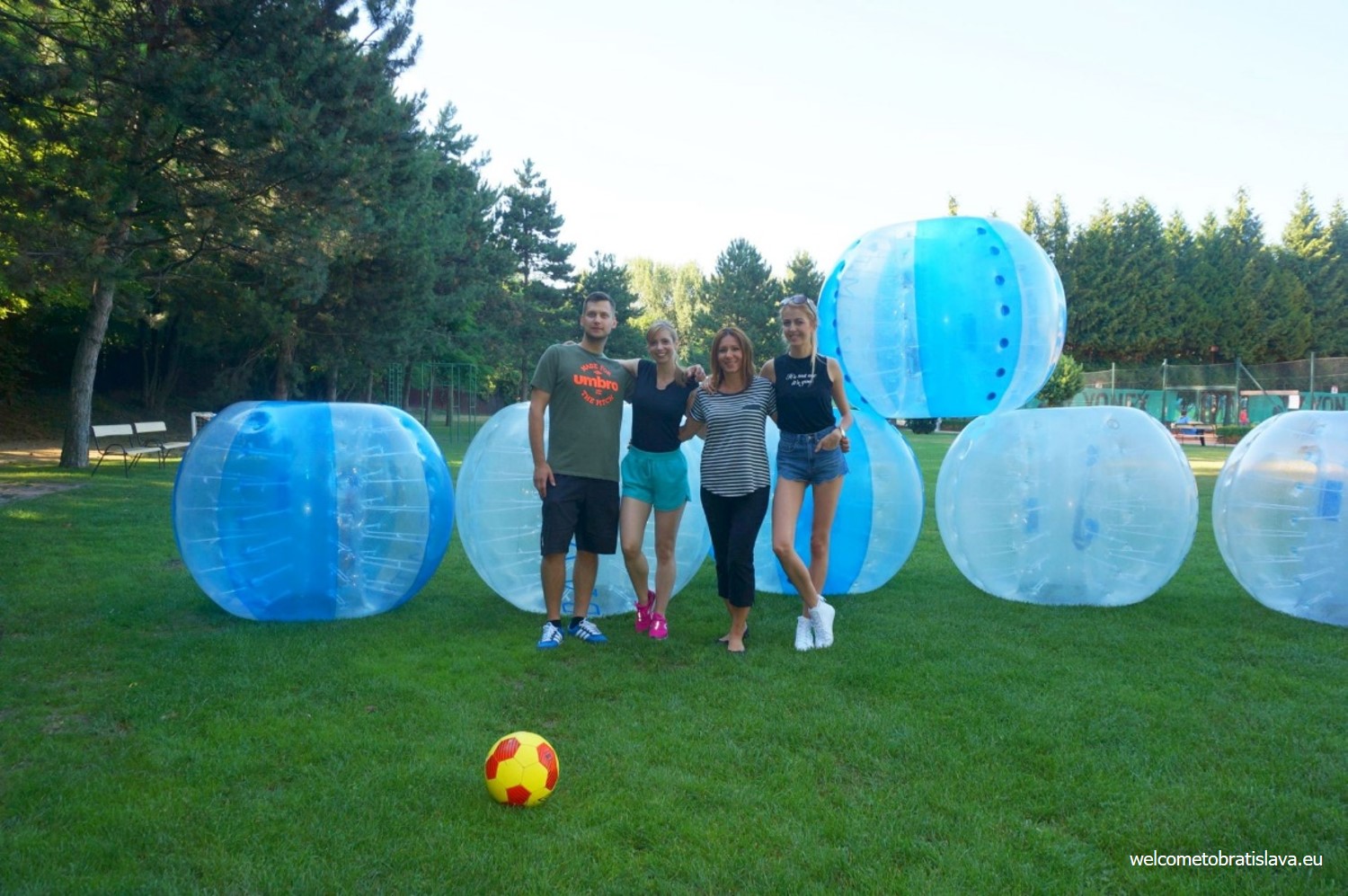 After we figured how to get into the balls and stand, we decided to play soccer and chase the soccer ball. It did not take long till we started falling and flipping over. We had to stop from time to time to catch our breath from running but also laughing – first you might get scared about losing your balance, but then you realize how fun it is and you get more courageous. And nothing stops you from starting to bump into each other!

This crazy idea of playing football in a zorbing ball has become the basis for creating a more entertaining and less professional version of football. And now we understand why it has become so popular all over the world. It's a great way to reset yourself, get rid of stress, test your physical skills and most importantly, have fun. We surely did!
If you are also eager to give loopyball a try, contact the organizers via info@loopyball.sk, their Facebook page or through phone number 00421 903 129 553. According to the availability of sports halls during the date/time you wish to play, they will come back to you with proposals of the ideal place to provide you with this adventure.
Author: Maria Kecsoova