One of the best summer chill out spots in Bratislava. Imagine hot sand under your feet while listening to live concerts, attending a dancing course or just enjoying some chill out music. Add some great cocktails, lively atmosphere and a view on the Castle and UFO bridge. That's all here. No wonder the Magio beach is a popular place not only for tourists but also locals.
LOCATION
Magio Beach is spread along the Danube bank from Petržalka side (the side where the UFO tower is standing). To get there from the Old Town you will need to walk across the new bridge. It is a very nice walk and will take you only 5-10 minutes. The beach will be on your left.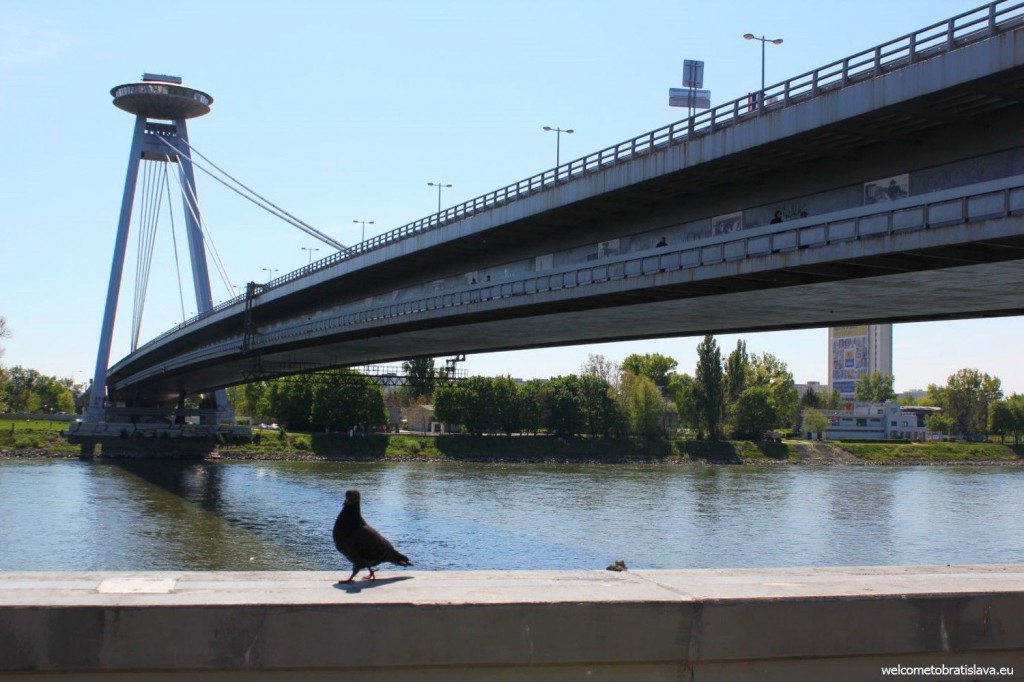 A sign with different activities welcomes the visitors and shows them the direction. You can't get lost there :)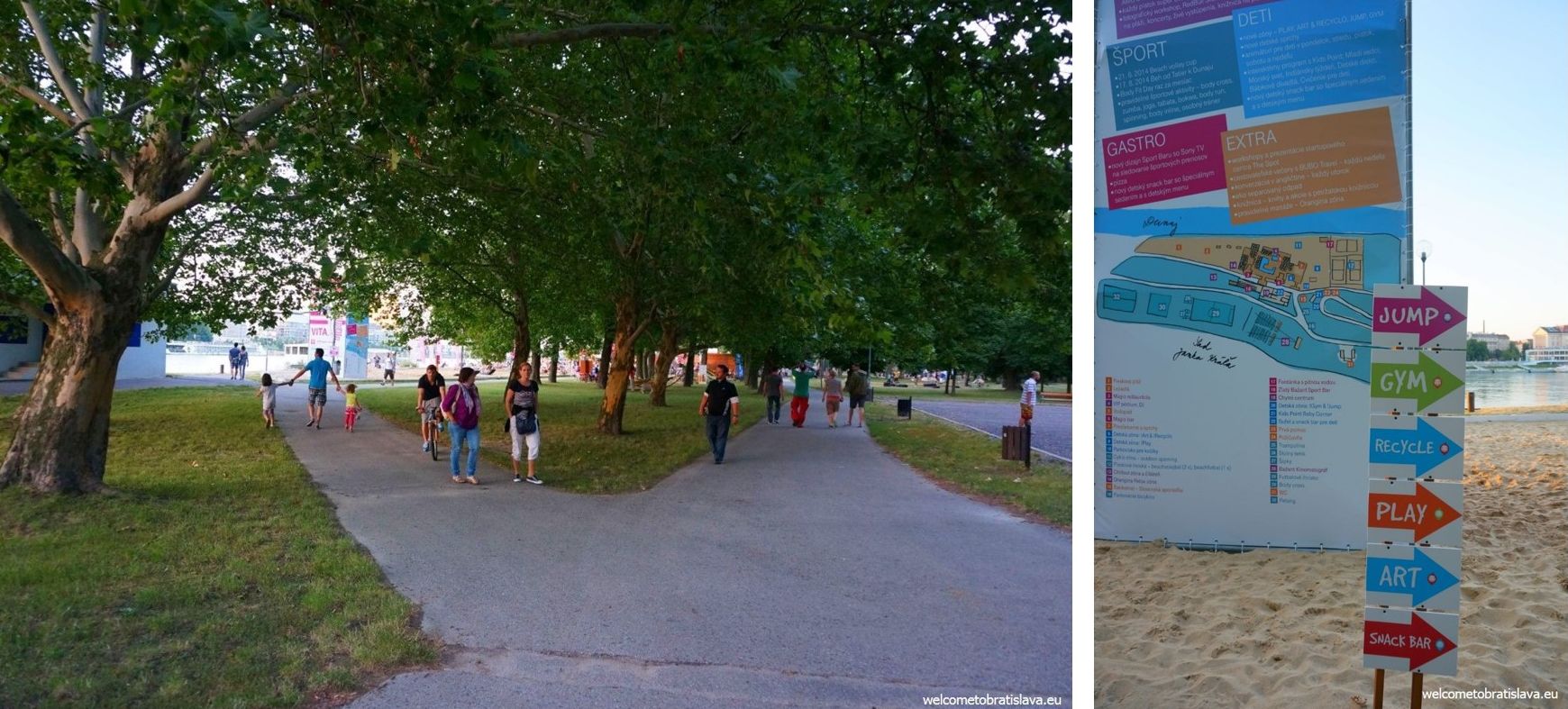 Soon you will see a sandy area with many loungers and flags. That's the Magio beach :) It is an artificially built beach which means you can't swim there – unless you want to try the Danube river :D We are joking – it is forbidden to swim in the Danube… but the whole place is worth of visiting – a great spot to chill out, have some drinks and socialize.

Magio gets quite busy in summer and you can have difficulties to find a spare lounger if you come during a hot day.
Some of the things fascinating us here are these big beds. What a great idea somebody came up with! Can you think of a better way of relaxing than lying in a big bed on a beach, listening to music and watching the sunset?
If you want to cool down in warm weather, you can do so in the small pool area near the bar. Have a mojito or an aperol spritz when doing so :)

They always play great music (usually Cuban) here and organize live concerts or even dancing courses, too. Check their website to see the program of the month.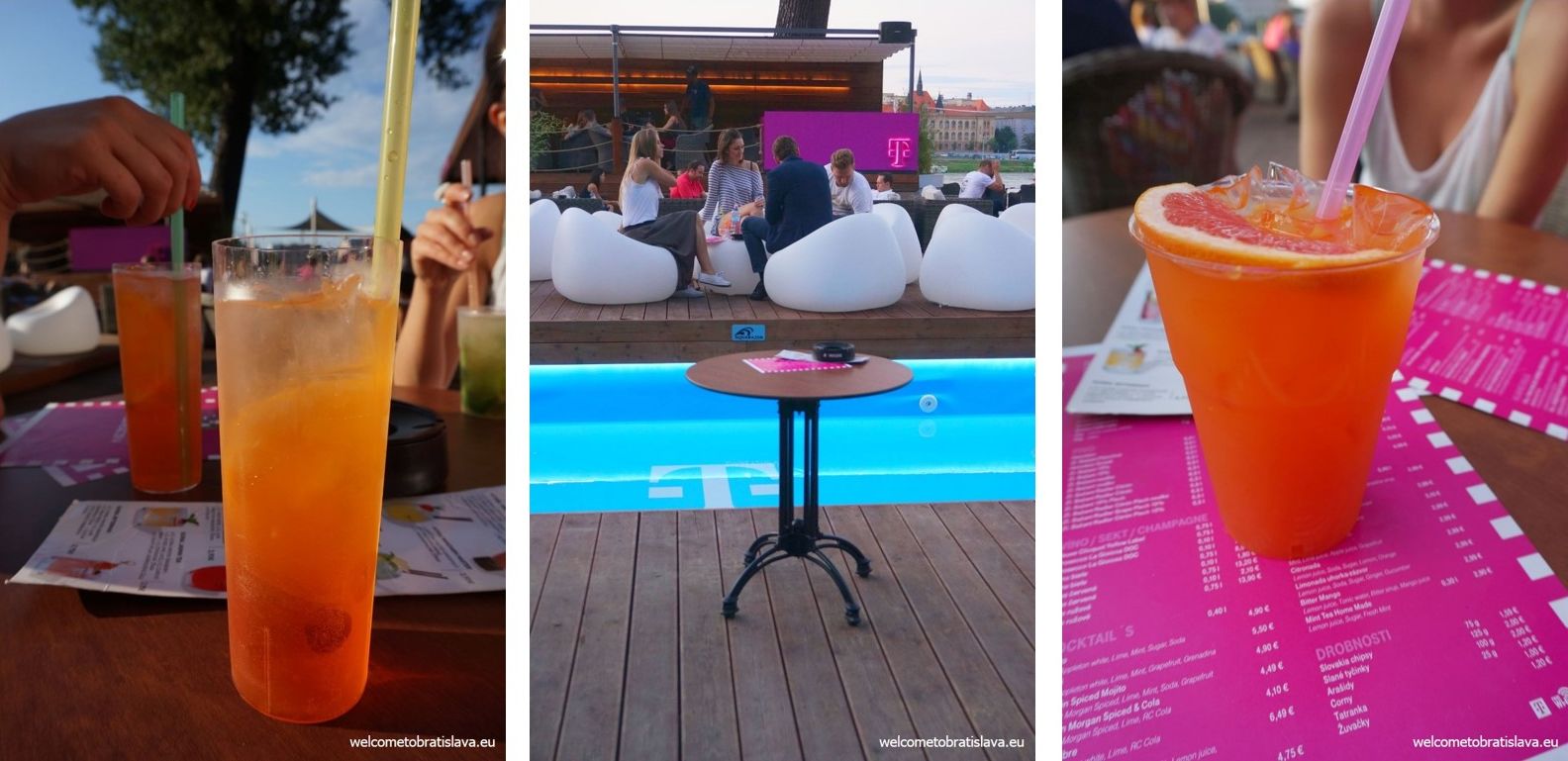 When walking a little further, you will see there is another bar/restaurant where you can have some snacks or additional drinks. And another chill out area with some big hammocks (yeah)! :)
A few more steps away there is a beach volleyball field. Something for the sporty guys!
If you are a parent, you might be glad to find out that a playground for children is in the back part of the beach, too. It's simply a win-win destination for all the family members :)
As we mentioned earlier, sometimes it is not easy to find a spare chair to sit on; however, it is not a problem. We also like to sit on the ground with feet in the sand. Enjoying a cocktail through a colorful straw… what a wonderful world :)
Later on when you are done with the beach part, take the concrete path along the river. There are ships which lie at anchor permanently and are great places for some extra sightseeing or taking bonus photos of the sunset. You can have the UFO bridge, Castle and St. Martin's Cathedral in one picture from here :)
There is always something going on. The organizers are pretty creative and they come up with something new almost every year. Plus, you have free Wi-fi in the whole area, you can find a fresh fruit market here or a read some books in the self-service library. A regular open-air cinema that plays commercial movies and travel documents is of disposal, too – also for free :)
Official program
Download their application to check the updates and program anytime: AppStore, Googleplay
Author: Maria Kecsoova

OPEN HOURS: Beach open daily 09:00 – 22:00, bars 09:00 – 00:00, sport activities 09:00-22:00, techlounge 10:00-22:00 (in summer only: 15th June – 2nd September 2018)


TICKETS: Free admission


ADDRESS: Tyršovo nábrežie (Tyršovo embankment)


CONNECT: Website


MAP LOCATION: