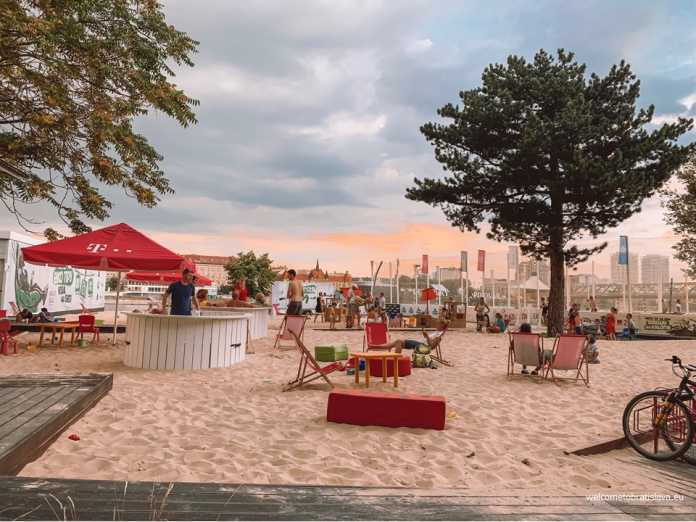 One of the best summer chill out spots in Bratislava. Imagine hot sand under your feet while listening to live concerts, attending a dancing course or just enjoying some chill out music. Add some great cocktails, lively atmosphere and a view on the Castle and UFO bridge. That's all here. No wonder the Magio beach is a popular place not only for tourists but also locals.
LOCATION
Magio Beach is spread along the Danube bank from Petržalka side (the side where the UFO tower is standing). To get there from the Old Town you will need to walk across the new bridge. It is a very nice walk and will take you only 5-10 minutes. The beach will be on your left.
A sign with different activities welcomes the visitors and shows them the direction. You can't get lost there :)
Soon you will see a sandy area with many loungers and flags. That's the Magio beach :) It is an artificially built beach which means you can't swim there – unless you want to try the Danube river :D We are joking – it is forbidden to swim in the Danube… but the whole place is worth of visiting – a great spot to chill out, have some drinks and socialize.
Magio gets quite busy in summer and you can have difficulties to find a spare lounger if you come during a hot day.
There have been considerable changes done in the architecture, programme and management of this place. Magio Beach concept has become more responsible and eco-friendly. A new food & drink zone has been created that uses compostable dishes.
There are numerous waste recycling zones with detailed instructions about where to dispose your items. BTW, all the glasses are re-usable, therefore you're charged extra for the glass. Once you return it, you receive your money back:)
Our favourite food spots here are Edo Kin offering Asian cuisine (they made it to our list of top ramen places with there brick and mortar restaurants) and Marinela (with the best popsicles ever).
The beach has its own free WiFi and Smart City elements such as a meteorological station,  a smart bench charging your phone and a TV screening football matches and tennis tournaments.
There is a coworking zone, beach volleyball courts and a kayaking school.
They always play great music here and organize live concerts, dancing courses, open air cinema, many discussions and cultural events. Check their website to see the program of the month.
If you are a parent, you might be glad to find out that a playground for children is in the back part of the beach. Plus, children just love the sandy areas! There are quite many toys available for the kids to play in the sand, too. It's simply a win-win destination for all the family members :)
As we mentioned earlier, sometimes it is not easy to find a spare chair to sit on; however, it is not a problem. We also like to sit on the ground with feet in the sand. Enjoying a cocktail through a colorful straw… what a wonderful world :)
Later on when you are done with the beach part, take the concrete path along the river. There are ships which lie at anchor permanently and are great places for some extra sightseeing or taking bonus photos of the sunset. You can have the UFO bridge, Castle and St. Martin's Cathedral in one picture from here :)
There is always something going on. The organizers are pretty creative and they come up with something new almost every year.
Official program
Download their application to check the updates and program anytime: AppStore.
Author: Maria Kecsoova, photo credits: Zuzana Mýtna

OPEN HOURS: drink zone 09:00 – 00:00, food zone 09:00  22:00, sport activities 09:00-22:00, coworking 10:00-20:00 (in summer only: 14th June – 1st September 2019)


TICKETS: Free admission


ADDRESS: Tyršovo nábrežie (Tyršovo embankment)


CONNECT: Website


MAP LOCATION: