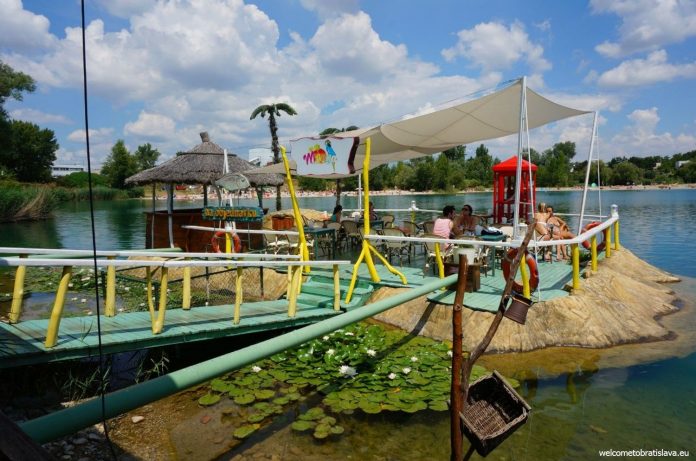 Wanna feel the "Aloha spirit"? This place with its Cuban music, Hawaiian style and own small Tiki beach is the spot to try then! A small holiday paradise only a few minutes ride from the city center will enrich your stay in our city the way you would not expect it. You probably thought you wouldn't need a swimsuit when in Bratislava – well, you're wrong. Check out this place and think again! :)
LOCATION
Mango restaurant is located at one of the 3 lakes a few kilometres away from the Bratislava centre, a part called Dunajská Lužná. The lakes' names are Košariská. You can get there within 25 minutes by bus or train either from the main train station or the main bus station (be ready to walk approximately 2,5 km through the village if coming by bus). The final stop's name is: Dunajská Lužná, Nové Košariská. You can check the exact timings here.
Once you arrive to the final destination, you will need to look for the "Malé Košariská", or just ask about the Mango restaurant. The entrance is through a parking lot. To enter the restaurant, take the left path. Go downstairs, passing a brown sailing boat. The Tiki beach and bar are on the right side, as the the sign next to the surf shows.
When taking the staircase, the beach will be by your right side. You can see it is a smaller one and gets quite popular, that's why they charge an entrance fee.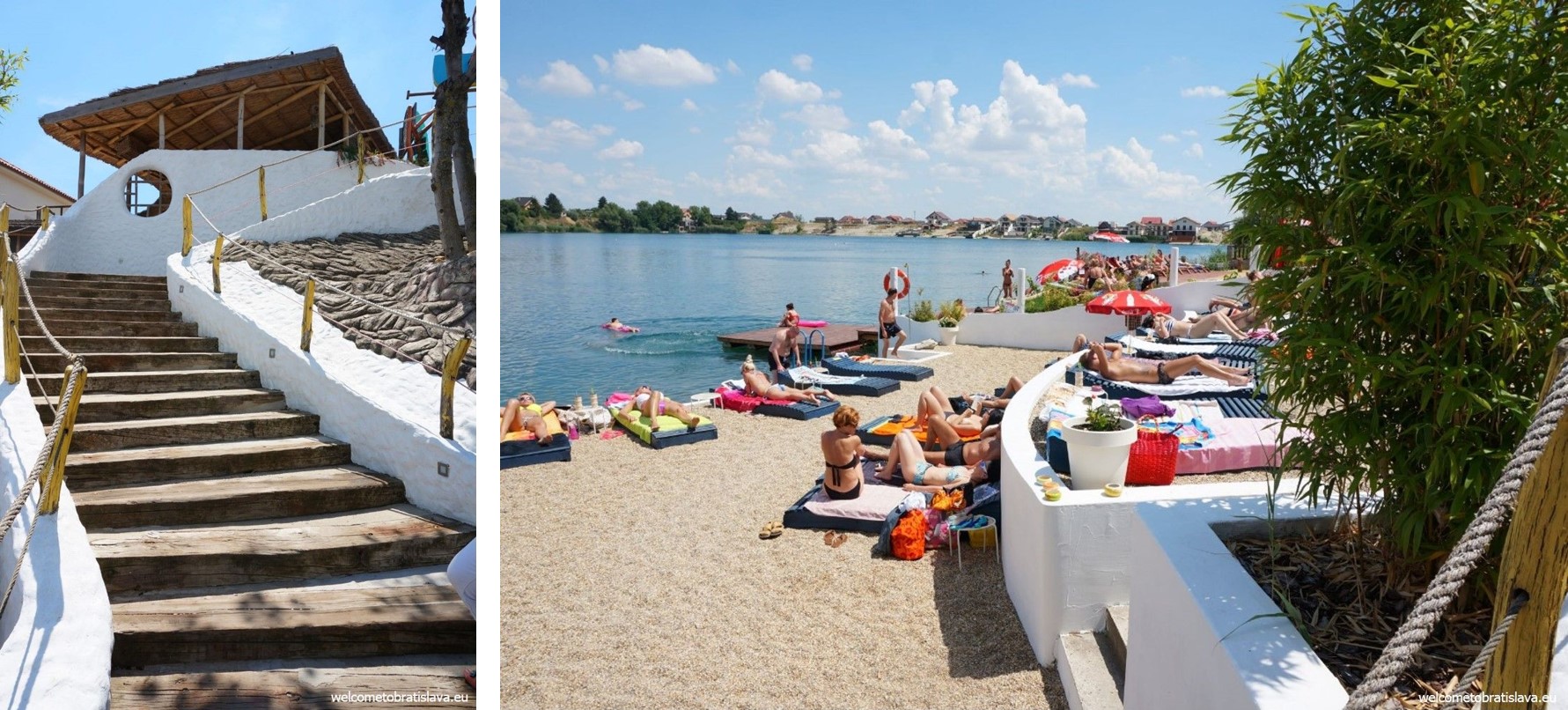 MANGO RESTAURANT & TIKI BEACH
Anyway, let's go back to the restaurant. The staircase will lead you to a terrace in a Hawaiian-style which offers a beautiful view on the lake itself.
There is an outside terrace which looks like a small island where you can sit as well. We recommend to book it in advance, otherwise it will be most probably full when you arrive.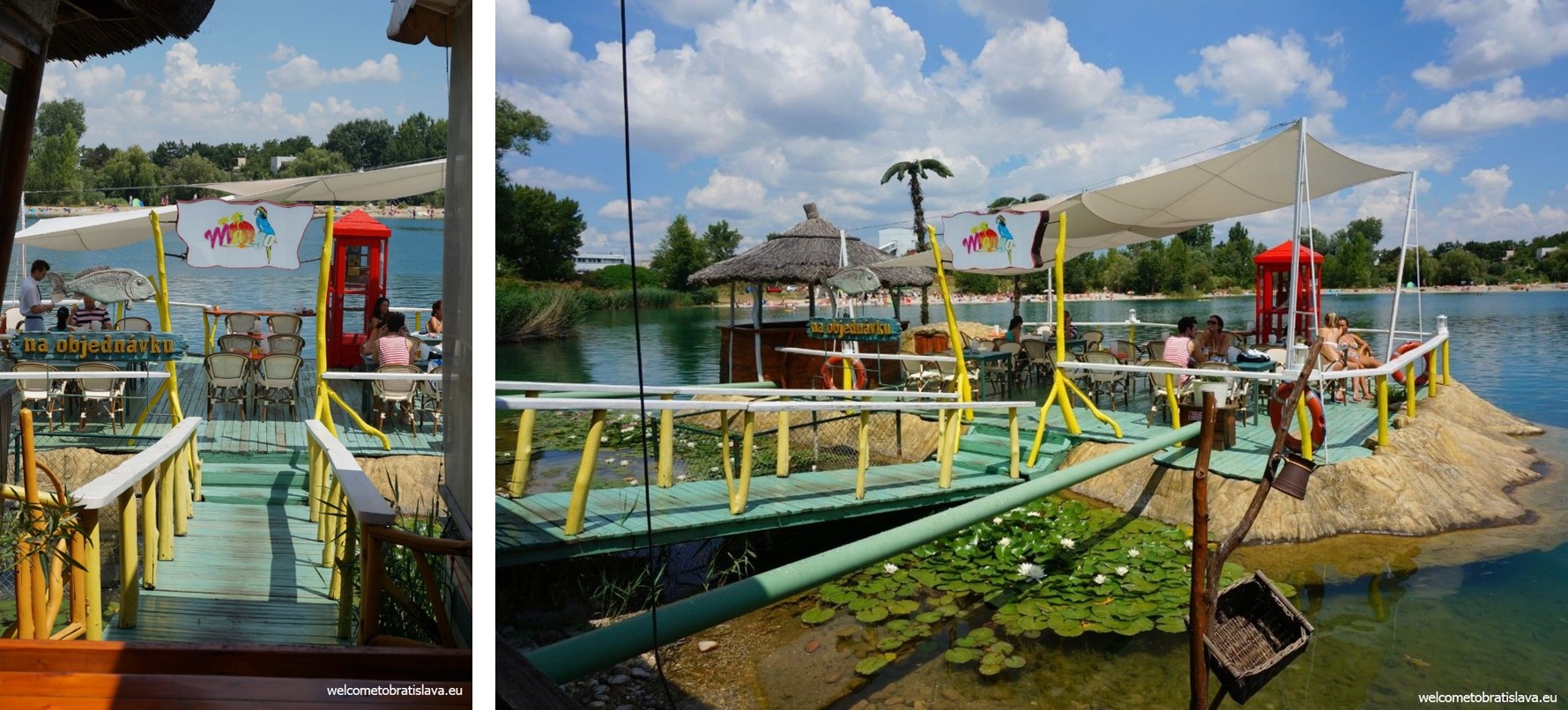 The back part of the restaurant has some more tables to offer to its hungry customers. Cuban music is played all over the place, so you really feel like on a summer holiday.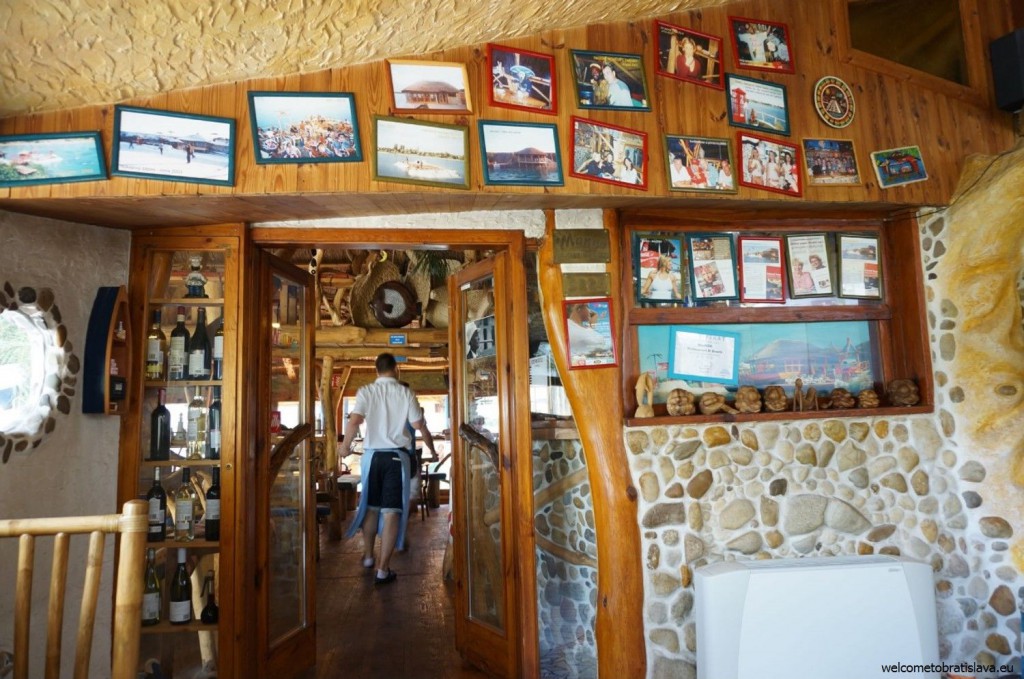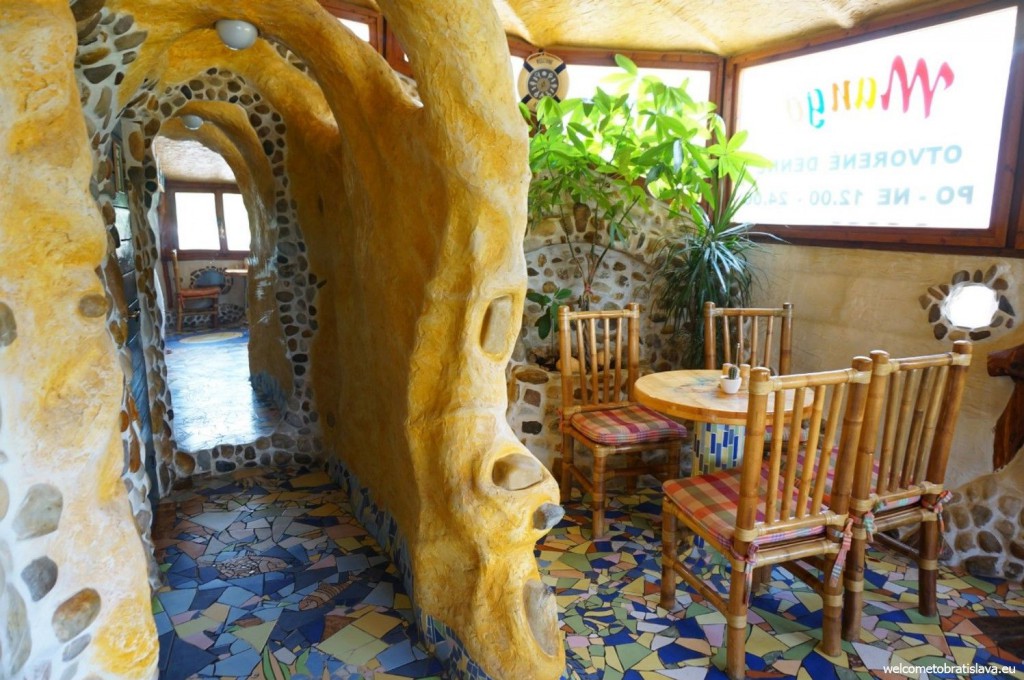 WHAT TO HAVE IN THE MANGO RESTAURANT?
When you open the menu, you will be able to choose beverages with exotic names such as Puka-Puka, Tiki-Coco or Hula Hula :) We love their cocktails and lemonades!
The selection of meals is quite wide. From meat, fish, salads, risottos and pastas, there is something for everybody. Before each main meal, you will automatically get an appetizer – an olive tapenade with bread rolls. If you like taking a soup before your main dish, you can have a traditional bean soup, a chicken broth or a fish soup. They come with slices of bread.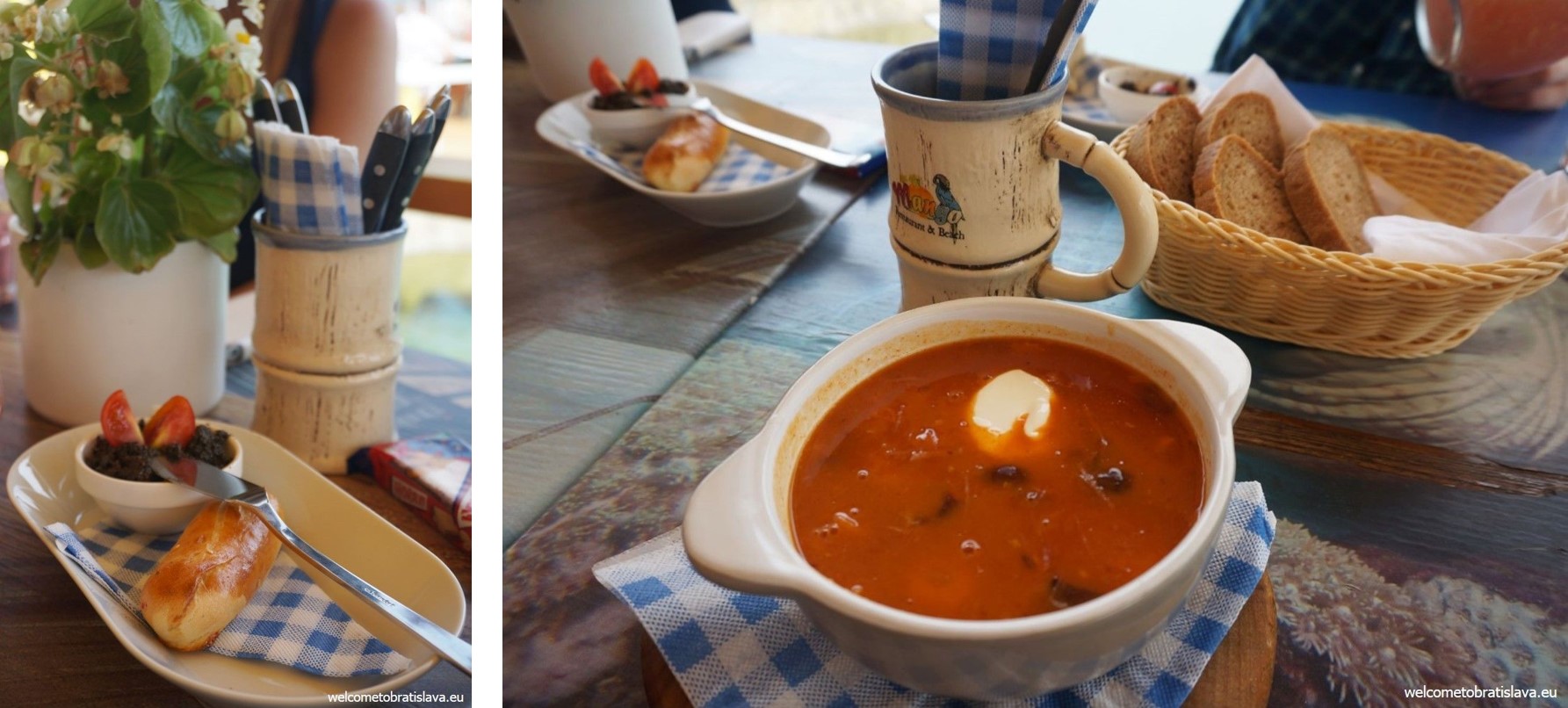 Their salads are great choices for hot summer days. One of our best picks is definitely the Pak choi salad with prawns.
So far we have not had a meal which would not taste good :)
If you feel like having something sweet, we highly recommend to try their sorbets – they are all home-made and simply fantastic! We also are fans of creme brulees – the one here comes with pickled pears and ice cream and tastes after cinnamon :)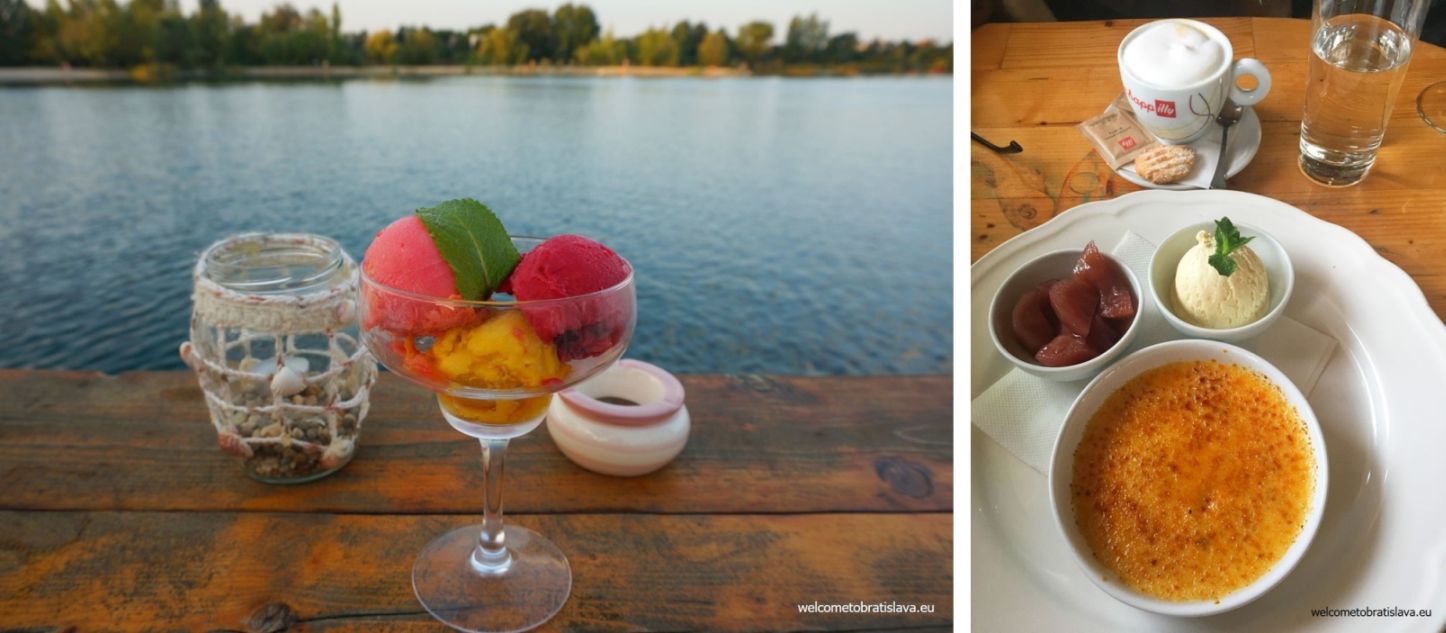 Done with eating? Direction Tiki beach! :) One thing to remember is that there is a limited number of deck-chairs. You won't be let in in case they are all taken. Unfortunately no reservation of the deck-chairs is possible so you should come in the very morning to make sure you have a place to occupy (the beach is open from 10 am). There is a very small chance you will get in in the afternoon on a hot summer day.
WELLNESS BEACH
There's some good news though – right next to the Tiki beach, there is another one called Wellness beach which we think is even nicer and more importantly, bigger :) You can enjoy the sun and swimming for an entry fee starting from 7,80 €.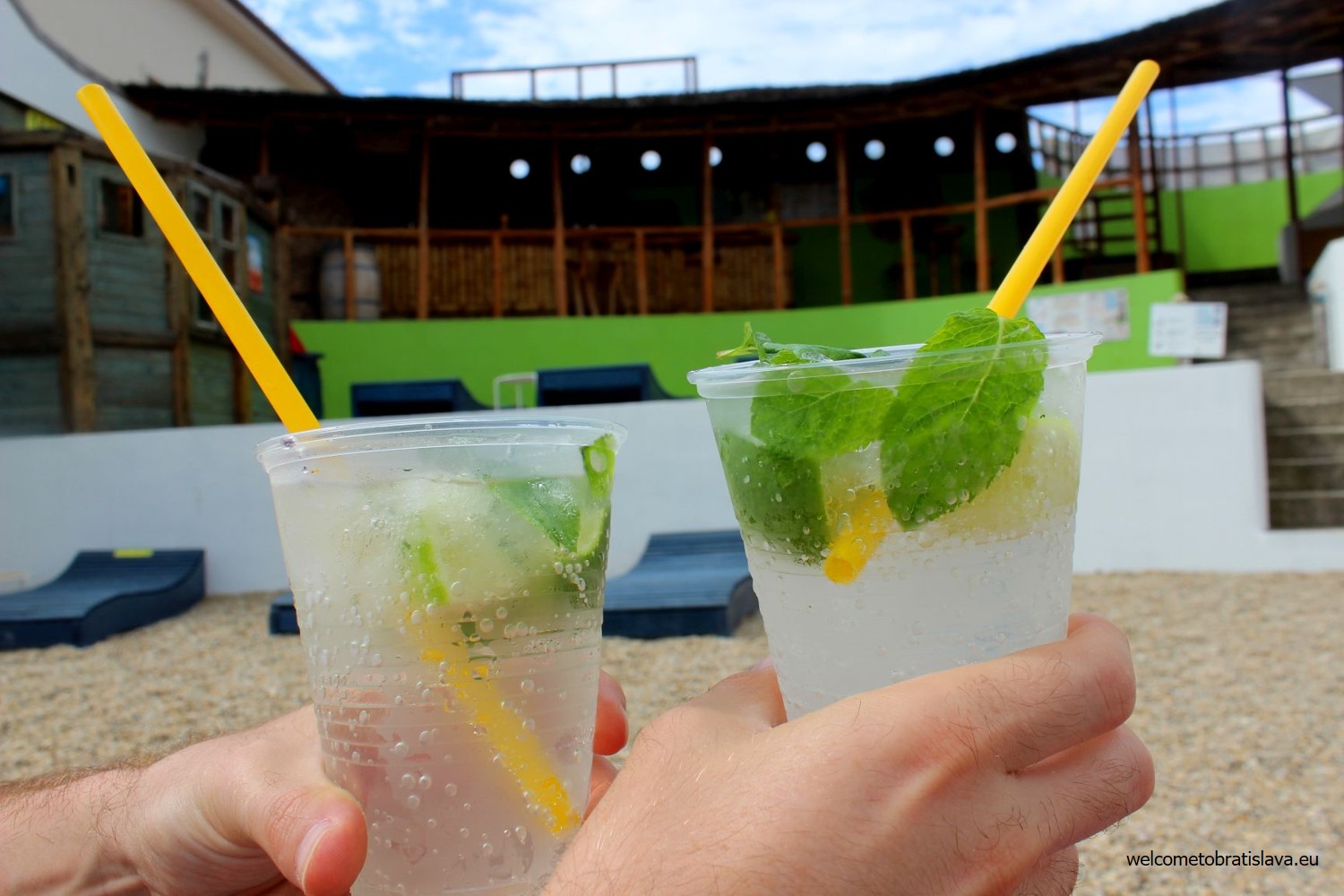 By the way.. there are two more lakes just a few minutes walk from here, also called Košariská, those are with free entrance – if you want to change the scenes. And don't forget to take your sunbathing cream!
VIDEO – MANGO AND TIKI BEACH
Author: Maria Kecsoova
Read also:
Summer get-away within 25 min from Bratislava – more tips for riverside outdoor activities & relax

OPEN HOURS: Restaurant daily 12:00 – 24:00 (reservation needed), Tiki beach from 10 am, Wellness beach 9 am – 8 pm


TICKETS: Entry to the Tiki beach 6 €, entry to the Wellness beach 6,50 € during week, 9,80 € during weekends


ADDRESS: Nové Košariská 3224, Dunajská Lužná


CONNECT: Website, Facebook


MAP LOCATION: