This beautiful baroque garden is a green piece of paradise in the Old Town. It materializes all your possible dreams about chill-out in the nature without leaving the city. Don't miss the chance to experience tranquil atmosphere of a place where Joseph Haydn led the orchestra during a pompous aristocratic event!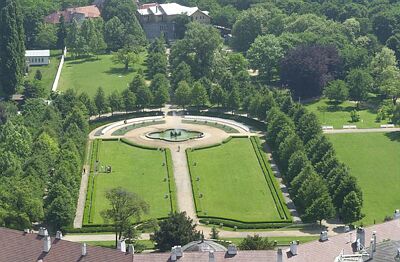 (source: citylife.sk)
HISTORY
During the reign of Maria Theresa, many important aristocrats built their summer residences in the eastern suburb of Bratislava. One of them was Earl John Gobert Von Aspremont who bought the fields and meadows and built a palace on the current Spitalska Street in 1770.
The Aspremont Palace is a beautiful example of French styled baroque classicism in Bratislava. It was set in an older baroque garden, known today as Medicka Garden.
The palace and the garden were sold to Count Esterhazy few years afterwards, who was known for organizing pompous garden events here. Did you know that the aristocratic guests were entertained by the music of an orchestra led by Joseph Haydn at this very spot?
At the end of the 19th century the palace was donated to the Faculty of Medicine of the Comenius University, which has its official seat here nowadays. The garden has been made public. Maybe now the name Medicka (meaning Medical) makes more sense to you?
Medicka Garden is currently a city park and has been preserved in a considerably reduced and modified form.
WHAT TO DO IN MEDICKA GARDEN?
What can you do in Medicka Garden? Well, that's simple: relax, relax and relax! It is a perfect spot to chill out, have a picnic, read a book or sunbathe. Medicka is also popular among families with kids because of its green lawns inviting kids to run around, play frisbee or badminton. There is also a cool outdoor playground for smaller kids with swings, a slide, or a sandpit.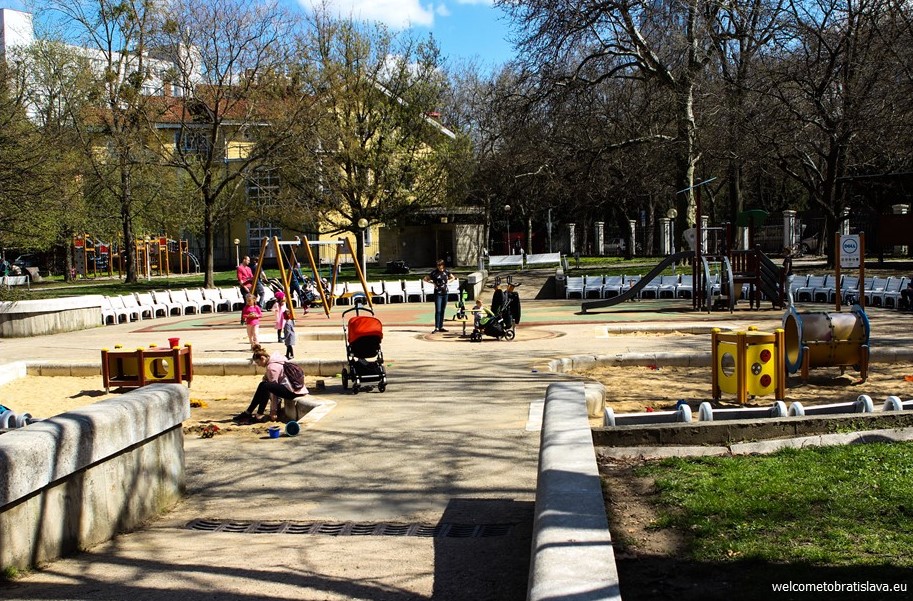 Feel like running? No problem! You wouldn't be the only runner here. The surface is mostly gravel and the total distance of the circuit is 550 m, so if you are a marathon runner, rather choose a different spot:)

And if you come here in April, you will be rewarded by the view of the most photographed trees in all of Bratislava! That's right, a bunch of magnolia trees blooming for a couple of weeks each spring create an unforgettable romantic setting and you just have to ignore crowds of people taking selfies under them. To be honest, there are more people than trees at this time of the year.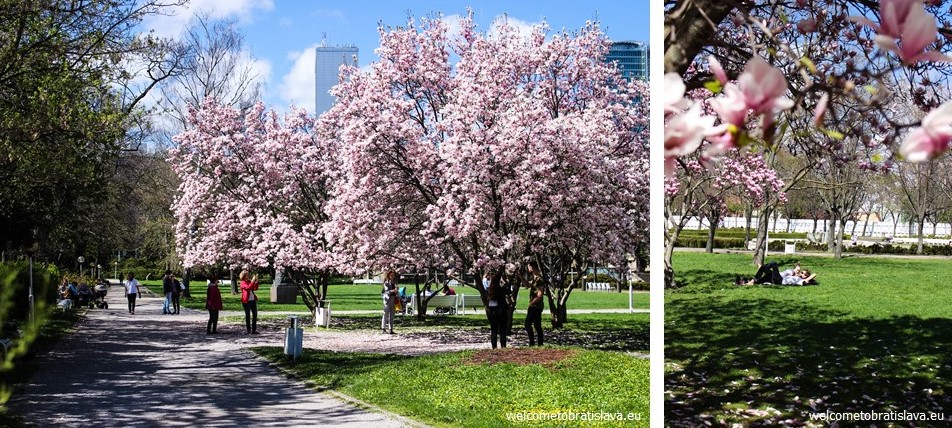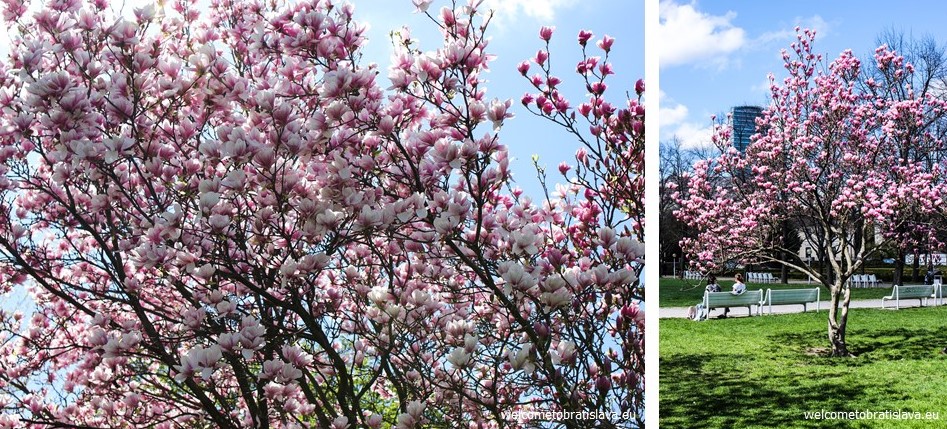 If you start craving for a small refreshment, definitely try Domcek v Medickej.

This cute cafe is located in the tiny fairy tale-like house right next to the playground within Medicka Garden. Cute interior with good coffee, cakes and ice-cream come in handy after a few hours in the sun.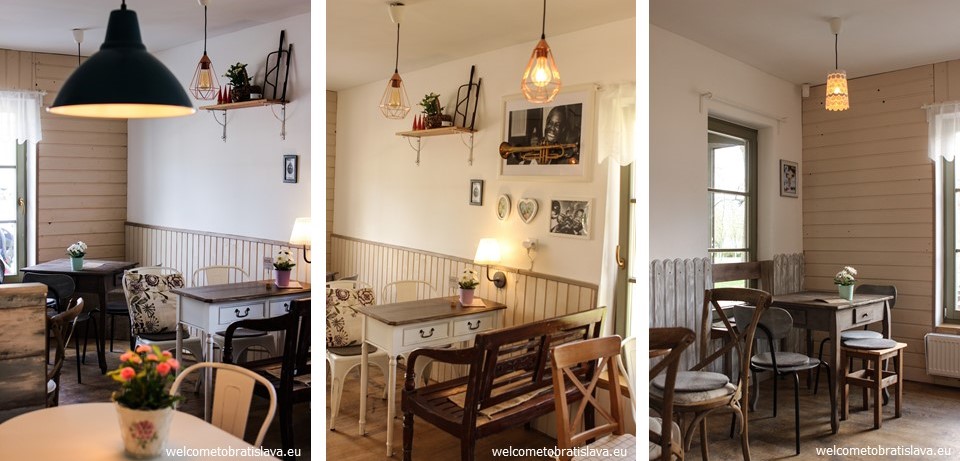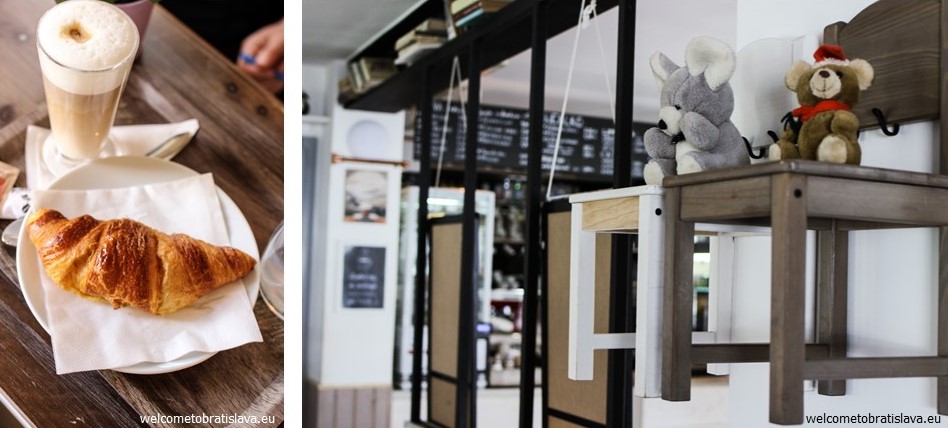 There are also a few stalls standing outside of the Medicka, just by the gate coming off to the 29. Augusta Street. We recommend you to try the donuts here!
WHAT TO SEE IN MEDICKA GARDEN?
As already mentioned, Medicka Garden has not been preserved in the original form and size. You cannot see any of the original plastic art or the garden architecture. Despite that you can find several interesting pieces here. Our favourite one is the romantic bronze and iron Swan Fountain. It dates back to 1986. Sit on a nearby bench and savour the moment!


There are also two statues in the park – one is a memorial of a Slovak writer Martin Kukucin and the other one is a memorial of a Hungarian poet Sandor Petofy.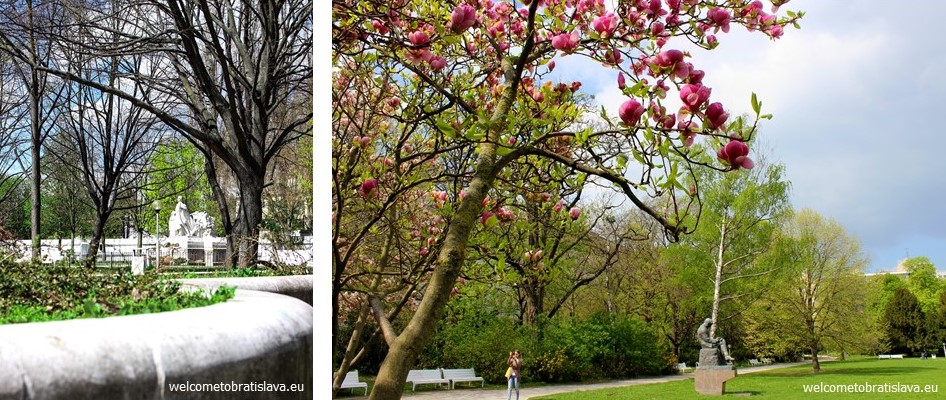 The Aspremont Palace is worth mentioning. It has a beautiful, well-preserved principle floor known as piano nobile, an original hallway with a staircase and a reconstructed chapel with impressive, baroque-clasissist frescos. It is believed that Maria Theresa herself prayed at the altar here, as she was a frequent visitor of the palace.
Author: Zuzana Mytna

 OPEN HOURS:  The garden opens at 10 am and closes, depending on the season, at dusk.


 ADDRESS: Špitálska 57


 MAP LOCATION: