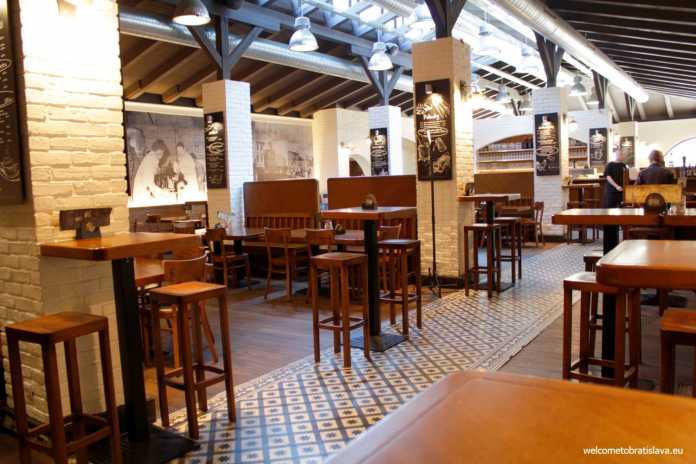 Located in a calmer street of the city center, Mestiansky pivovar is a pub of huge size, great cuisine and delicious tank beer. Combination of wooden furniture, snow-white walls connecting the floor with the high ceiling, and black & white photographs and boards makes you feel very comfy and you get hungry for food the moment you walk in :)
LOCATION
The pub found its seat at Dunajská Street which is still in the city center but a few minutes away from the busy Old Town. A good contact point is the Tesco shopping house (My Bratislava) at Kamenne namestie (Kamenne Square) from where it is just a few meters away. When you get to this street, you need to look for a gate to enter to a big yard where the pub is placed.
THE INTERIOR
First thing you are going to see after entering is a big bar. There will be a waiter to help you find a place. There are more rooms to sit, all furnished in one style – everything wooden.
In the backside the beer tanks are kept. We really like the big black & white photographs from historical times of Bratislava which are hung on all the walls and co-create the whole brewery atmosphere.
WHAT TO HAVE IN THE MESTIANSKY PIVOVAR?
Don't expect many sorts of beer here – this place is well-known mostly for its brewed beer. But don't worry – you will surely fall for it :) When it comes to food, you can choose from a wide selection, mainly Slovak cuisine. We haven't had anything yet which we would not like. Some recommendations are grilled ostiepok (Slovak cheese) with a mushroom sauce served with fresh bread or "bryndzove pirohy" – potato gnocchi filled with Slovak sheep cheese, sour cream, crispy bacon and fried onion.
One of the meals this pub is famous for is the marinated spare ribs roasted on lava grill – just make sure you are really hungry if you want to take that one, it is a huge portion (800g). We recommend to split it with a friend :) Many say these are the best ribs in town! If you want to try halušky, the Slovak traditional dish, we would recommend to go to a different place – here they were OK but we have had better in Slovak Pub or Flag ship.
There are 2 pubs with the name Mestiansky pivovar with the same owner in the city. The bigger one is mentioned in this article as we think it is nicer and you can have a better experience, and there is a big outdoor terrace in its garden – great for summer eat outs :) You can however check the other one as well which is also in the city center.
Both pubs get quite busy so if you are a bigger group of people, you might want to book a table in advance. Usually you need to call/email to make the reservation at least couple of days ahead.
Author: Maria Kecsoova

OPEN HOURS: Check their website


ADDRESS: Dunajská 21


CONNECT: Website, Facebook


MAP LOCATION: