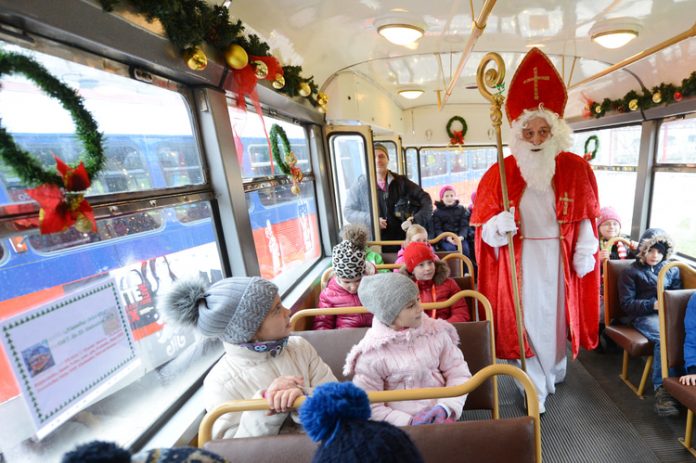 You already might know that Slovaks call their St Nicolaus Mikuláš who comes and rewards children each year at night from 5th to 6th December. So don't be surprised if you receive small treats from your colleagues at work during this day.
There are plenty of events going on in the city this week and weekend. Besides the traditional Christmas markets and Christmas days in Incheba which last all December until the Christmas Day, there are several events organized to keep you busy and in the right Christmas mood – check them out here!
THE CHRISTMAS STREET
6.12. – 8.12.
The Christmas Street takes place in Devinska Nova Ves, one of the peripheral parts of Bratislava. Hradistna street will be full of stands with traditional Slovak Christmas dishes such as roasted pork, cabbage soup, lokse or sausages.
Advent workshops are organized for children between 2 – 6 pm in a nearby Ivan Bukovcan Primary School. Details.
INTERNATIONAL FESTIVAL OF ADVENT AND CHRISTMAS MUSIC
6.12. – 9.12.
This festival invites choirs from all over the world to the decorated historic center of Bratislava, so that they contribute to a peaceful pre-Christmas mood with songs, traditional culture and spontaneous presentations.
A competition during which the choirs will be showing their quality of singing in front of an international jury won't be missing. Free entry! More info.
MIKULAS AT THE CHRISTMAS MARKETS
6.12.
From 3 pm, at the Hlavne namestie (Main Square), there will be Mikulas, his angel and devil. You will be able to enjoy concerts, join creative workshops and taste various treats. Starting at 4pm, your kids will be able to watch a special program at the Hviezdoslav's Square, organized by children from a local elementary school. More info.
SANTA CLAUS IN THE SLOVAK NATIONAL GALLERY
8.12.
Experience the magic of Santa Claus and pre-Christmas mood at the Esterhazy Palace in our national gallery with some art. Choose your creative workshop, warm yourself up drinking nice tea and watch theater performances.
The event is for all the families with children from 4 years. You need to register yourself via email miroslava.misova@sng.sk – entry is 5 € per family. More info.
RETRO FLEA MARKET IN THE OLD MARKET HALL        
8.12.
Antiques, art objects, vintage and other retro items will be presented in the Old Market Hall at the beginning of December. From 11 am there will also be a theater for children. Facebook event.
CHRISTMAS HANDMADE WEEKEND
each December weekend
If you are one of those creative souls, you will be surely delighted by Christmas Handmade Weekends. During all three December weekends you will find true original Christmas presents or decorations made by Slovak authors, craftsmen and manufacturers – jewels, soaps, bags, purses, clothes, decorations, knitted and crocheted products, toys or unique home accessories. More info.
SANTA CLAUS ON A TRAIN

8.12.
Drive with a historic train drawn by a steam locomotive 555.3008 around Bratislava's streets and enjoy the visit of Mikulas and his crowd!
The event will be run from 10 am till 6 pm. The ticket for this ride costs 10 € and if you want a special Mikulas package for your little ones, these will cost you 5 €/child. More info.