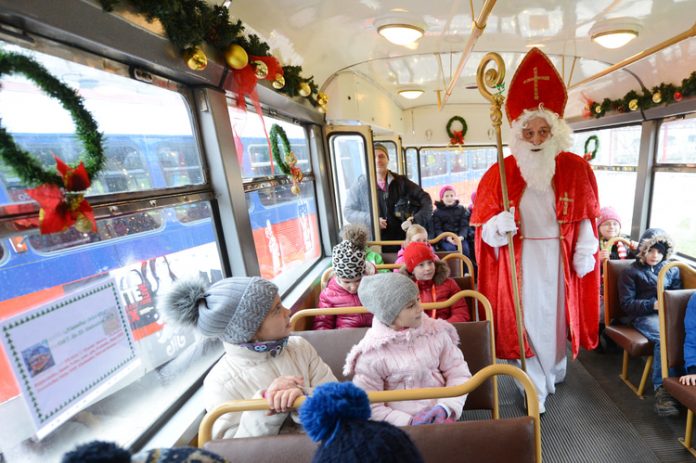 You already might know that Slovaks call their St Nicolaus Mikuláš who comes and rewards children each year at night from 5th to 6th December. So don't be surprised if you receive small treats from your colleagues at work during this day..
There are plenty of events going on in the city this week and weekend. Besides the traditional Christmas markets and Christmas days in Incheba which last all December until the Christmas Day, there are several events organized to keep you busy and in the right Christmas mood – check them out here!
Mikuláš in Dlháčik 4.12.
The programme includes a theater performance About a LostChristmas Carol and the gift bags with home-made gingerbread cookies, dried fruits and a toy. Entry fee: 5 EUR. FB event.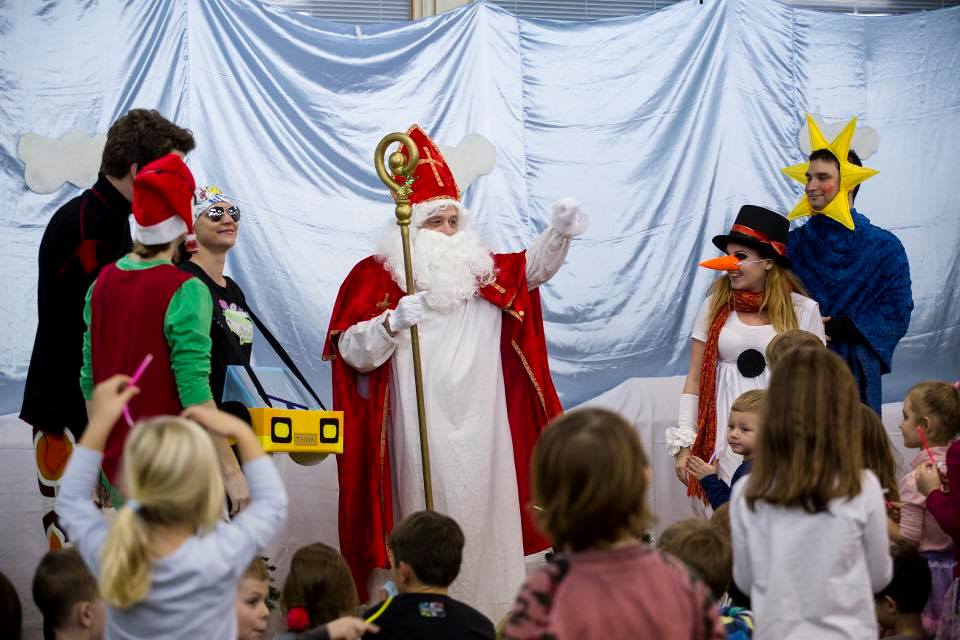 Mikuláš at Central 5.12.
Have you behaved all year long? If the answer is a convincing "yes", come to Central with your kids and enjoy concerts and workshops prepared for them only! There will be a popular children's band Smejko a Tanculienka, a theatre performance, creative workshops, a photo corner or decorating mini sponge cakes. FB event. 
Mikuláš on Ice 5.12.
An afternoon full of sport activities. During the event on ice, Mikuláš will come with his helper Devil in order to surprise all the kids with a sweet reward. FB event.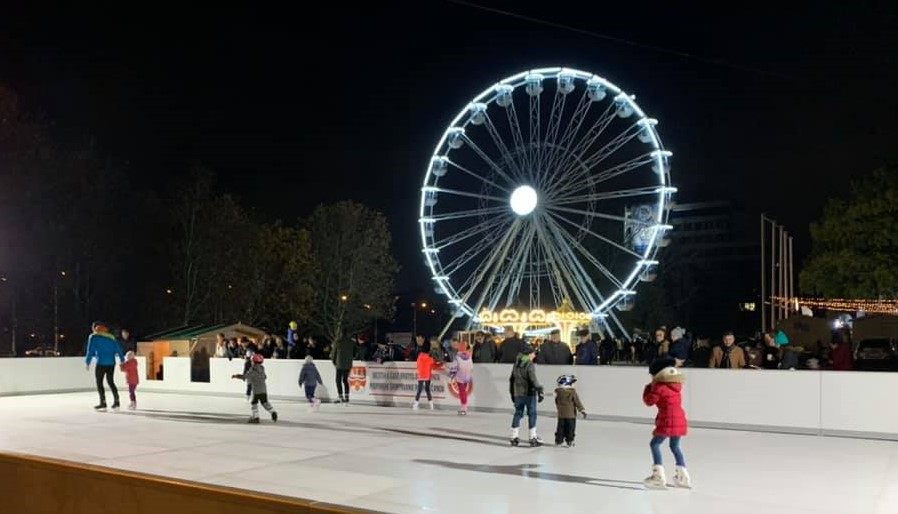 Mikuláš in Ružinov 2019 5.12.
Mikuláš and his little helpers are going to visit several neighborhoods in Ružinov to make kids happy. You can look forward to workshops, an ice rink and also kids' Christmas cinema. Free admission. FB event. 
Mikuláš in Podunajské Biskupice 5.12.
All kids are invited for the visit of Mikuláš at the open area next to the post office on Uzbecká Street in Podunajské Biskupice who will be giving them sweets and fruits. You will also see a show of a juggling clown. Start at 4.30 pm. FB event. 
Mikuláš at M. Korvín Square 6.12.
Come celebrate Mikuláš to Blumentál. The programme starts at 16.00 with Mikuláš giving sweet rewards to kids. At 17.00, A Slovak singer, musician and writer Brano Jobus will read a fairytale to kids. At 18.00, a live concert of Ricco & Claudia known from X-Factor 2017 starts. There will be a heated terrace and Christmas markets with tasty food and drinks. FB event. 
Mikuláš in RETRO 6.12. 
Come to Retro kids for fun activities like face painting, thematic creative workshops, a polaroid photo with Mikuláš and a gift bag. Entrance fee: 9 EUR and advance booking necessary. FB event. 
Mikuláš in Petržalka 6.12.
On the occasion of the Christmas markets in Petrzalka, you are welcome to enjoy traditional food and stands with souvenirs. On top of that, Mikuláš will arrive in a chariot followed by a performance of a popular children's band Paci Pac and by a live concert of a Slovak band S hudbou Vesmirnou. FB event. 
Mikuláš in Cubicon 6.12.
Your kids can look forward to an interactive Mikuláš programme, disco party with Angel and Devil and the gift bags from the real Mikuláš. FB event. 
Mikuláš in Devín 7.12.
Mikuláš is coming to Devin as well and he's bringing the goodies and is going to light up the tree! Workshops for kids are a given. FB event. 
Mikuláš in Slnečnice 7.12.
Come to Slnečnice market where your kids can tell a poem or sing a song to Mikuláš in exchange for a reward. The programme also includes a popular magician Talostan.  FB event. 
Mikuláš in kayak 7.12.
Join the Canoe Club in Mikuláš celebration – they prepared a recreational ride on various vessels within a bay, a traditional cabbage soup, decorating gingerbreads for kids or a rodeo bull ride. Voluntary entrance fee. FB event. 
Mikuláš at Trnávka 7.12.
Your kids can look forward to a children's theatre of a classic fairytale performed by the Bratislava Puppet Theatre joined by Mikuláš's visit. Ticket costs 4 EUR and needs to be bought in advance in MC Margarétka on Okružná Street. Start at 4.00 pm. FB event. 
Mikuláš at the Slovak National Gallery: Falling Snow Close-up 8.12.
The forming of a snowflake is one of the most beautiful phenomena in our atmosphere. Come and find out more about this process with a professor and a musician Fero Kiraly. Every family is going to create their own fractal! Admission 5 EUR per family. Suitable for age 4+. Advance registration necessary. FB event.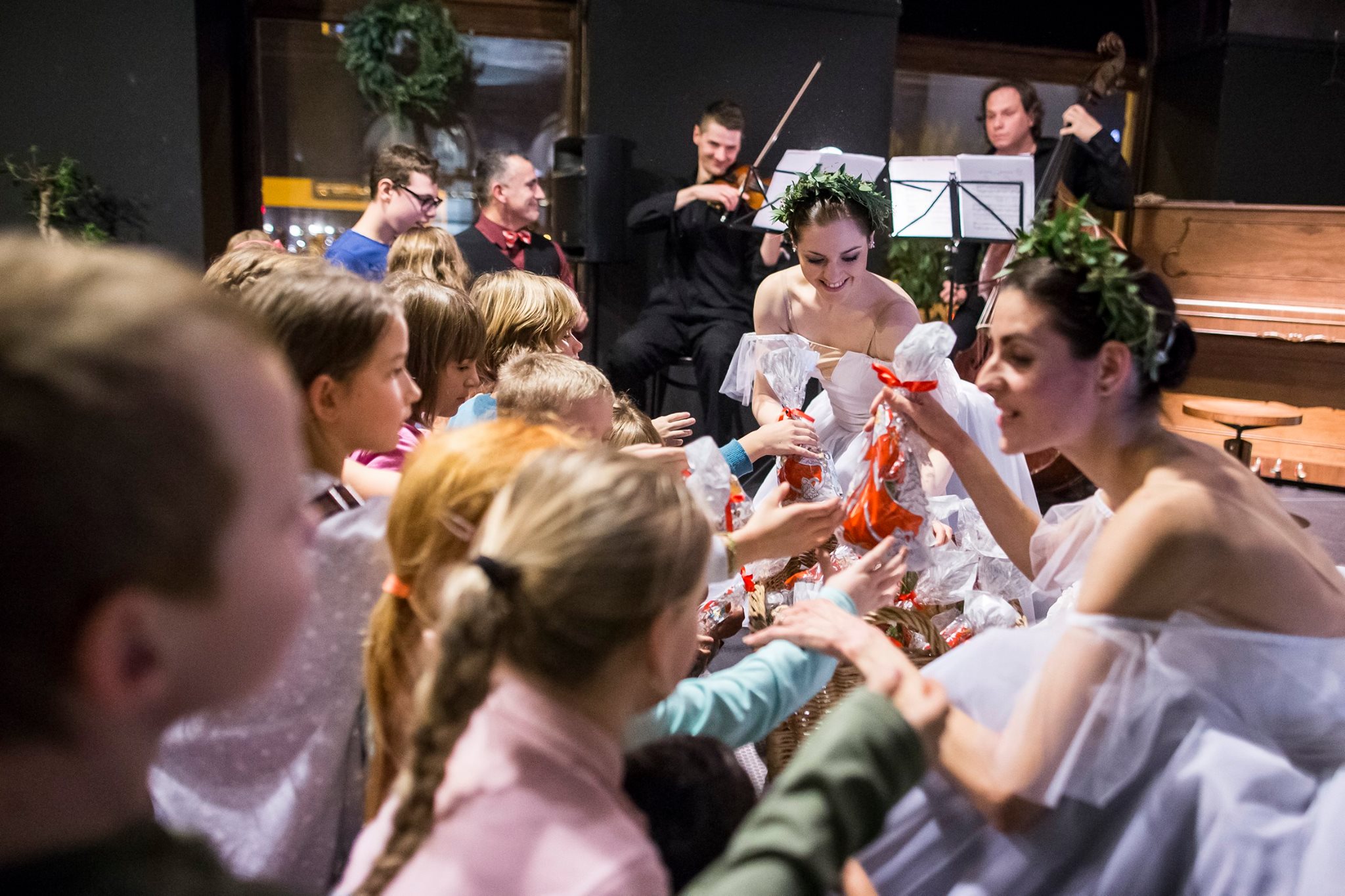 Mikuláš in Karlova Ves 8.12.
The programme starts with creative family workshops lasting from 9.00 until 11.00. At 10.00 a performance about Grinch starts which will be continued by a visit of Mikuláš and his helpers Angel and Devil rewarding kids with surprise bags. Entrance fee: 3 EUR. Advance booking necessary due to the limited capacity. FB event. 
Mikuláš in Planetka 8.12.
Mikuláš with his helpers Angel and Devil will come to Planetka, bringing gift bags and fun to kids. You will welcome Mikuláš outside where a Christmas tree will be symbolically lit up and where you'll watch a performance. Second part of the programme takes place inside and involves a lot of dancing:) FB event. 
Mikuláš in OC Galéria in Lamač 8.12.
Take your kids to see Mikuláš in OC Galéria who will reward them with sweets. The programme includes a theatre show "Mici and Miau", face painting and workshops for kids and adults. From 14.00 – 17.00. FB event. 
Author: Zuzana Mýtna
NOTE: Some of the featured pictures come from the Facebook pages of the mentioned events.