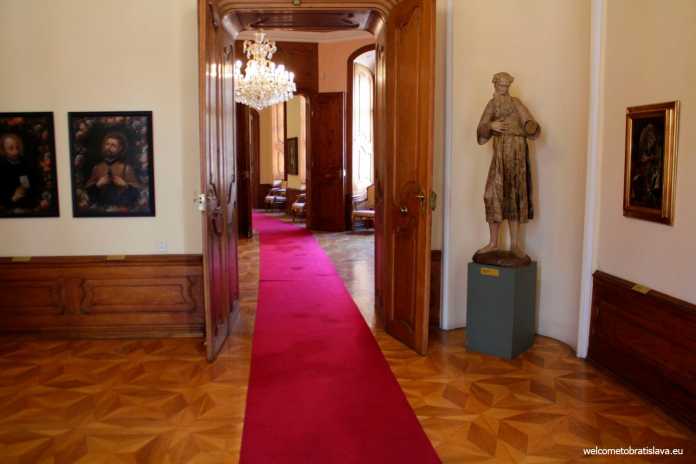 Bratislava City Gallery is housed in two historical buildings in the city center and one of them is Mirbach Palace. The other building is Palffy Palace and you can read about it here. The City Gallery holds permanent as well as temporary exhibitions of Slovak and international art. We are going to guide you through the permanent exhibition now which is located on the 1st floor.
LOCATION
You can find Mirbach Palace at a very cute square – Františkánske námestie 11 – which is next to the Main square in the city center. It is an older, high building hidden in the corner of the square.
There are cute cafes around packed with people sitting on the terraces especially during summer. We took these pictures at early spring so it does not look so good. The right picture shows the main entrance to the Palace. Walk in and take the left door to the cash desk. The ticket for 1 adult costs 4 €.
WHAT TO SEE IN THE MIRBACH PALACE?
The same way as is in the Palffy Palace, you are going to find romantic stairs with red carpet here as well.
To see the permanent exhibition, you only need to take the stairs to the first floor. It is called CENTRAL EUROPEAN BAROQUE PAINTING AND SCULPTURE and focuses on works by masters who significantly contributed to the development of Baroque art in Slovakia, as well as on works by artists closely related to Bratislava.
Walking through the beautiful rooms furnished with wooden walls, big chandeliers and antiquarian sofas will give you the feeling of being in a real palace.
Admire the beautiful paintings and statues and go back in time to the 18th century for a while :)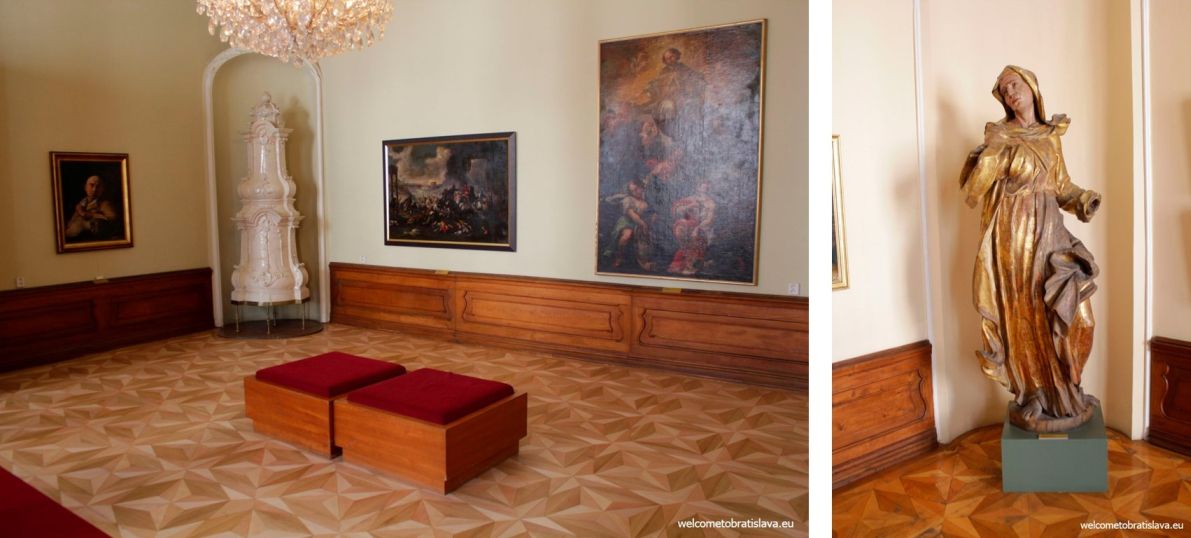 …there is again a book where you can leave a note – and if you are lucky to have this kind of sunny weather, stop by at this cosy small cafe just next to the gallery for a coffee or something sweet :)
Author: Maria Kecsoova

OPEN HOURS: Check the official site (scroll down to "HOW TO FIND US")


TICKETS: 4 € per person, 6 € per person for a combined ticket to Mirbach and Palffy Palace


ADDRESS: Františkánske námestie 11


CONNECT: Website


MAP LOCATION: