When the owner of Modrá Hviezda, Viktor Kováč, took over ownership of the restaurant over 10 years ago, he vowed not to change a thing about it, from the homey touches on each table and hanging on the walls and the traditional dishes on the menu, to the name itself, which means Blue Star. Kováč had every opportunity to go the way of many other restaurants and cafes in Bratislava, serving up modern dishes with origins from around the world and everywhere but here. But instead, he chose to keep Modrá Hviezda as it was meant to be, a traditional Slovak restaurant with charm and warmth. Sure, there are flares of modernity here and there, but more than anything else, Modrá Hviezda embraces the cuisine of Slovakia, a country that prides itself on some very specific dishes and preparations, and makes you feel like every dish on the menu was prepared with the diner in mind, because they were.
When you visit a big city and go hunting for your next good meal, it's almost a certainty that you'll see two different kinds of restaurants in your search: the kind that feel the need to plaster big words like "best in the city!" and "original" and "authentic" to catch your attention, and the ones that do nothing of the sort. Modrá Hviezda doesn't need that kind of advertising. Everything you see on the menu is locally-sourced, from the wine and beer selections to the produce and meat in the kitchen. One bite of just about anything on their menu will tell you everything you need to know: each dish is made with care and attention to detail, and above all else, love.
LOCATION
Nestled on Beblaveho Street, a quiet cobblestone stretch dotted with bars and small cafes just below the base of Bratislava Castle in Staré Mesto, Modrá Hviezda was built in the late 18th century as an apartment building and became a restaurant around 50 years ago. While it has recycled through several different owners, the charm has remained, and Viktor Kovac, the current owner, has made sure that everything at Modrá Hviezda, from the colorful tiles on the floor to the traditional dishes on the menu remain intact.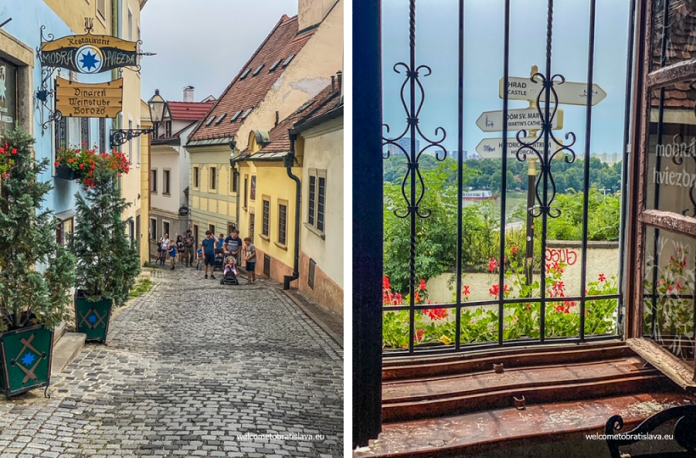 Grab a seat at a table inside (request the table in the cellar if it's available; the rock wall surrounding you is actually part of the castle base), or a shady spot on the patio just across the street for a view of the Danube river while you dine. Its convenient location is ideal for a hearty lunch or dinner after a tour of Old Town and Bratislava Castle.
INTERIOR
Modrá Hviezda's charm is in the small details, and it shows. The candle holders in the center of each table? Handmade by a local artist. The music playing gently in the background? Local gypsy music. And don't expect to hear any news or radio while you eat, either. Everything about Modrá Hviezda is warm and inviting, from the wooden tables and wrought iron chairs that feel like you're sitting in the kitchen of a home in the 1700s, to the windows that open out to the street, giving you all of the sights and sounds of the city while you enjoy your meal. The walls are adorned with all sorts of tchotchkes that make it impossible not to turn your head every which way during your meal, from plastic veggies hanging from ropes, to blue metal stock pots, teapots, and vases, and wooden brooms adorning the walls.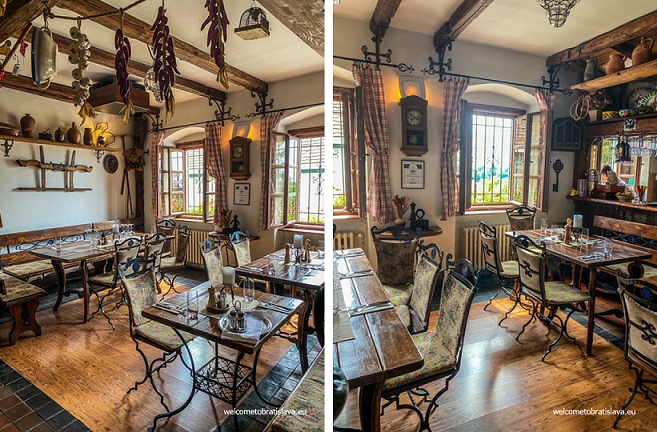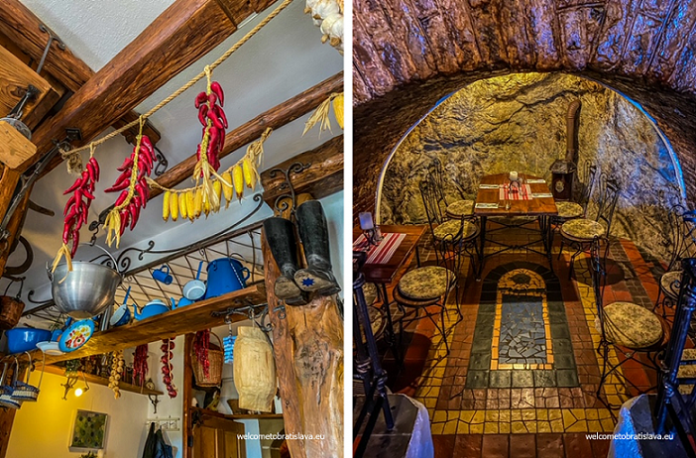 With only 50 seats, Modrá Hviezda is not accommodating big events, but for a small group looking for a cozy meal on a picturesque street, this is where you want to be. The service is warm and friendly and will make you feel like you're part of the family, which feels extra special, since Viktor, his wife, and his youngest son work at the restaurant full-time.
WHAT TO HAVE AT MODRA HVIEZDA
Modrá Hviezda serves the same menu for lunch and dinner, and since the food here is really meant to stick to your ribs, we recommend making this the star meal of your day. You may not have room for much else after a hearty lunch or dinner here, so plan accordingly.
Before even checking out the food menu, spend some time skimming the alcohol menu which is, not surprisingly, almost entirely filled with local offerings. The red and white wine lists are frequently updated with seasonal favorites as well as vintages that are only in limited supply – one of the benefits of forming good relationships with your local winemakers. Prepare your stomach for a big meal with a shot of brandy – the apricot and pear are personal favorites – or the traditional slivovica.
Starting with the duck liver paté is a smart choice – served with a side of almond cranberry compote and toasted bread, the pate is like a savory crème brulee. Crack the hard, sugary top to get to the creamy, meaty interior and spread it on toast, or for those who really can't get enough, eat it by the spoonful. The beetroot and farmers cheese strudel is as unique as it is flavorful; a savory twist on a classic European sweet treat. The pastry exterior is flaky and crisp, providing a buttery complement to the salty and vegetal interior.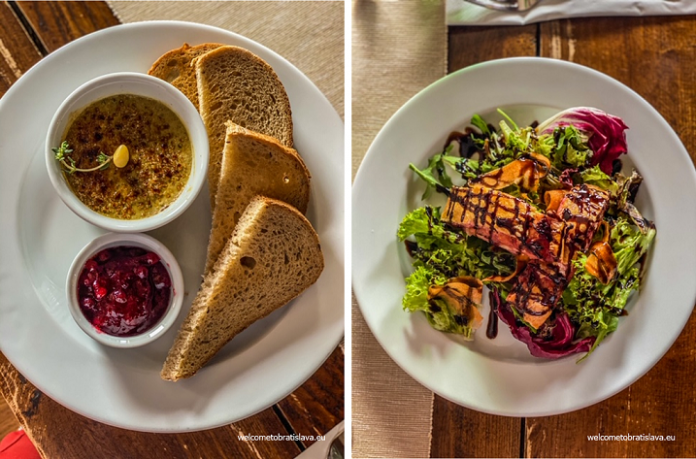 Before diving into the main dishes, be advised: the menu is fairly potato-heavy (this is in no way a bad thing, by the way). Most dishes offer different potato preparations, so if you're a fan of the tuber (as we most definitely are), try to order a few different things and experience the carb-laden joy. The portions are large, as most European dishes tend to be, but this is food meant to satiate you for now and later, so don't be shy. The venison loin is served with potato-blackberry dumplings and a sauce made with cognac and caramel, and it's no surprise that it's a favorite of regular diners and Viktor himself. Venison can be a tad gamey, so we recommend ordering it on the rare side of medium rare, and don't miss one ounce of that sweet and salty caramel-cognac sauce. The roasted duck with braised red cabbage and lokše (potato pancakes) is another fan favorite; crispy skin encases the juicy, tender duck meat within. The cabbage is sharp and acidic, and with a piece of pillowy lokše and duck, you've achieved just about the perfect bite.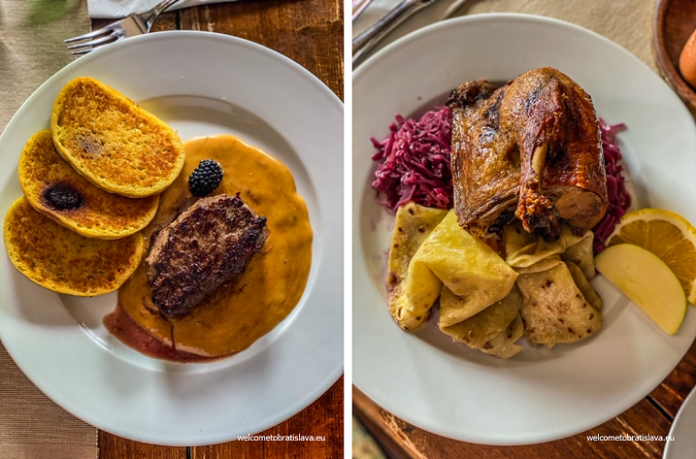 Halušky (potato dumplings with cheese and bacon), the meal of our field-working forefathers, is a must-order here. The rustic potato dumplings are coated in the traditional bryndza cheese, tangy and salty, and large bacon lardons on top inject an extra boost of salty fat and pork.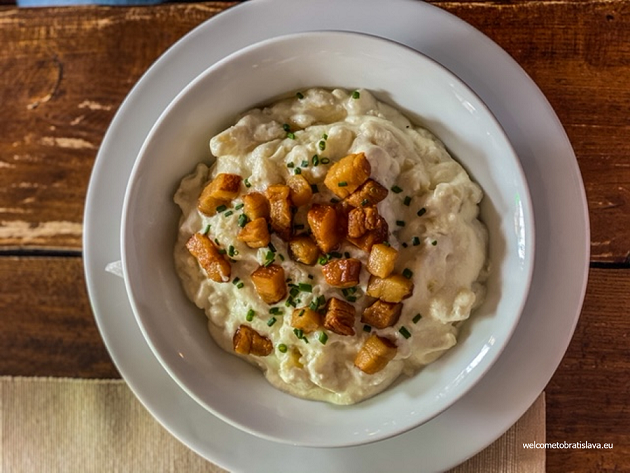 Dessert offerings are short and sweet: an almond chocolate cake, or homemade dumplings topped with poppyseeds or walnuts and powdered sugar. The almond chocolate cake is the modern offering here and a house favorite, but it's the dumplings you really want to focus your energy on. The dumplings, also made from potato, are made by hand, and are covered with enough poppyseeds and powdered sugar to make you forget that other desserts even exist.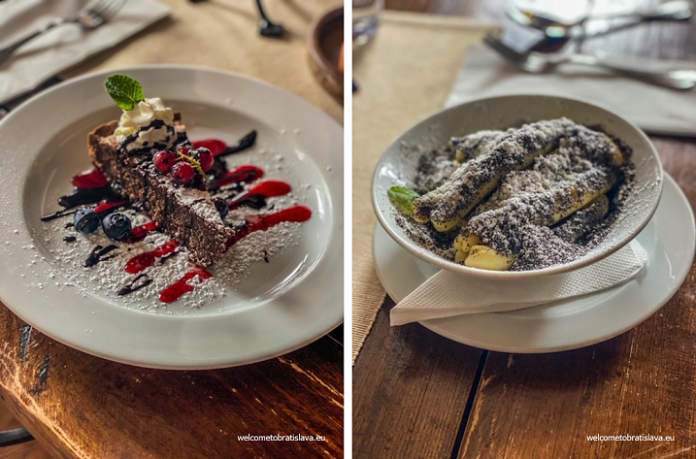 Modrá Hviezda doesn't stand out on the street, but with prime real estate leading up to the gates of Bratislava castle, it's almost impossible not to pass by it at least once in your city travels. For a heart-warmingly traditional culinary experience in Bratislava, Modrá Hviezda is somewhere you'll want to visit again and again – we know we will be.
Author & photo credits: Sara Kay

 OPEN HOURS: Check the official FB site


 ADDRESS: Beblavého 14


 CONNECT: Website, Facebook


 MAP LOCATION: