Get ready for a pub where you can get a great home-made beer in a spacious monastic cellar from the early Baroque period. One own beer type, many delicious dishes and friendly service are the main reasons why to try the Monastic Brewery.
LOCATION
Klastorny pivovar (translated as Monastic Brewery) is a pub, which is easy to find and you do not need to book a table in advance. It stands right at the SNP Square in the city center. With such a vivid surrounding, it is quite easy to overlook it at first glance. Look for the discreet black boards next to the grocery store Billa.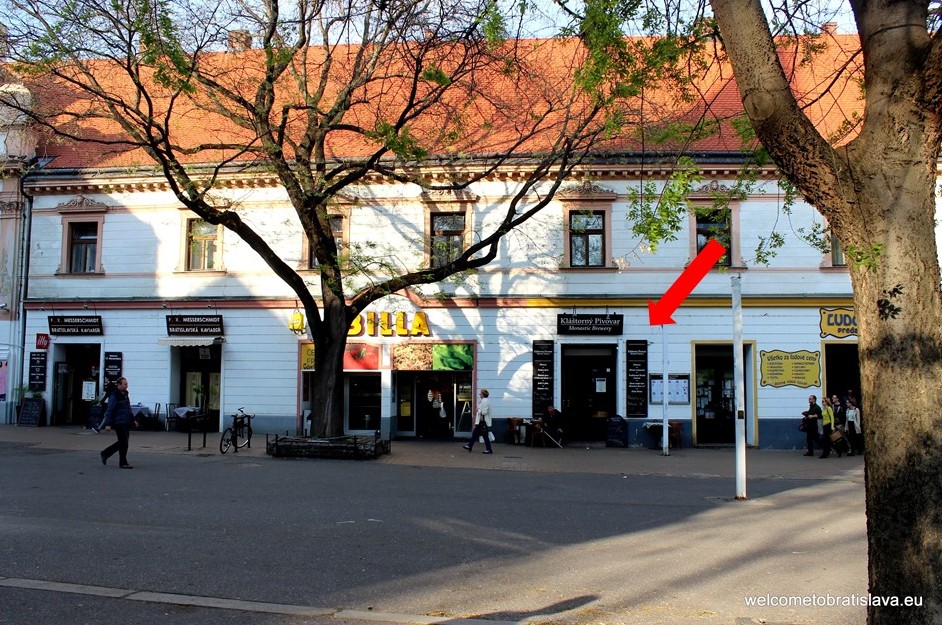 INTERIOR
Neither the front facade of the building with the small glass door, nor the first room with a few tables, reveal what can be found in the underground premises. Just imagine a spacious monastic cellar from the early Baroque period, all freshly renovated and opened just a year ago. It seems they would never face the problem of running out of the capacity. But our last few visits during the peak pub hours proved that this isn't necessarily true.
The first room at the upper floor provides you with a warm atmosphere thanks to the dark wooden furniture, brass colored pipes and a beautiful mosaic glass ceiling. Before climbing down the staircase, admire the brewing room in the very back part of this space with the brass tanks.
The cellar is more impressive in its size and contains one smaller room with a stone arched ceiling and two bigger rooms with marble walls and floor. The whole restaurant has a capacity for 200 people.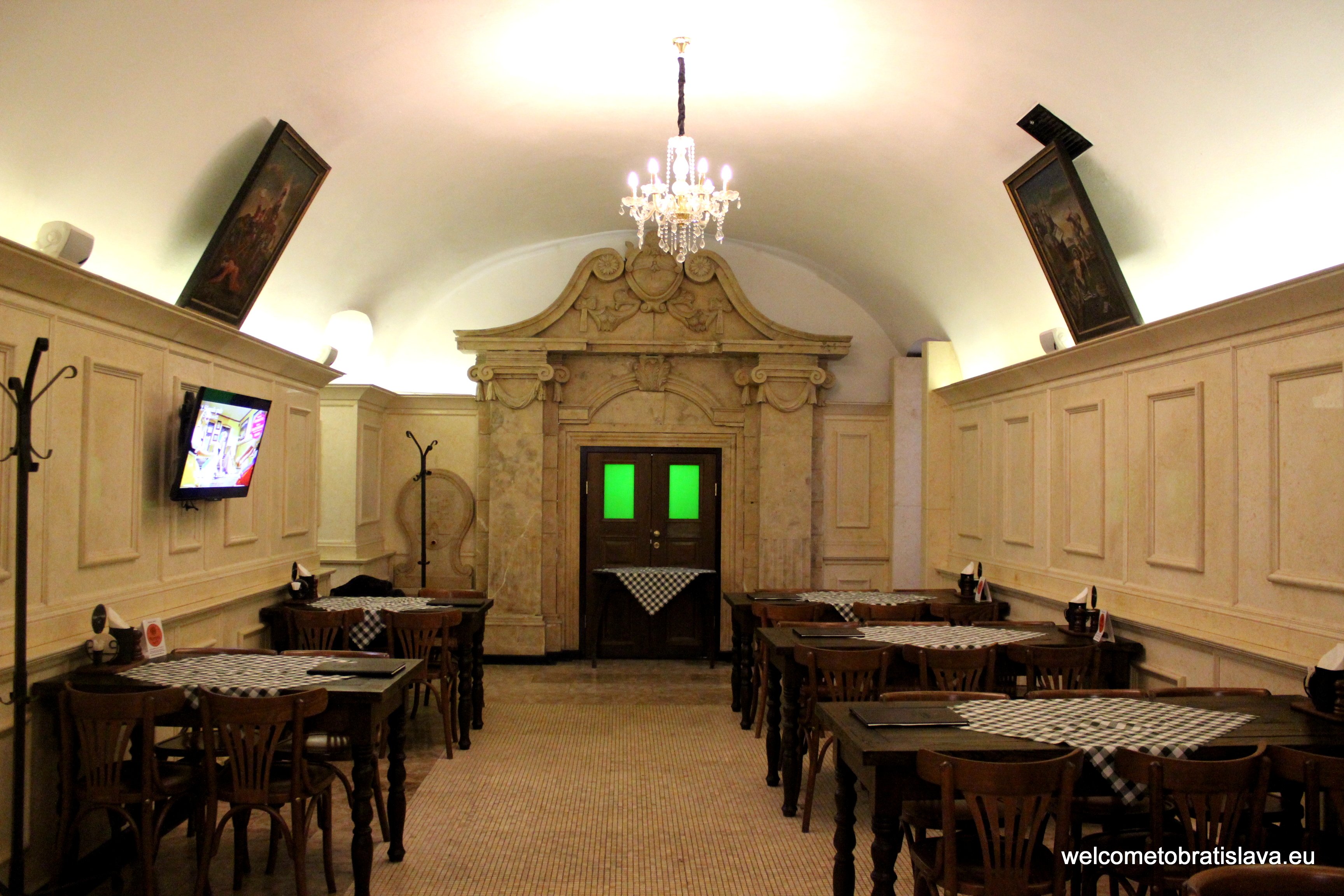 WHY IS MONASTIC BREWERY SPECIAL?
If you are lucky and do not come during the peak time, you will get a warm welcome and an introduction speech from the main waiter. He knows about this pub a lot and does not hesitate to share it with you, be it history of the building, the brewing process, or whatever else you might be interested in. And yes, he even recommended us what to eat, and what better not to try from their menu :) Fair enough, isn't it? Just enjoy this attitude once it is offered, because it is unfortunately not common for the Slovak services.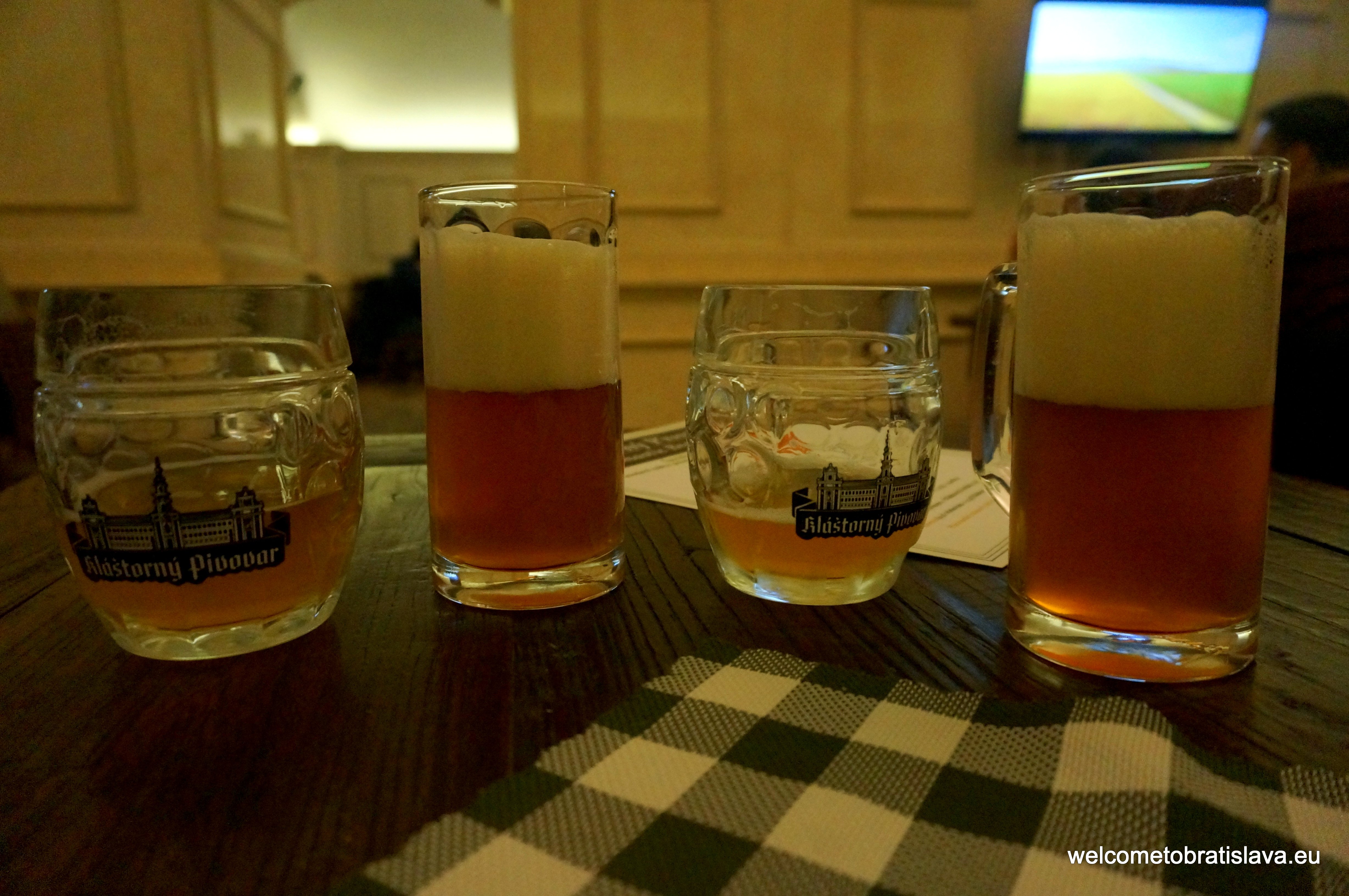 When it comes to drinking, it is quite easy as there is only ONE beer made here – their pilsner type Monastic beer 11°. In comparison to other beer places with a greater variety of beers, you might be a bit upset by this. We still recommend this place as one of the best beer places as its beer is really a good one. They brew it from the first-class ingredients without any additives. The first fermentation runs as in the past based on a traditional recipe – in open vats for several days and then the beer lies in stock tanks for 22 days. This means that the outcome is an unpasteurized living beer which is beneficial for our organism. The beer production is supervised by the longest serving brew master in Czech Republic who has a honorary place in the Czech brewing hall of fame.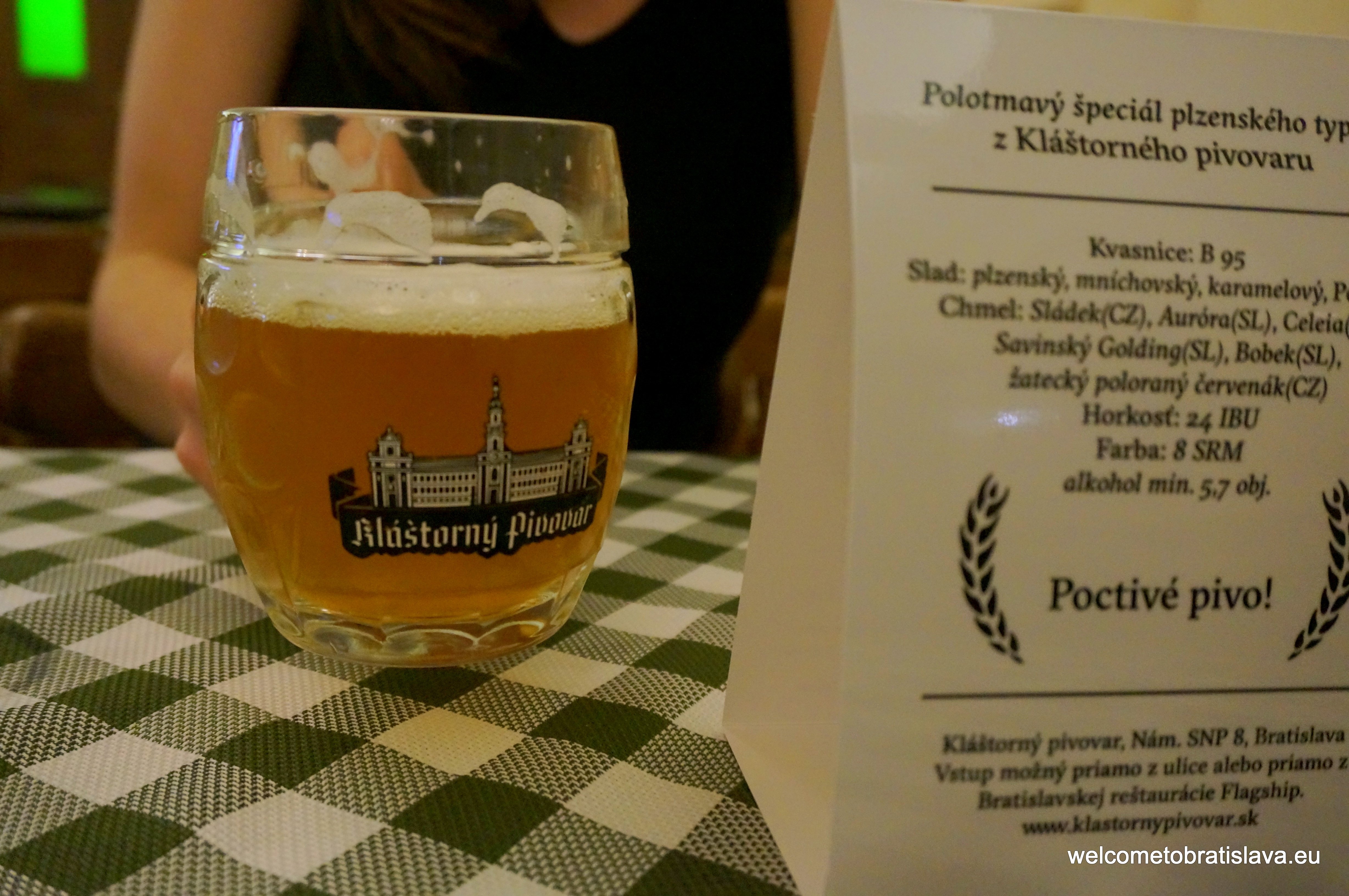 If you are very thirsty, you can get the beer in an one-liter mug. Note a funny little difference in prices before and after 18:00 –  well, everyone has its own go-to-market strategy.
WHAT TO TRY AT MONASTIC BREWERY?
You might have a hard time with ordering the food, as the selection is really wide and tempting. Just remember that almost all of the dishes are quite heavy. They serve mostly the traditional food but also vegetarians and those with a sweet tooth will find something.
For a starter, the sour bean soup with bacon bits is a good option. If you feel like having something traditional to go with your beer, try their homemade potato pancakes smeared with goose fat.
One of the non-meat options is this garden salad with grilled goat cheese and nuts. If you like meat though, you might go for the beef burger with cheese and bacon.
The fried anchovies with parsley and lemon are quite unique in Bratislava. The portion is very generous! The steak tartare is a good choice if you want to try something typical.
As a dessert, we really recommend these chestnut pastries with butter. They were delicious!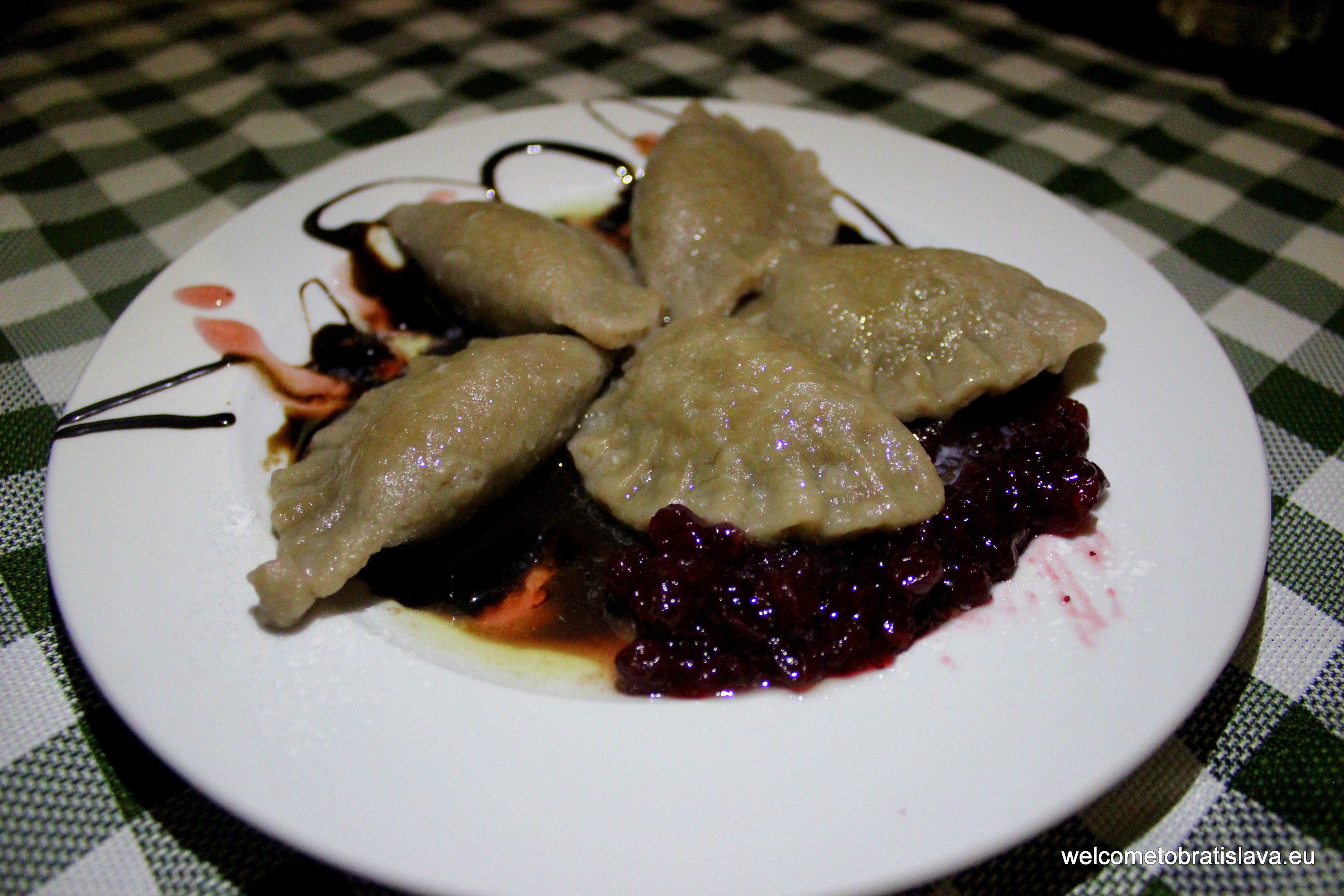 The menu is available in English and German language. During the workweek, there is also a special lunch menu, for friendlier prices of course. However, the prices are very reasonable also in the evening hours. Monastic Brewery is part of the BARtislava Group which also includes Slovak Pub, Flagship restaurant and Biofarm in Stupava. 
Special tip: enjoy popular food and beer pairings at a well-loved local brewery!
Author: Eva Latakova

 ADDRESS: SNP Square 8


 OPEN HOURS: Check the Facebook site


CONNECT: Facebook. Web


 MAP LOCATION: