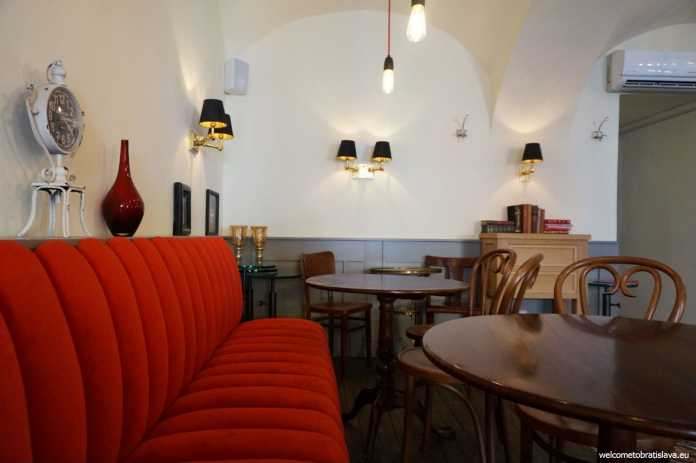 The place with the best macarons in town! Sweet treats of all kinds but also healthy options of meals are offered in this French style cafe in the center of Bratislava. Watch the bustle of the outside world from behind its huge windows or enjoy your time on the wide terrace. Mondieu belongs among favorite spots of locals and tourists for a reason.
LOCATION
Mondieu's first branch is located in the very heart of the historical center, on Panska Street. It is housed in a corner building and has terraces which are spread along its sides, creating a right angle. Its second, third and fourth branch are a few meters from Panska, on Laurinska Street. They have spacious terraces too. Their fifth branch is in the Bory Mall shopping center. The sixth branch is located in the Zuckermandel area on Zizkova Street.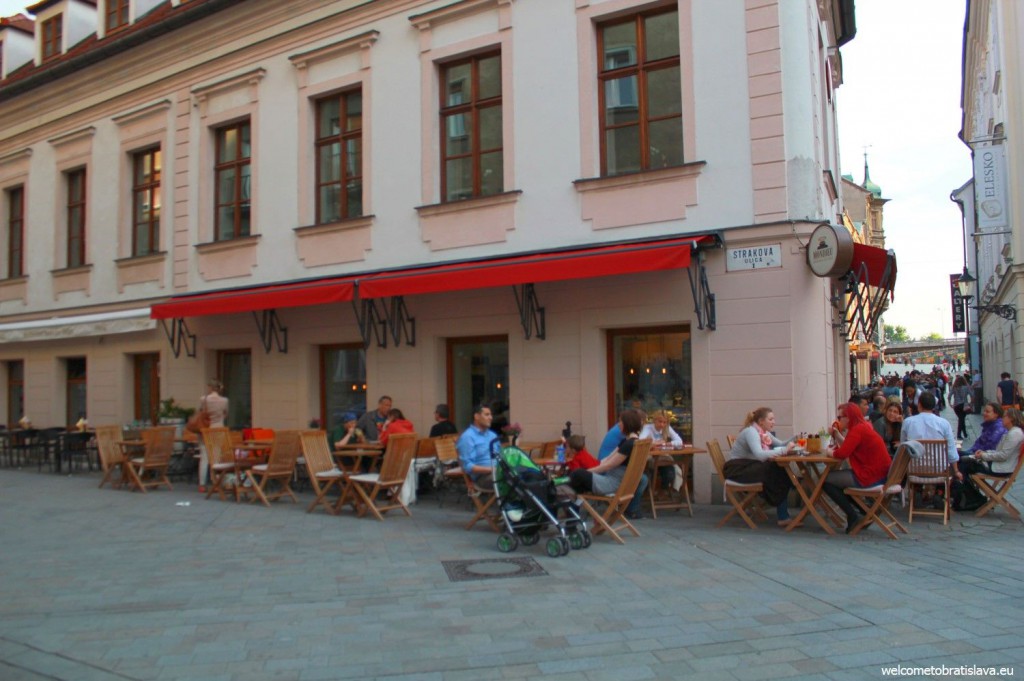 THE INTERIOR
Let's start with the original Mondieu on Panska. Even though the terrace is great in summer, we really like the comfortable interior of this place. The main bar with all the wine bottles, the dim lamps, the flowers on the table, the boards on the wall.. it all reminds us of French bistros. You get to feel cosy in here.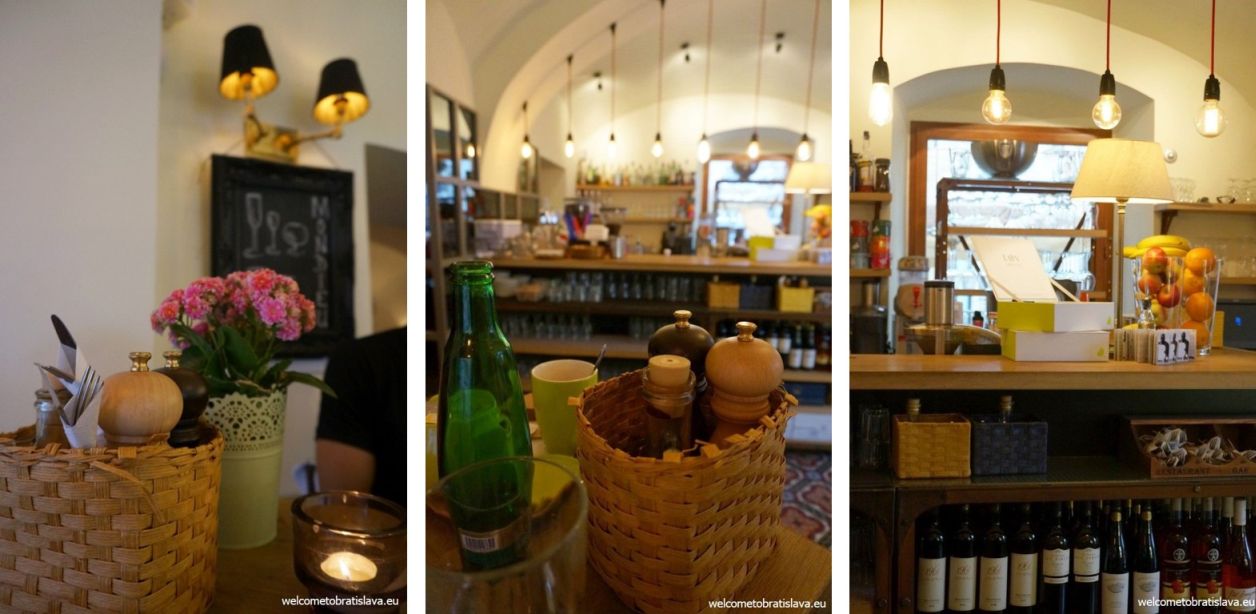 This is the first room you get to when you enter. There are only a few tables but the good thing is that they are set right next to the big French windows so you get to have a good view on the outside terrace.
There is another room as well. The room in the back feels more modern and offers more chances to hide at. We like the huge red sofa from which you also get a good view on the rest of the cafe as well as outside.
Wooden furniture is characteristic for this place. The decor consisting of (again) dim lamps, vases and boards "painted" by chalk create that warm atmosphere which makes you feel like being at home.
Mondieu on Laurinska has two floors and a similar vibe, it offers more privacy given you can hide at the top floor – and still have a very nice view on the busy street.


(source)
The third branch is actually called differently – Laboratoire – and is on the Laurinska Street as well, just next to their other branch. However, the offer is very similar.
WHAT TO HAVE IN MONDIEU?
If we were about to mention one thing to remember about this place, it would be its macarons. Mondieu also has a breakfast menu which is served daily until 11:30. We recommend the healthy millet porridges which are fantastic! Heavenly taste and they are really easy to digest, you will not feel too filled even if you manage to finish the whole plate :)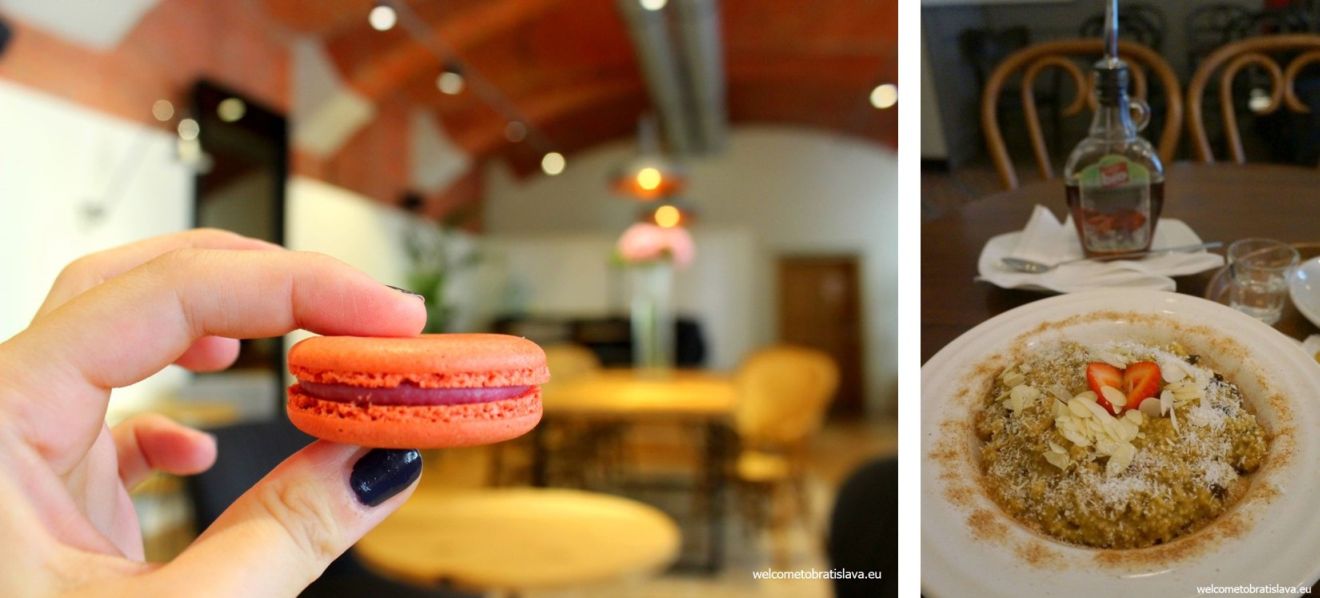 Their breakfast menu includes the standard things: a croissant with ham & cheese (looking ordinary but tasting OK), and you can have the sweet version with marmalade as well. They have toasts with ham & cheese as well which come with a small salad, and you can also have a bowl of musli with yogurt or eggs in various ways.
If you are a coffee freak, you will be able to choose from a variety of coffees. The picture on the left displays our experiment with a so-called "caffe freddo". We had a raspberry one and also tried the baileys flavor. They were both very tasty – but very heavy. If you want to have a cake with your coffee, have something smaller and less rich, this coffee itself is quite a dessert :) Mondieu has a big selection of teas – organic, too. And of course, you can have a cup of hot chocolate as well.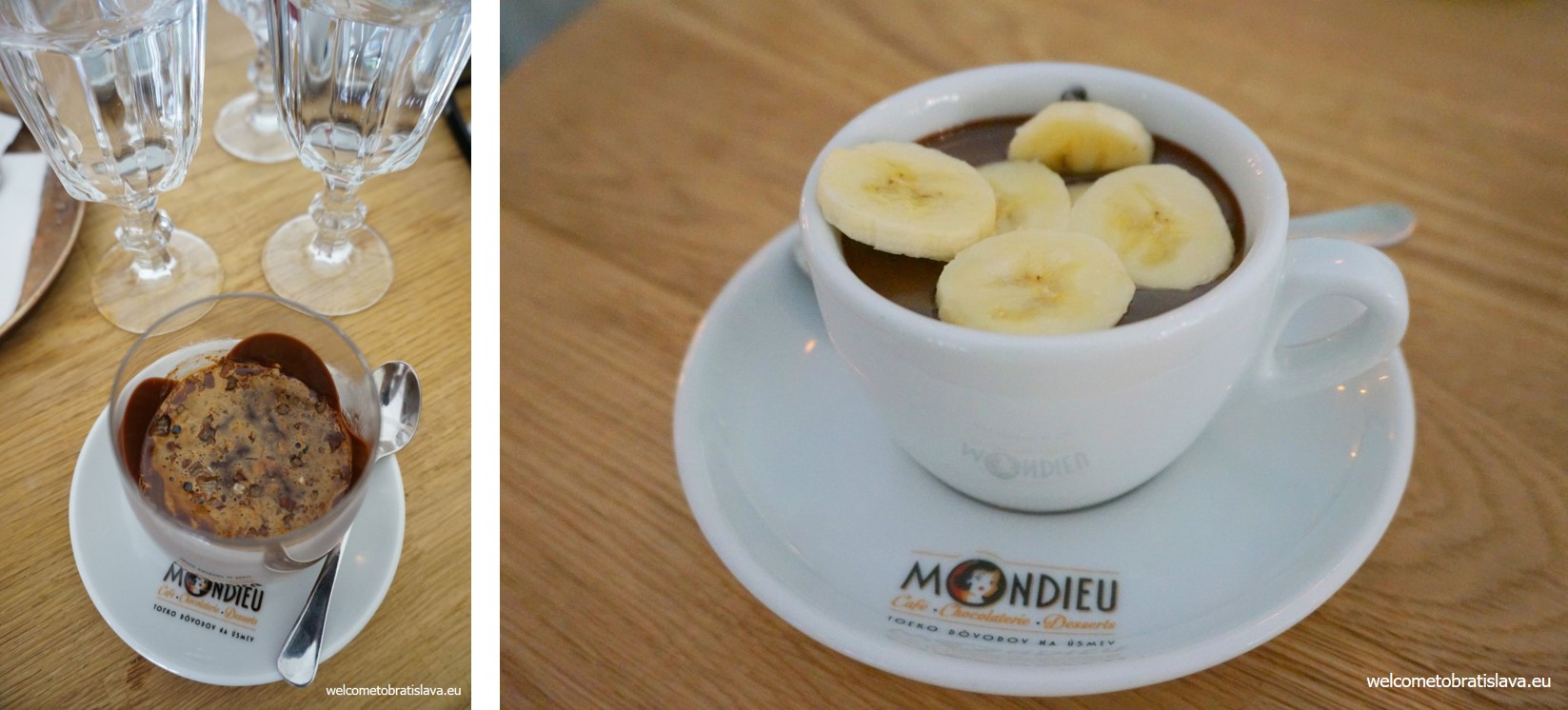 What we also need to highlight about this place is their raw cakes. The cherry & poppy seed one and the lemon one were tasty enough to go back and have them again.
We would not recommend the pancakes though, unless you are not too demanding. The taste of the chocolate pancake we tried was very ordinary, nothing special. It was OK-ish. But the cocoa one filled with mascarpone and fresh strawberries was tasty – and super big! What we appreciate is that you can have your pancake prepared from bio spelled flour and bio rice milk (but you need to tell the staff prior ordering). If you want to have an unforgettable pancake experience, go to one of these places.
Those who prefer fresh juices or lemonades, will find an option, too. Are you an ice-cream lover? In three Mondieu branches (Laurinska 4, Laboratoire and Bory Mall)  you will also be able to taste healthy vegan ice cream!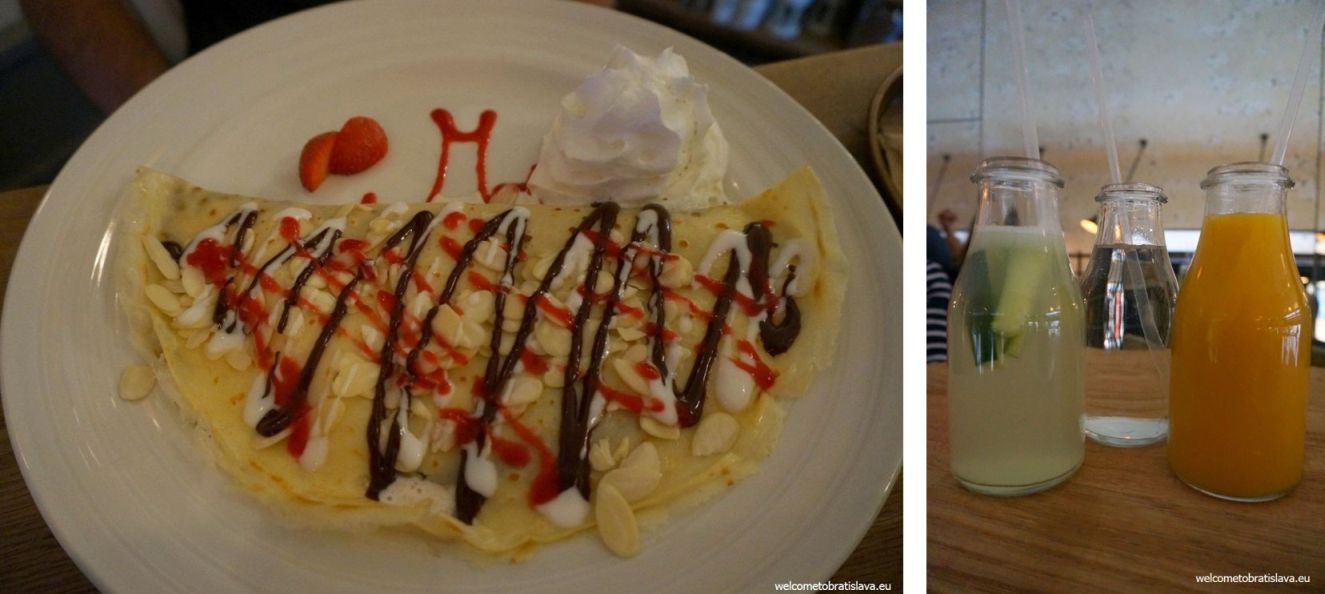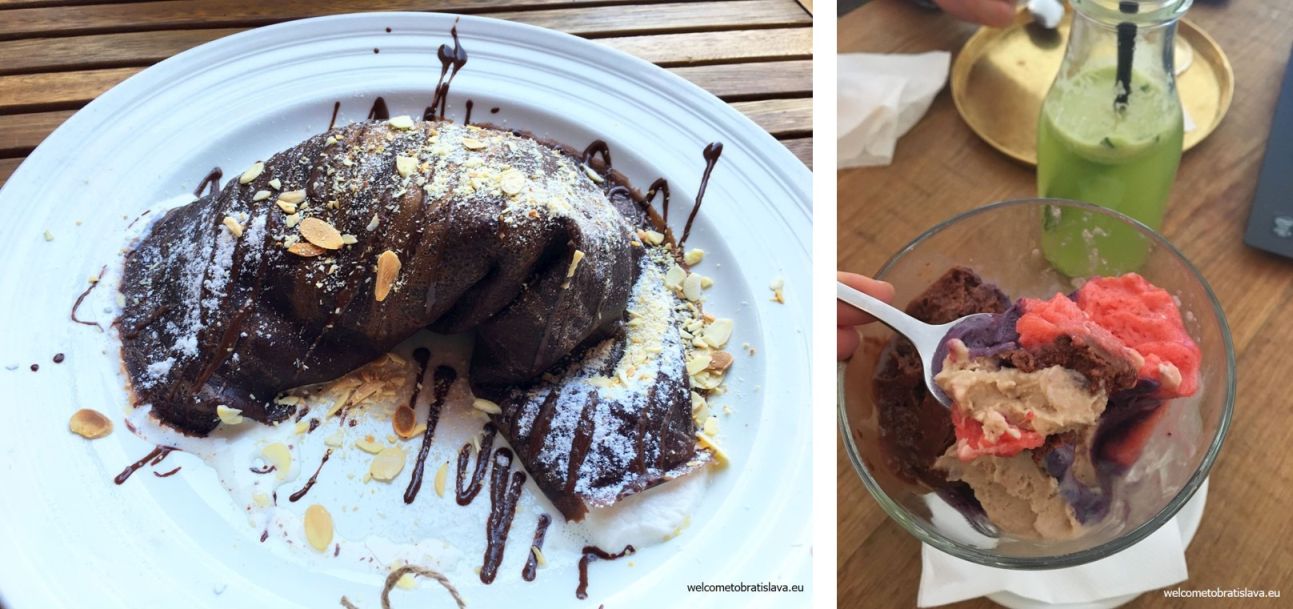 Mondieu has a big selection of sandwiches, from the ones we had we can say they were tasty. Their salads try to look like very extraordinary and very healthy – something for those who search for fit meals.
We tried their quinoa salad with asparagus, olives, feta cheese and green beans. The expectations were probably too high because unfortunately we did not like it. The combination of chosen ingredients tasted strange. But you can give it a try. The versions with prosciutto and melon as well as goat cheese were however very nice.
Mondieu is a very nicely looking place, with tasty sweets (remember the macarons!) and enjoyable atmosphere. We like to visit it even though it is a bit overpriced, compared to other coffeehouses in the center. We must say we used to be disappointed by the staff behavior in the past because the personnel was far from friendly but they have changed some people recently so finally some guys serving you look like they actually enjoy their job. Good for you and good for them :)

OPEN HOURS: Check their website


ADDRESS: Panská 27, Laurinská 7, Laurinská 3 (Franchisé NO. 1), Laurinská 1 (Laboratoire), Bory Mall Shopping Center, Žizková 17 (Mondieu Espress, Zuckermandel)


CONNECT: Website, Facebook


MAP LOCATION:

Author: Maria Kecsoova