This museum is a collection of objects that document a 900 year old history of the national minority Carpathian Germans living in Slovakia. Photographs, clothing samples, tools and utilities people used in the past are interestingly displayed in cabinets and give a nice and colorful picture of the life and evolution of the "Slovak" Germans living in our country.
LOCATION
The Museum of Carpathian German Culture is located at the foot of the Bratislava Castle in a Renaissance building from 16th century. The easiest way to get there is to walk from the New Bridge. It will take you not more than 10 minutes and you will have a walk with a great view on the UFO bridge and Castle along the way.
Walk from the New Bridge along the Danube bank until you get to this pedestrian line. Cross the road and go straight. You will pass by an old pension which is out of use. Turn left to a small street.
A long green building is the official seat of the museum but the main entrance is through the exhibition pavilion Podhradie at Žižkova street 16 (a few more meters further).
WHAT TO SEE IN THE MUSEUM OF CARPATHIAN GERMAN CULTURE?
When you enter the main door of the building, buy the ticket at the reception which is behind the left door and then return to this corridor and head to the end – there will be a small glass door with a bell to ring. No kidding. You need to ring the bell and after you hear a "yes?" from the doorbell machine, say you are about to enter the museum and the gentleman on the other side will open the doors for you. We are not joking :D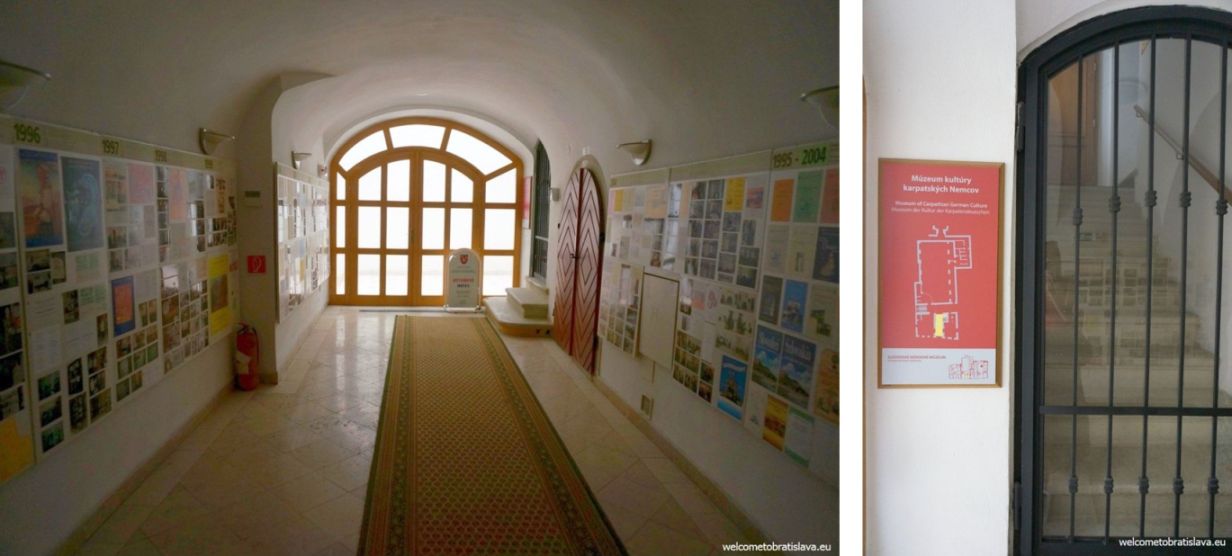 Walk the few stairs up and you will arrive to a small corridor with documents and maps hanging on its walls. There are two rooms on each corner. Before you enter them, you can read about the settlement of Carpathian (=Slovak) Germans on our territory. There are also samples of ceramic arts and everyday life objects such as shoes and working tools exposed in one cabinet.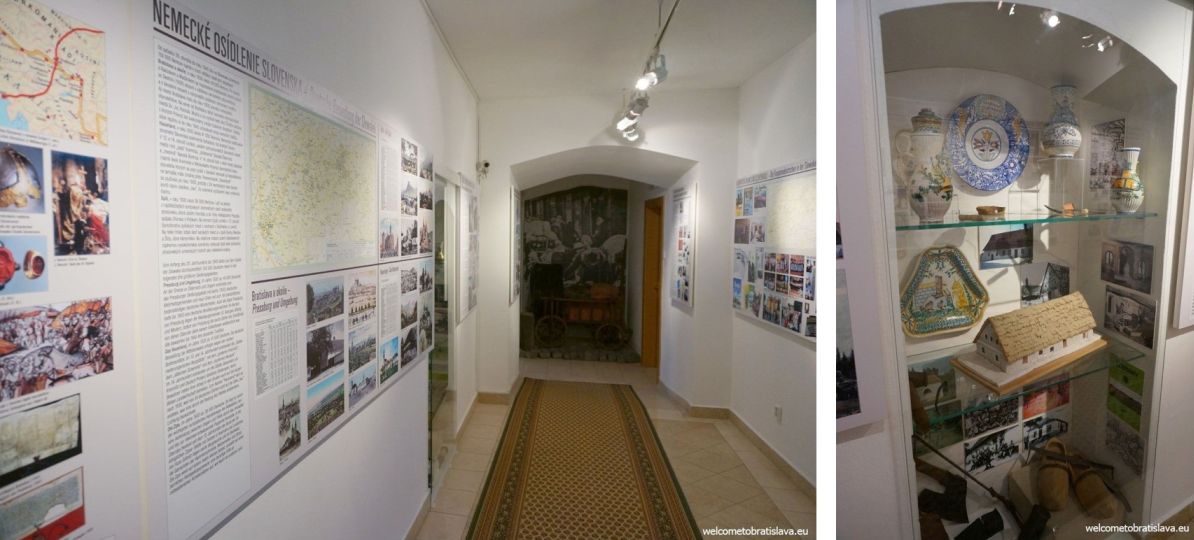 In one of the rooms you will see photographs of a family tree and working men, but also many items that were used by people in households or out on the fields.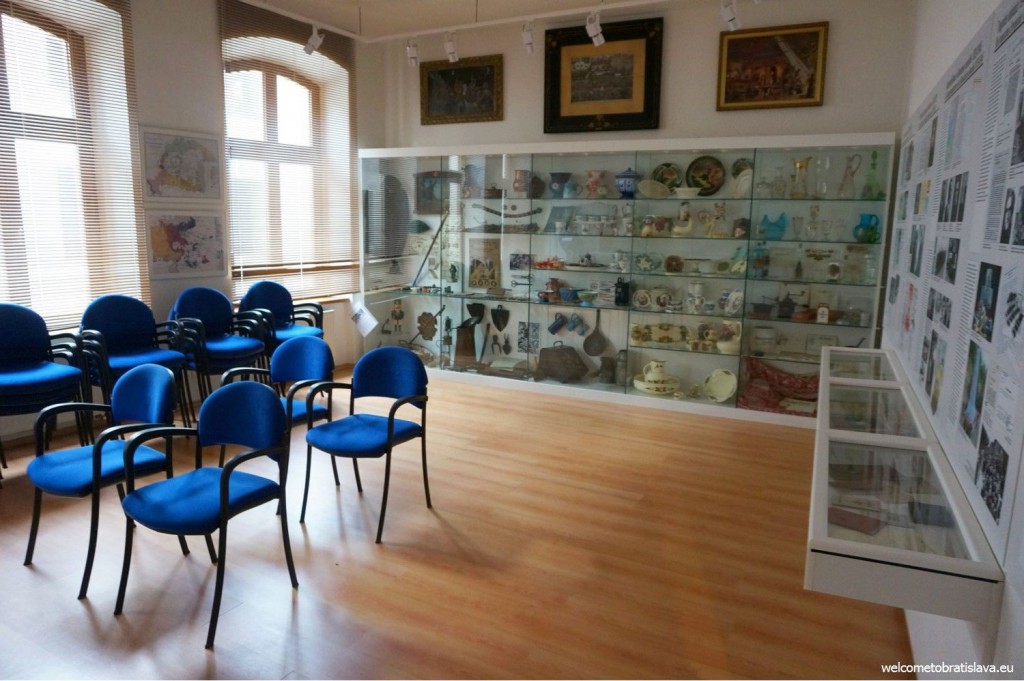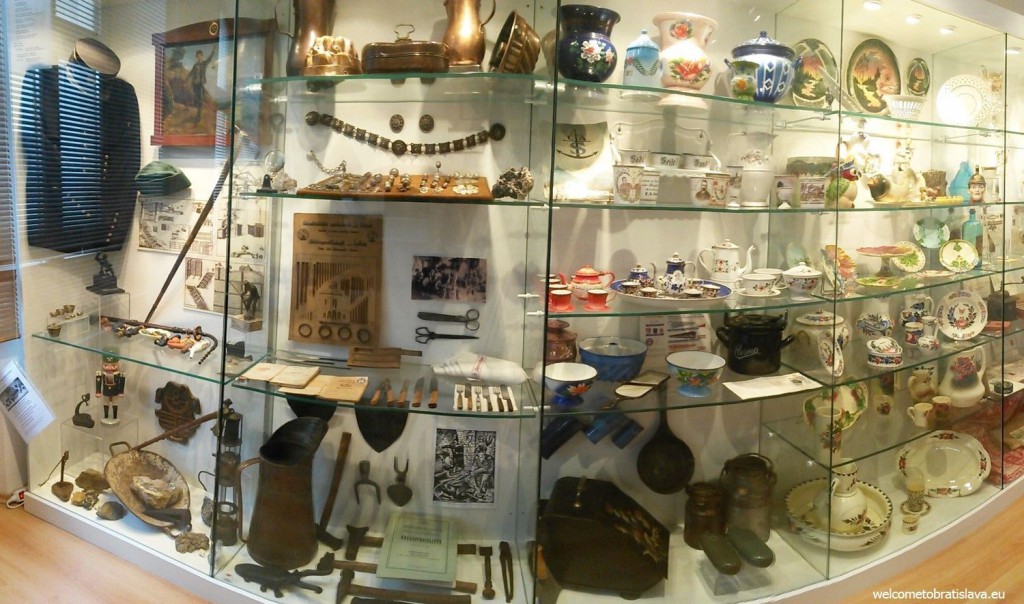 You can have a look at the old documents and papers documenting the political life of Carpathian Germans during 1918 and 1938,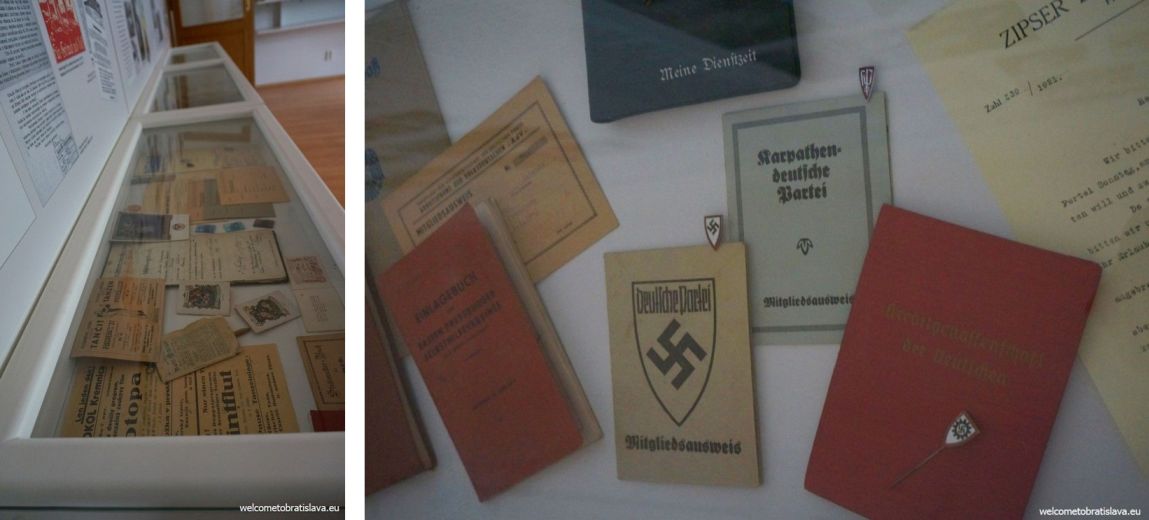 you can admire the ceramic dishes and glasses
or see how coffee was milled and stored. The white jar on the right picture below is the very first collected object of this museum and was used for storing cottage cheese. How do we know? There is an older guy who will walk you around the museum and likes to talk, talk and talk :) We are afraid though he can't speak English but you might get by with your German. One black point of this museum is that it has no English descriptions available – everything is only in Slovak and German. They should have some English book guides though if you insist on visiting this place.
Some German newspapers are also available to read – you will find them on the table near the main door.
The second room has some more things to show. Two tall showcases display and example of bourgeois clothing and interior, baby dolls, trays, cups and jars used in kitchen and you will also find wooden cutlery here.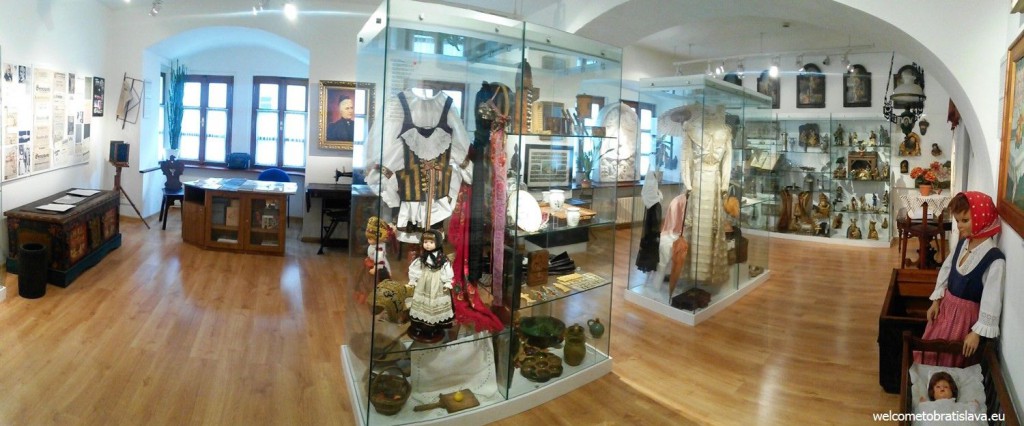 The school system of the minority group is presented through various booklets, boards and stationery.
Examples of newspapers written in German language, such as the "Karpathen Post," are hung on one of the walls. If you want to know more about the history of the Carpathian Germans in Slovakia, there are some booklets to purchase, too.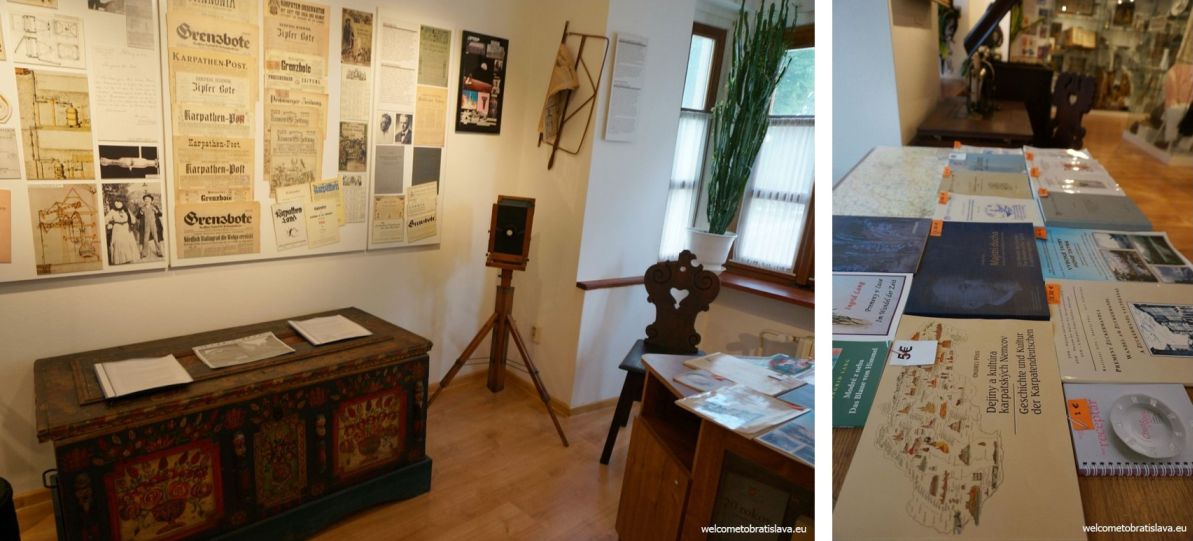 Paintings, a sewing-machine, a gramophone, cameras and other objects in the room, they all document the 900 year long history and culture of Germans in Slovakia.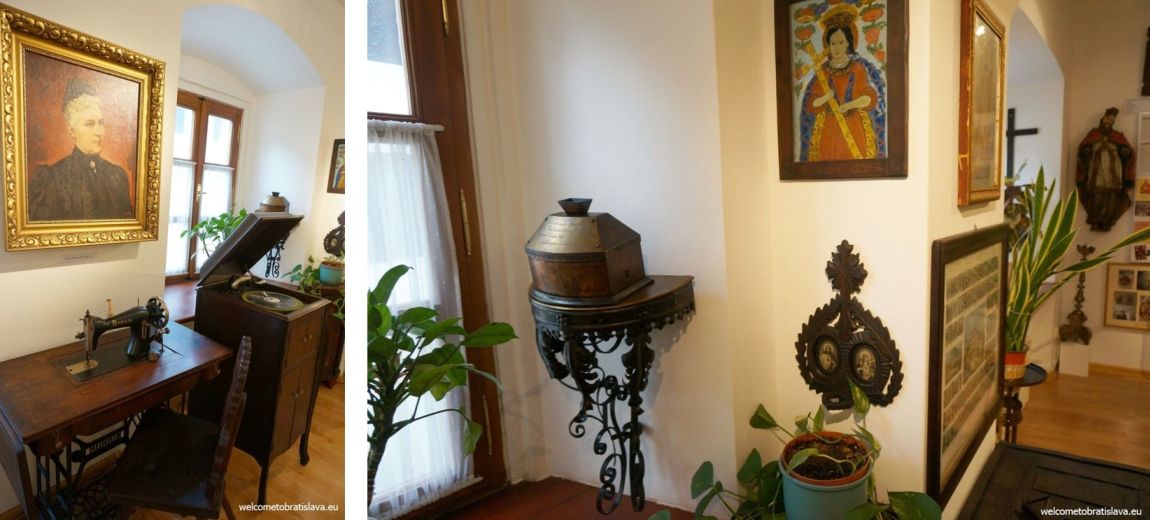 An older lady with a broom, a mother with a child in a cot and part of the room furnished as if it was a living room.. this all is also part of the exposition.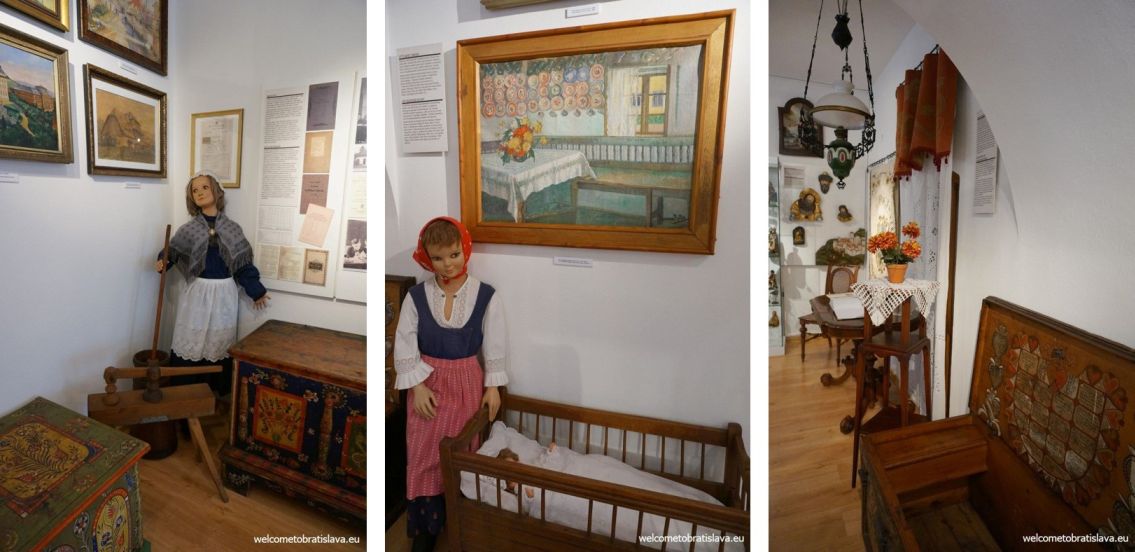 We found interesting these sacral objects, especially the home altar to which the people used to pray (left picture).
The overall feeling of the whole museum was good to us. We must admit though that it was partially because of the guy who explained a lot about the history itself as well as gave us some interesting stories. We can imagine that if you don't speak Slovak or German, you might have a different experience. Maybe give it a try and leave a comment about how it was! :)
If you are eager to visit all the museums of the Slovak National Museum, we suggest to buy a joint ticket for 10 €. It will entitle you to visit permanent and temporary exhibitions in these additional museums: Natural History Museum, Museum of Jewish Culture, Music Museum, Archaeological Museum, Museum of Hungarian Culture in Slovakia, Museum of History (Castle) and Museum of Croatian Culture in Slovakia.
Author: Maria Kecsoova

OPEN HOURS: Check the official site


TICKETS: 3 € per person – valid also for other 3 museums on Zizkova street: Museum of Hungarian Culture in Slovakia, Music Museum and Archaeological Museum


ADDRESS: Žižkova 14 (but entrance through Žižkova 16)


CONNECT: Website


MAP LOCATION: