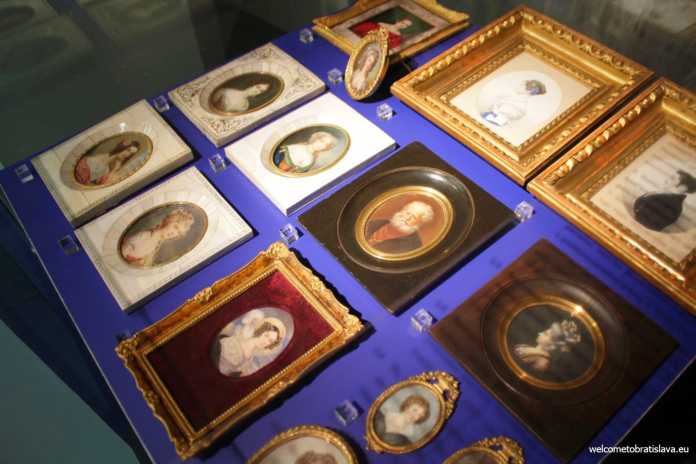 This is the oldest museum of Bratislava, documenting the history of the city from the Medieval ages including the history of crafts and trade, coronation ceremonies, science, technology, culture, sacral arts, nobility life style, national revival and industry development. It is housed in the Town Hall Tower which you need to visit for an amazing view on the Main Square, the castle and other important sights.
LOCATION
The Museum of City History has its place in the city center and you can enter it either from the Main square (Hlavne namestie) or Primate's square (Primacialne namestie) where the Primate's Palace stands.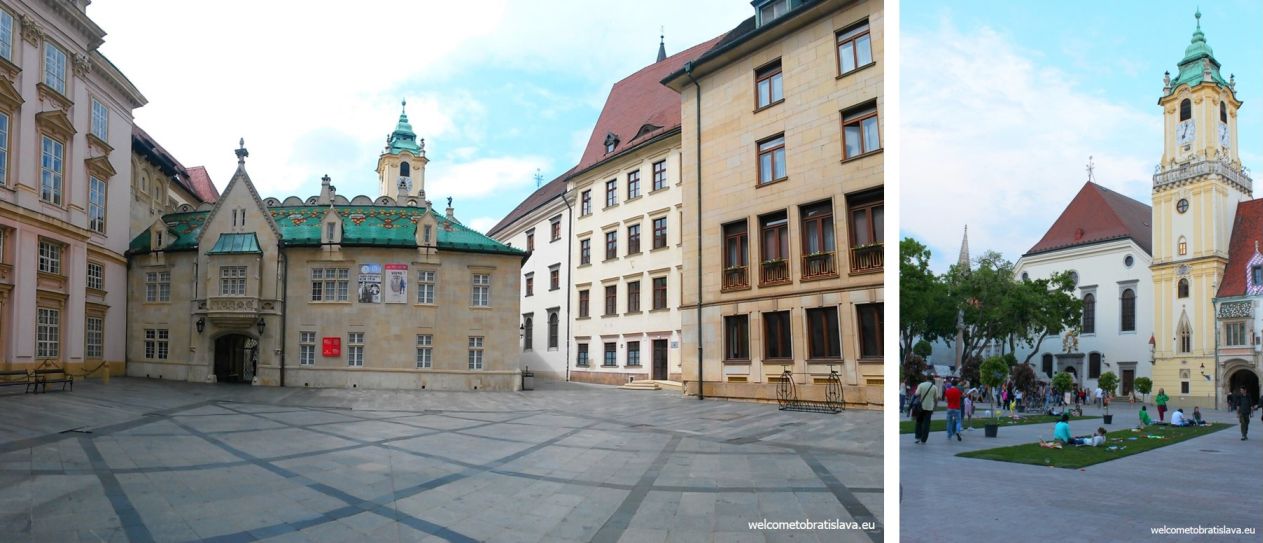 When you walk inside the building, you will find yourself in a small courtyard with two different entrances. The main museum's entrance is on the left, on the opposite site there is a hall with temporary exhibitions which change regularly.

INTERIOR
This town museum was founded in 1868 so no surprise it breathes history. You will find stone staircases, symbolic statues and narrow passages here.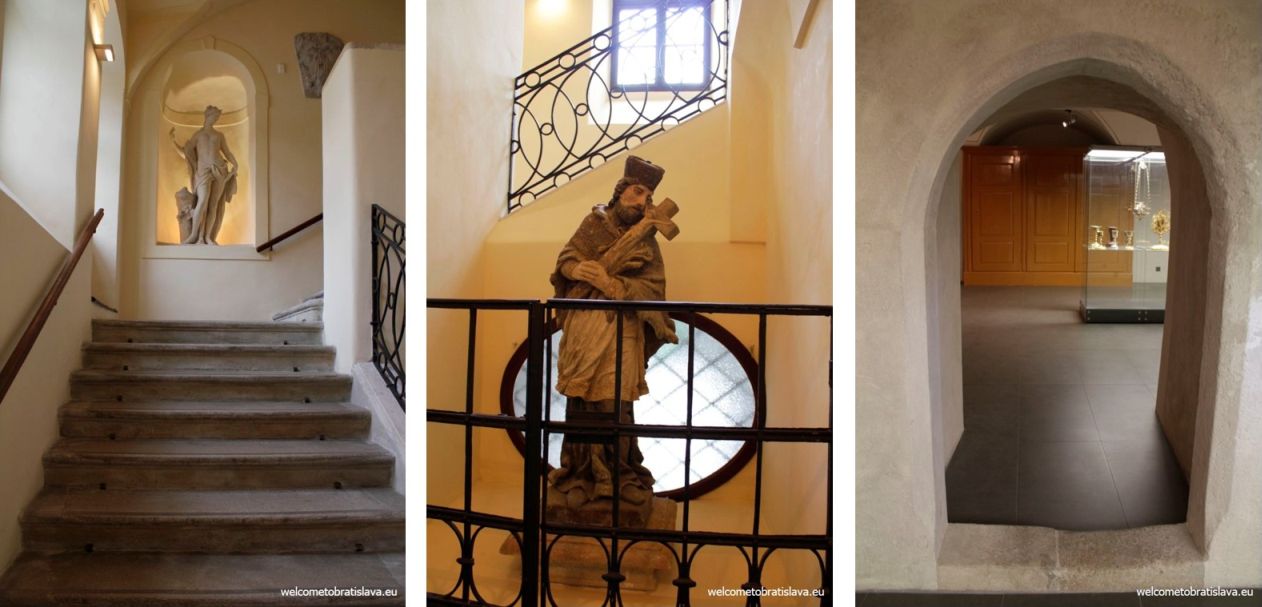 WHAT TO SEE IN THE MUSEUM OF CITY HISTORY?
On the ground floor you can admire the exposition of sacral fine arts and artisanal crafts.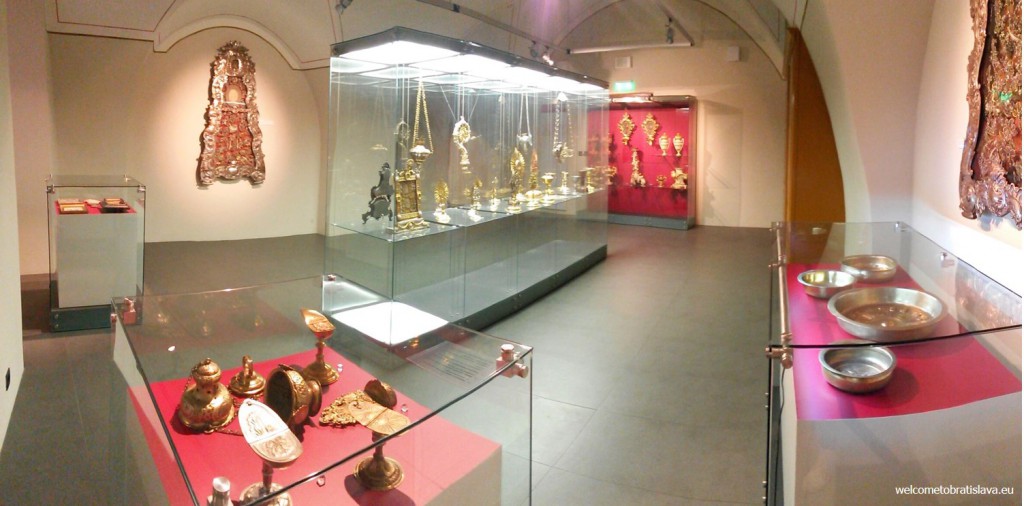 On the second floor there will be a two-way. We recommend to first go right and start with the walk up to the Town Hall Tower. You will get to see a view like this and can take a lot of beautiful pictures :)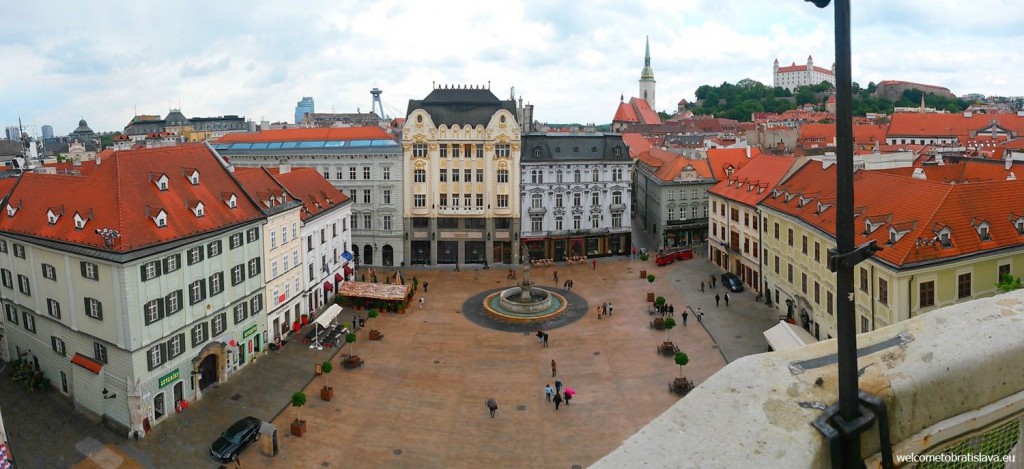 When you walk back and continue with the exposition, you will arrive to a so-called Archive room which is the museum's oldest display.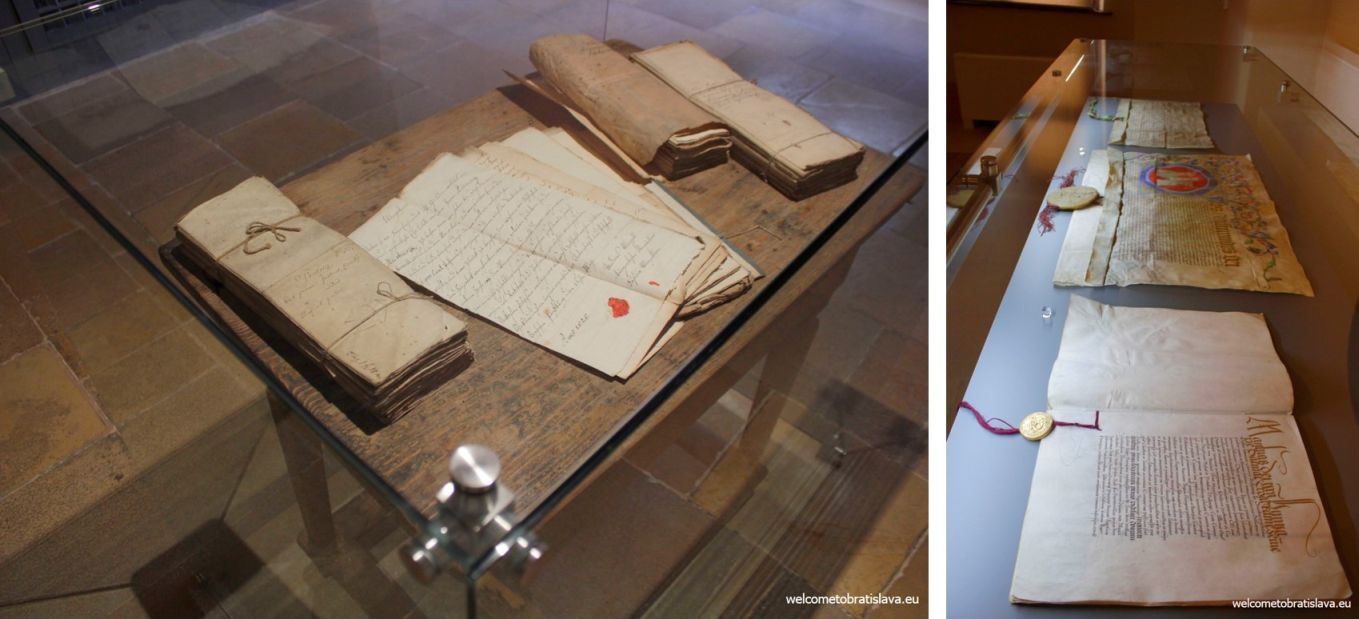 Next door is the Hall of extended municipal council. When we first came here, we could not stop looking at the colorful window glasses that create a picturesque look on the Main square and the castle :)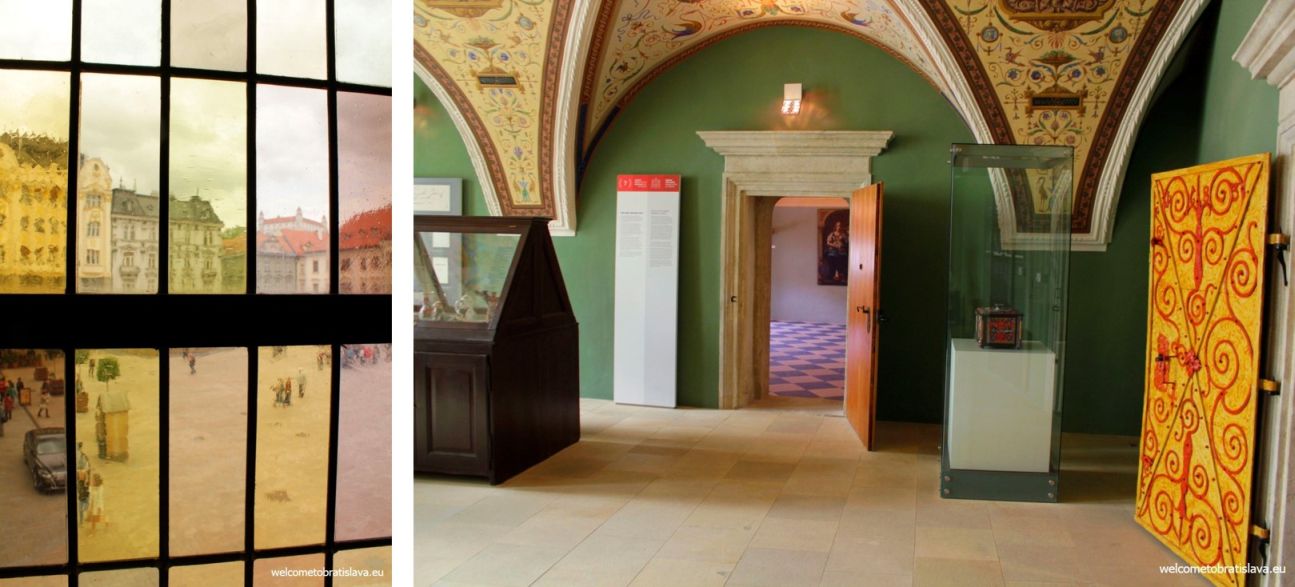 Our other favorite room in this museum is called Court House which is your next room to pass. At first sight you only admire the beautiful pin & gold ceiling that looks like copied from a church. Then however check the doors which you need to take next – they are "hidden" in a large wardrobe which when closed, you don't even see :) It used to be a secret way for judges in the past – people who were present at the court did not know about it.

Behind that door there is an entry to the Council Hall which was constructed from the former St. Ladislaus' Chapel. You can still see the key-stone above the altar which have survived up to the present.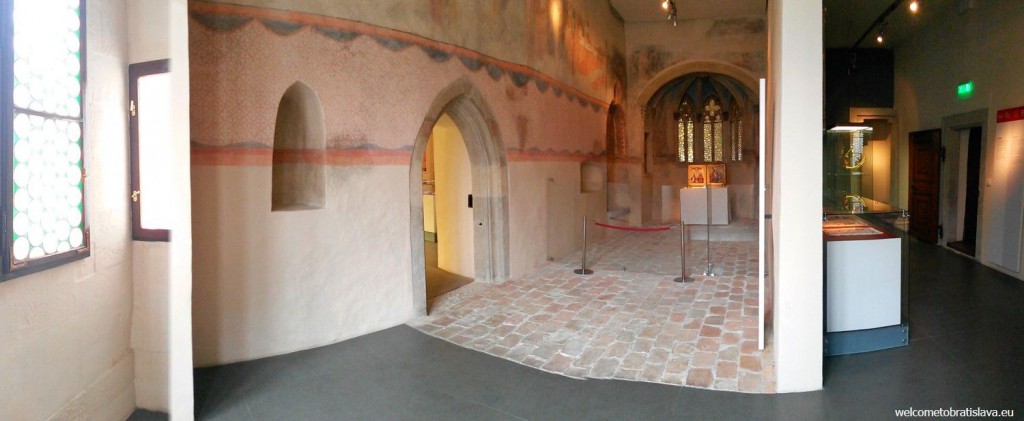 Go through a small "Room in the tower" to get to the Town Administration exposition. Here you can have a look at various blazons, historical documents and flags.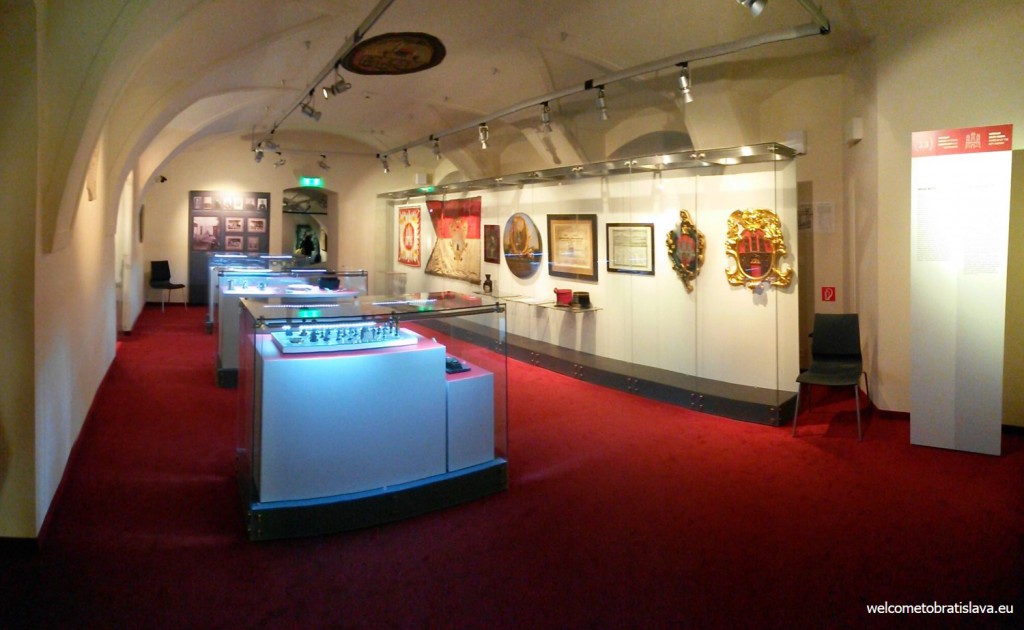 What you might appreciate from this room on is that there are touch screens almost in each one so you can read about the display and better understand what you are seeing.
What kept our eyes in the following room (which we like to call the blue room) are the big shooting targets that have portraits painted on them. Accessories used during the coronation times, photographs and jewels from that period are displayed here, too.
A few steps further the Aristocracy room can be found. Samples of clothes worn by aristocrats who came to settle in Bratislava from 1740s on are exposed here, along with some jewels and photographs, too.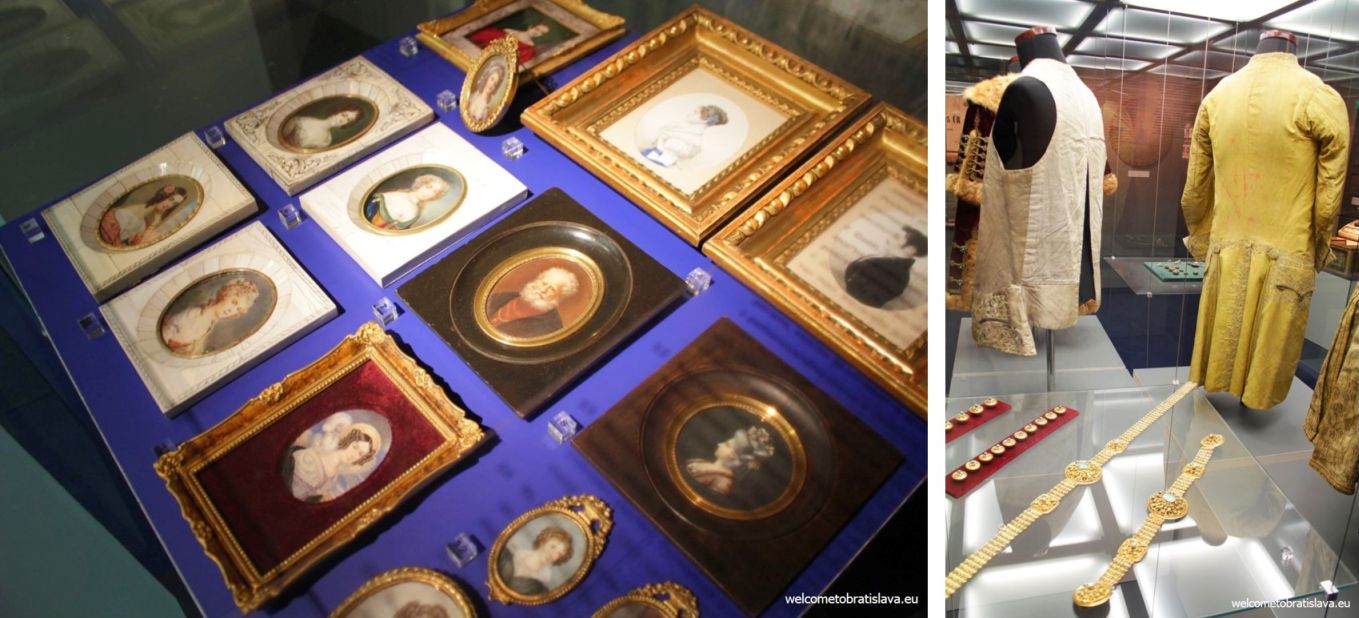 Bratislava that used to be called Pressburg was for a long time one of the most important craft centers in the Hungarian Kingdom. "Crafts and guilds" is thus the name of what you can find in the next room.
The next room called Trade is also one of our favorites – full of samples of goods that used to be present at regular markets and fairs, such as various kitchen containers, bottles, boards or also an ancient silver cash register :)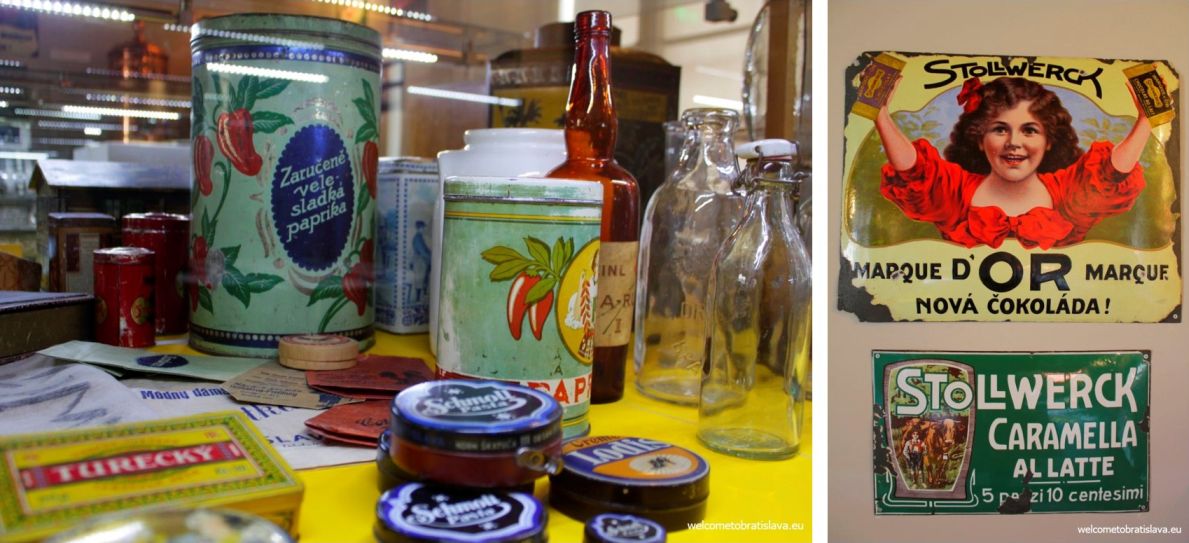 The Industrial room shows tools that were used in workrooms as well as examples of manufactured goods and shops' signs.
One of the cutest rooms is named Private Life. A wedding dress from muslin and a wedding suit, both from around 1940s, are to be found here, as well as various congratulations cards, ceramic dishes or old family photographs.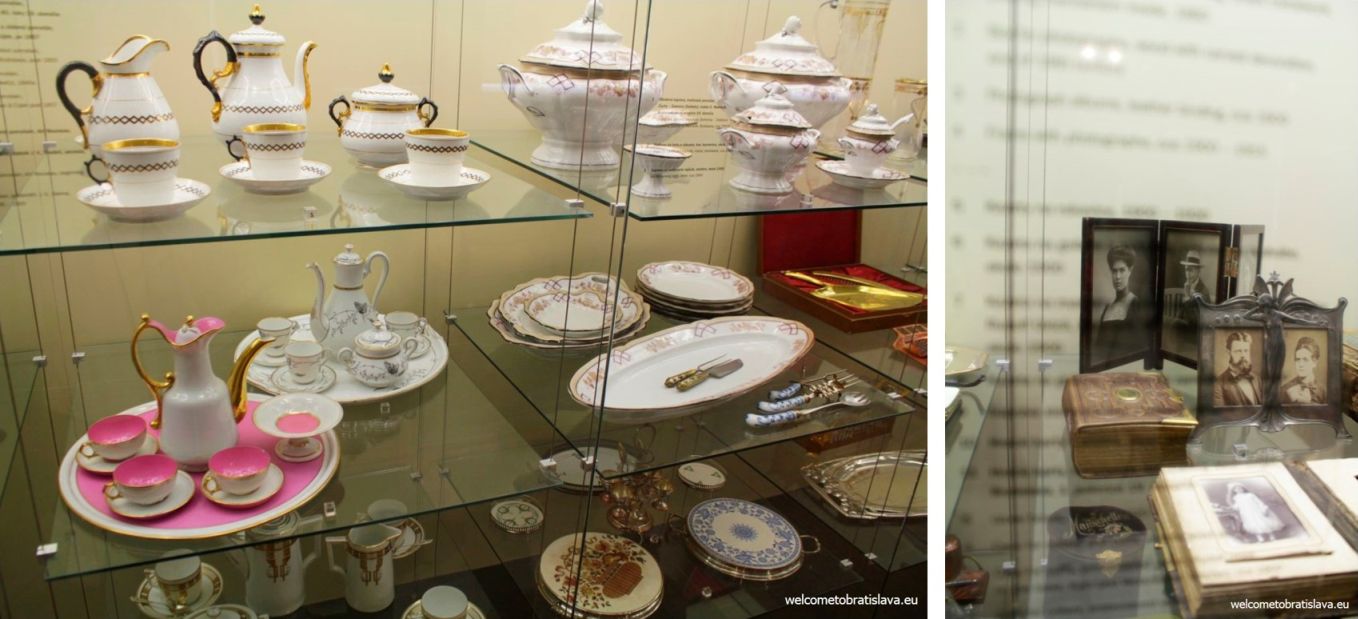 After you pass a small room displaying globes and maps, you will find yourself in one of the last rooms where historic documents and handwritten books are exposed.

The very last room of this exposition has its walls covered with old newspapers and serves as a small cinema. You can sit on the red chairs and watch movies about Bratislava's history that are screened on the opposite wall.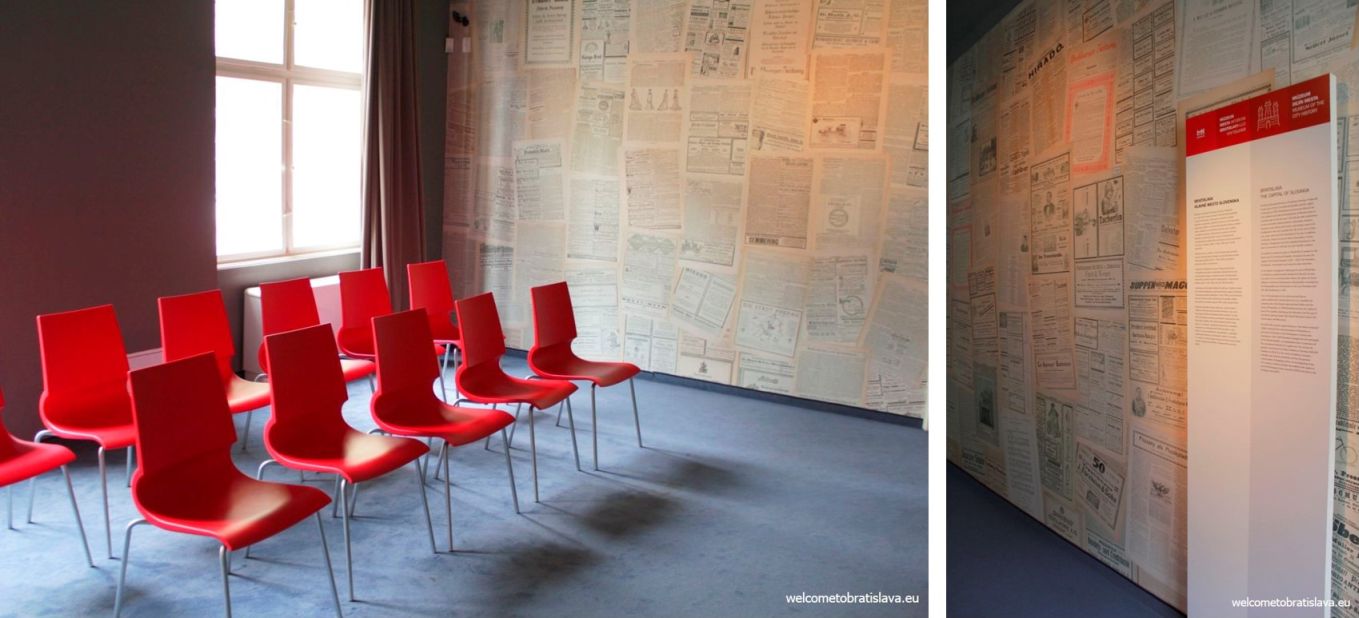 When you leave this room, you will get to a door which will lead you to an outside walkway. Take this cute "tour" around the terrace and take some good pictures about the courtyard and the Town Hall which you can see from here.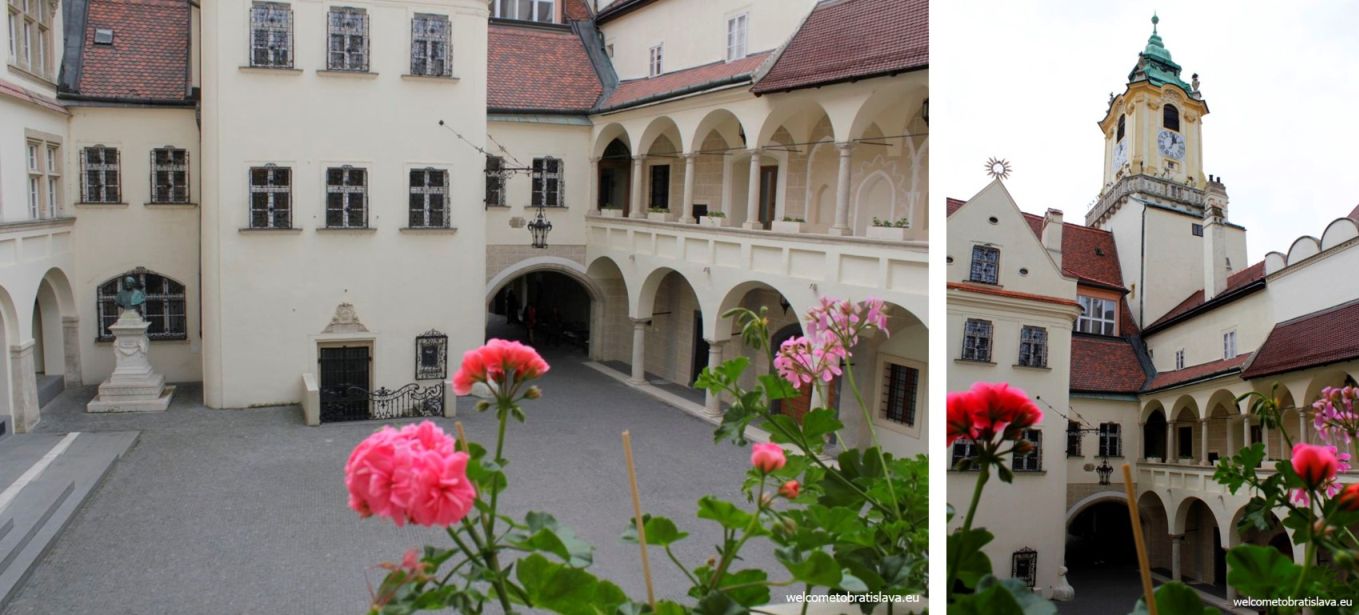 That's where your visit at the Museum of City History ends :) You can also check what temporary exhibition is held on the opposite entrance of the museum – usually they are worth of spending those few extra minutes :)
Author: Maria Kecsoova

OPEN HOURS: Check the official site


TICKETS: 5 € per person / 6 € if you purchase a combine ticket which is valid also for the Apponyi House (Museum of Viticulture and Museum of Period Rooms) / 1 € if you only want to walk up to the Old Town Hall


ADDRESS: Radničná 1


CONNECT: Website


MAP LOCATION: