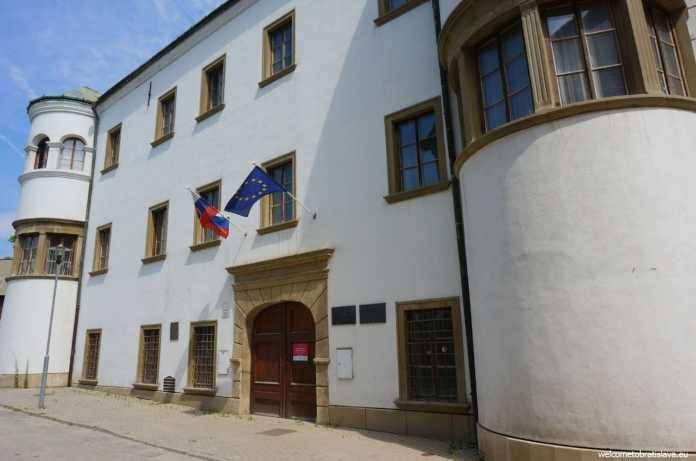 Items which represent the history, life and traditions ​​of the Hungarian ethnic minority living in Slovakia are exposed in this museum. It is actually the biggest ethnic minority living in our country. You can admire more than 600 collection objects here, which document etnography, art history, literature as well as spiritual culture of Hungarians in Slovakia.
LOCATION
The Museum of Hungarian Culture is located at the foot of the Bratislava Castle in a Renaissance building from 16th century. The easiest way to get there is to walk from the New Bridge. It will take you not more than 10 minutes and you will have a walk with a great view on the UFO bridge and Castle along the way.
Walk from the New Bridge along the Danube bank until you get to this pedestrian line. Cross the road and go straight. You will pass by an old pension which is out of use. Turn left to a small street.
A long white building is the official seat of the museum but the main entrance is through the exhibition pavilion Podhradie at Žižkova street 16 (just next to it).
WHAT TO SEE IN THE MUSEUM OF HUNGARIAN CULTURE?
Unfortunately there is no permission to take pictures, so we can't show you what it looks like – but if you click on the link below (the official website of the museum), you will find them there. Basically there are 5 rooms which you need to visit. Different types of clothes, Christian gadgets such as crosses or stoups, ceramic dishes used in households, tools used for farming like shepherd's whip, stick or a trumpet, too, are exposed there :)
If you are eager to visit all the museums of the Slovak National Museum, we suggest to buy a joint ticket for 10 €. It will entitle you to visit permanent and temporary exhibitions in these additional museums: Natural History Museum, Museum of Jewish Culture, Music Museum, Archaeological Museum, Museum of Carpathian German Culture in Slovakia, Museum of History (Castle) and Museum of Croatian Culture in Slovakia.
Author: Maria Kecsoova

OPEN HOURS: Check the official site


TICKETS: 3 € per person – valid also for other 3 museums on Žižkova street: Music Museum, Archaeological Museum and Museum of Carpathian German Culture in Slovakia


ADDRESS: Žižkova 18 (but entrance through Žižkova 16)


CONNECT: Website


MAP LOCATION: