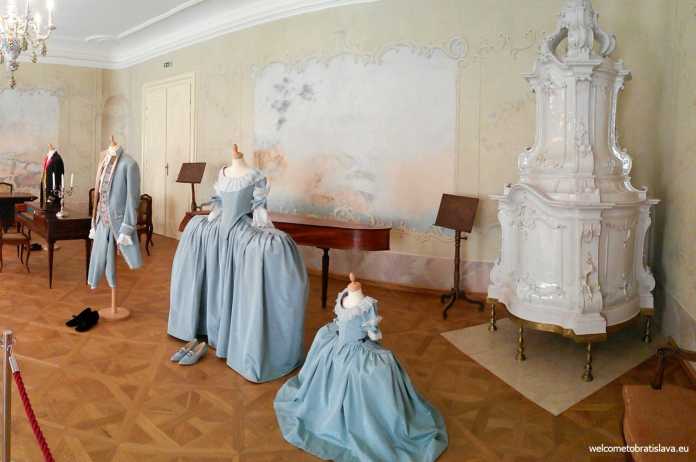 Rococo style, fine art, aristocratic interior, period furniture and accessories, reproductions of historical clothing or colorful chandeliers – that is what this museum is about. Imagine a movie taking place back in the 18th or 19th century. Visiting this place you will feel like being a couple of hundred years back :)
LOCATION
Just like the Museum of Viticulture, you can find the Museum of Period Rooms at the Apponyi Palace, too. It stands on the beginning of Radničná street which is basically at the Bratislava Main Square. It is the first narrow street on the right from the Old Town Hall.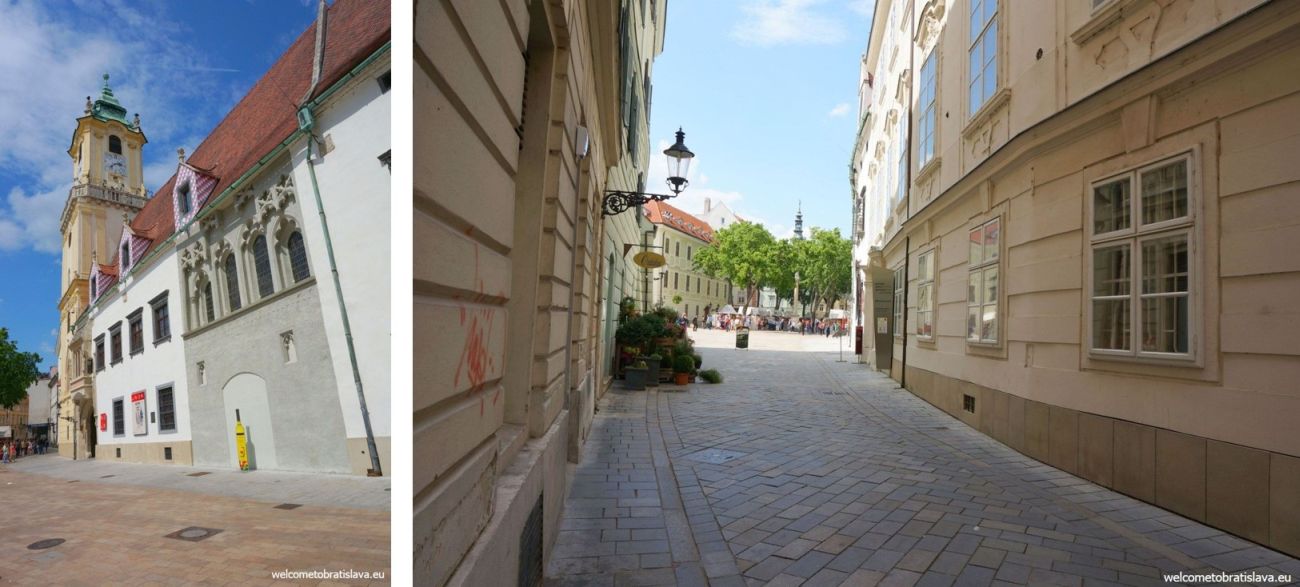 WHAT TO SEE IN THE MUSEUM OF PERIOD ROOMS?
This museum is located on two separate floors of the Apponyi Palace. When you get to this corridor (picture below), take the left path leading to stairs up (the wooden door leads to the Museum of Viticulture – the cellars).

The first floor with the original wooden wall-panelling and paintings evokes an aristocratic interior from the end of the 18th century.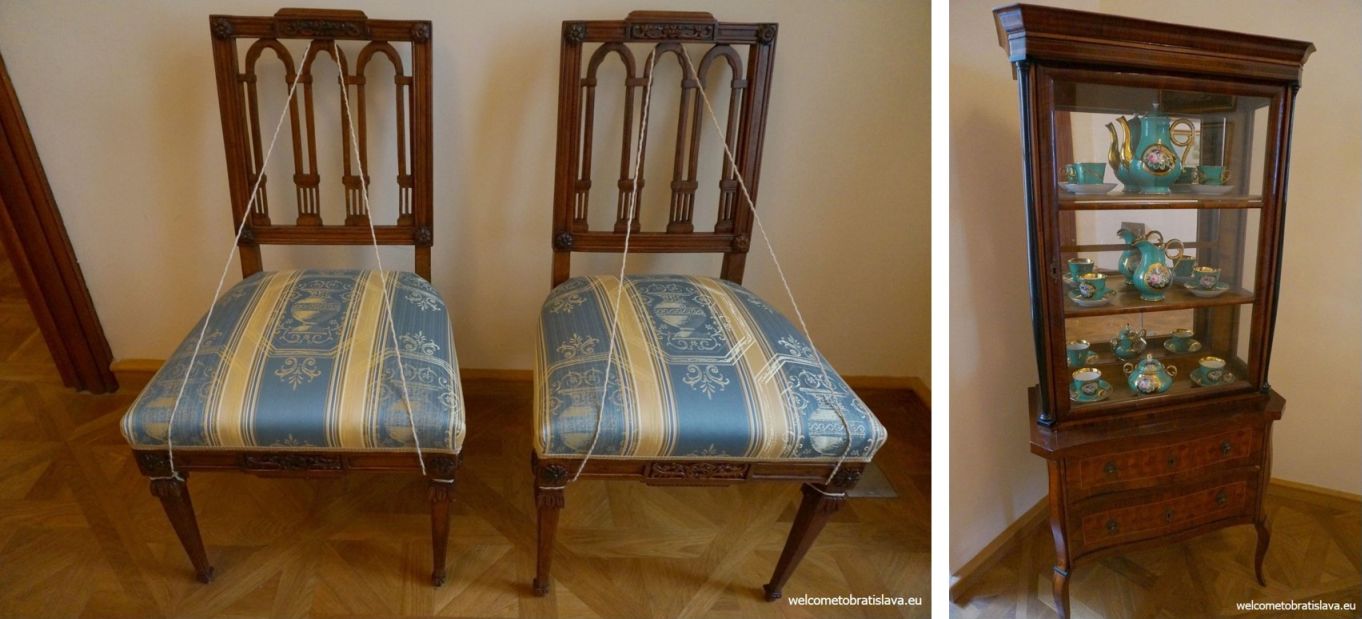 One of the first rooms you will pass is dedicated to a picture gallery. There you can have a look at the portraits of the local aristocrats from the Apponyi Mansion: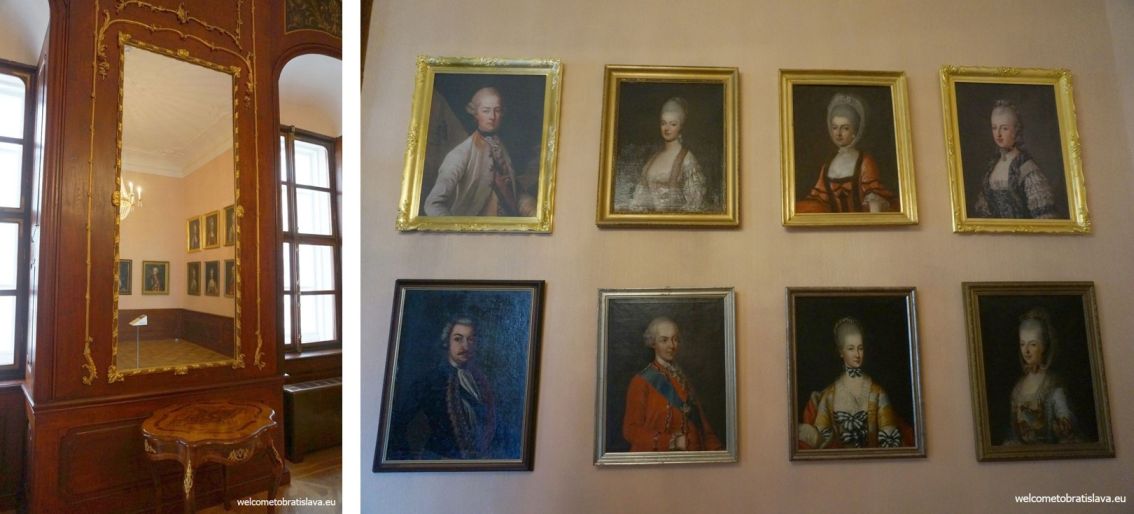 One of our very favorites is the Red Drawing Room – we love the color and the huge mirrors in the middle of the room are beautiful, especially the one combined with the fireplace.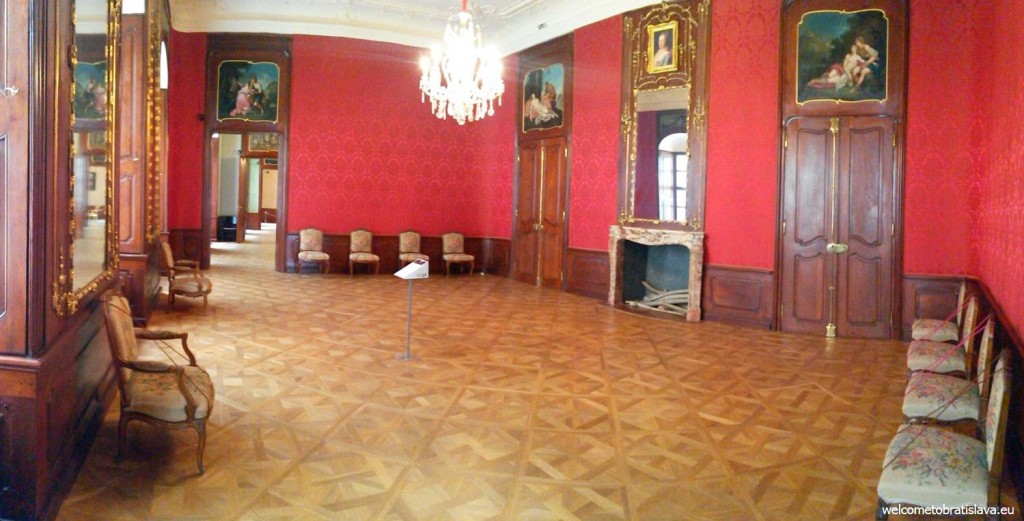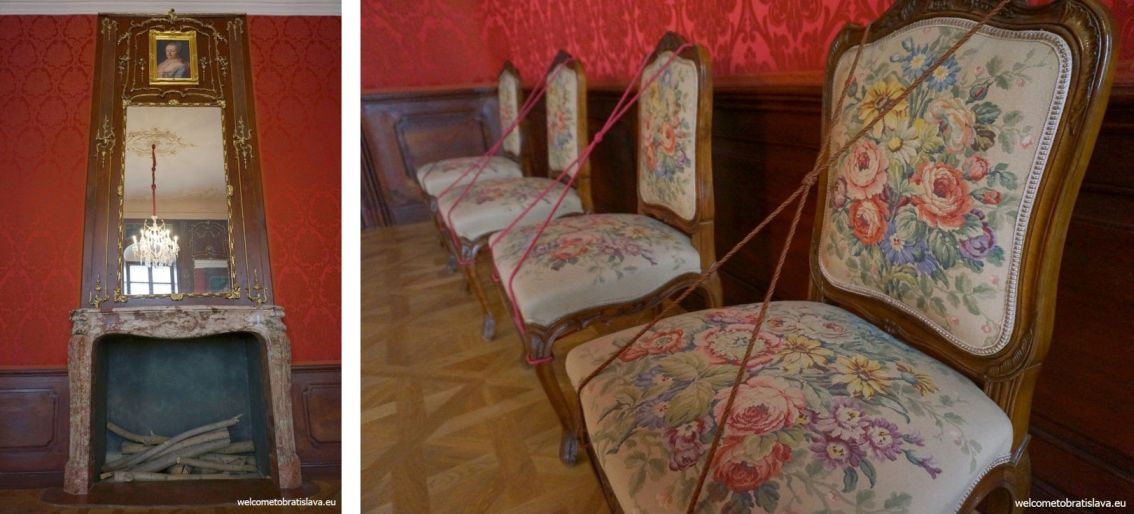 You could notice a small board in each room on the pictures – this is the piece including information about each exposed thing. This is for example what an aristocratic dining room looked like, and the description on the right picture gives you a very exact detail of each piece of furniture in the room: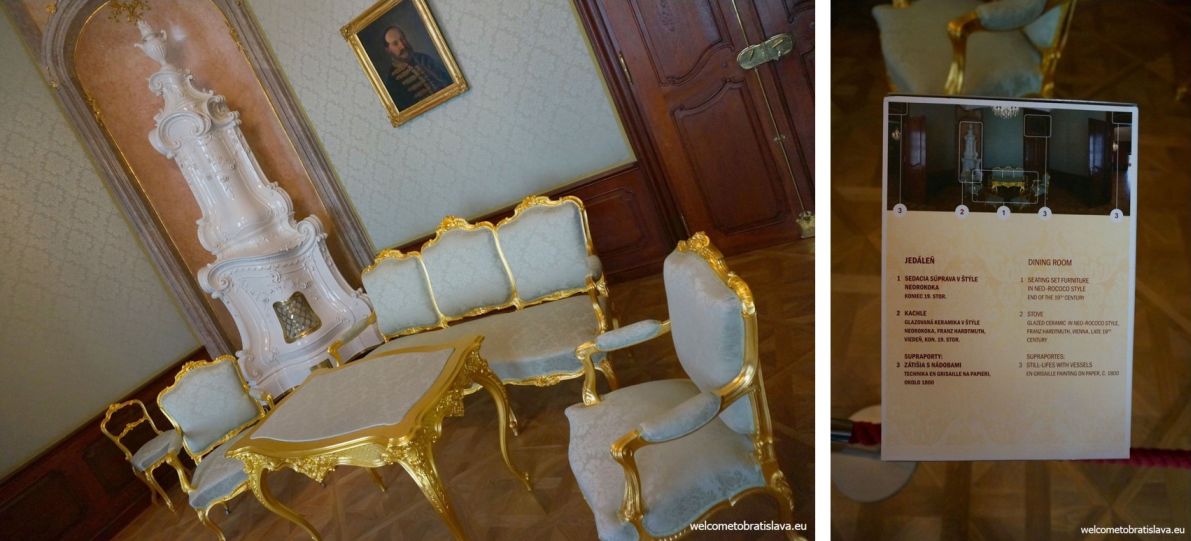 Some of the last rooms of the first floor include the Master Drawing Room and the Ladies' Drawing Room – you can compare what saloon the men used to discuss politics at and what saloon the women used to chat at :)
On the second floor, in rooms with restored wall paintings, examples of town-house interiors from the end of the 18th up to the end of the 19th centuries are displayed. The first room you will walk in represents a bedroom. You can find a big stove, a bed, a baby cot and some typical clothing here.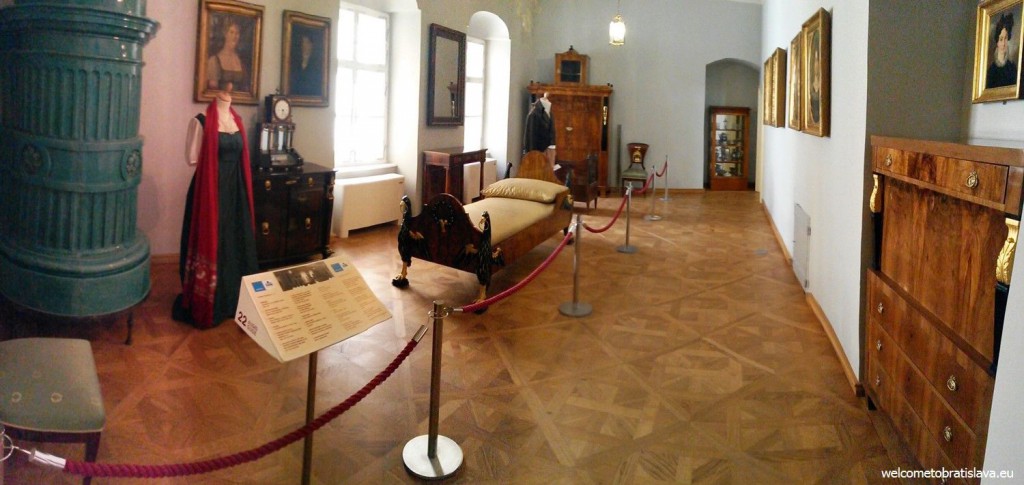 On this floor, all the doors are snow white. What caught our attention in the next room, also a bedroom, is the the difference in size of the two doors – can you see how small is the one on the right? :)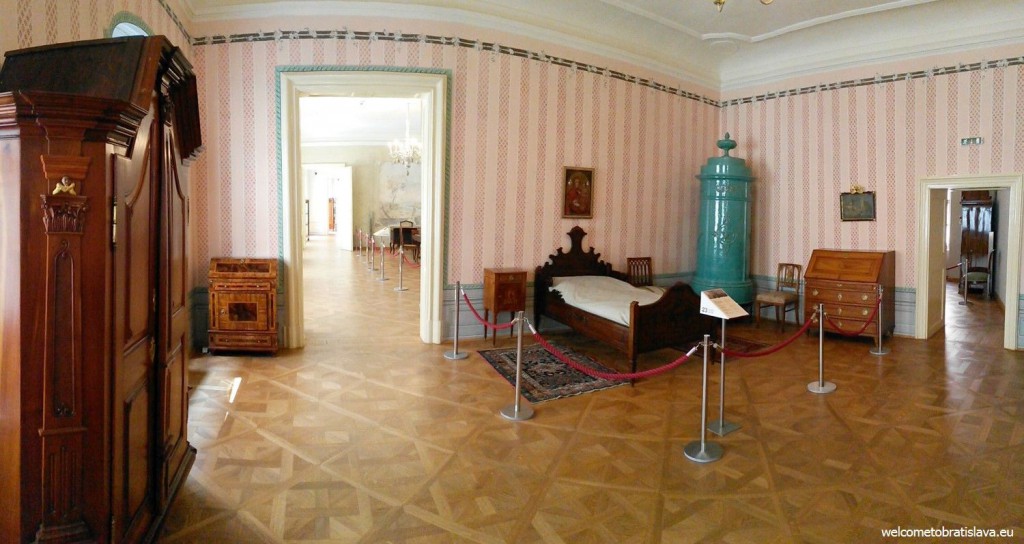 When you continue to the next room, you will find yourself in a beautiful Music Room. Have a good look at the amazing Rococo clothings and don't miss the colorful porcelain chandelier either!
In the last room you will once again have a chance to compare a lady and a master saloon and see where the girls used to socialize or where the guys used to gamble :)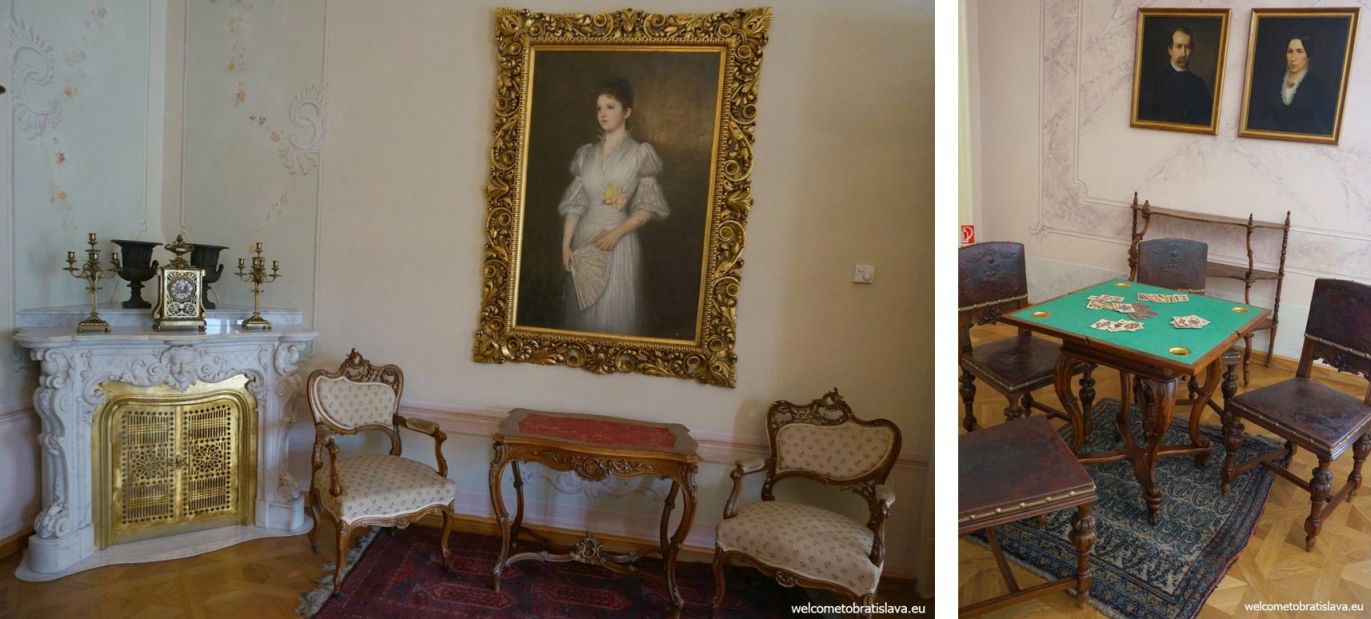 If you liked this museum, you might also want to visit the Mirbach Palace – it has a similar interior and you have also a feeling of being in a palace there :)
The ticket you purchase in the Museum of Period Rooms is valid also for the Museum of Viticulture which is housed within the Apponyi Palace, too – on the ground floor and the building's basement. Have a look there if you want to see how the wine was processed in Bratislava hundreds years back or what the wine cellars used to look like. You can purchase some good wine there, too :)
Author: Maria Kecsoova

OPEN HOURS: Check the official site


TICKETS: 4 € per person


ADDRESS: Radničná 1


CONNECT: Website


MAP LOCATION: