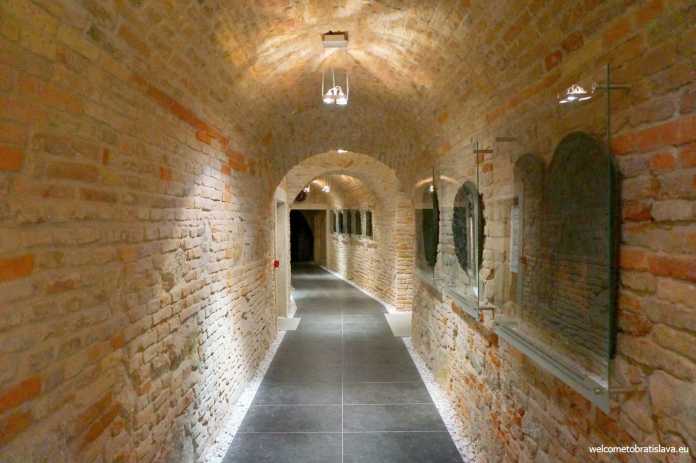 Get to know how the wine was processed in Bratislava hundreds years back, what the wine cellars used to look like, what tools people were using for harvesting, and taste some good wines as well – the museum offers wine tasting programs, too.
LOCATION
You can find the Museum of Viticulture at the Apponyi Palace. It stands on the beginning of Radničná street which is basically at the Bratislava Main Square. It is the first narrow street on the right from the Old Town Hall.
WHAT TO SEE IN THE MUSEUM OF VITICULTURE?
This museum is on the ground floor and the basement of the Apponyi Palace. When you walk in the main door, you will find a few rather small rooms. The development of viticulture from the 13th to 19th century is explained through the exposed sculptures, photographs, signs and tools used when working at the vineyards.

You have a chance to see what a bottle of champagne, a case of cigars or prayer books looked like a few hundred years back.
Examples of the menu cards from the turn of 19th and 20th century and a laid dining table are to be found here, too.
When you get to the final corridor, you will see big wooden door. It leads to the basement where the second part of this exposition takes place.
Take the first right turn of the long stone corridor to start this exposition. You will walk through rooms with vineyard tubs, exposed tools used for wine processing or see huge barrels in which the wine used to be stored.
Of course, there are also bottles of wine to purchase if you feel like you might want to try a glass or two later on :)
The ticket you purchase in this museum is valid also for the Museum of Period Rooms which is housed within the Apponyi Palace, too – on the 1st and 2nd floor. we recommend you go and check it, it will take you just a few extra minutes and the sight is worth it :)
Author: Maria Kecsoova

OPEN HOURS: Check the official site


TICKETS: 4 € per person


ADDRESS: Radničná 1


CONNECT: Website


MAP LOCATION: