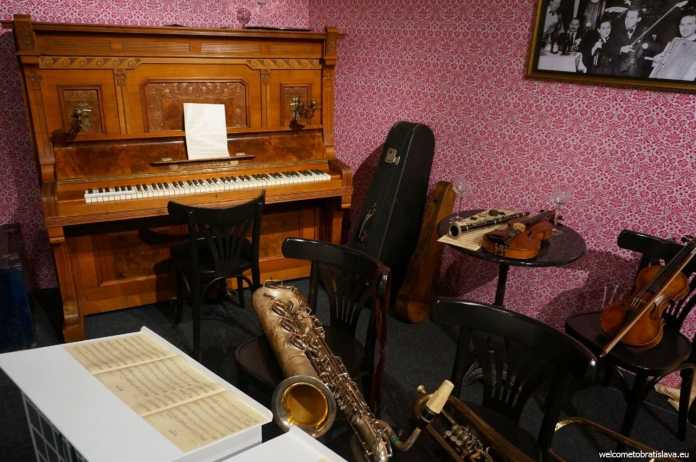 This exhibition maps the life and artistic activities of Karol Elbert, an important Slovak composer, from his early childhood to becoming a professional musician. Being also a conductor and an excellent pianist, he is one of the most played authors of Slovak evergreens. The Music museum offers an extensive photo documentation of his life trail as well as exposes instruments and personal belongings to him.
LOCATION
The Music museum is located at the foot of the Bratislava Castle in a Renaissance building from 16th century. The easiest way to get there is to walk from the New Bridge. It will take you not more than 10 minutes and you will have a walk with a great view on the UFO bridge and Castle along the way.

Walk from the New Bridge along the Danube bank until you get to this pedestrian line. Cross the road and go straight. You will pass by an old pension which is out of use. Turn left to a small street.
This long green building is the official seat of the museum but the main entrance is through the exhibition pavilion Podhradie at Žižkova street 16 (next door – the pale beige building).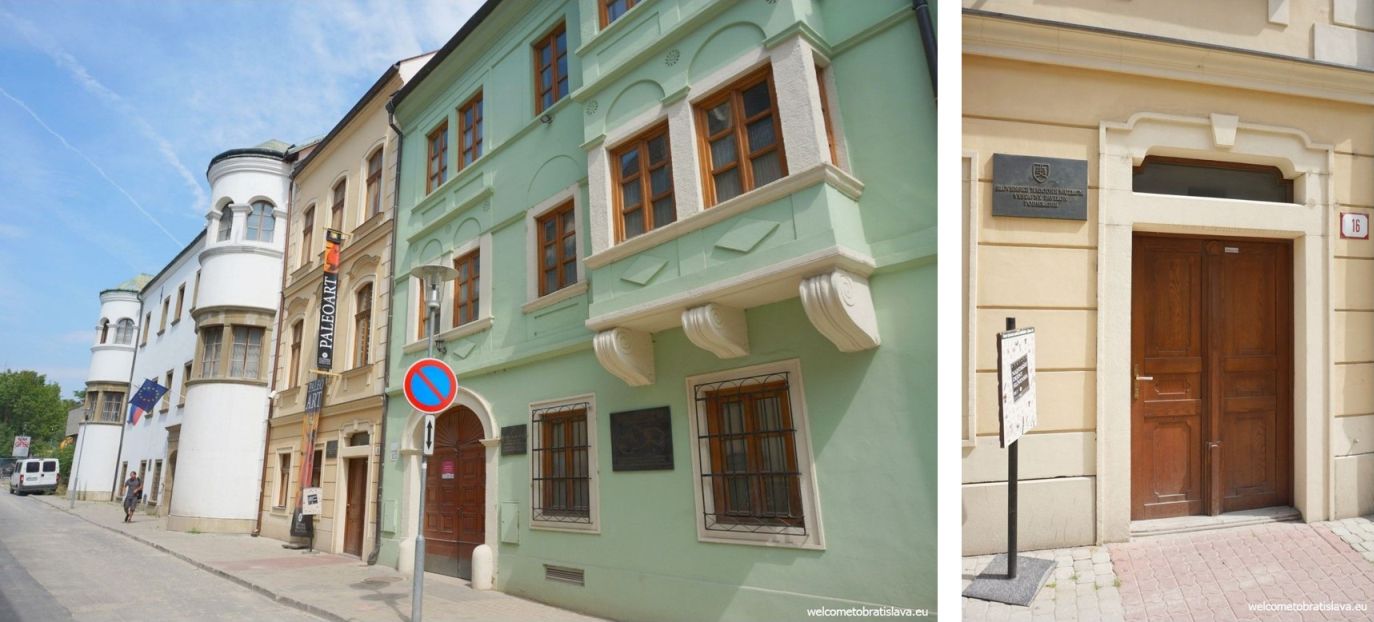 WHAT TO SEE IN THE MUSIC MUSEUM?
The Music museum holds an exhibition about a Slovak composer Karol Elbert who lived and performed in the 20th century. He was born in Trnava, the oldest city of our country, 57 km far from Bratislava. The whole exposition takes place only in one room but is rich in personal photographs, musical instruments and other belongings to the composer.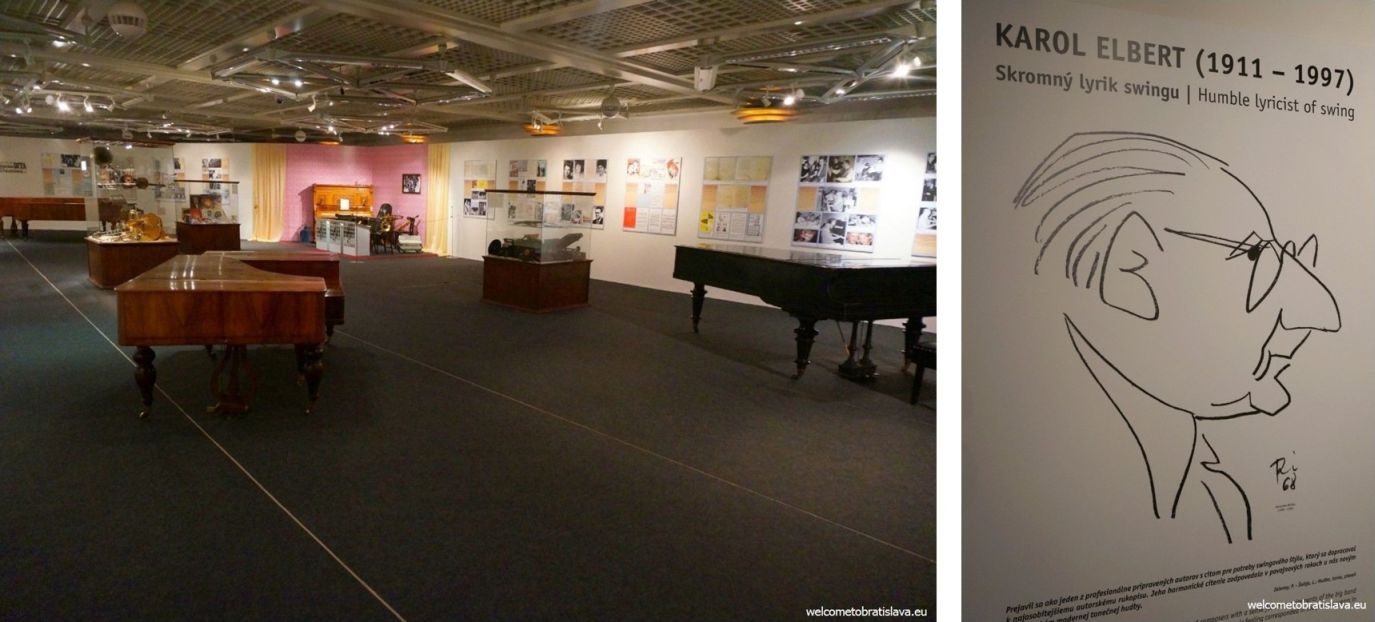 Even though Karol was interested in different musical genres, he was mainly into piano. That's why you can find four different pianos in this room.
Very unique are the family photos from the original archive (early 20th century). The pictures are accompanied with descriptive explanations, so you can find out more about Karol's family, friends, colleagues and artists he met during his life.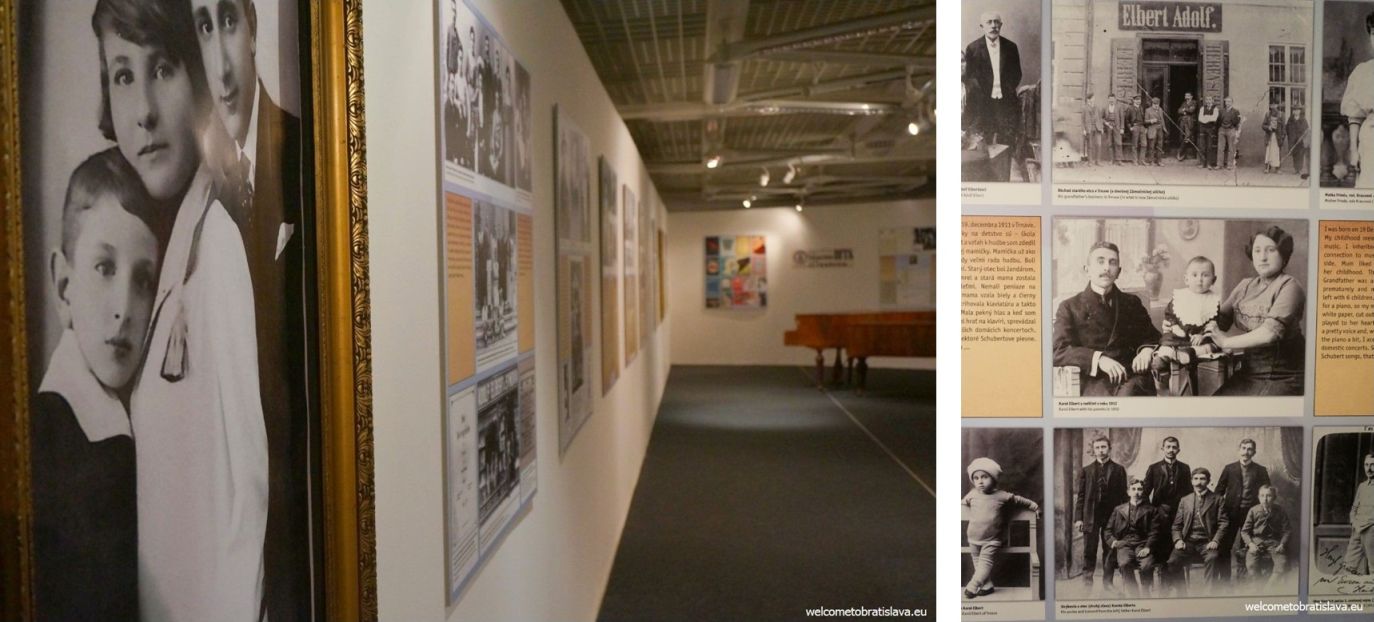 He managed to write and record hundreds of songs and he even wrote two operettas. Samples of music manuscripts are to be found here, too.
What we couldn't take our eyes off were the colorful samples of printed editions of songs he wrote: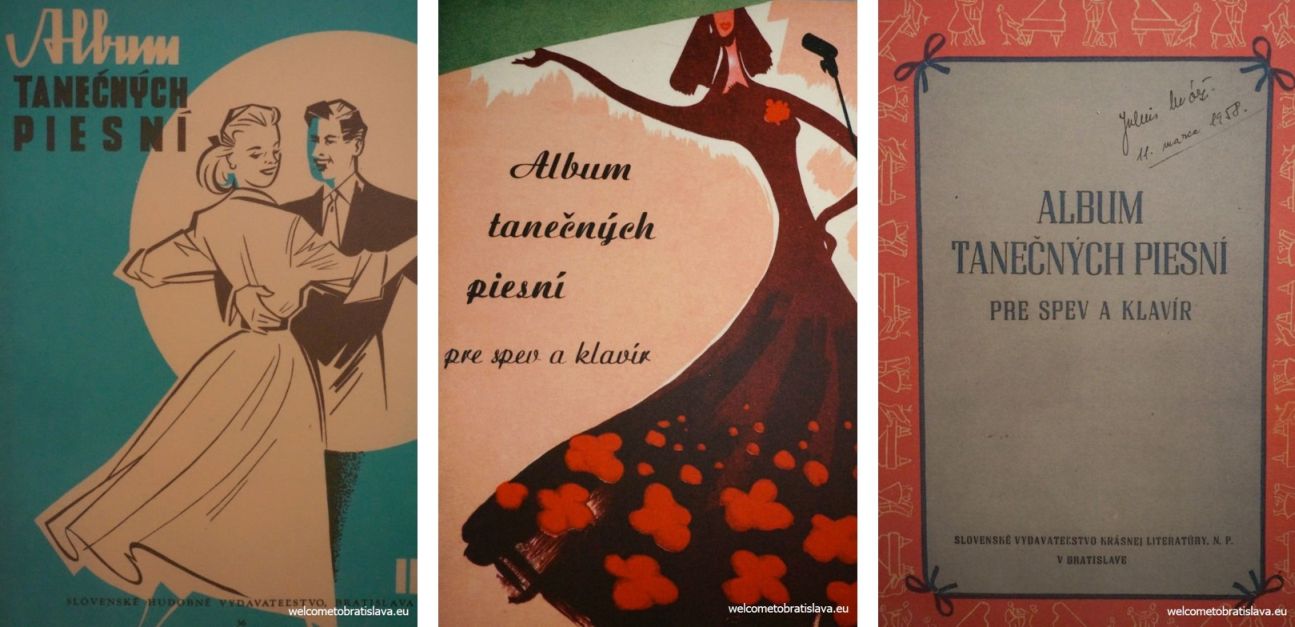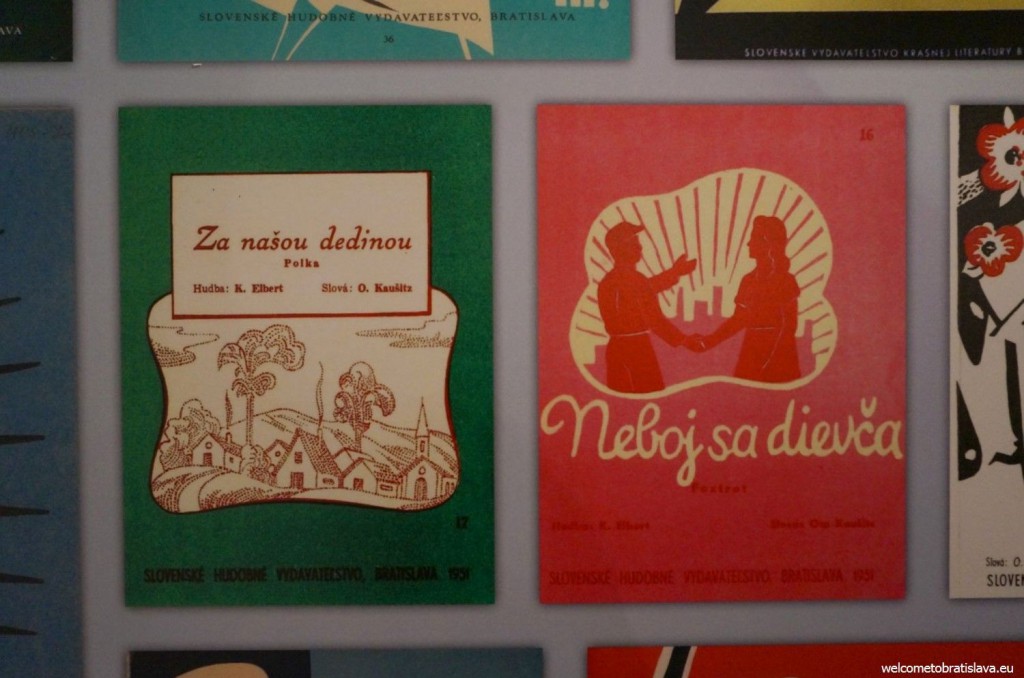 Phonograph recordings of Slovak pop music from the 40s and 50s of the 20th century are displayed here as well as an actual old phonograph :)
As a pianist, Karol used to perform in bars and cafes later in his life. One corner of the room copies his band's set up from an old photo. Our favorite part :)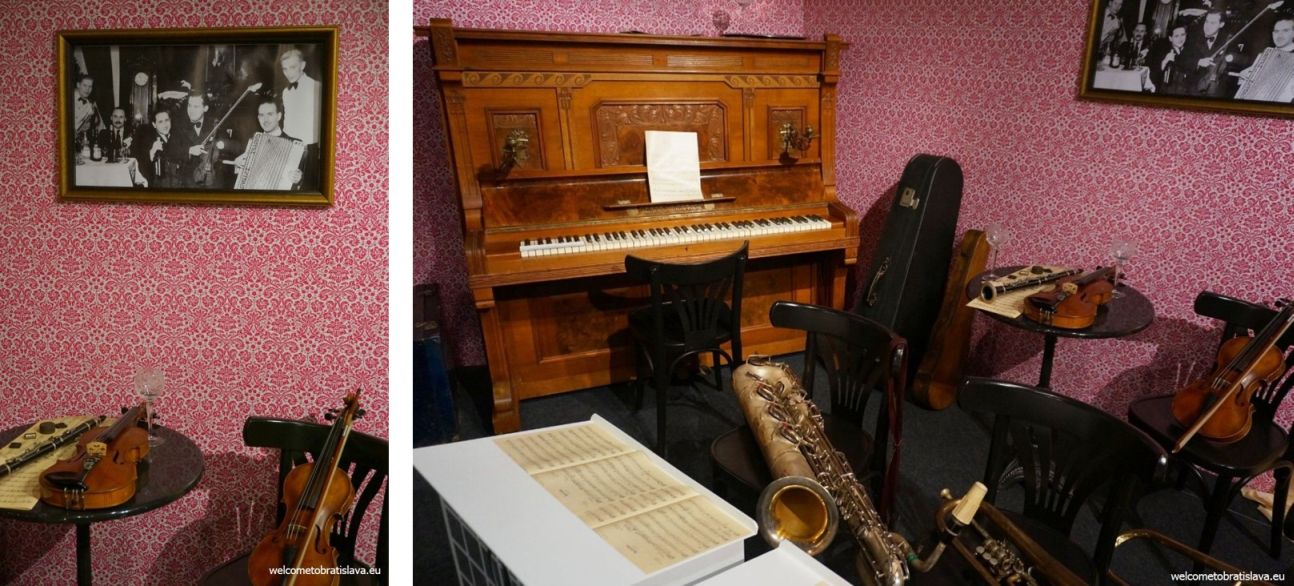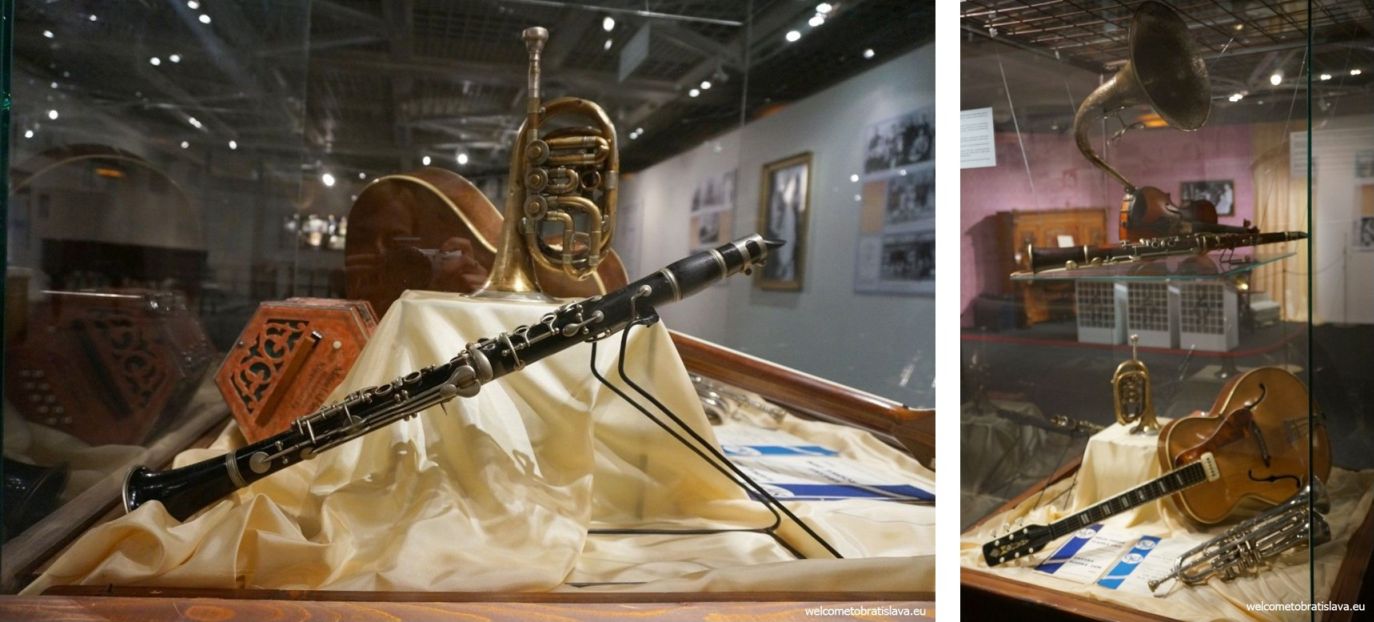 He didn't only use to write songs for orchestras but also for dance productions, and worked as a musician in theaters. Photographs documenting theater premieres from those times are a beautiful nostalgic proof.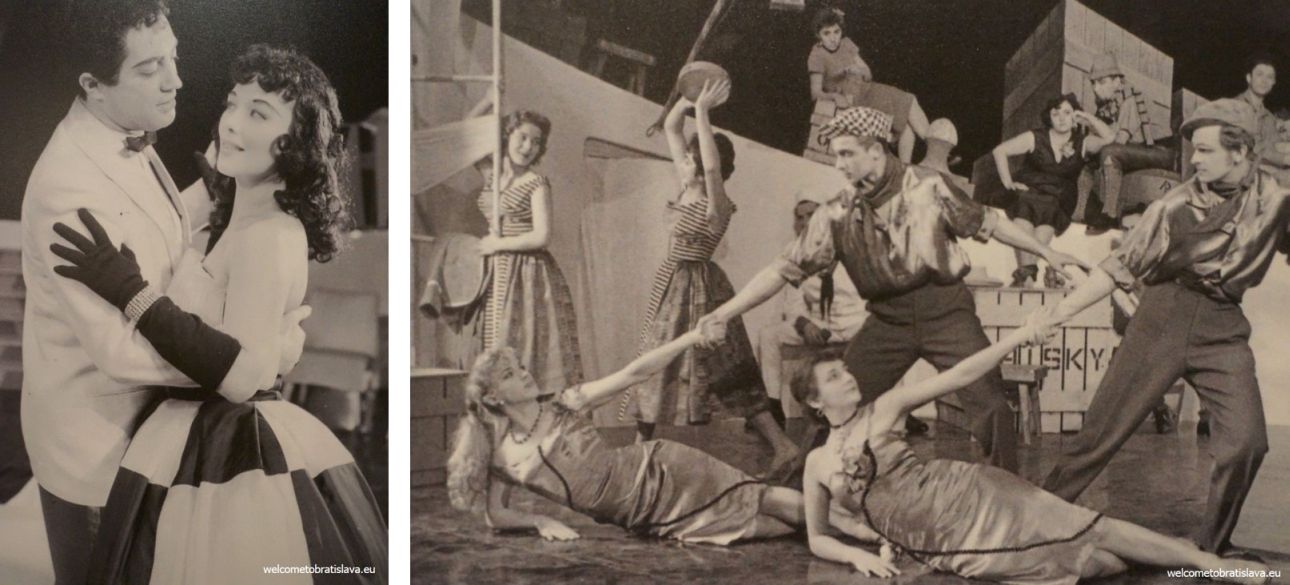 Nostalgic are also the photographs of his grandfather's business, on the picture with own sons in the doorway,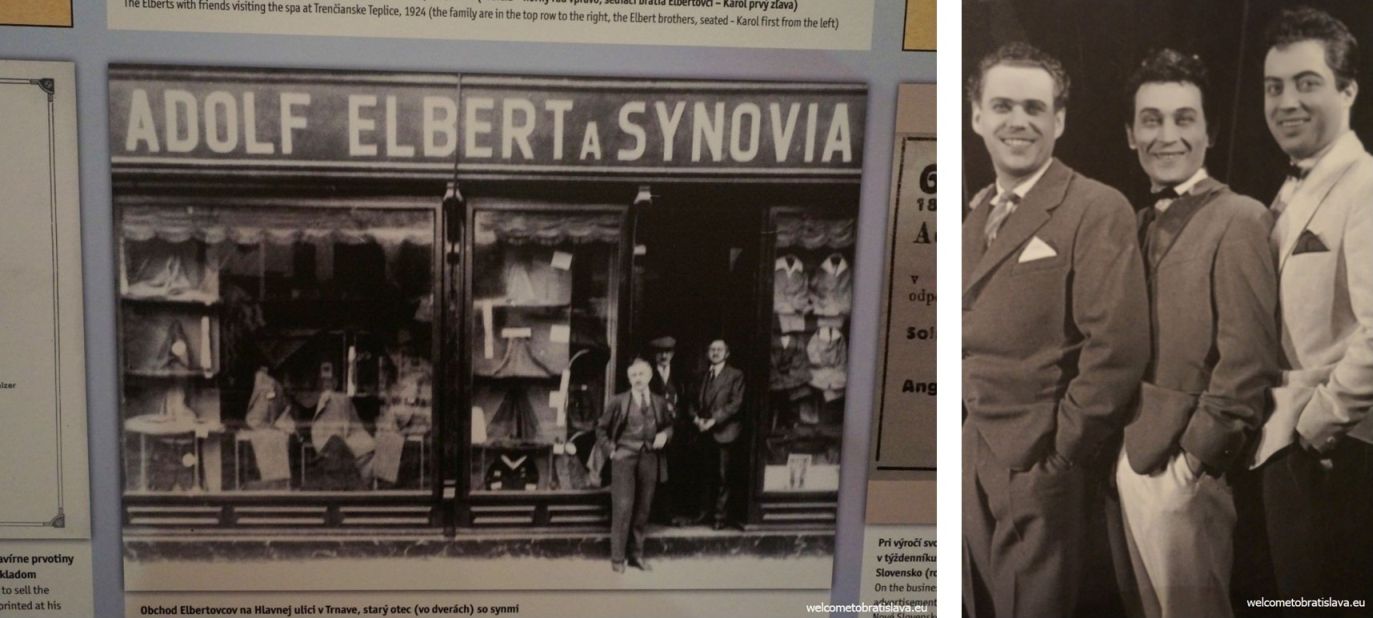 or those taken of him playing his favorite musical instrument – piano :)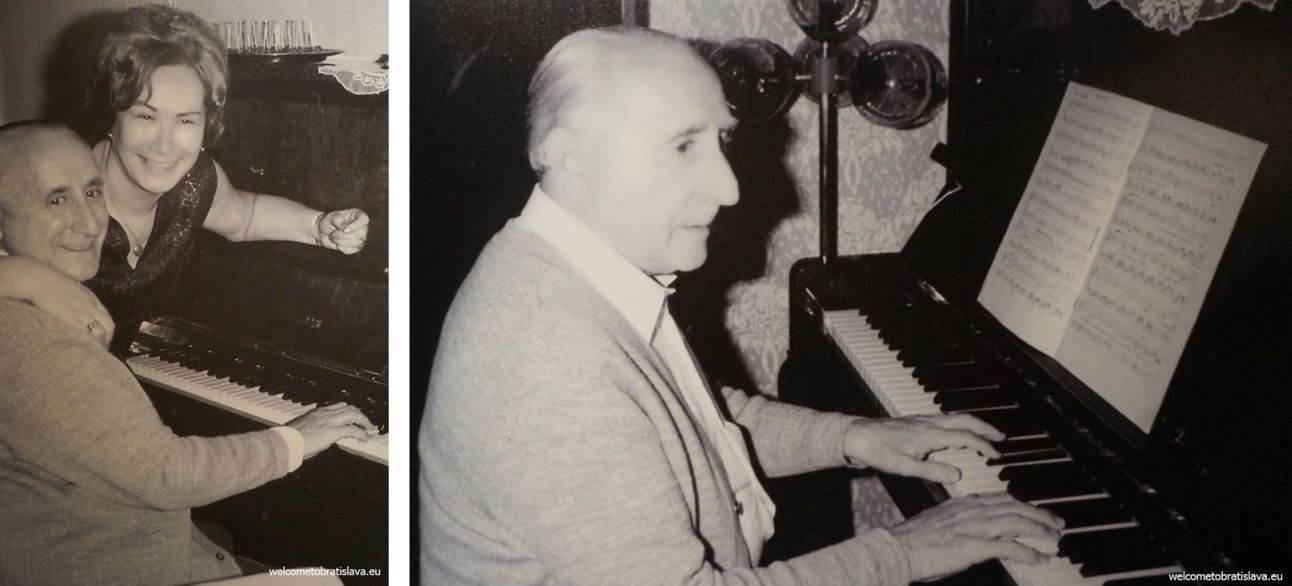 This museum is one of those we like the most. Maybe it's because one of us also plays the piano, but it definitely leaves something in you once you leave. If you want to understand better the music Karol Elber created, listen to this video:
If you are eager to visit all the museums of the Slovak National Museum, we suggest to buy a joint ticket for 10 €. It will entitle you to visit permanent and temporary exhibitions in these additional museums: Natural History Museum, Museum of Jewish Culture, Museum of Hungarian Culture in Slovakia, Archaeological Museum, Museum of Carpathian German Culture in Slovakia, Museum of History (Castle) and Museum of Croatian Culture in Slovakia.
Author: Maria Kecsoova

OPEN HOURS: Check the official site


TICKETS: 3 € per person – valid also for other 3 museums on Zizkova street: Museum of Hungarian Culture in Slovakia, Archaeological Museum and Museum of Carpathian German Culture in Slovakia


ADDRESS: Žižkova 18 (but entrance through Žižkova 16)


CONNECT: Website


MAP LOCATION: