Visitors to new cities like to learn about the best spots to go to in a variety of different ways – from tourist websites or travel blogs to something as simple as a recommendation from a friend who's been there. After a while though, you'll find that all of those websites and blogs are telling you about the same places, which may or may not be riddled with other tourists who read the same blogs you did. With Nightcards, you can get to know the cities' coolest spots, some well-known, some not so much, by making a game out of it and saving a few euros, about 150 of them, while you're at it.
WHAT'S THE STORY?
Nikola Polcerova and Albert Fourage brought Nightcards to Bratislava in September of 2019 after seeing a similar concept being used in Nantes, a small city in France with a similar makeup. The goal? Get people to discover new places in their city, with the nightcards providing some incentive and motivation to get out there and try something new. From nightclubs and theme bars to bars where cocktails and virtual reality become one, Nikola and Albert did their best to find less-common places for people in Bratislava to make their new go-to spots.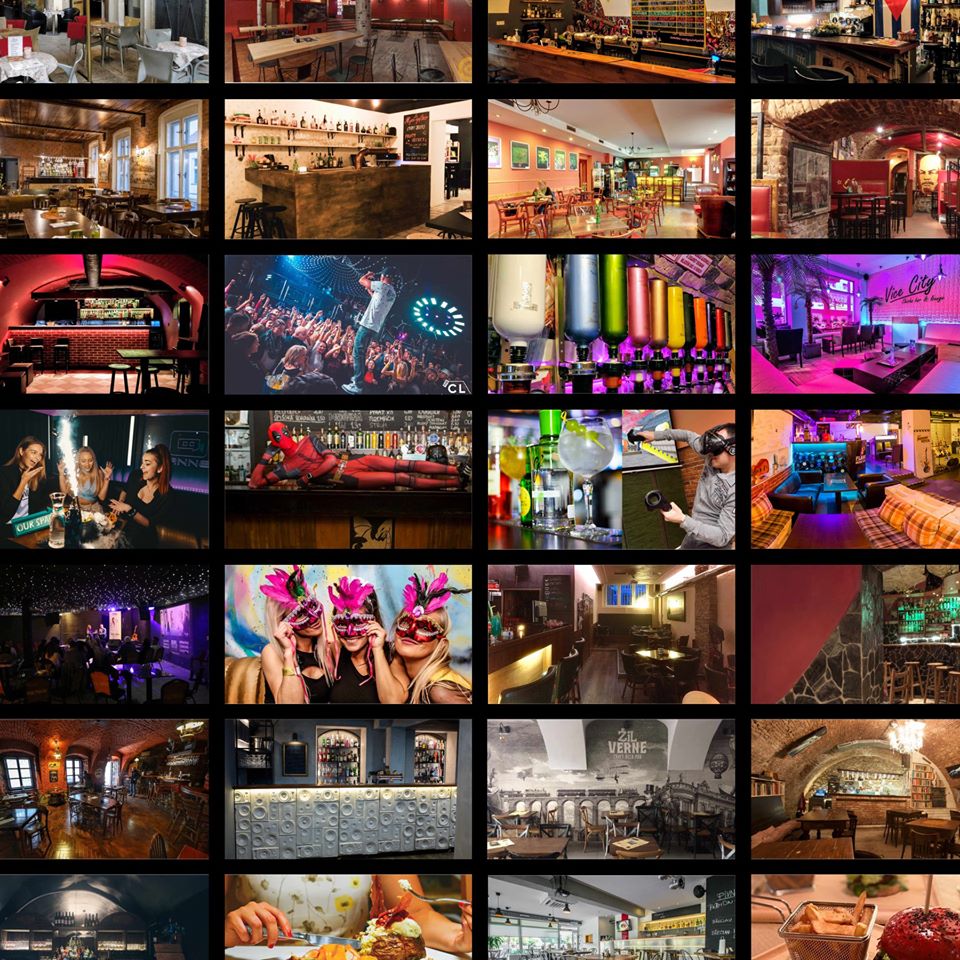 (source: Nightcards)
SO, HOW DO THE NIGHTCARDS WORK?
The game is simple – get yourself a deck (you can order them online for 15 € and free shipping or purchase them at either U Kata or Hop Čip Bar), take your smartphone out, and get started. Each deck includes 20 bars, four clubs and dancing bars, and four restaurants. Additionally, the deck has a few important cards – your Aces – to keep your eyes open for before you get started; one has a map of all the places included in the deck, one gives you the option to repeat a special if you really liked it, one has a discount on your next Nightcards deck purchase, and one has drinking games that you can play at each location.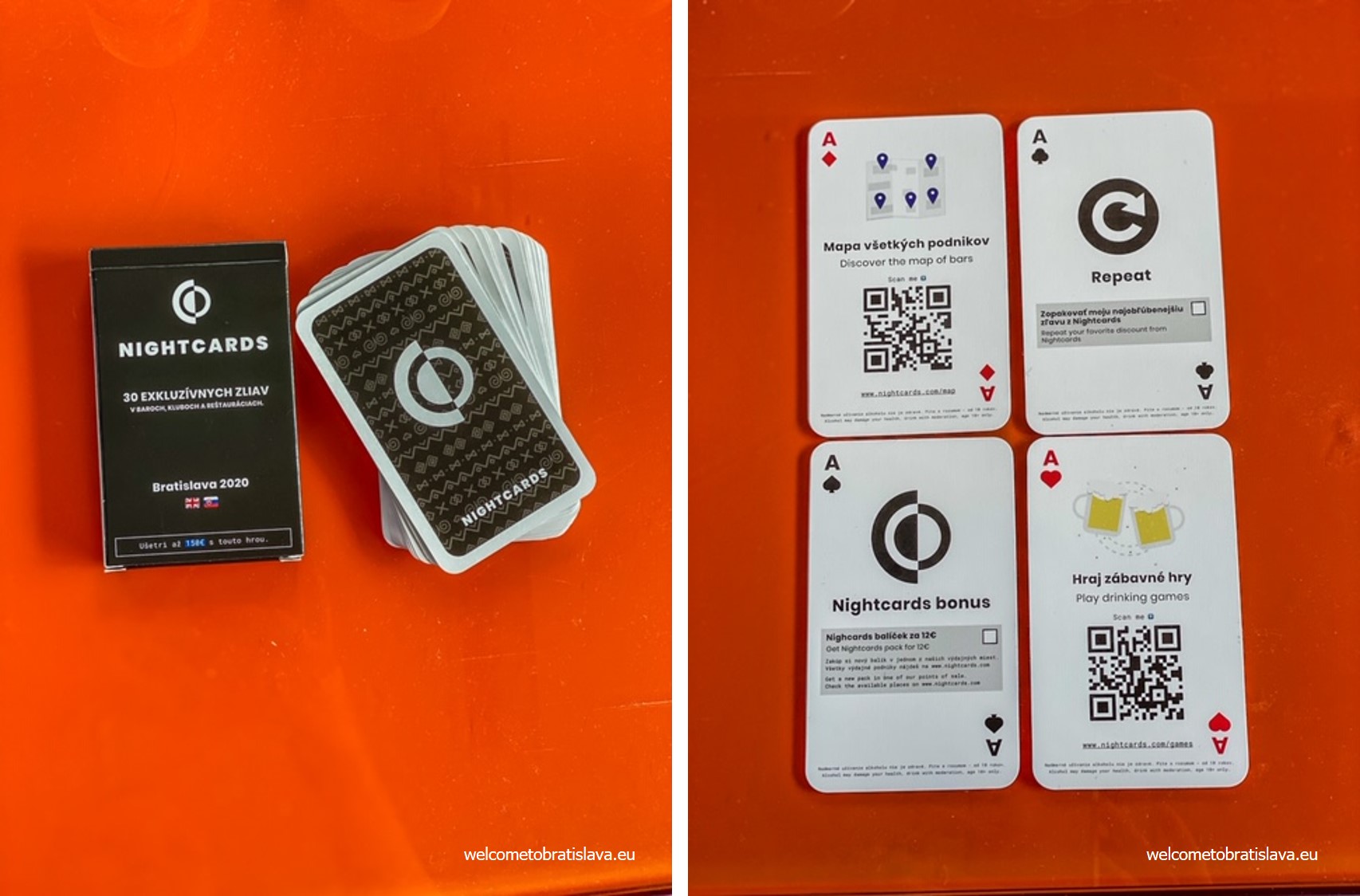 The map card and the drinking games card each have a QR code that you can scan easily by opening the camera on your phone and pointing it at the code. Each individual card tells you the name of the place you're going to, the address, features of each place (karaoke, dancing, sports on TV, etc.) the business hours, and what the special is (in the wake of Covid-19 some of the hours have changed, so check the establishment's website to know their hours for sure). Every deck is available in both Slovak and English.
Now that you've got your map at the ready, it's time to get out there! Every bar, club and restaurant included in Nightcards has a different special that gives you the opportunity to sample the goods, while also saving some money. Show the card to the bartender or server, order, and let them check the white box on your card. Now that you've used that card, you can't use it again, but don't forget, you do have a repeat card available in the deck, so if you had a great experience at one place, you can go back again for the same deal.
WHAT ARE THE GAMES?
You've got your beer or cocktail, so now it's game time. Take out the games card, scan the QR code with your smartphone, and get started. Currently the two games available are Kings game and Pyramid – so make sure you've got a full drink at the ready and do your best to win!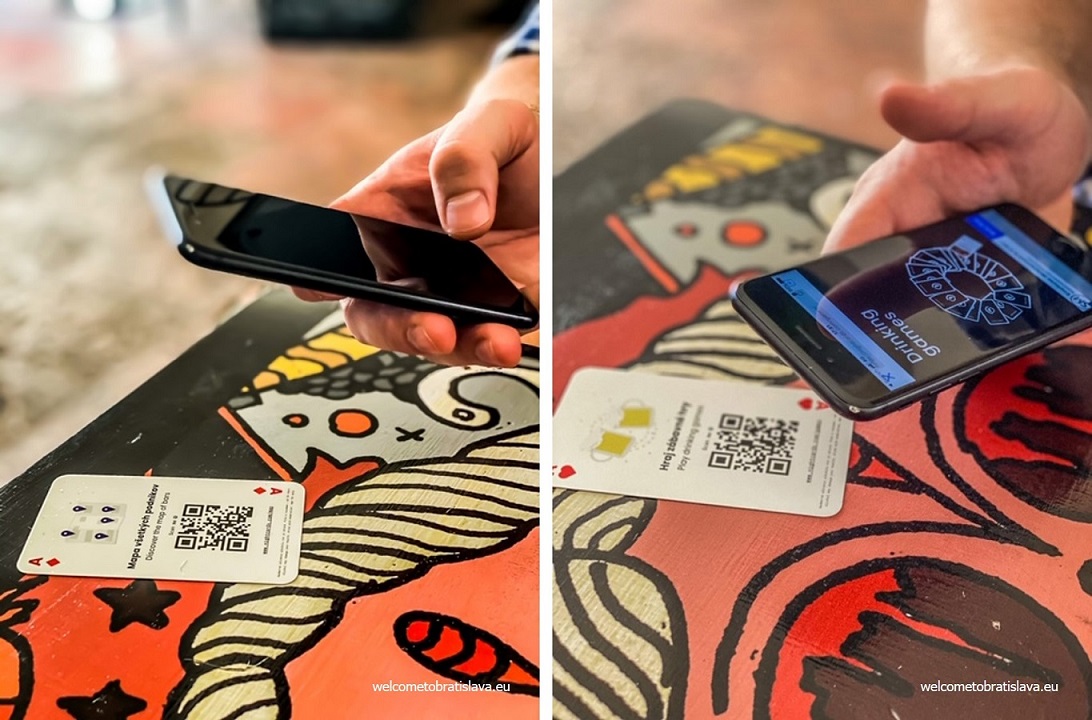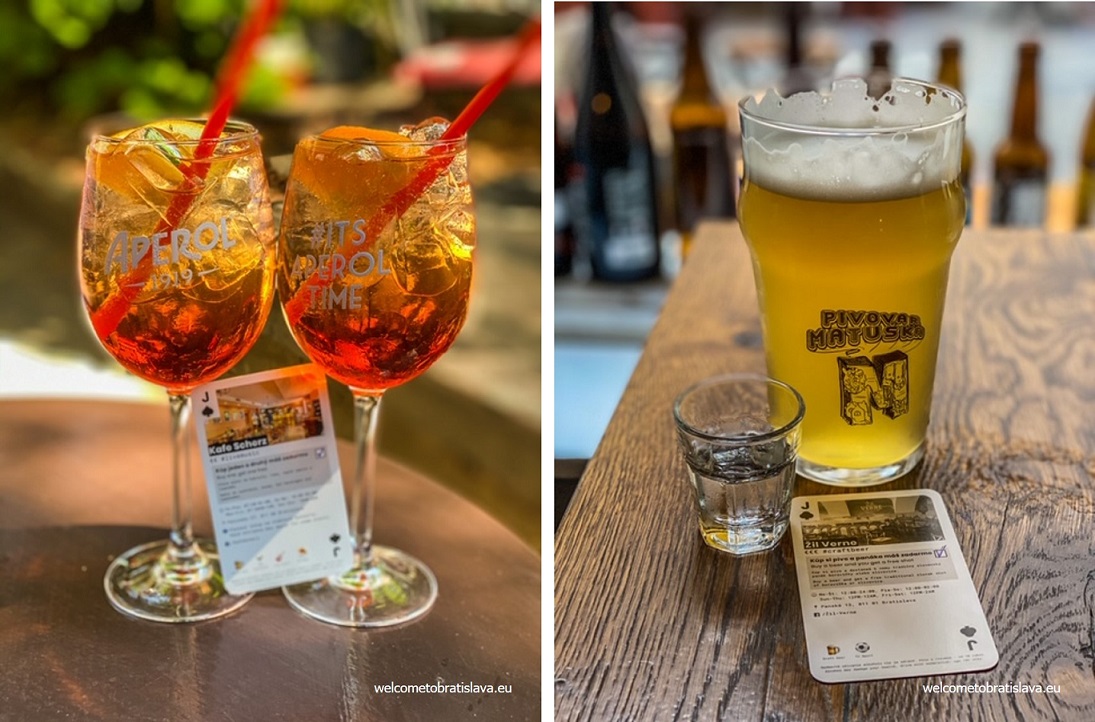 WHY DO WE LIKE NIGHTCARDS?
Bratislava may not be the world's largest city, but it certainly has a unique and vibrant nightlife scene, and Nightcards gives you the chance to experience a lot of those places without having to do any of the planning yourself. We loved being able to go on a bar crawl without having to find places to go or map them out ourselves.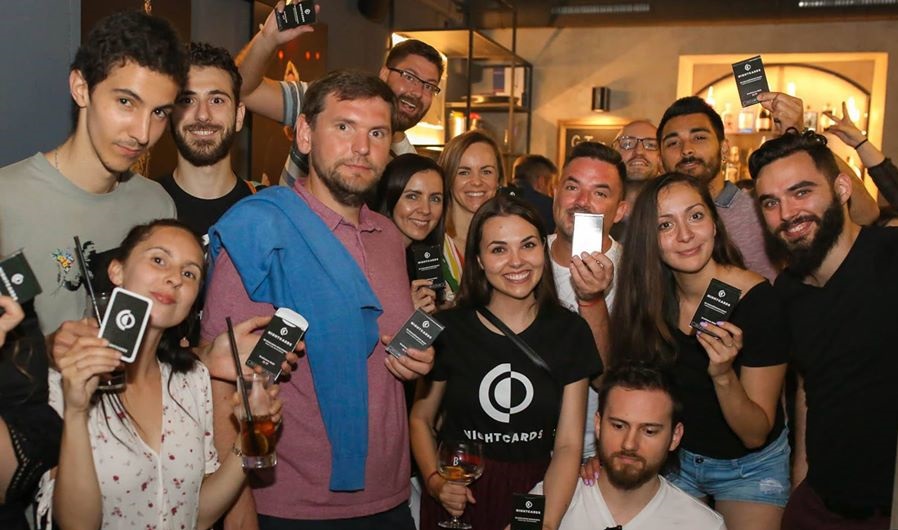 (source: Nightcards)
Additionally, we really like that the cards include a few places to get a bite to eat, since no good bar crawl is complete (or doable) without a few snacking stops along the way.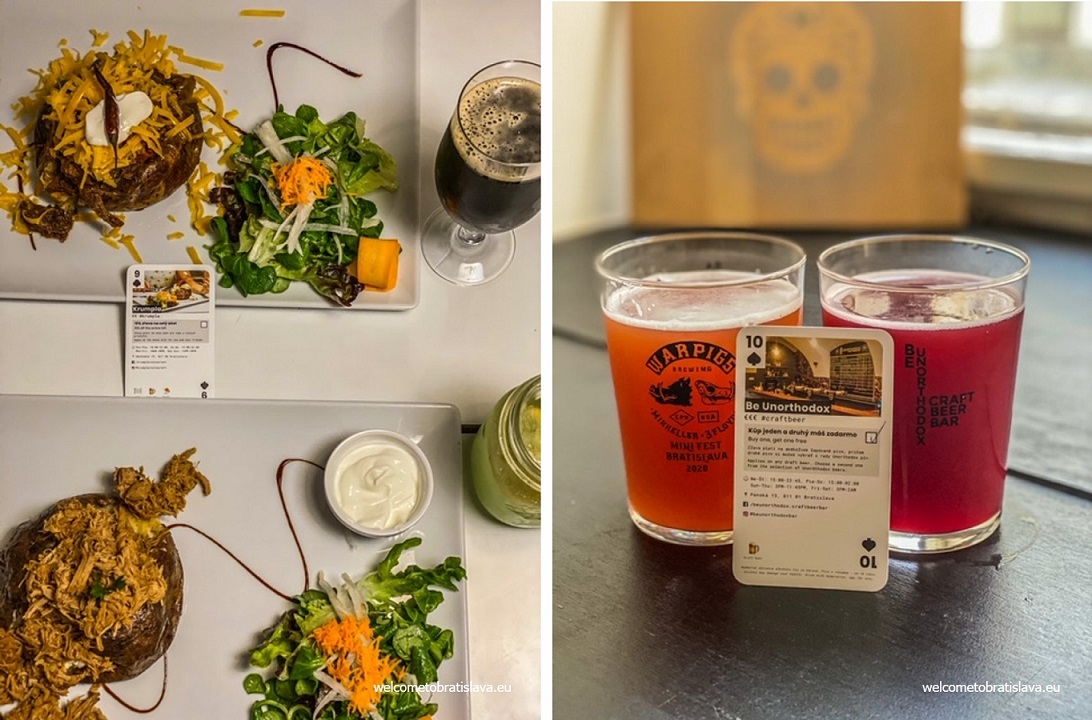 We also loved the actual specials; free drinks, shots, or 20% off your entire bill for you and your friends really make this a no brainer. There's no doubt; the Nightcards deck is your solution for a one-of-a-kind night out in Bratislava.
For more information on Nightcards and to order a deck for yourself, visit their website.
Author & photo credits: Sara Kay