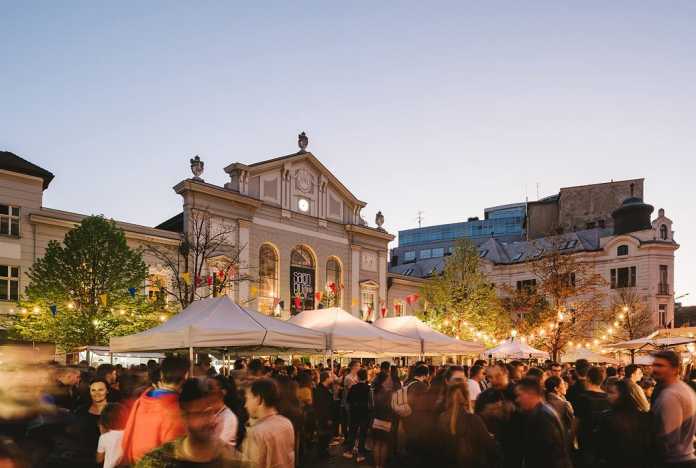 You have probably heard about it from your friends, passed it while walking in the city center, seen the crowds in front of it. It has been already mentioned many times on our website as well when we informed you about the upcoming events in our section Top Events. Old Market Hall (Stará Tržnica) is the heart of the SNP Square and what we want to show you is that this "community venue" has much more to offer besides big events.
LOCATION & HISTORY
We are sure you will be able to find this historical building pretty easily. It's located on Námestie SNP (SNP Square) right opposite of tram stops.
The history of the Old Market Hall dates back to 1910. From its beginning this building was serving as a marketplace for old Bratislava citizens till 1960. After this period it belonged to the Slovak Ministry of Culture until the city of Bratislava took it over in 1990 and reconstructed it to its current (and original) form. Now it is administered by the civic association Aliancia Stará Tržnica (Alliance Old Market Hall) which emerged as a group of eleven professionals from various fields, who shared a discontent with the condition of the historical building.
In 2012, the Old Market Hall had been closed to the public for five years already, with the exception of occasional events. The Alliance decided to make use of their professional knowledge and skills to create a project of revitalization of the building. The aim was to turn it into a living urban center with food markets, cultural events, and services with added value for the citizens and visitors of the city. And they are doing a great job!
SERVICES AND SPOTS
Except the main hall that accommodates all the events, there are also several other businesses that you might find interesting:
Lab.cafe
This coffee place is suitable not only for any type of meeting but also for the moments when creativity kicks in. Except of the tables where you can enjoy the great coffee, it also includes a co-working space on the ground floor and shared workshop in the basement. Both are equipped with various machines ready to use – 3D printers, laser cutter and many others. Sometimes they also organize workshops where you can show or gain original skills. Lab.cafe also has a small terrace where you can enjoy good weather while working or sipping something tasty :)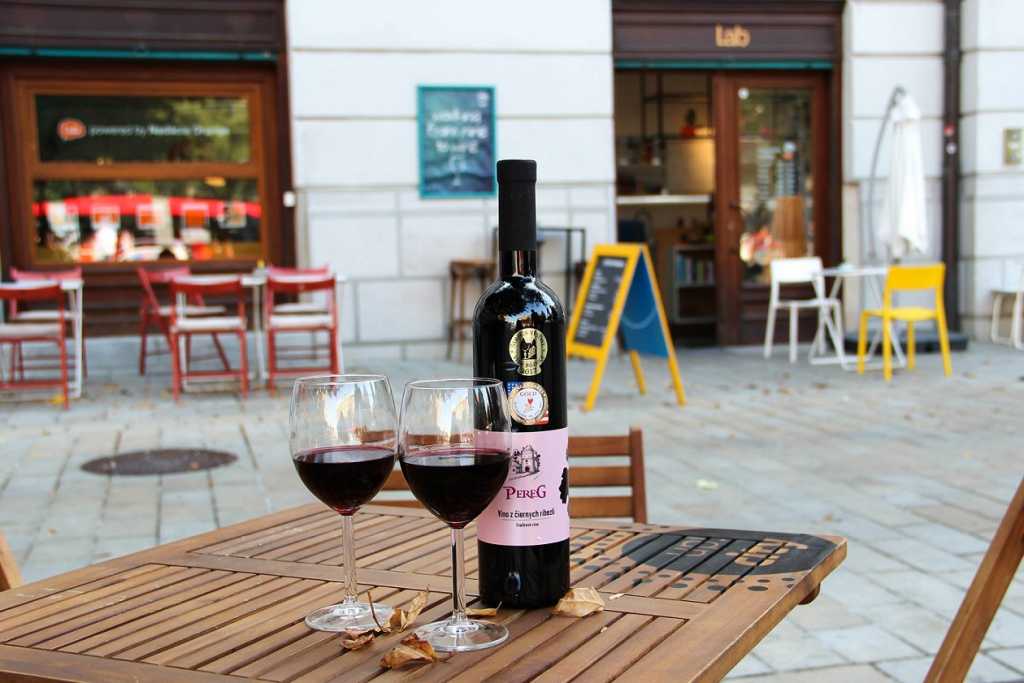 (source: Lab.cafe Facebook)
Shenk brewery
You might not believe it but in this old building, that for a certain period of time was serving as a studio for the Slovak National Television, there is also a small brewery that brews its own craft beer! You can taste various types of beer here in the Old Market Hall in a pub named Výčap u Ernőho (read more below).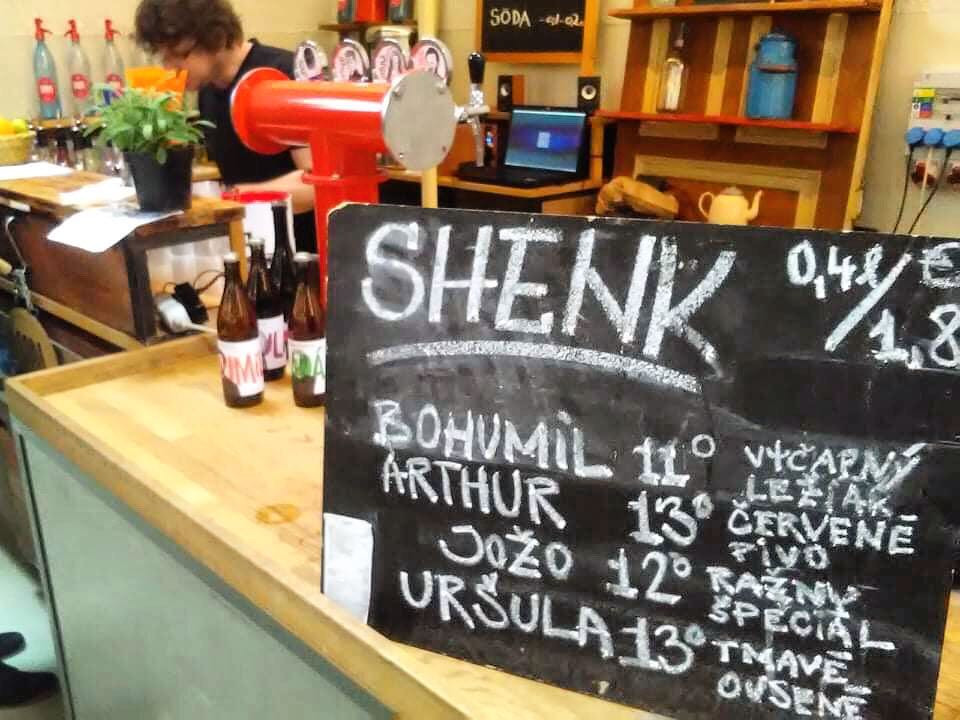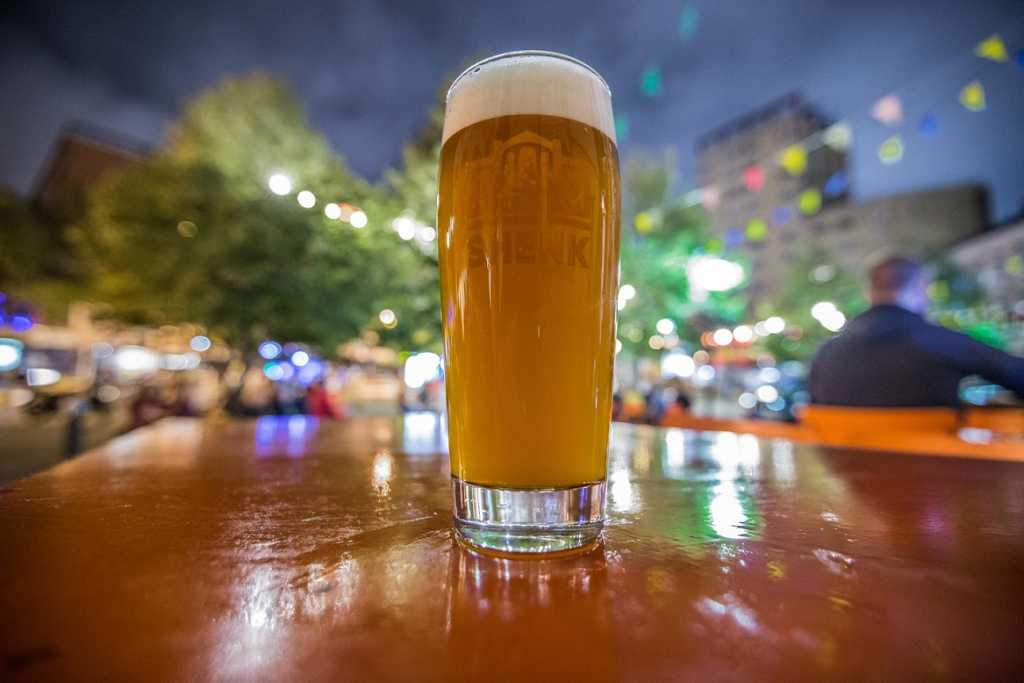 (source: Shenk Facebook)
Výčap u Ernőho
Let's stay with the very interesting topic – beer. There is a pub on the corner of Stará Tržnica called Výčap u Ernőho where you can have a draft beer from the Shenk brewery, too! They tap the beer from huge tanks – which helps to create unique atmosphere. We would recommend you beer named Bohumil ("Bratislava's" pale lager) but the Arthur one will not let you down either (red ALE). Yes, they've named some of their beers using Slovak girl's and boy's names – and we found it really original. The interior is really minimalistic but "what else do you need when you have a good beer?" They offer lemonades and coffee, too, as well as some vegetarian snacks.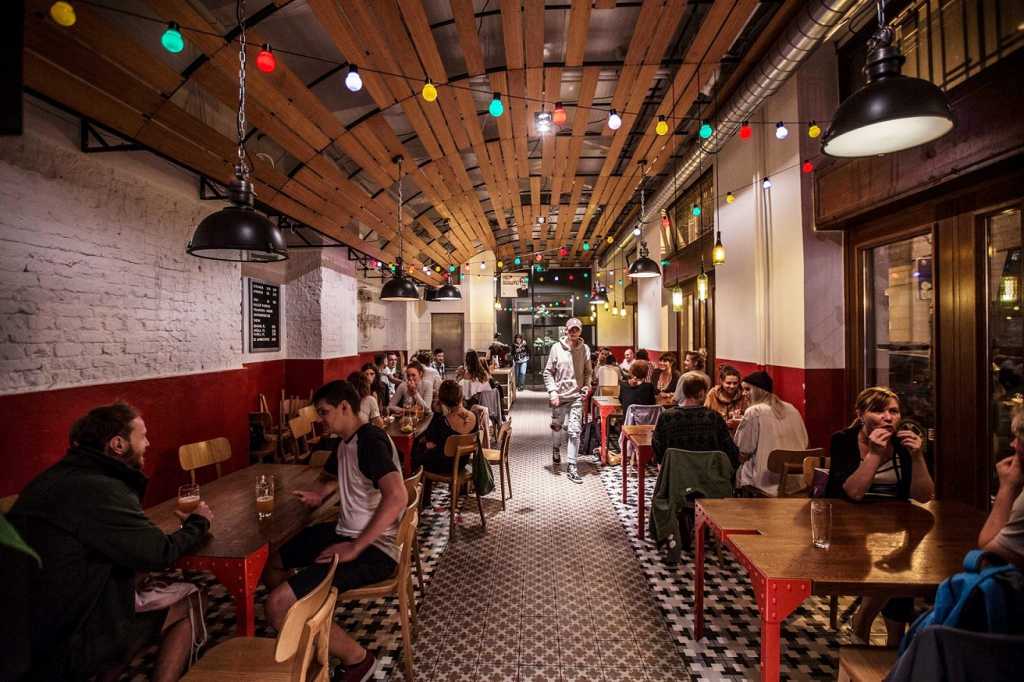 (source: Vycap u Ernoho Facebook)
Foodstock
We've had this vegetarian bistro on our website several times already so you can find more information in the best street food article, in our selection of best vegetarian places and fans of ramen can read more about it here.
Viecha malých vinárov (winery)
Except of the beautiful design and great wine, it is essential to mention that this winery devotes 1% of your spending to the projects that help people with no home. Absolutely an amazing place for a quality time with your friends. This winery offers wine from Slovak and also from the small foreign winemakers for a reasonable price. And the bonus that is not very usual in Bratislava – with every wine order you get complimentary olives and chips. Cheers!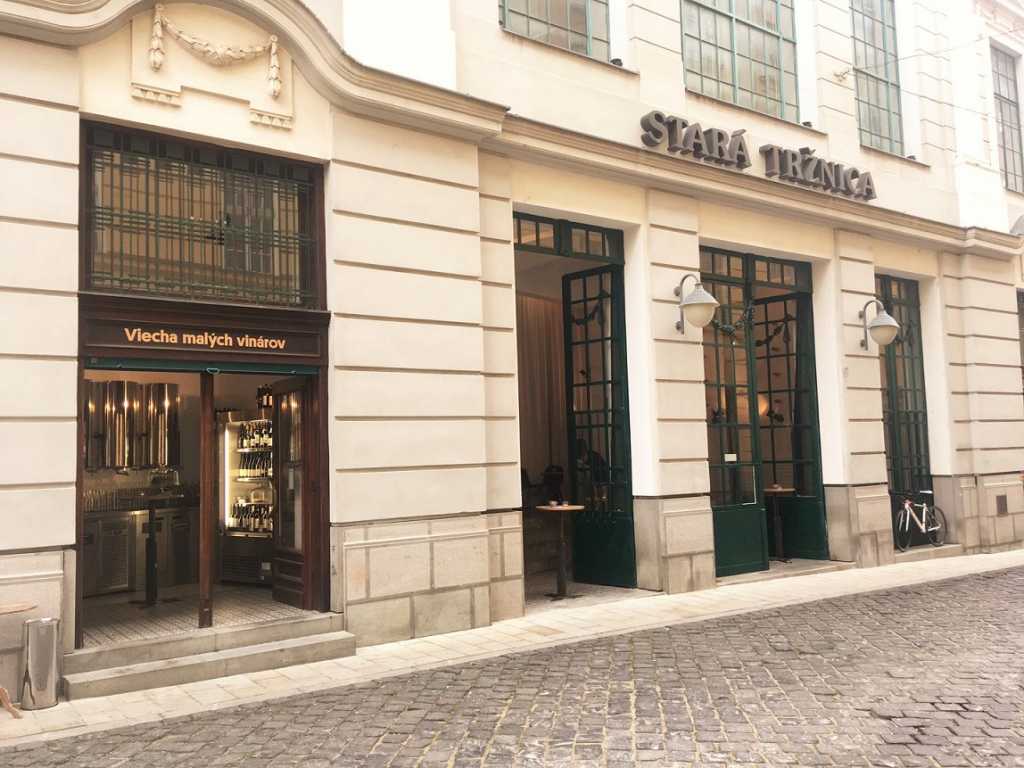 (source: Viecha malych vinarov Facebook)
Oasis
This concept is slowly starting but basically you can bring there any plant that "has grown over your head" and they will take care of it for a while. After some time you either take it back or donate it. In the meantime your plant will be part of an ecosystem. It will bring the positive energy to the people coming here for relax or reading.
(source: staratrznica.sk)
EVENTS
Old Market Hall accommodates two big recurring events. One of them is – following the tradition of the building – a regular food market (Trh-Piac-Markt) that takes place here every Saturday starting at 9 am until 3 pm. This form of market is unique in Bratislava and offers mostly food produced by the regional farmers and producers. What's even better – it is not only about buying food! Minorities cook their traditional food that you can experience, flea markets can sell you something old and valuable and at 11 am there is a free theater show for kids.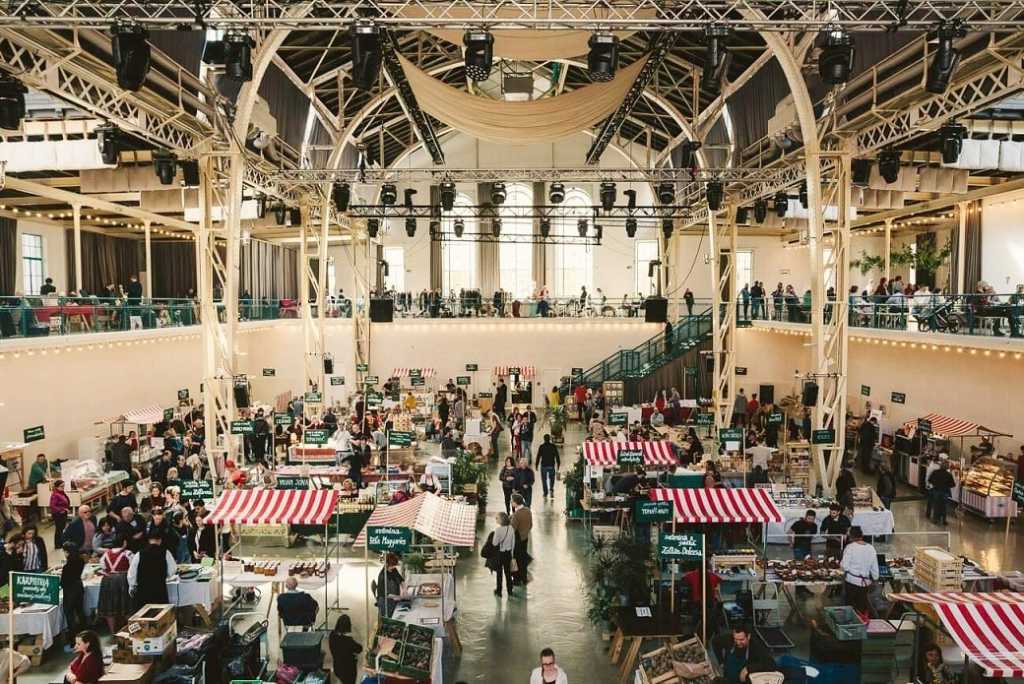 (source: Stara Trznica Facebook)
The second big event is called Street Food Park. This is not a store, pub or restaurant as you might have expected. Street Food Park is an event that happens every month and takes place in front of the Old Market Hall however during the winter the festival moves inside the building. Many food trucks get together and create an amazing atmosphere with all varieties of burgers, fries, fried potatoes and many other. Basically if you are fed up with the restaurant meal, you should definitely experience this event. Not only you will taste different, delicious home-made products but you will also soak up some energy from the people that come there to enjoy the evening with friends. What's more, Street Food Park follows the "zero waste"  philosophy.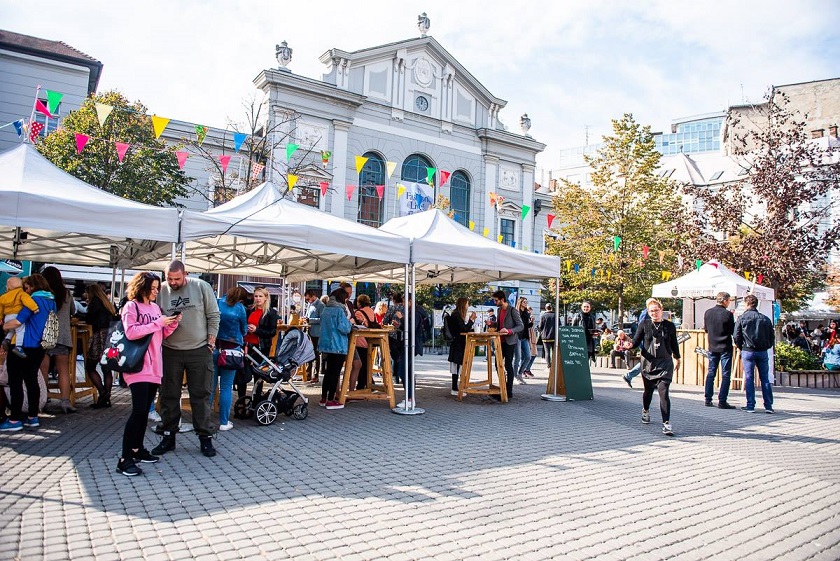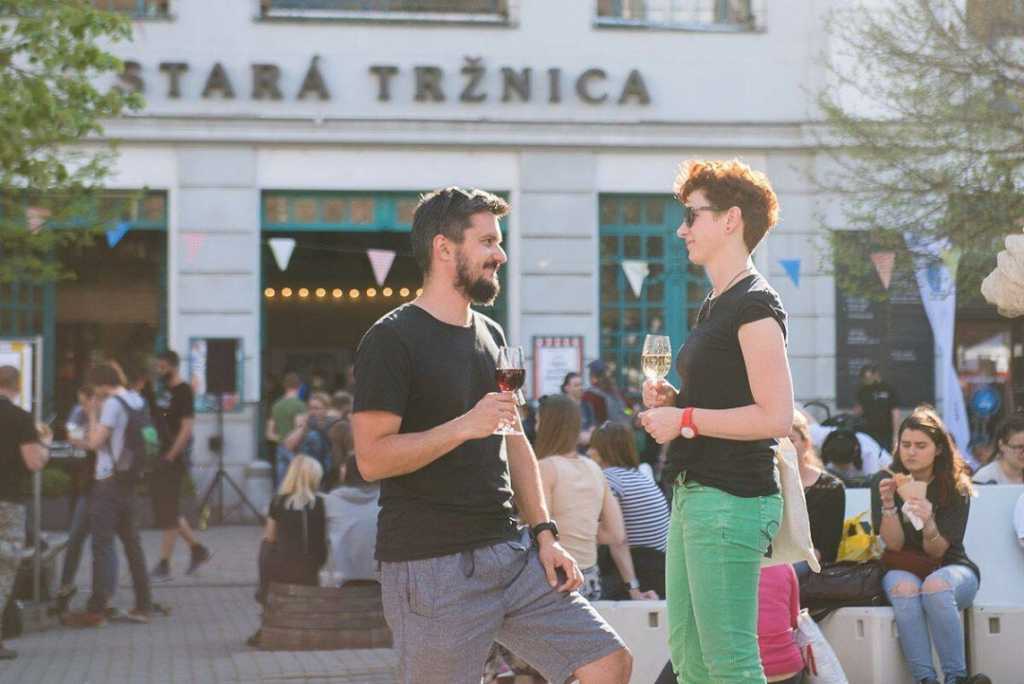 (source: Stara Trznica Facebook)
In addition to the regular events, the Old Market Hall also hosts exceptional one-off events like Forbes 30 under 30, environmental conferences, beer festivals, vegan festivals and various bazaars so it's worth checking their calendar and social networks as well.
Author: Radka Horáková, Martin Komloš