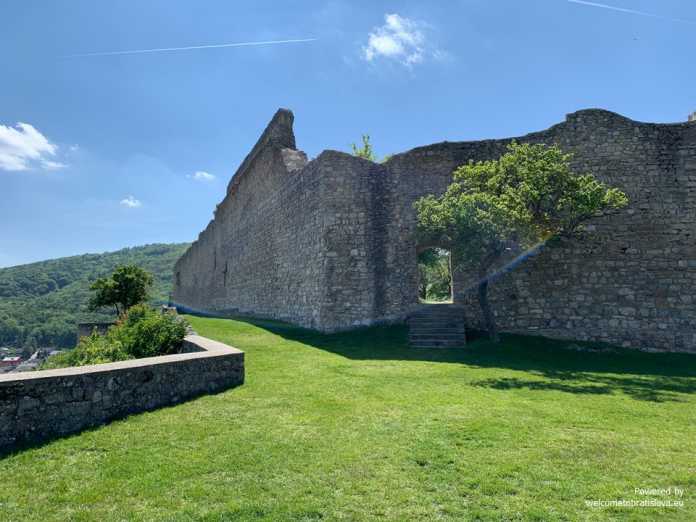 Looking to spend some time outside of the city? Have you ever considered heading to a neighboring country for the day to enjoy the outdoors? Although there are many beautiful places in Slovakia to see the countryside, Austria also has picturesque spots to visit. Hainburg Castle is one of them and it is situated in the charming town of Hainburg an der Donau, or in English, Hainburg on the Danube. You may be thinking that this sounds like the same river located in Bratislava and you would be correct. Since the Danube flows through this town as well, visiting Hainburg Castle will allow you to see this winding river from a different angle and will give you the opportunity to experience the Austrian landscape.
LOCATION
Hainburg Castle, located in the town of Hainburg an der Donau, is only 15 km from Bratislava. It is one of the closest towns in Austria to Slovakia's capital city. There are several ways to access the town, including by car, bus, or train, but if you are looking for a scenic adventure, we recommend biking. If you are up for the trip, we suggest renting a bike from Bike Bratislava, located near the presidential palace. From there, you are able to head to the biking trail located next to the UFO Observation Deck and Park Sad Janka Kráľa. This biking trail will take you all the way to Hainburg an der Donau. The trail itself is relatively flat and does not have any steep inclines. Biking to the town will give you the chance to see the countryside since you will be moving between forest patches and agriculture fields.
If your prefered mode of transportation is by car, you can take road 61 in Slovakia to road 9 in Austria. There is a parking lot at Hainburg Castle with a short hike up to the top of Castle Hill. You may also head to Hainburg an der Donau by train from Bratislava Main Train Station or by bus, either starting at Bratislava Main Bus Station or by taking bus 901 from SNP Bridge. Once you arrive in the town of Hainburg an der Donau, there is a walking trail to Hainburg Castle, which begins off of Alte Poststraße. The trail is located next to the original town wall.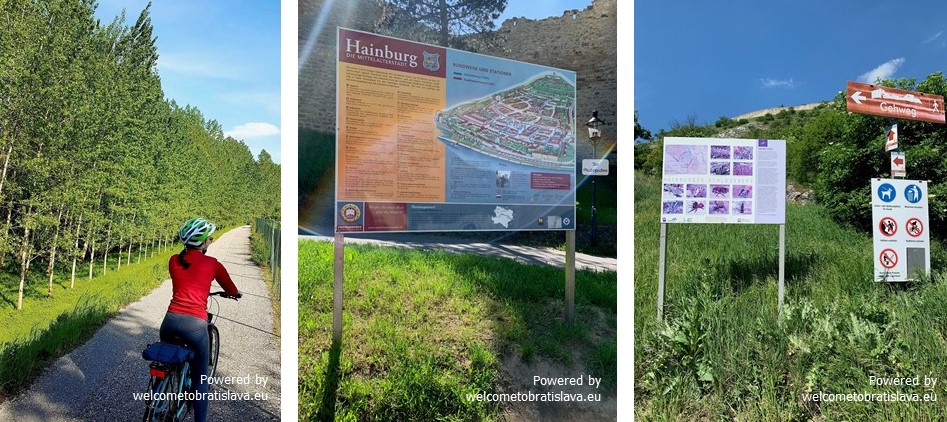 HISTORY OF HAINBURG CASTLE
Hainburg Castle was originally a fortress built in the 11th century by Emperor Henry III on Castle Hill. The fortress was gradually extended over several hundred years so that the town border reached the Danube. In the 13th century, the castle became owned by the Habsburgs, but was eventually conquered by Mattias Corvinus and later by the Turks. In the 16th century, the castle's southern tower exploded since this was where the gunpowder was stored. Several bastions were built in order to cope with the destruction. In the 17th century, Hainburg Castle was already being referred to as a ruin since it had undergone so much damage. Around this time, Hainburg Castle was conquered by the Turks again and was burned down. There were many casualties, with 8,000 people either being killed or deported.
In the beginning of the 18th century, John James Earl of Löwenburg decided to have the chapel within the fortress rebuilt. Then, in the middle of the 18th century, Gabriel Earl of Bethlen built a new castle at the bottom of Castle Hill, which can be seen from the castle ruin today. Hundreds of years later, in 1975, The Schloßberg Working Group was started and the group began to renovate Hainburg. Since this time, much work has been done to preserve the ruined castle.
WHAT TO SEE AND DO AT HAINBURG CASTLE
At the top of Castle Hill, you will be able to explore one of Austria's castle ruins. Hainburg Castle is across the valley from Devín Castle in Slovakia, which you will be able to see if you choose to head to Hainburg an der Donau by bike. Devín will not be visible from the top of Castle Hill since it is blocked by Braunsberg Hill, which has a reconstructed wooden celtic fortress. Although Devín is not visible from the top, Braunsberg Hill is nice to look at and you will still be able to see the city of Bratislava. It is quite beautiful to see the Kamzík Tower, Bratislava Castle, and the UFO Observation Deck from Austria. You will also be able to see the Danube and the town of Hainburg an der Donau from the castle. Within Hainburg Castle's walls, there is a deck space to get a better view of the landscape and the castle itself. It is worth walking up the steep staircase to have a look.
Hainburg Castle also has a few interesting spots to check out. There is a double-arched gate at the front and a nice grassy area at the back, which will give you the amazing view of Bratislava. On the right side of the castle, there is a long passageway with a small opening. It seems like it was used as another entrance during the castle's heyday. There is also one small archway near this tunnel. It is fun to see if you are able to easily fit beneath it!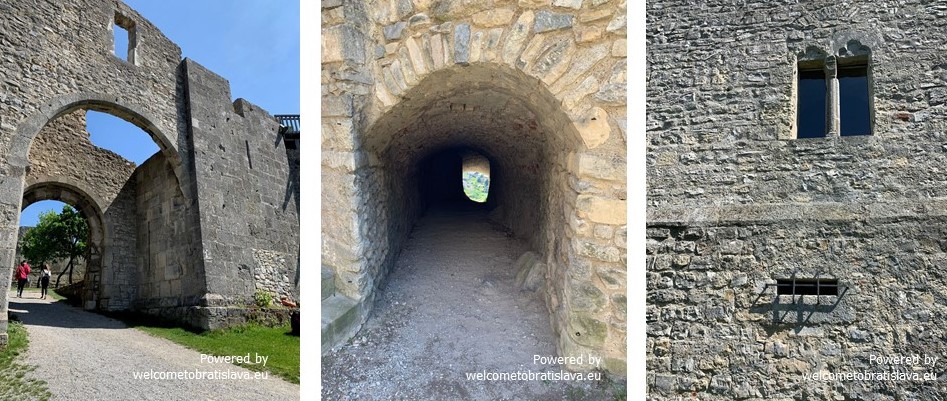 REFRESHMENTS
Hiking up to Hainburg Castle can be tiring, so there are a few places nearby to go for something to eat or drink. There is a pub below the hill called, Gasthaus zur Rudolfshöhe, as well as a cafe at the bottom of the trail near the original town wall called, PD's Cafe. Both have a nice area to sit inside or outside.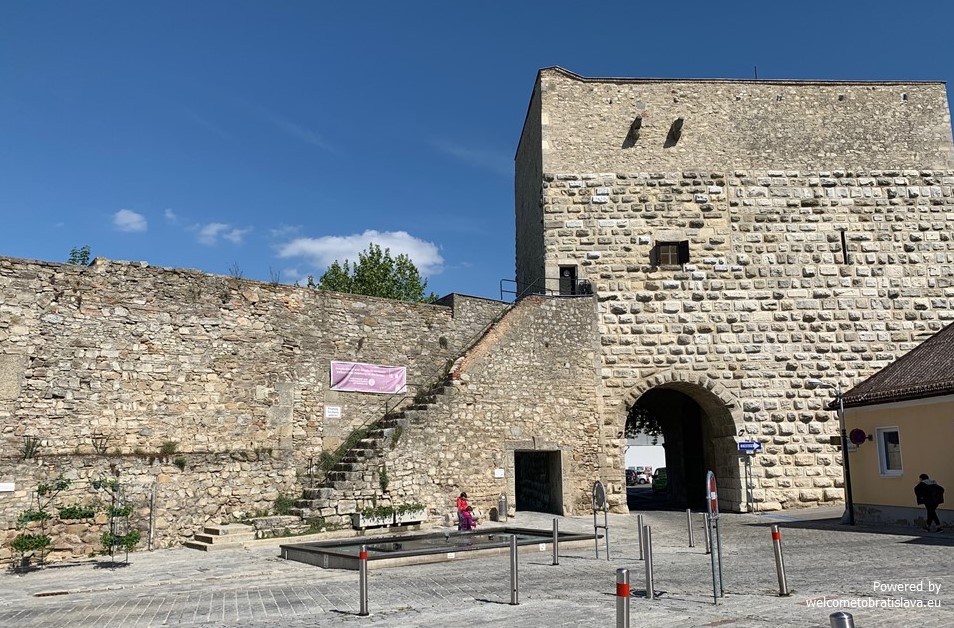 ADDITIONAL TIP
If you still have some energy left after the hike to Hainburg Castle, we would recommend taking a look around the town of Hainburg an der Donau. There are many nice, quaint houses as well as some additional medieval structures. Since Hainburg an der Donau is so close to Slovakia, you will be able to see how similar it is to many Slovak towns, except you will see the German language rather than the Slovak language, of course!

REASONS TO VISIT HAINBURG CASTLE
Since Hainburg Castle is so close to Bratislava, it is worth the trip to see this beautiful ruin. It will also give you the chance to explore the Austrian countryside and see a new part of the Danube. The view of Bratislava alone makes the trip memorable since you are able to see so much of the city from Castle Hill. Now, go and enjoy your trip and keep in mind that Austrians greet each other by saying 'grüß' and say farewell by using 'tschüß.' Both of these words rhyme and using them will help you have a nice time.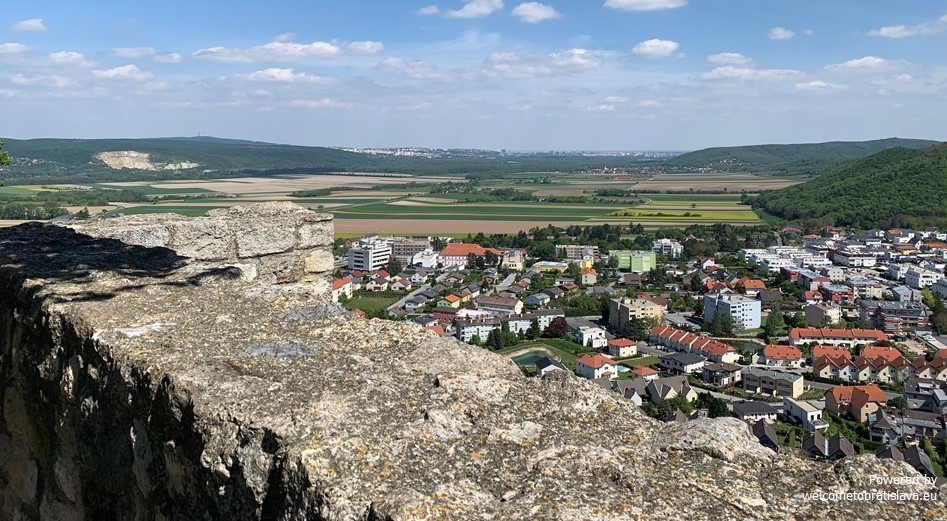 Author: Kathryn Baurhenn
Photo Credits: Marek Švec and Kathryn Baurhenn