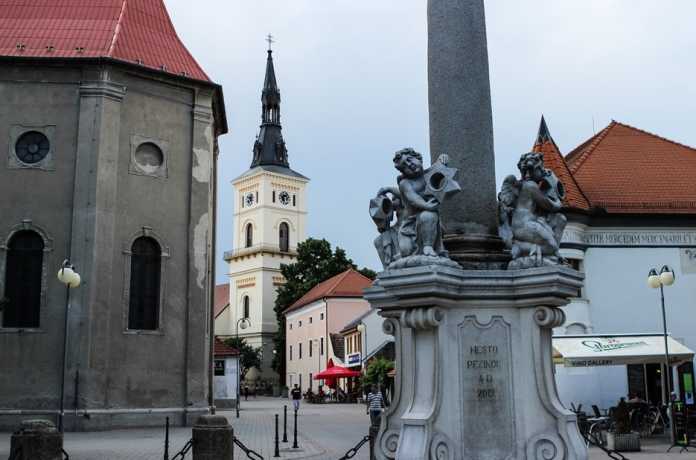 A charming vintage town with a long tradition in wine making.  A venue for goose and duck festivities. Rich history with well-preserved sights. Do we need to mention more reasons why you should pay a visit to Pezinok, a small town located only 20 km from Bratislava? Read our guide for a perfect one day trip to Pezinok!
WHY VISIT PEZINOK?
1. A vintage town with a long tradition of viniculture and winemaking
Pezinok lies at the foot of the Little Carpathian mountains. The location creates ideal weather conditions for grapes production and wine making and Pezinok is thus considered to be the center of the Little Carpathian Wine Region. Wine tourism is blossoming in Pezinok and is one of the highlights of this charming town. Historical wine cellars, high quality local wines, numerous wine tasting events – Pezinok has it all.
2. Goose and duck festivities
Especially during autumn, the goose and duck festivities are a must for every visitor or local. Pezinok district is well known for this over 100 year old tradition. The main spot for goose party is Pezinok district's village Slovensky Grob but you can find nice places in Pezinok itself, too.
3. Charming cafes and restaurants run as a family business
We are not exaggerating – you will find many amazing small bistros, patisseries or coffee shops in Pezinok. Many are owned and run by members of a family, creating unforgettable atmosphere. We will introduce you a couple of our favourites below.
4. Former royal town with rich history
Pezinok was granted the privileges of a Free Royal Town in the 17th century by king Ferdinand III. Its history is rich and while the historical center is quite small, it holds a great deal of well-preserved sights. You can admire typical burghers' houses, authentic small streets or original castle walls.
5. Nature ideal for hiking or winter sports
Do you like skiing or hiking? Pezinok is then the right spot for you! Thanks to the strategic location at the foot of the mountains, its proximity to Bratislava and a ski resort Pezinská Baba, Pezinok district is great for winter sports and for hiking in summer. All the urban forests are part of the reservation of the Little Carpathians.
LOCATION
Pezinok is located approximately 20 km northeast from the city centre of Bratislava. It is a small yet very cosy city, known mainly for its long-lasting wine production. However, Pezinok has a lot more to offer to its visitors.
The best way of getting to Pezinok from the city centre of Bratislava is to take the train. The train goes from the Bratislava's main railway station directly to the Pezinok railway station. The overall journey takes approximately 15 – 20 minutes. The train runs regularly during the day and in the evening. To find out which connection suits you best, visit this site. 
OUR TIP: There are two different train stops in Pezinok. The first one is "Pezinok Zastávka" but make sure to get off at the next stop –  "Pezinok". Don't get confused ;)

HISTORY
Due to the grapes which grow here, Pezinok was first mentioned in the written materials already in 1208 as "terra Bozin." In the following centuries, the city gradually changed from a mining settlement to a vineyard town after the second wave of German colonization in the early 16th century. In the 17th and the 18th century, Pezinok prospered and was one of the richest cities in the Kingdom of Hungary. Its fame and wealth were based on the production of quality wines.
MAIN SIGHTS & ACTIVITIES
FOLK CERAMICS WORKSHOP & SHOPPING
Visit a traditional house where traditional manufacturing of Slovak Folk Majolica is presented. Beautiful pieces can be bought at shop Keramika Granec which is easily accessible on foot. Or join a workshop with Majolika R where you can create your own products using this traditional technology. It is located a bit further from the city center, close to the vineyards.
OLD TOWN HALL
Go and see "Stará Radnica" which was established in the second half of 17th century. Inside, you can find a wine bar where you can buy bottles or try the high quality wines from Slovak producers. They serve the wines only on the outside terrace – there is no seating inside.
LITTLE CARPATHIAN MUSEUM
This regional museum focuses on the wine growing, viniculture and culture of wine drinking in the area below the Little Carpathian Mountains. The museum has the largest collection of wine presses in Central Europe! You have a chance to taste some of the local wines here, as the degustation is included in your entrance ticket. The museum organizes a number of events, so try to check their website or Facebook before coming :)
OUR TIP: They also organize degustation events in total darkness or a degustation showing how colours and music influence the wine taste.
THE CASTLE PARK
Relax at the Castle Park –  we recommend taking a nice walk from our favourite Café Mlsná Emma, and on your way to the park, stop by the historical Church of Assumption of the Holy Virgin which was built in 1280. When you finally arrive to the park, spend some relaxing time by the lake and watch various kinds of birds living there. A special feature of the Castle Park are the peacocks which live there in the wild. Not only will you see interesting animals, but also many rare trees, such as sycamore or magnolia.   
EATING OUT & DRINKS
HAVE BREAKFAST, LUNCH, COFFEE OR DINNER AT BISTRO FAMILJA – THEY HAVE IT ALL!
Bistro Familja is an enchanting place owned by a lovely couple whose passion is cooking and who have devoted their careers to gastronomy. You can feel their love towards the bistro immediately, through the well-designed interior, friendly service and perfection of the meals.
If you are looking for breakfast, brunch, lunch, dessert or dinner place in Pezinok, Bistro Familija is definitely a great option! Only a 3-minute walk from the Pezinok railway station and you are there. It is known for its home-made cakes (one of the few places that has a certificate for own baking), fresh juices, own brand of the premium quality coffee and meals made out of fresh, seasonal and local ingredients. If you are visiting with the kids, there is a beautiful children corner inside.
We fell in love with this place after the first visit and have kept returning since – all the dishes are delicious and amazingly seasoned. Their main dishes include various kinds of risotto, pasta, burgers and salads.
OUR TIP: We definitely recommend their home-made pasta or the most amazing potatoes served with the burger and a home-made sauce. No commercial products are used here, everything is home-made or a craft product.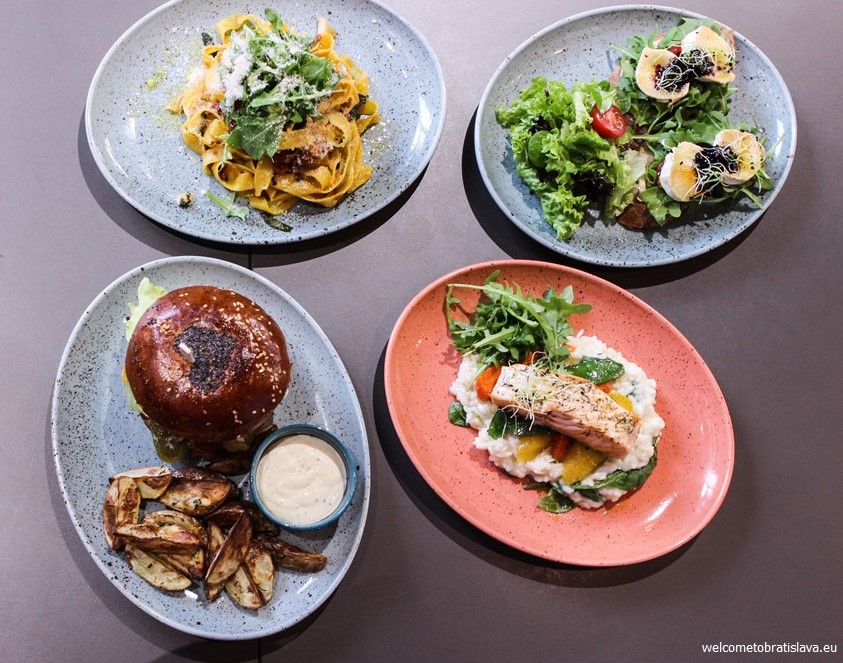 HAVE A GOOSE AT HUSACINA GURMANSKY GROB
As we already mentioned, Pezinok is also known for its goose and duck feast. Don't miss the chance to visit this restaurant in a village Slovensky Grob (Pezinok district) providing a great gourmet experience. The restaurant Gurmánsky Grob serves the best goose specialties in a very friendly environment and is run by a local family. Prices are adequate to the quality of meals and its staff will make your visit very pleasant. 
ENJOY AN AFTERNOON COFFEE WITH A CAKE OR SHOP AT THE CHOCOLATERIE MLSNÁ EMMA
Café Mlsná Emma is a cosy and charming place in the heart of Pezinok run as a family business.
Enjoy a cup of coffee, tea or a homemade specialties with hot chocolate here. Our top choice was the fresh "Mlsná Emma" which is a very refreshing drink made from various fruits and herbs. We definitely recommend trying their incredibly delicious homemade cakes! Walnut cheesecake or white chocolate mousse? Yes, also an option on the menu! You can choose from the lactose free and gluten free cakes. What we enjoy the most here is the overall atmosphere. We always feel very welcome and our experience is always impeccable.
Inside the café, there is a small gallery and an art shop with various unique products from more than 80 Slovak producers. Jewellery, clothes, decorations and even handcrafted cosmetic products. Plus, there is a stand with a large selection of chocolate products which are available for sale. We are sure you won't be able to resist!
OUR TIP: If you come to Mlsná Emma on a summer day, try to ask for a sorbet. We tried the pineapple – mint one and we loved it!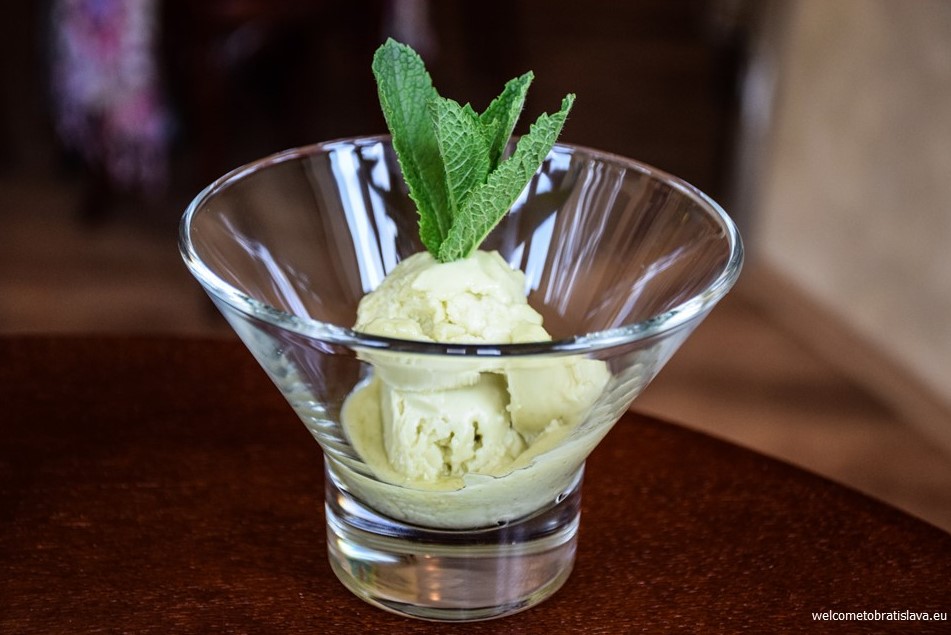 HAVE A GLASS OF WINE AND A TRADITIONAL DINNER AT RESTAURANT VINUM GALERIA BOZEN
What is the best way to finish your day? Have dinner at the traditional and authentic restaurant Vinum Galeria Bozen and treat yourself with the finest local wine. It is a very special place thanks to the family members who run it. They are experts in gastronomy and wine making. The products from the menu are always served fresh and are mainly home – made. What is interesting about this place is the location. It is hosted by a protected winery building that is more than 300 years old.
BONUS TIP
GET A NEW HAIRCUT AT BARBIERKY
As we have recently fallen for the craft of barbers, we had to check the most popular barber shop in Pezinok. Barbierky might be an option for you, dear gentlemen, in case the barbers in Bratislava are booked out ;)
Author: Nikola Babjakova