We are always on the lookout for satisfying, convenient to get to attractions around Bratislava – you know we like our day-trips and weekend getaways – and our recent visit to Topoľčianky checked all the boxes. Family-friendly without being dull for adults, highly affordable, and aesthetically engaging, this small village is a total find.  
LOCATION
If you are familiar with the Nitra Region of Slovakia, you may have heard of Topoľčianky. Nestled in the Zlaté Moravce district of Nitra, a visit here only takes around an hour and a half by car. Unfortunately, and this is the only down-side, if you are not traveling by car the trip here will be a bit tedious. There is no direct connection between Bratislava and Topoľčianky, but it is possible to travel to Zlaté Moravce by bus and take another one to Topoľčianky from there with total travelling time 2.25 hours. If you are up for the adventure of public transportation, then we advise not to let the lack of a car stop you. 
TOPOĽČIANKY CASTLE
Once you arrive, we recommend viewing the castle first. The impressively well-kept building is set in a tranquil park and boasts an amazingly rich collection of well preserved furniture and interiors. It is wise to plan your visit in advance, as there are several guided tours per day, though the availability of the foreign language tours may need to be confirmed beforehand. Thankfully, the main castle and nearby Hunting Castle have been converted partially into charming (though slightly dated) hotels meaning you can extend your visit and worry less about timing or needing to see everything at once. If a day-trip is more your style, be mindful of opening and closing hours, which are not extensive.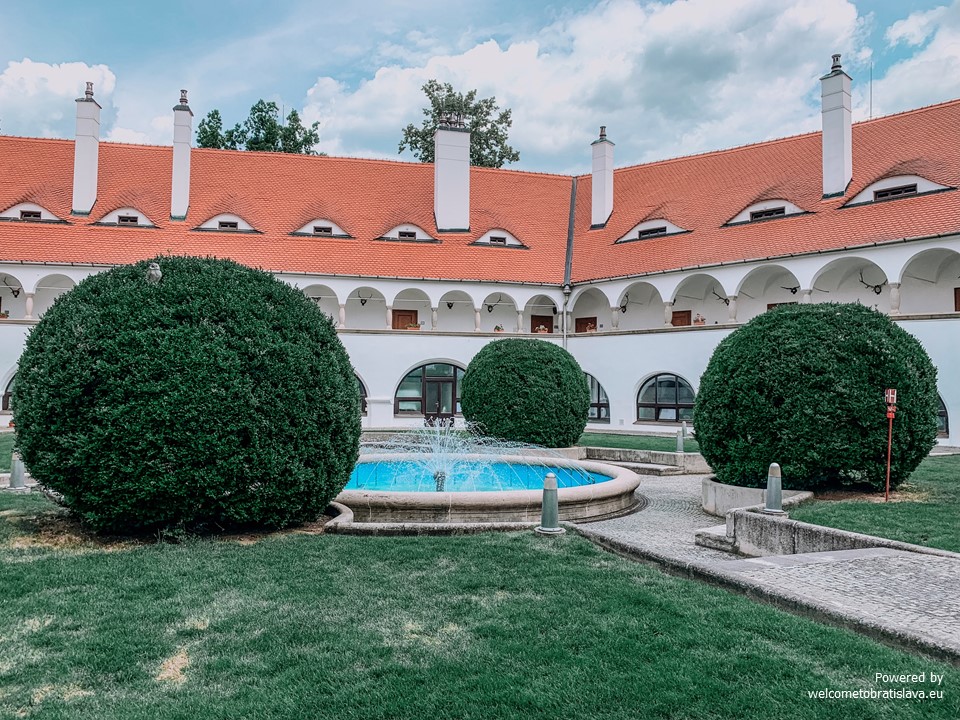 Regardless of how long you stay, take a moment to reflect on the building's history before exploring further. The building originally served as a fortification against the Turks between the 13th and 16th centuries until being rebuilt in the renaissance style popular in the 1500s. Three "renaissance wings" are currently occupied by the castle's hotel and frequently booked restaurant. 
It's the southern wing, however, that you are here for. Constructed towards the beginning of the 19th century, it represents the most beautiful and the most pristine architectural jewel of classicism in Slovakia. Conveniently, the southern classicism wing also hosts a quaint museum of remarkably elegant and unique furniture pieces, porcelain, and clocks in all of Slovakia. It should be no surprise, then, that after the establishment of the first Czechoslovak Republic, the castle became a summer residence of then president T.G. Masaryk who accepted many state visits and important cultural and social figures at the residence. During Masaryk's time here, he was visited by the famous Czech writer Karel Čapek with whom he shared deep philosophical talks in the castle park. These dialogues were eventually adapted into the book "Talks with T.G.M." We enjoyed seeing his original office, pristinely preserved complete with the favourite leather armchair.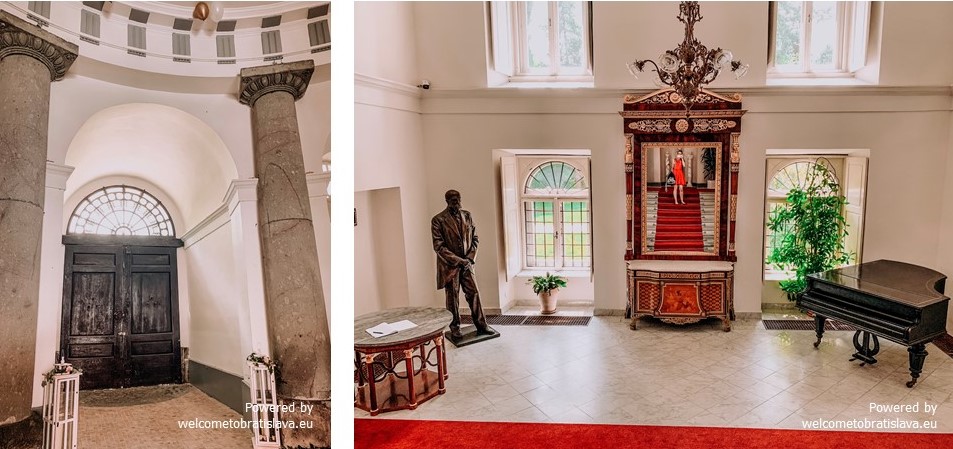 Photography is strictly forbidden once inside the castle, so you will have to see the incredible features for yourself. But we promise it will be worth it. For example, the museum's exhibition features several exclusive pieces such as porcelain made in the French factory of famed patron of the arts and politically savvy mistress of Louis XV Madame De Pompadour; an English teacup designed specifically for gentlemen with moustache; and a porcelain China chandelier literally made of intricate china tea-set pieces. We were truly impressed with the luxuriance and high quality state of this exhibit. 
Make sure to take a peak at the 200 year-old castle library, established by Earl Keglevich. With more than 14,000 books on display – including unique pieces like a Hungarian bible from 1590 and "Grammatica slavica," the first Slovak grammar book by Anton Bernolák from 1790 – there are very few libraries like this still preserved in Slovakia. By the way, this one can be peaked at only from the other room and cannot be entered by the regular visitors. Only scholars have access to these books for research and scientific purposes, which makes sense to us. 
HUNTING CASTLE
Within the castle park, you can also notice a charming Hunting Castle. Its name is self-explanatory, as this area is known for game keeping and hunting. In fact, with an area of 11,131 hectares, this extensive game-preserve is among one of  the largest in Europe since it was founded in 1903. The animals conserved here mostly include deer, mountain sheep, fallow and roe deer, and wild-boar. Their bounty can subsequently be seen by the ample assortment of quality hides on display, while a dense network of well-maintained hunting paths creates convenient conditions for individual hunters looking to add to the collection. In case you are interested, the offer for groups of hunters includes the driving of game by beaters and dogs.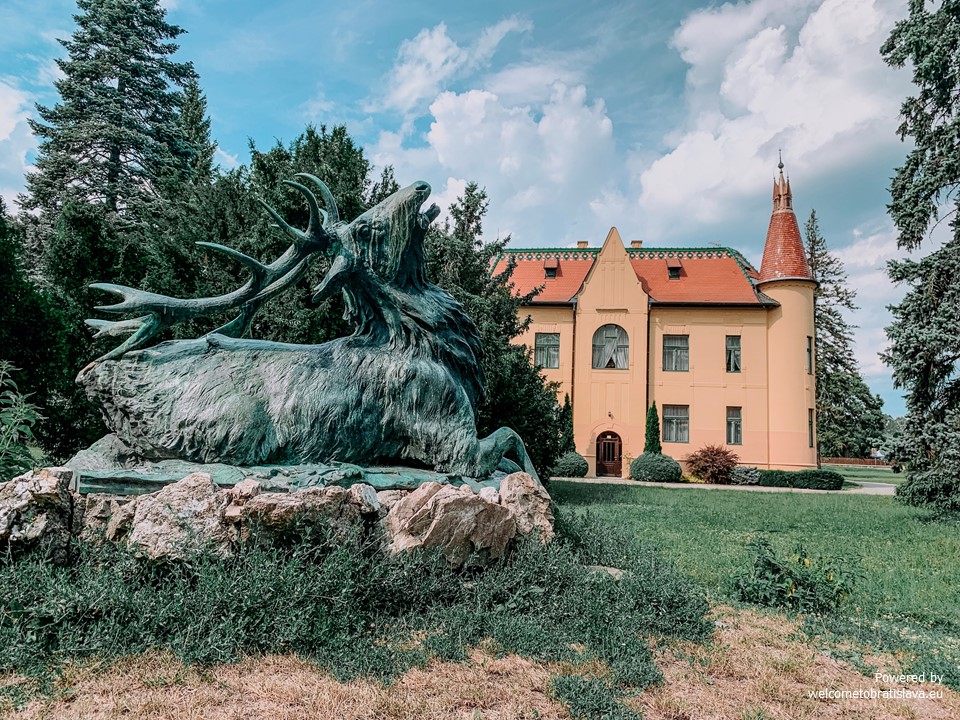 Back to the castle itself, the secessional storey was built in 1910 by the Habsburgs and is considered important to the national cultural heritage. As mentioned, the manor house offers cozy but dignified accommodation in four historically furnished apartments. We were struck by the numerous statues in hunting motif located around the castle, which enhanced the scenery and set a thematic tone to our castle park walk.
NATIONAL STUD FARM TOPOĽČIANKY
We mentioned family-friendly, and while a stud farm may not be your first choice when planning a trip for the kiddos, we can assure you this place is great for families with children. Founded in 1921, the National Stud Farm in Topoľčianky specializes in keeping traditional and sporting horse breeds, including Lippizaner and the Slovak Warmblood, a unique facility of its kind in the modern age. This is the only hippology museum in Slovakia and is very popular among the supporters of hippo-tourism. For a mere 2 eur entry fee – a symbolic donation – you can view the farm without a guide (watch your little-ones!).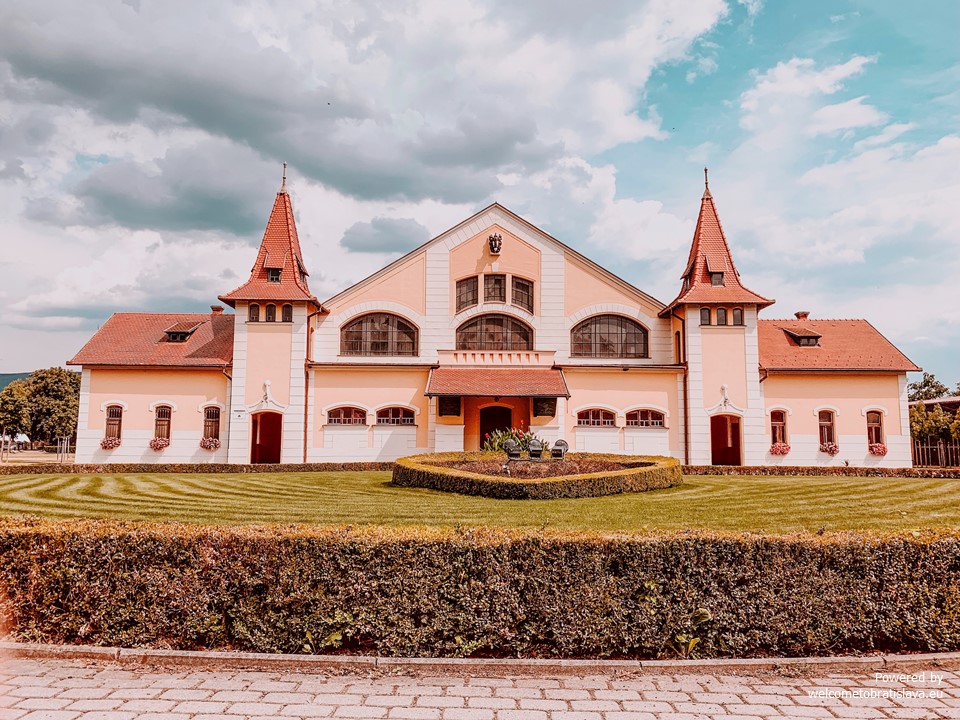 Considering NST homes up to 550 horses at any given time, the location is incredibly clean and the horses are healthy and exceptionally cared for. You will even have the possibility to see how they keep horses in such excellent condition, including a special machine that ensures each horse maintains active movement in an otherwise limited space (think treadmills for horses).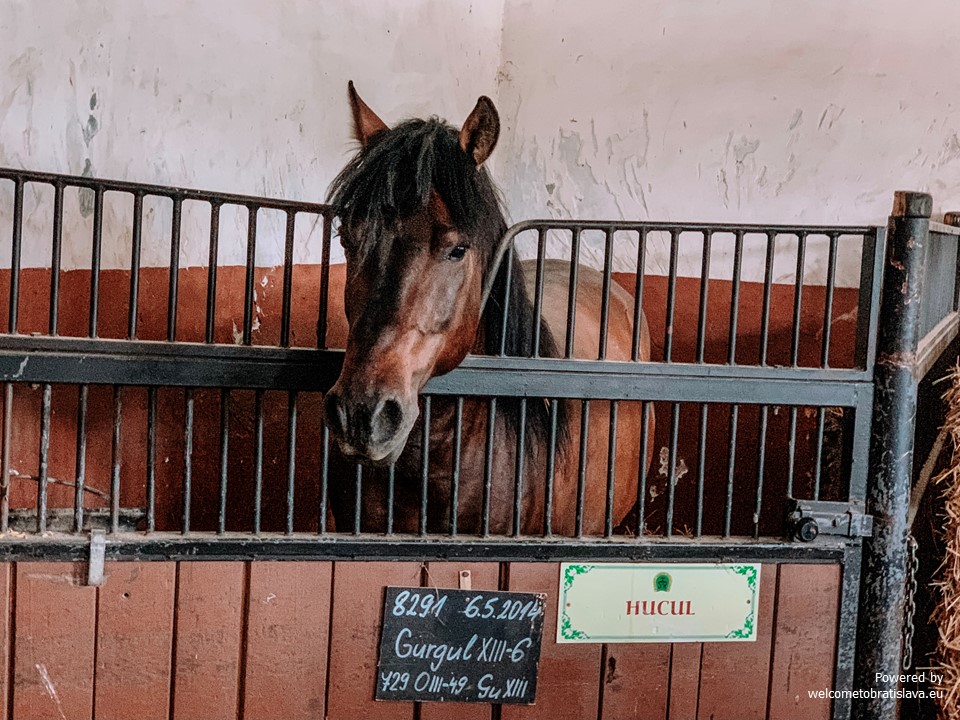 For an affordable souvenir, consider taking a picture in front of one of the horse carriages on display or even enjoy a horse or a carriage ride. If you are lucky enough timing-wise, you might visit during one of the horse racing days or many show jumping competitions the stud co-organizes.  
TOPOĽČIANKY BISON PARK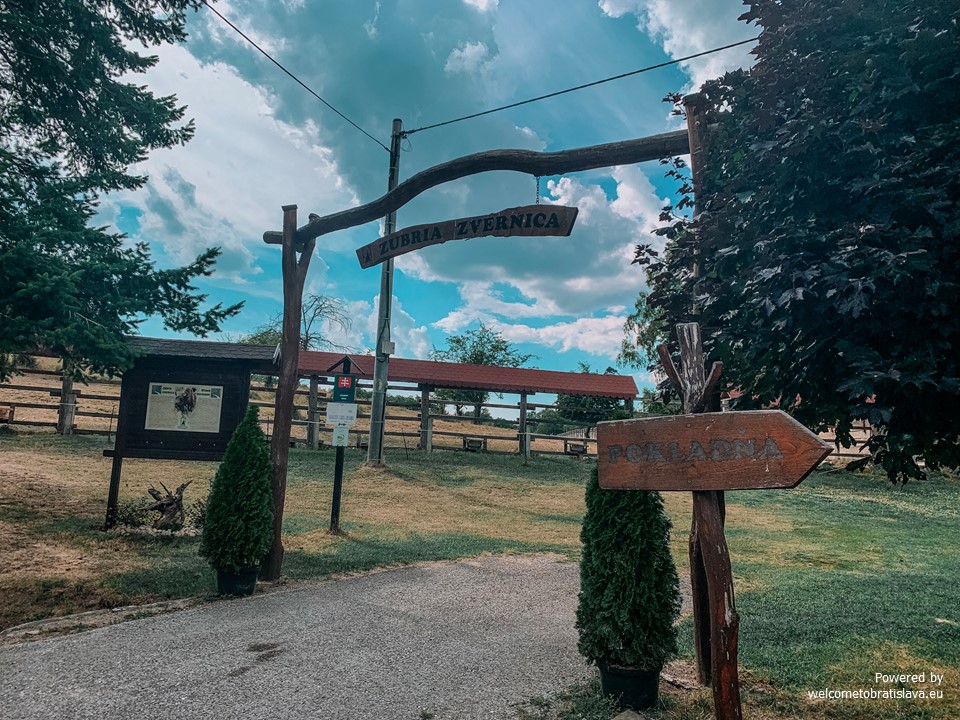 After viewing the horses, b-line towards the neighboring Bison Park. From the castle, drive approximately 10 minutes. After parking, you still have to walk shortly in the forest in order to find the farm. There, hidden in the beautiful oak forests surrounding the village Topoľčianky, you will find the last area in Slovakia where you can see Europe's largest mammal, the European bison.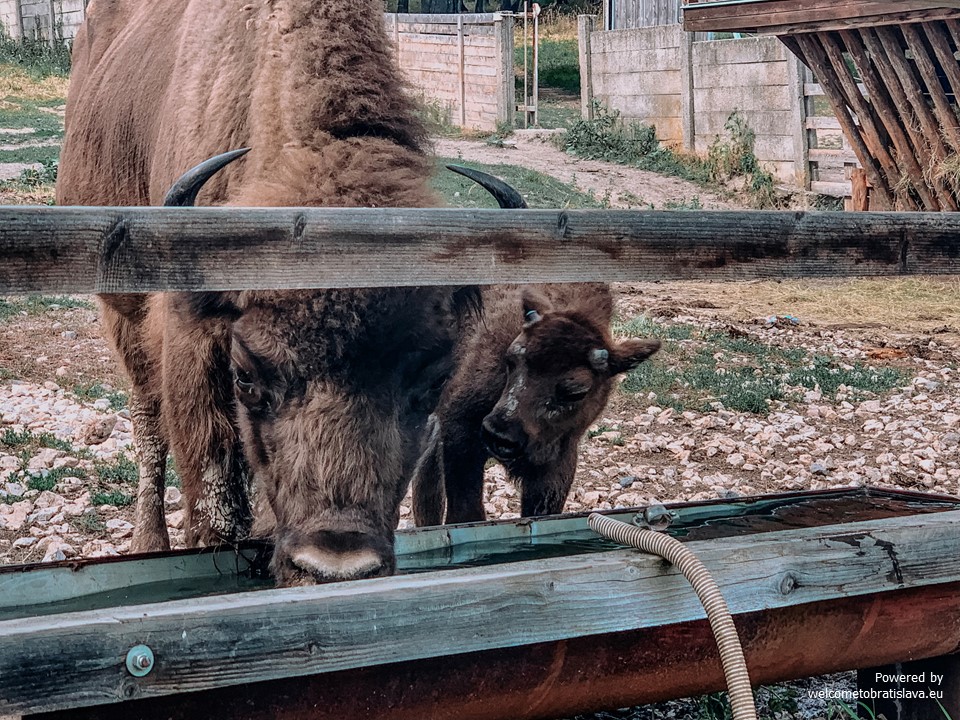 Closely related to the well-known North American buffalo, this massive animal was once a natural part of Europe's forests and it could be found living freely as late as in the 19th century. By 1958, it's numbers had dwindled to a mere 150 individuals worldwide. The Bison Park of Topoľčianky was founded with the purpose of contributing to the effort of saving the species with inspiring success. In 1964, the whole area was declared a protected study zone and within just a few years since its founding, more than 120 animals had been raised, most of which found their way to ZOOs, different public and private parks.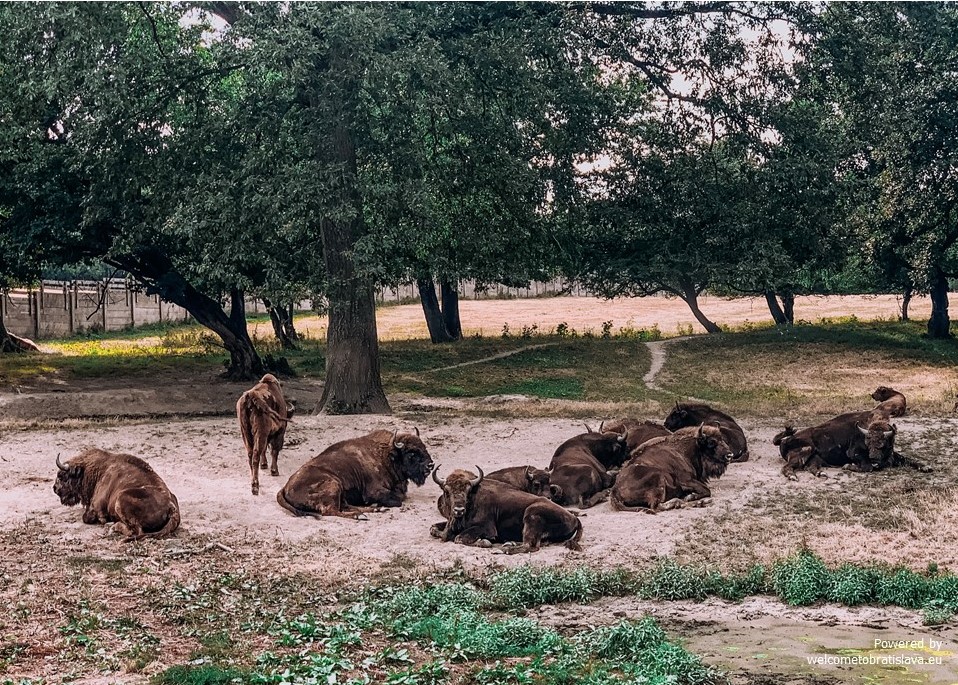 WINE MAKING IN TOPOLČIANKY
Now something for the adults! Topoľčianky is well-known for growing grapes of characteristic quality and that means local wine is abundant. The tradition of wine-growing in region dates back to the first half of the 18th century, when it was started by the lord of the chateau himself, Earl Keglevich.
If you have the time or a designated driver, we recommend a visit to the well-known Château Topoľčianky, which is a very short distance from the castle. It might even be a nice excuse turn this trip into a weekend mini-holiday! The vineyard features a tasting room with two sommeliers on hand to help you familiarize with regional grapes such as Palava, Devin, and Alibernet. If a tipple or two isn't on the agenda, consider visiting the vineyard's "factory store," where you can find a wider and more prestigious selection of Topoľčianky's wines than found in your local Tesco. 
HAVE A BREAK
Whether you are staying the night or plan to be back in Bratislava by evening, if you are like us a full day of sightseeing has left you famished. Thankfully there are two solid options nearby for lunch or dinner dining. The restaurant Castle Topoľčianky is an obvious choice, as it is located directly in the castle grounds. Of course that means it's also the obvious choice for weddings happening at the castle, which is frequently given the location's beauty, and the dining room might be it will be closed for public when you visit, as was the case during our trip. 
No matter, because the second option is restaurant Hradná stráž, which is pleasant if slightly underwhelming. Expect a higher-end restaurant with superb service and respectively higher-end prices. While the dishes are tasty and nicely presented, for the price-point we were hoping for something a bit more special. Essentially, you are paying for spot-on service and picturesque setting in the castle park, which can be pleasant enough on its own. And if you are visiting with children during summer months, take advantage of the cool outdoor children's area while you enjoy your meal.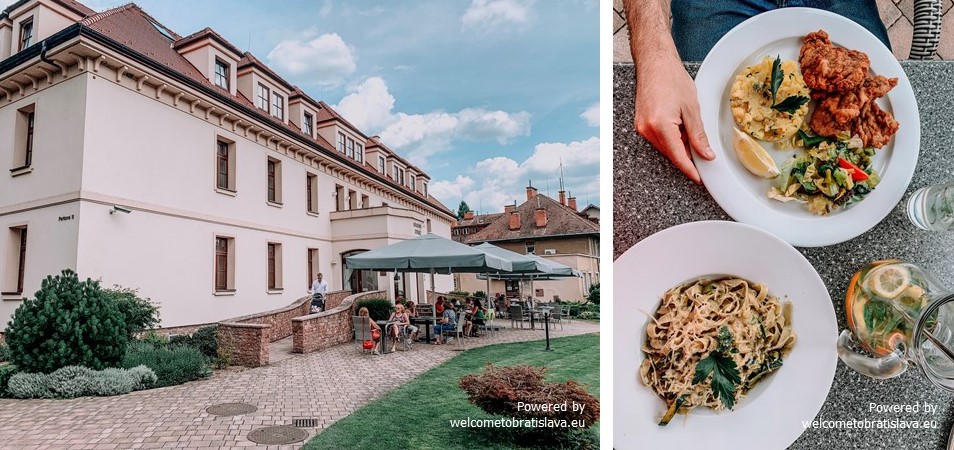 Author: Jennifer Brown, photo credits: Zuzana Mýtna